A healthy, light, and flavorful Cilantro Lime Chicken recipe for busy weeknights. Baked to perfection in 20 minutes and topped with fresh avocado salsa. Enjoy on its own or with rice, salad, tacos, quesadillas, and more!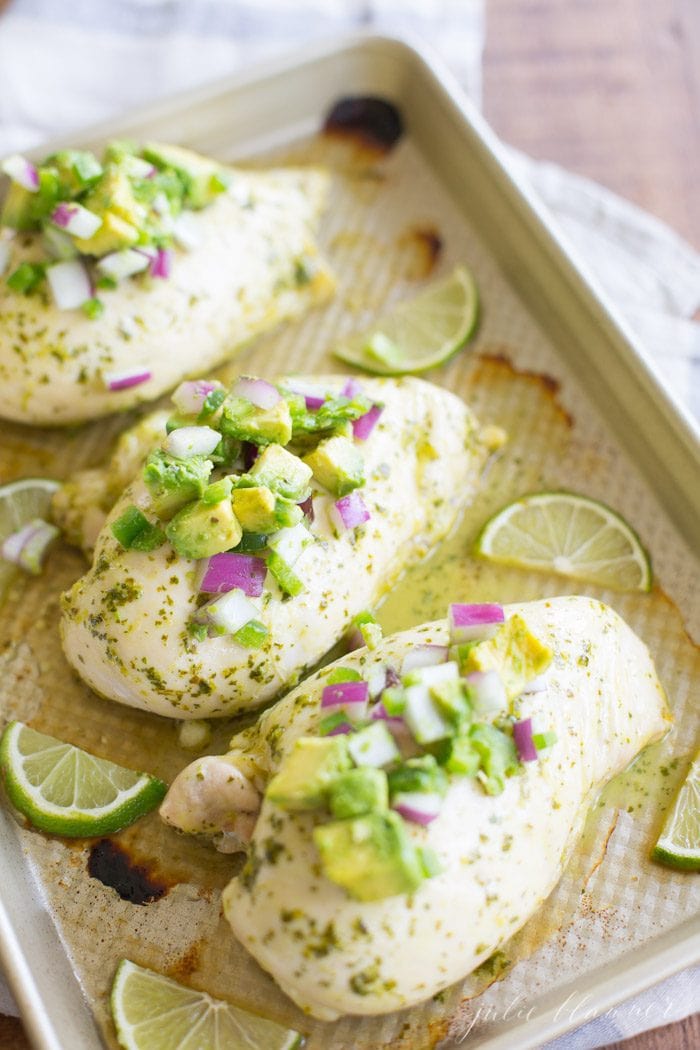 Healthy Cilantro Lime Chicken Recipe
Growing up in the 80s, it seemed there was always a new seasoning or marinade. A packet, a bottle, a shaker, something to make you believe that you couldn't or shouldn't do it yourself, but this amazing Cilantro Lime Chicken is made from scratch in minutes with the freshest ingredients.
I think that's why I've always leaned toward my grandmother's way of cooking over my mother's – I love the taste of fresh flavors and want to bring it back to basics. That's exactly what I'm doing in our kitchen with this easy chicken recipe.
This dish is a family favorite! The cilantro lime marinade takes just 5 minutes to make and coat the chicken, giving it so much flavor. While it's baking, I shred cheese for my salad and for the girls' quesadillas. Cilantro lime baked chicken a la carte, topped with avocado salsa.
Love that cilantro lime flavor combination? Try our Cilantro Lime Crema and Cilantro Aioli recipes!
Save this recipe for a busy weeknight! Double to make sandwiches, salads, wraps tacos and quesadillas throughout the week!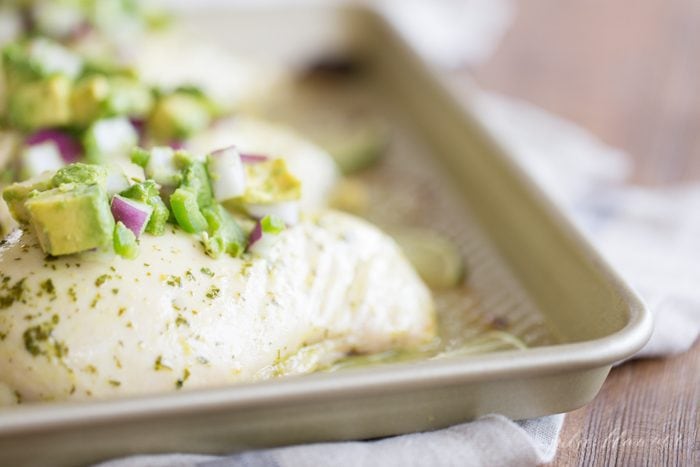 Table of Contents
Cilantro Lime Chicken Ingredients
How To Make Cilantro Lime Chicken
Tips for Making Perfectly Tender Cilantro Lime Chicken
Tools For Making Cilantro Lime Chicken
How To Store
FAQs
Cilantro Lime Chicken with Avocado Salsa
Dietary Note
With the above ingredients, these chicken breasts are dairy free, gluten free, and Paleo and can be adapted to be keto.
Ingredients and Substitutions
Cilantro – Fresh is best, so be sure to purchase it from your grocery store or local farmer's market. Look for bright green, tender leaves with no evidence of bruising or fading.
Jalapeño – To tame down the spice factor, remove the seeds and ribs before making the cilantro lime chicken marinade. For a spicy chicken recipe, leave the seeds and ribs intact and look for peppers that have streaks on them. These are heat marks, meaning that the pepper is hot!
Lime Juice – Use fresh lime juice or purchase it in the produce or juice aisle of your grocer. You will need about 2-3 limes for this cilantro lime chicken recipe, depending on how juicy they are. To really get all the juice out of your limes, place them in the microwave for 10-15 seconds prior to slicing. The warm lime will give you up to twice as much juice!
Olive Oil – Use Extra Virgin Olive Oil for a lighter and fruitier flavor.
Minced Garlic – Mincing the garlic before placing it in your food processor helps make the marinade come together more easily and prevents the cilantro from bruising. You can also use minced garlic purchased in a jar in the produce section of your grocer.
Chicken Breasts – Boneless, skinless chicken breasts work best. If the chicken breasts are on large, cut them in half lengthwise to ensure they cook all the way through. For a faster and kid-friendly approach, substitute chicken tenders.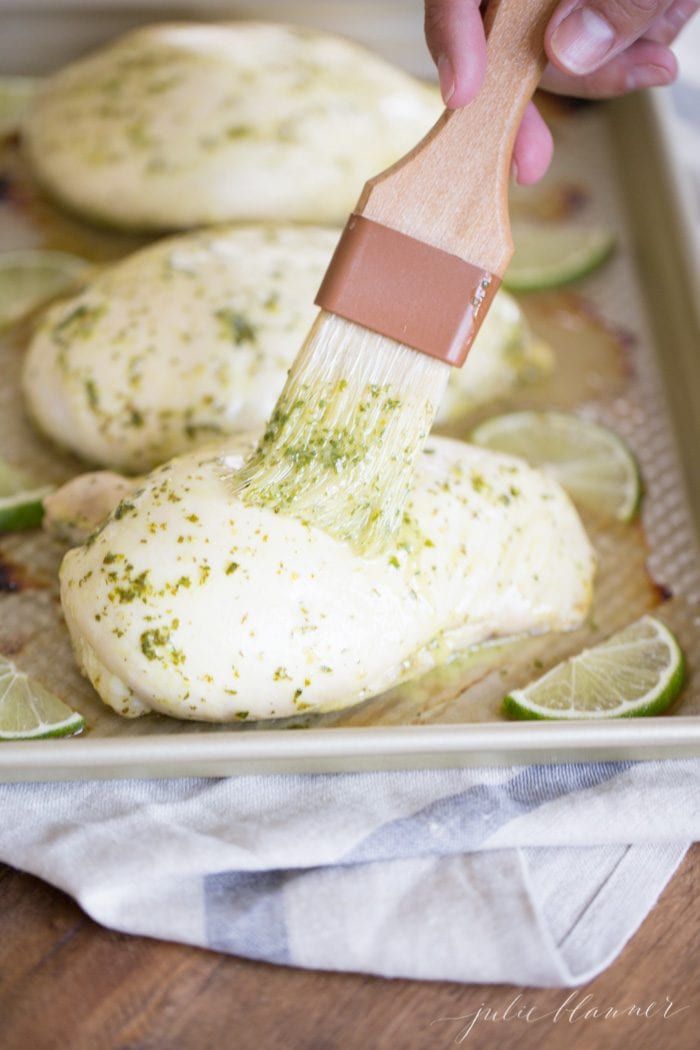 Directions
An overview. See printable recipe card.
Prep – Preheat the oven.
Make Marinade – In the bowl of a food processor, add cilantro, lime juice, olive oil, and minced garlic. Grind until fine. Alternatively, chop by hand.
Coat the Chicken – Place chicken in a large mixing bowl and add half the marinade to coat the chicken. Reserve the other half for garnish.
Bake – Place the marinated chicken on a baking sheet. Bake until the internal temperature of the chicken reaches at least 165 degrees Fahrenheit. Remove from oven and allow cooked chicken to rest 10 minutes. Brush the top of the chicken breasts with the remaining cilantro lime sauce for extra flavorful chicken! Enjoy!
Tip
Use an instant-read thermometer The best way to know when chicken thighs are fully cooked is to. When they reach an internal temperature of 165 degrees F, they're ready to serve.
Variations
Here are a few easy ways to serve these cilantro lime chicken breasts!
Add Fresh Avocado Salsa: Have a ripe avocado lying around? Top chicken with some fresh avocado salsa to give this recipe an extra kick!
Pair With Tortilla Chips: Don't feel like cooking but need something extra to fill you up? Add some tortilla chips to give this recipe a nice salty crunch! You could also add some cheese and turn this recipe into yummy cilantro lime chicken nachos!
Make Quesadillas Or Tacos: Cut chicken into small strips or cubes, grab some shredded cheese and tortillas, and make cilantro lime quesadillas or tacos!
Add Lettuce: Make this recipe into a Taco Salad by adding some crispy lettuce and Cilantro Lime Dressing!
Add Rice: Turn your chicken meal into delicious rice bowls by adding whatever kind of rice you like! For my cilantro lovers, add cilantro lime rice!
The lime cilantro chicken also works beautifully with a side of white or brown rice, refried beans, salad greens, or roasted vegetables.
How to Store
Refrigerate – Store in a plastic bag or airtight container in the refrigerator for up to 4 days.
Freeze – Freeze for up to 6 months.
Frequently Asked Questions
I don't have a meat thermometer. How can I tell if the chicken is done?
Instead of using a meat thermometer, you can poke the chicken to see the color of its juices. If they are pink, the chicken isn't done yet. If they are clear, the chicken is done!
Can I use other cuts of chicken?
Yes! You can use chicken thighs, tenders, wings, etc. Just make sure to adjust the cooking time, as it will be different for each cut!

What other ingredients can I add to jazz up this recipe?
You can add red onion, garlic powder, chili powder, etc., if you want extra flavor!
Can I make this recipe in an Air Fryer?
Yes! Just make sure to adjust the cooking time, as an Air Fryer will cook the chicken breasts faster than a traditional oven!
Tips
Use a meat thermometer for the most accurate temperature for your chicken.

Using a food processor or blender to make the marinade saves time. If you don't have one, finely chop ingredients and stir to combine.

Allow chicken to marinate for at least 30 minutes to ensure the chicken soaks up ALL the flavor!
Want to cook your meat to the perfect temperature, every time? Don't miss this printable Meat Temperature Chart with all the guidelines you'll ever need!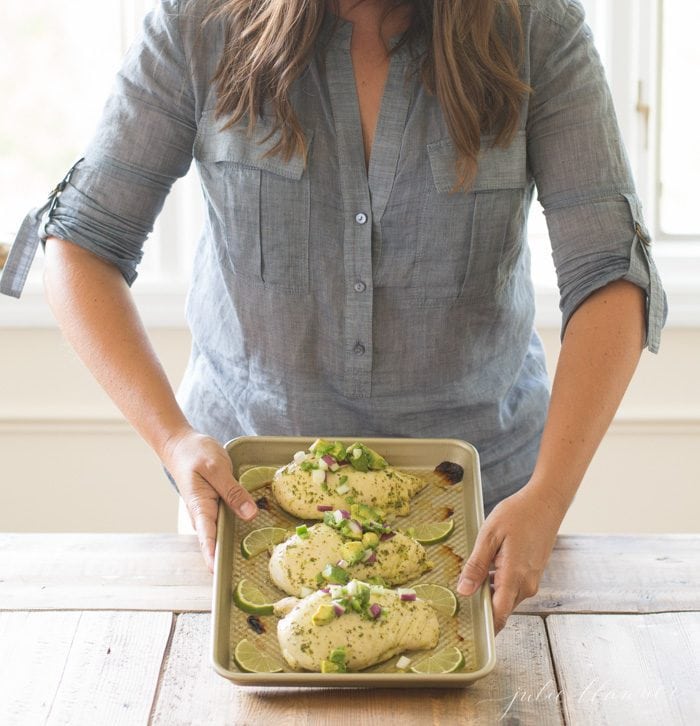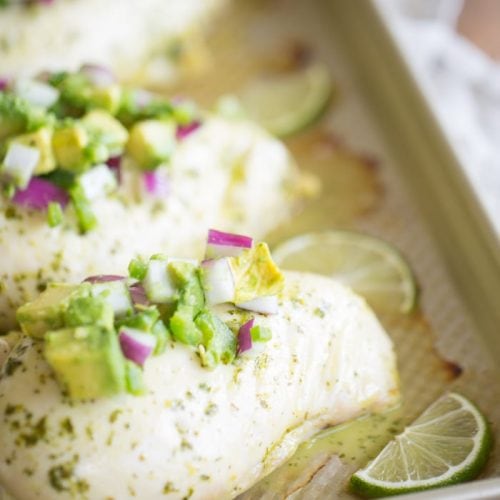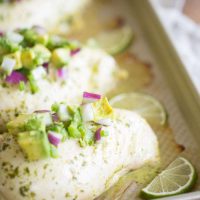 Cilantro Lime Chicken with Avocado Salsa
A healthy, flavorful cilantro lime chicken recipe for those busy weeknights. Enjoy it on its own or make it into tacos, burritos, and more!
Instructions
Meanwhile, add cilantro, jalapeño, lime juice, olive oil and minced garlic to a food processor (not required, but I love it ground fine).

Add half of the sauce to a small bowl and coat chicken. Place on a baking sheet and bake 20 minutes until the internal temperature reaches 165℉.

Remove chicken from the oven and allow to rest 10 minutes (it will continue cooking).

Brush chicken with remaining cilantro lime sauce.

Serve with Avocado Salsa, rice, tortillas, chips, lettuce, or on its own.
Tips
I save a little time using a food processor to make the marinade, but don't fret if you don't have one, just finely chop the ingredients and stir well.
*Nutritional information for chicken only.
Calories:
325
kcal
|
Carbohydrates:
2
g
|
Protein:
48
g
|
Fat:
13
g
|
Saturated Fat:
2
g
|
Cholesterol:
145
mg
|
Sodium:
265
mg
|
Potassium:
875
mg
|
Fiber:
1
g
|
Sugar:
1
g
|
Vitamin A:
357
IU
|
Vitamin C:
11
mg
|
Calcium:
17
mg
|
Iron:
1
mg
Estimated nutrition information is provided as a courtesy and is not guaranteed.
Explore More