An easy Non Alcoholic Mulled Wine recipe for the holidays is enjoyable for people of all ages. This alcohol free mulled wine recipe is created with sweet grape juice, fruit and spices that simmer into a hot Christmas drink that warms you from the inside out.
It's a four ingredient mocktail you'll want to make time and time again throughout the holiday season.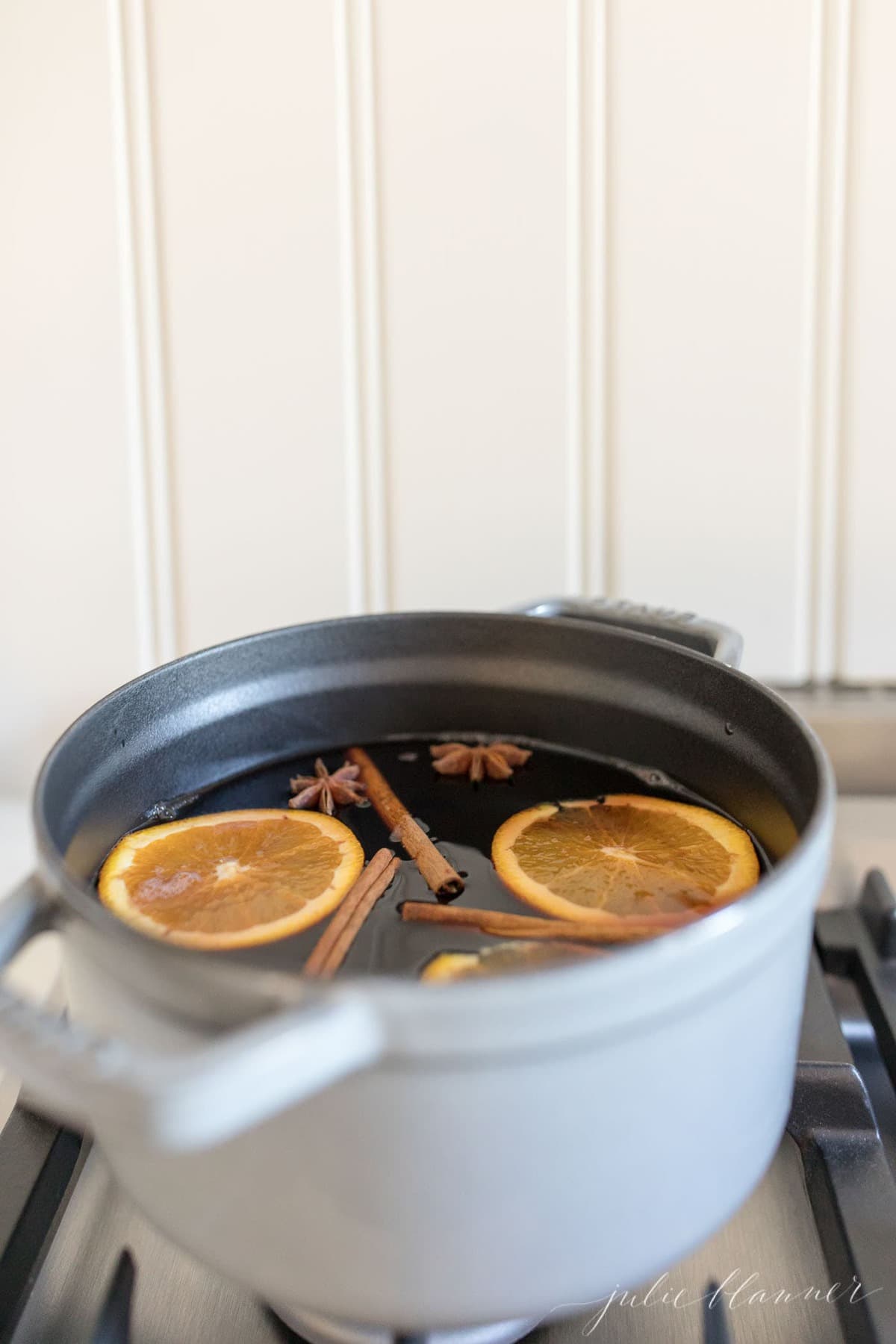 First published November 21, 2018 and updated with new details June 7, 2021.
You know I love a great glass of wine, but everyone should be able to share in the fun! When I was growing up, my mom would treat us to a special 'cocktail' for holidays and special events – often a Shirley Temple.
While I love a delicious and festive cocktail as much as the next girl, some occasions call for something more family-friendly and suitable for everyone on an invite list.
With that in mind, I wanted to make a hot Christmas drink the whole family would enjoy. My kids like to refer to it as Christmas fruit punch! They love it just as much as my Homemade Apple Cider and Pear Cider Recipe.
I'm such a fan of a seasonal cocktail. Find all my favorite Thanksgiving Cocktails here, and enjoy the scents and flavors of autumn. My best Christmas Cocktails are all in a round-up, as well!
Such a fun way to celebrate the season, right? Let's get started!
Why You'll Love this Alcohol Free Mulled Wine
This recipe for non alcoholic mulled wine is great for adults and kids alike – anyone who wants a festive drink without alcohol.
It's easy to make and serves a crowd. It just takes a few ingredients and you can adjust it to your preference or occasion. Much like my mulled wine and Spiked Apple Cider, it simmers on the stovetop until ready to serve.
The scent of simmering mulled grape juice fills your home with the most beautiful aroma and your soul with joy.
Non alcoholic mulled wine is an easy way to make an event memorable.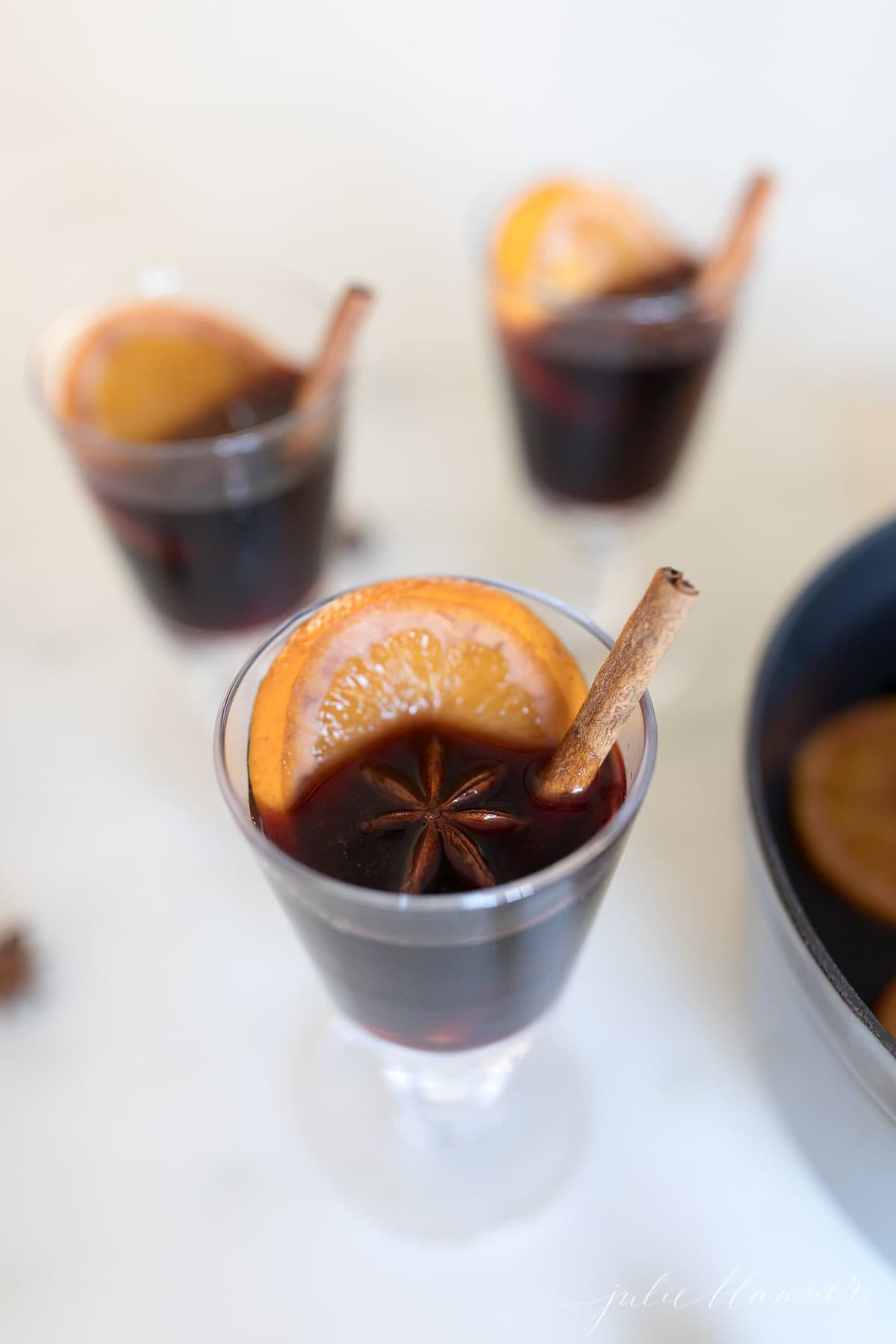 Non Alcoholic Mulled Wine Recipe Ingredients
Grape Juice – I recommend Welch's 100% red grape juice, but purple will work as well. One 46 oz bottle of grape juice will be enough for 8 people. If you are having a larger party or holiday gathering, simply double (or triple!) the recipe – use the slider bar on the recipe card to make the math oh-so-easy!
Orange – Fresh sliced orange gives it that extra special touch and pop of beautiful orange slices. The winter citrus is also perfect this time of year!
Star Anise – The subtle licorice flavor complements the sweet grape juice so well. And I just love seeing those stars float around the surface of the hot Christmas drink.
Cinnamon Sticks – A warming spice that sings all things holiday. It is such a classic and kids love it, too!
Variations
If you think your family will enjoy more spice, make this hot Christmas drink with traditional mulling spices to amp up the flavor!
You can also make your own allspice seasoning to use in this recipe with just a couple ingredients!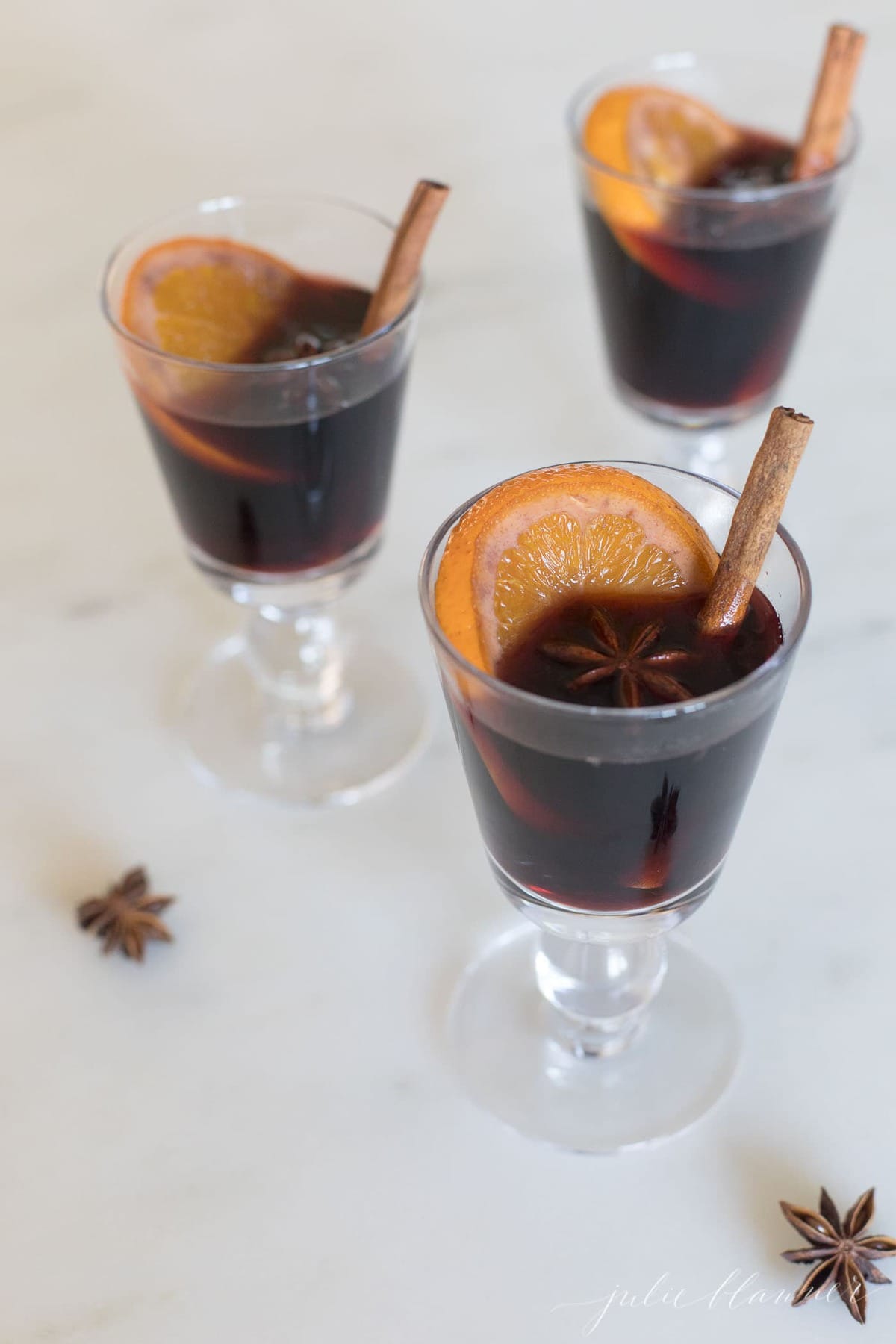 How To Make Non Alcoholic Mulled Wine
In a large dutch oven, warm a bottle (or two or three) of grape juice with sliced orange, star anise and cinnamon sticks for 20 minutes or until ready to serve.
Ladle into mugs and garnish with orange slice, star anise and cinnamon stick.
Alcohol Free Mulled Wine Serving Suggestions
Tips
Make it ahead – Simply mull for several hours ahead of time, and then place lid on container and store in the fridge. Add it back to the stove for about half an hour over low heat. All the flavor and no last minute effort!
For another version, try it frozen! Follow direction below to freeze, and then serve as a non-alcoholic mulled wine slushee!
How to Store
Room Temperature: for up to two hours.
Refrigerator: Let your alcohol free mulled wine cool completely, then seal in an airtight container and store in refrigerator for up to three days.
Freezer: You can freeze this non-alcoholic mulled wine! Pour your grape juice mixture into containers and freeze it. Be sure to leave a couple inches of extra space at the top of your container to prevent overflow.
TO REHEAT: Slowly warm your non alcoholic mulled wine in your pot on the stovetop over low heat, or add leftovers into your crockpot and reheat on low heat until warmed through.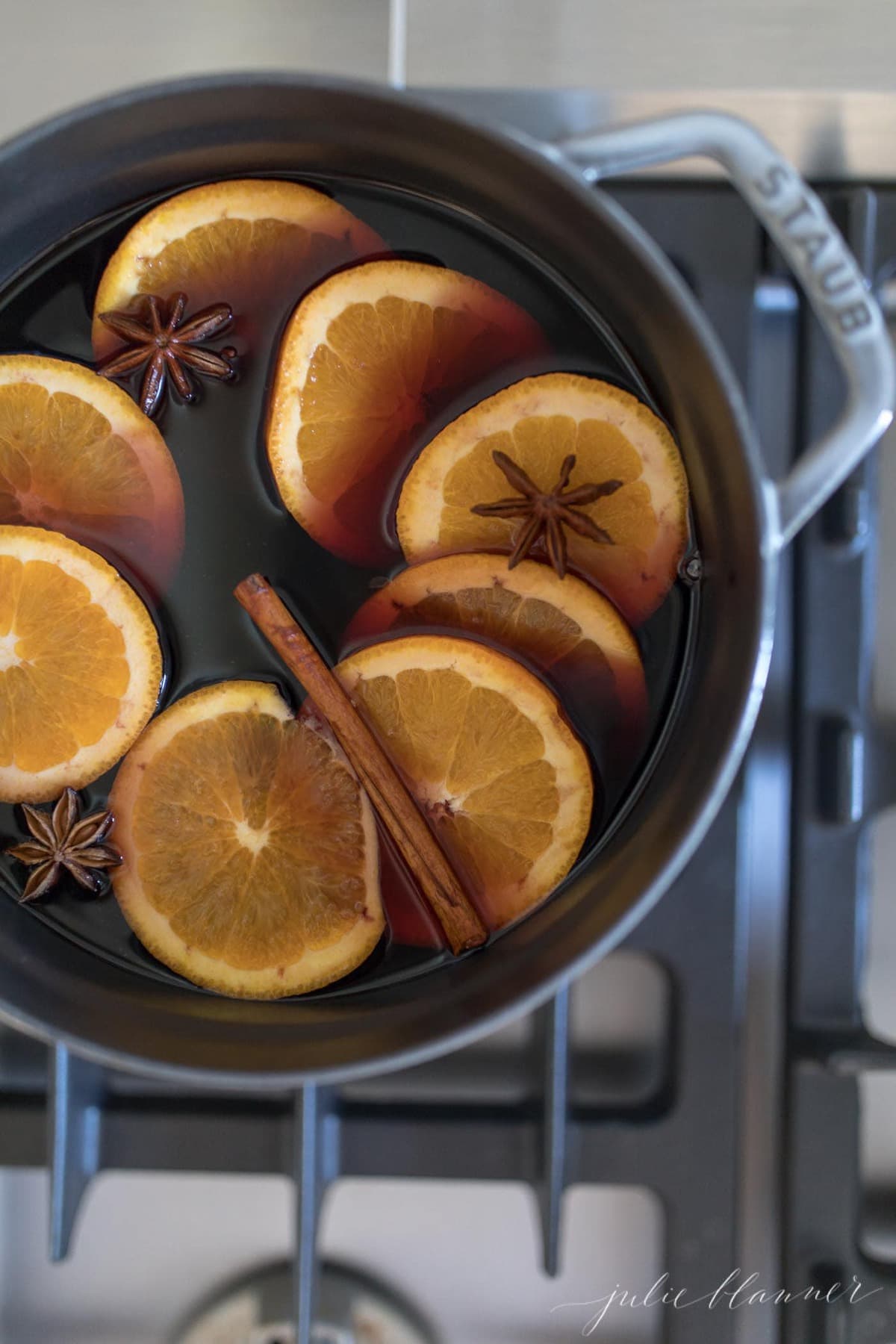 What are the best spices for alcohol free mulled wine?
Try Star Anise, cloves, cinnamon, and allspice. They'll all add that incredible scent and flavor that makes mulled wine so special!
How to Serve Non Alcoholic Mulled Wine
I like to make our mulled wine on the stove top and let it simmer, enjoying the fragrance as it warms all afternoon and evening. For me, that's part of the joy of serving a cozy recipe like this one!
I love to use my Staub cast iron pieces to create this alcohol free mulled wine recipe at home.
You can also serve from your crockpot, of course.
A heated kettle also serves well for guests.
This is a great addition to any holiday gathering. I hope you and your family and friends enjoy it, too!
Dietary Considerations
Gluten Free
Dairy Free
Nut Free
Vegetarian
Vegan
More Holiday Cocktail Recipes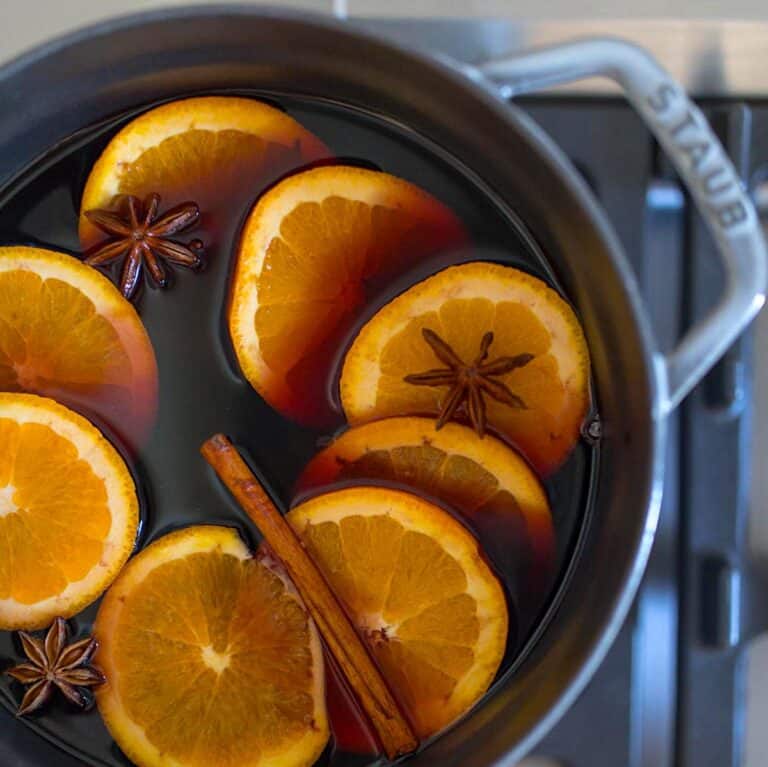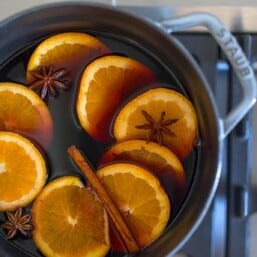 Non Alcoholic Mulled Wine
An easy Non Alcoholic Mulled Wine recipe for the holidays. Sweet grape juice, fruit and spices simmer into a hot Christmas drink for all ages!

Ingredients
46

ounces

grape juice

1

orange

sliced

5

star of anise

3

cinnamon sticks
Instructions
Simmer wine on low with orange, star of anise and cinnamon sticks 20 minutes or until ready to serve.

Garnish with orange slice and cinnamon stick.
Tips
You can adapt this recipe to taste by adding cloves in a tea pod or adding additional fruit.
Calories:
111
kcal
|
Carbohydrates:
27
g
|
Protein:
1
g
|
Fat:
1
g
|
Saturated Fat:
1
g
|
Sodium:
8
mg
|
Potassium:
214
mg
|
Fiber:
2
g
|
Sugar:
25
g
|
Vitamin A:
50
IU
|
Vitamin C:
9
mg
|
Calcium:
42
mg
|
Iron:
1
mg
Estimated nutrition information is provided as a courtesy and is not guaranteed.
Explore More