Discover the beautiful and quaint Hob Knob, a Martha's Vineyard hotel, that captured my heart. Let me share the features that make the Hob Knob a design dream and the perfect island getaway.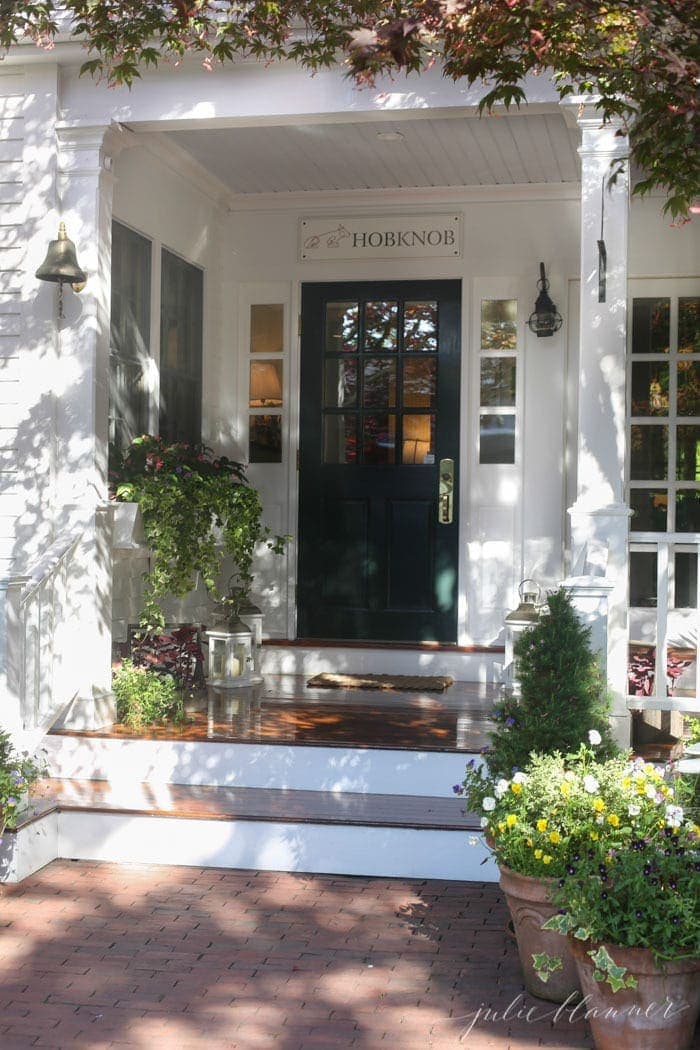 Originally published June 15, 2017 and updated with fresh content and details July 6, 2021.
When I was researching a Martha's Vineyard hotel, I stumbled across a little gem nestled in Edgartown, just a short walk from dining, shopping, and the water.
The photos on their website instantly intrigued me, and I knew I had to stay there and soak up the warm, charming style.
I love staying at hotels that inspire me. I took away so many decorating ideas from my stay at the Hob Knob, a Martha's Vineyard hotel that I couldn't wait to share with you upon returning home.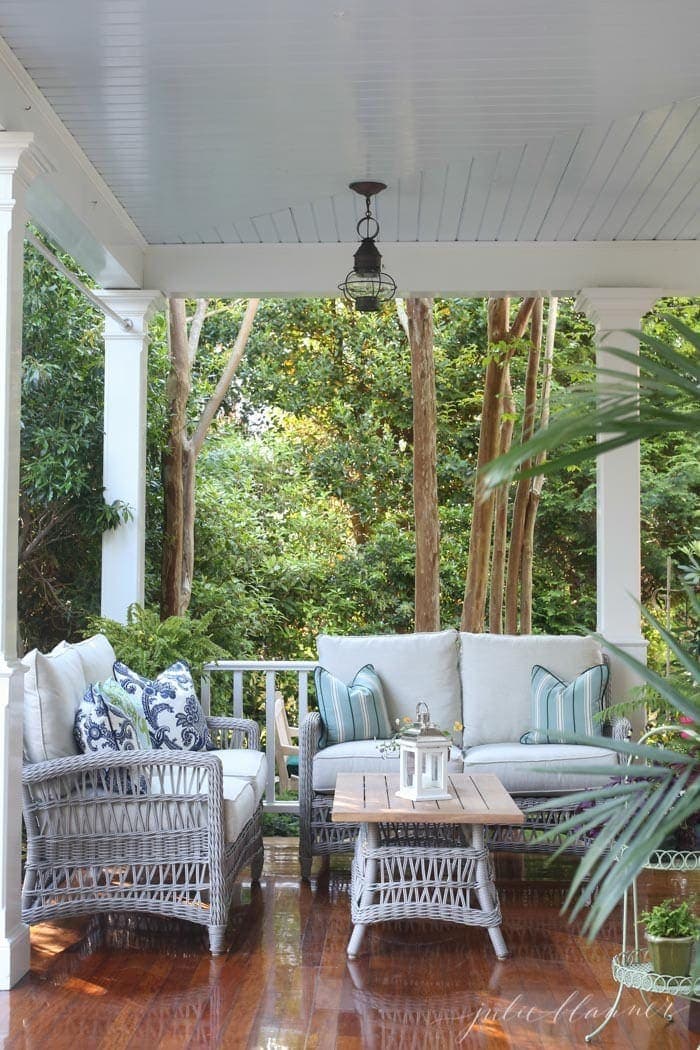 Learn all about this charming boutique hotel and spa, with photos of the beautiful decor and special attention to detail that makes this hotel stand out!
First Impression of this Martha's Vineyard Hotel
Martha's Vineyard is a Massachusetts island that is south of Cape Cod. Full of historic charm with lighthouses, beach towns and charming farms, it's accessible only by air and boat.
Preppy and timeless in style, I knew that the Hob Knob was a Martha's Vineyard hotel that would encompass the look and feel of the island!
I was greeted with light and fresh wicker furniture that was covered in an abundance of pillows! What a warm welcome! Pillows can be such an easy and inexpensive way to bring texture and color to a design.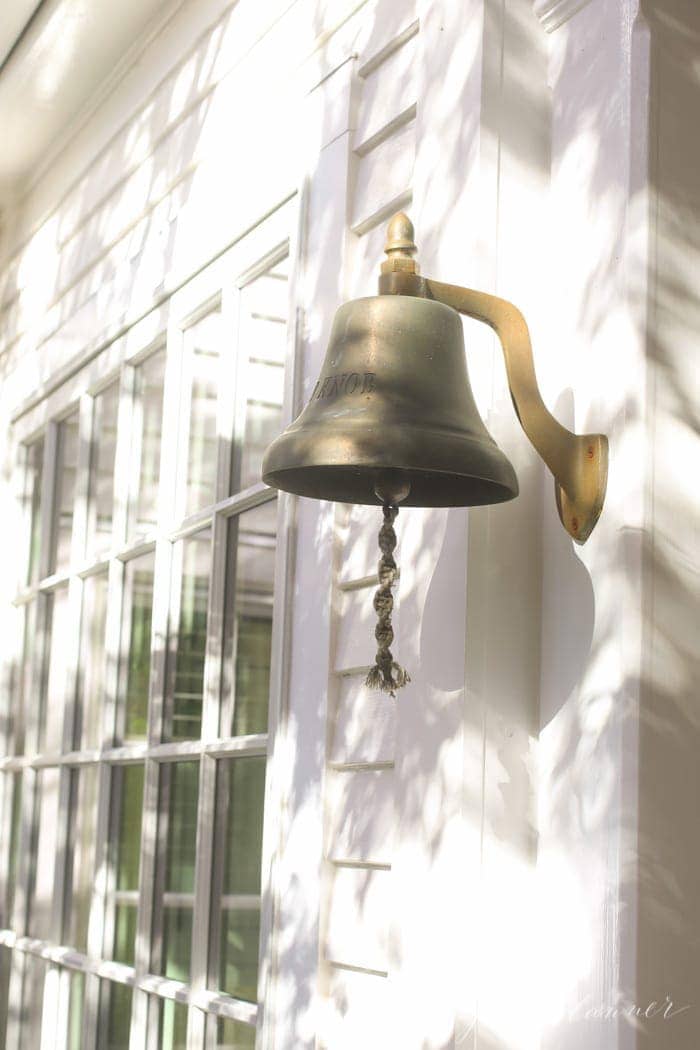 Blooms surrounded the porch to contribute to the relaxing retreat feel. Copper gutters and a brass bell were perfectly placed metallic details for texture and warmth.
Brass and copper have such a homey feel, which is why I use those metals in my decorating.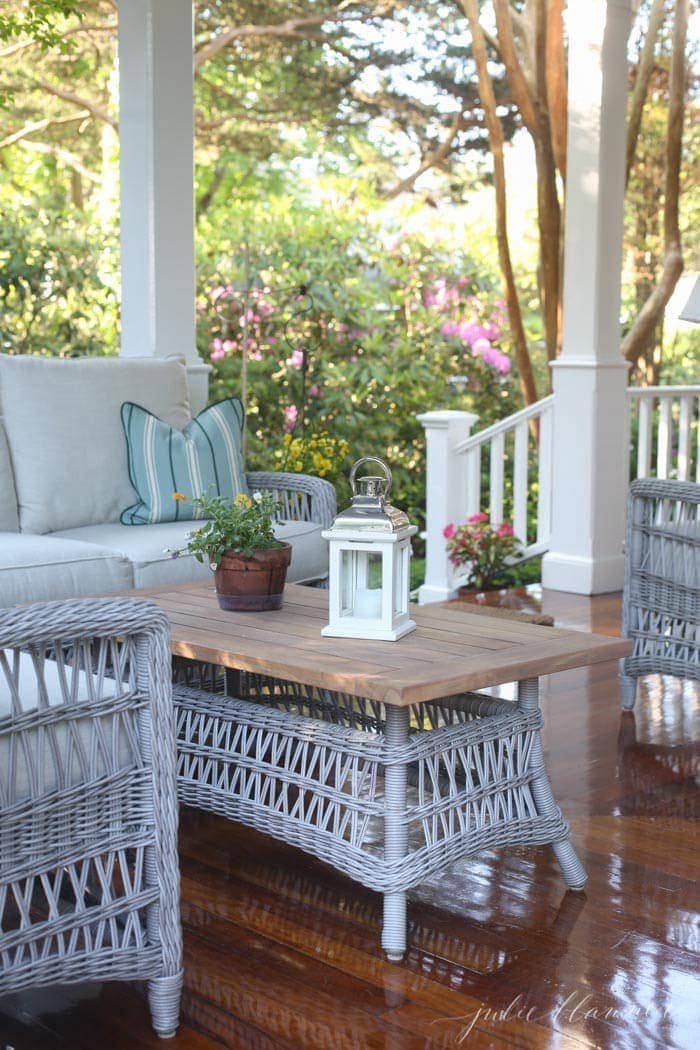 One of my favorite features on the outside was the grand wrap around porch. The polished and shiny wood floors were reminiscent of a classic sailboat. The wood's deep and rich tones alluded to classic luxury!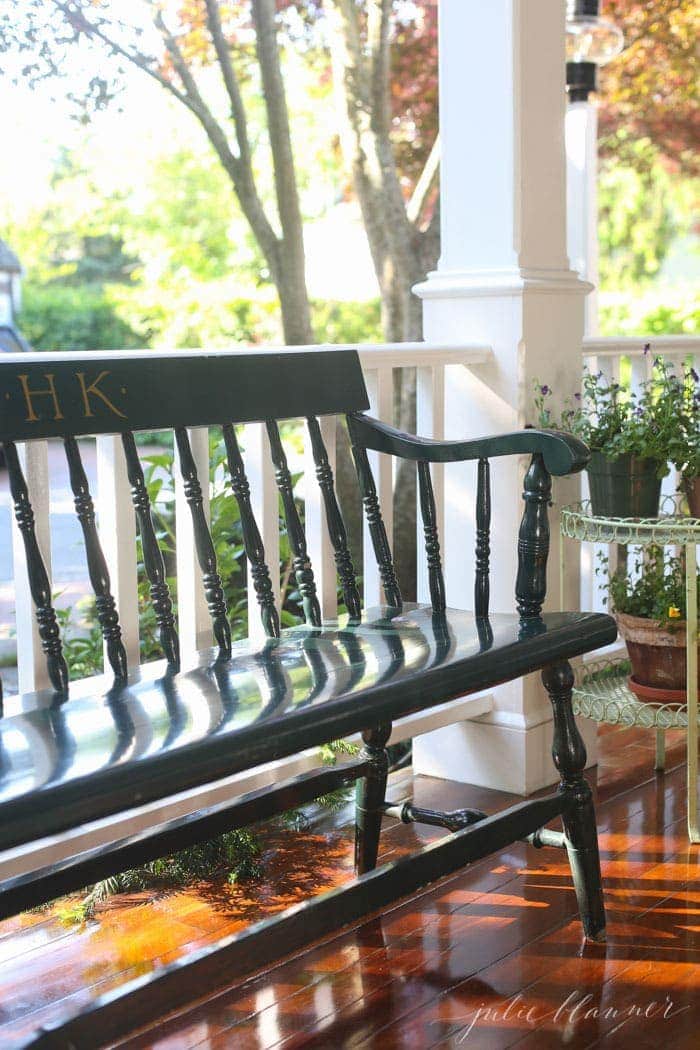 The Hob Knob is a Martha's Vineyard hotel that speaks to the style of the area from the moment you walk up.
I could've stayed on the porch and relaxed all day, but I had to see how lovely the inside was!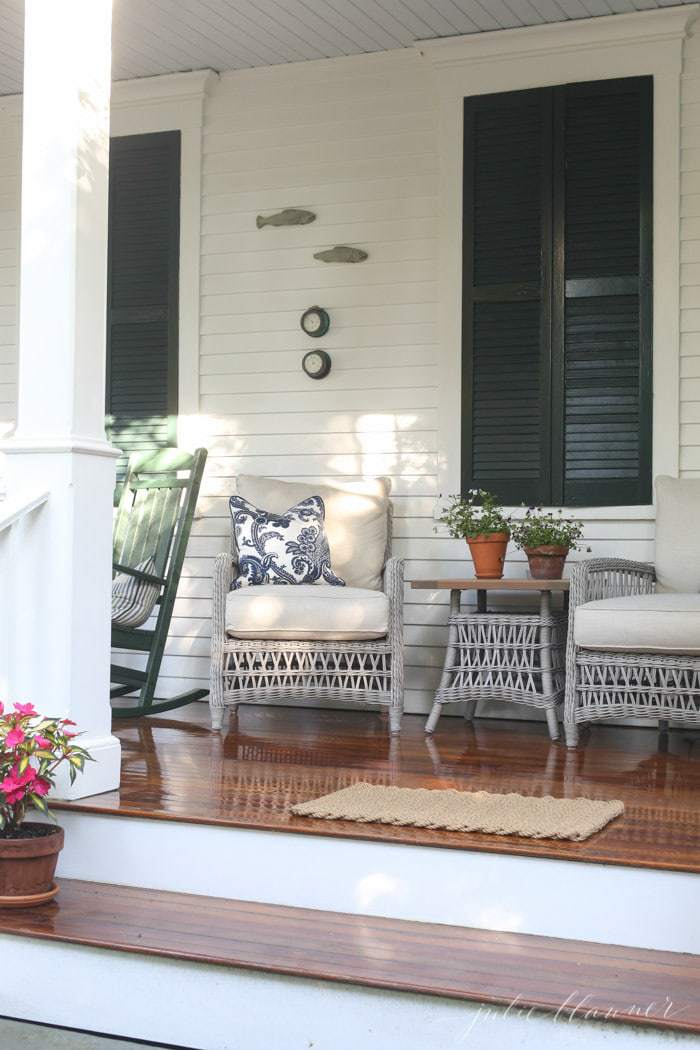 Inside the Hob Knob
I stepped inside to find out that it was not only charming, but warm and filled with simple details. Every element was perfectly placed to contribute to the cohesiveness and charm.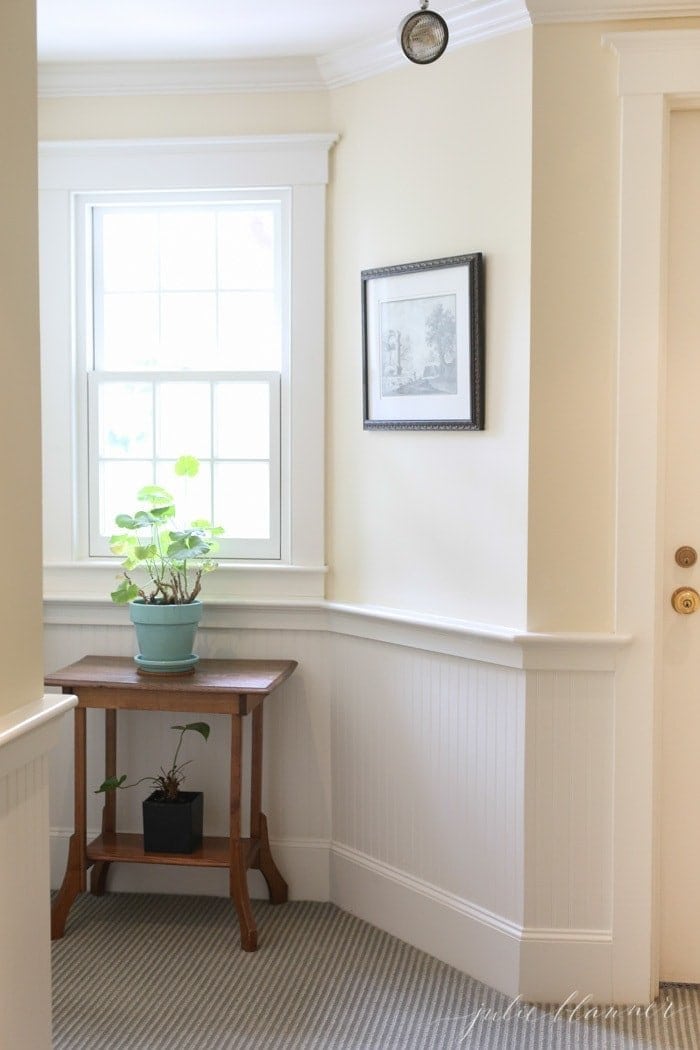 Simple pieces of art were hung strategically so that they could each be noticed and admired. Too much art can make a place feel cluttered, but using just a few pictures here and there is perfect.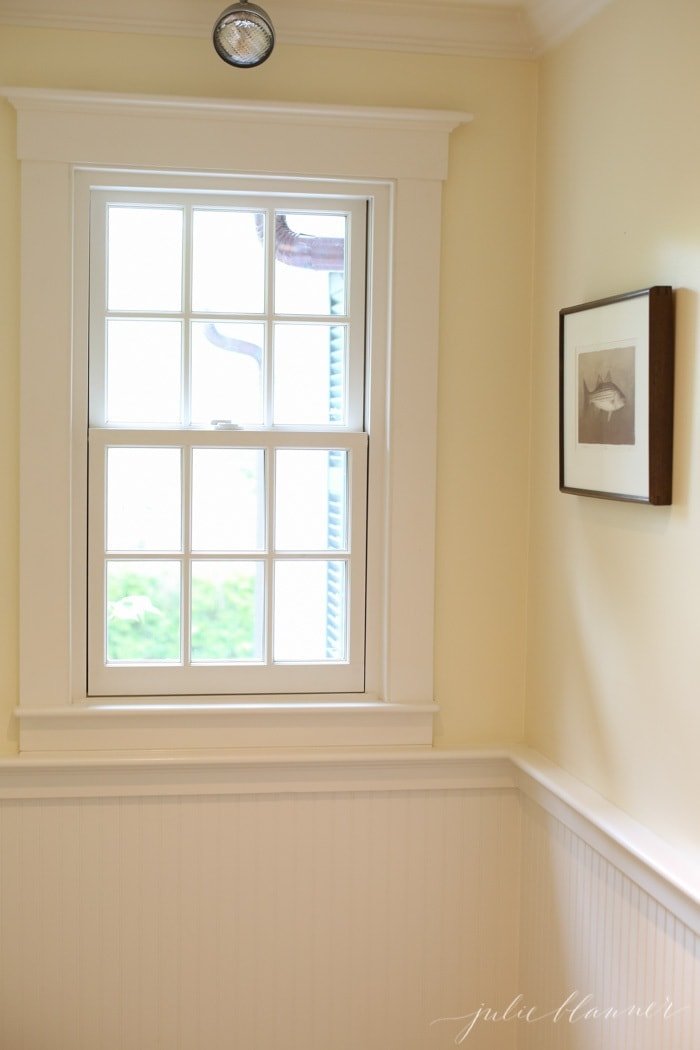 Cozy and warm low-profile carpet was pretty to look at and softened the interior. And pristine, white beadboard with wainscoting captured the charming, stately look.
I love the blue and white platters that were perfectly positioned on the walls of the dining room. Learn how you can hang platters on your walls to mimic this style! The whole room felt simple and elegant at the same time!
And those Windsor chairs were so comfortable! I am thinking of sourcing them for our breakfast room!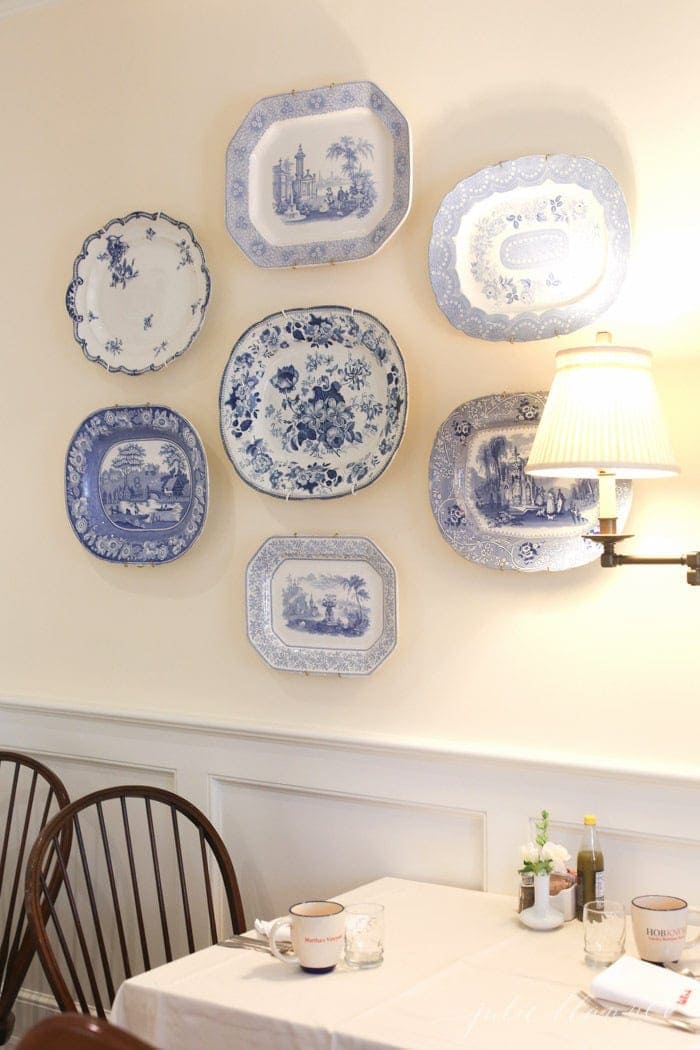 More Hob Knob Details
I mentioned the blooms around the porch when I first walked up to Hob Knob, and I got to see them again outside our room. Look how pretty and colorful they are through the pretty paned window in our room!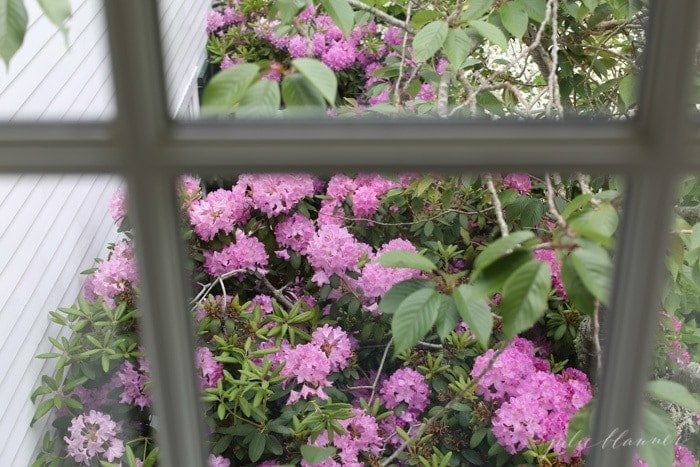 All of the decor, from the pictures to the books to the vases and dishes, have been placed in the perfect location.
This allows each of them to be stand out on their own while contributing to the overall effect. The Hob Knob is so serene and inviting!
If you venture to Martha's Vineyard, say hello for me. And if you need help with Things to do on Martha's Vineyard, I wrote about our experience here.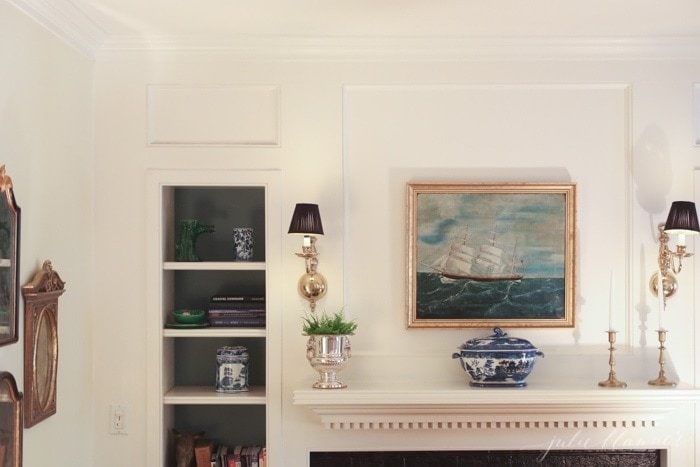 I would definitely move here . . . if it weren't for the winters. I hope you have enjoyed this tour from our stay in Edgartown!
Let's keep in touch! Receive exclusive content, including never-seen-before photos, our favorite home decor DIYs and more!