Get all the insider info you need to find the best luxury faux flowers for your home decor. In fact, artificial flowers don't have to look FAKE ever again!
There are faux flowers for every season now, and many look incredibly natural.
Find all the tips and tricks you'll need to get a beautiful result with adding just a few artificial flowers to your home for spring and beyond. You might just be surprised by what's available… read on to find out!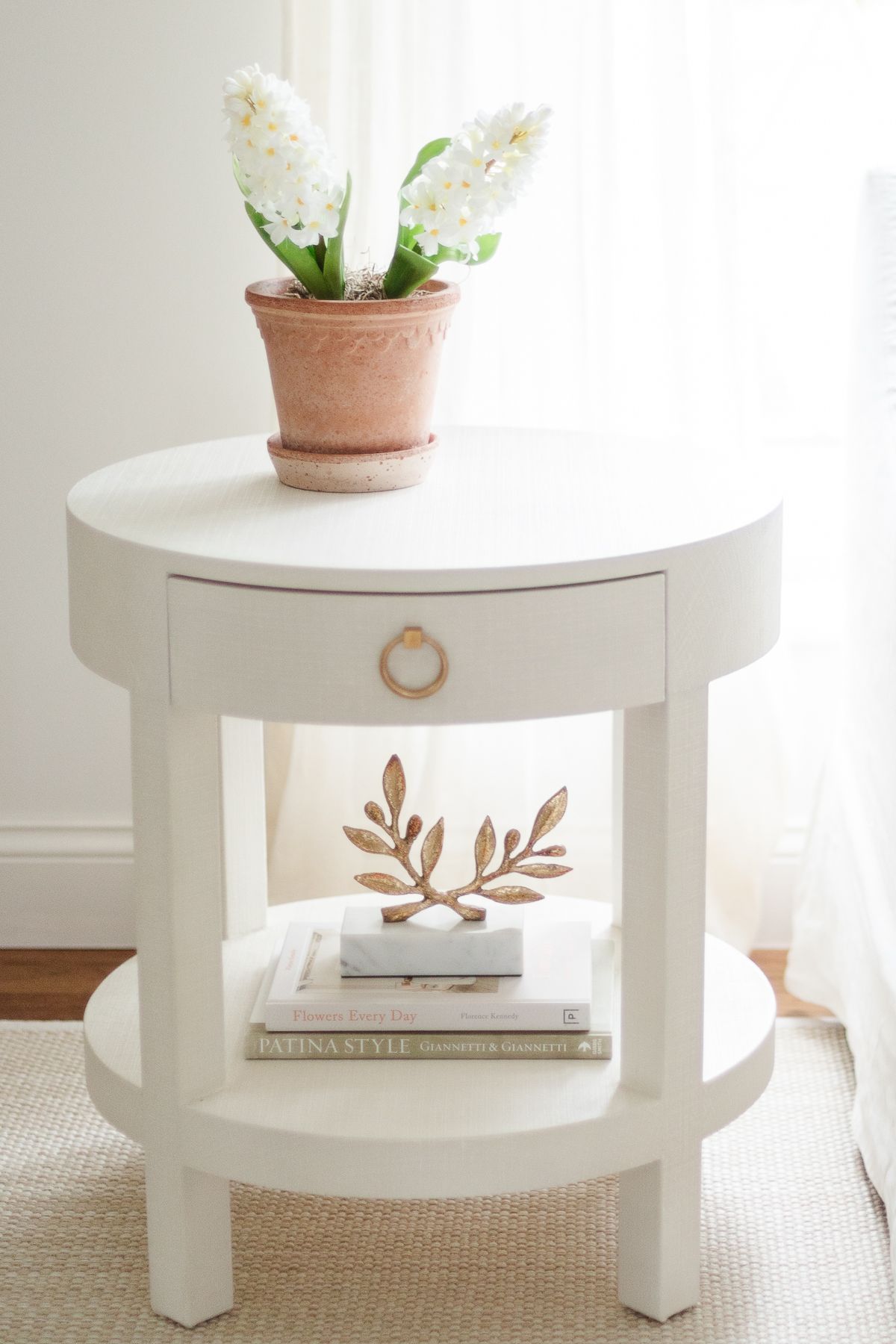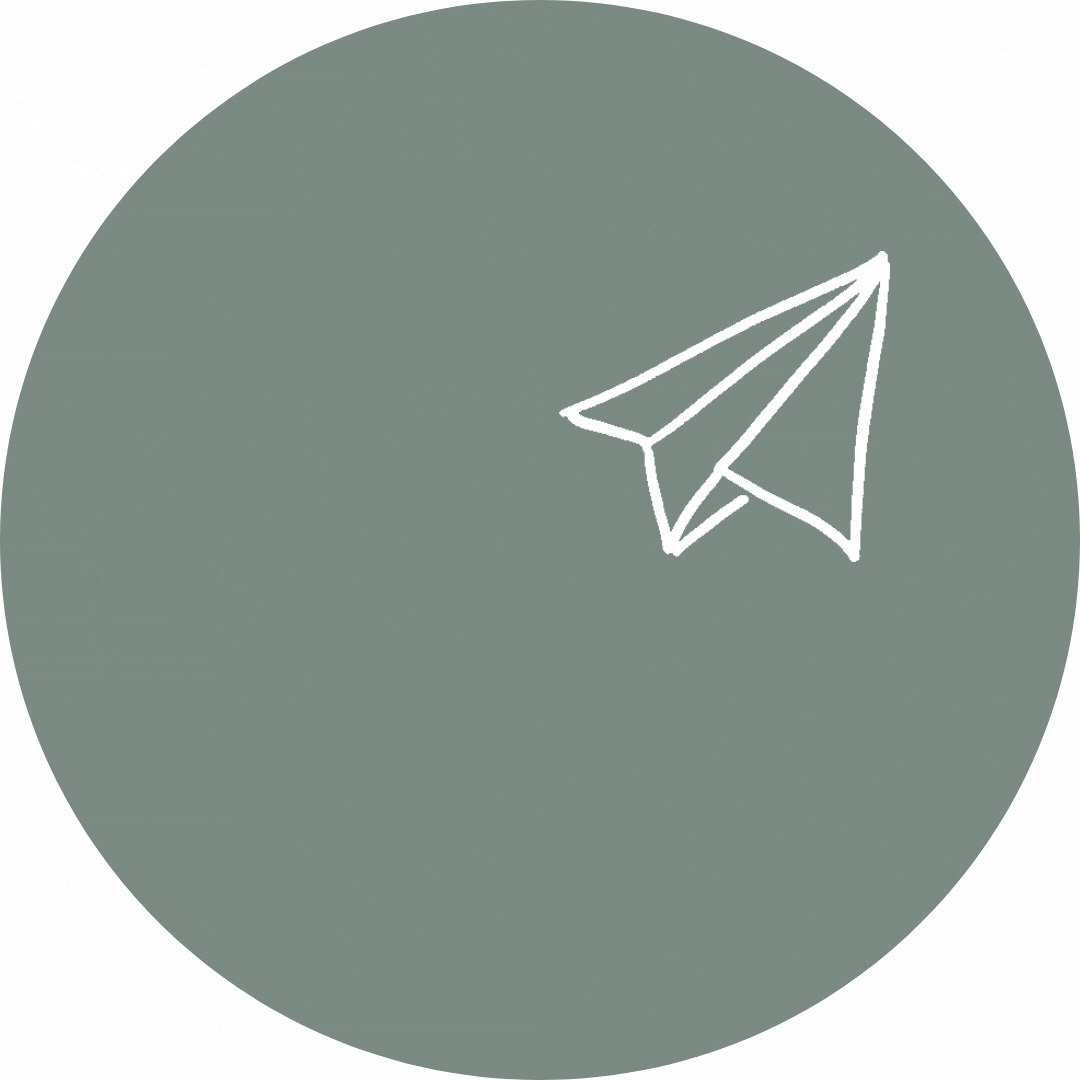 It's no coincidence that to get to the fresh fruits, vegetables and everything a grocery store has to offer, you usually pass the floral section. How can you resist picking up a bunch of fresh flowers? (Psst… read all my best tips for grocery store flowers here!)
I dream of the ways I can use them in a big beautiful bouquet or in little bud vases throughout our home. I love nothing more than a home filled with fresh flowers, but all good things must come to an end.
Or not. What if you could capture that beauty and keep them alive all year long?
The Best Faux Flowers
Luckily, the retail market for faux flowers has come a long way! There are so many options out there for artificial flowers that truly look real.
There are a few keys to doing this well, and getting a natural look you're going to love… and today, I'm sharing all my favorites with you!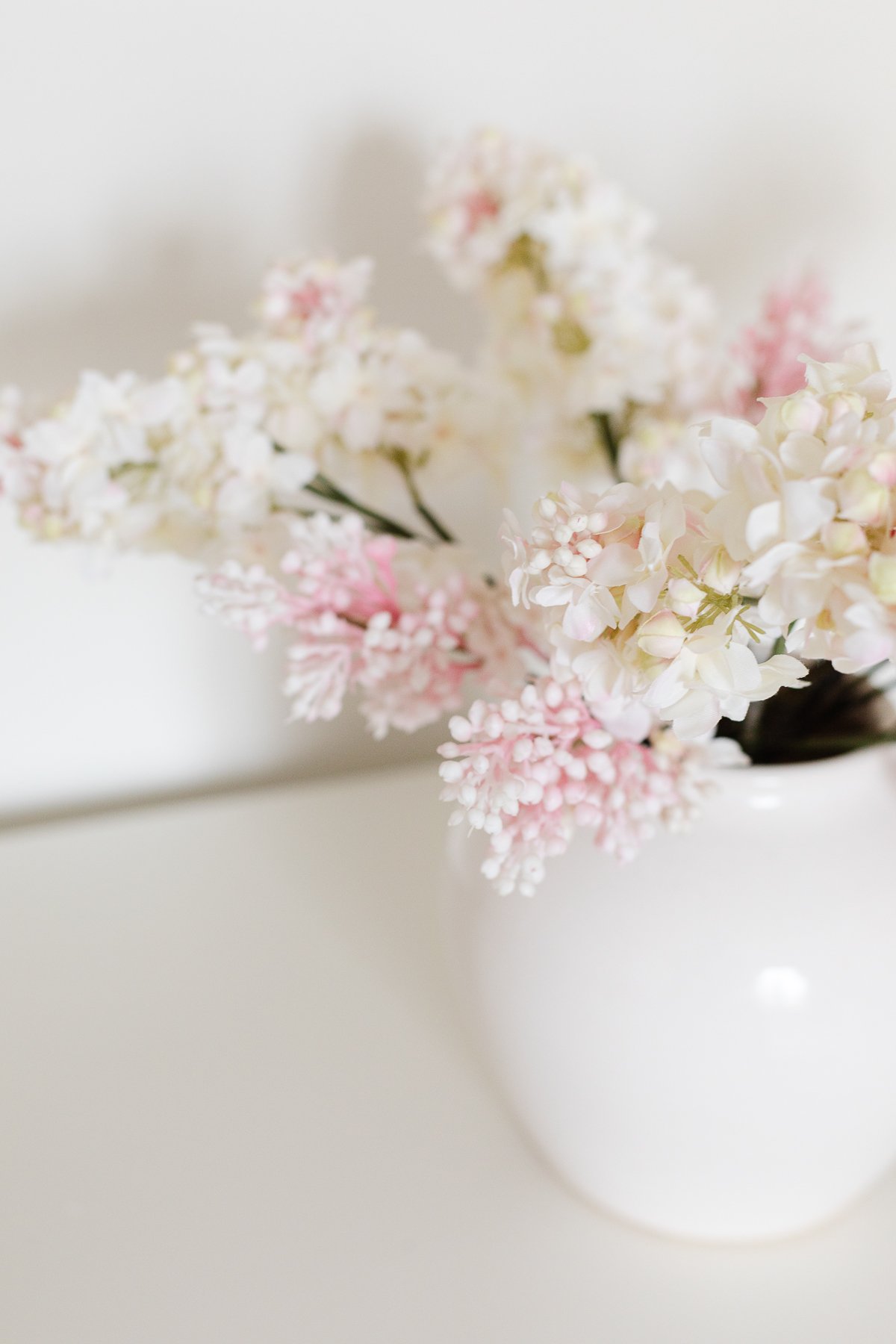 It can be argued that for many of us, the 80's ruined a few things (as much as we love the memories).
Dried and faux flowers might be the biggest 80's offenders in my eyes… the colors, styles and the dust just remind me so much of grandma's house. And not necessarily in a good way!
Luxury Artificial Flowers
For many years, I rarely, if ever used fake flowers with those memories in mind. As much as I appreciated the convenience, I could just never find any that felt real enough to fool my eye!
Well… times have changed, friends. And now, I am happy to share that I think artificial flowers are having a moment. Some are so realistic that they can fool even my florist friends! That's really saying something, isn't it?
The quality has improved so much, and there are offerings that create the soft, romantic look that you know I just adore. I think there are a few important things to keep in mind when you're choosing artificial flowers for your home, though.
I love sharing ideas for improving your home!
We've renovated many homes during the last 20 years, and I am always thrilled to pass along the knowledge we've gained along the way. See the complete Before and After tour of our St. Louis home here, and our modern Table Rock Lake Cottage as well.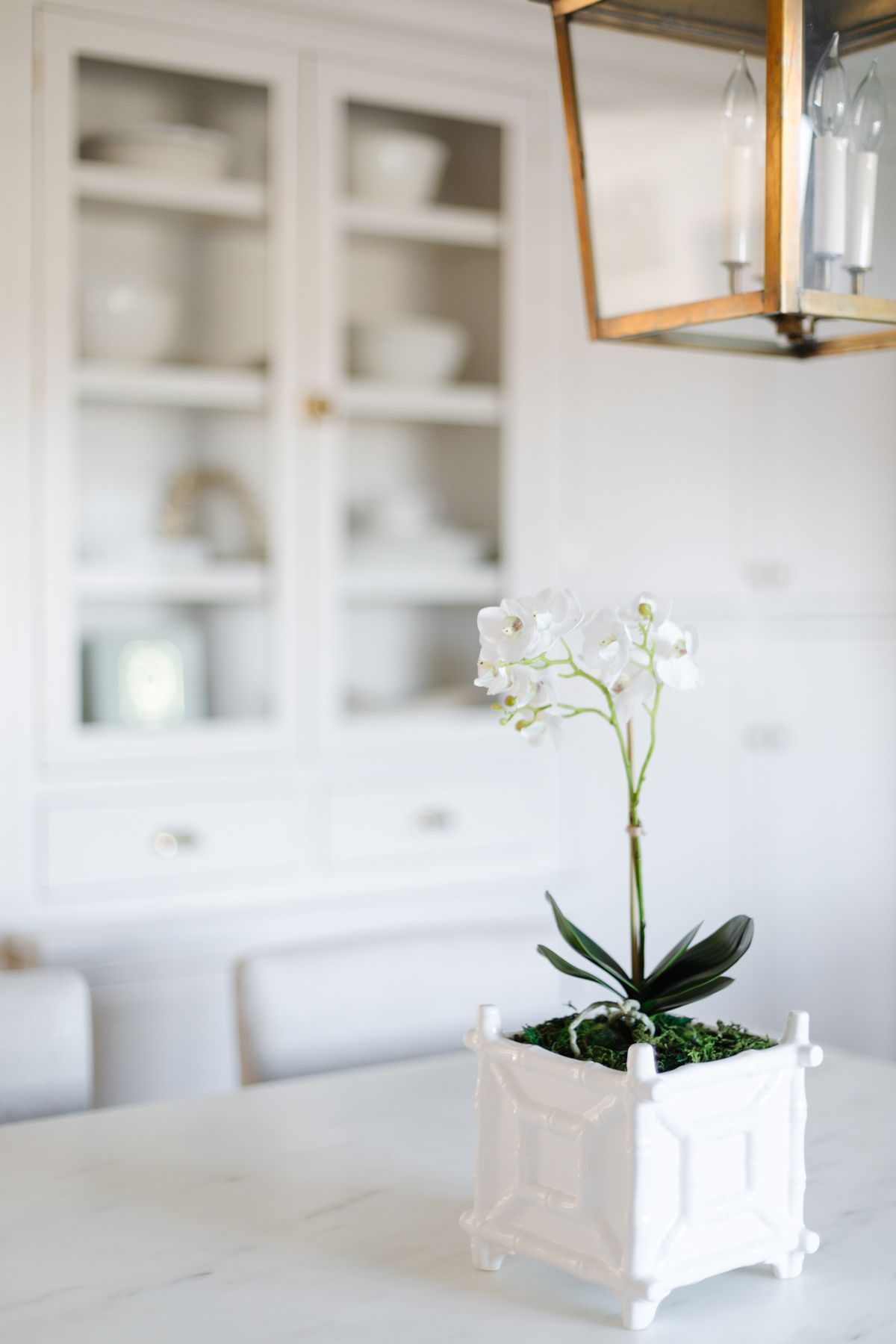 Tips
Stick with soft, light colors. The stronger colors tend to look a little more artificial to my eyes!
Use all one type of stem. This is important! Using two or more types of flowers can be distracting and become busy. Simplicity is elegance in this situation.
Use the best you can afford. When it comes to faux flowers, the higher end stems do tend to capture more realism. If you're planning to keep the stems as part of your decor for many seasons, they can be worth the investment.
Hide the stems. While I'll often design fresh flowers in my favorite clear glass vases (find my favorite vases here), artificial flowers tend to look more realistic when gathered into pottery-style vases. The stems often give them away as fake flowers, even when the blooms don't!
Bend, don't cut. This is a tip from a florist friend, and I love it! Why cut the tall stems when you can simply bend them to hide them in your (pottery, not glass) vase? That way, you can get the height you want without sacrificing the length for future use.
Less is more. One bouquet of artificial flowers in your entry (or bedroom, or bath, or living room) can go a long way. Use faux flowers sparingly in your home for maximum effect.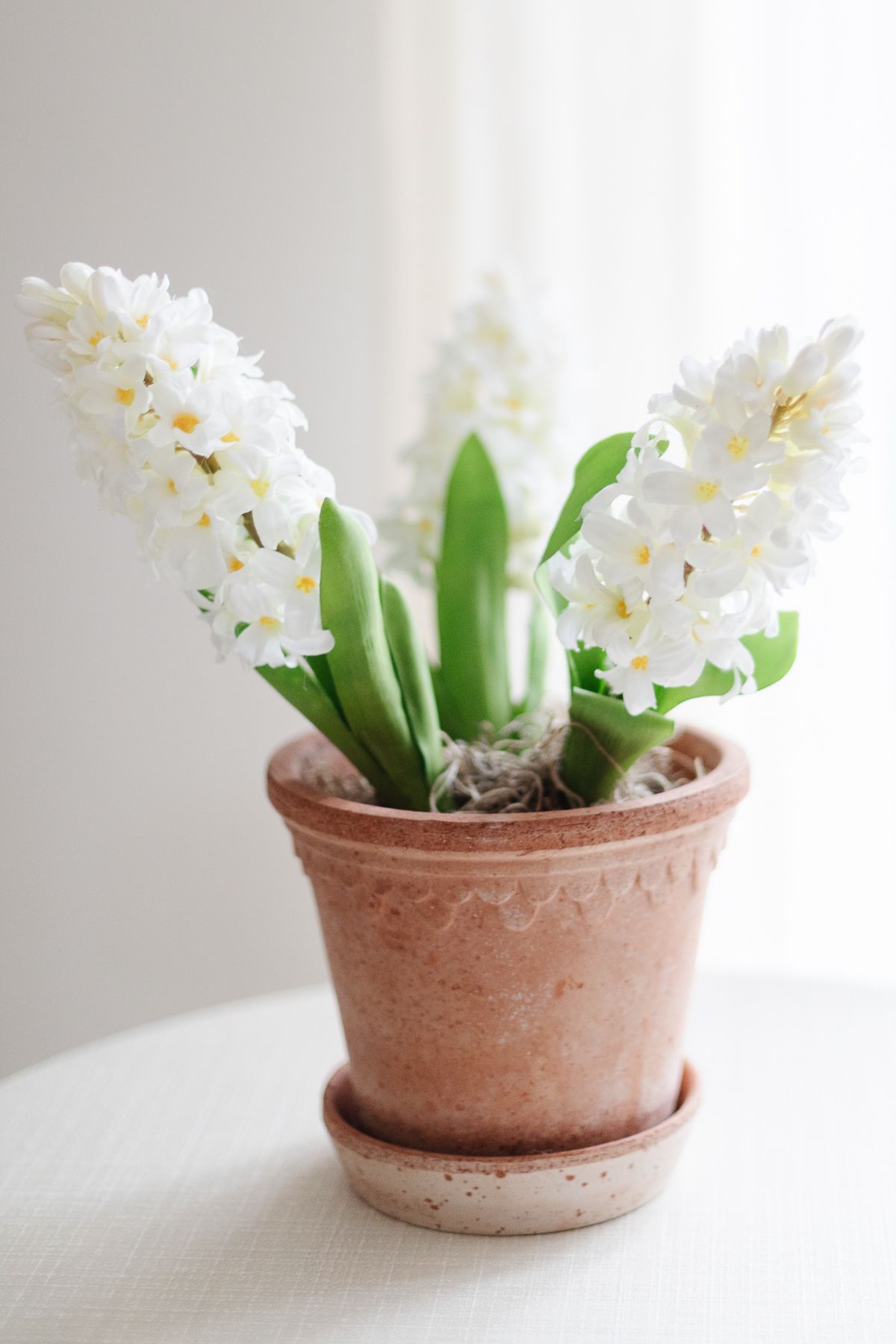 Frequently Asked Questions
What are the most realistic artificial flowers?
Real Touch blooms are often considered the most realistic, and they are made of a latex polymer vs traditional silk blooms. It truly comes down to personal preference and finding a natural look that works for your style.
Are fake flowers tacky?
For many years, fake flowers were considered a tacky home decorating decision of years gone by. However, the retail market has changed – and there are so many beautiful artificial blooms available now!
What is the best artificial flower material?
Flowers made of silk tend to be the most high-end and look the most realistic in your home decor.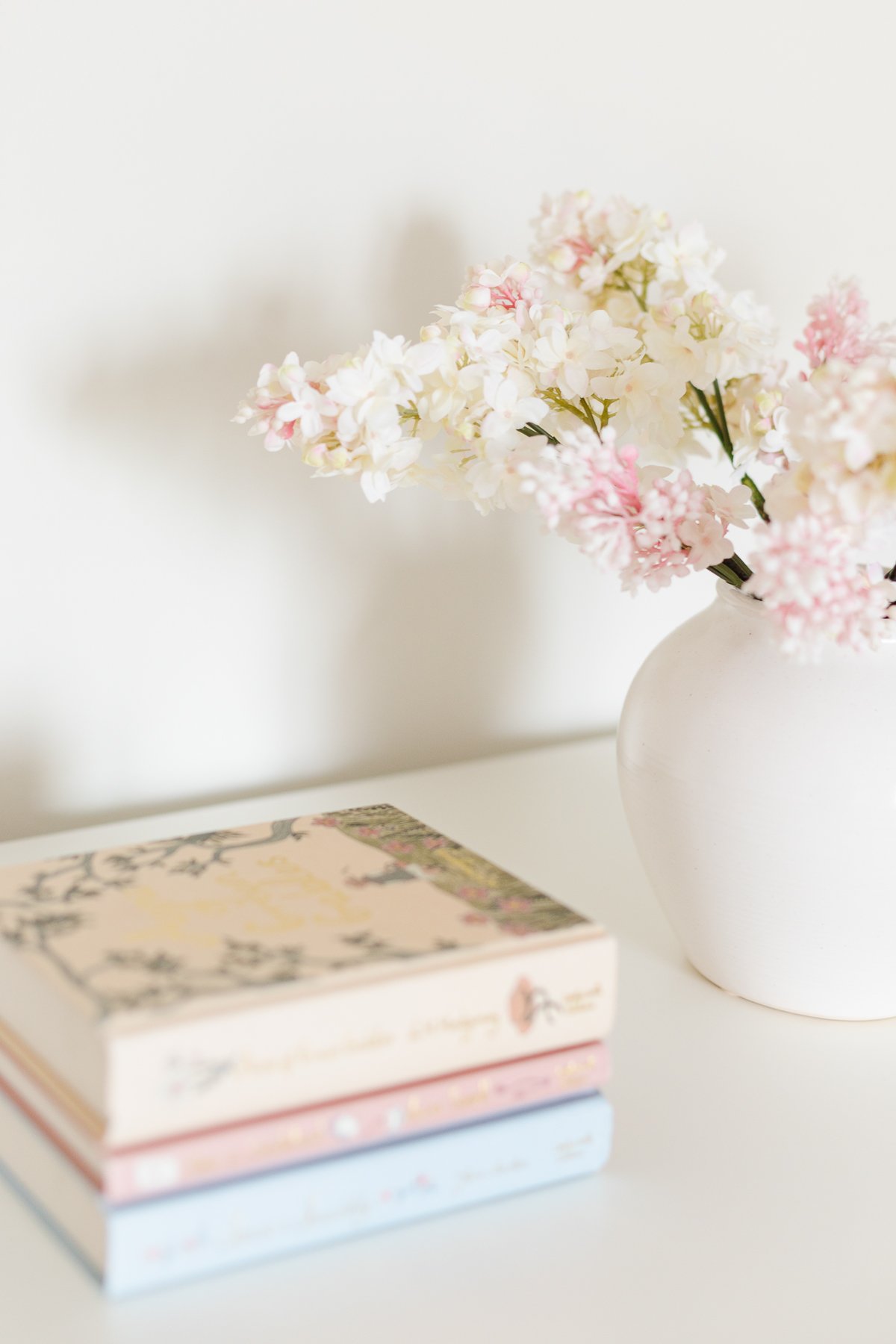 Sources for the Best Faux Flowers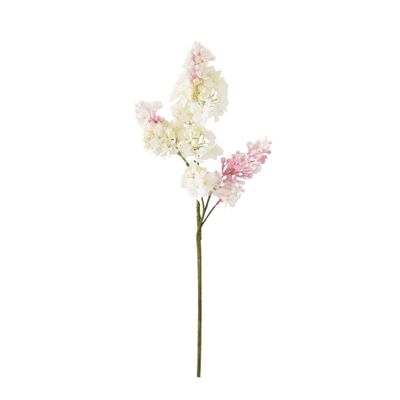 Pink & Cream Lilac
These pretty 25″ pink lilac stems are so realistic! We love them in Isla's room for a subtle pop of color.
Hyacinth
These are the prettiest faux hyacinth I've ever seen, and I love how they breathe a little spring into our living room.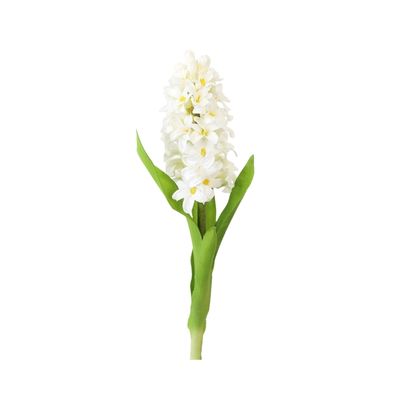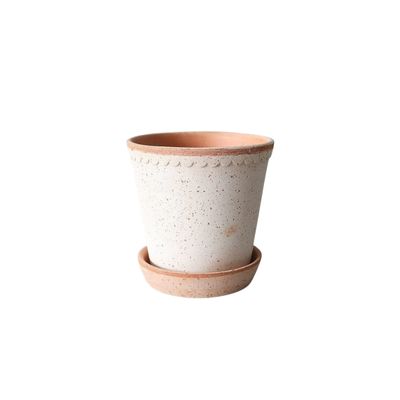 Bergs Pot
I adore this sweet scalloped pot and have used it in many rooms!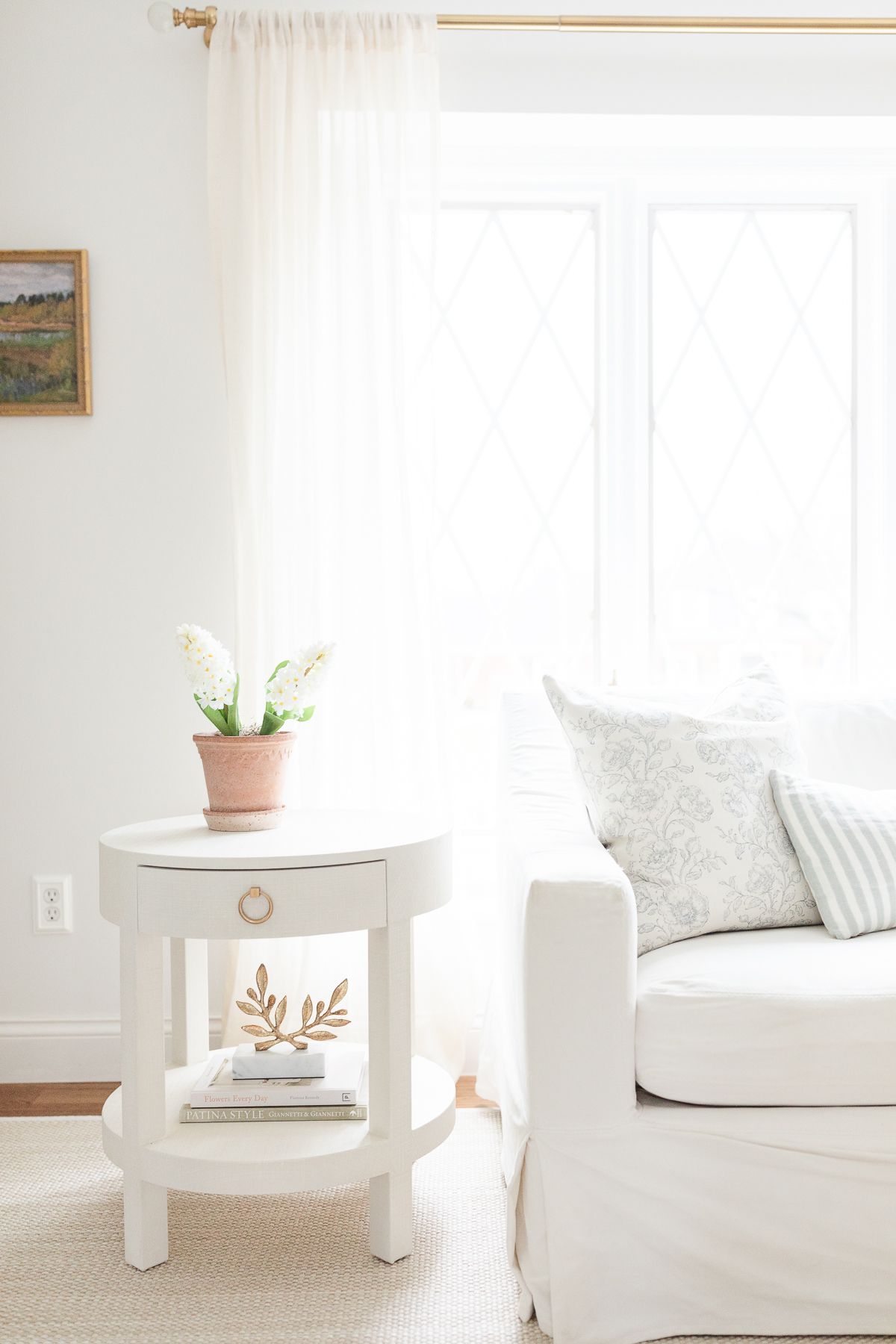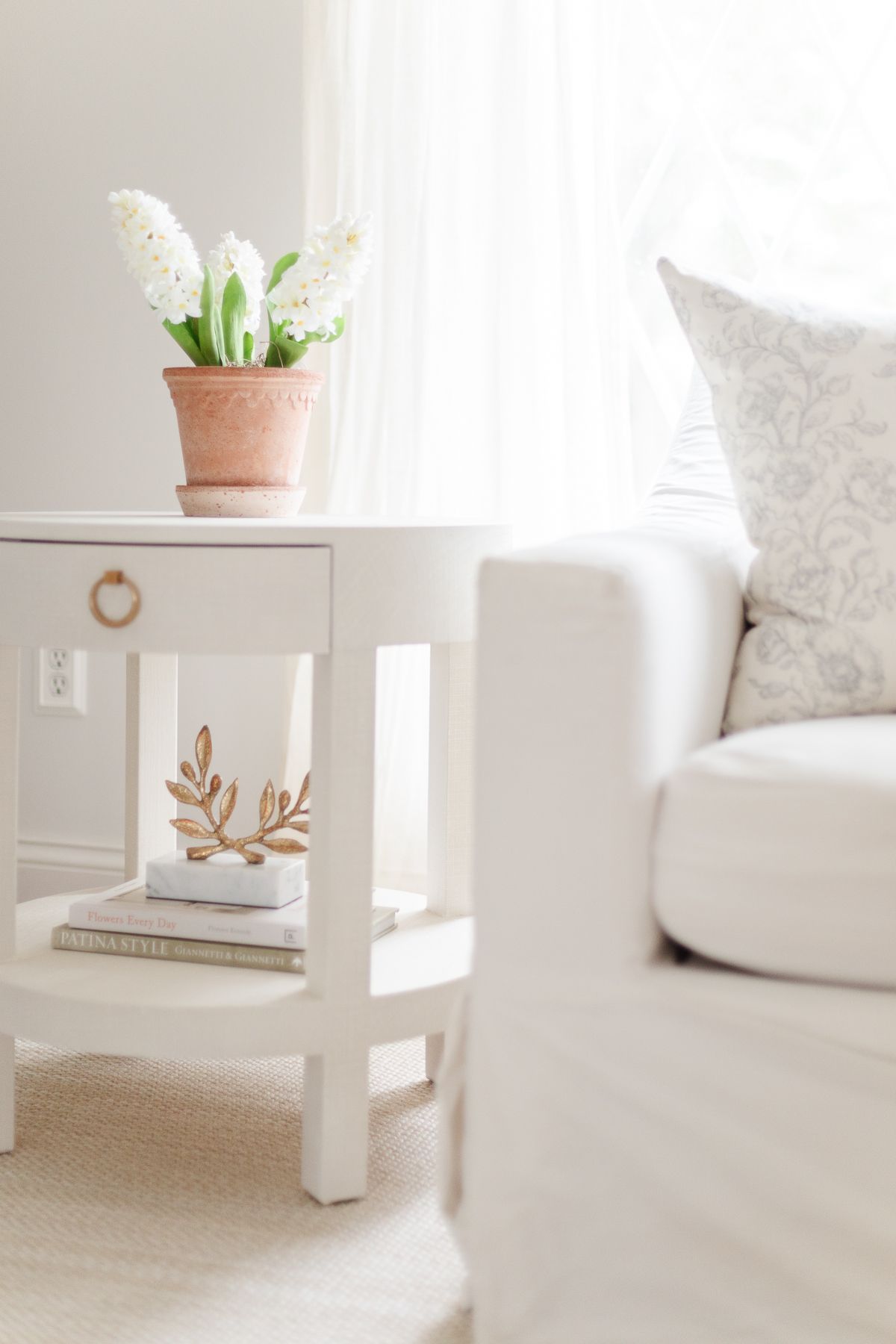 Artificial Greenery and Branches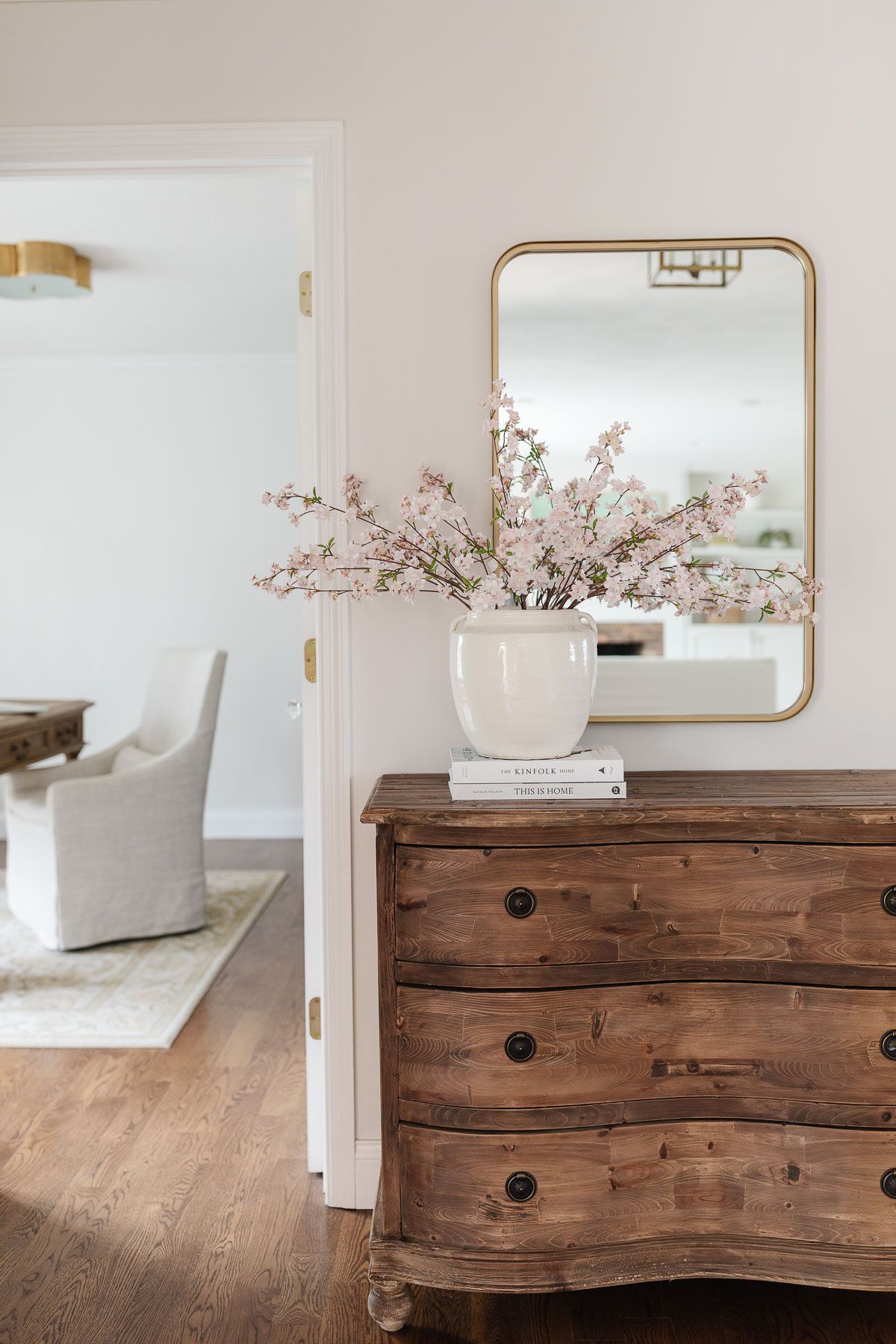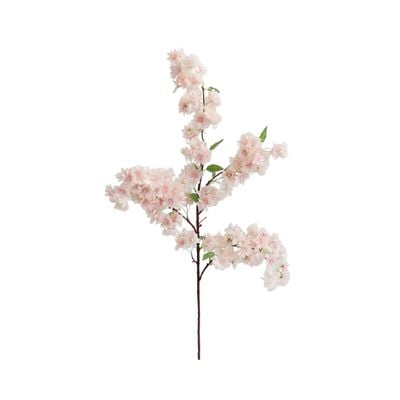 Cherry Branch
While the cherry branches we have in our entry are sold out, I love this beautiful 40″ version!
Faux Orchids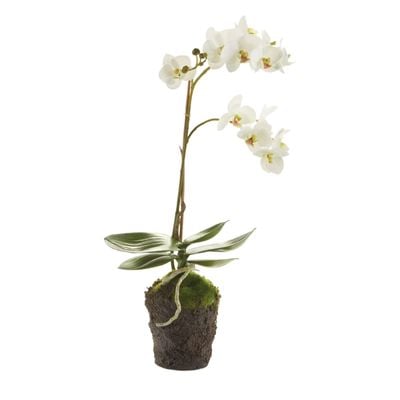 Drop in Orchid
I love that this is so effortless!
Bamboo Cachepot
This pretty ceramic cachepot adds so much texture to our kitchen.