Struggling with kid spills, wine stains, and well… just life in general? Learn why we are such big fans of Folex Instant Carpet Spot Remover for handling small stains, tough ones, and everything in between!
This product is gentle, odor free, easy to use, and you don't even have to scrub! Accidents are a part of life, but cleaning them really can be hassle-free.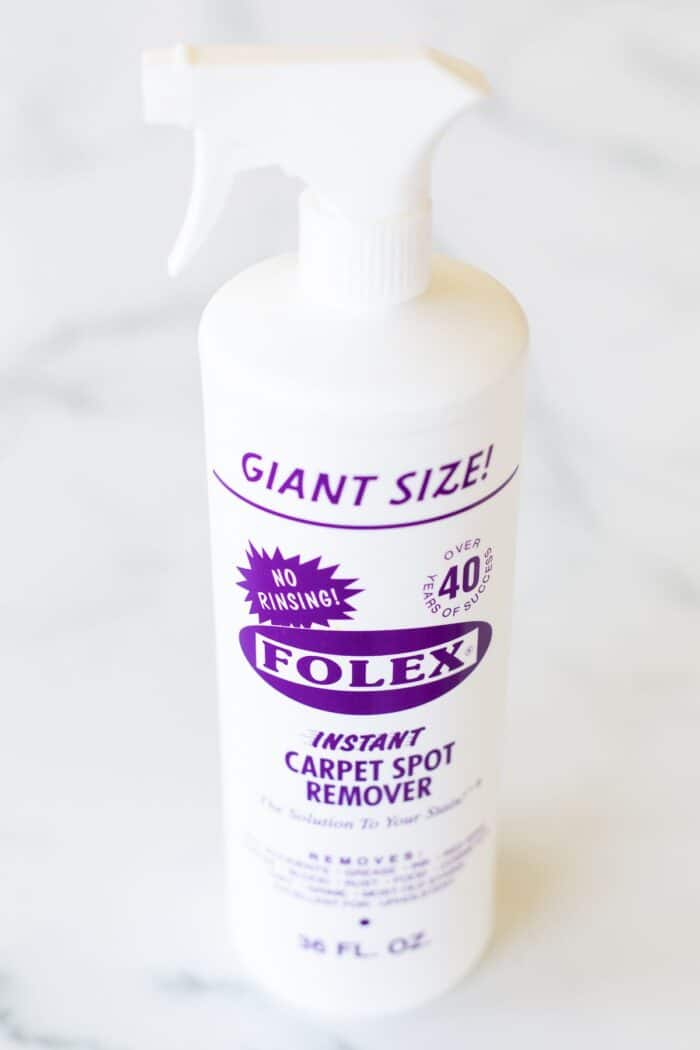 Instant gratification… it's one of the reasons I actually enjoy cleaning sometimes! (Not all the time – but occasionally it's true.) There's just something satisfying about taking an object that is stained or tarnished and restoring it to its original glory.
Through the years, Folex has saved us so much time and money! It saved our Pottery Barn Sofa from a red wine stain (I plead the fifth), our one day old patterned carpet from a bright red snow cone vomit stain, and my sanity from red clay tracked throughout our home during construction.
Like this easy homemade marble cleaner and my favorite brass polish, Folex is a quick, effortless fix for your carpet and beyond. It's one of the ways that we live confidently with white sofas and lighter carpet in our home!
I love sharing my favorite cleaning and organizing tips with you. While I don't think these "secrets" are earth-shattering, they can certainly help make your life a little easier, right?
I'm a big believer in organization systems and family involvement for keeping our house tidy. Learn How I Maintain a Clean Home and How to Design and Maintain a Clean House! But first, let's talk about Folex.
What is Folex?
Folex is a gentle, fragrance free cleaning product that works beautifully in many stain removal situations. While it's marketed as a carpet spot stain remover, it actually goes far beyond that usage.
It can be used on virtually any fabric, flooring or upholstery to remove stains like ink, grease, blood, lipstick, and more. In fact, there isn't much it can't do!
We've used Folex to clean tile, bathtubs, countertops and sinks, and more. I love that it isn't harsh or abrasive, without the overpowering bleach or chemical fragrance that so many kitchen and bathroom cleaners tend to have.
Folex Instant Carpet Spot Remover is made in the USA and has been on the market for 40+ years. It's a trusted brand and one of the only cleaning products I return to time and again.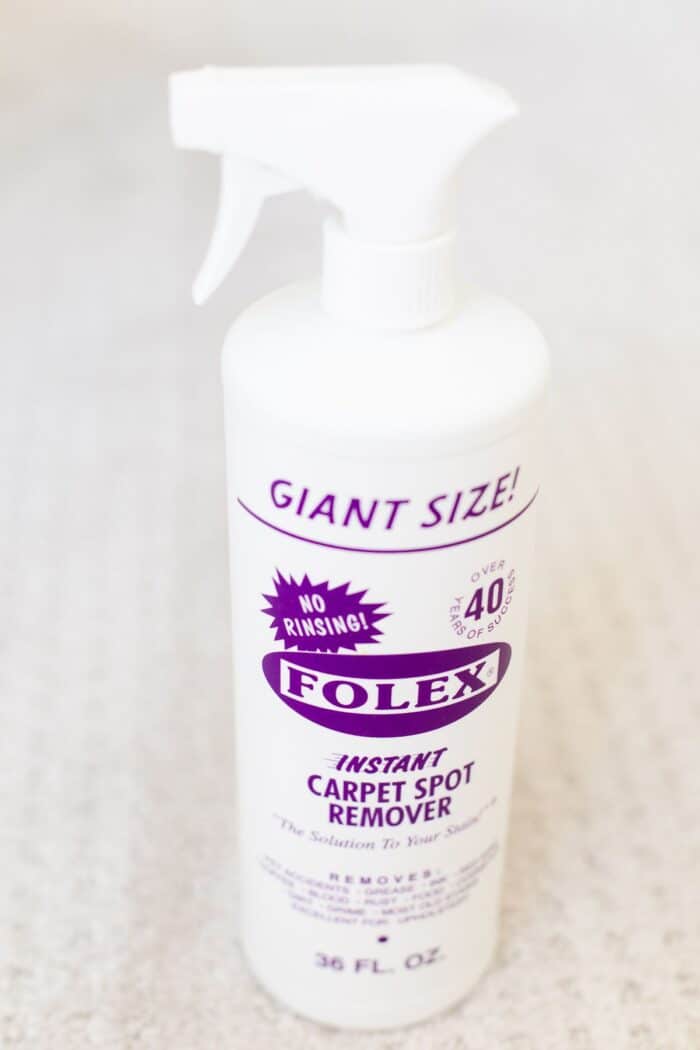 Why I Love Folex
Affordable
Made in the USA
No harsh chemicals / non-toxic
Easy to use
No rinsing
No scrubbing (which can damage carpet fibers)
Spray and watch the stain disappear
Odor free
Not Recommended For
Pet stains – While it successfully removes the stain, it doesn't remove the odor. Note: they have a pet stain eliminator for that.
Can cause a touch of discoloration, so keep that in mind and always test first
Folex is tried and true – not only by myself, but in the more than 50,000 5-star reviews on Amazon!
We have successfully used it on so many stains including chocolate, red snow cone, red wine, red clay, mildew, vomit and so much more! It is also designed to eliminate makeup (even lipstick), crayon, grass, sauces, urine and blood.
Bonus! It can eliminate both new and old stains. When we are running back and forth between our home in St. Louis and our lake cottage, occasionally I miss a stain that didn't get handled immediately. I'm always so impressed when Folex removes something that's been sitting for days or even weeks!
It's a water-based formula which doesn't require rinsing or leave a residue behind. This makes it safe for carpets and doesn't damage carpet or backing.
It is safe and non-toxic for kids and pets.
Folex Uses
While designed for carpets, the water-based non-toxic formula can also be used on:
Mattresses
Rugs – see my favorite Neutral Rugs here
Clothing
Upholstery
Drapes
Car Interior
Car Seats
Woodwork
Walls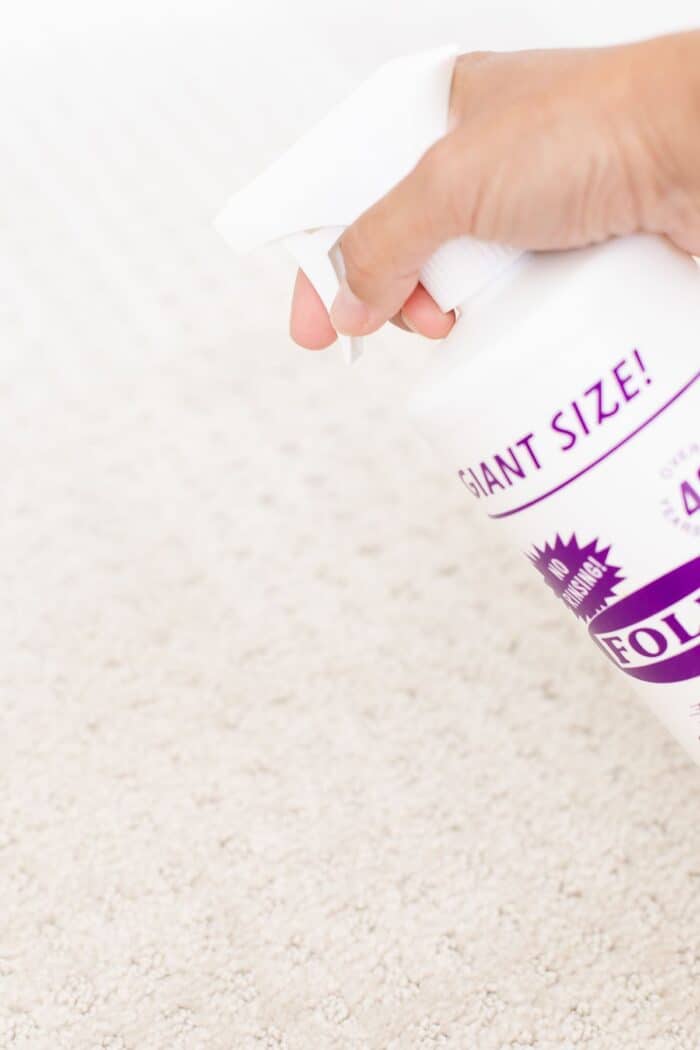 Frequently Asked Questions
How does Folex work?
Folex is a surfactant. This means that it cleans by reducing surface tension in the stain, freeing it from your carpet or upholstery.

Basically, it helps spread that stain out, making it easier to blot the stain out. Importantly, Folex is non-ionic, meaning it won't attract dirt after you're done cleaning.
Does Folex work on old stains?
Yes! It can work on both new and old stains.
What is Folex used for?
It can be used to eliminate grease, ink, red wine, dirt, coffee, blood, food, cosmetics and more. While it can also be used to remove a pet accident, it does not eliminate the odor.
What is the difference between Folex and Folex professional?
They are both equally effective and made with the same ingredients.
Tips
Test on an inconspicuous area to ensure colorfastness.
This product can be used on any material that is colorfast and color stable.
You can use Folex in your carpet steamer, too! Just mix 1 part Folex with 4-6 parts warm water for your tank, as noted below.
How to Use Folex
Spot Clean
Test an inconspicuous area of surface for color-fastness.
Liberally spray stain with Folex. Allow to set and watch the stain disappear.
Blot with a white cloth (paper towels or flour sack towels work well).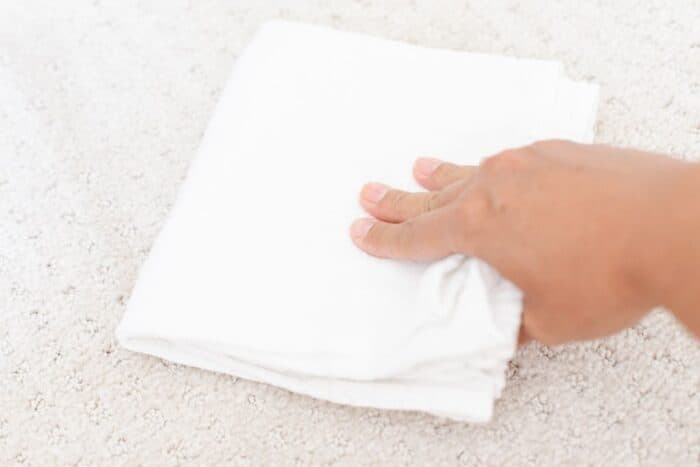 Carpet Cleaning Machine
Test an inconspicuous area of carpet (like the corner of a closet) for color-fastness.
Mix a 1:4 ratio of cleaner to warm water (not hot) and clean carpets as usual.
No need to rinse (or use defoamer) since it is a water-based solvent.
More DIY Inspiration