Learn about common purple lilac blooms and how to arrange your own lilac bouquet. Your backyard lilac bushes only bloom once a year, why not enjoy them to the fullest? They are fragrant flowers that bloom in mid spring and create the most gorgeous spring flower arrangements.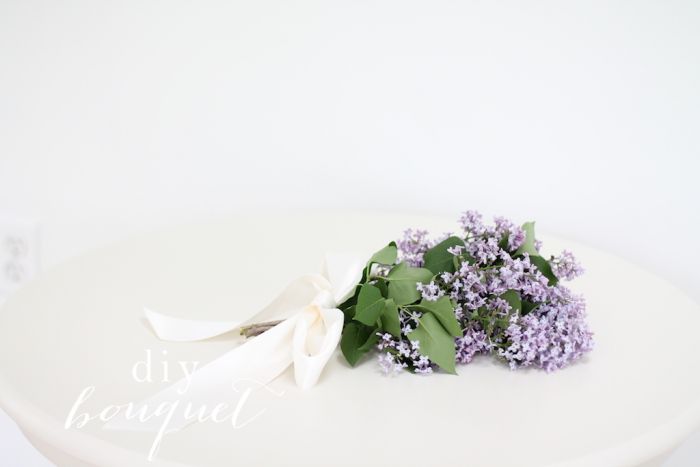 Originally published April 9, 2014 and updated April 15, 2020.
There's no sweeter way to start my day than snipping a few beautiful blooms from our garden. On a crisp spring morning, I love to go on a backyard hunt for a simple flower arrangement for our home or a bouquet to gift.
I can hardly resist filling every room with the sweet scent of lilacs, and I can't help but think it will bring joy to others as well. We have several bountiful lilac bushes to select from in an array of deep pinks and soft purples.
This popular, romantic bloom tends to shine in mid-late April here in the Midwest.
I love using lilac oil in my favorite handmade gift ideas, too! Check out my lilac bath milk and lilac sugar scrub!
How to Arrange Lilacs
The tutorial included in this post is for a traditional hand-tied arrangement, which is a popular style of European floral design. I love that this loose, garden-inspired look can be added to a gift basket or laid across steps on a front porch for May Day. There are so many fun ways to use this style of bouquet!
I've brought you so many floral tutorials over the years – don't miss how to arrange hydrangea, a ranunculus centerpiece, peony tips and tricks, reviving wilted hydrangea, and even arranging tulips.
However, I really think lilacs are some of my very favorites! I am so sentimental for the scent of lilacs because they bring back childhood memories of my grandparents' farm.
Their blooming season is brief, but that makes it even more special. Let's learn a little more about lilacs!
What is a Common Lilac?
The common purple lilac is an old-fashioned deciduous bush that you will often find alongside old farmhouses because it's so long-lived. This popular lilac is best known for its extremely fragrant blooms.
Common lilac bushes are extremely hardy, fast growing, and need very little care. Because they have been grown in the midwest for so long, they carry a lot of sentimental memories for people!
They bloom each spring with regularity – depending on your zone, they will bloom anywhere from April to May. They have a lovely dark green foliage and require full sun. While the paler pinky-lavender tones are the most common purple lilacs, they come in whites, yellows, magentas and more.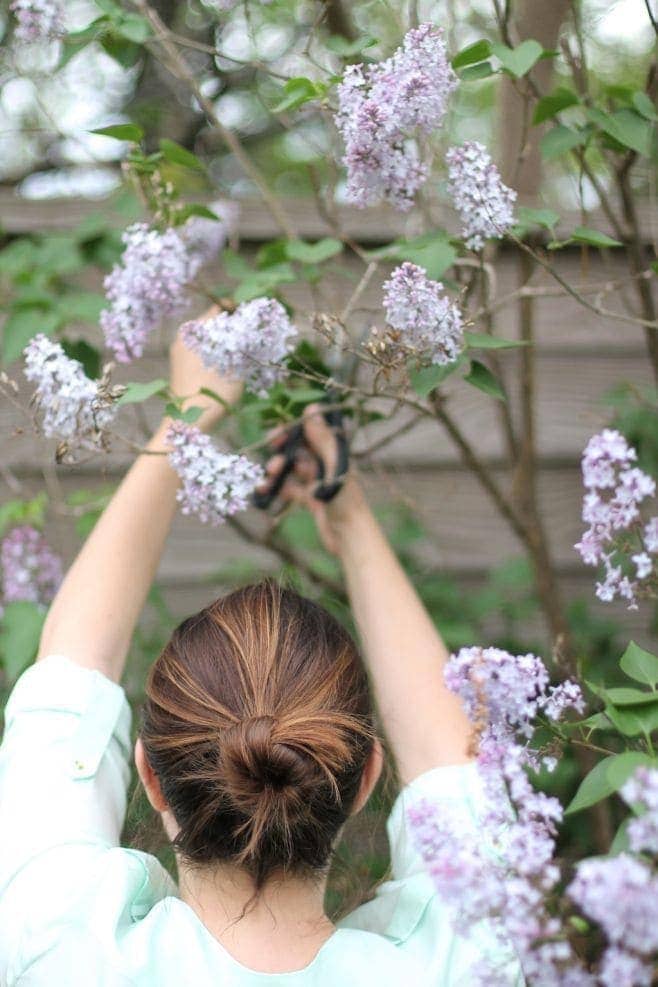 What's the Meaning of Lilac?
In the language of flowers, purple lilacs symbolize the first emotions of love, and white lilacs should bring youthful innocence to mind. This is because they are often some of the first harbingers of early spring joy with their fragrant blooms.
I love both! I would love to have a white common lilac in my yard for lilac bouquets too! I think the sweet meaning of lilac bodes well for wedding bouquets, as well, don't you think?
How do You Make Lilacs Last in a Bouquet?
Lilacs have a woody stem and can sometimes struggle to get enough water to the bloom once they are cut from the bush.
I have had experiences where they have wilted within the hour, and I've also had them last for days. That said, they still make a wonderful cut flower if you know just a few tricks!
Here's a few of my best tips for cutting lilacs for a long-lasting effect.
If possible, pick these pretty purple flowers off of your lilac shrubs first thing in the morning, before any heat gets to them.
Slice vertically at the end of your stems… that's right! Not just across as you would traditionally cut any regular bloom. The woody stems of lilac are able to take in a little more water when you give them vertical cuts.
If possible, leave your lilacs in a cool, dark place for a couple hours to soak up as much water as possible before arranging. I love to pop mine into our refrigerator if there is room.
Lilac Bouquet Gift for Mother's Day or ANY day
I created the following lilac bouquet with Mother's Day in mind, but it would also work beautifully for a variety of gifts. Combine it with my lilac sugar scrub or lilac bath milk for a unique, fragrant gift that is filled with the scent of spring.

Wondering where I purchase my favorite floral design supplies? Check out my Amazon shop for links to my favorite vases, clippers, and so much more – there's a whole category dedicated to floral!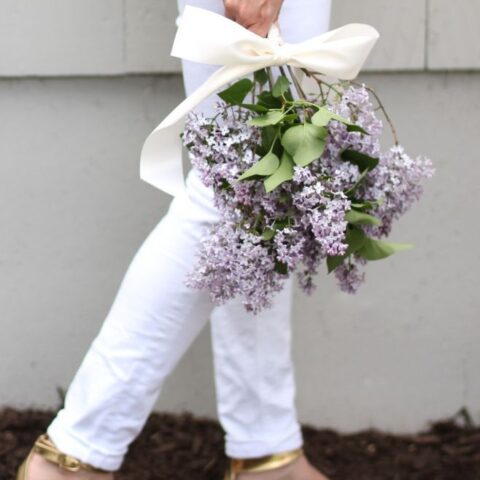 How to Create Your Own Hand Tied Purple Lilac Bouquet
Estimated Cost:
$20.00 or less
Learn how to capture the mid spring bounty of your common purple lilac bushes by creating a stunning hand tied lilac bouquet. It's perfect for gifting and so easy to create - lilac blooms are the perfect fragrant cut flower!
Materials
Lilac stems cut from your own lilac bushes or purchased at your local farmer's market.
Tools
Clippers
Ribbon for tying the bouquet together
Instructions
Start by selecting your blooms. I often work from the back so I leave plenty of eye candy. I cut 1.5-2 times more than I think I will need so that I can choose from the best. The others can always be added to bud vases.
Trim back any dead stems and foliage.
As with any floral arrangement, remove foliage that may fall below the vase or in this case, the ribbon.
Give your arrangement varied height, making it slightly taller in the middle, working down lower. Cut each stem individually at an angle.
Tie with a ribbon and gift the lilac bouquet alone or in a beautiful gift basket with my homemade lilac milk bath.

What Color is Lilac Purple?
I love when a color is named after a flower! Or wait… is the flower named after the color? Which came first, the chicken or the egg?
According to Wikipedia, "Lilac is a color that is a pale violet tone representing the average color of most lilac flowers. It might also be described as dark mauve or light blue."
"The colors of some lilac flowers may be equivalent to the colors shown below as pale lilac, rich lilac, or deep lilac. There are other lilac flowers that are colored red-violet. The first recorded use of lilac as an English color name was in 1775."
Isn't that fascinating? I love learning about the history of our sentimental garden flowers.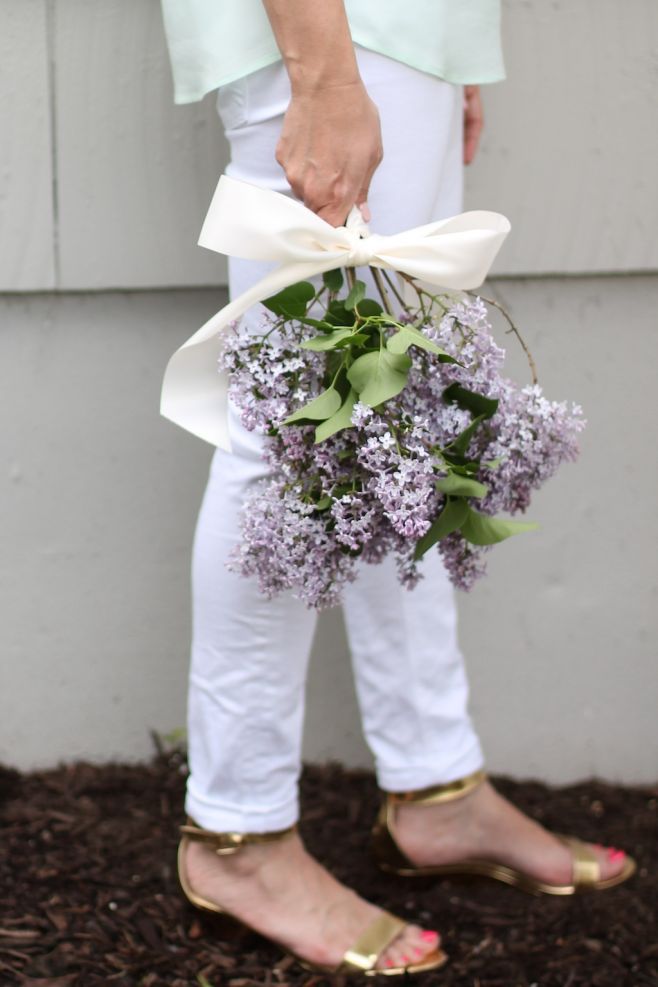 Popular Florist Tutorials to Guide You in Your Floral Design Efforts
Want more? Receive the best ideas directly to your inbox and connect on Youtube, Instagram, Facebook, and Pinterest!
I hope this lilac bouquet tutorial inspired you to get out in your garden this spring! If you make this hand tied lilac bouquet, please come back and share photos, comments, or reviews – I'd love to hear from you!