Transform a log from a birch tree into a stunning DIY centerpiece with this simple birch vase tutorial!
Birch bark vases can be wonderful for any time of year, but they are especially pretty for fall and winter, when you'd naturally enjoy the white birch bark outdoors.
Learn how to make a birch vase of your own!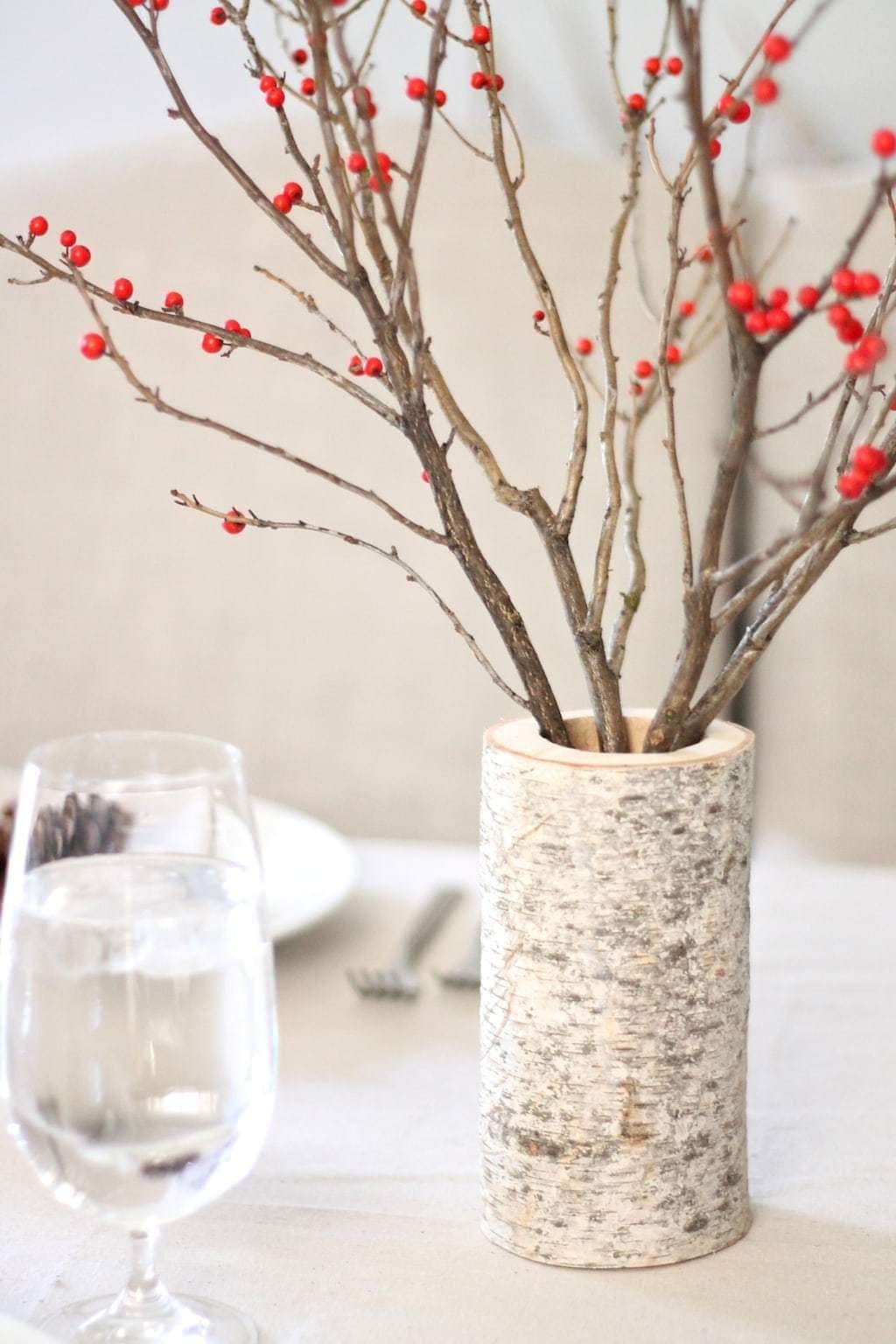 This past spring, I kept waiting and waiting for my favorite birch tree to bud, but it didn't make it through the winter.
I have always loved the silvery white bark of a birch tree – it reminds me of the logs my Grandma had stacked next to her fireplace when I was growing up.
Birch bark also reminds me of the holidays. I love incorporating the logs as part of my Christmas decor, whether they are stacked in the fireplace, added to a planter with evergreens or even as part of a Christmas table setting.
Since the birch tree in our yard was going to have to be removed, I decided to use some of it for a few creative projects. One of them was this simple birch vase.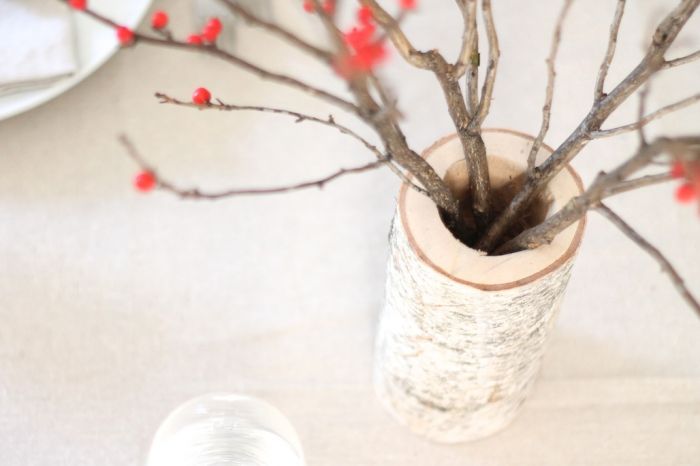 DIY Birch Vase
I love the simplicity of this vase – yet it adds a striking touch. It's the perfect neutral tone to work with any style of decor. I'm particularly partial to the pop of red from the berries, though, which really serve as a pretty wintery arrangement.
A homemade vase like this would also make such a beautiful gift. Even more so if it the wood came from somewhere significant, like a from a family member's tree.
While I'm sad that my favorite tree is no longer, I'm happy to see it repurposed into something beautiful for my home that will continue to bring happy memories for many more years.
It fits seamlessly into this birch Christmas table setting which is casual and simple – how we often entertain!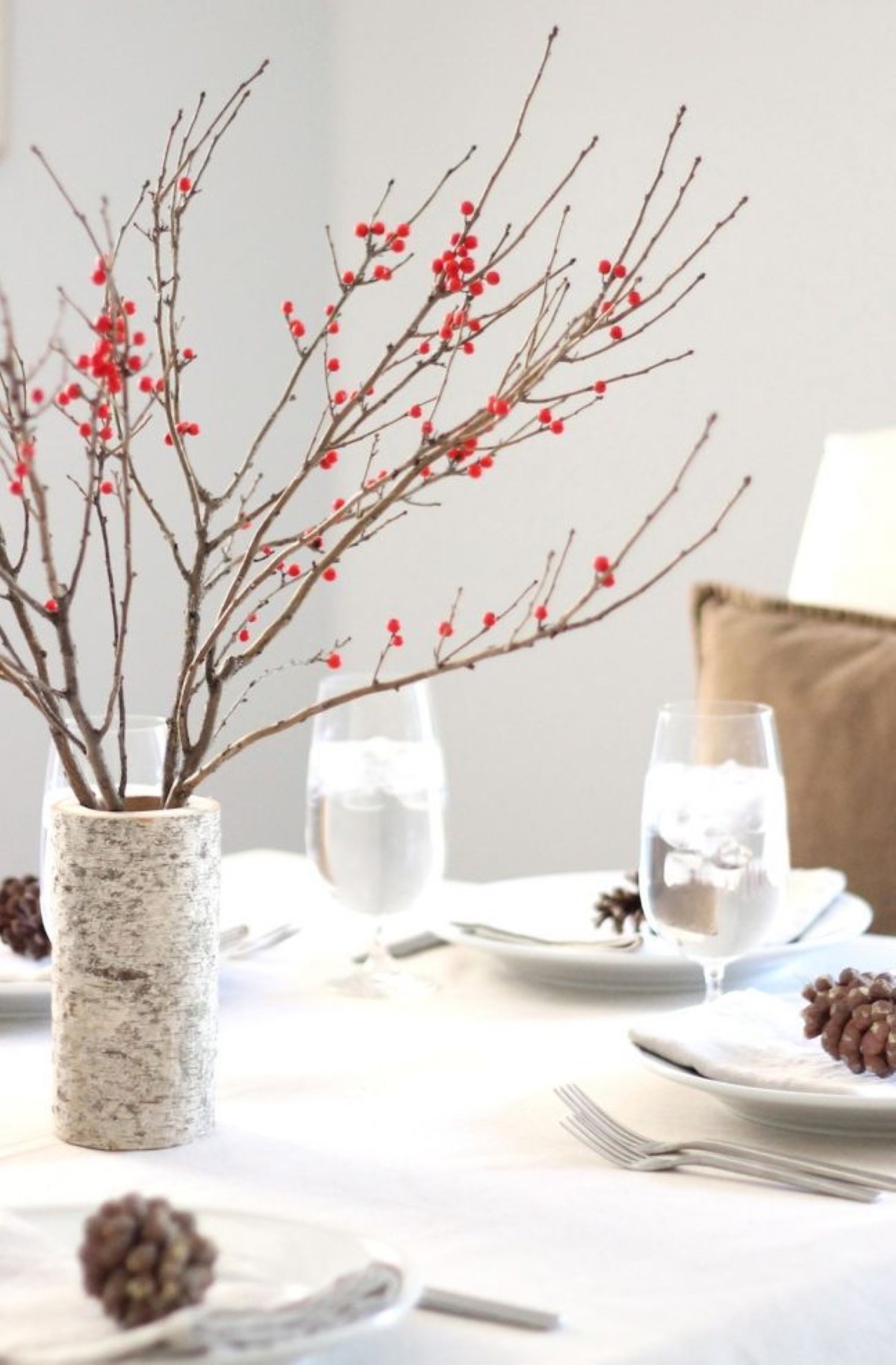 Materials
a birch log (or any other type of wood)
tri-flute drill bit
saw
sand paper
How to Make a Birch Vase
Cut to Size – Saw a piece of branch down to the height needed. 10 to 14 inches is appropriate for a vase.
Drill a Hole – Using the drill bit, drill a wide hole until about 2″ from the base of the branch.
Sand – Sand the top to give it a smooth, beautiful finish.
Optional: Insert a glass vase or waterproof the interior if you plan to add fresh flowers.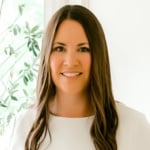 Tips
Birch vases are not waterproof unless they are lined – or drill your hole large enough to slip a glass vase inside.
This technique will work equally well for a birch planter. Simply choose a larger birch branch and drill a larger hole to fit a plant inside.
Get tips and ideas for what type of flowers to use inside this vase here.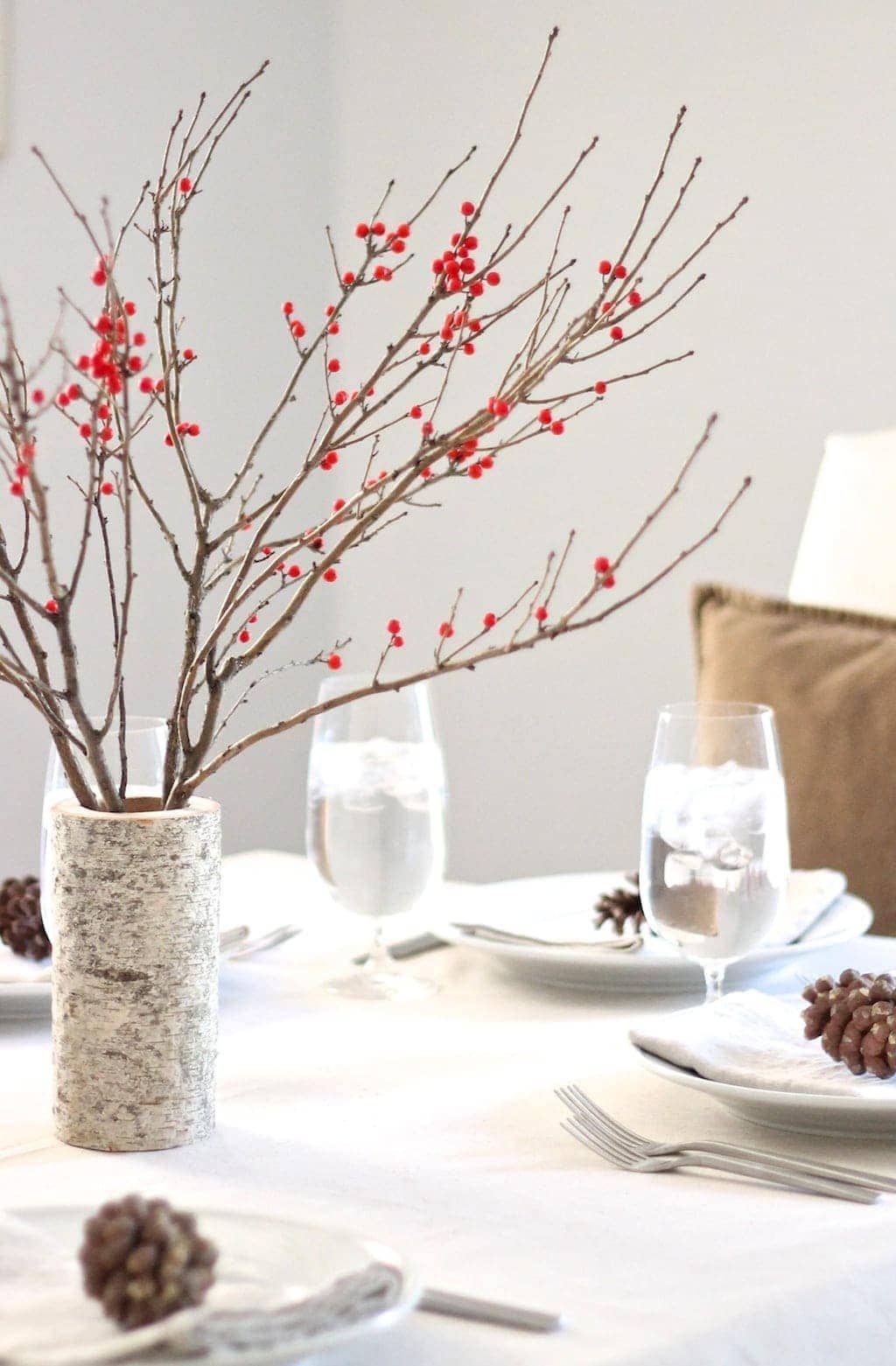 Frequently Asked Questions
Will birch vases hold water?
No, not unless they are lined or waterproofed in some way.
Where can I buy birch branches to turn into vases?
Check out the birch logs for sale on Amazon and other online resources, or check your local garden centers and nurseries.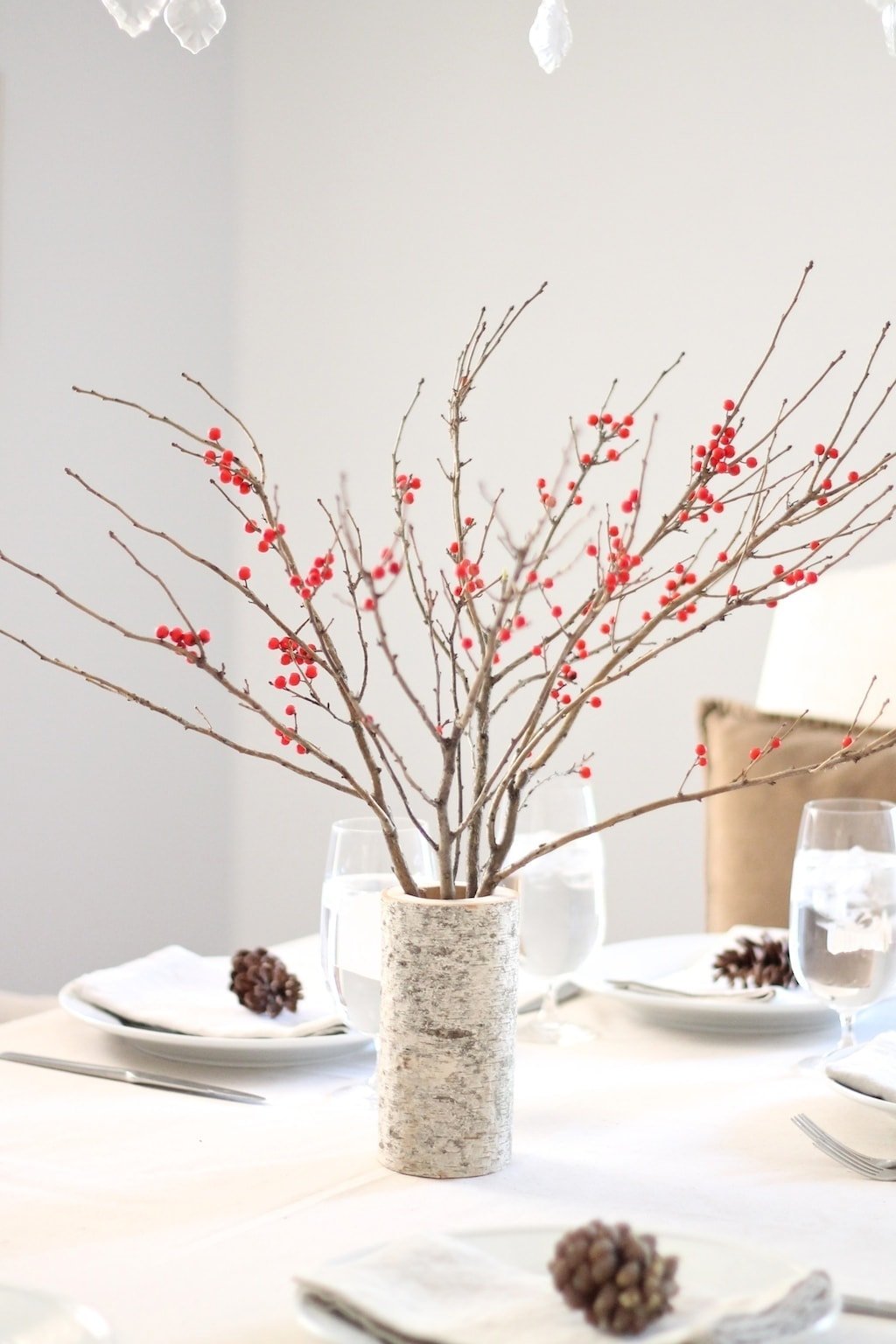 Use this Birch Vase on a Winter Table
In lieu of a traditional table cloth, I used a piece of osnaburg. It imitates linen, without the expense. I never iron it and if there's a hard to remove stain, I toss it without a second thought!
Rinsed pinecones from the yard make great place card holders for each place setting. I like to add pillows to each of the end arm chairs to add another layer and comfort.
This pretty birch vase and winter table was featured on Better Homes and Gardens! Click here to see more Christmas table setting ideas!
Let's keep in touch! Receive exclusive content, including never-seen-before photos, our favorite home decor DIYs and more!
More Christmas Inspiration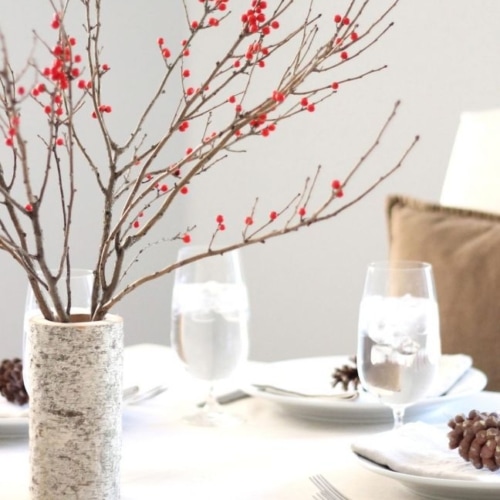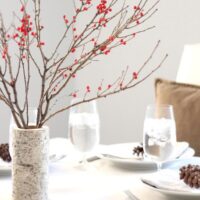 DIY Birch Vase
A simple but striking vase made from a birch log
Instructions
Cut the birch log to the desired height for the vase.

Using the tri-flute drill bit, drill a hole in the center of the log until it's approximately 2 inches above the base.

Sand the drilled edges for a smooth finish.

If using real flowers, place a glass container inside the vase or line it with plastic, first.