Learn how to write individual calligraphy letters from the modern calligraphy alphabet with step-by-step photos and a video tutorial! Master the calligraphy alphabet with ease in this how to learn calligraphy series.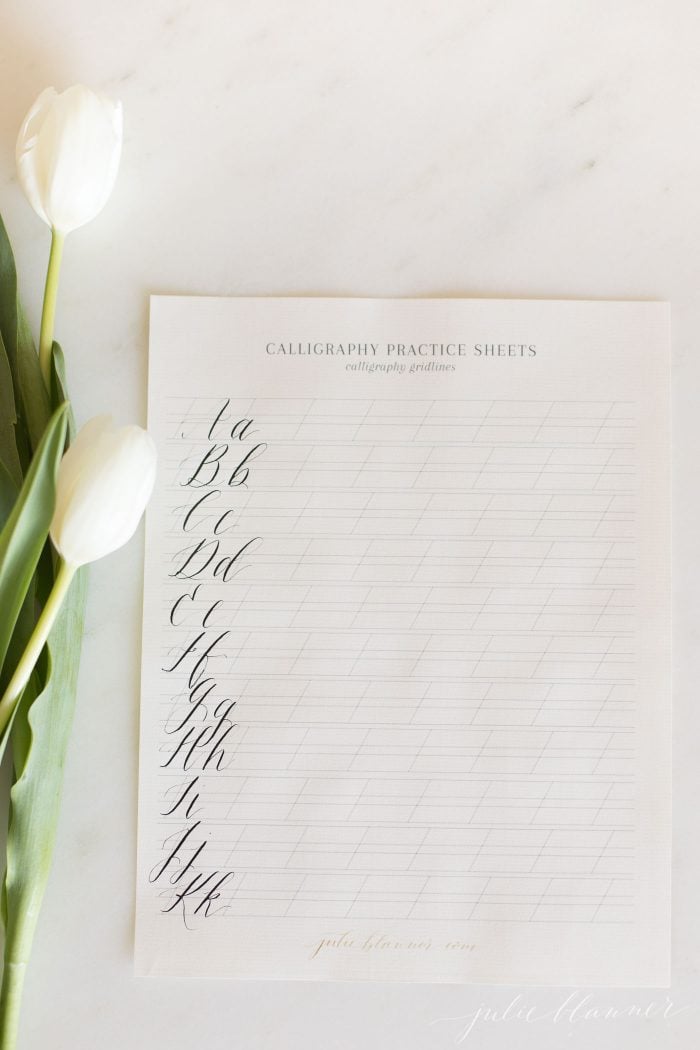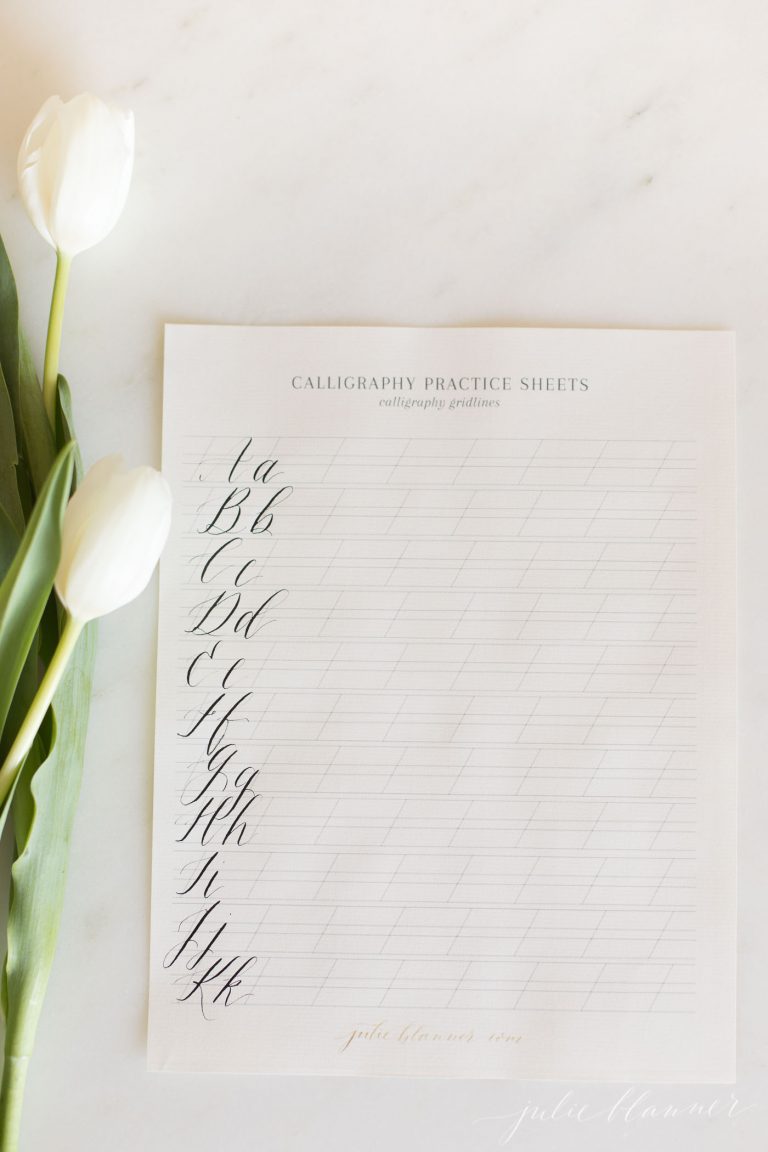 Learning calligraphy is easy when you take it one step at a time! Today Alicia, calligrapher from On Three Designs is teaching you the modern calligraphy alphabet via video and step-by-step photos. She's immensely talented and in addition to addressing wedding invitations, she designs them along with crests / monograms, personalized dog artwork and so much more!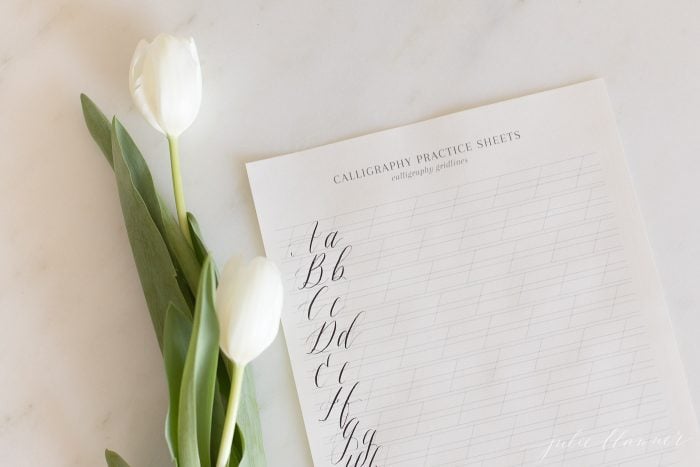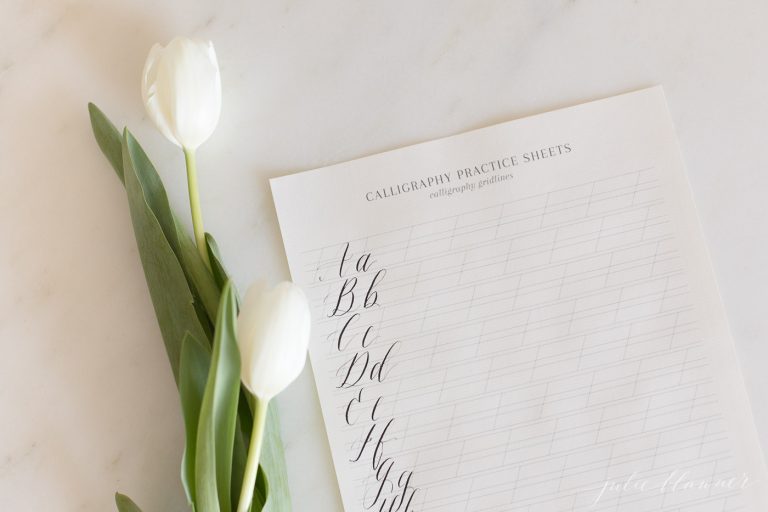 Learn individual calligraphy letters and master each with a little practice. Alphabet letters look so much prettier in modern calligraphy! Soon you'll be ready to address an envelope or create a beautiful piece of art! If you're just getting started, I highly recommend you start here! Even better, sign up here to have the series delivered directly to your inbox.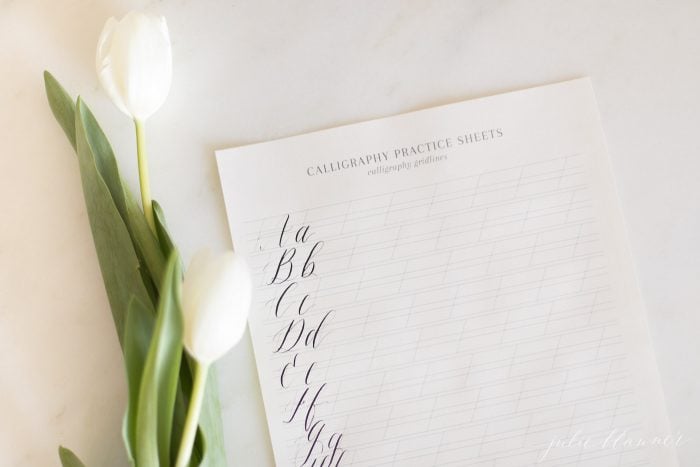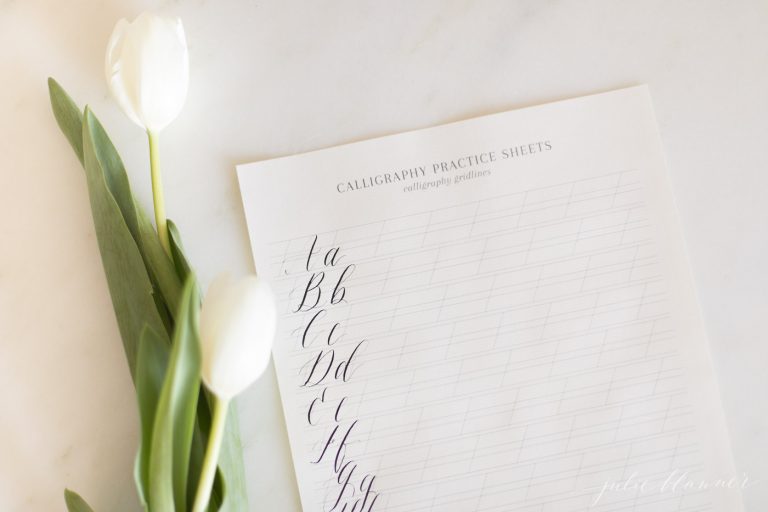 Learn Individual Calligraphy Letters
First, make sure you're holding the pen properly. You can get caught up here in this post how to write calligraphy, learning the basic strokes.
Hold your pen at a 45 degree angle allow the sharp part of your nib to press down to the paper. The curve of the nib should be facing down. 
Turn your paper at an angle. 
Using your gridlines as your guide, go light on the upstroke, heavy on the downstroke to achieve thick and thin lines.  
Dip pen as needed. Use a separate sheet of paper to test ink flow.
Let's see a few more calligraphy letters going light on the upstrokes adding pressure on the downstrokes, shall we?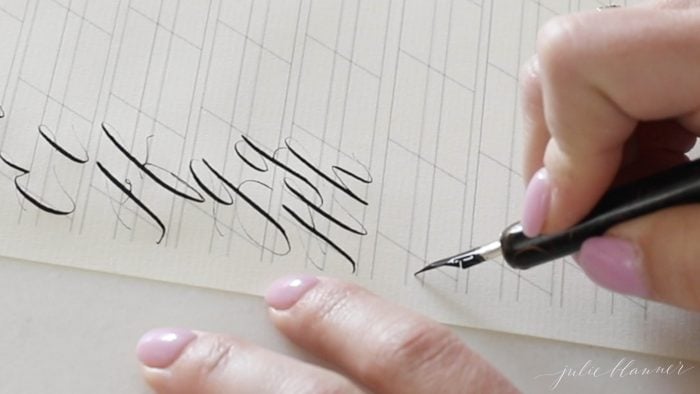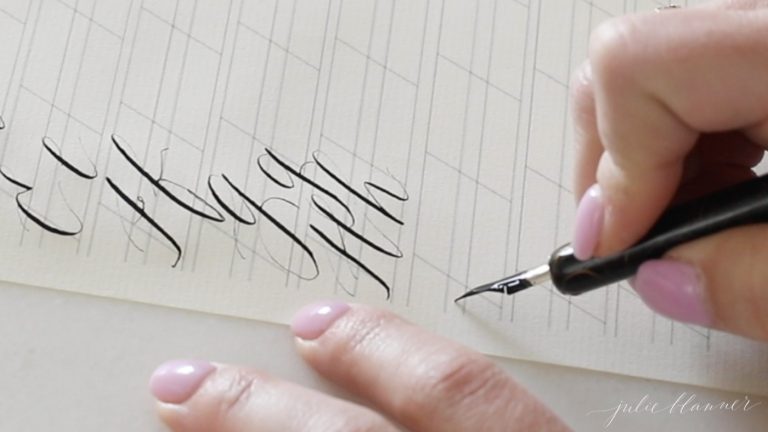 You can see above that Alicia gently put the tip of the nib down to the paper to prepare for an upstroke.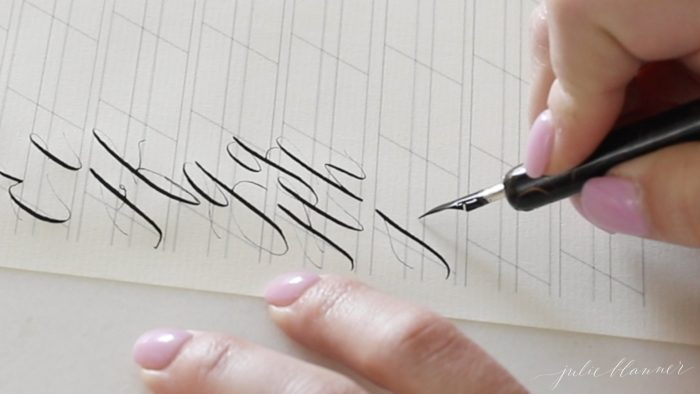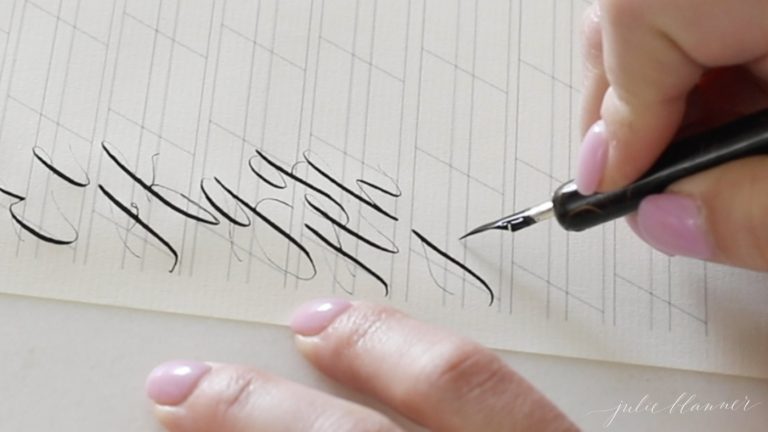 And completed the "J" with a heavy downstroke. This is true for all calligraphy letters.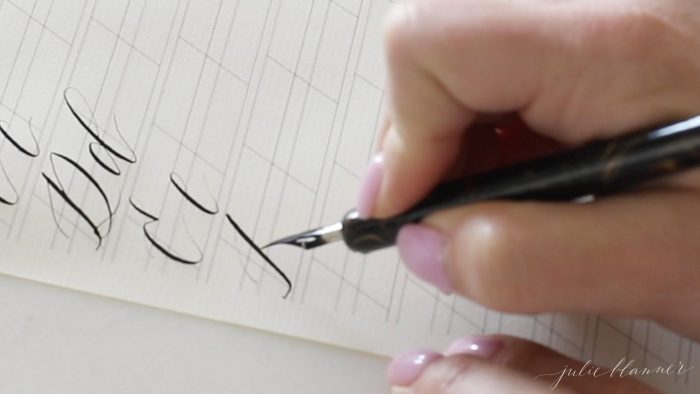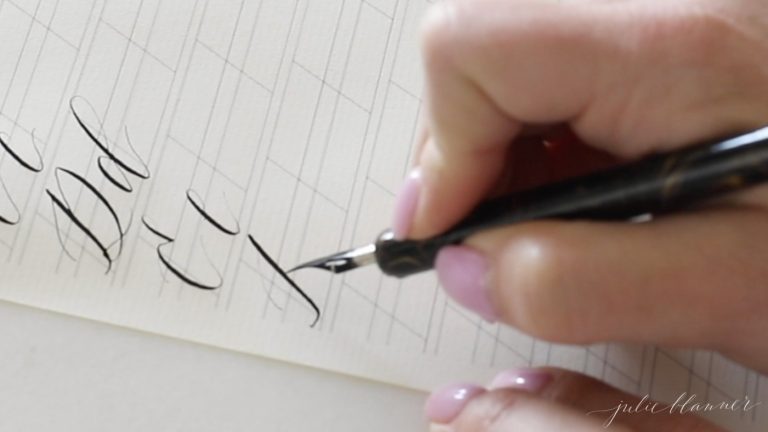 Tips for Mastering the Calligraphy Alphabet
It's okay to lift your pen from the paper. Unlike cursive, calligraphy letters are consisted of individual strokes connected together.  
Ink glitch? Fill it in! 
Practice, practice, practice.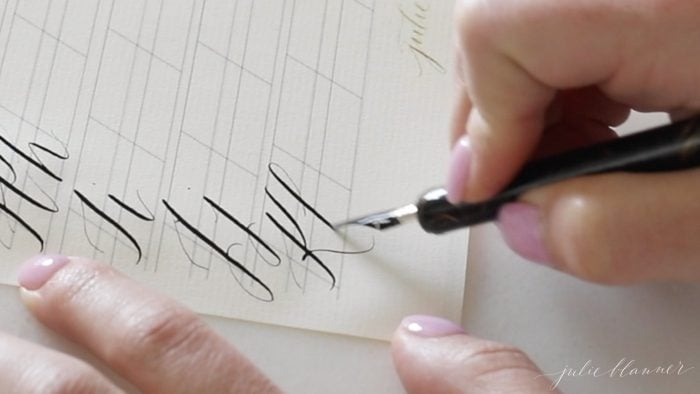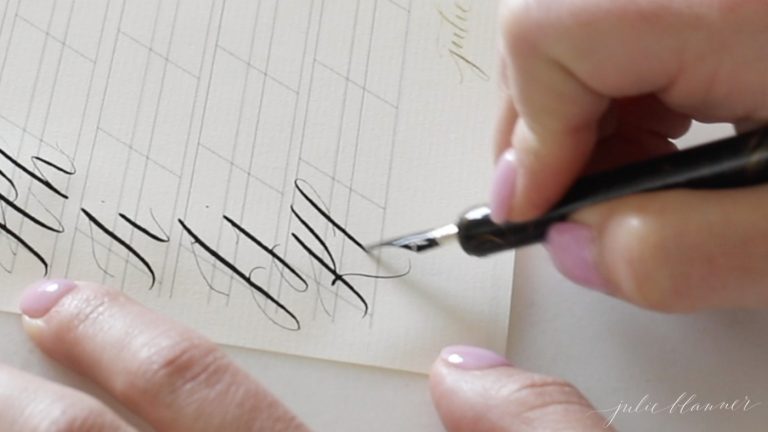 Get Your Complimentary Modern Calligraphy Alphabet Worksheets
Click here to download the modern calligraphy alphabet to start practicing all of your calligraphy letters!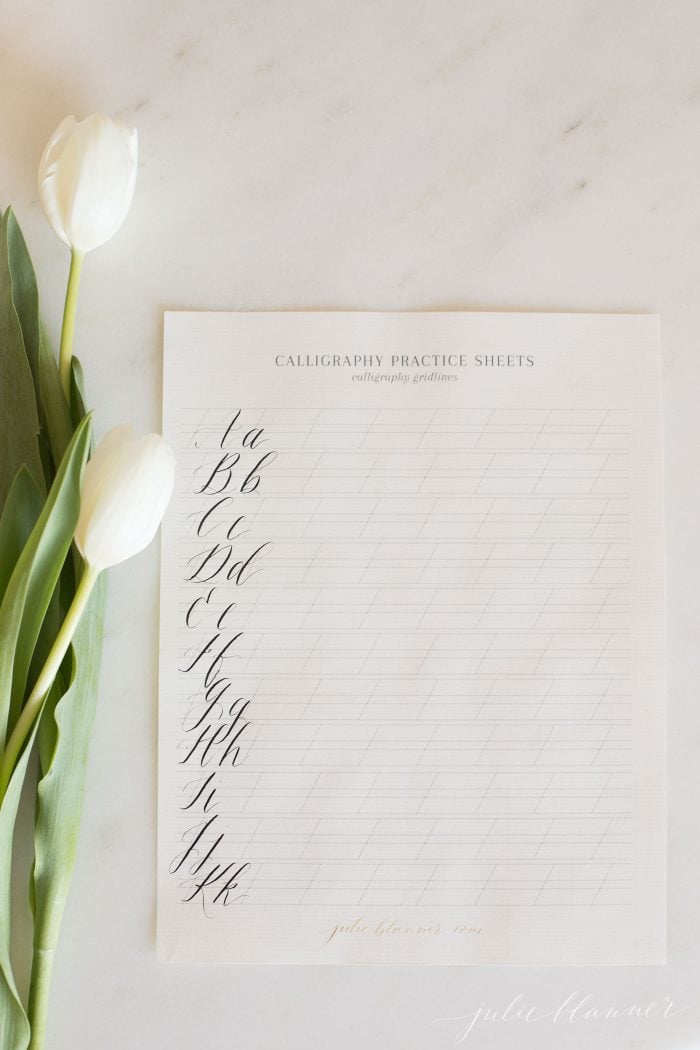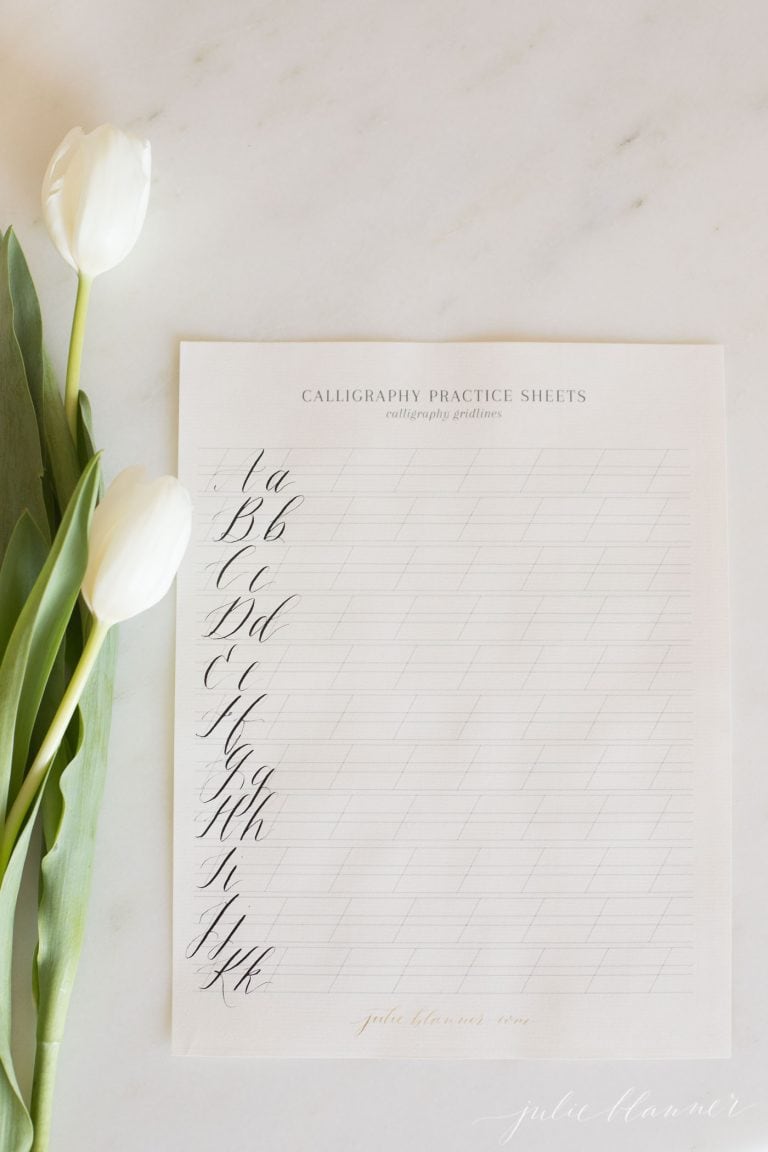 This modern style is easy to achieve with lots of practice. Watch the video in this post to learn all your alphabet letters. You can save this post to Pinterest by clicking the Pin button above to reference it later.