Learn how to incorporate a charming gold bar cart into your home, utilizing this incredibly flexible furniture piece anywhere you need an extra serving or display piece! A cute brass bar cart is the best kind of furniture investment.
That's because it's inexpensive, flexible, and perfect for collections, gatherings, and serving! This purchase will pay you back in dividends with holiday and party styling options galore.
Get a round up of the best gold bar carts on the market right now, in a style you'll adore. There's something for everyone here!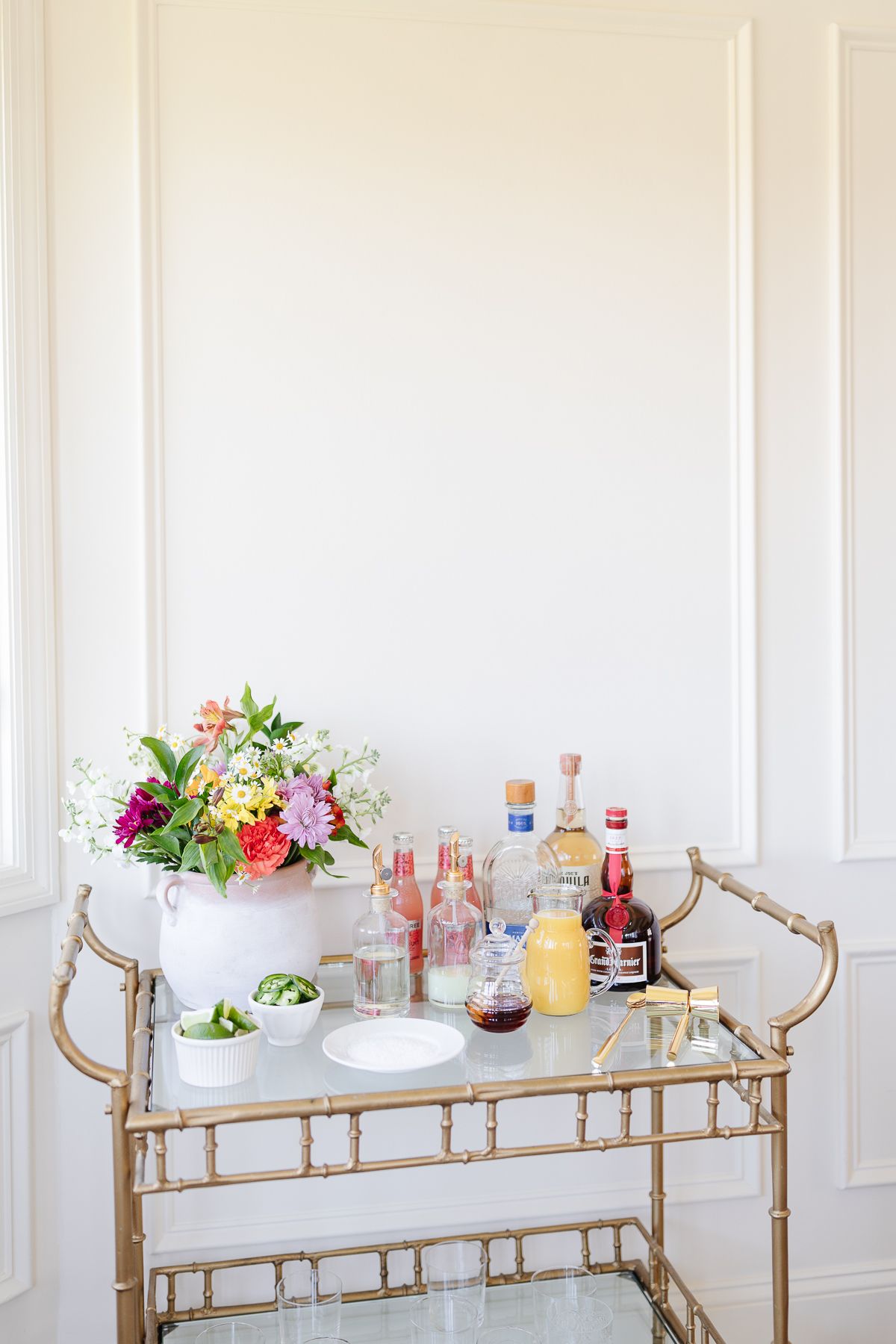 Years ago, (over a decade, now that I think on it) I became obsessed with the idea of adding a brass bar cart to our home. While my husband will likely never understand it, I feel bar carts are a classic and versatile piece.
I envisioned using it as a "console table" and end table in our living room, and wheeling it into the dining room when hosting dinner. So, I began my search, and that search began one of my favorite (most tragic) Craigslist tales ever. You can read more about that tragedy at the end of this post!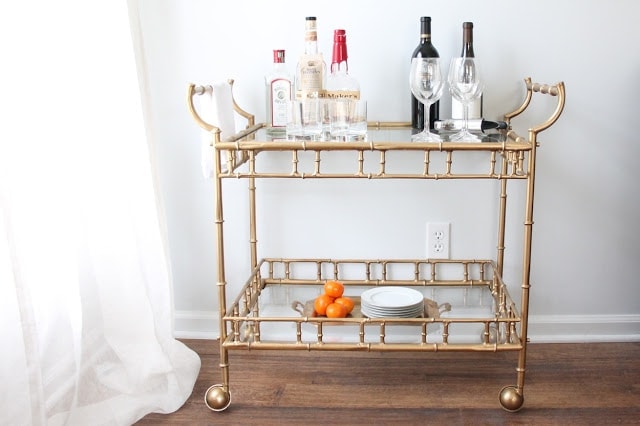 At that time, most of the bar carts available from retailers at that time were extremely high end and way out of our meager budget. I just knew that I could find one second hand, or transform a vintage piece into something beautiful.
Luckily for you, now there are countless gold bar carts on the market! I'm sharing a little detail about our vintage brass bar cart today, as well as information about how to use them and where to buy one.
Learn about how I used this cute gold bar cart for a Mimosa Bar, and learn about Rattan Bar Carts here.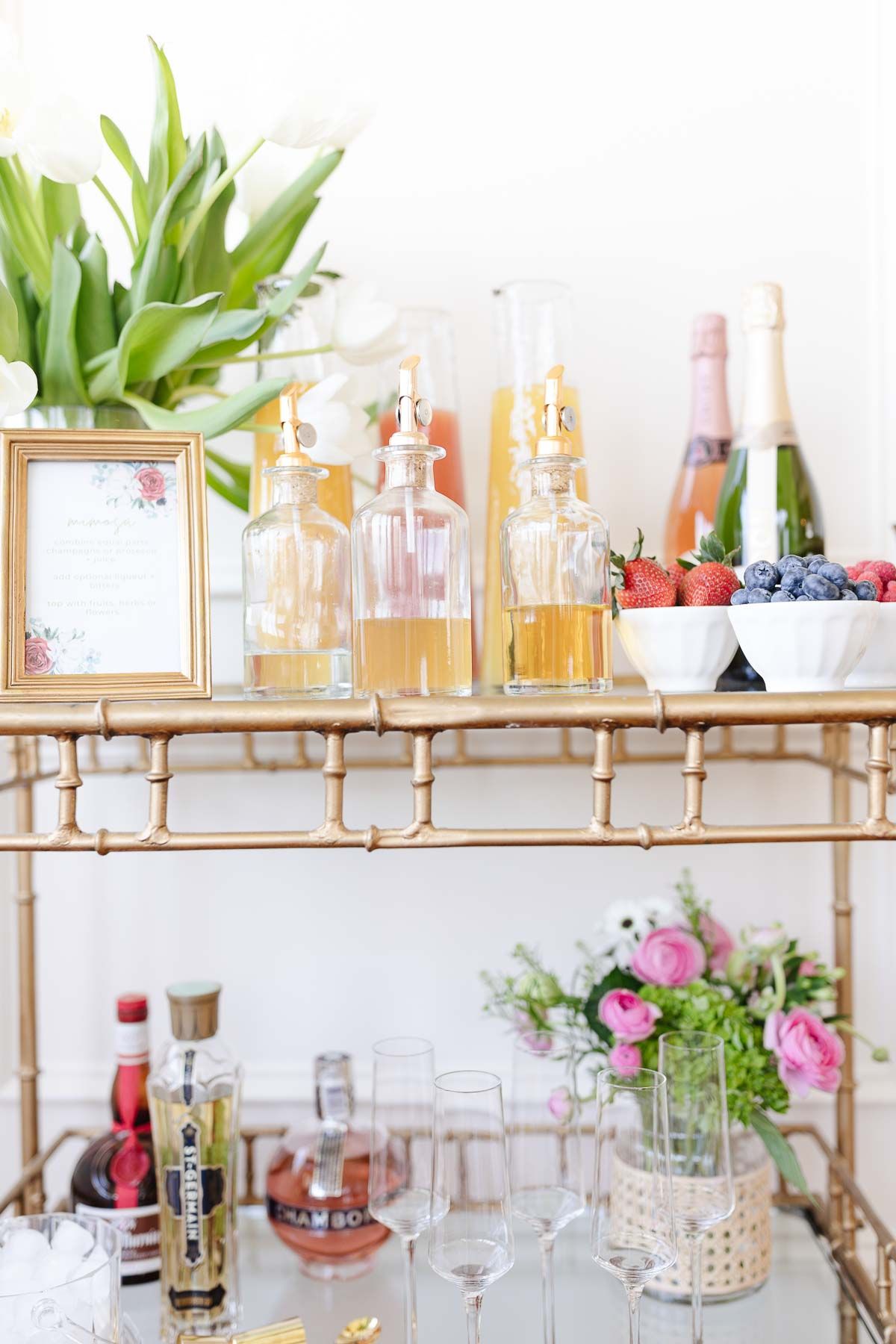 The History of Rolling Bar Carts
First popularized as a tea cart in the Victorian era, rolling bar carts were called a "tea trolley" during their first decades of use. They were used to navigate hot tea and small pastries, tea cakes, etc for tea time.
It wasn't until the end of Prohibition in 1933 that the rolling bar cart replaced that tea. However, they were mostly enjoyed by socialites and Hollywood elites.
It was post WWII, into the prosperous mid 1950s when bar carts became a staple of many American households. The era of real cocktails and entertaining made this little piece of furniture a mid-century modern staple!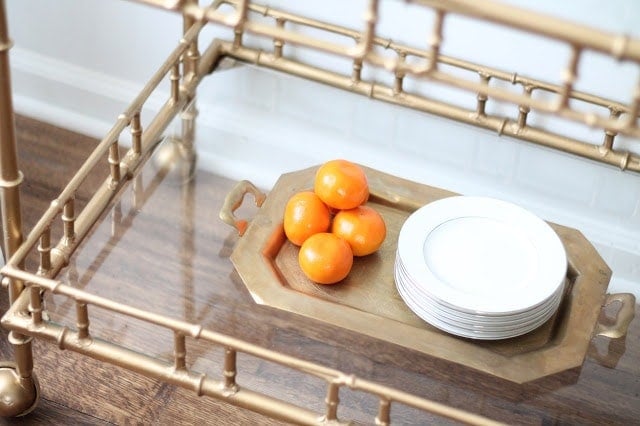 Bar Cart Uses
This incredibly versatile piece of furniture can be used in almost every room of your home!
Coffee or Hot Chocolate Station
Bathroom Storage
Console or Entry Table
Plant Stand
Nursery Necessities
Side Table
Bar, of course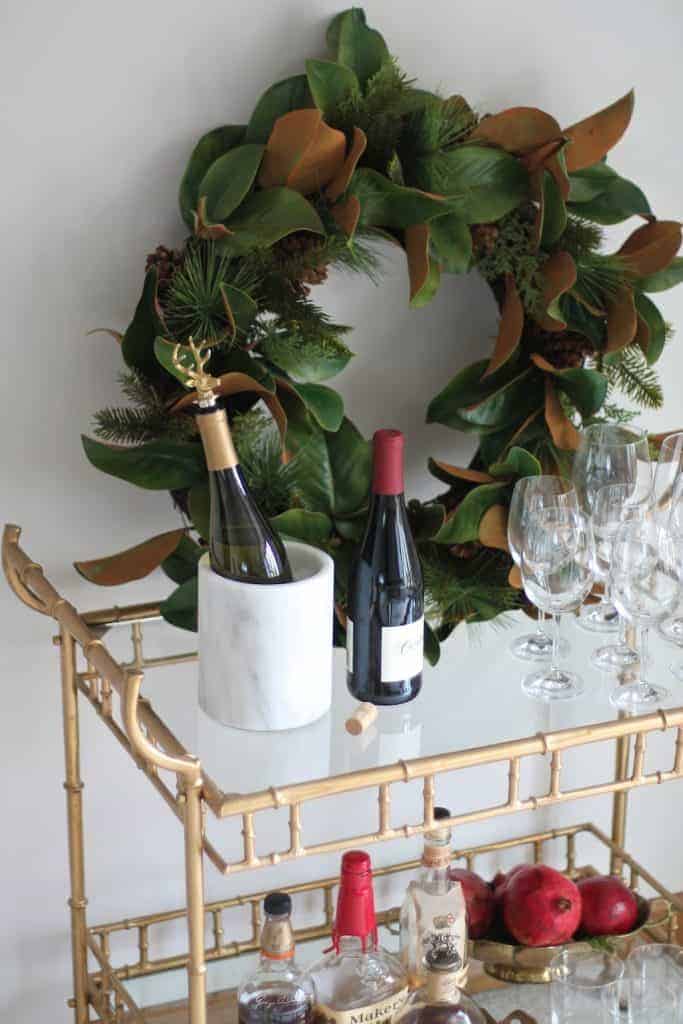 Gold Bar Cart Sources
Lucky for you if you're reading this, you won't have to spend a year digging through Craigslist ads! You can find a charm brass or gold bar cart at an incredibly affordable price these days.
I'm linking a few of my favorites so that you, too, can experience a little of the fun!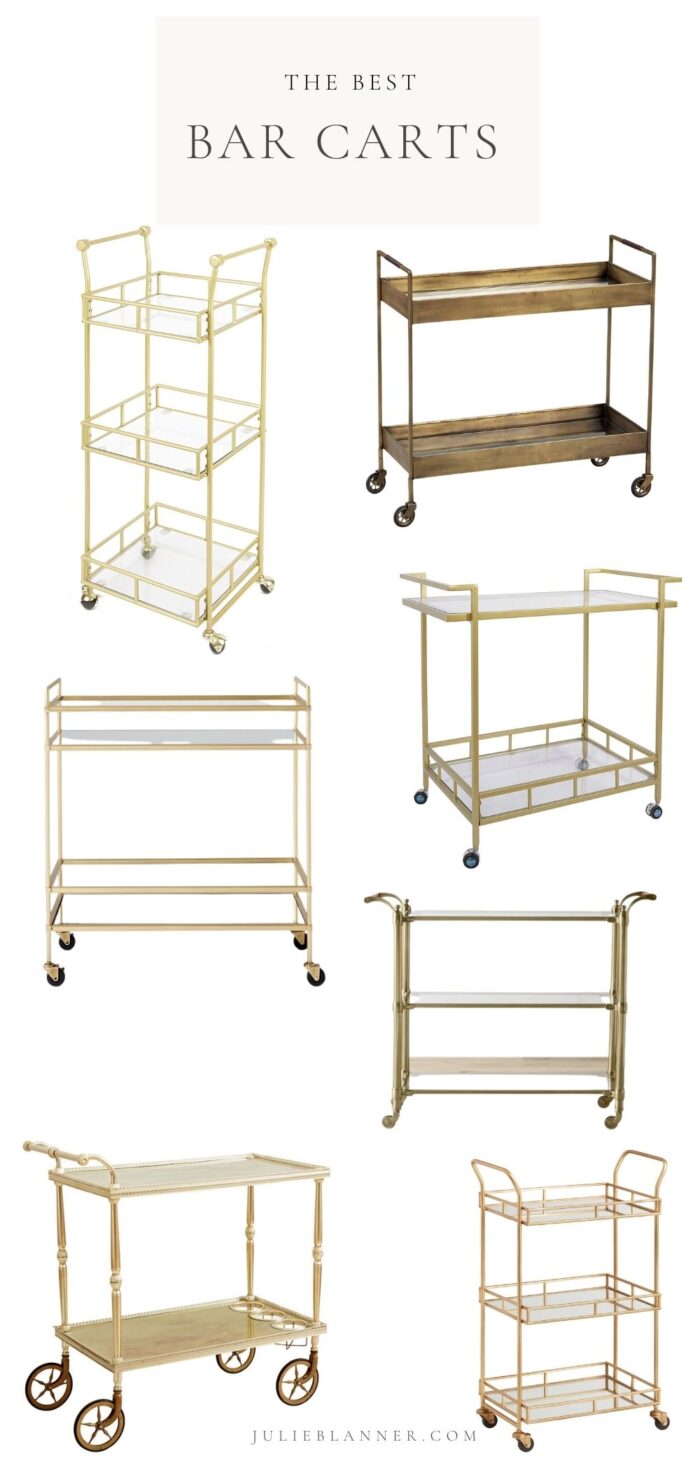 Silverwood Collier 3-Tier Square Bar Cart | Libations Antique Brass Bar Cart | Terrace Bar Cart, Antique Brass | Gold Rolling Wine Bar Cart | Beckett Bar Cart | Hollywood Regency Two-Tier Bar Cart on Casters | Antique Brass 3 Tier Bar Cart
Here's a few more budget-friendly options to consider, too!
Craigslist Brass Bar Cart
For a piece of furniture that my husband just doesn't comprehend at that time in our lives, I was finding that all the brass bar carts I loved were simply too expensive. In fact, when I was searching so many years ago, most were at least $1500!
I began a Craigslist hunt, knowing I might be on the lookout for quite some time. (Psst… get all my best tips for shopping Craigslist here.) This one popped up and I was first in line.
Chris went to a somewhat sketchy location late at night to pick it up and it barely fit in my tiny SUV. While it was the perfect shape and size, it appeared dated to me with foggy marbled glass. Hence my desire for a makeover! Do you see where this is going?
Here she is, in all her glory. This is the "before" image when we brought her into our colonial home in Kansas.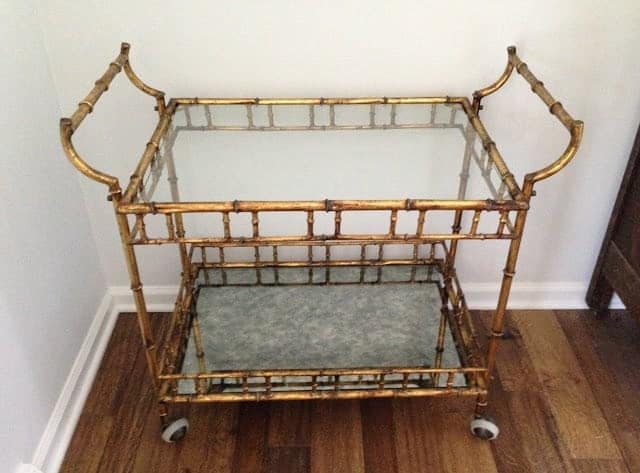 I loved that bar cart. We used it to serve guests in the dining room of our home in Kansas, then it made the move to St. Louis and we used it in our breakfast room until…
An Antique
One night, we heard a large crash. We weren't too alarmed, assuming it was the dog after a quick walk-through downstairs. However, the next morning we found broken bottles and alcohol scattered throughout the breakfast room – all over our brand new scraped hardwood floors!
The glass couldn't bear the weight of the overloaded bar cart and gave way, sending the bottles crashing to the floor. After that, I considered replacing the glass, but instead we decided to create a bar cabinet in our new home in St Louis.
Around that same time, a reader commented on my post about How to Style a Bar Cart: "Hi Julie. That looks like a genuine Maison Bagues bar cart. They sell for about $3,000."
Say what? It couldn't be true. I visited the link. My heart sunk. It is an original Maison Bagues bar cart – identical. It is what bar carts today are modeled after. It was valuable, before my "update".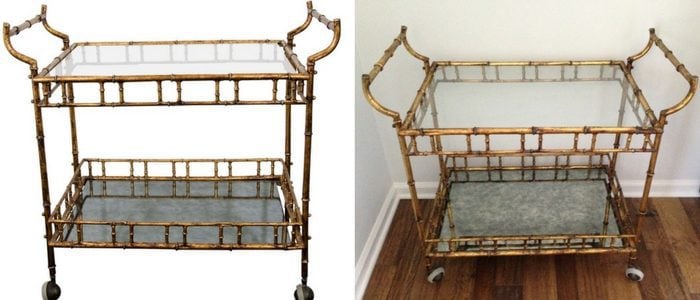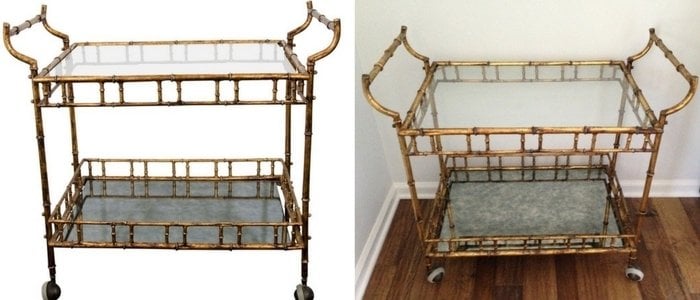 The lesson? Sometimes you have to open your eyes to see a piece's true beauty and embrace what you have. There's nothing more beautiful than a piece in its original state in all its integrity.
I did a little research and a similar cart is listed for $9,000 with taxes and shipping. $9,000! Are you laughing or crying with me?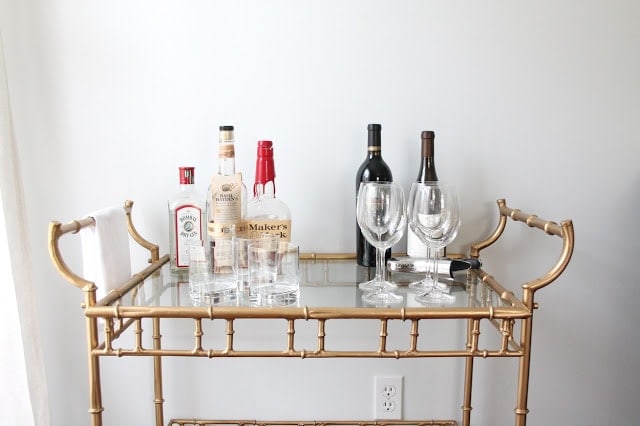 I'd love to hear from you! Do you have a cute gold bar cart in your home? How have you used it?
Love the look of brass as much as we do? Check out this Rub 'n Buff tutorial to turn any home accessories into the perfect antiqued brass!