This blueberry muffin recipe has a crunchy muffin top that glistens and adds incredible texture. They are surprisingly easy to make, too. Soft bakery style blueberry muffins – without the effort!
Butter and oil make these easy blueberry muffins an incredibly moist breakfast or snack.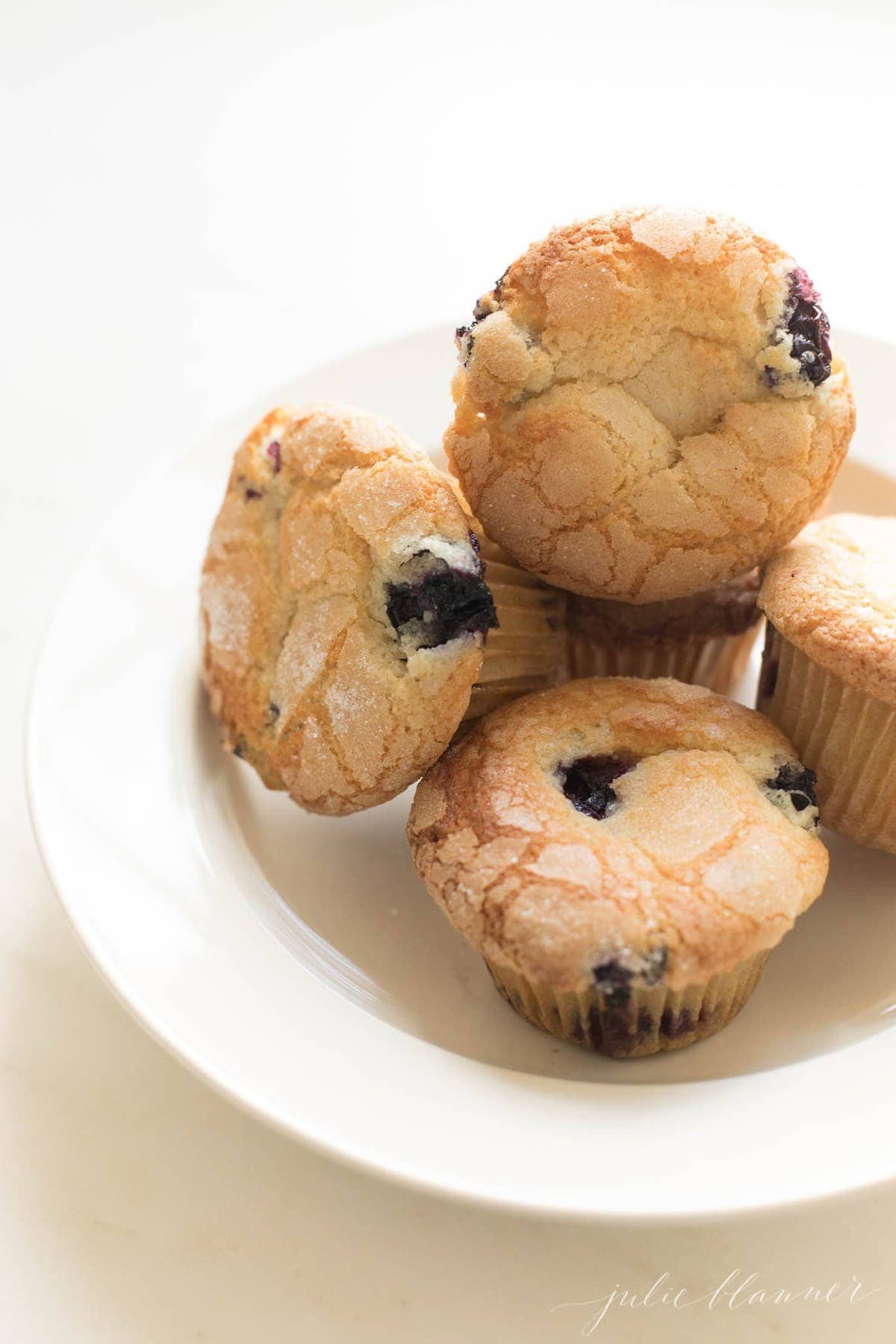 The girls and I enjoy baking together. We tend to spend Saturdays and Sunday mornings making breakfast.
We frequently make muffins because they're so easy and everyone in the family enjoys them. They make a delicious breakfast, are the prettiest addition to brunch and also a great snack!
It's so easy! Skip the mix! Chances are, you have all the ingredients you need in your kitchen. These blueberry muffins are made with staple ingredients.
Blueberry Muffin Recipe
A single batch can be enjoyed for breakfast, brunch or snack. They're also perfect to share with family and friends for Easter or Mother's Day brunch.
Why You'll Love this Recipe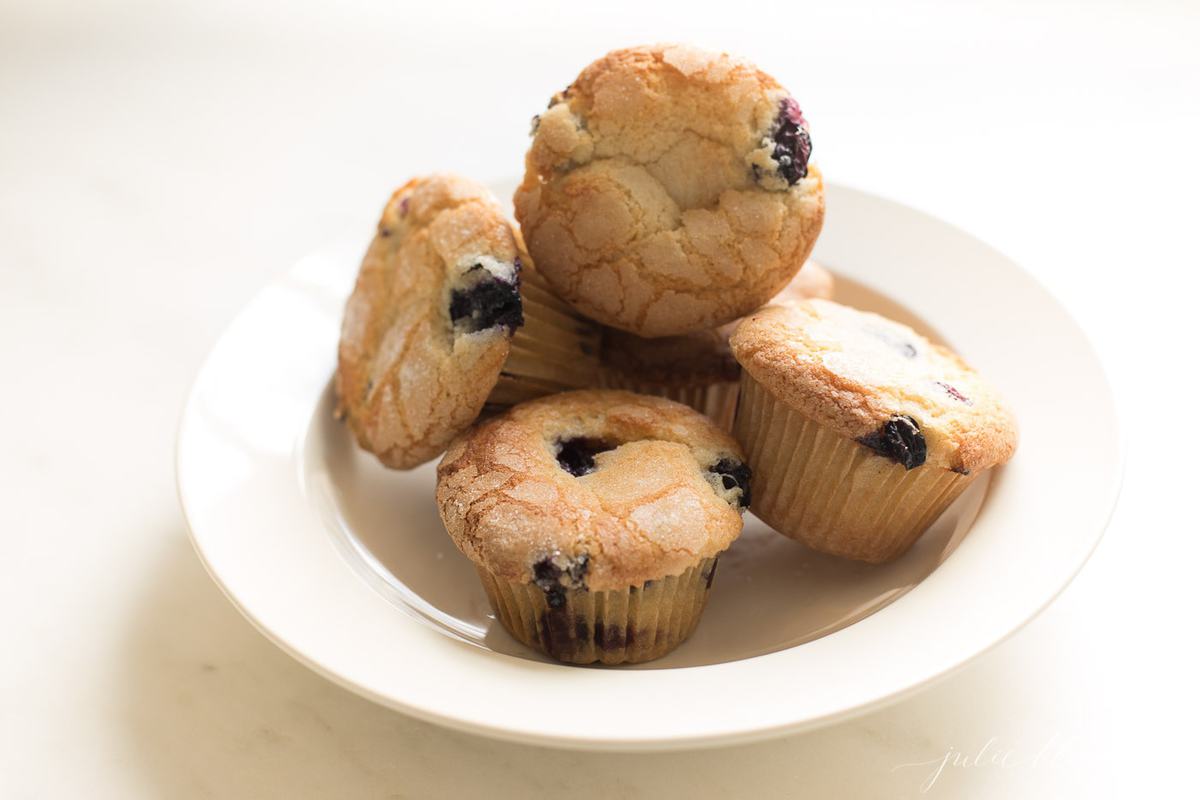 Ingredients and Substitutions
Butter – Melted, salted or unsalted.
Vegetable Oil – I use both oil and butter in this muffin recipe because the vegetable oil adds fluffiness while the butter adds flavor.
White Granulated Sugar – For the perfect sweet texture. The granulated sugar adds a little crunch that glistens and makes these muffins bakery beautiful!
Egg – This recipe calls for just one egg, plus an egg white.
Vanilla Extract – Use true vanilla extract, not imitation. Learn how to make homemade vanilla extract here.
Buttermilk – Buttermilk also helps make muffins moist and tender, breaking down the gluten. It also prevents the muffin from acquiring the blue tinge from the blueberries! If you don't have buttermilk, you can make it with just two staple ingredients. Learn how to make buttermilk here!
All Purpose Flour – No need to sift!
Baking Powder – For the rise in these muffins.
Corn Starch – Cornstarch softens the proteins in flour making the muffins soft, too.
Salt – To balance out the sweetness. If you use salted butter, you can cut back on the salt.
Blueberries – Fresh blueberries are best for this recipe, but if you prefer, use frozen blueberries. Swirl them into the batter direct from the freezer to avoid purple muffins.
Variations
These muffins are amazing as is, especially with the crunchy muffin tops, but you can also drizzle, dip or drench them in this lemon glaze!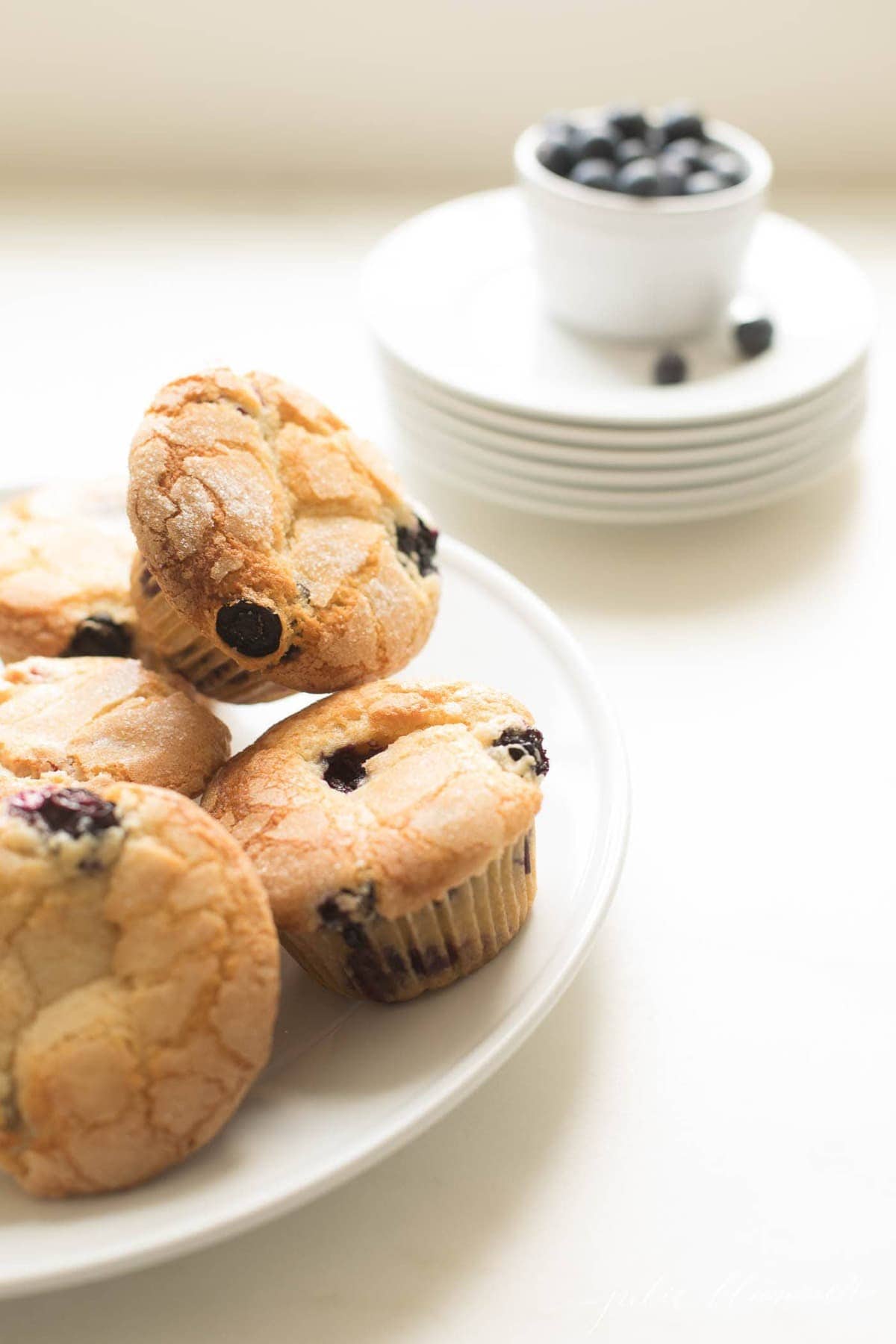 How to Make
Prep – Preheat oven and gather ingredients.
Make Batter – Combine wet ingredients in a mixing bowl and dry ingredients in a separate mixing bowl. Gradually fold dry ingredients into wet and swirl in blueberries.
Fill Muffin Pan – Line muffin tins with paper liners or use cooking spray if you prefer. Fill the muffin cups with muffin batter using a measuring cup to easily fill. Sprinkle with sugar.
Bake – A toothpick inserted will ensure they are cooked through, but 18 minutes is generally perfect in my oven.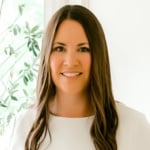 Tips
Sugar – While you can use extra granulated white sugar for the topping on these muffins, turbinado sugar is often used in bakeries for its crunchy, coarse crystal texture!
Don't Overfill Your Muffin Pan Cavities – Fill no more than 3/4 full to compensate for rise.
Use the Toothpick Test – Insert a toothpick in the center. When it comes out clean, it's done.
Frequently Asked Questions
Should I use fresh or frozen blueberries in muffins?
Frozen berries generally work well for baking. However, frozen blueberries do have a little extra moisture as they bake, and tend to bleed more.
Why are my blueberry muffins mushy?
Try removing them from the muffin tin as soon as you are able. Muffins are meant to be very moist, but sometimes the extra heat in a muffin tin gets trapped and "steams" the muffins inadvertently as they cool.
What sugar is on top of muffins?
Turbinado sugar is often used for the topping in bakery style muffins!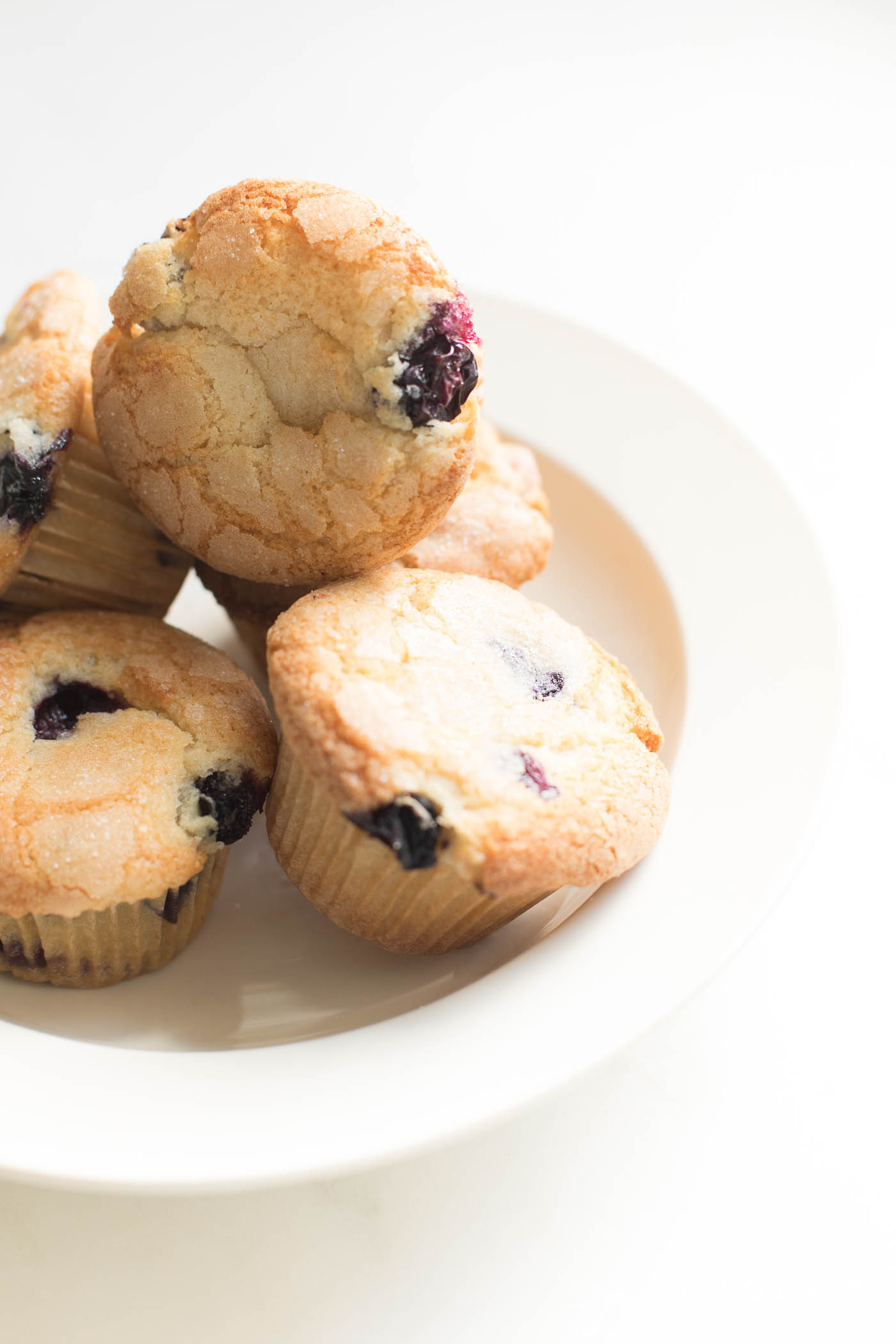 How to Store
You can enjoy these muffins for days, weeks and months to come! They keep incredibly well using the tips below.
Room Temperature – Store these muffins in a sealed plastic bag or covered in saran wrap at room temperature for up to five days.
Refrigerate – Refrigerate for up to seven in an airtight container or sealed bag.
Freeze – Freeze muffins by wrapping them tightly in heavy foil or plastic wrap. Then place them in freezer bags and freeze for up to 3 months. Bring to room temperature to serve.
To Reheat
To thaw from frozen, bring to room temperature on your kitchen counters (about 3-4 hours).
To warm, preheat oven to 350 degrees and bake 3 minutes, just enough to heat through.
Or, wrap an individual muffin in a damp paper towel and heat in the microwave for 20-30 seconds.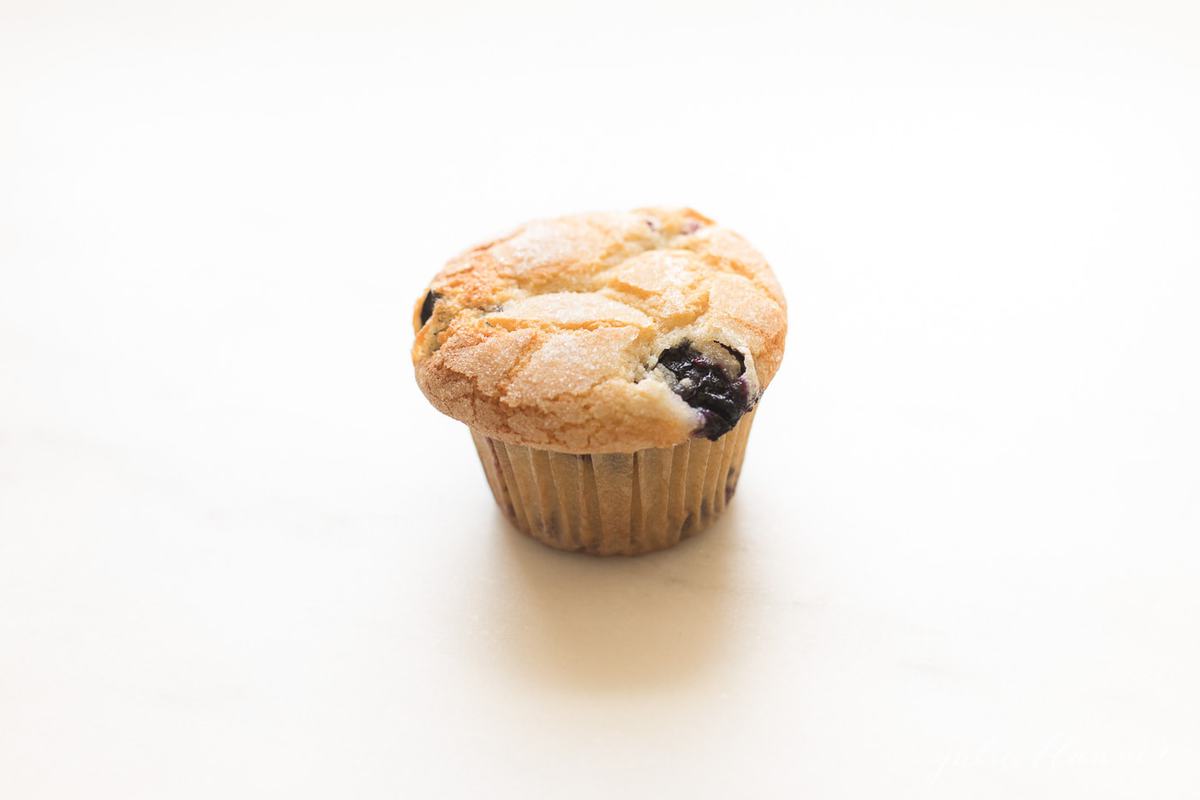 For more amazing Muffin Recipes, check out my recipe collection – it's filled with deliciously easy muffins you can make with pantry staples.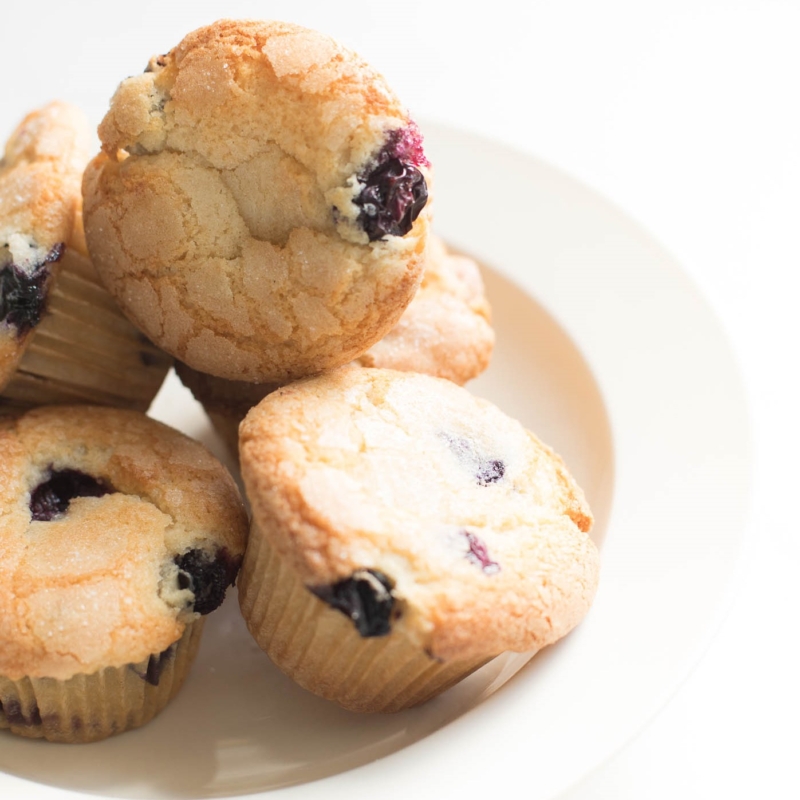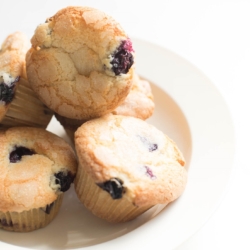 Blueberry Muffin Recipe
This blueberry muffin recipe has a crunchy muffin top that glistens and adds incredible texture. Butter and oil make these easy blueberry muffins an incredibly moist breakfast or snack. Bakery quality blueberry muffins – without the effort!
Instructions
Preheat oven to 350℉. Grease or line muffin tin.

In a large mixing bowl, combine melted butter, oil and sugar.

Add the eggs, vanilla and buttermilk until combined on low or by hand.

In a bowl, combine flour, baking powder, corn starch and salt.

Gradually fold dry ingredients into wet mixture, but do not overmix.

Fold in blueberries.

Fill each cavity 3/4 full and sprinkle with sugar.

Bake 18 minutes, or until they pass the toothpick test.
Tips
Tips
Use fresh or frozen blueberries.
Don't overbake!
How to Store
Allow them to cool in the tin for a few minutes and transfer to a wire rack
Store in an airtight container or ziplock bag on a paper towel to absorb any excess moisture
To freeze, wrap muffins in saran wrap and place them in a freezer bag to store up to 3 months
Calories:
267
kcal
|
Carbohydrates:
40
g
|
Protein:
3
g
|
Fat:
10
g
|
Saturated Fat:
7
g
|
Cholesterol:
13
mg
|
Sodium:
176
mg
|
Potassium:
157
mg
|
Sugar:
22
g
|
Vitamin A:
170
IU
|
Vitamin C:
1.4
mg
|
Calcium:
62
mg
|
Iron:
1.1
mg
Estimated nutrition information is provided as a courtesy and is not guaranteed.
Explore More