Learn all about the Samsung Frame TV, a picture frame tv that looks like art. It will truly change the feel of your room and honestly… it might even change your life! This Samsung art tv is a stunning way to incorporate a television into your room, but disguise it as art.
Get my honest review of this gorgeous new tv (we love it so much we now have three of them!) with lots of photos and video.
Can you find the television in this post?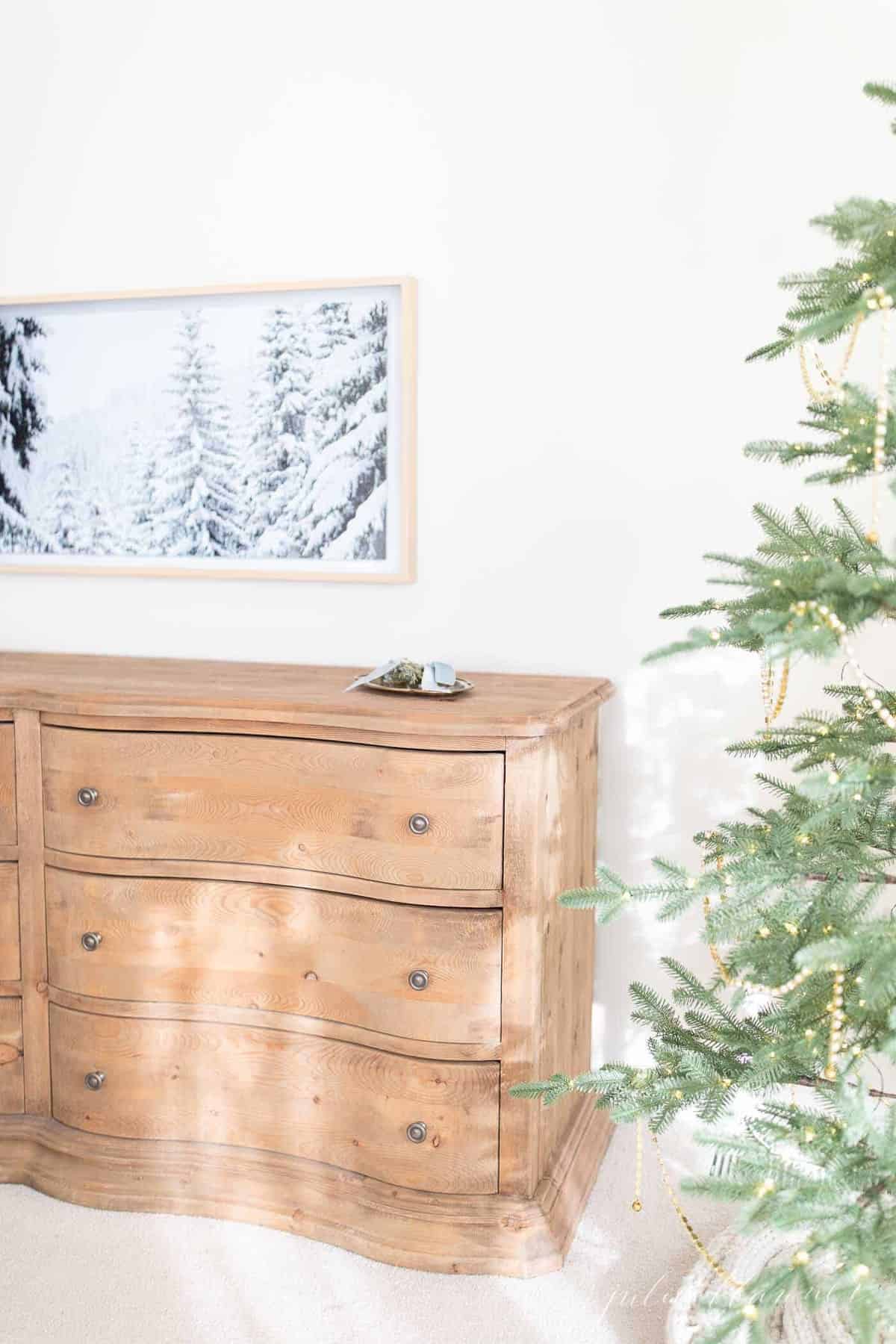 TV that Looks like Art
The Samsung Frame TV really did improve our home and our lives. Sounds a little dramatic, I'm sure… but it's one of those investments that we use and truly enjoy every single day.
When we purchased our current home, we struggled to decide which of the two rooms would be the family room that we'd gather to watch tv. One was smaller, just off the entryway with bookcases, a fireplace and was adjacent to the kitchen.
The other was a larger, more removed space that lacked character, but would have been easier to hide that big black box thing – aka the tv.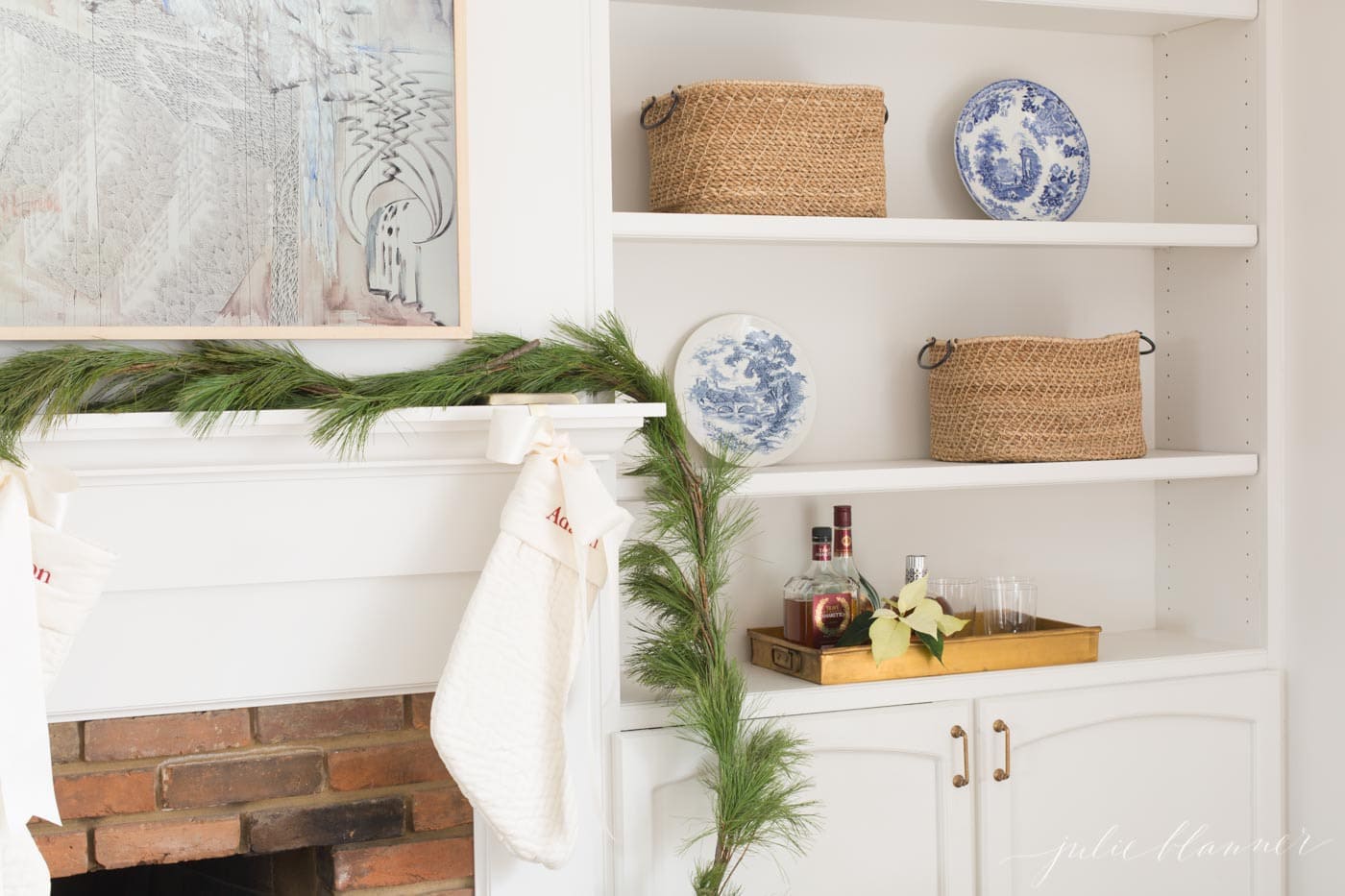 We ultimately decided to sacrifice design for convenience and family togetherness, placing the big black screen over the fireplace off the entryway.
We loved it – when it was on. The kids could decompress after school while I made dinner, but when we weren't using it, it felt like it overpowered the entire room.
The tv was the first thing you'd see when you entered our home, which didn't exactly feel like a warm welcome.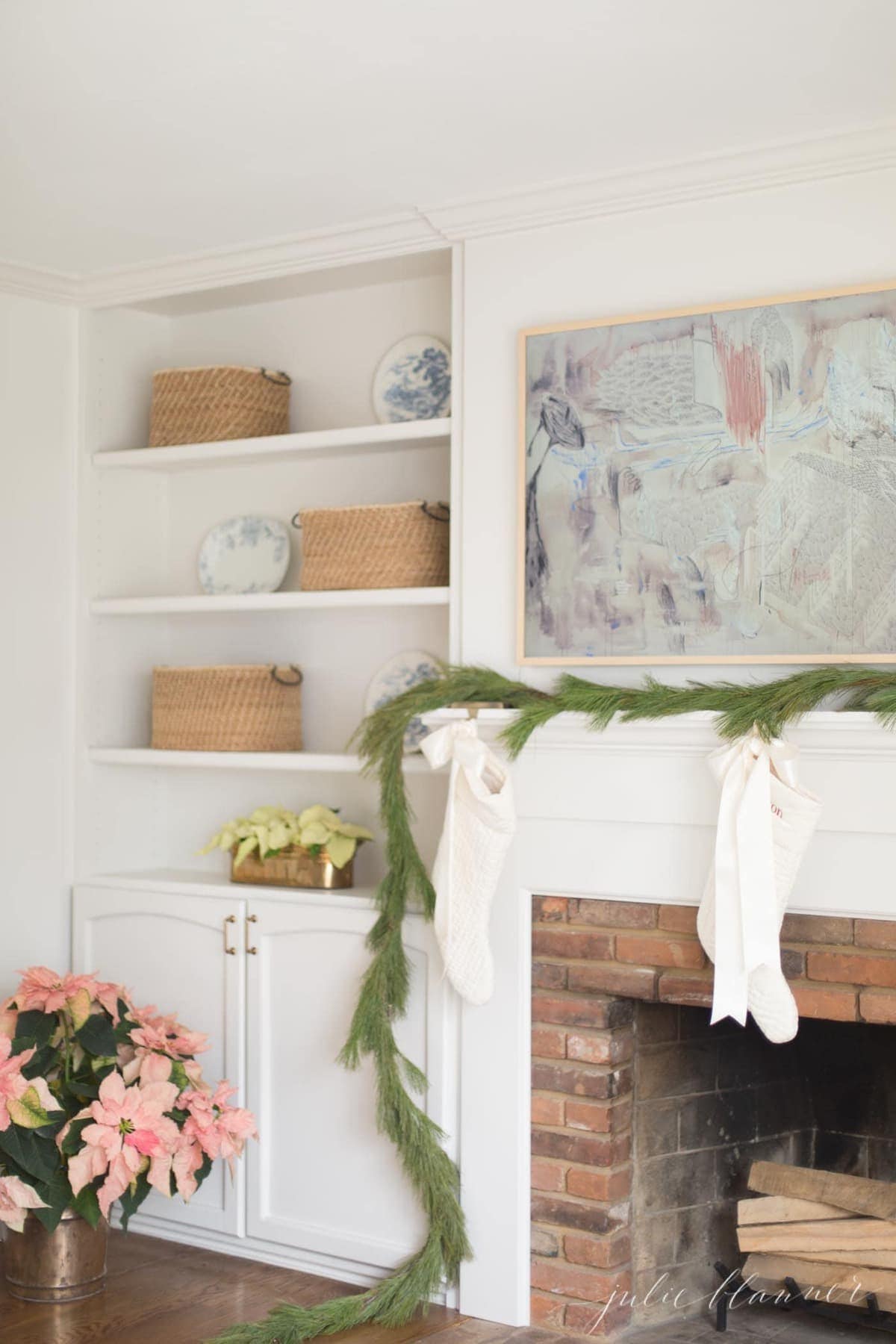 Art Frame TV for Anywhere
We've been planning a fireplace makeover for the past few years, but it seemed like a moot point when we'd just place the black tv above the mantel again.
I didn't want to paint the brick, but I hoped to minimize it for a more timeless, traditional look. I dreamt of a fireplace filled with character and couldn't get over all those inspiration photos with a beautiful piece of framed art hanging above the mantle.
Then, I saw a tv that looks like art. It hangs like art, it's framed like art and you have a gallery of 100 pieces of art to choose from. I couldn't believe my eyes and immediately started making plans to finally execute our fireplace makeover and living room refresh.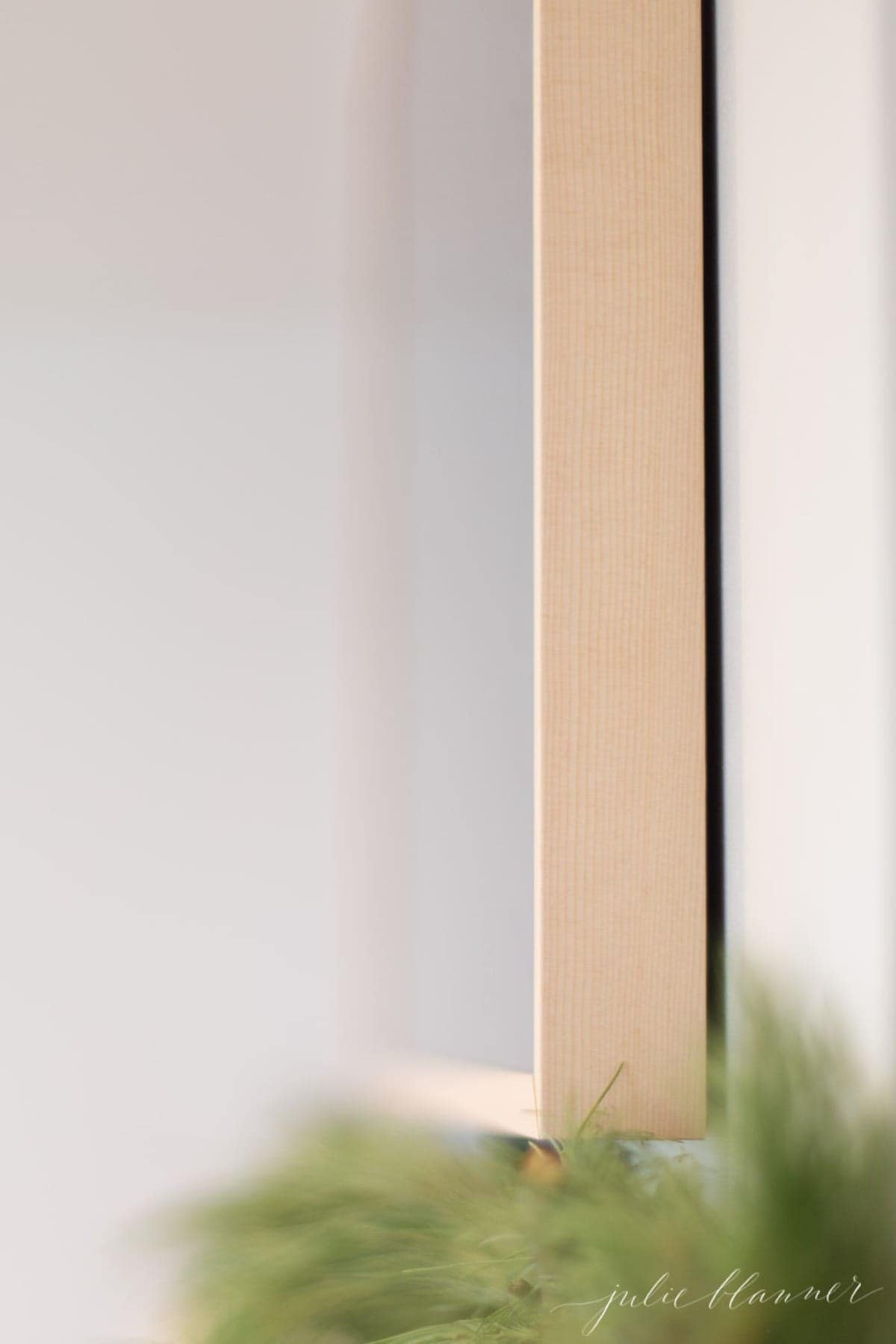 Why You'll Love the Samsung Frame TV
Finally eliminate the big black box in the room
Integrates function into design
Use family photos or any stock art (sources listed below)
Turns any room into a showpiece
Just as beautiful when it's off as it is when it's on
An incredible investment for your home
Our St. Louis home now has three Samsung Frame TVs. Yes, we love it that much! These photos show you how our Samsung art tv hangs in our Neutral Living Room, Primary Bedroom and even our Laundry Room (which doubles as our home gym).
Samsung Art TV: The Best of Art and Television Combined
Our renovated fireplace is beautiful, and it's everything I hoped it would be. However, the highlight of the room is The Frame. It completely transformed the space! It's so beautiful and feels fresh.
I have to do a double take each time I pass by because you'd never guess it was a tv if you didn't know! The Frame is so minimal and with the No Gap Wall-mount, it mounts flush against the wall, just like art.
This Samsung art tv is Chris' Christmas gift, but shhhh it's really the best gift I've given myself – a tv that blends design and function, something I attempt to do throughout our home.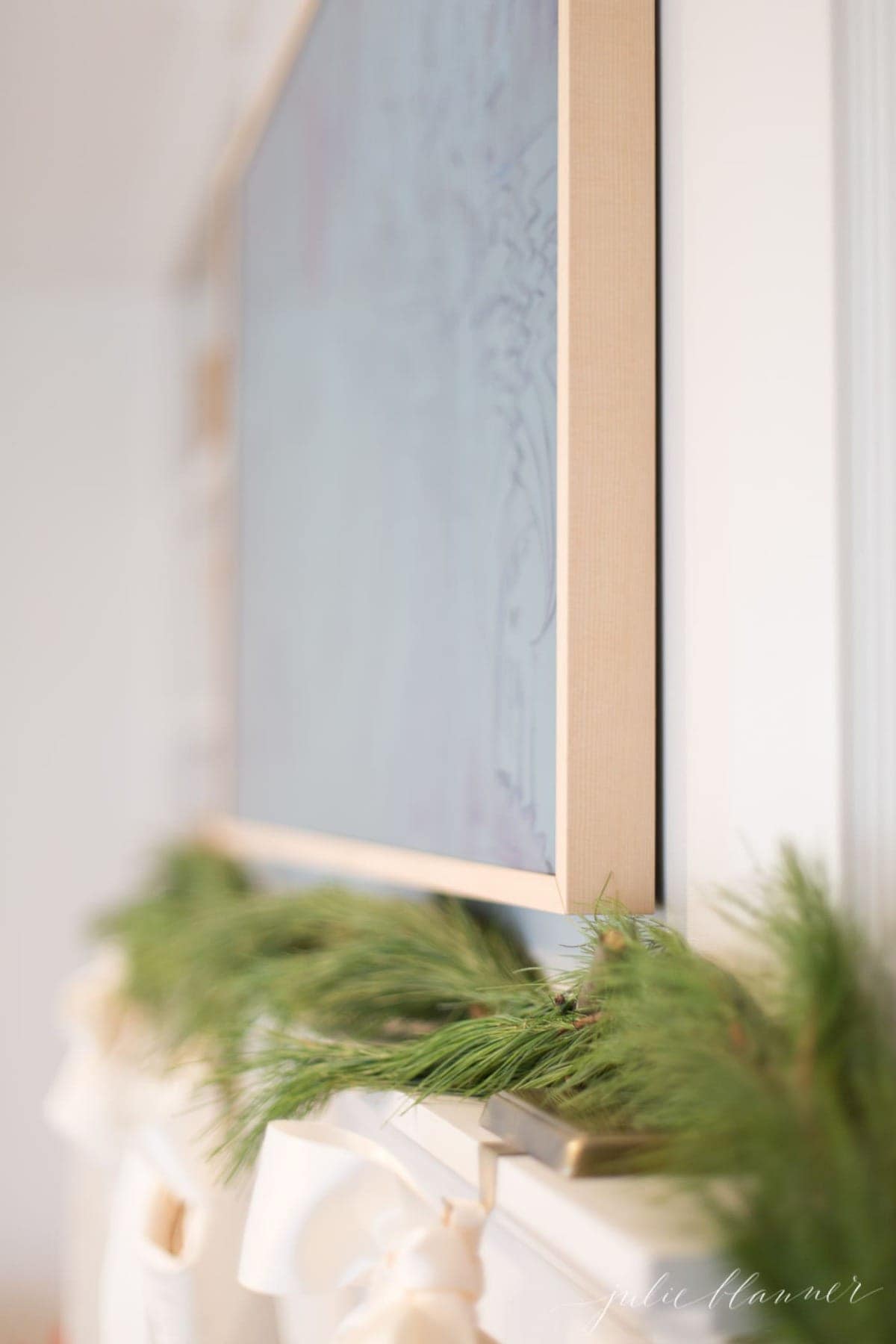 Unlike art, it's easily interchangeable. I can't decide which is my favorite, our Christmas card photo, a photograph of my mom and uncle on their Christmas card from the 50's or the piece by Yun-Kyung Jeong for the Samsung Collection.
Fortunately, I don't have to! I can change it with the click of a button on the remote or the app on my phone!
As you can see throughout this post, I love to change the art seasonally to fit in with our home decor. See where our living room started to see the whole transformation of this space.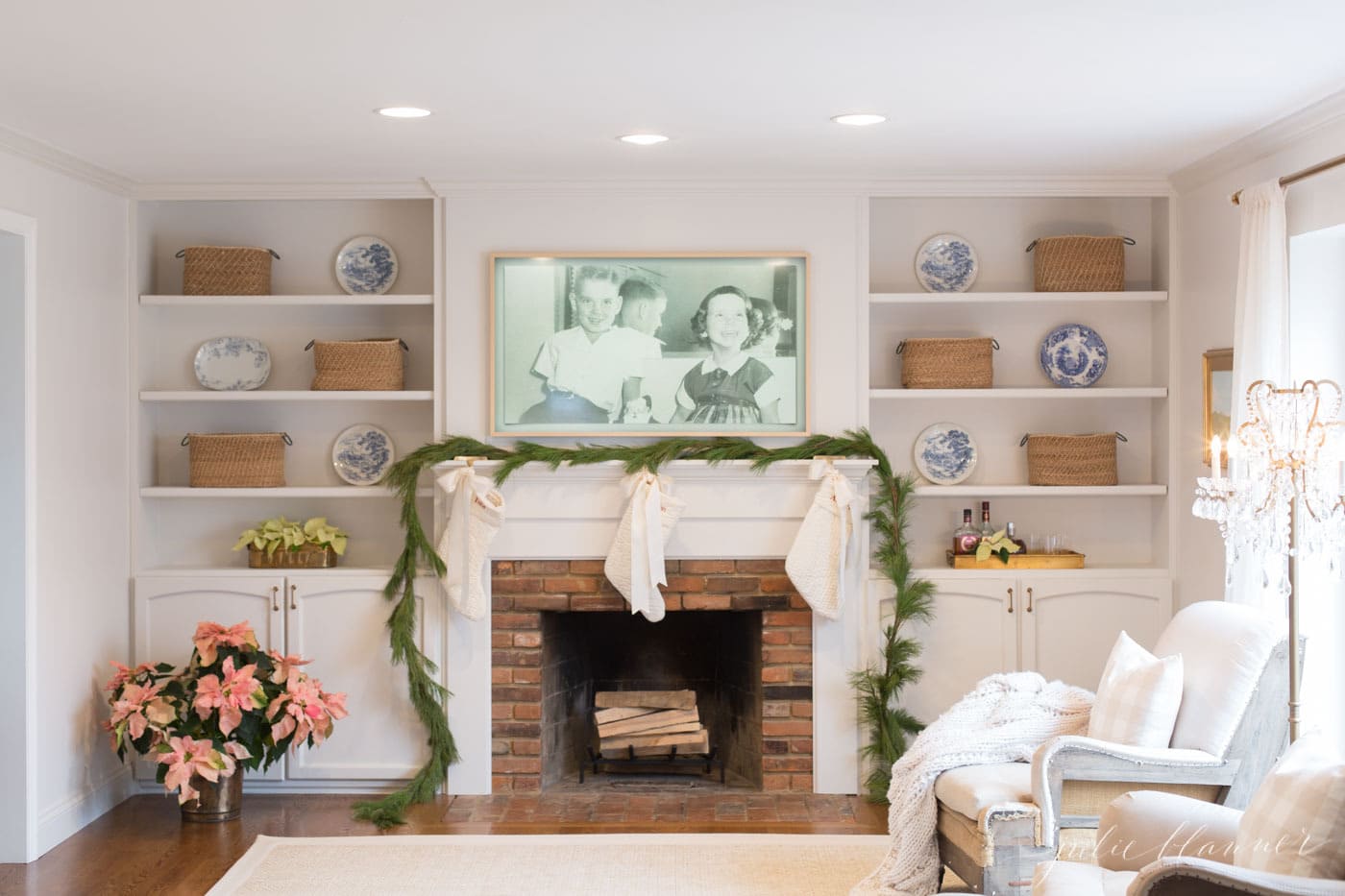 Samsung Picture Frame TV Key Features
Frames must be purchased separately from the tv. The nice thing is that this allows you to change the look of the art frame tv on a whim.
Frames (also called a Bezel) are available in dark wood, beige / light wood, and white. All three of ours are framed in light wood- I just love how it looks with our decor!
The Frame is available in a variety of sizes, from 32″ all the way up to 75″. We have a 32″ in our home gym, a 43″ in the primary bedroom and a 55″ in the living room, if that gives you an idea of how they look when mounted.
They are a truly Smart tv – QLED HDR Smart, (4K) which means you can stream from any service with ease.
Pricing depends on size, of course. Generally they are sold for $599 up to $2799.
Easily change the brightness and colors depending on your mood or the look and style you'd like.
They come with a great remote – OneRemote automatically finds and controls compatible devices and content.
They come equipped with an Amazon Alexa and Google Assistant, which means you can control them by using your voice!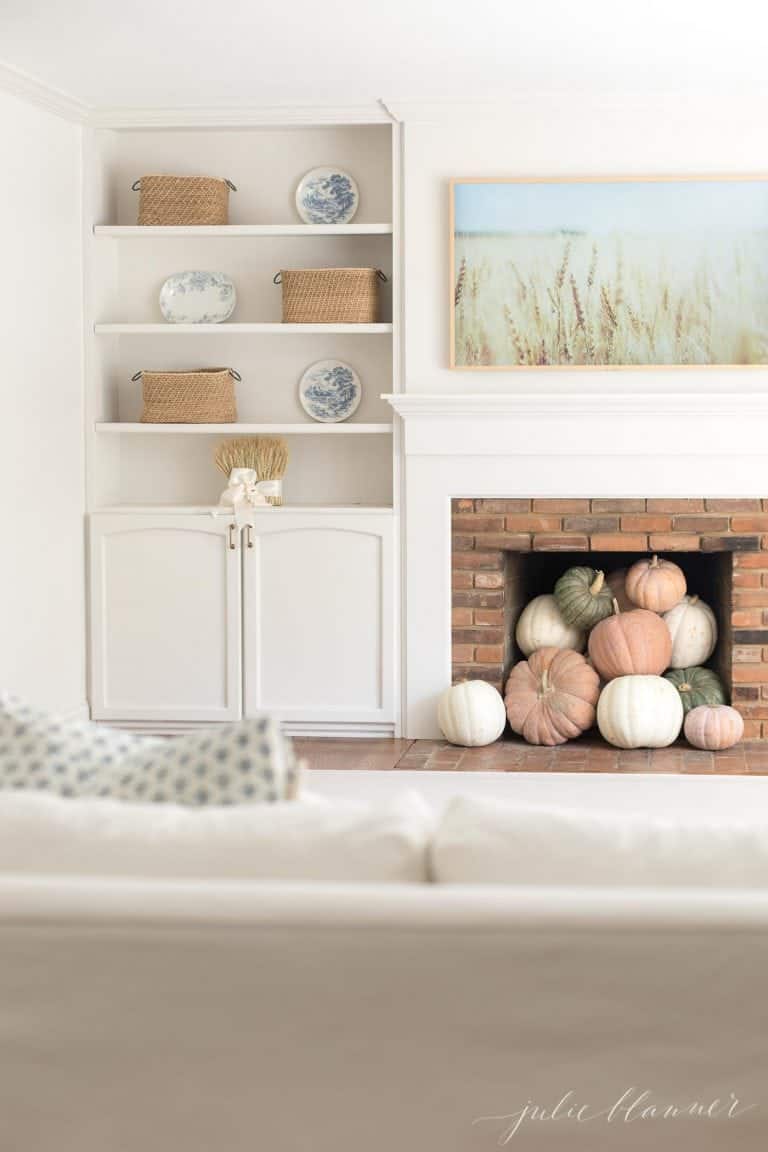 Common Frame TV Questions and Answers
Is the Samsung Frame TV a Smart TV?
The Samsung Frame TV is a smart tv and works with all your streaming services!
Does the Samsung Frame TV come with a frame?
No. Frames (also called a bezel) is purchased separately. It's sold in three different colorways – dark brown, white and beige.
Is the frame a good TV?
In our experience these televisions are excellent quality and we highly recommend them.
Is Samsung the frame QLED?
Yes, the Samsung Frame TVs are QLED, which stands for Quantum Dot Technology (according to Samsung) and produces 100% Color Volume.
How much does art cost for Samsung frame TV?
Samsung provides an art store subscription option (currently $5.99 per month), or purchase art from them for $24.99 per piece. You can also find Frame TV art on various other sources.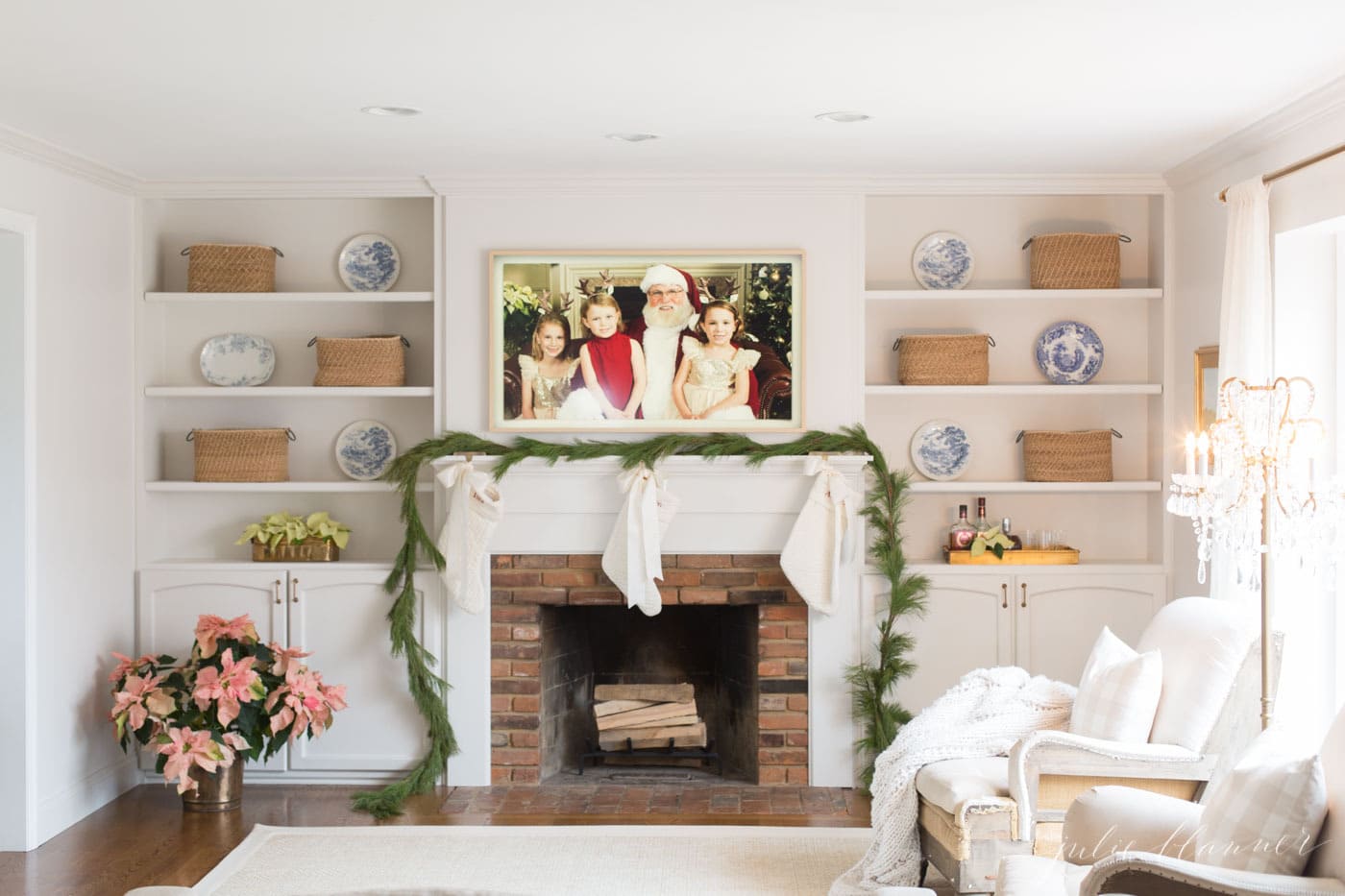 How Do I add Photos to the Samsung Frame TV?
Samsung has an art store subscription option (currently $5.99 per month), or you can also buy more specific pieces of art for $24.99 from their store.
Etsy sellers have many art options that you can purchase which are specifically sizes to fit The Frame.
Follow their step by step tutorial for uploading photos.
There are also so many Free Art Sources, as noted below! Download an image and upload it back to your Samsung art tv.
For the very best art for your Samsung Frame TV, check out this post where I've rounded up my favorites: Where to Buy Art for the Frame TV.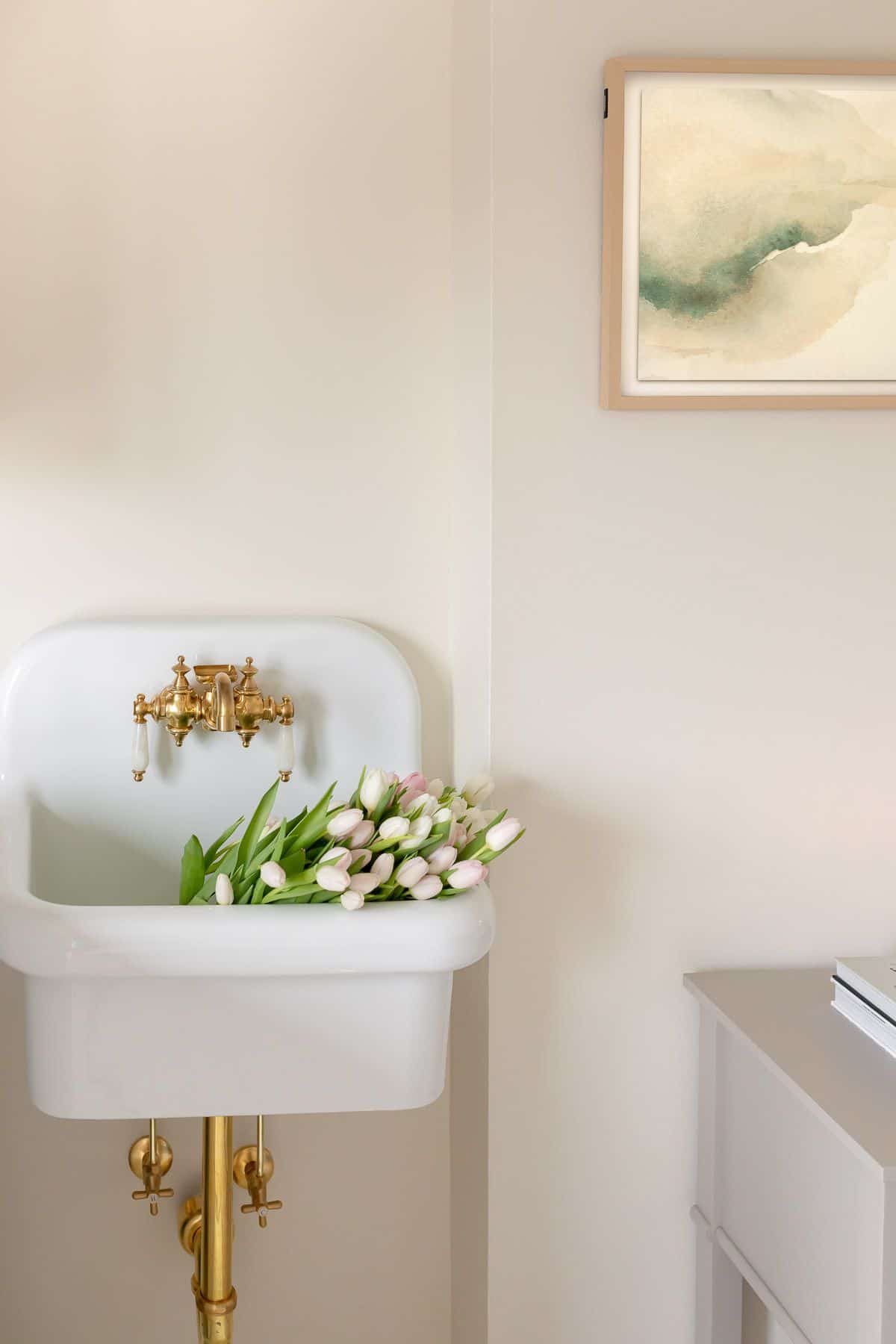 Many of the sources below are in the public domain, free of copyright. You'll often find prints of these available in boutiques, online stores and big box stores, but "you can copy, modify, distribute and perform the work, even for commercial purposes, all without asking permission."
Be aware, you'll often have to play around with cropping and sizing these art works, but it's worth the effort!
Stock Photos (available for purchase)
Samsung Store
Photographs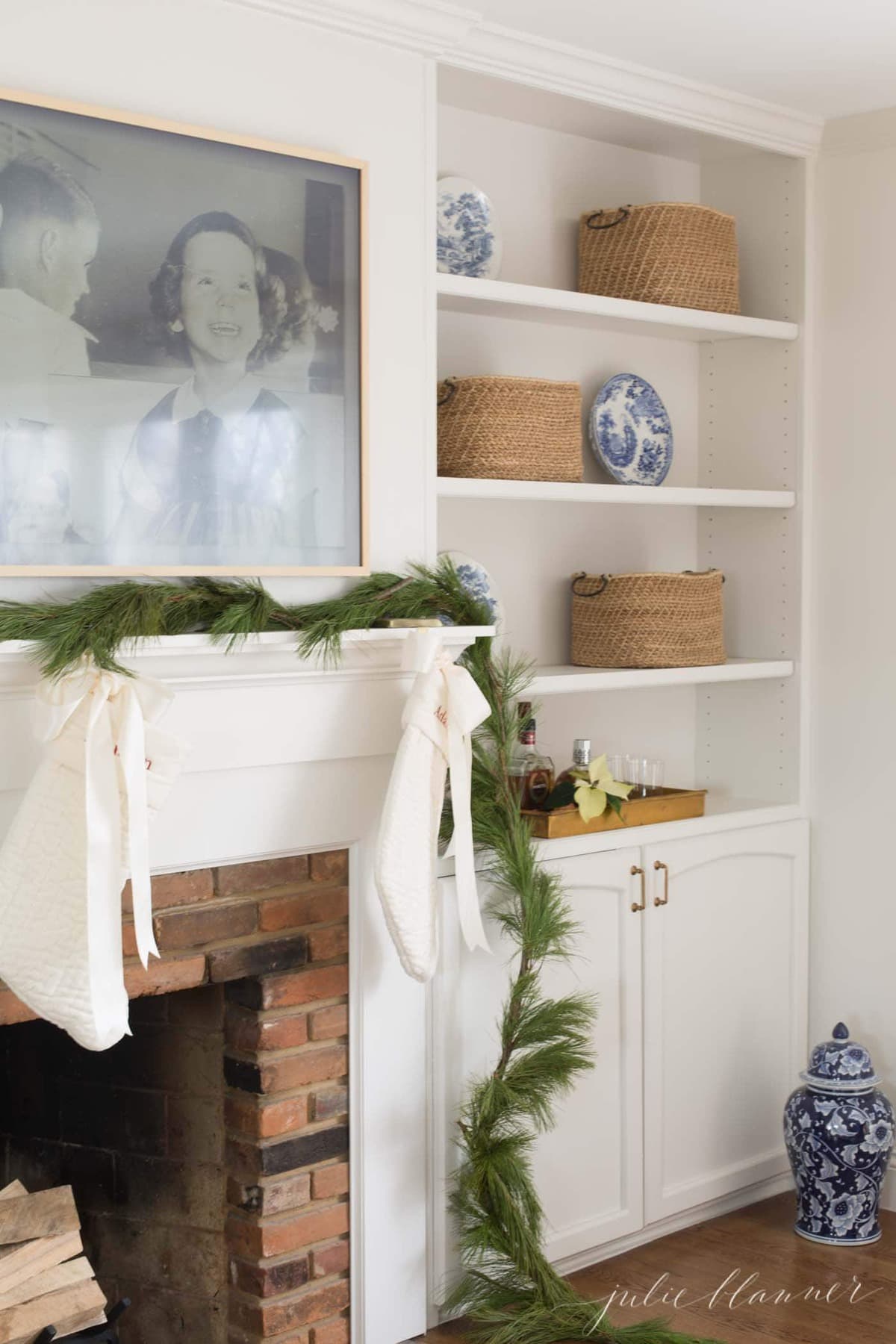 Where to Buy a Frame TV
I still can't believe my eyes. I love how warm and inviting our living room feels and already cherish the time we've spent snuggling up on the sofa watching Christmas movies together – enjoying the best of both worlds this holiday season.
Art or TV? You decide. Have you been waiting your whole life for The Frame, like me?
Let's keep in touch! Receive exclusive content, including never-seen-before photos, our favorite home decor DIYs and more!