An Easy Strawberry Shortcake Recipe – the quintessential summer dessert! This light and refreshing shortcake recipe is always a crowd pleaser and beautiful, too! Skip the mix and learn how to make Strawberry Shortcake from scratch topped with whipped cream.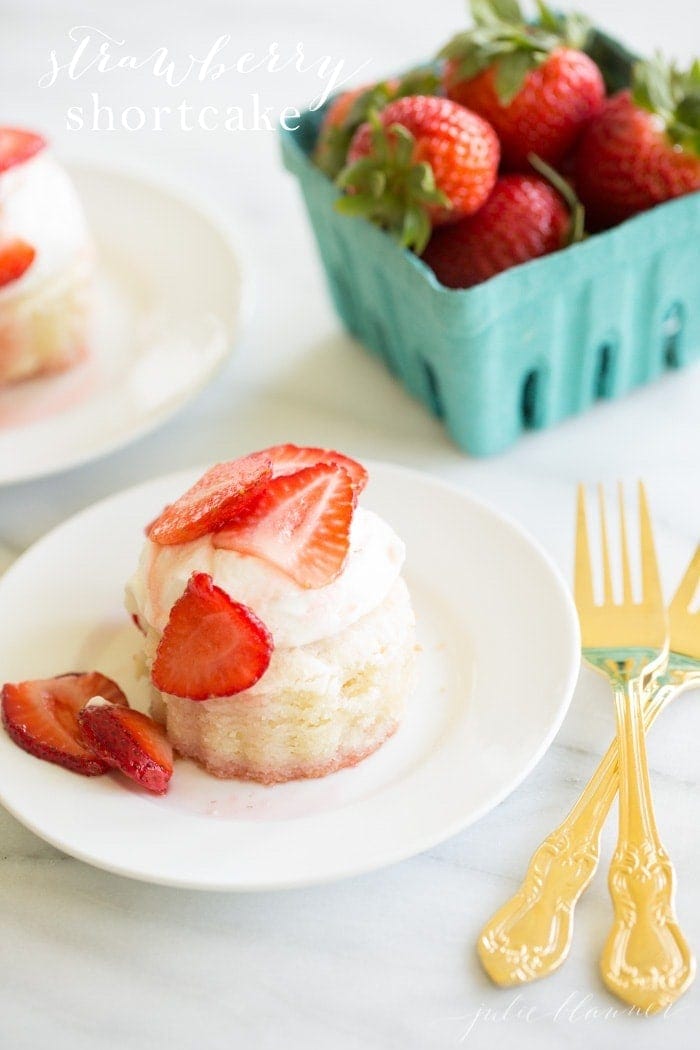 Easy Strawberry Shortcake Recipe
I remember sitting outside on our front porch on beautiful summer afternoons with friends as a young child snacking on strawberries dipped in a bowl of sugar. Not much has changed, as sugar covered strawberries are still one of my favorite indulgences. Bonus if they're served with whipped cream, of course.
While Strawberry Shortcake was my mom's favorite dessert, until recently I never favored shortcake. I'm not sure why I would want to miss out on all the fun. Shortcakes are the perfect compliment to fresh strawberries and go together like peanut butter and jelly. They're delicious a la carte, but together, they make the most amazing summer dessert!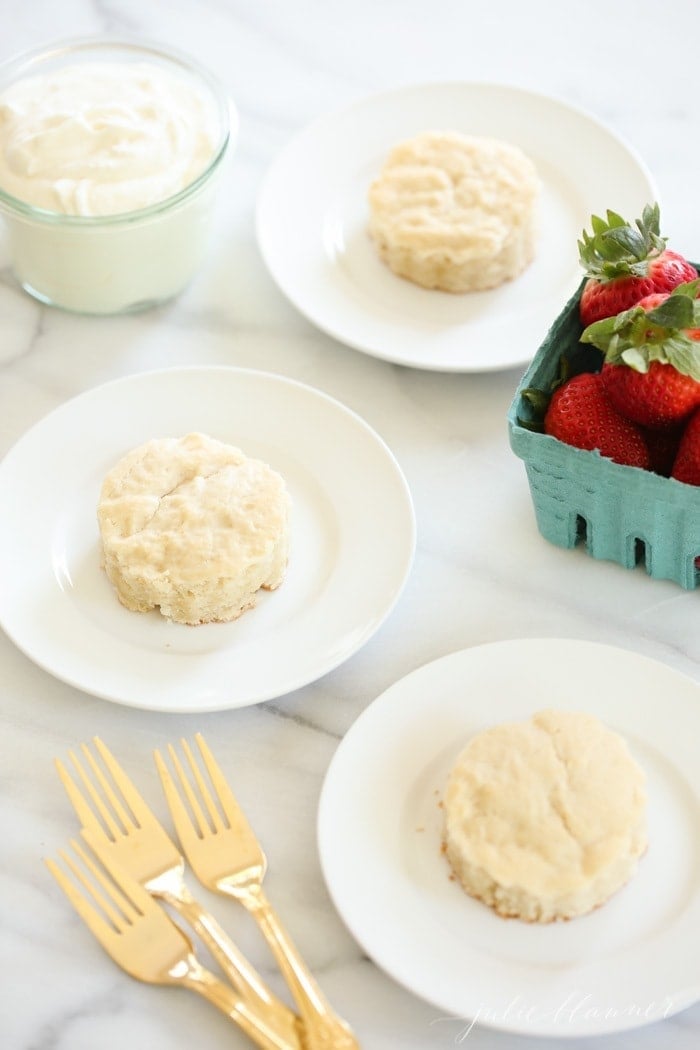 The best Strawberry Shortcake is comprised of 3 main elements!
Strawberry Shortcake Ingredients
Strawberry Shortcake Biscuits
Want to know a secret? This strawberry shortcake recipe doesn't include shortening. It's made with heavy cream to give it the most incredible texture. I dare you not to taste the "batter" right in the bowl. Top it with a dollop of whipped cream and sugar covered strawberries and you have the quintessential summer dessert.
It's so quick and easy, you can officially ditch the mix. Those shortcakes just don't compare! Strawberry shortcake biscuits have a hint of sweetness and crunch that is the perfect match to the strawberry and whipped cream topping.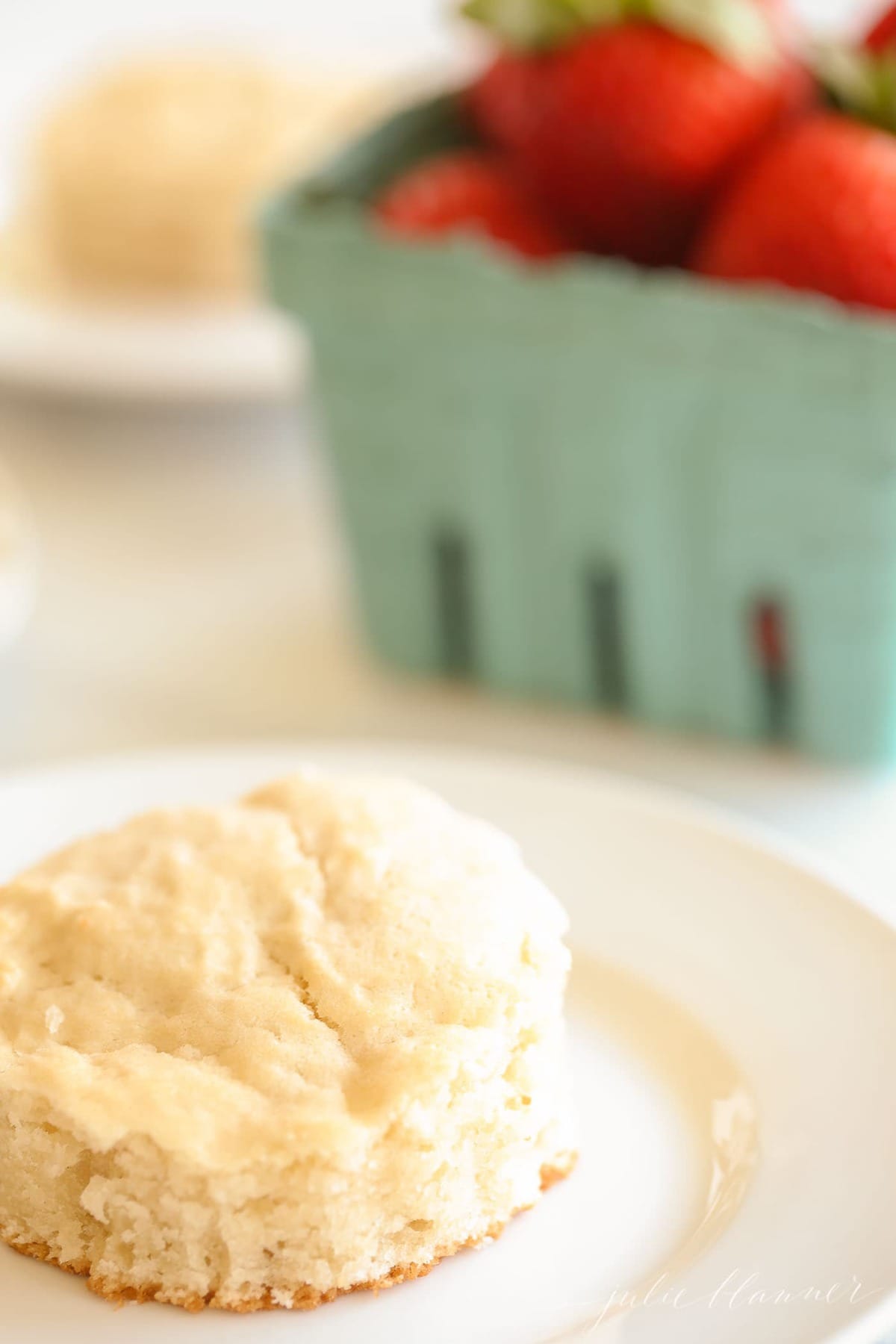 I always love a beautiful cutout, so I bake it in a cake pan or casserole dish and use a ravioli cutter to press shapes. Cookie cutters also work well. Of course if you want to avoid waste you can simply slice your shortcakes.
Another alternative to making beautiful shortcakes is to drop the dough into greased cupcake tins. If you want to take it over the top, you can create cake layers using a little whipped cream in between.
If you choose to bake it in another dish, you'll need to adjust baking time. When a toothpick inserted comes out clean, they're ready to be transferred to a rack to cool.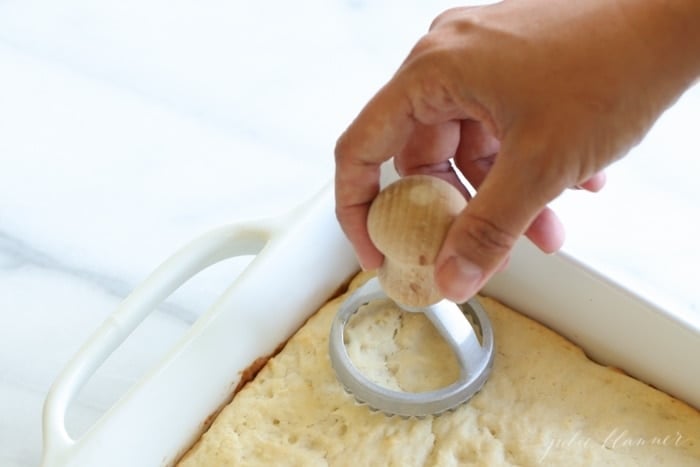 Strawberry Shortcake Biscuits or Sponge Cake?
There will always be the debate of biscuits versus cake when choosing the base for a strawberry shortcake recipe. No matter which you choose, you'll come out with an amazing summer dessert, but in my opinion, biscuits are the way to go.
The biscuits offer just a touch of sweetness and make an amazing base for sugar-coated strawberries.
Not to mention, the biscuits are great for cutting into different shapes with your favorite cookie or biscuit cutter. You can make this Strawberry Shortcake Recipe from scratch with very little effort.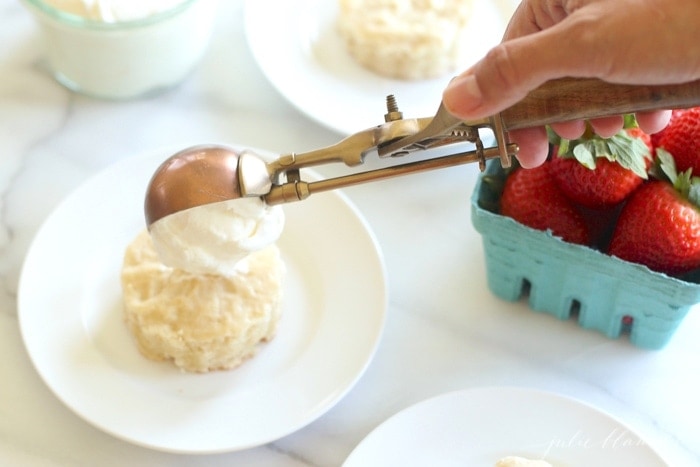 Homemade Whipped Cream
Of course, you can't forget the whipped cream when making strawberry shortcake! While it may be tempting to just snag a can of pre-made whipped cream from the store, I urge you to make it from scratch.
Homemade whipped cream is so easy to make and comes together in just a couple of minutes. You just whip the cream on high until stiff peaks form. Then, you blend in powdered sugar.
As I just mentioned, you mix the heavy cream until stiff peaks form. I like to gradually increase the speed of my mixer. When you think it's ready, turn the mixer off and lift the beater from the mixture. If it stays "up", you have stiff peaks.
Keep in mind that you can over whip cream, so be sure to check it often once you think you're getting close.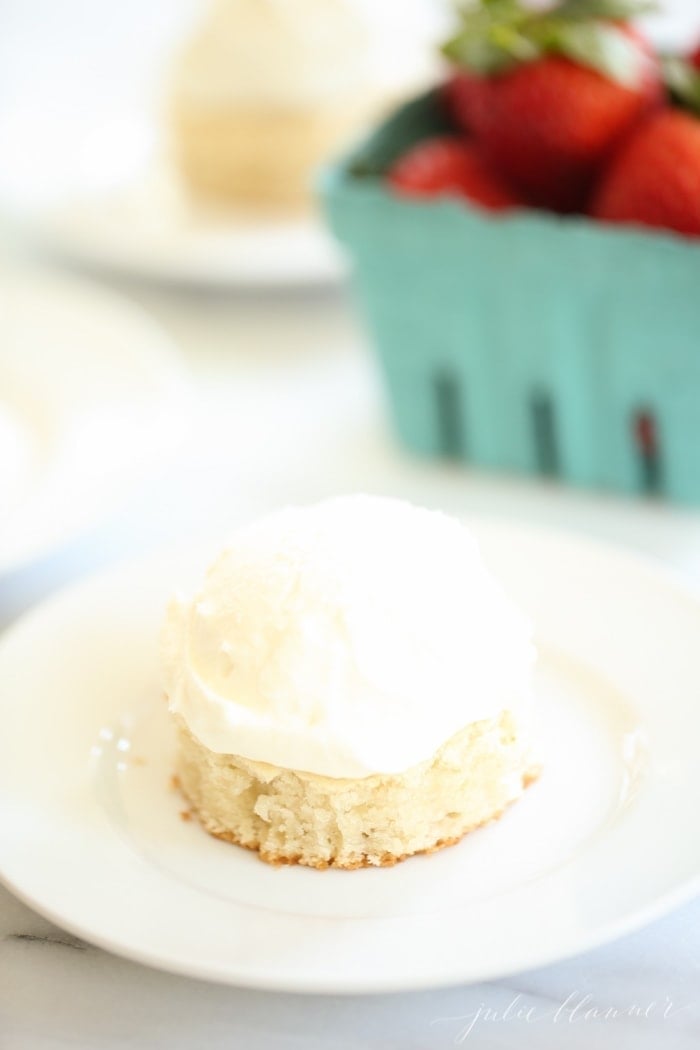 Strawberry Syrup
How To Prepare Strawberries for Strawberry Shortcake
The best part of this dessert? Obviously, it's the incredibly juicy and sweet strawberries on top of the shortcake and whipped cream. To ensure the perfect combination of sweet and juicy, here's a foolproof method to go by:
A few hours before serving, you should macerate the strawberries and let them chill in the refrigerator until you're ready to serve.
Macerating is a method of placing cut strawberries into a bowl, topping them with sugar, and pushing the juice out the strawberries with a potato masher, or a fork. This method allows the strawberry juice to mix with the sugar to create a syrupy juice mixed in with the strawberries.
You'll be in heaven when you top the shortcake with this mixture and the juices soak into the biscuit. It's honestly life changing!
Tips for Refrigerating Homemade Toppings
I love advocating for homemade toppings because more often than not, they are a quick and simple task that can save a lot of money. The only downfall is that homemade toppings don't come with a convenient use-by date on the side.
Often, we are left guessing how long the food will last and when to toss it. However, gone are those days of guessing because here are some food perishability rules to live by.
Homemade whipped cream can be kept in an airtight container in the refrigerator for 2-3 days. It can be frozen for up to 2 months.
Macerated strawberries will be okay to use for 3-4 days after they are prepared. On the 5th day they can start to ferment, so you shouldn't stretch it past 4 days.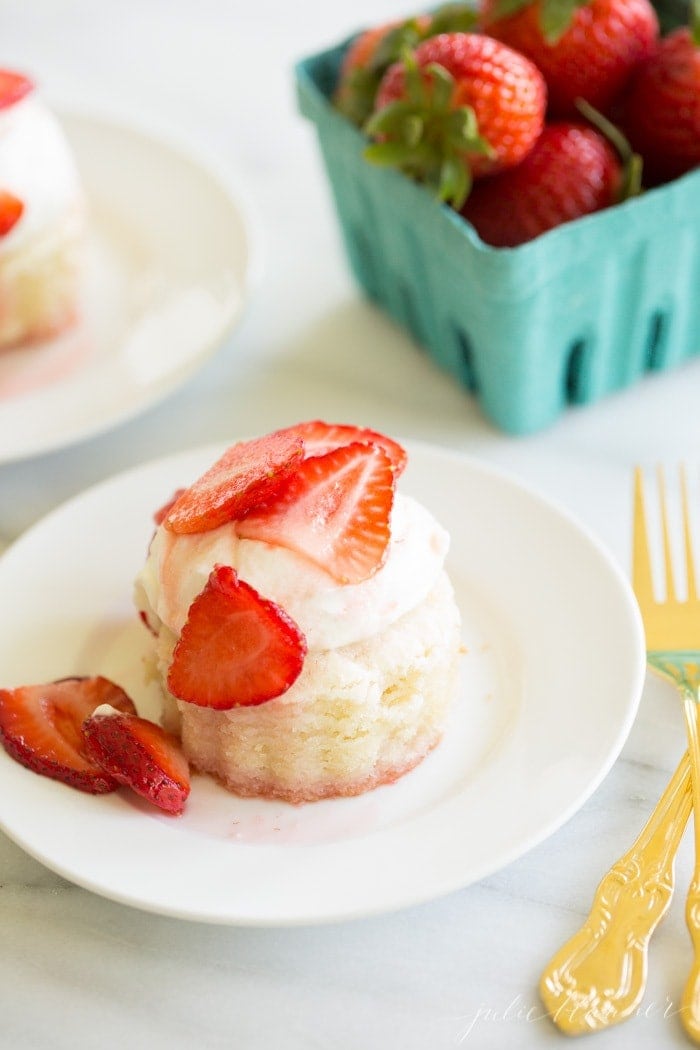 This Easy Strawberry Shortcake also makes a great dessert for picnics or gifting – I pack mine in a Weck jar and band a spoon on top! It's so simple and pretty.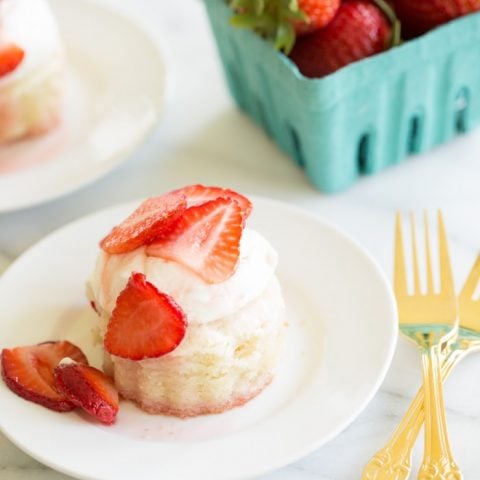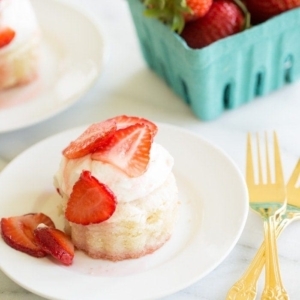 Strawberry Shortcake
Strawberry shortcake is the quintessential summer dessert recipe. This light and refreshing easy shortcake recipe is simple to make and SO beautiful, too!
Ingredients
Strawberry Syrup
3 1/2

cups

strawberries

sliced

2/3

cup

sugar
Shortcakes
2

cups

flour

2

teaspoons

baking powder

1/4

teaspoon

baking soda

3

tablespoons

sugar

1/2

teaspoon

salt

1 1/2

cups

heavy cream
Whipped Cream
2

teaspoons

vanilla

2

cups

heavy cream

1 – 1 1/2

cups

powdered sugar

to taste
Instructions
Preheat oven to 400 degrees and grease 8×8 baking dish.
Strawberry Topping
Combine strawberries and sugar in a small mixing bowl. Refrigerate until ready to serve.
Shortcakes
In a medium mixing bowl or stand mixer, combine flour, baking powder, baking soda, sugar and salt.

Gradually blend in heavy cream and vanilla until combined and no longer crumbly.

Bake 22 minutes or until a toothpick inserted in the center comes out clean. Cool on a wire rack.
Whipped Cream
In a medium mixing bowl or stand mixer, beat heavy cream until stiff peaks form. Gradually add in powdered sugar until just combined.
Assemble
Slice shortcake into squares or use a cookie or biscuit cutter to create shapes. Top with a scoop of whipped cream and strawberry topping.
Notes
Try using different shaped cookie cutters to match the occasion – hearts, stars, easter eggs, etc… 
Add different fruits with the strawberries for a mixed berry flavor –  blueberries will make a cute patriotic looking dessert. 
Top with your favorite ice cream for an extra sweet treat. 
To Store
Shortcakes – Up to 5 days refrigerated in an airtight container. Store at room temperature in an airtight container up to 3 days.
Strawberry Syrup – Up to 4 days refrigerated in an airtight container.
Whipped Cream – Up to 48 hours refrigerated in an airtight container. Stir to refresh. Freeze up to 2 months.
Nutrition
Serving:
1
g
Calories:
644
kcal
Carbohydrates:
81
g
Protein:
5
g
Fat:
35
g
Saturated Fat:
21
g
Cholesterol:
127
mg
Sodium:
198
mg
Potassium:
275
mg
Fiber:
2
g
Sugar:
54
g
Vitamin A:
1367
IU
Vitamin C:
33
mg
Calcium:
112
mg
Iron:
2
mg
Did you Make This Recipe?
Mention @JulieBlanner