Seaside Florida is a charming resort style community nestled on 30A in the panhandle between Destin and Panama City known as the Emerald Coast. The soft white sand, pristine landscaping and casual style will bring you back time and time again.
It's the ultimate vacation destination to ditch your car, kick back and relax.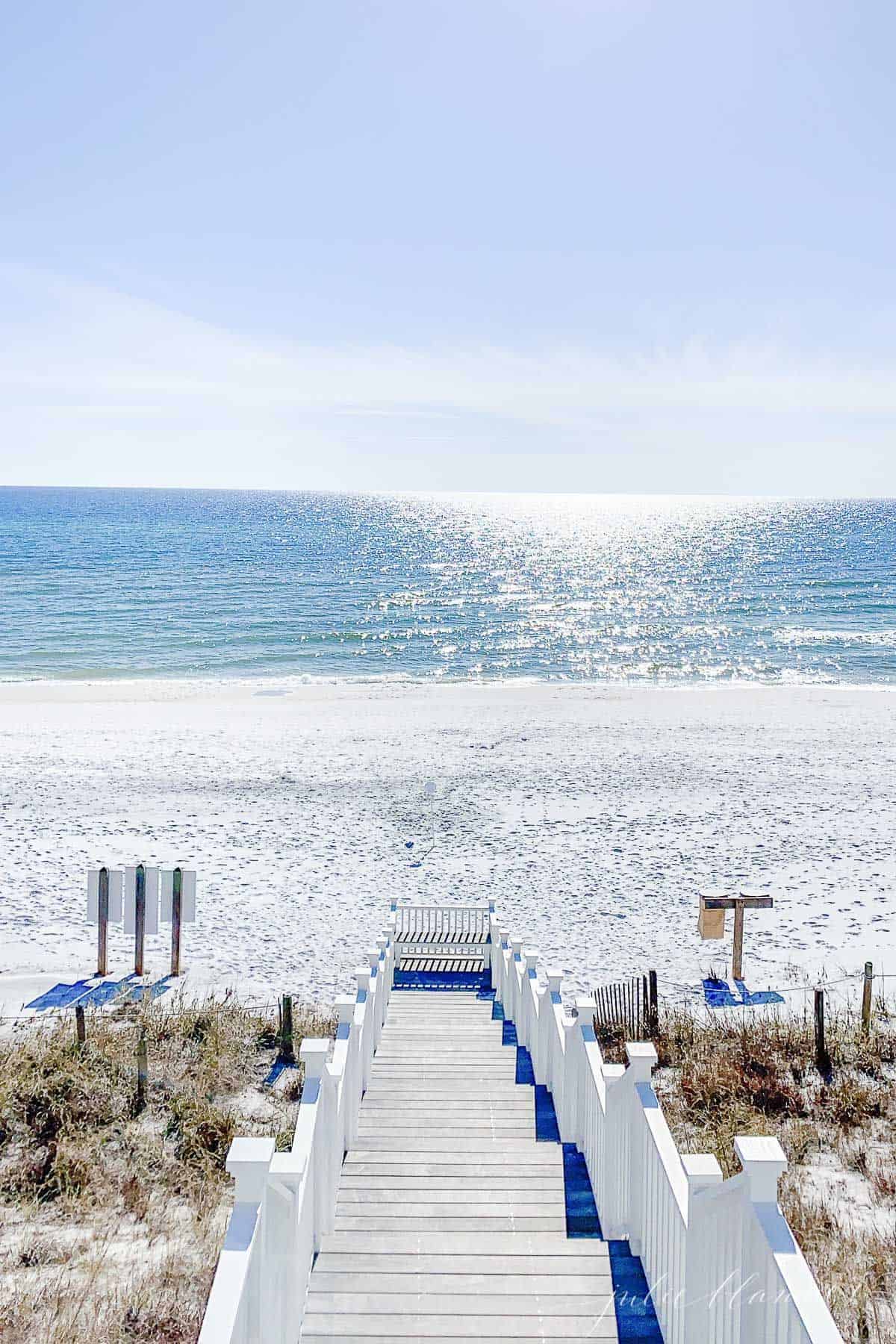 Streets are lined with charming cottages and homes – each one more beautiful than the last, filled with character. Timeless design, and white picket fences and a porch on every home gives it a story book feel. It's no wonder the Truman Show was filmed there in 1998!
At the center of it all you'll find beautiful boutiques, artisans, a market, abundance of dining, an outdoor amphitheater that doubles as a field, a weekly farmer's market and so much more!
Everything you need is within walking or biking distance – a stroll to get your morning coffee, swim or enjoy a workout is all just steps away.
Their philosophy "new town, old ways" in embraced in the simplicity you'll find at every turn in both design and ease.
Stroll through the neighborhood to admire the picturesque Seaside Neighborhood School or darling chapel. The architecture is simply beautiful.
It is one of the best beaches in America for families with sugar soft sand and shallow waters to splash and play in. It was named one of Travel + Leisure's "Best Beaches on Earth for family".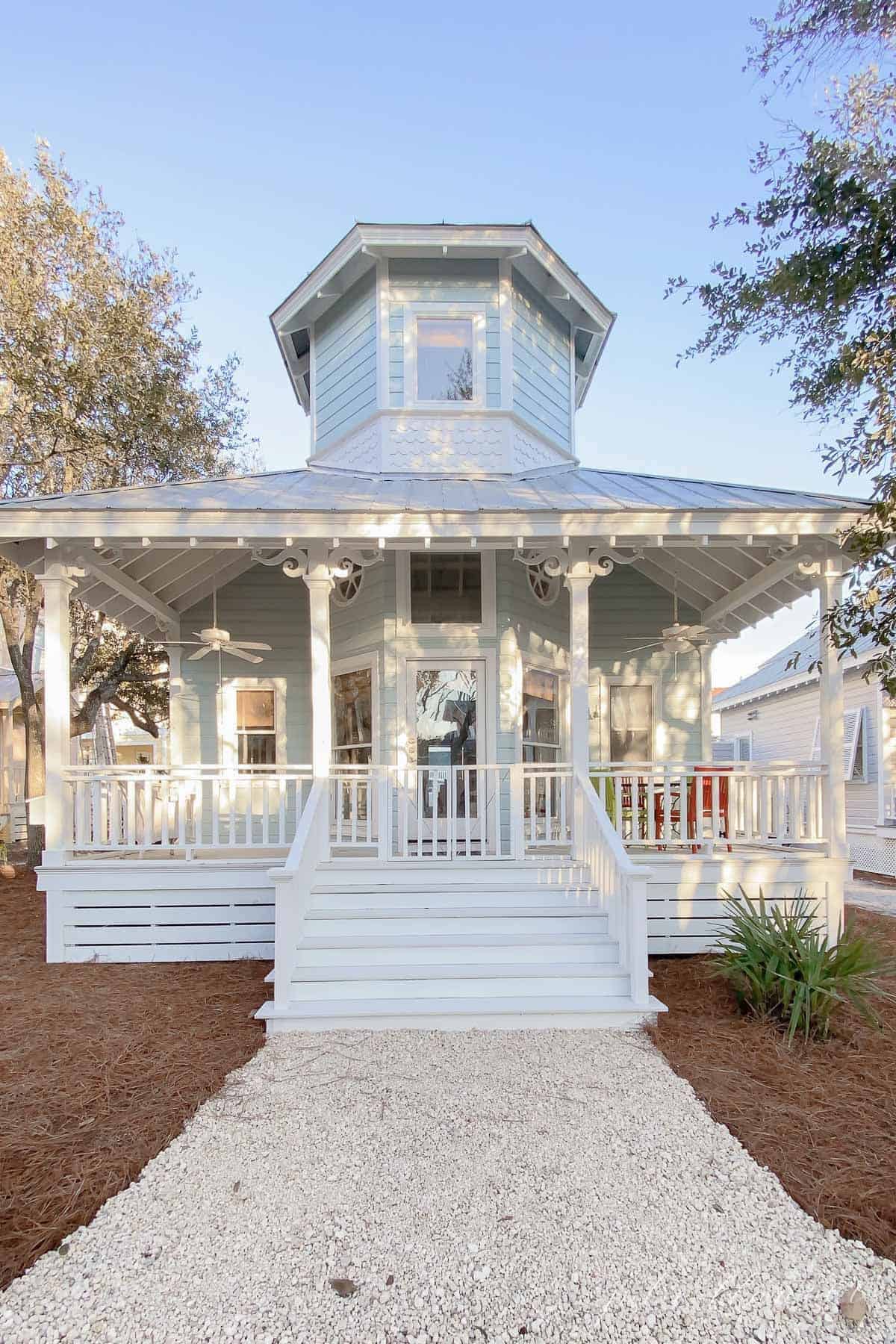 It's amazing how effortless it is to please even the pickiest of eaters, with an array of choices. You'll find in a restaurant to suit everyone's taste – at every price point!
It was founded in 1981 by Robert S. Davis who inherited the property from his grandfather. Architecturally driven, with a strict codes architects must follow, the well planned community boasts more than 400 cottages and condos.
Why You'll Love Seaside
Charming – Pristine landscape lined streets with picture perfect homes.
Effortless – Everything you want or need is within reach.
Gentle, Clean Surf – Perfect for children to play.
Soft, White Sand
Walkable – No need to rent a car.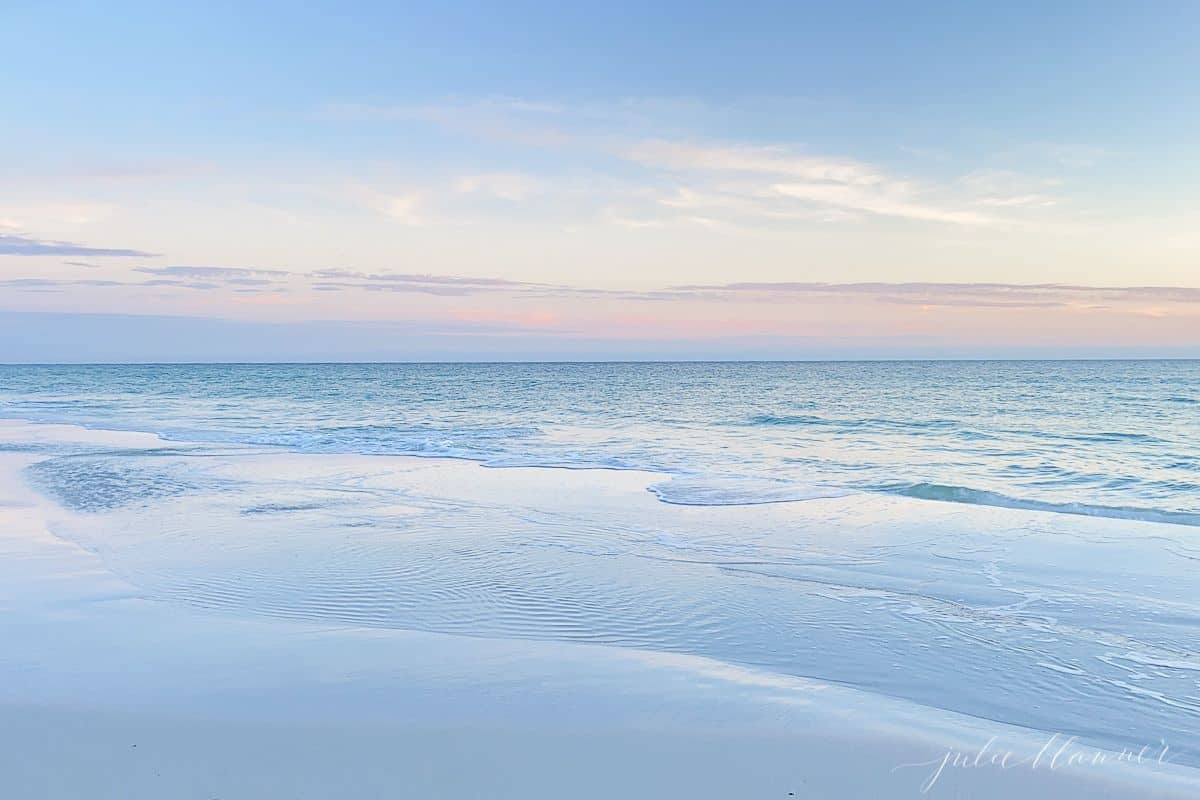 How to Get to Seaside
One of the many perks of visiting Seaside is the ease to travel there! It's conveniently located between 3 airports – Panama City, Fort Walton and Pensicola and 5 airports within a 2 hour drive.
There are more than 34 cities offering direct flights to Seaside on the Emerald Coast!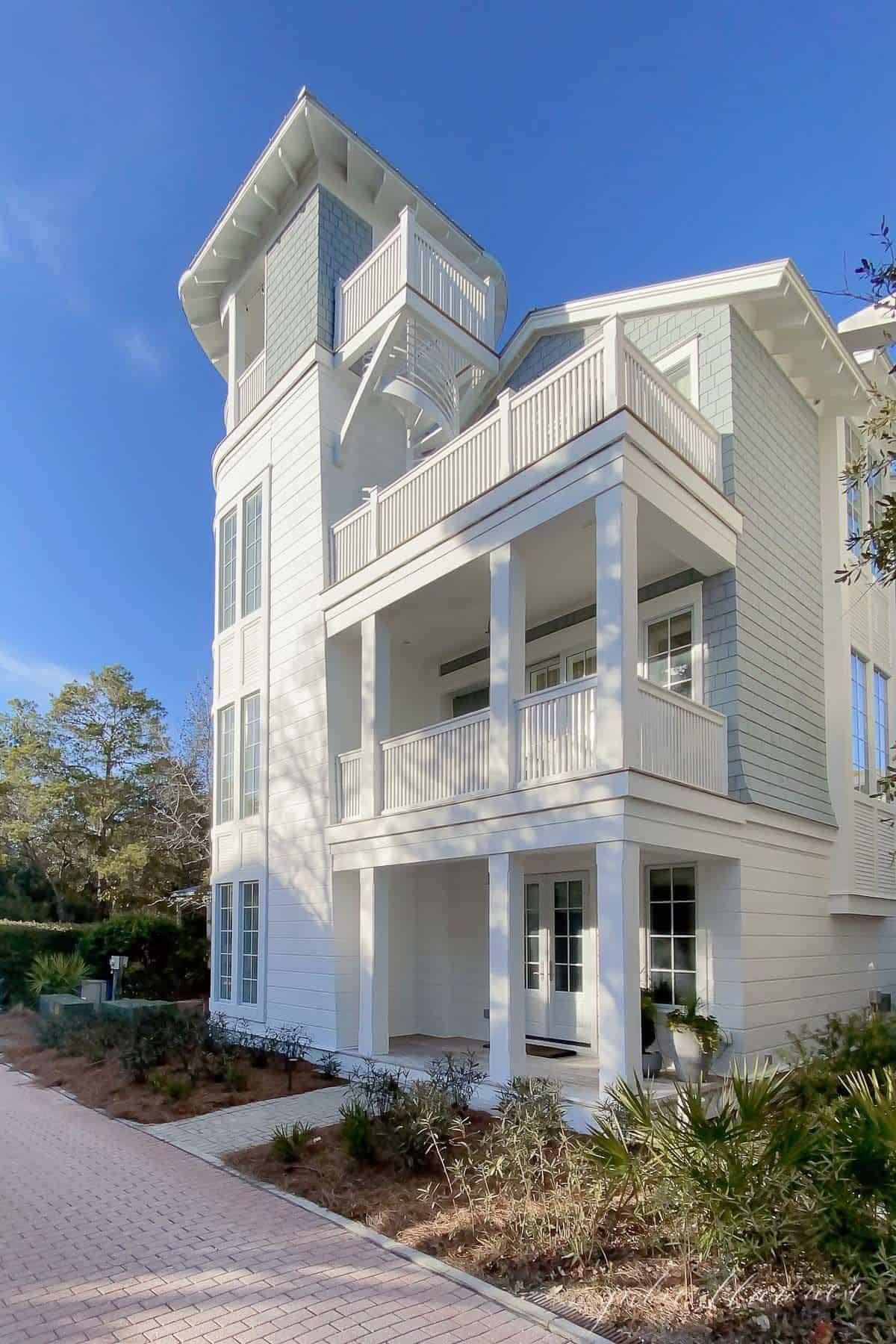 Where to Stay
One of its many charms is that there are no high rise hotels in Seaside, Florida. Instead, there are an abundance of beautiful homes available to rent. Popular rental agencies include Cottage Rental Agency, Sandpiper Vacations, and Homeowner's Collection.
You can also book your stay on vrbo, thought it may inflate the cost.
A few things to consider when you are booking your stay is whether private beach access is important to you. Some homes offer it while others offer access at the Obe Pavilion in the center of the community. This is particularly important in summer when the beach tends to be busier.
Some rentals include bikes, but they are simple rent as well. It's easy to get around in the Seaside area, that's one of the biggest bonuses!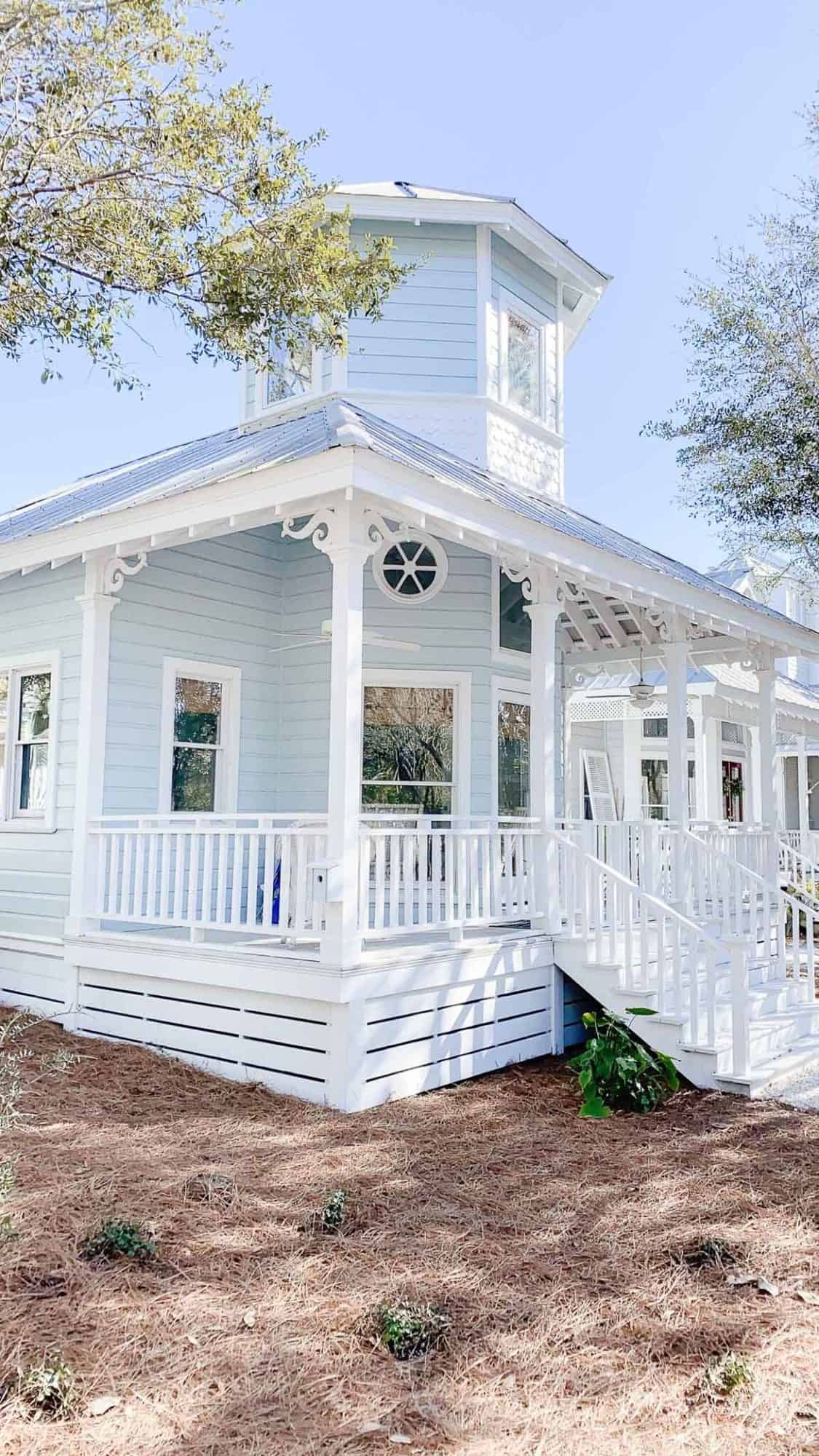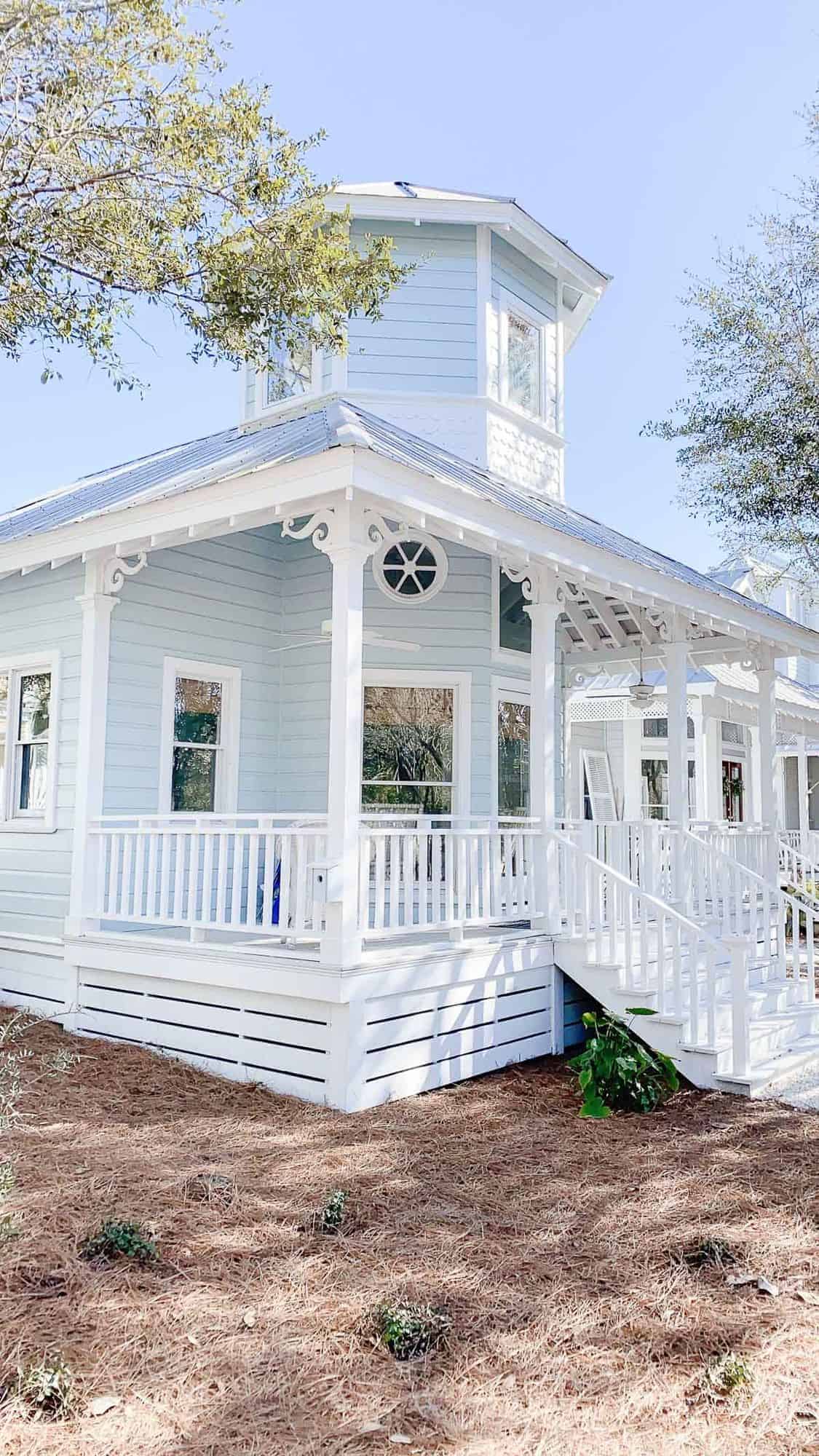 Amenities
Tennis – Seaside is the perfect setting to play tennis on one of the many clay courts. Clinics, lessons and rentals are available. Stop by the Pro Shop to outfit the family.
Pickle Ball
Sand Volleyball
Bocce – Play bocce in front of the Seaside Chapel. Schedule and pick up equipment at the tennis pro shop.
Shuffleboard – Schedule and pick up equipment at the tennis pro shop.
Horseshoes – Schedule and pick up equipment at the tennis pro shop. Rubber horseshoes are available for kids.
Fitness Center – A full service fitness center includes cardio and strength equipment, showers, and restrooms.
Yoga Room
Croquet – Enjoy one of 3 beautiful courts. Book via the Tennis Pro Shop
3 pools – Seaside offers 3 pools, an adult, family and combined. They are heated in the winter for your comfort.
Playground
Beach – There is public access (for a fee) to the beach at the city center for all to enjoy.
Camp Seaside* – Full, half day camp or Kid's Night Out available for children ages 5-12. Activities include crafts, sports, games, swimming and in the evenings, dinner and a movie. Available spring break and during the summer season.
Most amenities are available for an optional, additional fee.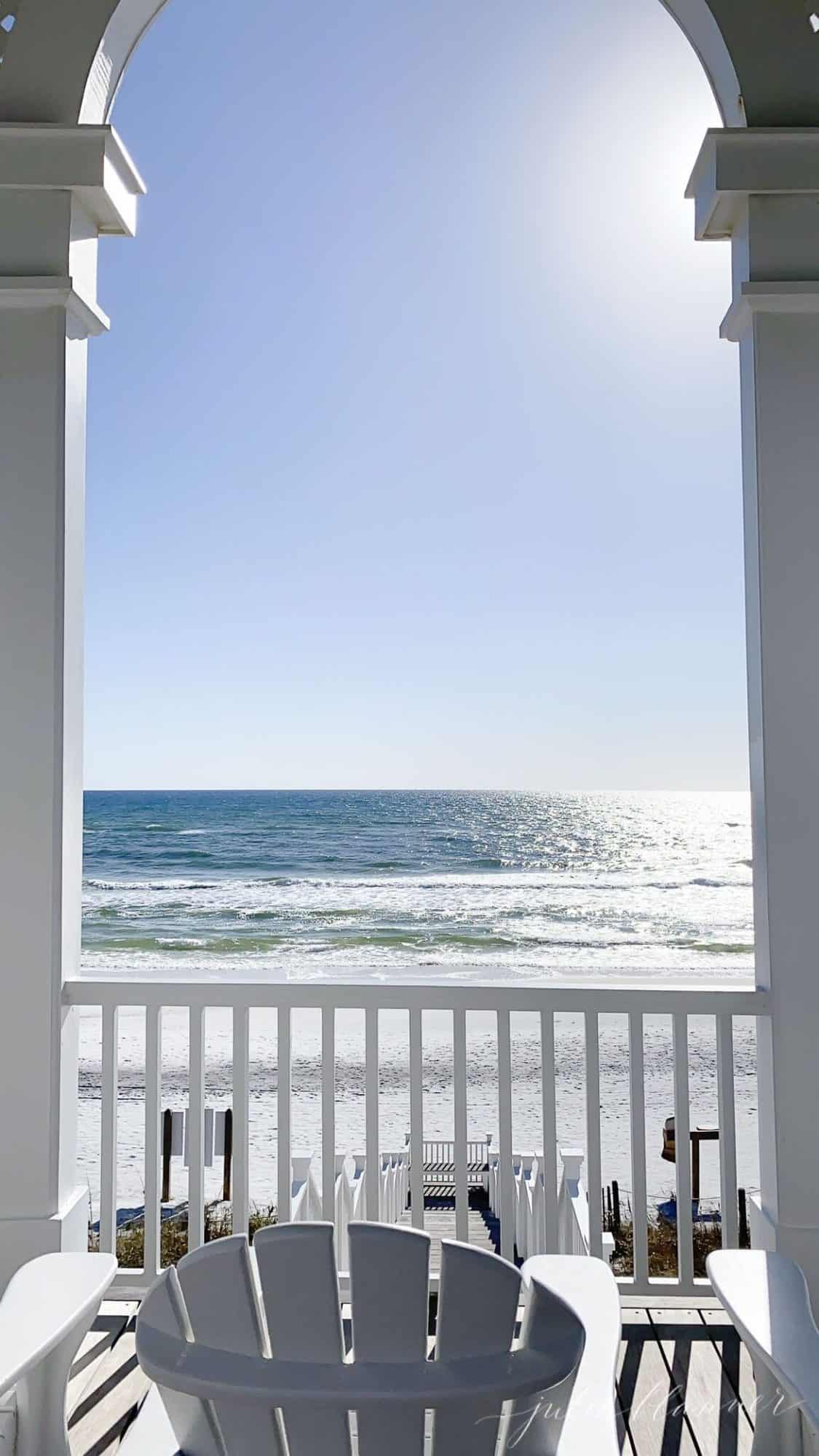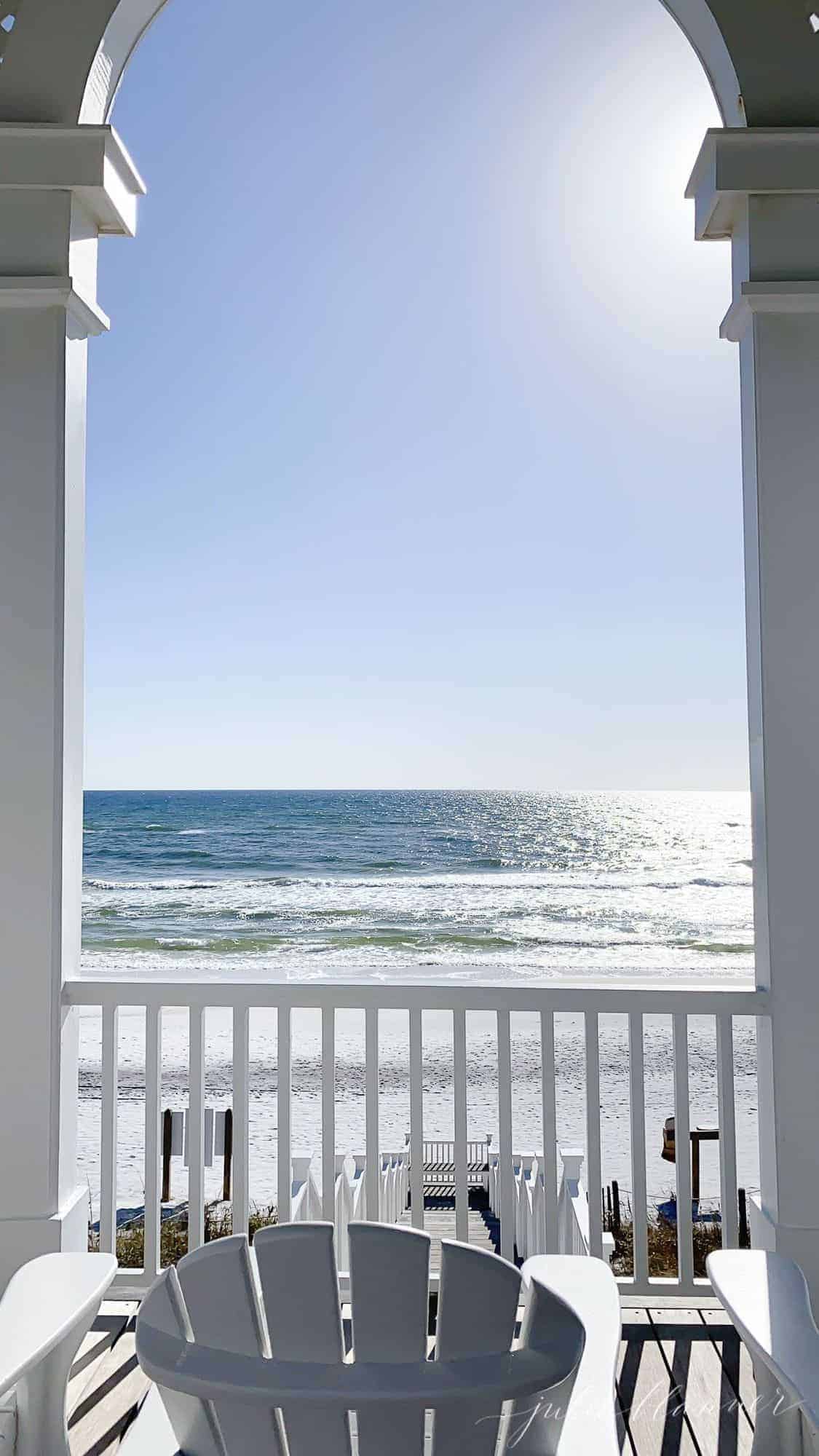 Things to Do
Shop
Walk on the beach or around Seasides lush streets and paths
Bike (Rentals often come with your home but you can also rent in the city center at Seaside Transportation or have them delivered by a surrounding vendor)
Kayak
Fish
Crab
Live music
Find seashells
Surf
Rep Theatre – Enjoy a concert, show, or class.
Spa – Rejuvenate and relax by spending a day at the spa at Beach Ready Spa in the town center.
Seaside Interfaith Chapel – Visit for a non-denominational service Sundays at 10 am.
Visit nearby communities – Watercolor, Seagrove and Grayton are all within walking/biking distance. You can also venture to nearby Alys or Rosemary!
Explore wildlife! Watch for dolphins or check out the jellyfish that wash ashore.
Enjoy a breathtaking sunset! Grab a "glass" of Frosé or a seat at Bud and Alley's and take in the beautiful colors!
Book a bonfire on the beach – contact a concierge who will provide the permit and set up everything you need for a memorable bonfire on the beach including chairs, s'mores ingredients and sticks and more!
Rent a boat to go to crab island
Horseback riding (nearby)
Airboat ride (nearby)
Special events
Things to See
Seaside Post Office
The iconic Post Office is in the center of it all! Built just 35 years ago, it is one of the most photographed post offices in the world! The developers built the symbolic post office to establish Seaside as a town. It is now featured on a commemorative stamp, artwork and post cards.
It has been moved from its previous location and now is at the center of this charming town.
Seaside Florida Tower
The iconic tower, the Obe Pavilion, is a picture perfect passthrough to access the beach. The walkway below it reflects the tower itself, narrowing as you reach the beach.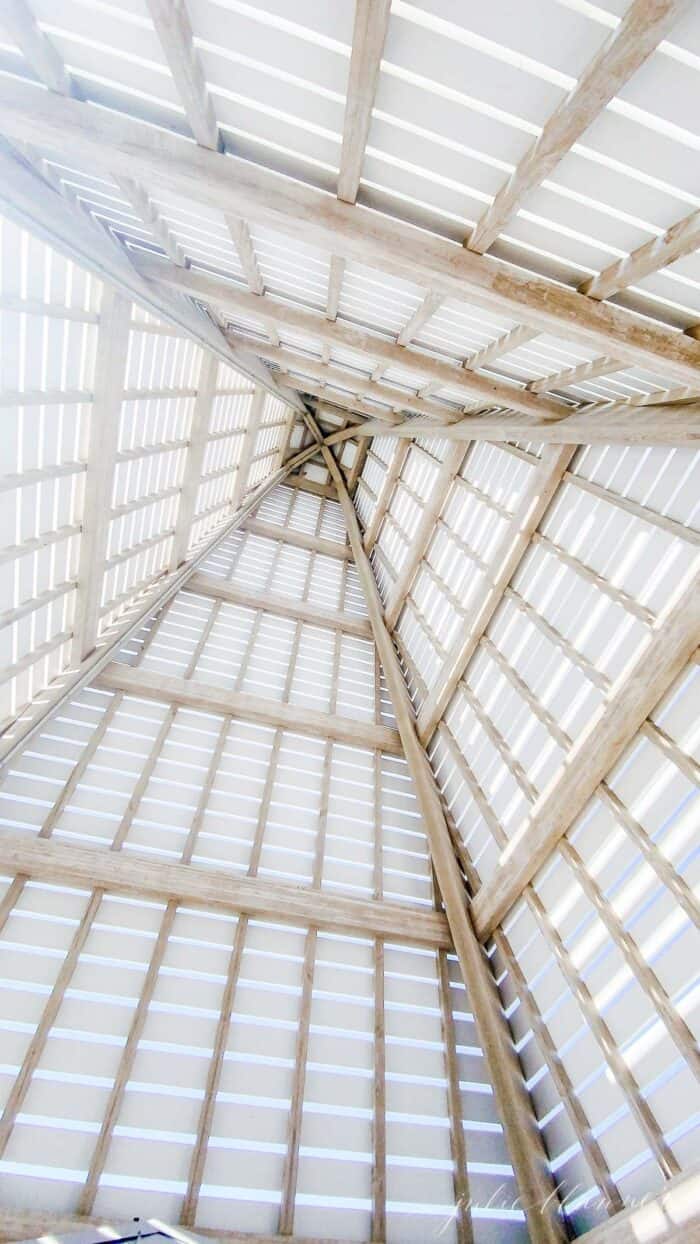 Beach Access Pavilions
Each of 9 public and private beach access point has it's own unique design.
In addition to the Obe Pavilion, there are eight additional pavilions. Each are designed by a different architect, offering a unique perspective and vantage point. West Ruskin Pavilion (Michael McDonough), Pensacola Pavilion (Tony Atkin), Odessa Pavilion (Roger Ferri), Natchez Pavilion (Jersey Devils), Tueplo Pavilion (Ernesto Buch), Savanah Pavilion (Thomas Crist), East Ruskin Pavilion (S. Cohen and A. Nereim) and Coleman Pavilion (David Coleman).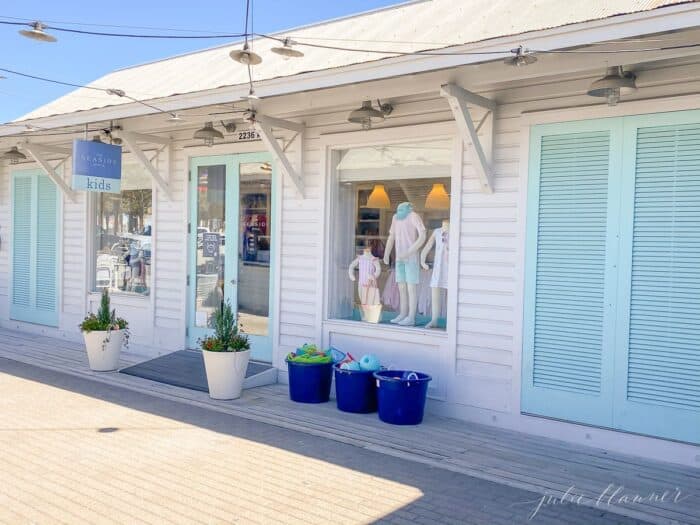 Where to Shop
Seaside Style – Here you'll find all things Seaside. T-shirts, sweatshirts, hats, bags, beach towels and accessories all in signature Seaside style and colors.
Duckies – The most adorable children's boutique where you'll find timeless toys, new favorites and fun gifts.
Cabana – An outdoor market filled with jewelry, bags and clothing.
Amore by the Sea
An Apartment in Paris
Anne Hunter Gallery
Artful Eye
Bump + Baby
Mercantile
Modica Market – You'll find everything you need here from bandaids and sunscreen to gourmet cheeses and wine.
Seaside Farmers Market
Sundog Books
The Art of Simple
Town Square Shoes
Willow + Woods
Swim Shop* – Seasonal, located at the West Side pool offering sunglasses, toys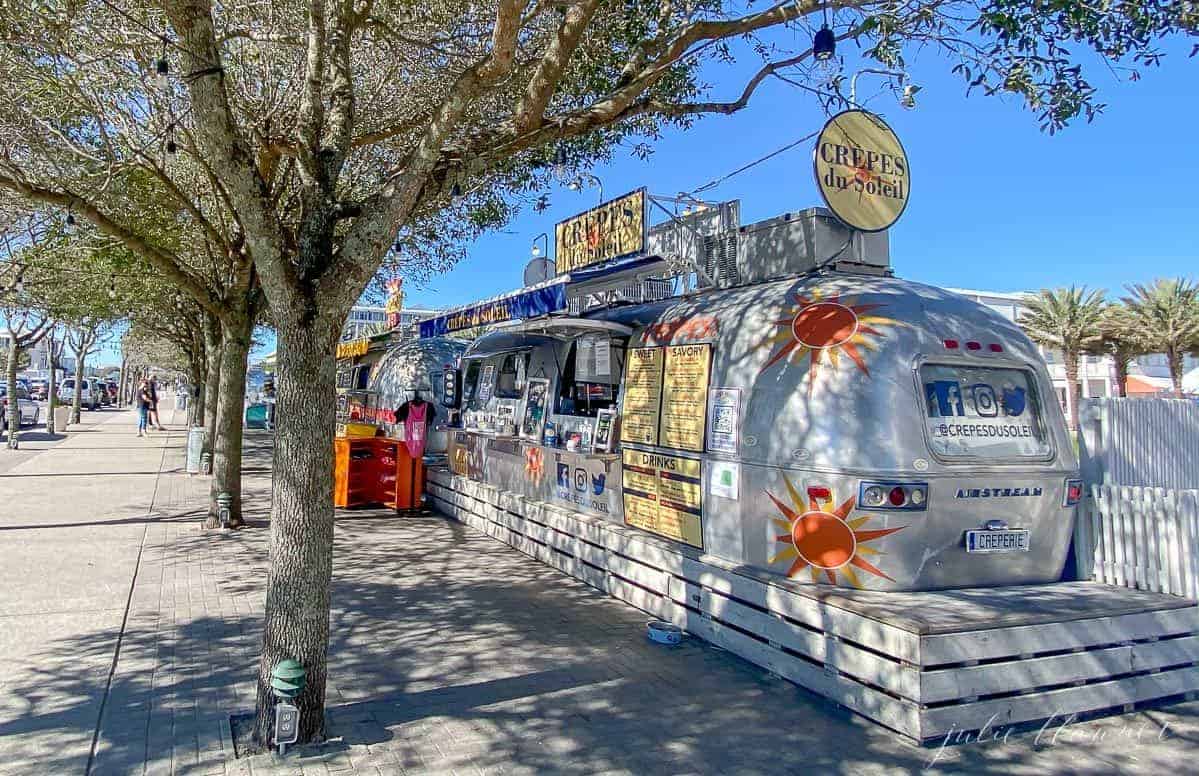 Where to Eat
Dine Inside or Outside
45 Central Wine Bar
Bud and Alley's – Take in ocean views at their fine dining restaurant located on the lower level or casual open air bar upstairs.
Pizza Bar and Trattoria – Offers both indoor and outdoor dining, pizza, salads and a pasta special.
Great Southern Cafe – Arguably one of the most popular restaurants in Seaside offering classic Southern fare.
Pickle's Burgers and Shakes – Breakfast, lunch and dinner, diner style to enjoy there or to go.
Street Eats
Walk up to order and enjoy at one of the many tables surrounding the city amphitheater.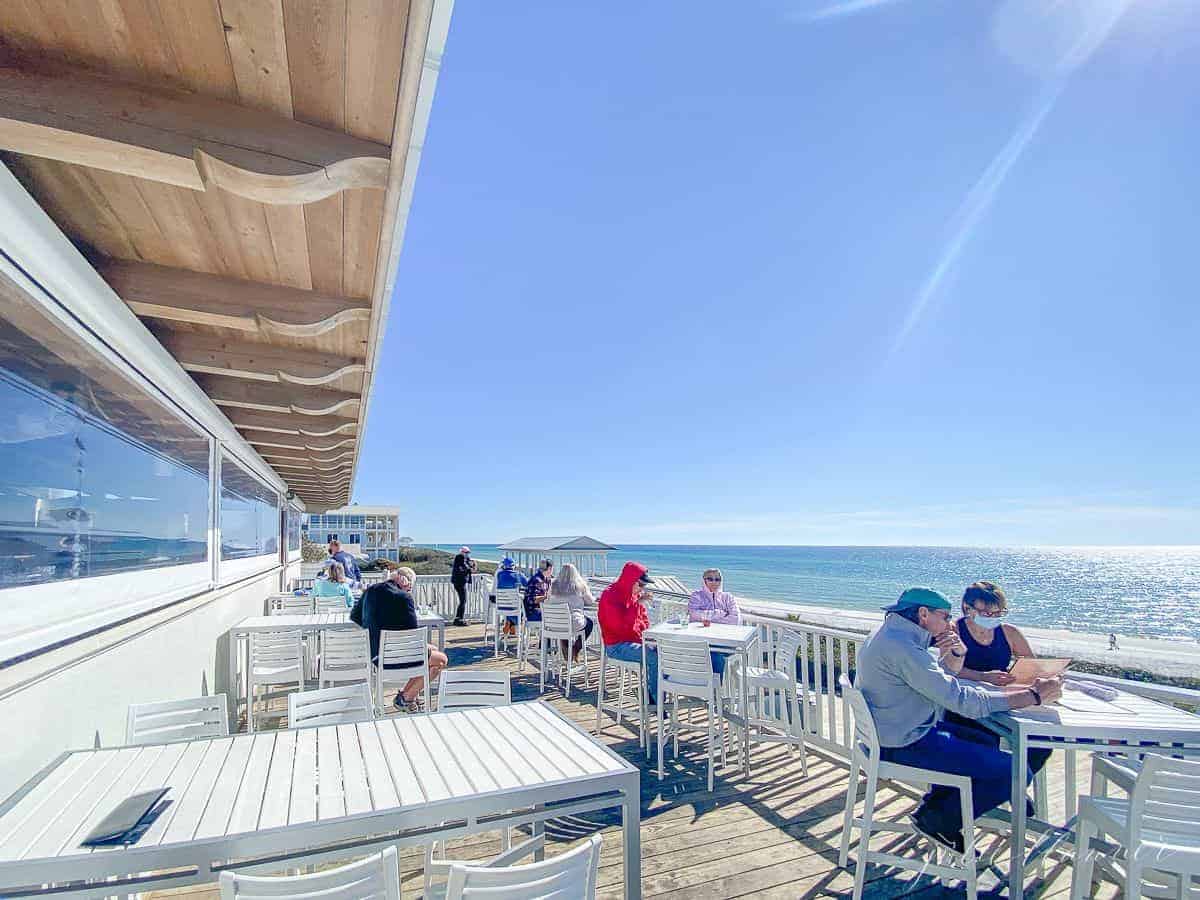 Food Trucks / Airstreams
The sidewalk is lined with food trucks offering an array of food for even the pickiest palates. Bistro lights light the way and
Frostbites
Barefoot Barbecue
Wild Bill's Beach Dogs
Crepes du Soleil
Mr. Gyro Hero
The Meltdown on 30A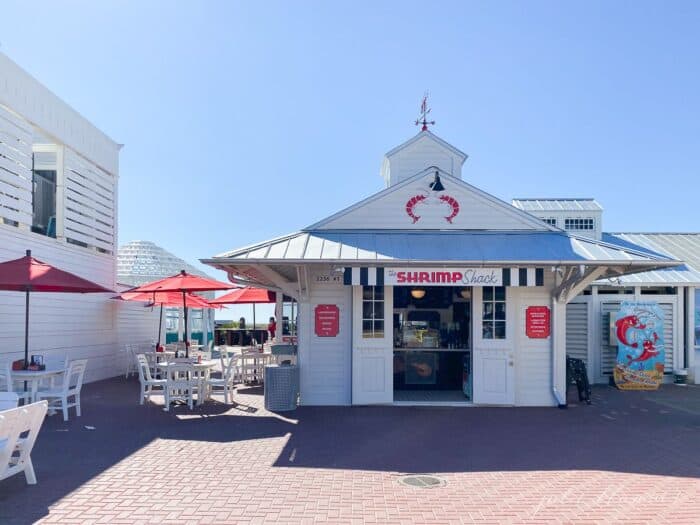 Food Huts
Taco Bar
The Shrimp Shack
Cocina Cubana
Dawson's Yogurt and Fudgeworks
Of course there are so many more nearby including the amazing Cafe 30A, Seagrove Village Market, Surfing Deer, The Wine Bar and Fish out of Water. If you rent a bike, make sure you stop by Grayton Brewery!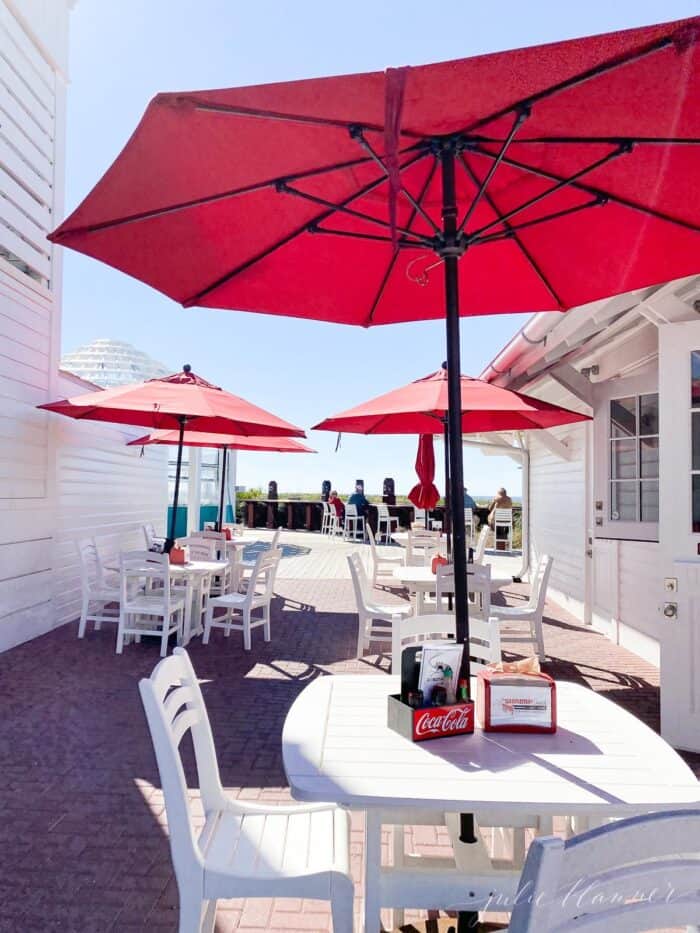 Things to Know
Parking is limited.
Beach access is for those staying in Seaside only by rental of a beach cabana in season.
Call ahead in the off-season as hours can change and won't be reflected online.
Grocery delivery is available in Seaside via Shipt.
For summer travel, book your beach chairs early.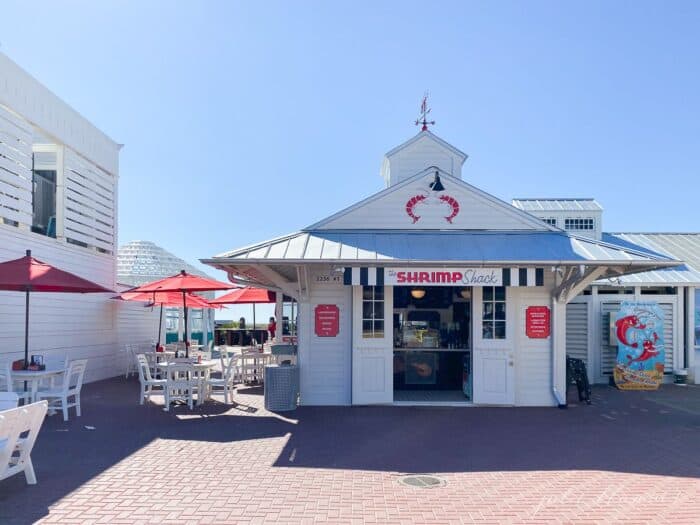 Frequently Asked Questions
What is 30A?
A stretch of 16 beach front communities along the Gulf Coast scenic highway known for an emerald green ocean, soft white sands and endless charm.
What beach is Seaside Florida on?
Seaside is a private beach nestled on a stretch of the Gulf Coast, known as the Emerald Coast.
How far is Destin to Seaside?
Seaside is a 30 minute drive from Destin, without traffic.
Is Seaside a private beach?
Seaside has 1 public access area. The remaining access points and beaches are private.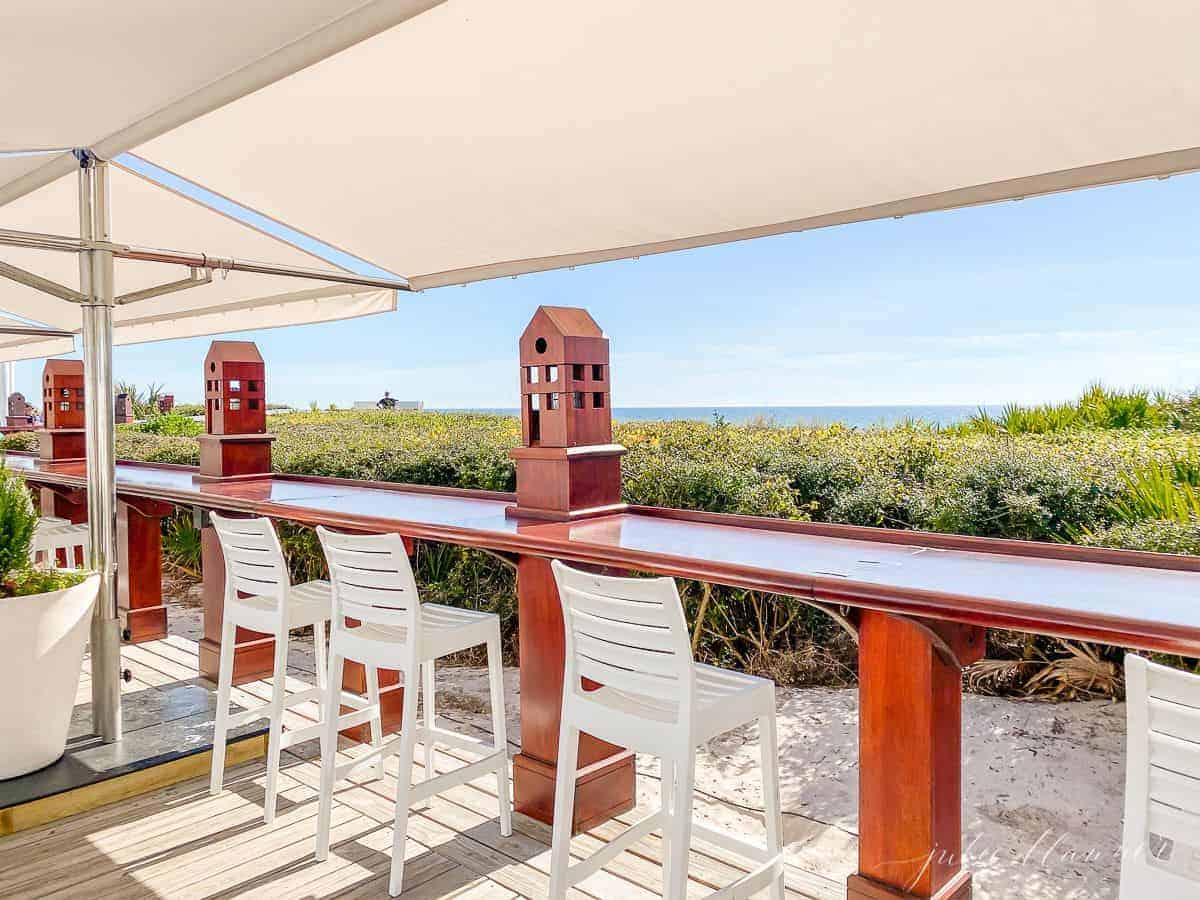 Have you been to Seaside Florida? I'd love to hear about your experiences at this popular vacation destination!
Let's keep in touch! Receive exclusive content, including never-seen-before photos, our favorite home decor DIYs and more!