Cozy, fragrant and delicious… this mulled wine recipe is the perfect fall and winter drink to keep the chill at bay. No ski slopes are required for this easy mulled wine, just invite your friends!
Learn just how easy it is to make an incredibly fragrant, warm pot of mulled wine.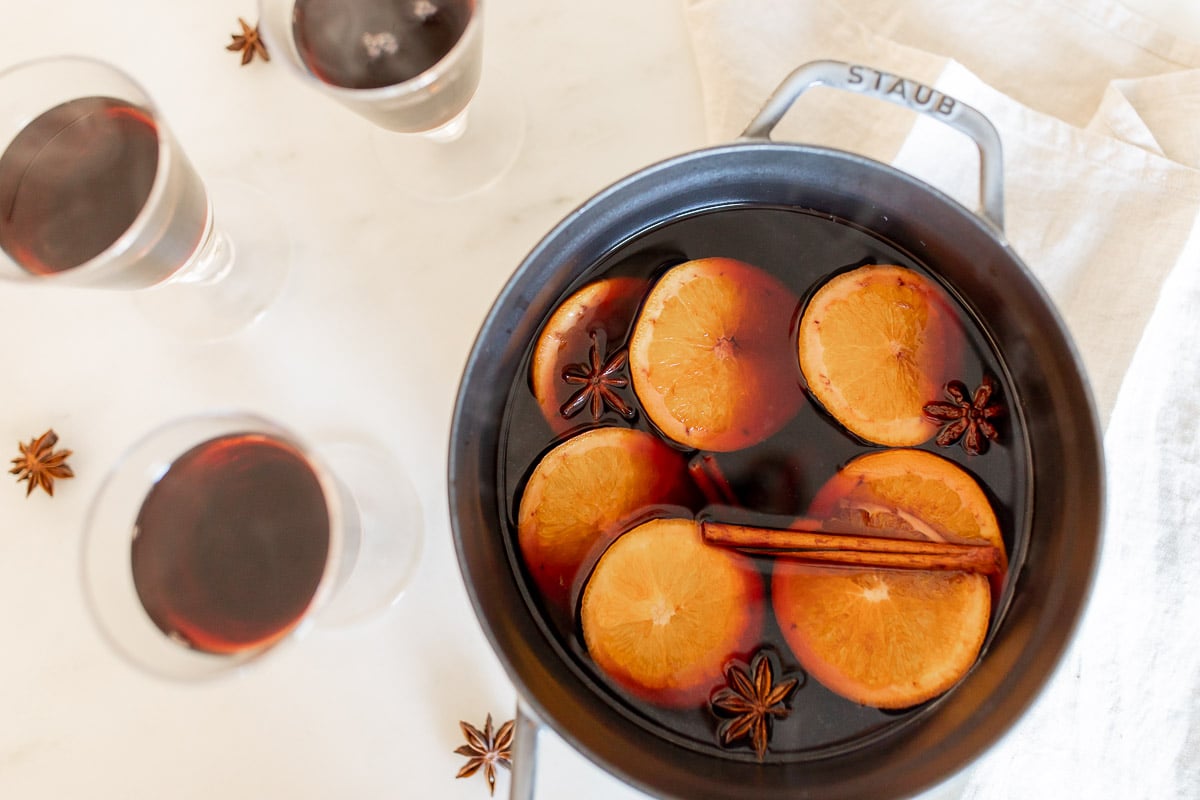 I can't believe we're entering the season of cozy warm drinks, mittens and coats. I admit that I never want summer to end- summer is where we make the most precious memories with our girls at our lake cottage.
However, there's something to be said for the quieter season where we are all forced indoors!
I love creating winter cocktails! This Amaretto Snowball recipe is a great one, as well as my Merry mint cocktail and a cinnamon toast. I've also got an incredibly delicious alcohol free mulled wine if you're looking for a non-alcoholic drink.
We love entertaining friends during the colder months just as much as we do in the summer. In fact, it can often be easier to pull a large group together because so many of our friends just simply have less to do during these months.
When we can get together, I love making and serving a large batch of my favorite mulled wine recipe. It's fragrant, delicious, and oh-so-cozy. I just know you're going to love it too!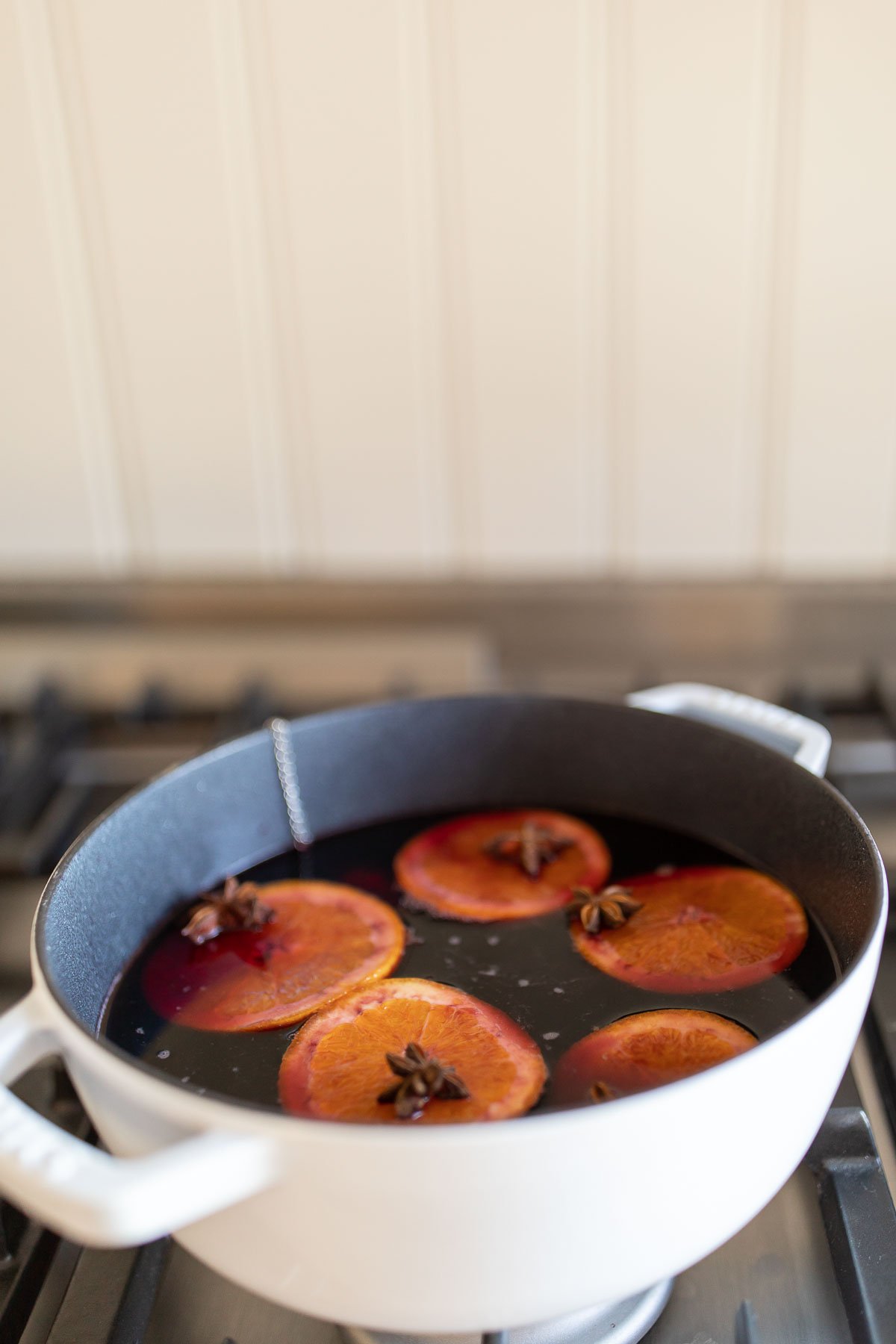 Mulled Wine Recipe
It doesn't take much to create an aromatic mulled wine your friends and family will love!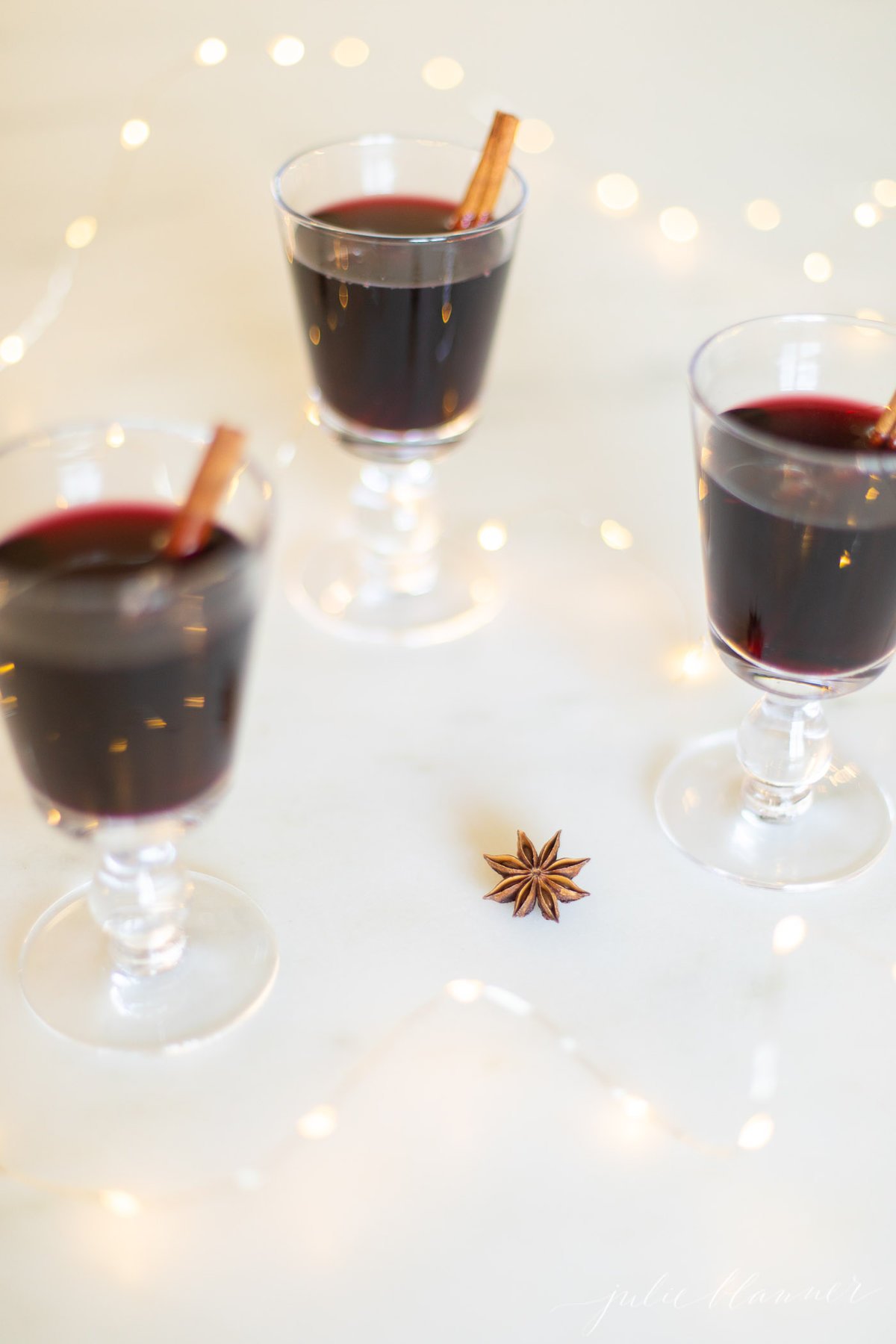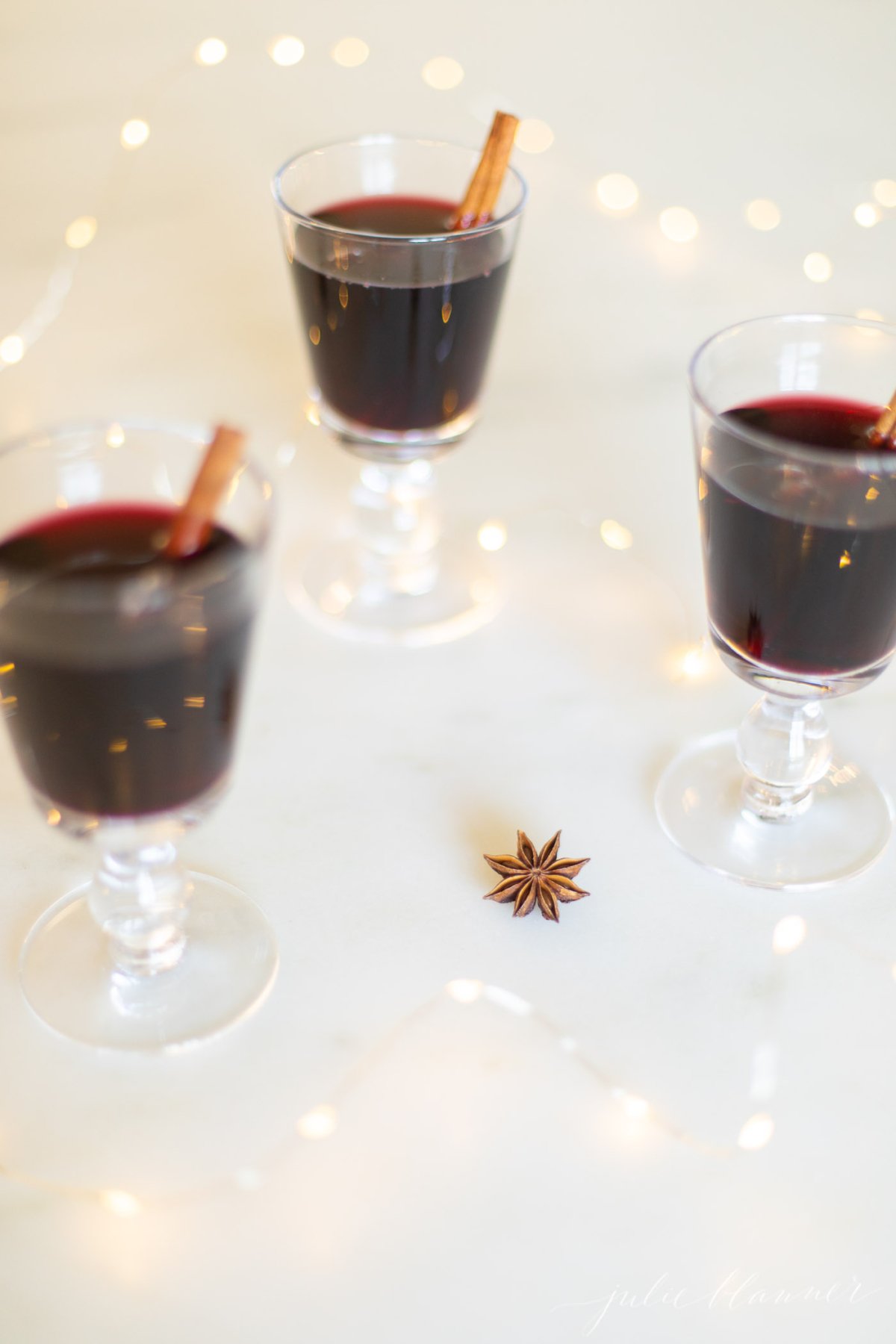 What is Mulled Wine?
There's a version of hot mulled wine in virtually every culture across the globe, it seems – and it comes with just as many names. For example, Gluhwein is a traditional German mulled wine recipe that is served on the ski slopes after a long day on the mountain.
Thankfully, none of us need to go skiing in order to enjoy the drinks.
Did you know that mulled wine was originally considered to be a poor man's drink? That's right, it wasn't exactly the classiest way to imbibe back in the day.
Supposedly, the spices disguised the cheap wine flavor and created something much more palatable to warm folks in dimly lit pubs each night. Luckily, today we can all enjoy this classic warm beverage with no judgement whatsoever!
With that said, keep in mind that this mulled wine recipe is full of flavor and you certainly don't need an expensive wine to create this recipe. Stick with a workhorse- something inexpensive, fruity and dry is best!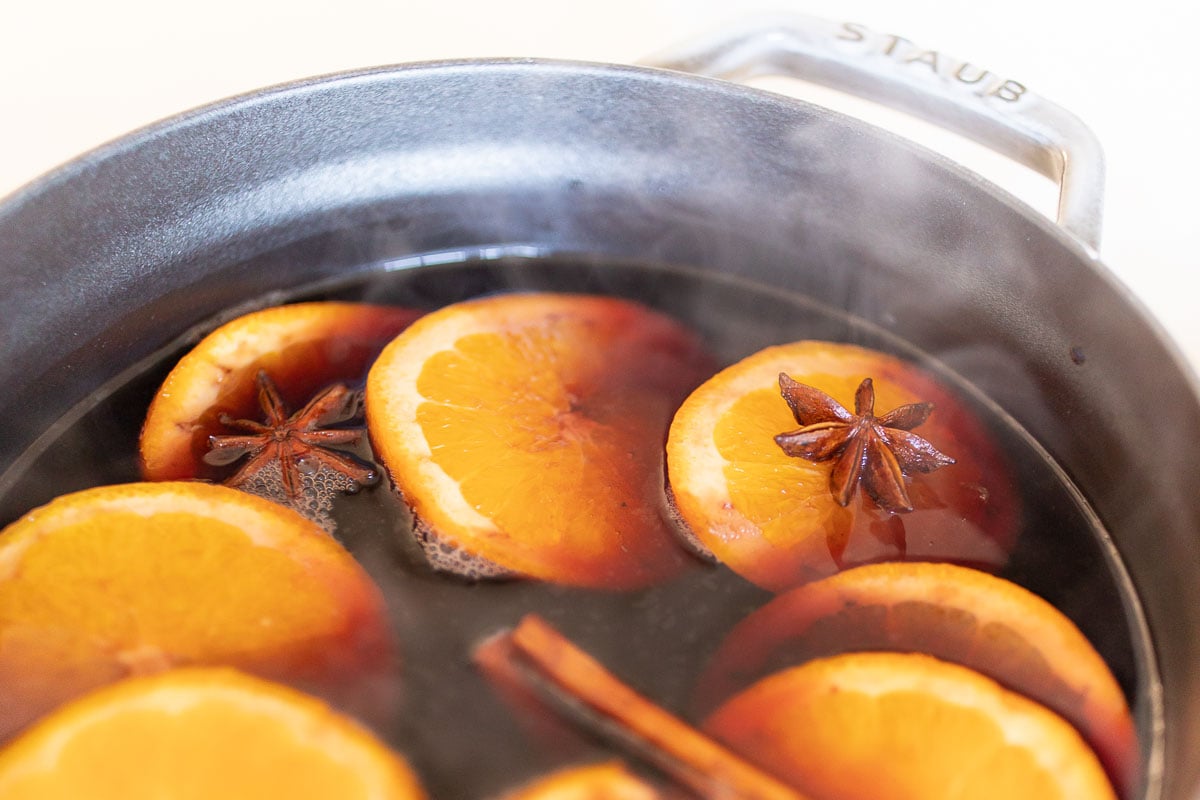 Ingredients and Substitutions
Dry red wine- any red wine will do, but check out my list of suggestions below for more specific ideas!
Oranges, sliced into rounds- these add to the wintery, citrusy flavor of mulled wine. Don't skip the oranges!
Whole cloves- an incredibly spicy, earthy flavor that can't be missed. Cloves are the perfect spice for mulling because they are so strong in their whole format.
Cinnamon sticks- warm and spicy, not many fragrances are cozier than cinnamon when warming on the stove!
Star anise- these come from a Chinese evergreen tree. They are aromatic and so beautiful to serve as both flavor and garnish.
Sugar- yes, you'll want a touch of sweet to balance all those strong spices!
Brandy (or your favorite liqueur)- a touch of this is what makes your mulled wine recipe a little stronger than just wine- brandy is simply a distilled wine with a much higher alcohol content!
Optional garnish: orange slices, cinnamon sticks, star anise- think beautiful and also fragrant! Mulled wine is an experience in both flavor and fun! *Garnish with my dried orange peels for a lovely look, too!
Variations
White wine – Try your favorite light white wine in this mulled wine recipe! Just like sangria, white wine works beautifully here too.
Add Cider – Adding a cup or two of homemade apple cider or pear cider creates even more fragrance and flavor! Simply eliminate the white sugar in this recipe if you're adding cider.
Another Liqueur – Don't love brandy, or don't have it on hand? Try Bourbon instead!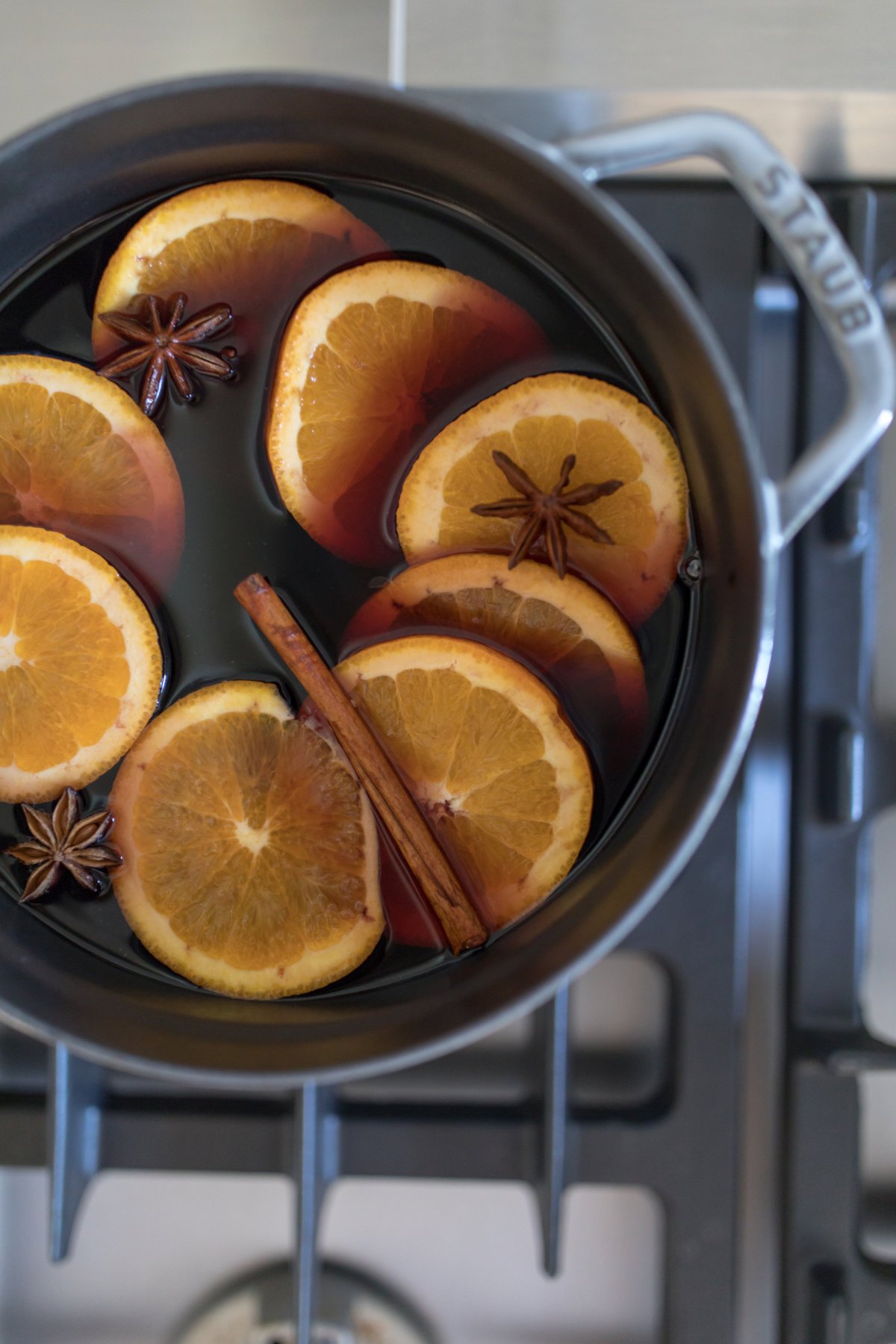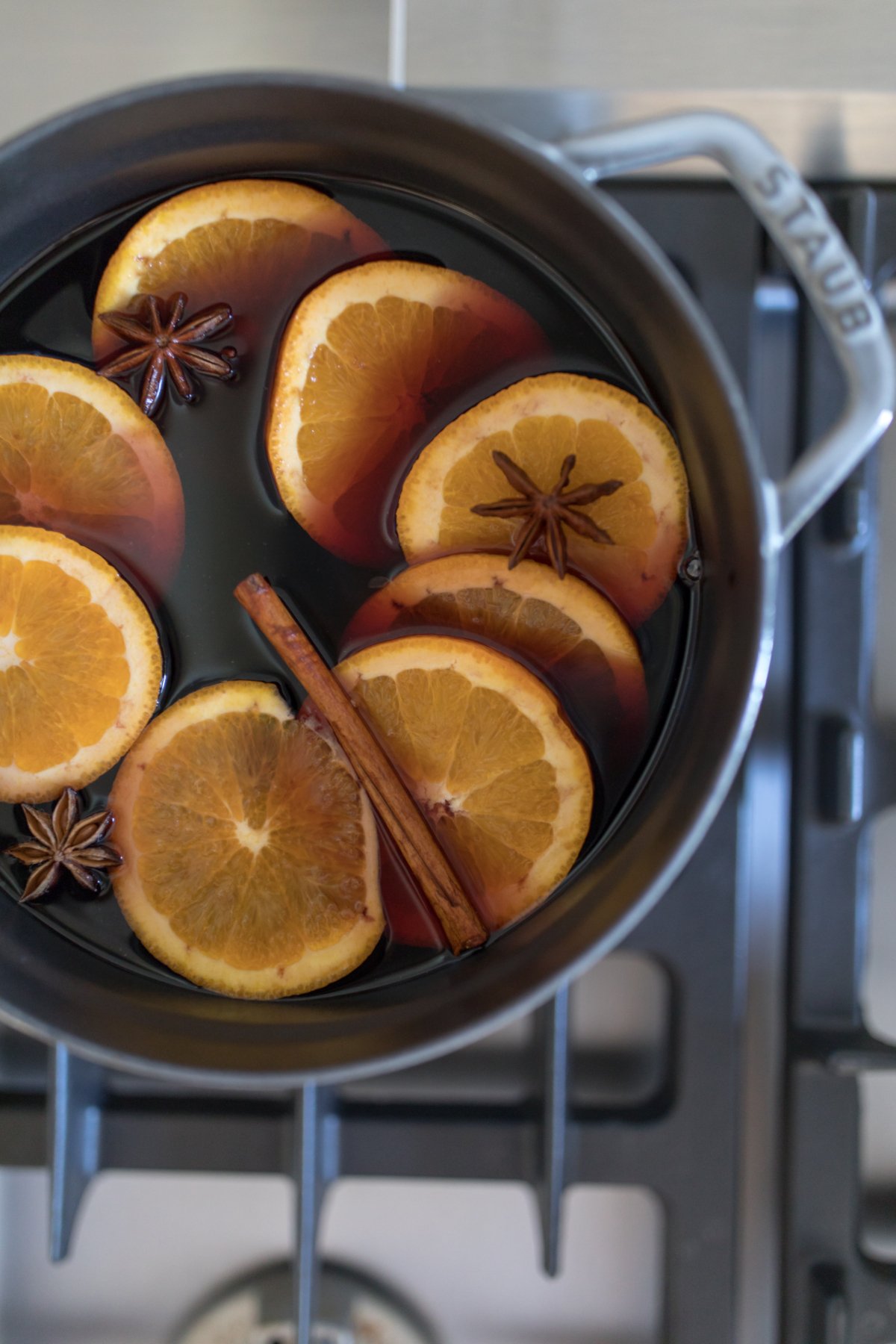 How to Make
This recipe is impossibly simple. You'll spend more time cutting the oranges than you will on throwing the rest of the recipe together! So warm, cozy and delicious!
In a large saucepan, combine ingredients and bring to a simmer over medium heat.

Reduce heat to medium-low and cover.

Simmer for 15 minutes and keep warm up to three hours.

Serve warm using a ladle and garnish.
Find my recipe and printable label for Mulling Spices right here! Combine those mulling spices with a bottle or two of red wine and you have a perfect holiday gift for friends, neighbors, teachers and beyond.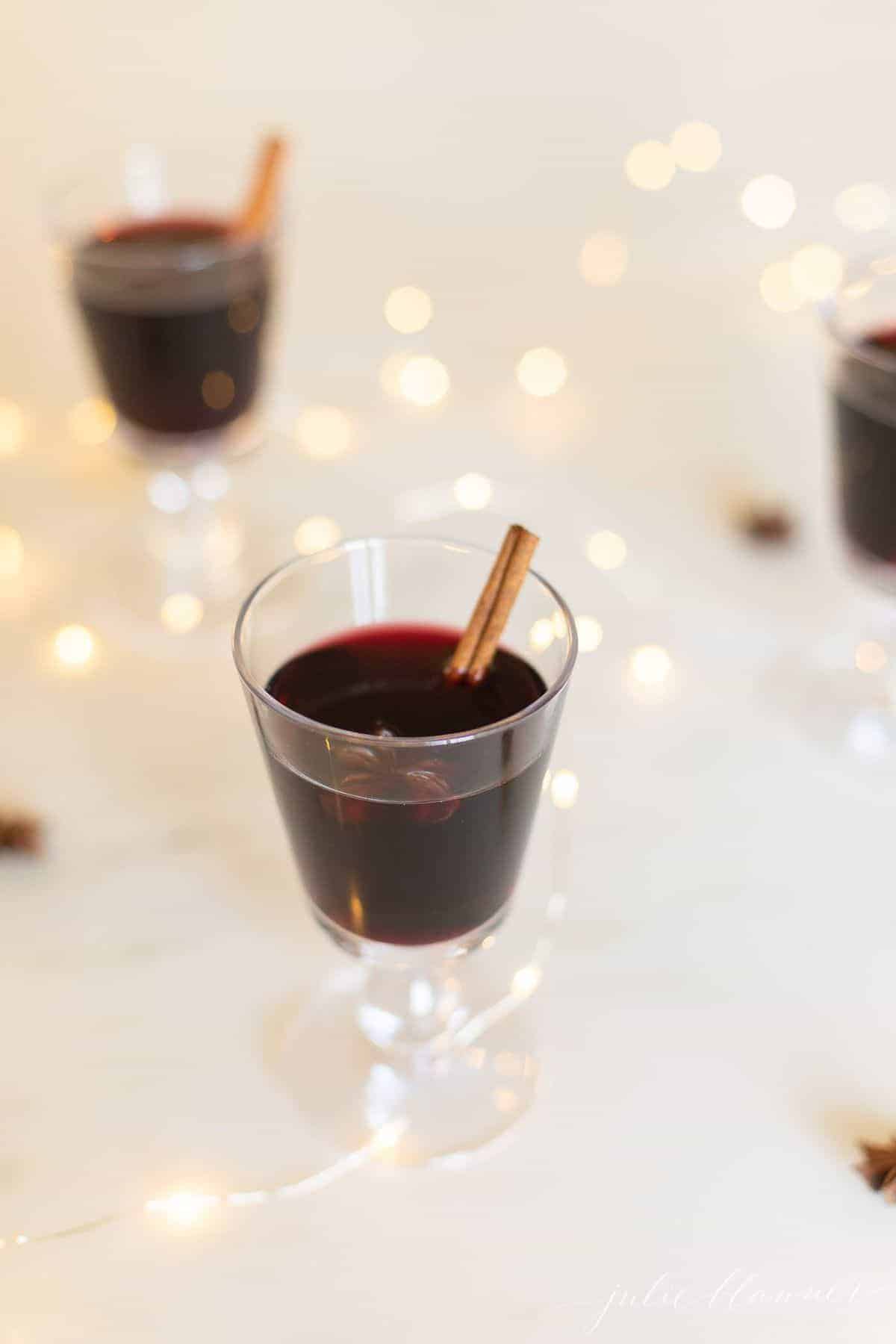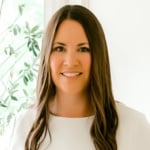 Tips
Make it ahead – Simply mull for several hours ahead of time, and then place lid on container and store in the fridge. Add it back to the stove for about half an hour over low heat. All the flavor and no last minute effort!
Make a larger batch – To double or triple this recipe, simply use the 1x2x3x tab on the printable recipe card! It will make all the calculations for you.
Enjoy the fragrance – I like to make our mulled wine on the stove top and let it simmer, enjoying the fragrance as it warms through. For me, that's part of the joy of serving this cozy recipe!
Frequently Asked Questions
What wine do you use for mulled wine?
There's no need to choose something with subtle notes and flavoring, because the mulling spices will outweigh those flavors immediately. I like the following options for mulled wine:
Cabernet Sauvignon
Burgundy
Pinot Noir
Shiraz
Syrah
Any dry red blend/table wine
Can I drink mulled wine cold?
Of course! However, you'll lose a little of what makes mulled wine so special. While it will still be delicious with a lot of flavor, the fragrance won't be as cozy!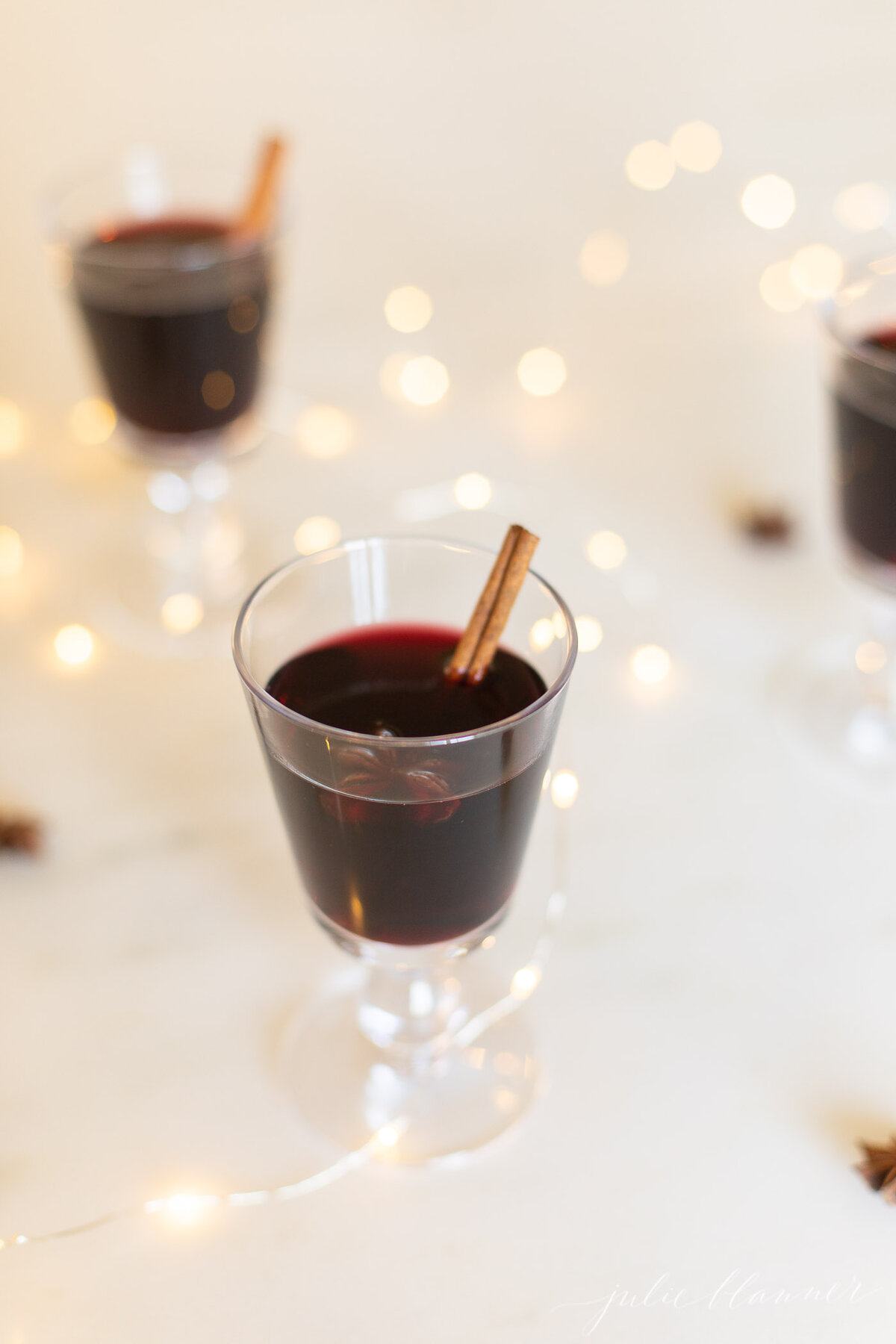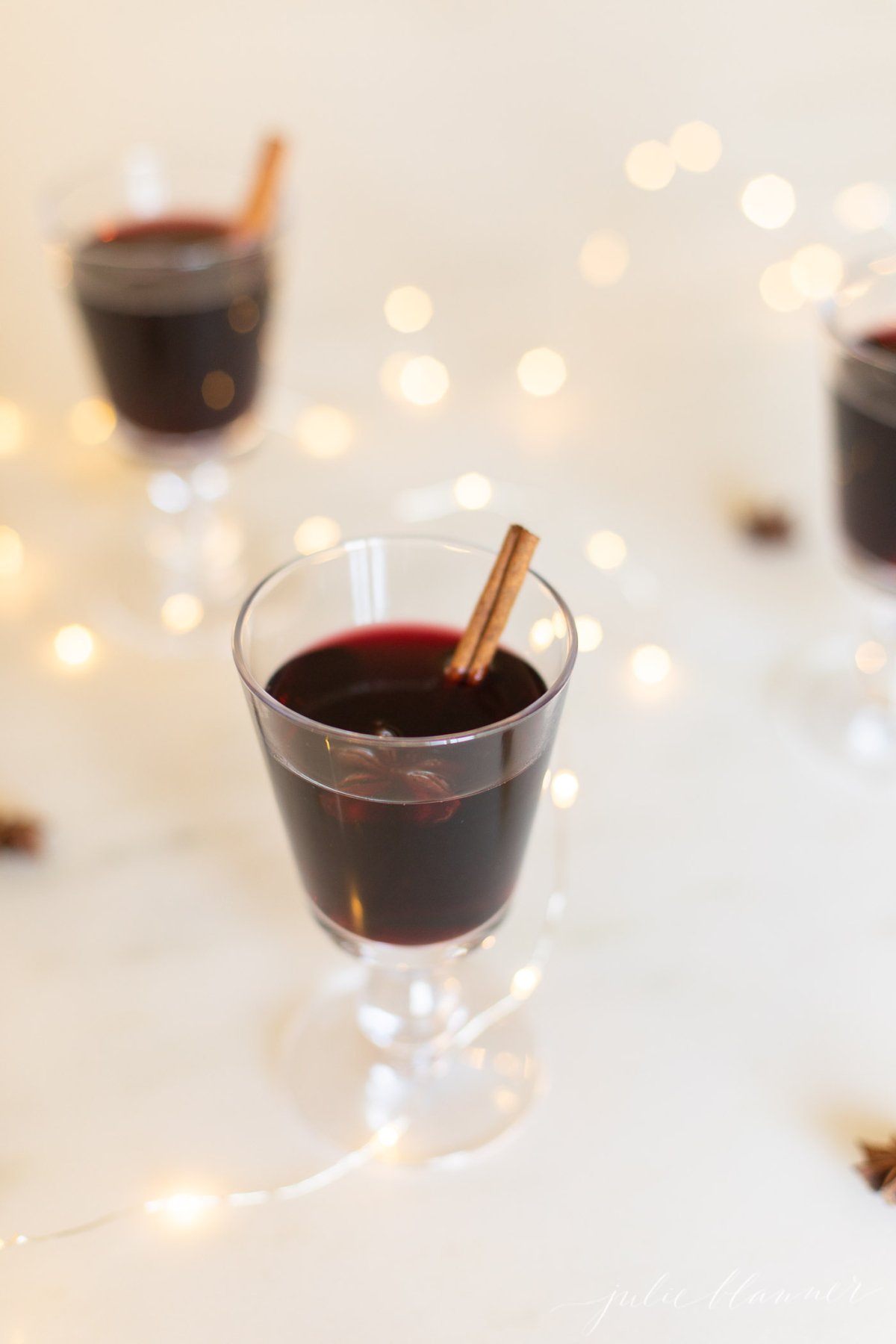 Serving Suggestions
I love to use my Staub cast iron pieces to create this easy mulled wine at home on the stovetop.
Another great way to serve your mulled wine is right in your slow cooker! You can heat, serve and keep warm without worrying- it's an excellent way to celebrate with friends if you're coming back to the house after games, trick or treating, etc.
Mulled wine is best served in thick glasses or in mugs that you would use for tea or coffee- something warm and cozy that holds heat without burning hands!
Garnish with star anise, cinnamon sticks, or more orange slices for a beautiful and memorable presentation.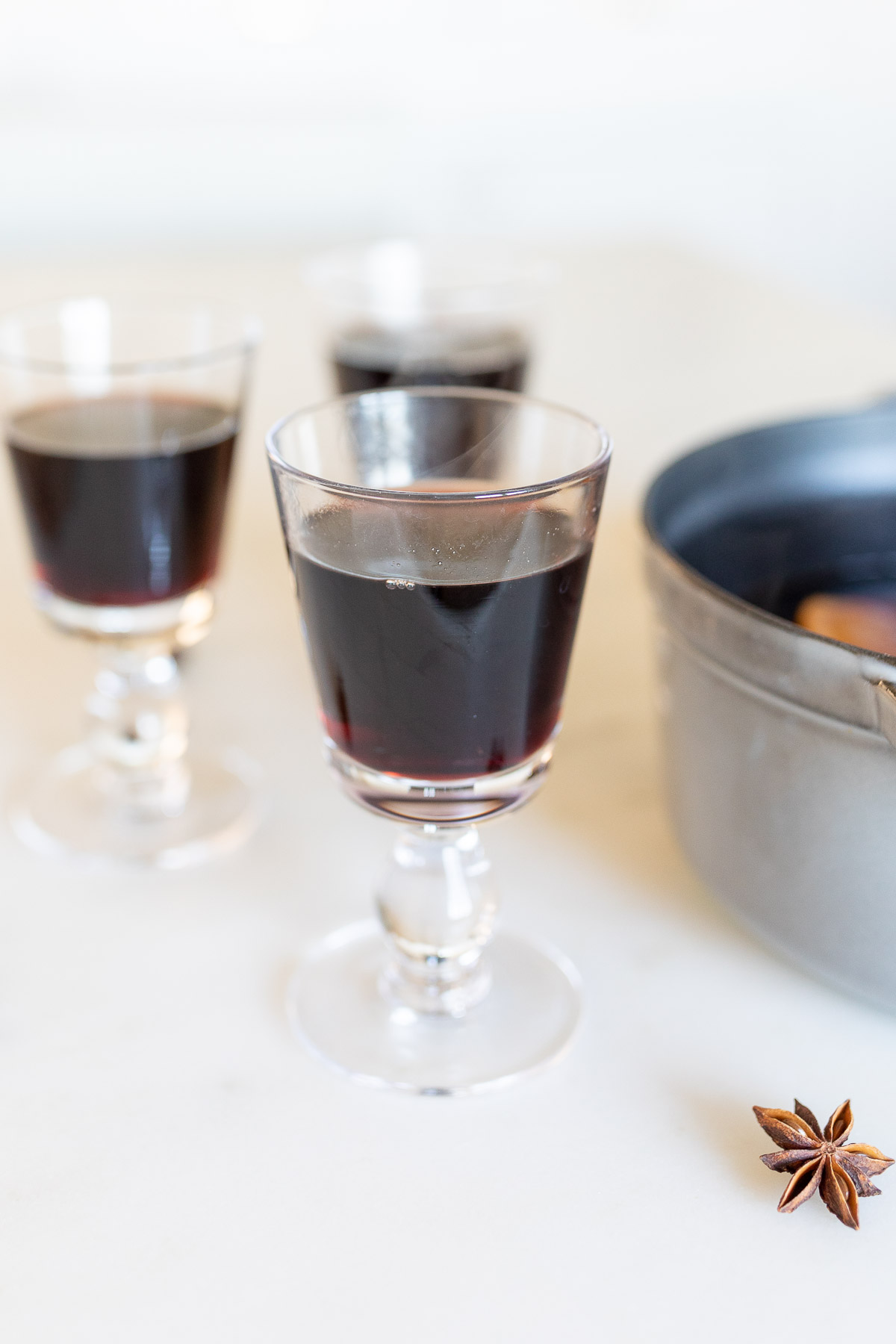 How to Store
Room Temperature: for up to two hours.
Refrigerator: Let your mulled wine cool completely, then seal in an airtight container and store in refrigerator for up to three days.
How to Reheat
Slowly warm your mulled wine in your pot on the stovetop over low heat, or add leftovers into your crockpot and reheat on low heat until warmed through.
Dietary Considerations
Gluten Free
Dairy Free
Nut Free
Vegetarian
Vegan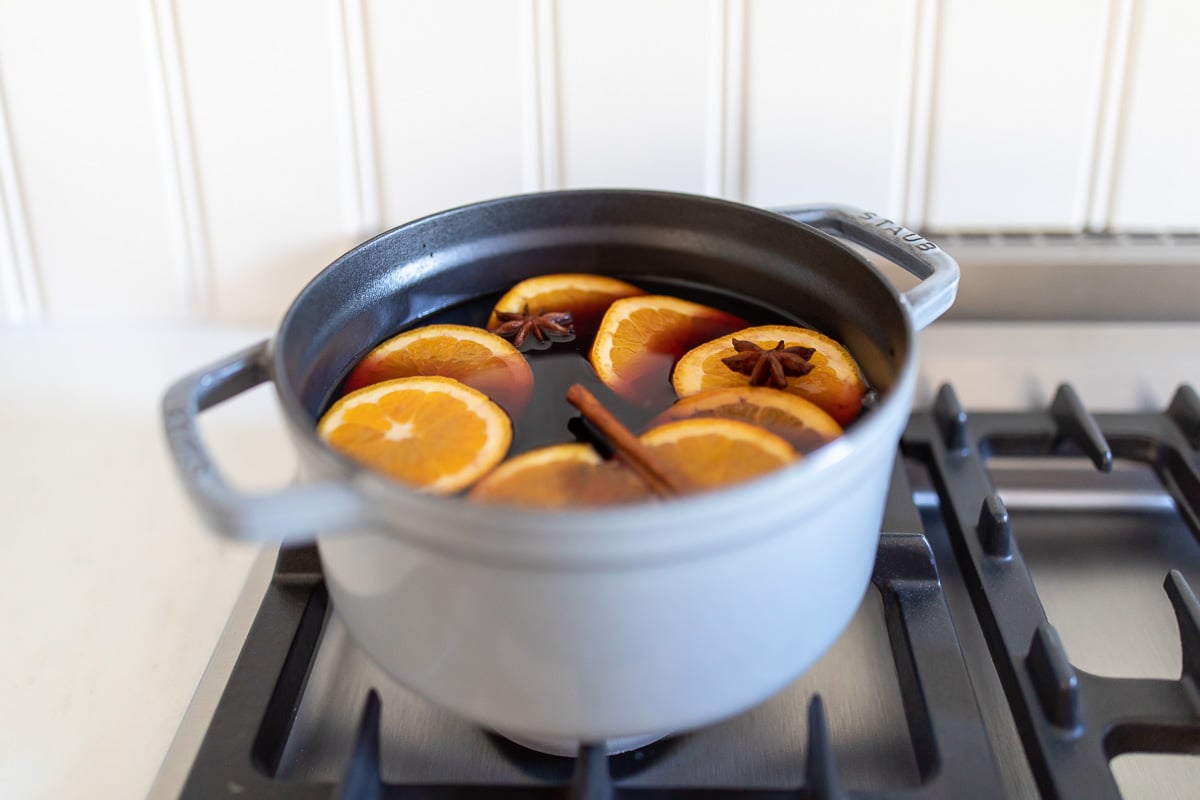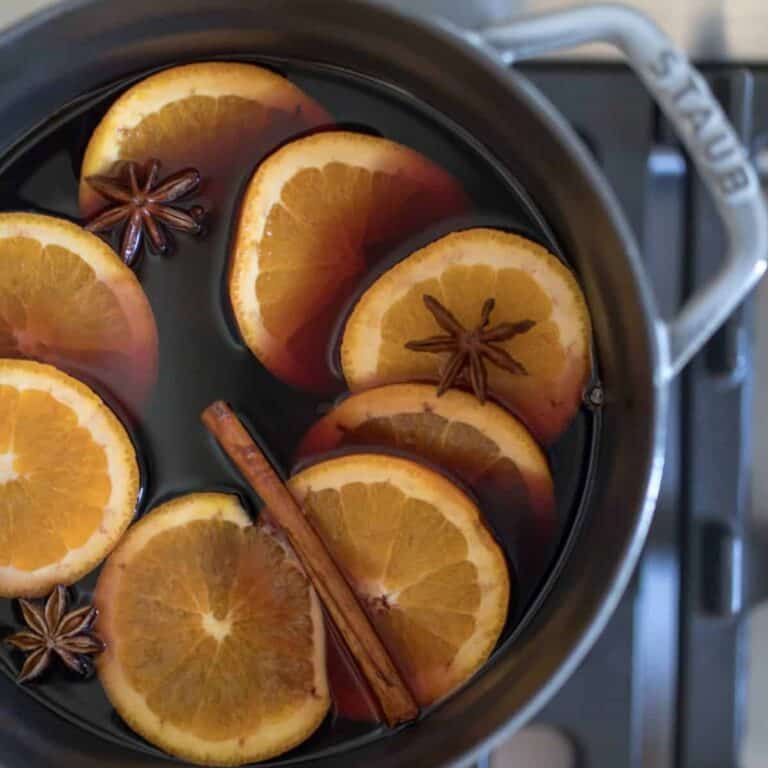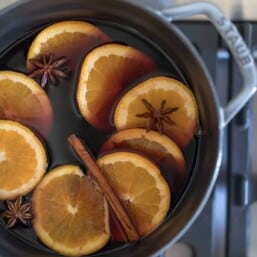 Mulled Wine
This aromatic Mulled Wine recipe is a winter drink to keep that chill at bay. No ski slopes required for this Gluhwein Recipe, just invite friends!
Ingredients
2

bottles

dry red wine

2

oranges

sliced

1

cloves

whole

4

star of anise

6

cinnamon sticks

3

tablespoons

white granulated sugar

½

cup

brandy
Instructions
Simmer wine on low with orange, cloves, star of anise, cinnamon sticks and brandy 20 minutes or until ready to serve.

Garnish with orange slice, star of anise and cinnamon stick.

Keep warm up to three hours
Tips
You can adapt this recipe to taste by adding more cloves in a tea pod or adding additional fruit.
Garnish with cinnamon sticks, star of anise, and more orange slices.
To Store
Room Temperature: for up to two hours.
Refrigerator: Let your mulled wine cool completely, then seal in an airtight container and store in refrigerator for up to three days.
Calories:
76
kcal
|
Carbohydrates:
11
g
|
Protein:
1
g
|
Fat:
1
g
|
Saturated Fat:
1
g
|
Sodium:
1
mg
|
Potassium:
78
mg
|
Fiber:
2
g
|
Sugar:
8
g
|
Vitamin A:
81
IU
|
Vitamin C:
18
mg
|
Calcium:
43
mg
|
Iron:
1
mg
Estimated nutrition information is provided as a courtesy and is not guaranteed.
Explore More