Get energized and ready for summer with this lemon sugar scrub! With only 3 ingredients you will be ready to enjoy this shower scrub in minutes.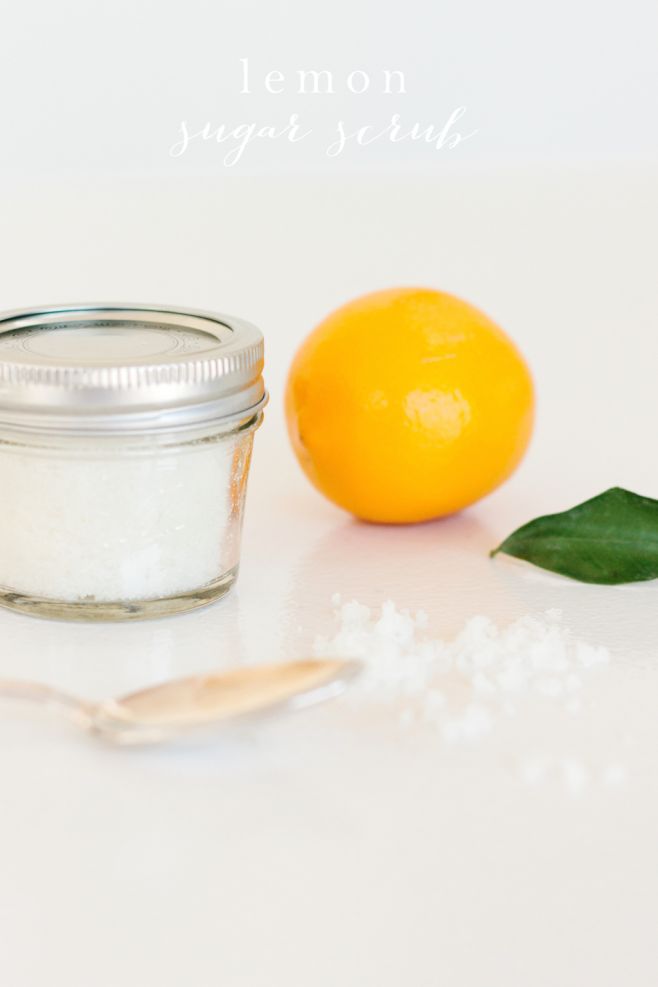 You know I love making my own bath & body products and with a new season, comes new scents! This Spring, I'm exfoliating with a new variety of homemade natural sugar scrubs. Today I'm sharing my lemon sugar scrub recipe. It will get you in the mood for sandal season – in just a couple minutes.
I love to use the season to inspire the scents I use in my bath and body products. In the past, I've tried lilac and rose for spring and also created an orange and clove sugar scrub for the winter holidays.
These milk bath and homemade sugar scrubs are luxury beauty products and cost so little to make on my own. Most importantly, they are all natural, containing no preservatives or added chemicals.
With making my own beauty products at home, I can feel good about using it daily to soothe and refresh my skin. Homemade lemon sugar scrub also makes a great gift and I love to gift a jar to my friends and family!
Lemon Sugar Scrub is a more vigorous scrub and ideal for summertime use! At the same time, it is a gentle enough to be used in the shower and even on sensitive skin. It also does wonders on rough areas such as feet and elbows to remove dry dead skin. You will be amazed at your glowing skin after only a few uses.
Learn how to set up your own Sugar Scrub Bar for a party! Perfect for showers – it's a fun activity that doubles as a take home party favor!
Ingredients in Lemon Sugar Scrub
Sugar – I use regular white granulated sugar in this recipe, however any type sugar will work just as well. The sugar serves as a gentle exfoliator that can be used even on sensitive skin.
Grapeseed Oil – I love using grapeseed oil in my skin care products. It contains high amounts of antioxidants and anti inflammatory properties. Most importantly, doesn't clog your pores and can even be used on sensitive skin. It moisturizes your dry skin leaving you hydrated and glowing.
Lemon Essential Oil – Besides the obvious amazing and refreshing smell, lemon essential oil is very energizing and uplifting. Lemon can also help rid your skin of toxins. Because it contains antiseptic properties, it can help to treat acne and clear skin.
How To Make Sugar Scrub
Add oil to large glass mixing bowl.

Add sugar and mix.

Add lemon essential oil to your preference and s

tir.

Scoop into sealable jars.

Enjoy!
Variations
The best part about making my own beauty products is that I can customize to fit my needs and tastes.
Sugar Variations – Any type of white sugar works well in this recipe. However if you are in a pinch, you could use brown sugar as well. I've sometimes added a dash of sea salt which works wonders for areas that need some extra scrubbing such as the elbows and feet.
Oil Variations – In this recipe any type of oil would work. There are so many options and benefits depending upon what your skin needs. Some ideas include Vitamin E Oil, Coconut Oil, Olive Oil, Almond Oil, Carrot Oil, Argan Oil, and Jojoba Oil.
Essential Oil Variations – Essential Oils are so fun to experiment with and I have found very forgiving! Adding other citrus oils can enhance your lemon sugar scrub. Spicy oils such as cinnamon and clove also blend well and can bring wintery flavor with them.
I've sometimes added a bit of lemon zest into this sugar scrub recipe. It adds another texture and color which I find so lovely!
Tips and Tricks
Label and date your jars to ensure freshness.
Always thoroughly rinse before going out into the sun.
See variations to mix and match this recipe.
Store – This sugar scrub recipe should be stored in a sealable and airtight jar and can last up to 3 months. However if the smell changes, it is time to throw it out.
Easy Gift Idea
I'm a big fan of homemade gifts. They are so personal, and nothing says I care about you more than spending a bit of time making a gift with your hands. This recipe is the perfect homemade summer gift. Besides being so easy, quick to make, the cost is very little.
You can dress up your jars with just a ribbon or wrap with organza and tie with a festive bow.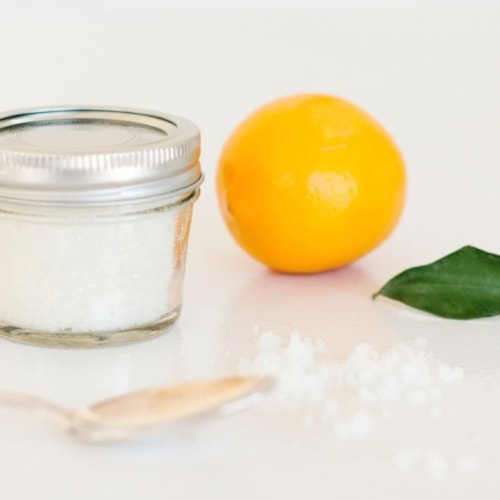 DIY Lemon Sugar Scrub Recipe
Amazing DIY Lemon Sugar Scrub for smooth glowing skin!
Ingredients
3

Cups

white granulated sugar

1

Cup

Grapeseed Oil

Lemon Essential Oil
Instructions
1. Combine sugar and oil in large glass mixing bowl.

2. Add drops of Lemon Essential Oil to preference.

3. Scoop into sealable jars.
Tips
Variations - Vitamin E Oil, Coconut Oil, Olive Oil, Almond Oil, Carrot Oil, Argan Oil, and Jojoba Oil.
Want more? Receive the best ideas directly to your inbox and connect on instagram facebook and pinterest!