A beautiful and delicious Cadbury Eggs Cookie Cake recipe for an easy Easter dessert that looks as good as it tastes!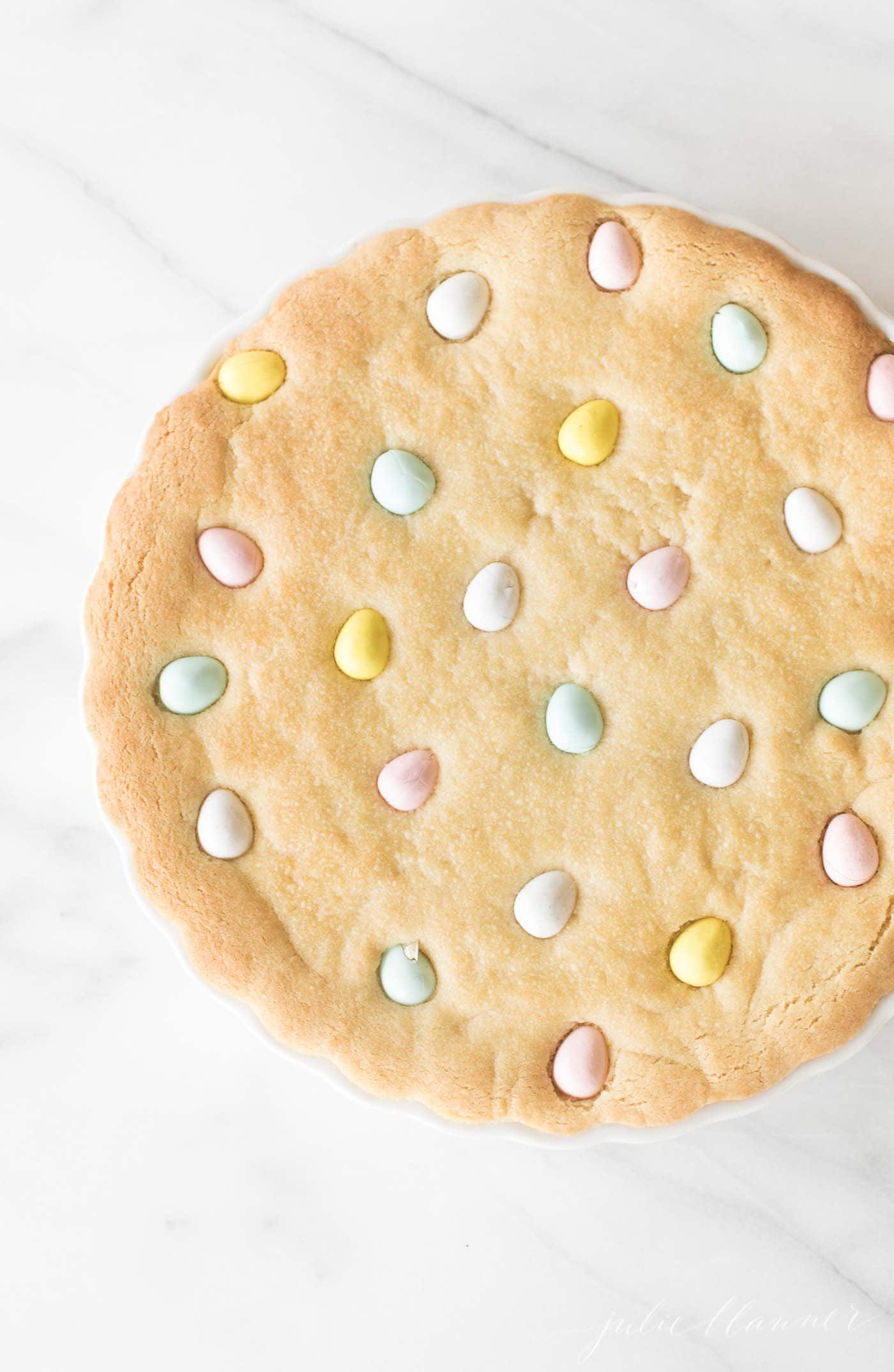 Cadbury Eggs
However, I love the Cadbury Eggs Easter Candy. They are cute, colorful mini egg shaped milk chocolate candies with a crisp and crunchy candy egg shell. Somewhat like an M&M but unique in flavor. The shells are harder, which makes them hold up better in baking.
Last year I used them to make these adorable no bake edible Egg Nests which are so ridiculously good, I can't be trusted to have them in the house!
When you hear Cadbury, most think of their Cadbury Cream eggs, which have never been my favorite. In fact, as a kid, I thought it was a cruel joke! If I'm going to be surprised with something in the center, it should be creamy peanut butter!d
It's a shame these mini eggs aren't available 12 months out of the year because they make a cookie cake look so beautiful! You can purchase them at most grocery stores in addition to Target and Walmart.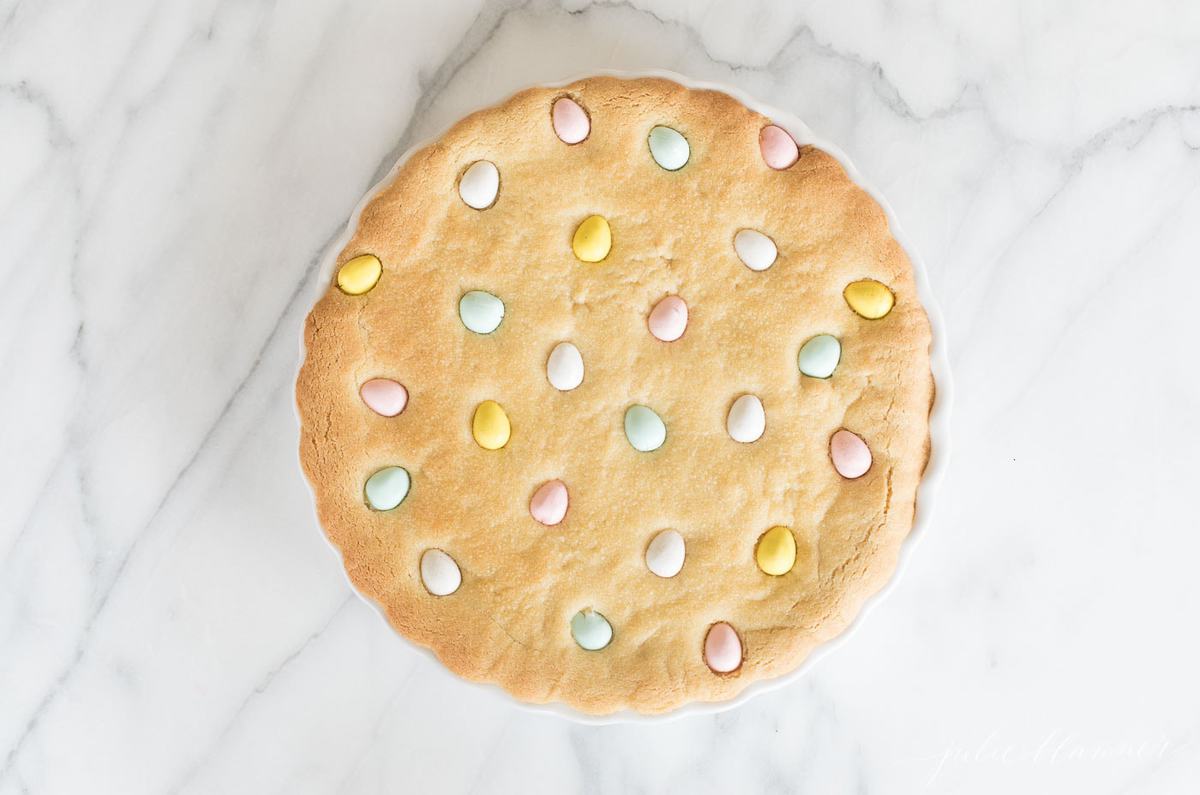 This Cadbury Eggs Cookie Cake recipe tastes like a mix between a sugar cookie and chocolate chip cookie cake. It's easy, sweet and the perfect Easter dessert for both adults and children.
I took this cake to a get together last Friday night and after just 5 minutes, there wasn't a slice left and kids were returning for seconds!
JUST TAKE ME TO THE CADBURY EGGS COOKIE CAKE, PLEASE!
I get a lot of questions and comments on my recipes and posts, so I try to provide as much information as possible for my readers including tips and tricks, shortcuts, how to store and so much more!
If you would like to skip directly to the Cadbury Easter Eggs Cookie Cake recipe, please scroll to the bottom of the page where you'll find a printable version.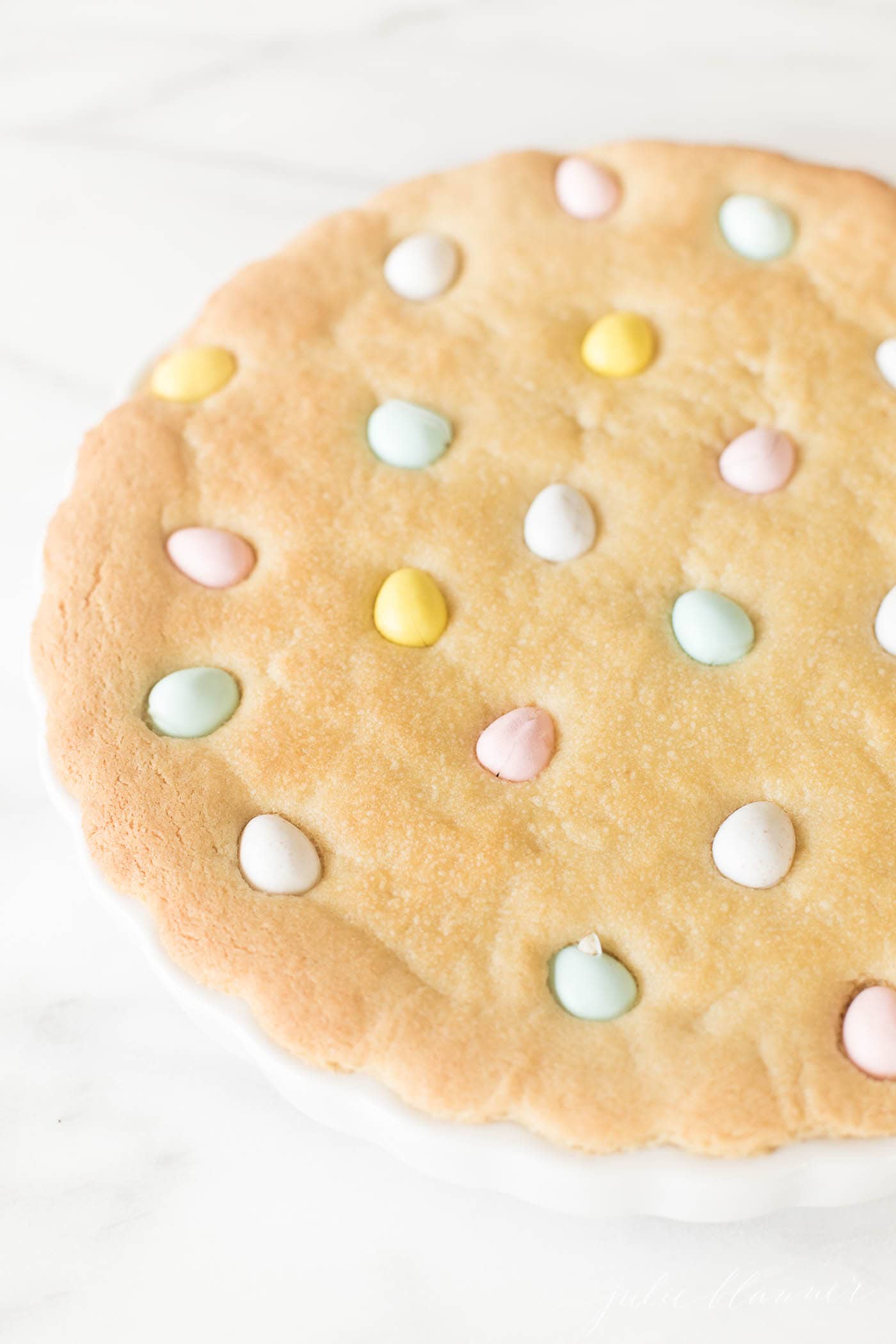 How to Make a Cookie Cake
If you haven't noticed, I love making cookie cakes! They're quick and easy and every bite tastes like the center of a cookie. Rather than spending time refrigerating dough and dropping dough balls on one cookie sheet after another, you just press the dough into your favorite dish.
Cookie cakes are not only effortless, but easy and beautiful to present. You can make it on a sheet pan / cookie sheet, pizza pan, cake pan, casserole dish or two pie dishes. I use a pie or tart dish for pretty presentation.
Of course pretty Cadbury eggs take this cookie cake over the top on a twist of my M&M Cake!
Grease your favorite dish.
Combine butter, sugar, brown sugar and vanilla until fluffy.
Add eggs until just blended.
In a separate mixing bowl, combine flour, baking soda, baking powder and salt.
Gradually blend dry mixture into wet mixture. Optional: fold in Cadbury Easter eggs.
Transfer the cookie dough into your baking dish and press until smooth. You can use parchment paper for the smoothest finish.
Bake. Halfway through remove from oven and press candies into the top.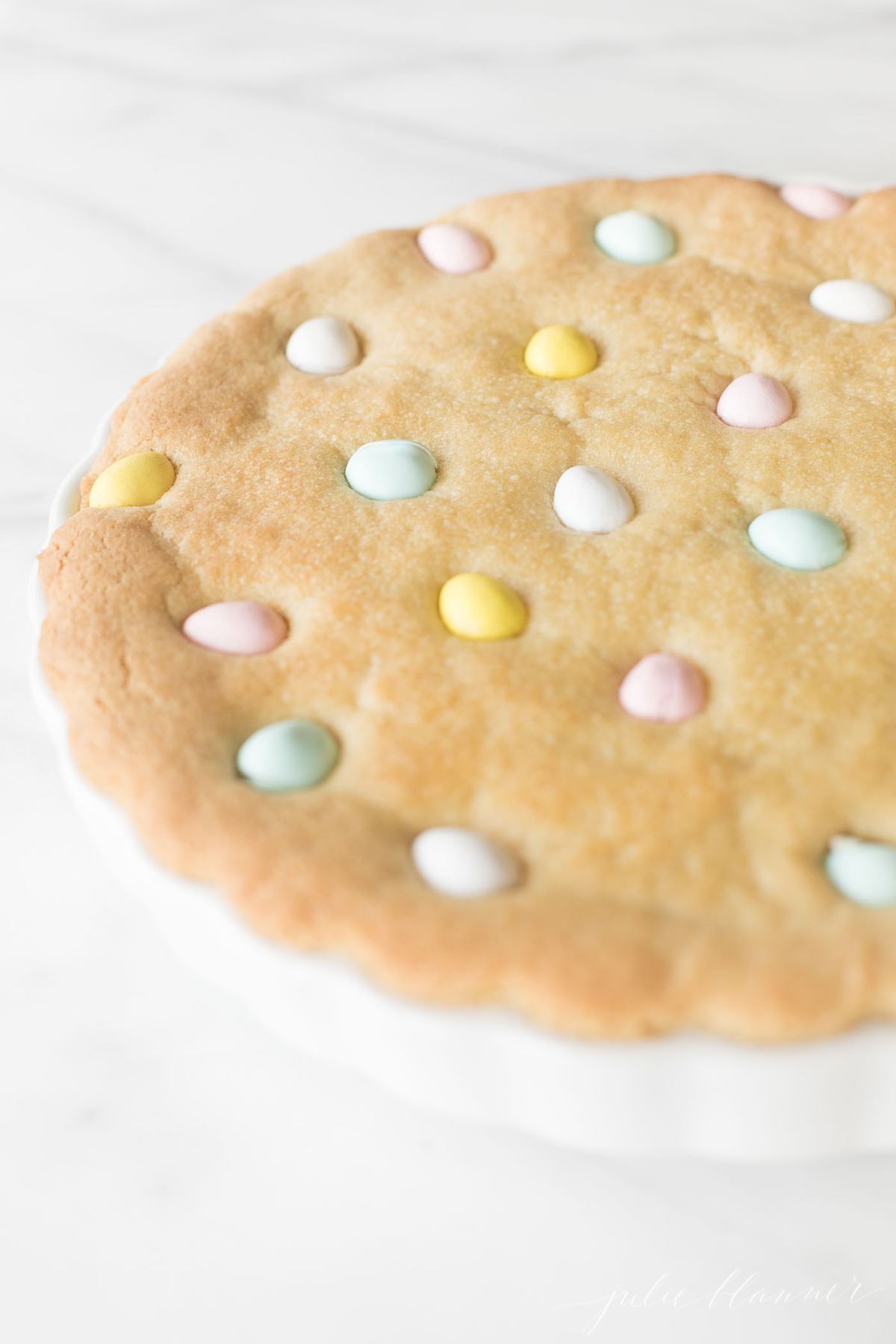 How to prevent candy from cracking in the oven:
It's nearly impossible to prevent candy from cracking while baking – even Cadbury Easter eggs. When the chocolate melts, it will tend to crack a touch. To minimize cracking, bake the Cadbury Eggs Cookie Cake 9 minutes, remove from oven and gently press candies into the top. Return for 7 minutes for an under baked cake (always my preference) or up to 10 minutes.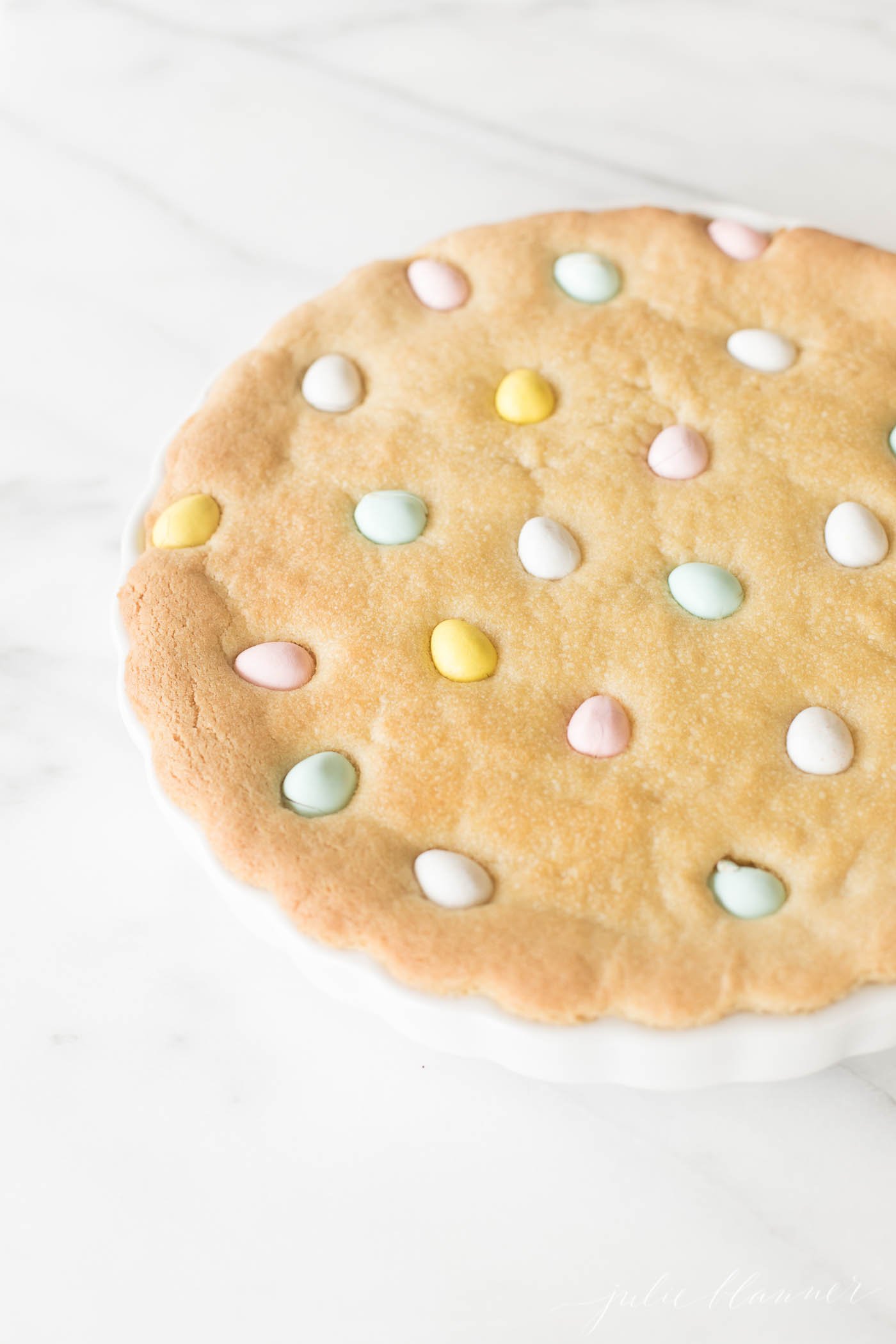 You can integrate the Cadbury eggs into the cake, like you would M&M's, or use them to garnish on top. Since I was going for a mix of pretty and delicious, I opted to hand select my Cadbury Easter eggs in assorted colors and simply garnish.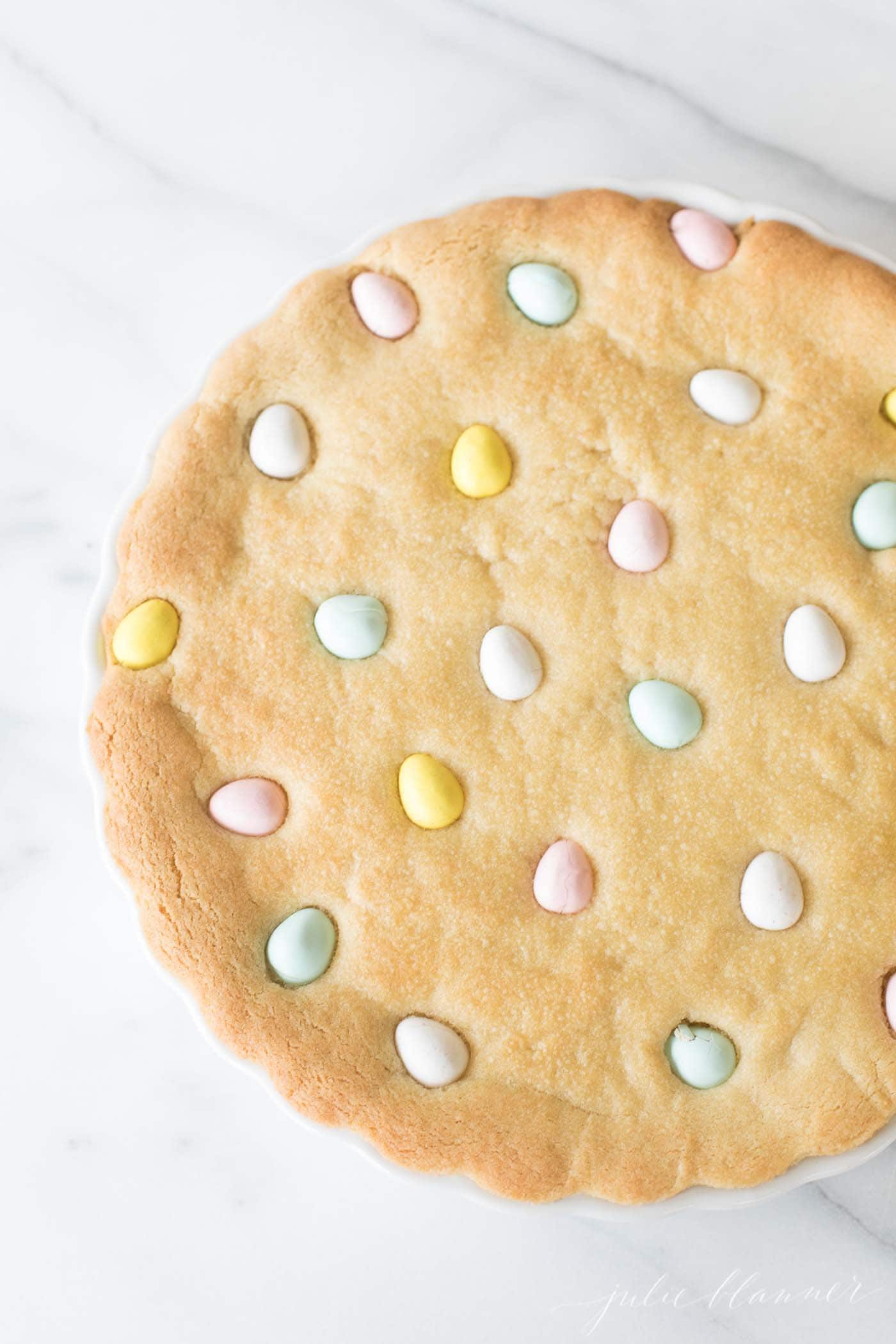 Get 125 Easy Easter recipes everyone will love!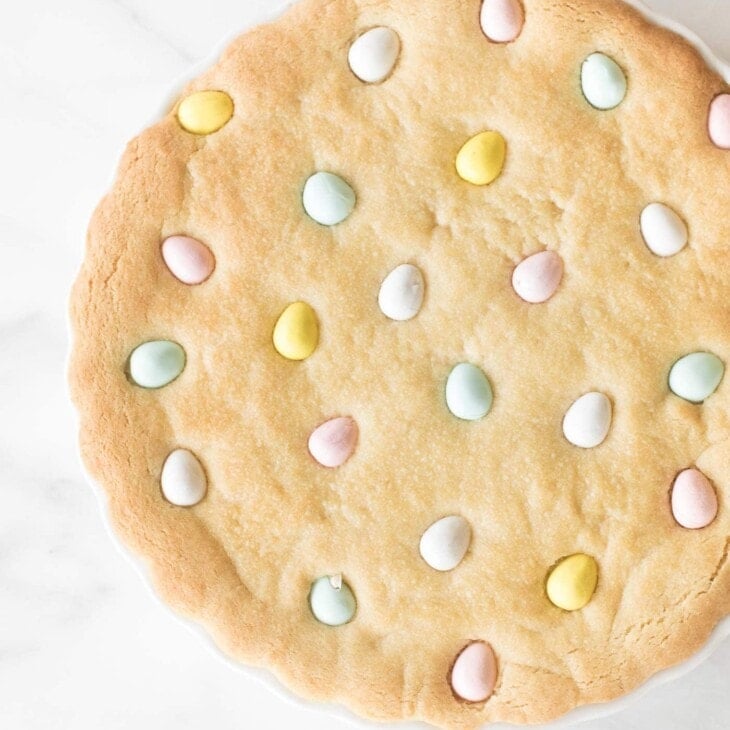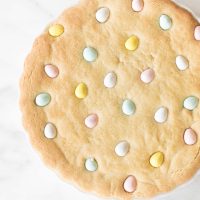 Cadbury Eggs Cookie Cake
Cadbury Eggs Cookie Cake is a beautiful Easter dessert recipe that both adults and children love. An easy to make, bake and take recipe!
Instructions
Preheat oven to 350 degrees and grease a tart/pie dish or baking sheet.

Combine butter, sugar, brown sugar and vanilla.

Add eggs until just blended.

Add flour, baking soda, baking powder and salt. Combine.*

Scoop into baking dish, press until smooth.

Optional: Bake 9 minutes, remove from oven and press candies into top and return for 7-10 minutes.
Tips
*optional: add Cadbury candies to the dough rather than on top
Bake time varies based on dish being used. For smaller, deeper dishes, use two or increase baking time to preference.
Calories:
229
kcal
|
Carbohydrates:
33
g
|
Protein:
3
g
|
Fat:
10
g
|
Saturated Fat:
6
g
|
Cholesterol:
41
mg
|
Sodium:
175
mg
|
Potassium:
54
mg
|
Fiber:
1
g
|
Sugar:
18
g
|
Vitamin A:
307
IU
|
Calcium:
21
mg
|
Iron:
1
mg
Estimated nutrition information is provided as a courtesy and is not guaranteed.
Explore More
I hope you love this Cadbury Eggs Cookie Cake as much as we do! If you try it, don't forget to leave a 5 star review!