These Easy Butter Shortbread Cookies require just 3 ingredients to sweet, buttery bliss. With a few tips and tricks along the way, these butter bunny cookies are a not-too-sweet little treat to wish a few friends a Happy Easter.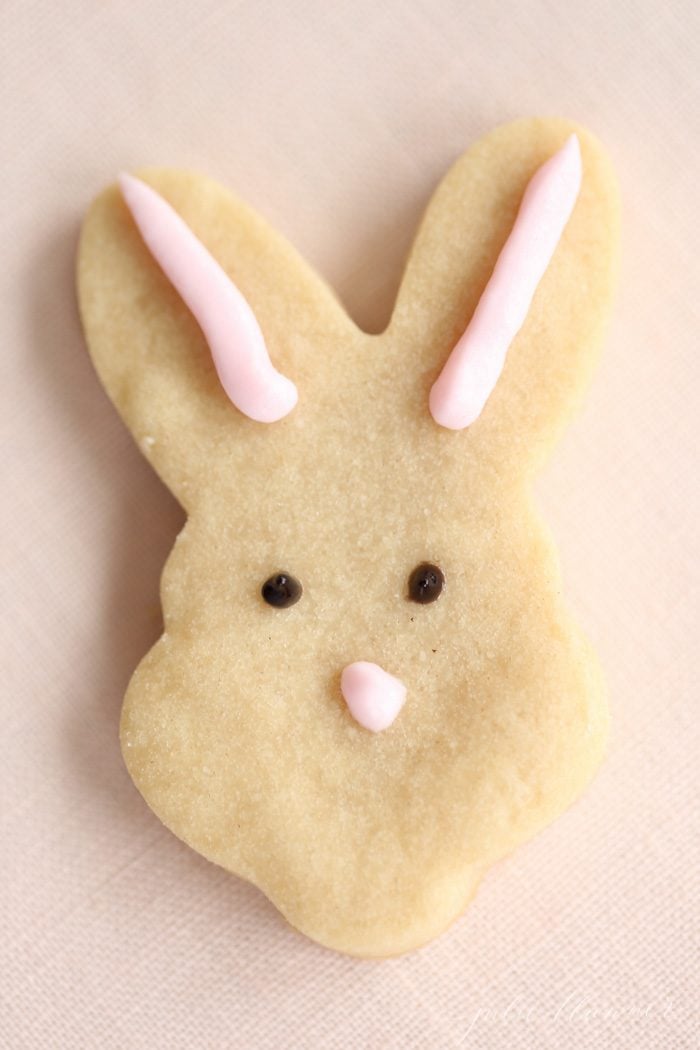 These 3 ingredient shortbread cookies are a classic recipe – they're so easy to make and you likely have everything you need right there in your pantry and refrigerator. Butter, flour and brown sugar. And in the spirit of the holidays, I couldn't resist making some Butter Bunnies for friends this week.
I was in a hurry whipping these little guys up, so they're not perfect, but they're perfectly delicious. I even cheated and used store bought decorative icing…when the big spray can failed (I do not recommend), I sprayed the icing into a ziplock, snipped the tip and squeezed it onto the butter shortbread cookies creating bunny ears and little noses. It's easy to get caught up in making everything perfect, but I find more joy in perfectly imperfect.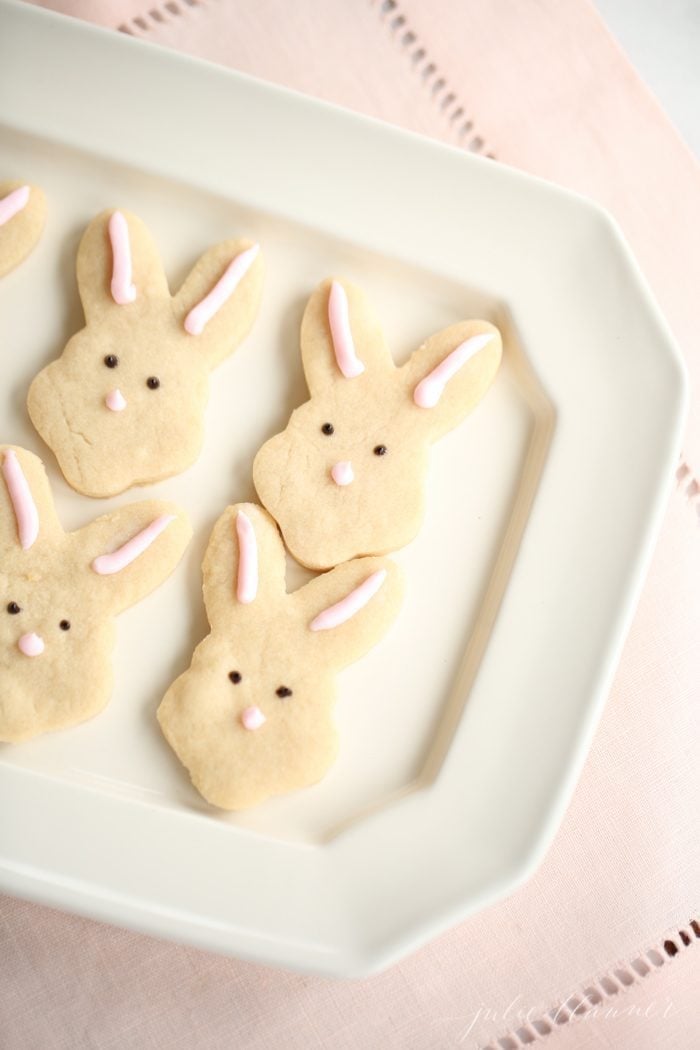 Butter Shortbread Cookies Ingredients:
Salted Butter – I specify salted butter to truly keep this at a 3 ingredient butter shortbread cookie. Salt adds such balance to the brown sugar, it will have your friends going back for more!
Brown Sugar – Rather than white, granulated sugar, the added molasses in brown sugar gives these butter shortbread cookies a nice twist. You can use either light or dark brown sugar, whichever you have on hand.
Flour – Unbleached, all-purpose flour works perfectly. My favorite brands are Gold Medal and Pillsbury.
Optional: Vanilla Extract – You can add vanilla to these butter shortbread cookies, if you'd like. I add vanilla to just about everything!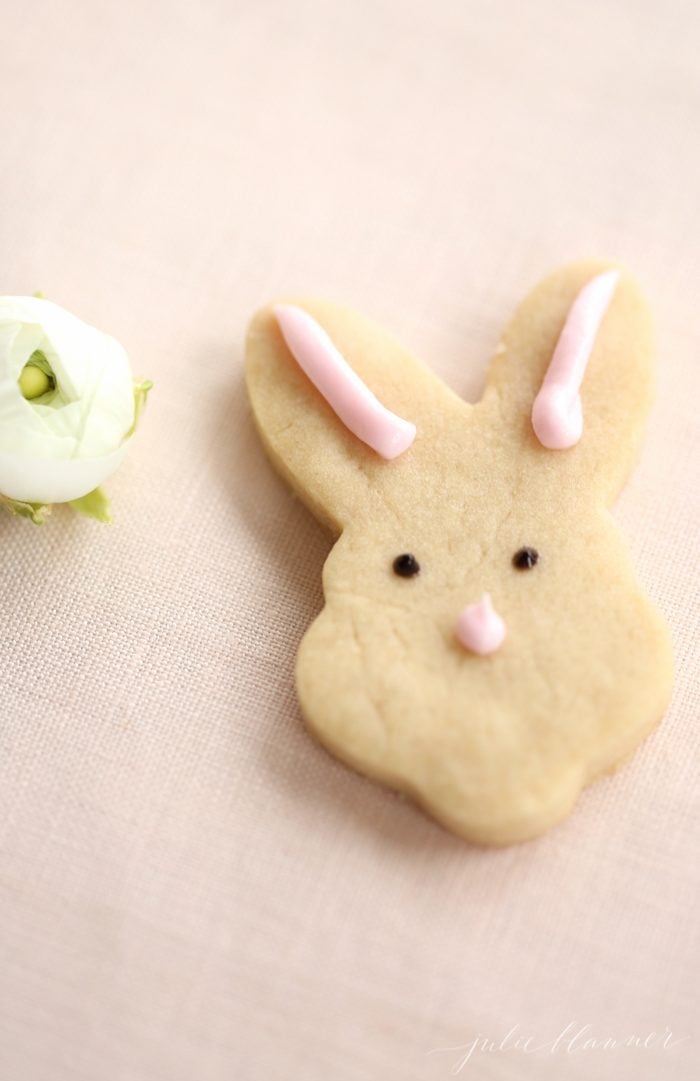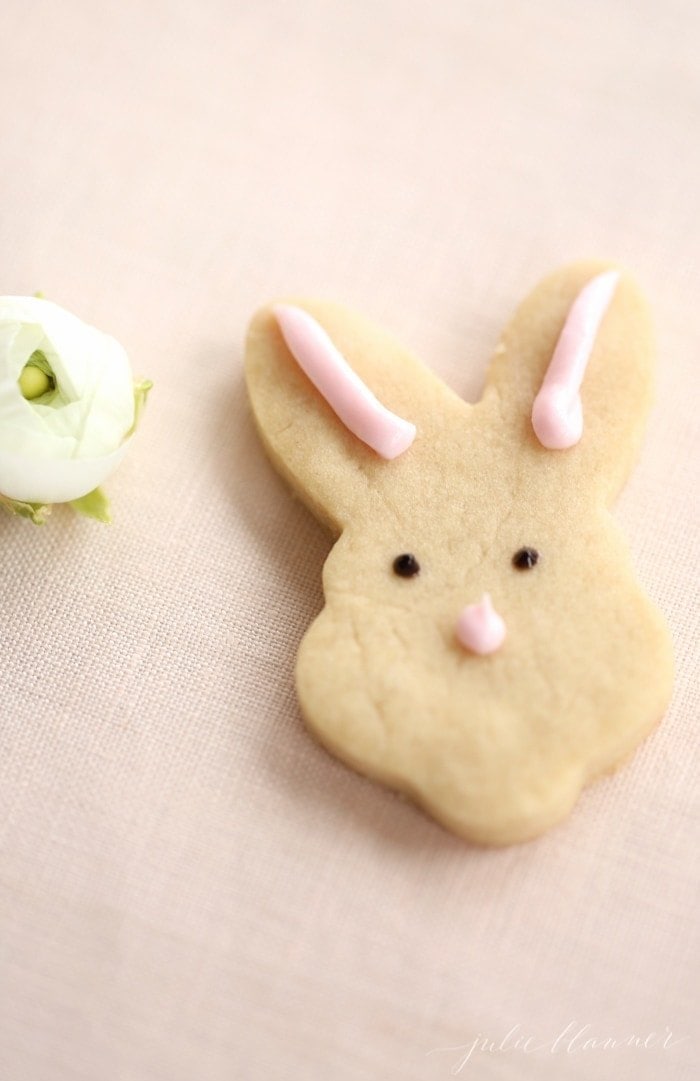 How to Make 3 Ingredient Shortbread Cookies
In the bowl of an electric mixer with the whisk attachment or with a hand held mixer, whip butter until light and fluffy. Add brown sugar and whip until combined.
Slowly add in flour until dough begins to form and no longer sticky. You may need to add up to an additional 1/2 cup flour.
Wrap dough ball in plastic wrap for 30 minutes.
Preheat oven to 300 degrees.
Roll out dough to 1/2 inch thick. Cut with bunny cookie cutters (or whatever shape you prefer) and place on baking sheet.
Bake 10-15 minutes, or until lightly golden brown around the edges. Be careful not to overbake the butter shortbread cookies.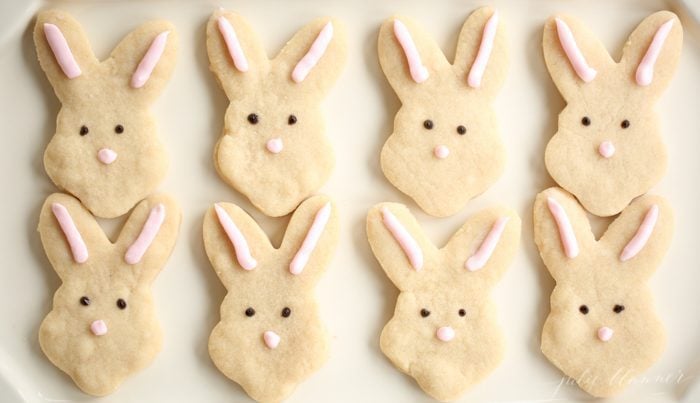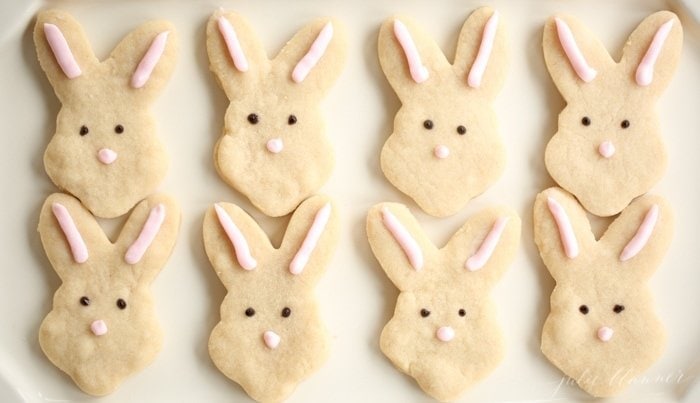 How to Prevent Butter Bunnies from Spreading
Many times, butter shortbread cookies spread too much. But to get them just right and have them come out similar to those Famous Walkers Pure butter cookies, here are a few tips:
Don't Overbeat the Batter – Have you ever noticed that as you whip butter, it not only gets creamier, but lighter in color? These butter shortbread cookies start with whipped butter, combined with brown sugar. You can whip as long as you like at this stage, but once you start adding flour, keep the mixing to a minimum.
Use Ungreased Baking Sheets – Too much fat will make the cookies greasy.
Properly Measure Ingredients – I use the scoop and swipe method for flour. Simply scoop the flour by the spoonful into your cup measure and swipe the top edge flat with a knife.
Get the Butter Cold – Chill the dough during the 30 minutes resting stage for best results.
Bake at a Lower Oven Temperature – This will ensure the butter shortbread cookies are cooked evenly.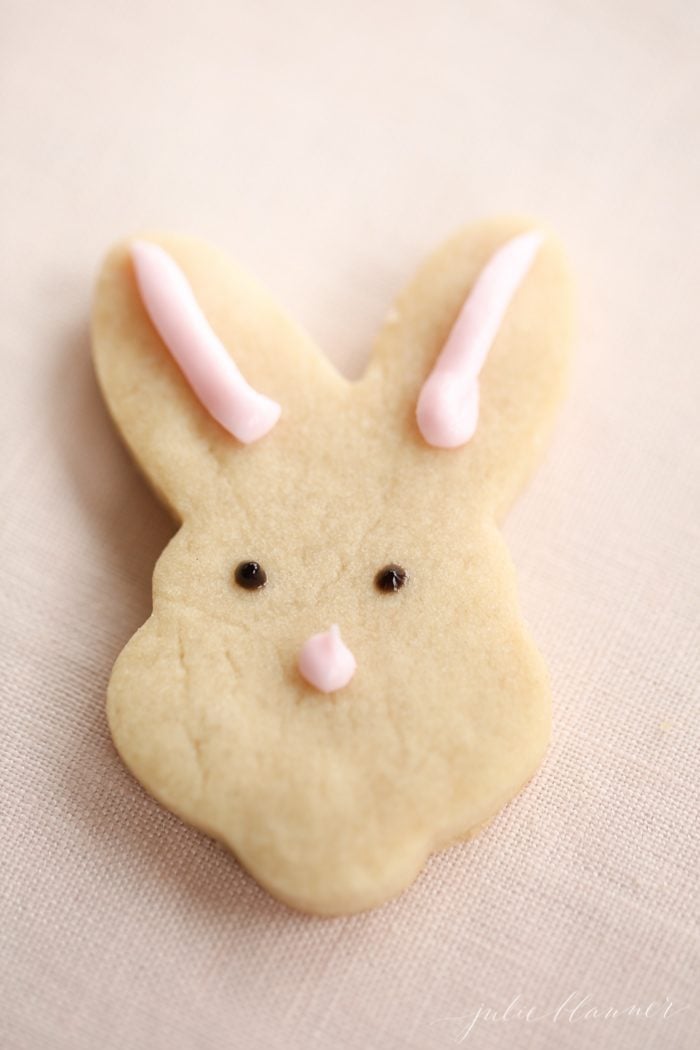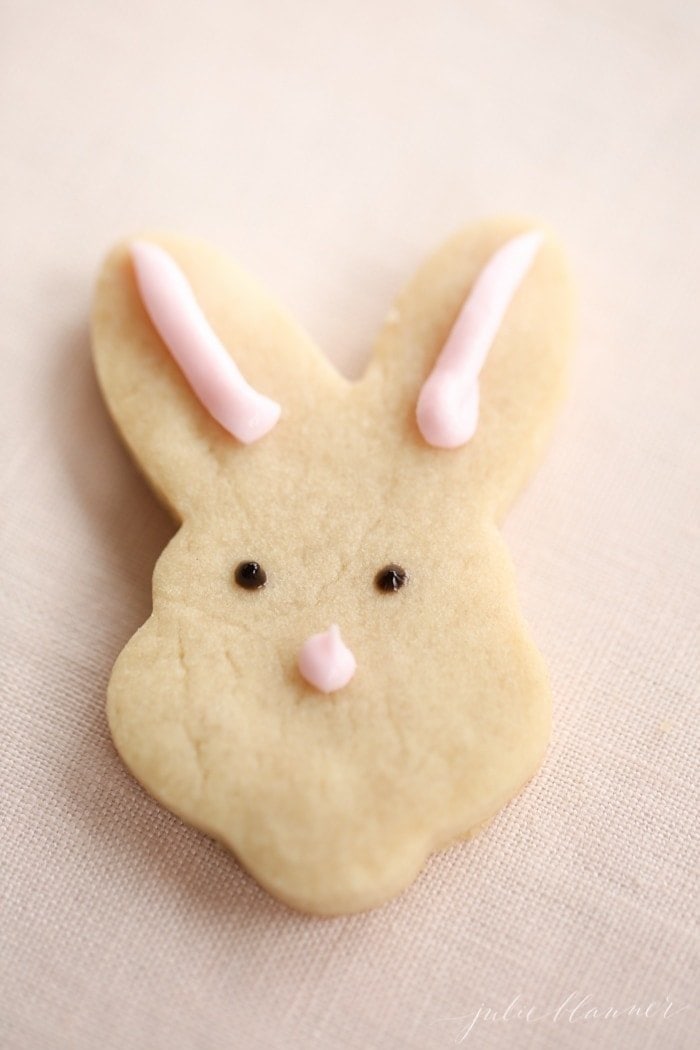 How Do You Know When Butter Shorbread Cookies Are Done?
The edges should be slightly brown with no color in the center. If the edges are dark, you have baked too long. If the edges are still white, bake another minute or two more.
How Long Do Shortbread Cookies Keep?
Store the buttery shortbread in an airtight container for up to 1 week.
This shortbread cookie recipe makes 3 dozen medium-sized cutout cookies. Please note that one dozen may need to be reserved for your significant other. They're kind of addictive.
You can find a comprehensive list of all my Easter Recipes here – there are over 125 memorable recipes to choose from!
More Easter Inspiration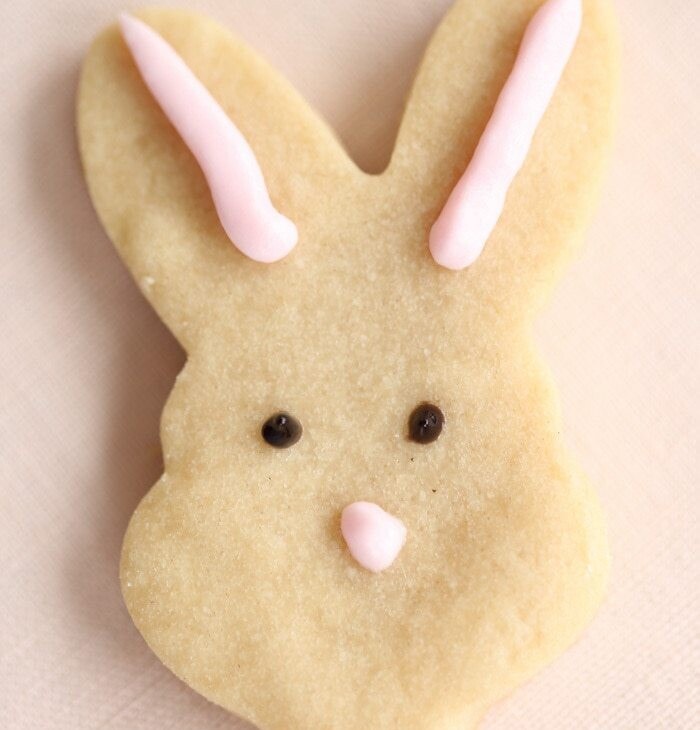 Easy Butter Shortbread Cookies for Easter
These Easy Butter Shortbread Cookies requires just 3 ingredients to buttery bliss. A not-too-sweet little treat to wish a few friends a Happy Easter.
Ingredients
2

cup

salted butter

at room temperature

1

cup

packed brown sugar

3 1/2

cup

flour + up to 1/2 c flour

optional: 1 tsp vanilla
Instructions
Whip butter until smooth and light in color. Add brown sugar until combined.

Gradually add in flour until dough begins to form. Add up to an additional 1/2 c flour if needed so that the dough forms and ball and isn't sticky.

Wrap dough ball in plastic wrap for 30 minutes (no longer).

Preheat oven to 300 degrees.

Roll dough to 1/2" thick on a floured surface, use cookie cutters to cut and place on a baking sheet. Bake 10-15 minutes (depending on size of your cutters), watching carefully as to not over bake.
Tips
Chill dough during the 30 minute rest to prevent the cookies from spreading.
Nutrition based on cookies made with 4 cups flour.
Nutrition Information
Calories:
165
kcal
(8%)
,
Carbohydrates:
17
g
(6%)
,
Protein:
2
g
(4%)
,
Fat:
10
g
(15%)
,
Saturated Fat:
6
g
(30%)
,
Cholesterol:
27
mg
(9%)
,
Sodium:
92
mg
(4%)
,
Potassium:
26
mg
(1%)
,
Fiber:
1
g
(4%)
,
Sugar:
6
g
(7%)
,
Vitamin A:
315
IU
(6%)
,
Calcium:
10
mg
(1%)
,
Iron:
1
mg
(6%)
Estimated nutrition information is provided as a courtesy and is not guaranteed.