Raise your glass to Brazil's national cocktail! This Caipirinha recipe is easy to make and even easier to enjoy.
Try this simple recipe today – you'll be glad you did!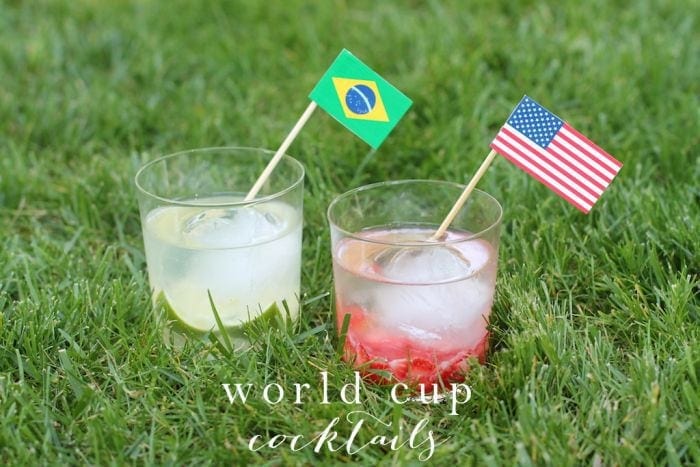 This delicious drink is everything you want in a cocktail. It's equal parts sweet and tart for a refreshing burst of flavor.
This caipirinha cocktail recipe uses only three ingredients – cachaça, limes, and sugar. Plus it only takes a few minutes to mix together. It doesn't get much easier than that!
The cachaça has a sweet, spicy, and fruity flavor. Mix it with limes and sugar and you get the caipirinha.
If you love a fresh and flavorful cocktail, don't skip this simple Vodka Lemonade, filled with the vibrant flavor and fragrance of fresh herbs!
Caipirinha Recipe – The Perfect Cocktail
I warn you, this is a strong cocktail. That is to say, it has about 38 – 55% alcohol content, similar to vodka. However, the sugar balances the lime and is so refreshing!
I took traditional caipirinha and added a little sugar plus reduced the alcohol to get this caipirinha recipe. So it's the perfect cocktail for almost any occasion!
For other delicious drinks, try my apple cider sangria, margarita float (an ice cream cocktail!), and peach champagne punch cocktail.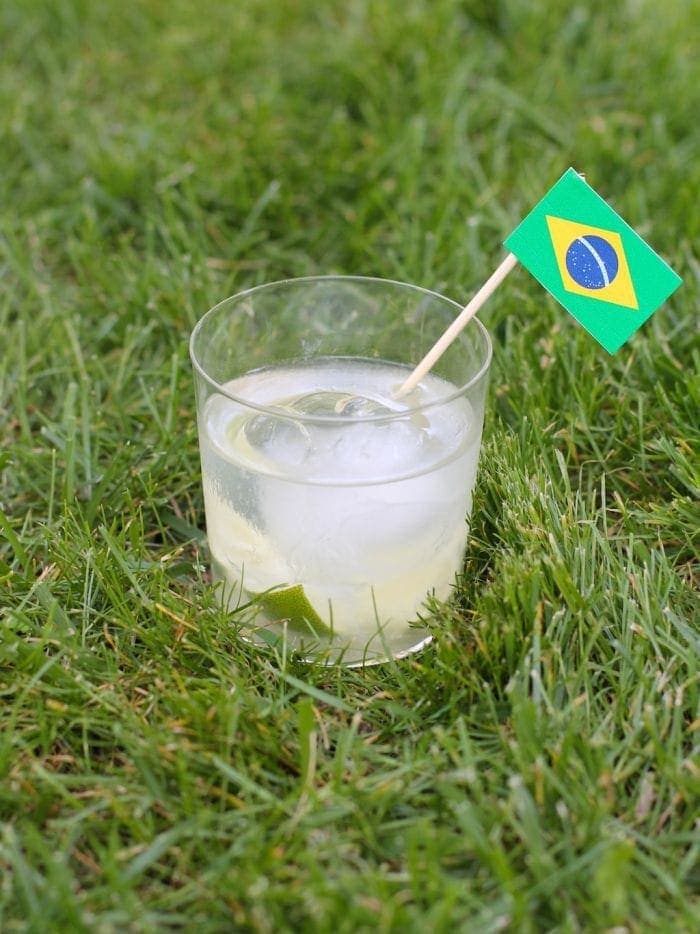 A Refreshing Brazilian Drink
Cachaça is made from fermented sugarcane juice. It's sometimes called Brazilian rum, although technically rum is made from molasses, which is refined sugarcane juice. So cachaça and rum are closely related but still different.
A fun fact about cachaça is that it must be made in Brazil to be considered the real thing. It's one of the most popular drinks in Brazil.
So if you're in the mood for some authentic South American flavor, give this caipirinha recipe a try. It is refreshing and delicious. Nothing captures the taste of Brazil quite like its national cocktail!
Caipirinha Recipe Ingredients
Lime – quartered
Sugar – white granulated or cane, cubes or teaspoons
Cachaça – any flavor
Ice – small cubes or crushed
Variations
Rum – Substitute cachaça with rum for a drink called caipiríssima.
Vodka – Substitute cachaça with vodka for caipiroska.
Fruit – Caipirinha with fruit is called caipifruta and it is so good! Think of other citrus fruits such as mango, kiwi, pineapple, and strawberries. Keep a little lime for flavor.
How to Make Caipirinha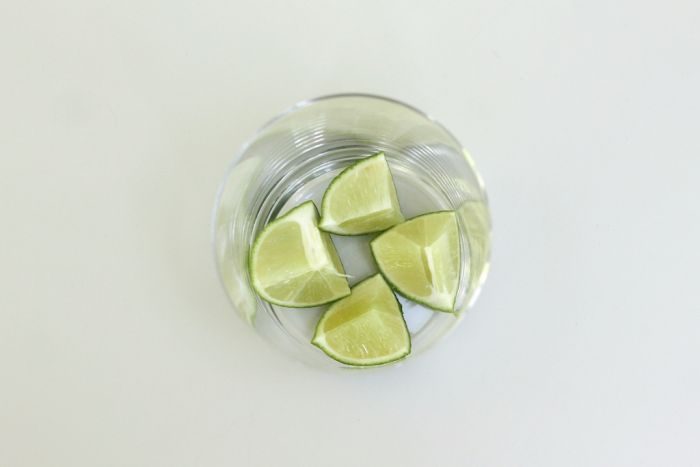 In a large and sturdy glass, muddle (mash) lime quarters and sugar. Use a muddler or a wooden spoon to press down and extract as much lime juice as possible.
Add cachaça and ice. Stir thoroughly.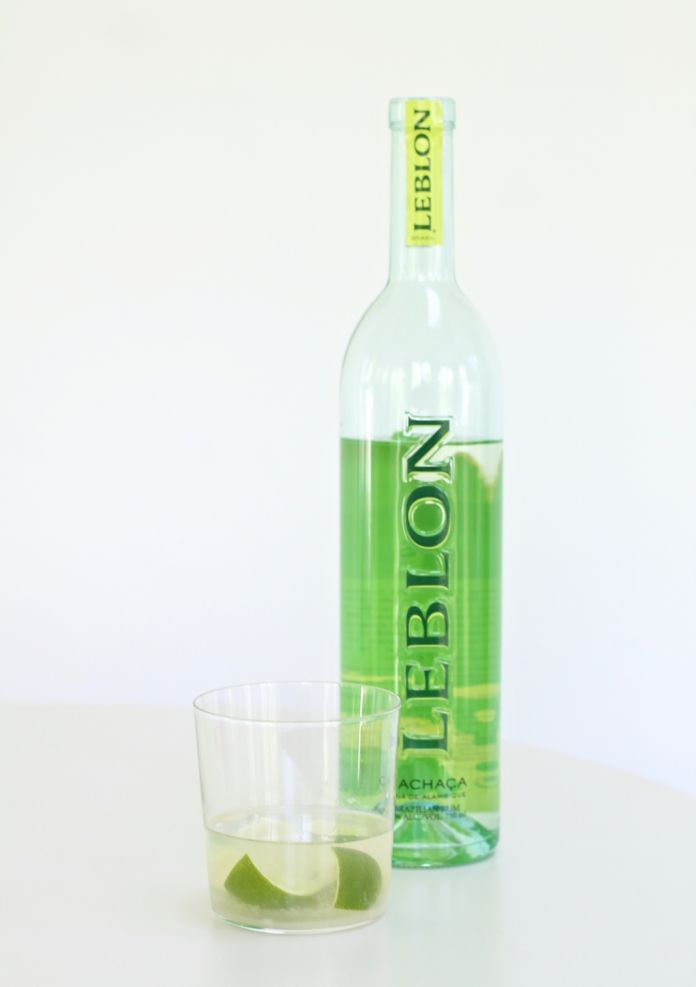 Three ingredients (+ ice) and two easy steps – can a recipe be any easier? Trust me, you'll find yourself looking for reasons to mix up this caipirinha cocktail recipe!
Tips for the Perfect Caipirinha Cocktail
Remove pith – Cutting out the white part of the lime, the pith, will yield a less bitter drink.
Strong glass – Use a sturdy glass to prevent it from breaking during the muddling process.
Adjust flavor – Adjust the amounts of lime and sugar until you get just the flavor you want.
Crushed ice – Any ice will do, but crushed ice will melt more quickly, diluting the stronger flavors of the drink.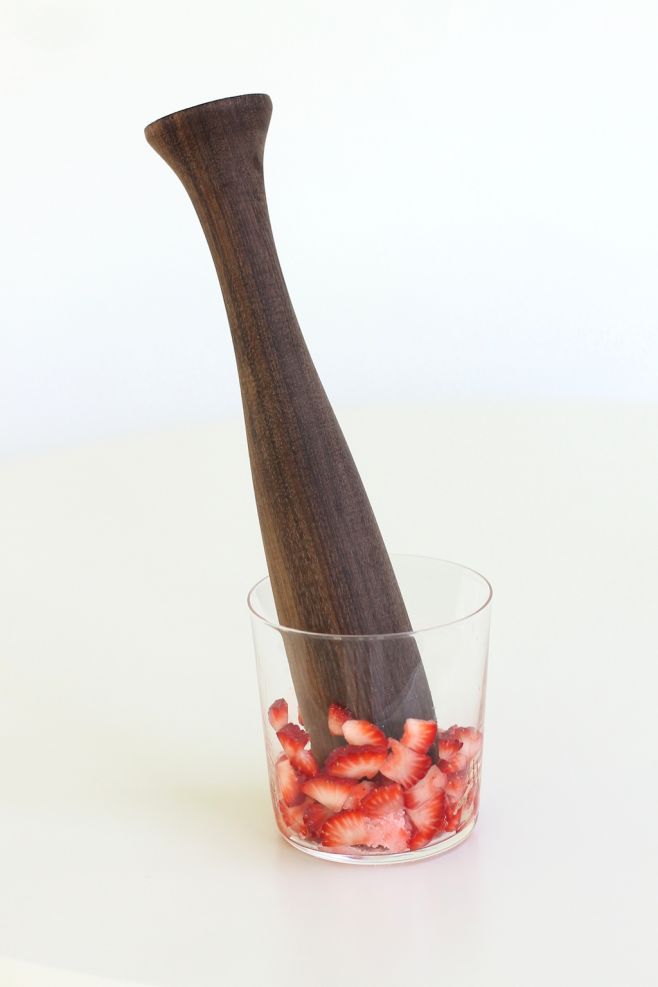 Strawberry Caipirinha Cocktail
I happened to have some fresh strawberries on hand and decided to make a rustic strawberry daiquiri – just a little twist on the traditional caipirinha on ice rather than frozen. It was heavenly and had far fewer calories than a traditional daiquiri!
You're probably going to want more than just one cocktail at your next gathering, so check out all my other cocktails that are great for parties!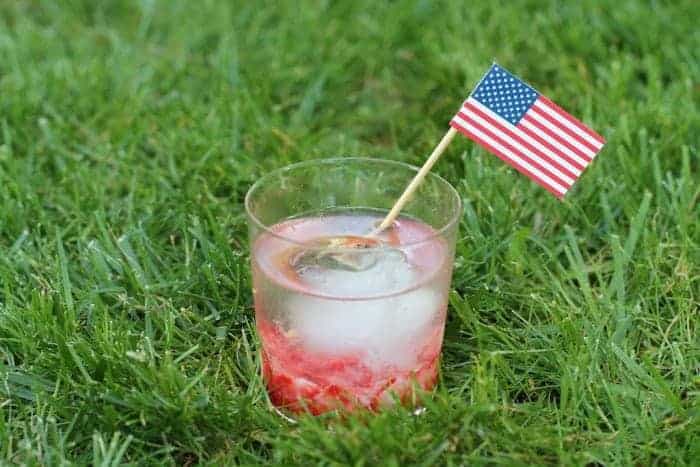 Frequently Asked Questions
What is in a caipirinha?
Traditional Brazilian caipirinha is made with three ingredients + ice. All you need is a lime, sugar, and cachaça.
What alcohol is in a caipirinha?
The alcohol content is between 38 – 55%, similar to vodka. Crushed ice will melt and dilute some of the alcohol, or you can add a little water.
Is cachaça a rum?
Rum is made from molasses (refined sugar cane) and cachaça is made from fresh sugar cane juice. The two are similar but still different.
What is the difference between caipirinha and mojito?
These two drinks are like cousins – they are made similarly, but they taste completely different! Caipirinha is made from cachaça, lime, and sugar, and mojito is made from rum, mint, and sugar.
Looking for more fun party cocktails? Check out this DIY Mojito Bar for the ultimate self-serve bar set-up!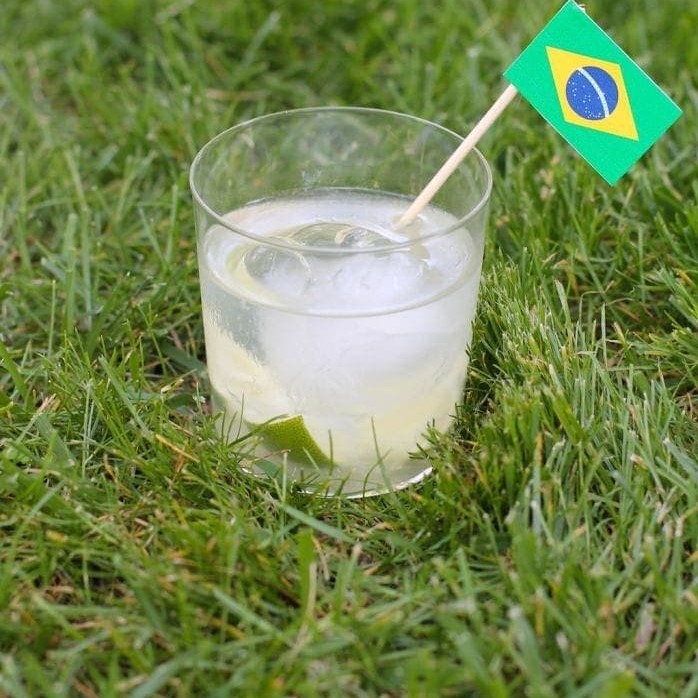 Caipirinha Cocktail
A delicious signature caipirinha recipe for your next party. This Brazilian drink is reason to celebrate!
Ingredients
½

lime

quartered

2

teaspoons

white granulated sugar

(or 2-3 sugar cubes)

2

ounces

cachaça

ice
Instructions
Muddle limes and sugar in a cocktail glass, using a muddler or wooden spoon.

Add cachaça and ice. Stir well.
Tips
If you don't like your cocktails very strong you can reduce the amount of

cachaça

.
Increasing the amount of sugar will help sweeten the drink as well.
For strawberry caipirinha, substitute strawberries, sliced and quartered, in place of lime. You can keep some lime, if desired, for flavor.
Calories:
222
kcal
|
Carbohydrates:
16
g
|
Protein:
1
g
|
Fat:
1
g
|
Saturated Fat:
1
g
|
Sodium:
1
mg
|
Potassium:
73
mg
|
Fiber:
1
g
|
Sugar:
15
g
|
Vitamin C:
28
mg
|
Iron:
1
mg
Estimated nutrition information is provided as a courtesy and is not guaranteed.
Explore More