This DIY fabric pin board is quick, easy and inexpensive. It makes the perfect finishing touch for a kid's bedroom, allowing them to display their art and a few of their favorite things!
Fabric pin boards are my favorite type of decor – they're beautiful and functional. The wood frame is ornate enough to add a lovely dimension to the room, and the fabric adds a soft layer of texture.
It's the perfect backdrop for favorite photos, artwork, and special items. It puts them within easy reach and makes it easy to switch out whenever we wish to.
A pin board is not only perfect in a child's bedroom, but works well in a home office, or a kitchen for to display your menu or busy schedule.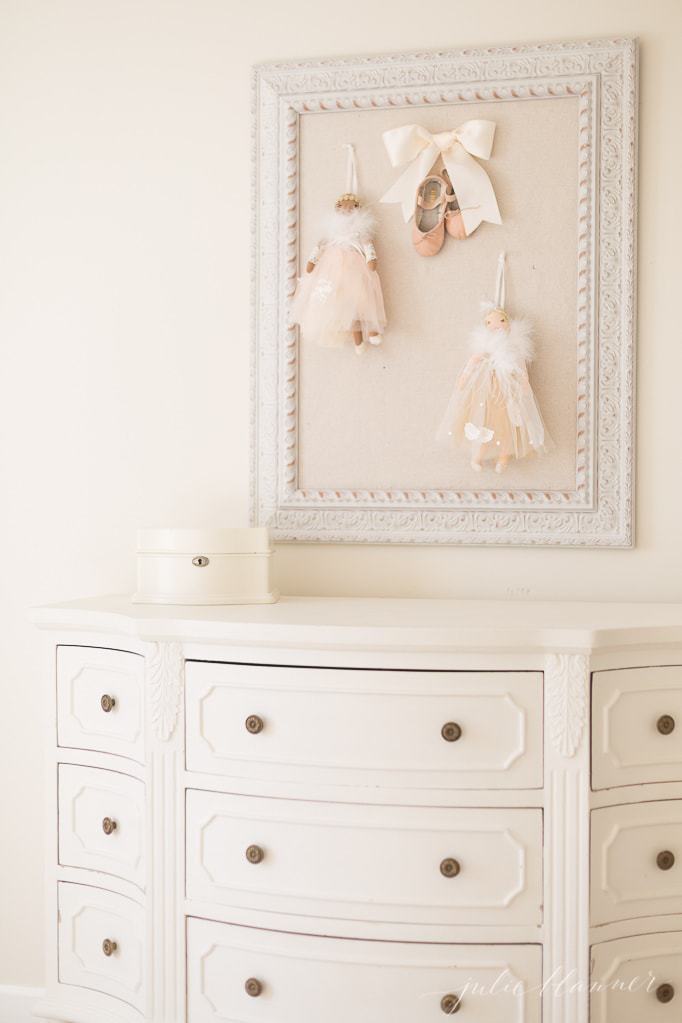 What You Need to Make Pin Board
Fabric
Select your favorite pattern – the options are endless!
For a subtle and simple background, you can use osnaburg, which is only $3/yard. Osnaburg has a coarse, plain weave to it. It's a perfect fabric for a pin board. Not only does it add a lovely texture to the finished product, but the loose weave hides holes left behind by push pins. It has the appearance of linen, without the cost.
Frame and Cork Board
You can find cork pin boards at craft stores or purchase a frame. Cork is available in sheets or rolls at craft stores and online. Simply cut it to size to fit the frame of your choice.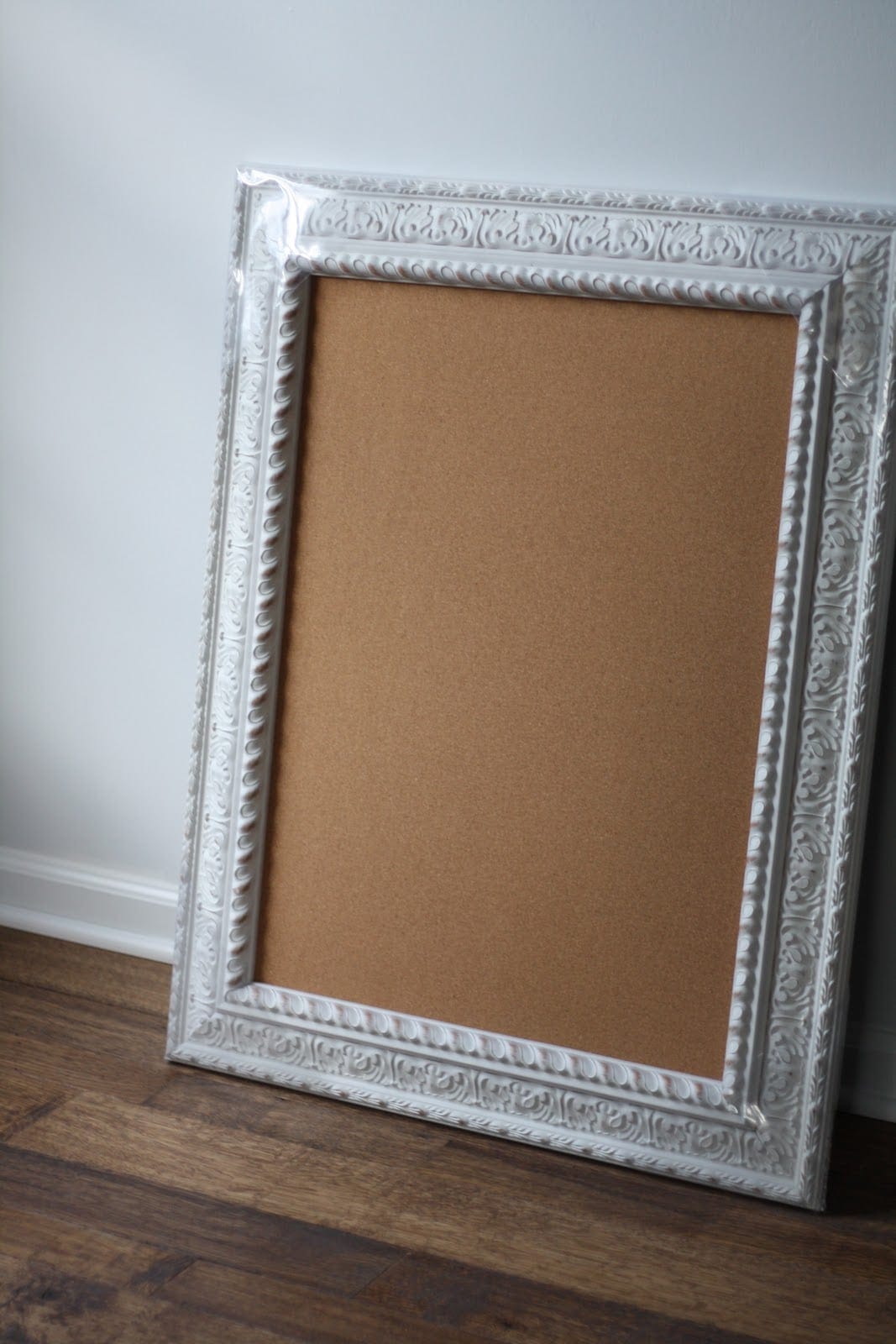 How to Make a Fabric Pin Board
To make your own DIY Fabric Pin Board, check out the how-to card below for the full tutorial.
Remove Staples – Turn the frame onto its face on a large, flat surface. Using a flat (not sharp) knife, pry the staples along the frame's edge all the way up, so they are completely out of the way of the backing. Remove the backing from the frame.
Wrap Fabric – Iron your fabric and lay it on a large, flat surface, right side facing down. Lay your cork on the fabric, right side down. Layer the frame's original backing onto the cork, for extra stability. Ideally, you would use a staple gun and staples to secure your fabric around the cork. However, I used simple straight pins, and they worked fine.
Staple or Pin – Start by pinning one edge of the fabric, then pull the opposite side taut and secure with a pin. Continue pinning alternating sides of the fabric, pulling evenly as you go. Working your way around on opposite sides (rather than in a circle) ensures that you stretch your fabric evenly. Wrap the corners like you would a gift – fold one edge neatly, then the other, and secure with a pin. Use a pin in each corner and 3 – 4 pins along each side.
Reassemble Frame – Insert the fabric-covered cork board back into the frame and use the knife to bend staples back into place. Start to finish, this project took 15 minutes!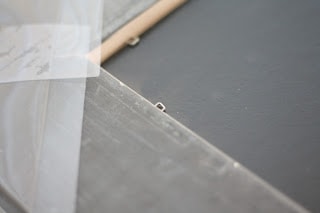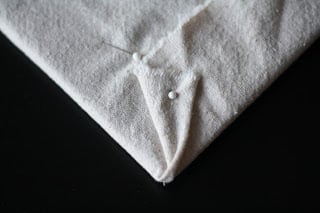 Hang your DIY cork pin board according to frame instructions or lean it against the wall. Use push pins to display photos, artwork, and special mementos.
This DIY pin board was the perfect finishing touch for my daughter's room. It was just what we needed to display special items and add a touch of whimsy.
This push pin board would also be great for pinning seating assignments for weddings and special events! Anything you can think to organize, this DIY pin board can help – and make it beautiful at the same time!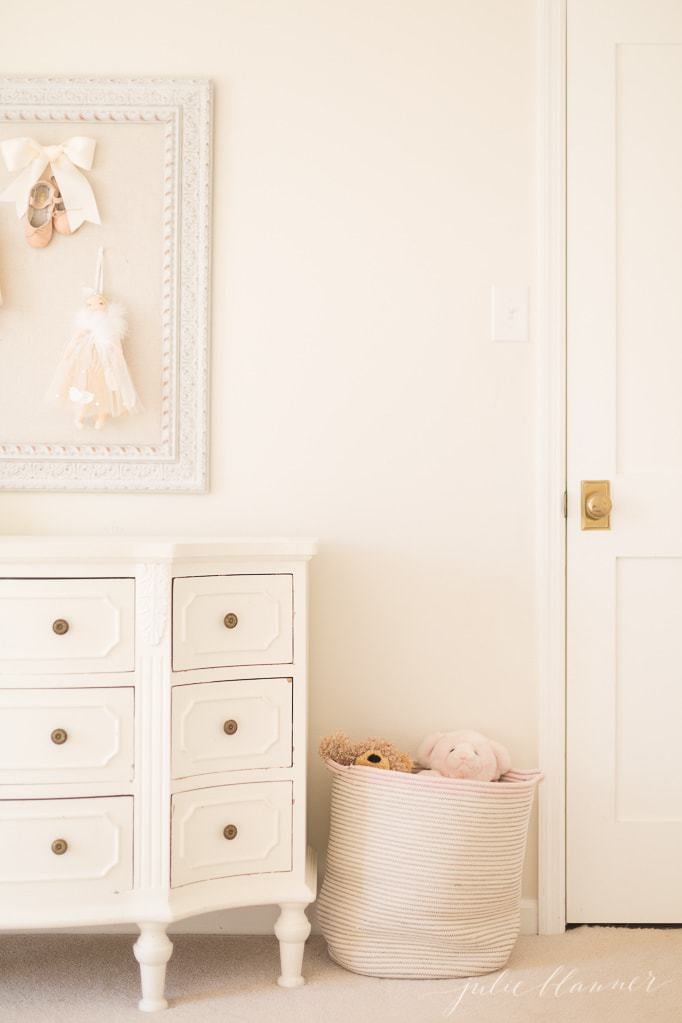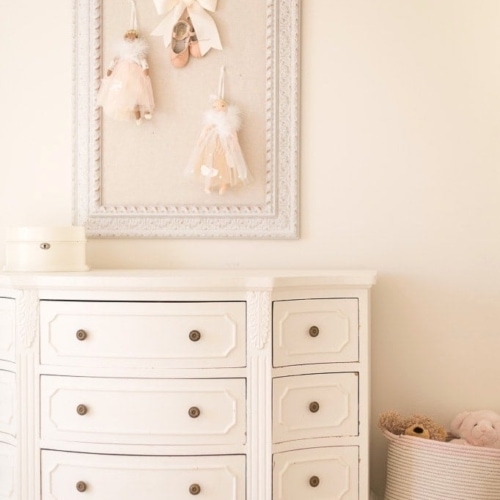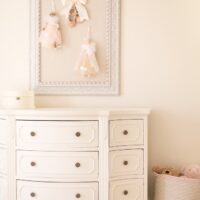 How to Make a DIY Fabric Pin Board
Make a beautiful and functional DIY Fabric Pin Board to display photos, artwork, and mementos.
Ingredients
Large Frame or Cork Board

Cork

Fabric
Instructions
Choose a large frame with cork board backing, or purchase a frame and cork separately.

Purchase enough fabric to cover cork. Cut to size, plus 2" margin on all sides.

Pry staples back from frame using flat knife. Remove frame backing.

Iron fabric. Layer fabric, cork, and frame back (right sides down). Wrap fabric around layers and secure in place with staples or pins. Secure alternating sides, pulling fabric taut as you go. Use one pin in each corner and 3 – 4 on each side.

Fold corners like gift wrap and secure in place. Reassemble fabric-covered board into frame and secure and bend staples back into place with knife.

Hang according to frame instructions.
Equipment
Staple Gun and Staples or Pins