Enjoy a glass of refreshing fruit infused water. Learn how to make it, plus different fruit combinations to try today!
If a simple squeeze of lemon or lime can upgrade your water, imagine what a true infusion of fruit can do! This healthy water is perfect for daily drinking and even serving at gatherings.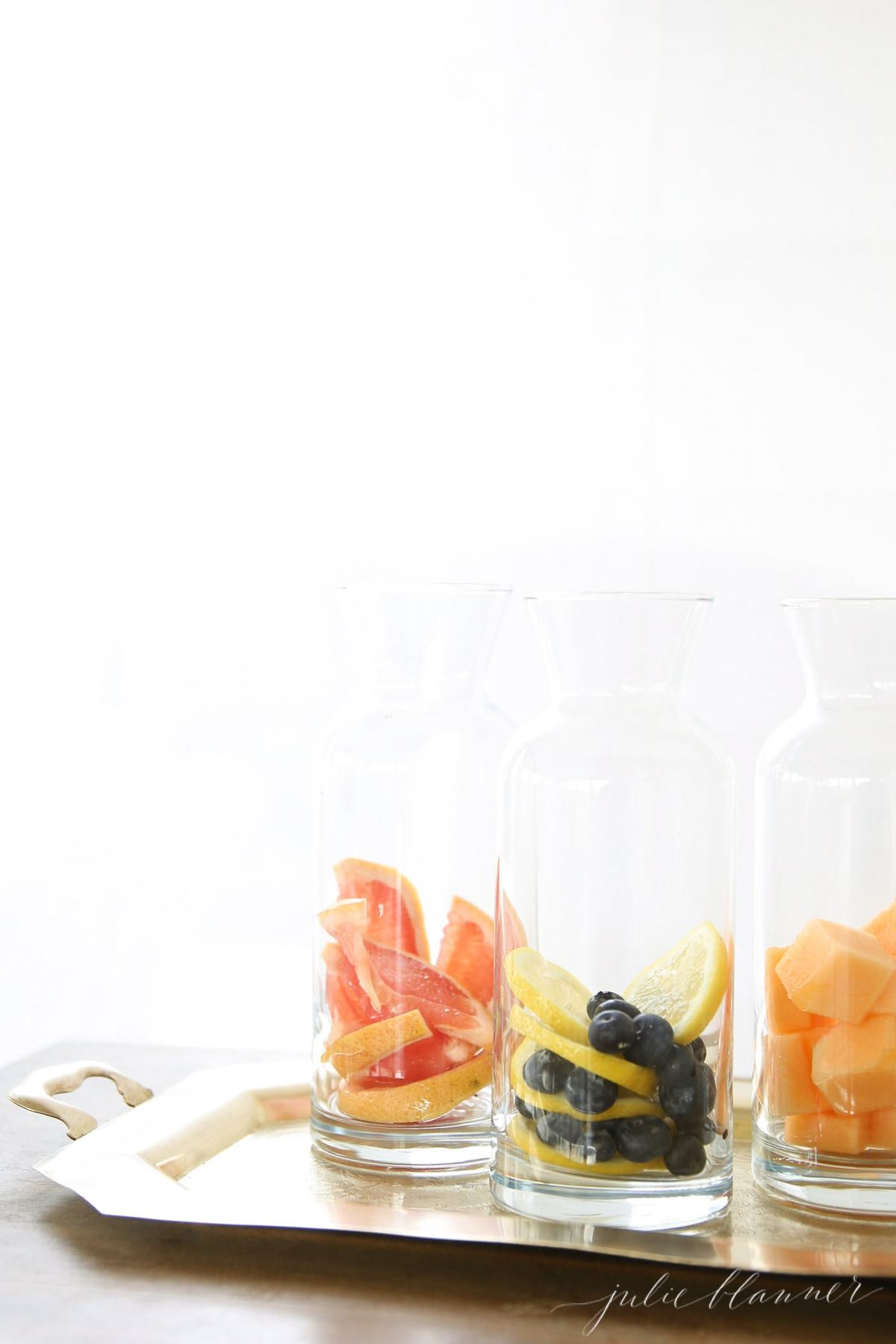 I've been drinking fruit water for years, long before I knew it was a "thing." To be honest, drinking water doesn't always sound appealing to me. Adding fruit to it helps, by giving it just enough of the flavors I love.
Most of us know we should be drinking more water than we are, but sometimes it's hard to get in the recommended amount. Before I started drinking fruit infused water, I was barely squeezing in 5 – 10 glasses a day. Now I drink 10 – 12! It's that good!
Maybe you have no trouble drinking water – you can still try this just for the fun of it! The flavors are delicious and there are so many different combinations you can try.
Not to mention the colorful fruit looks so pretty in a glass pitcher or individual glasses. Serve fruit infused water at your next brunch, shower, or special event. It would be perfect as a stand alone drink station, where guests could mix their own water combinations.
Did you know you can even grow your own Meyer Lemon Tree indoors? It's easy and looks so vibrant on a kitchen countertop. Just imagine drinking water infused with your own lemons!
And for another simple, refreshing drink, try my honey lemonade!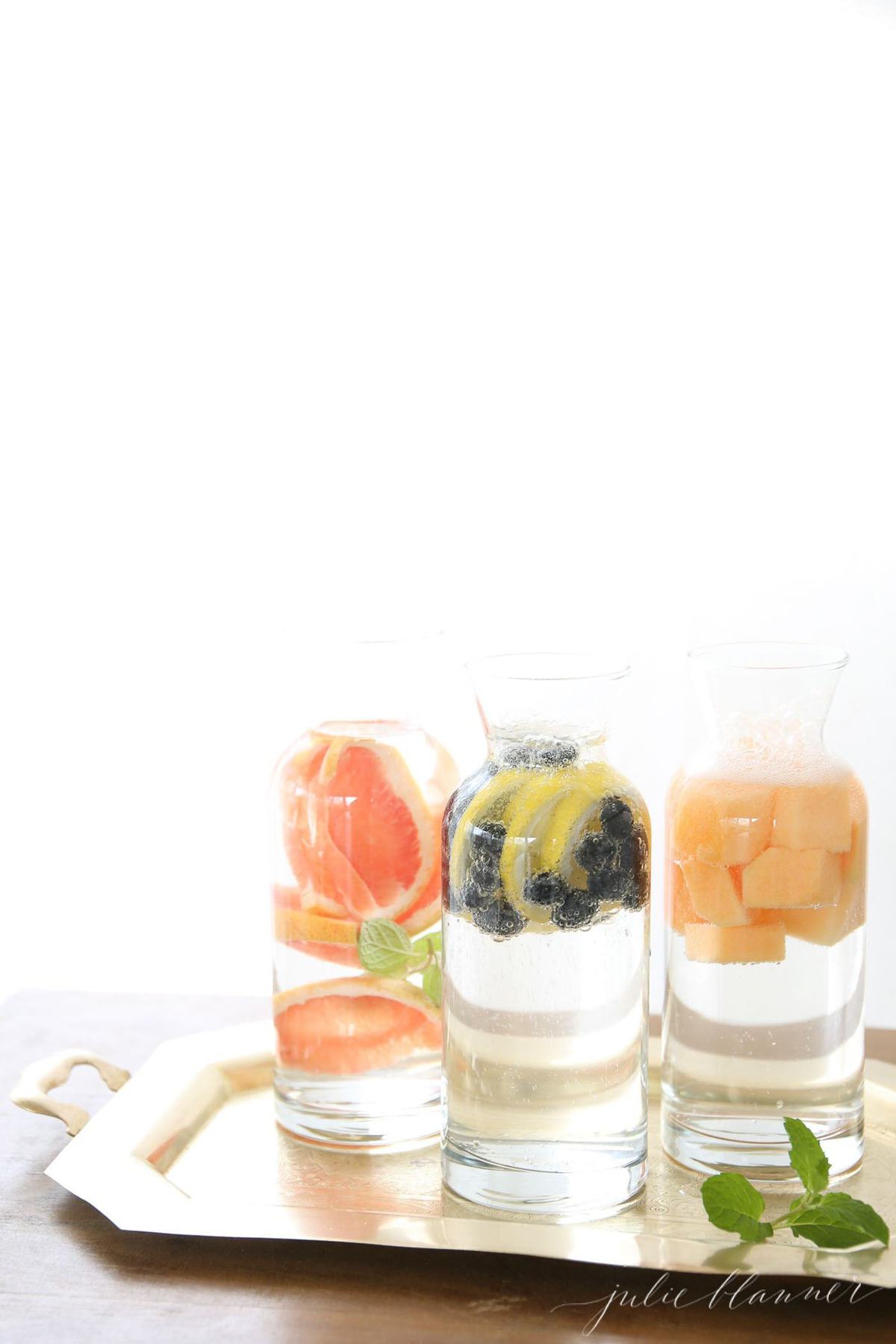 What Is Fruit Infused Water?
Fruit infused water is exactly what it sounds like. It's simply regular water that's had fruit left in it long enough for some of the fruit's flavor to infuse – or permeate – throughout.
It is healthier than fruit juice since it's just, well, water with the slightest hint of fruit. That means less natural sweetener and fewer calories. And it's way healthier than sugary carbonated sodas!
I've seen fruit water sold in stores and markets for $3 a bottle. That's expensive! But since I make mine at home, I have the luxury of creating an array of fruit infused water recipes, all based on whichever fruits I have on hand.
Benefits of Fruit Infused Water
Hydration

– You'll likely drink more water if you like the taste!

Vitamins

– Adds vitamins B & C. Vitamin C has been shown to benefit the immune system.

Digestion –

Drinking more water in general helps with digestion, but if drinking fruit water helps, then that's a plus!

Flavor –

Has a subtle, sweet flavor that is so refreshing but adds very few to no calories.

Weight control

– Helps with weight loss if you use it to replace a sugary drink. Plus drinking plenty of water in general helps with weight loss and balance.
You've likely noticed that the benefits of drinking fruit water are nearly identical to those of drinking plain water. You're right! That's because the greatest benefits of fruit infusion really come from simply drinking more water, not necessarily from the fruit itself.
But like I said before, adding fruit to my water helped me enjoy drinking water so much that I doubled my intake! That's totally worth it!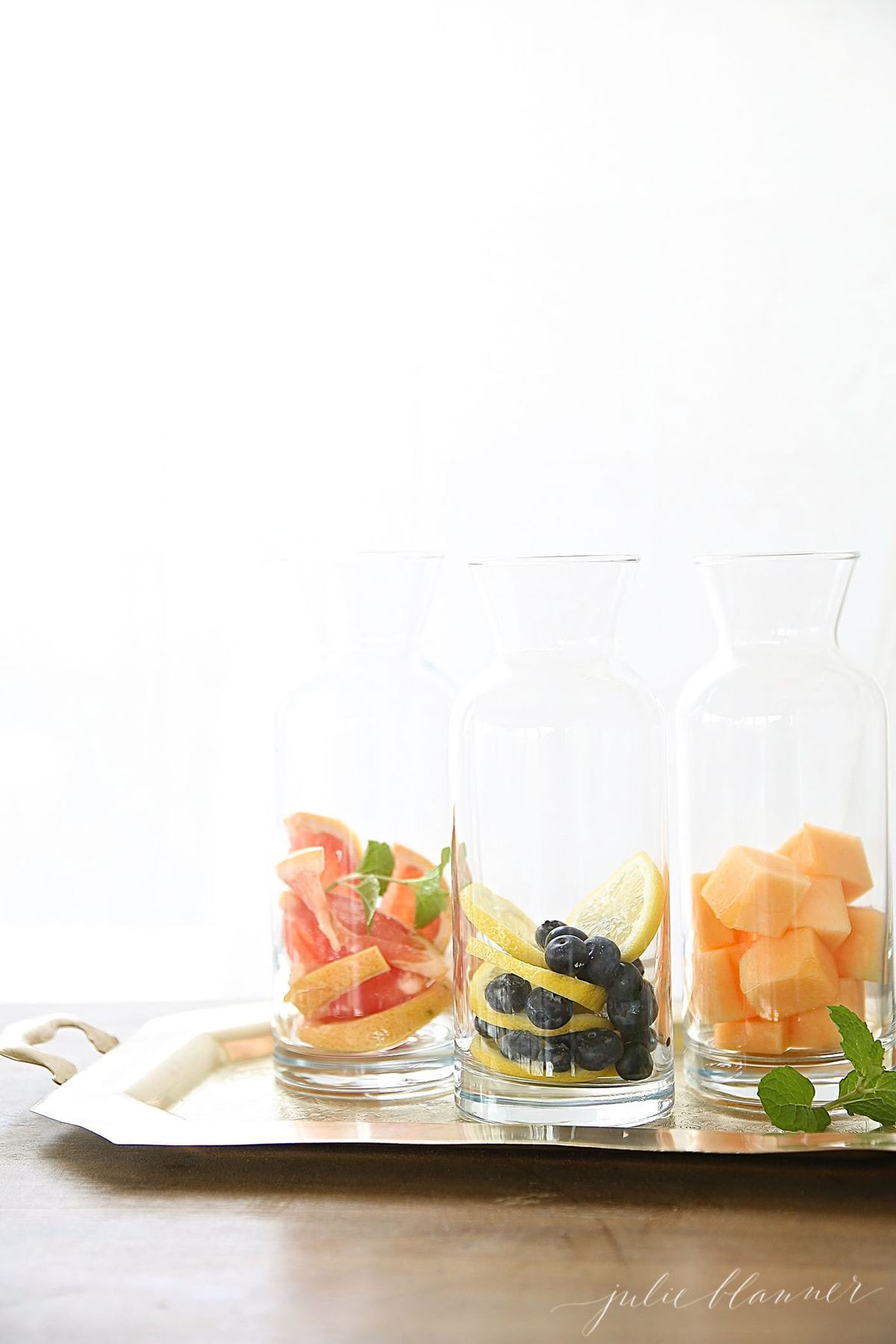 How to Make Fruit Infused Water
This is so easy, you'll want to try making some today!
You can use an Infusion Pitcher (affiliate link) to strain fruits, but any pitcher will do.
Wash your fruit and cut into slices or chunks. Small fruits such as blueberries can be left whole.

Add fruit into water in any amounts and combinations you prefer. I'll give you some ideas to try in just a bit.

Place pitcher in refrigerator and allow to infuse for at least 4 hours or overnight. Remove fruit from water before drinking or after 12 hours, since it will start to break down.

Keep refrigerated for 3 – 4 days. Enjoy its refreshing flavor!
Tips and Tricks
Play with fruit combinations and amounts to find your favorites.

The more of one fruit you have, the stronger its flavor will be.

You can still eat the fruit – it's delicious in baking, on oatmeal, or in smoothies!

Try adding some herbs for a subtle flavor – rosemary, clove, cinnamon

The flavor gets stronger the more the fruit breaks down, so if you want to speed up the infusion process, start by mashing up the fruit just a bit.

If you get some fruit pulp in your water, run water through a strainer before drinking.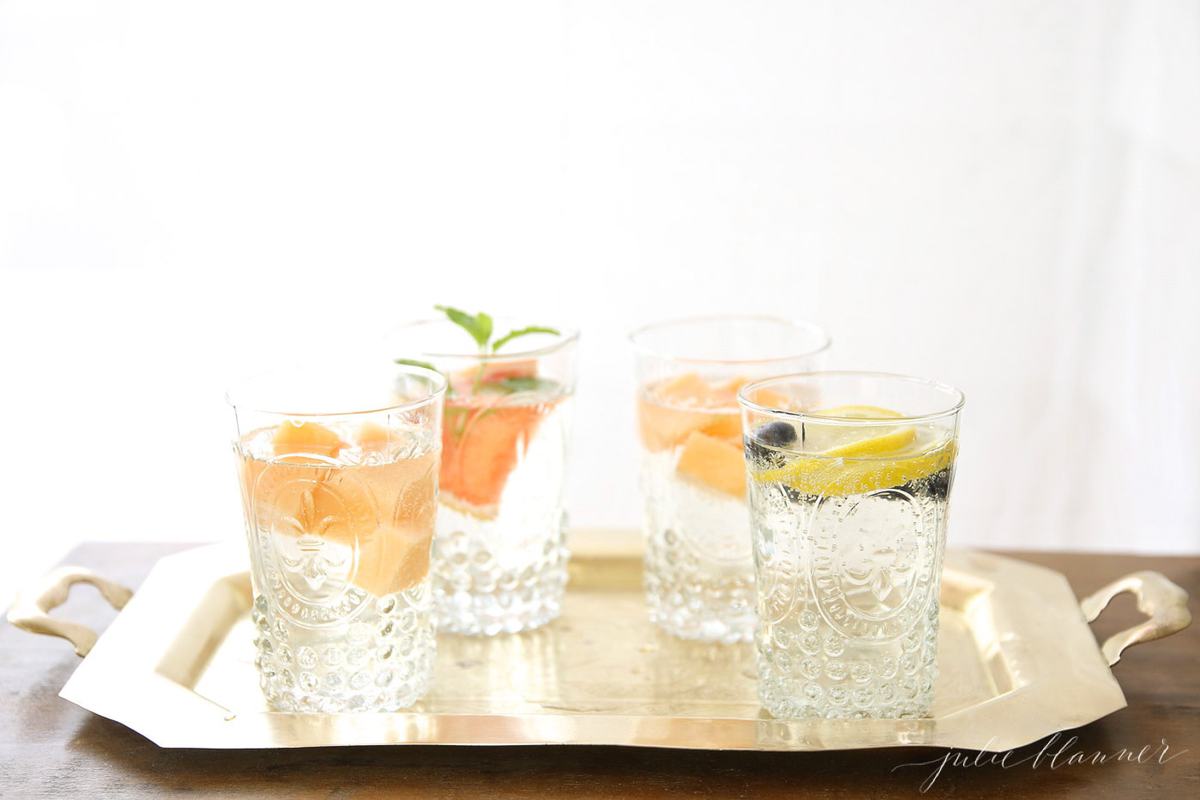 Fruit Water Combinations
Really, the possibilities are endless! Choose your favorite fruits. If you like, you can add your favorite herbs, such as mint leaves and cinnamon sticks. Maybe even throw in a vegetable like cucumber or celery!
There are no set "rules" to follow – it's whatever tastes good to you!
Here are just a few ideas to get you started:
Blueberry + Lemon –

See full printable recipe below!

Strawberry + Lemon + Mint

Lemon + Orange + Lime

Lemon + Raspberry

Pineapple + Strawberry

Apple + Pear + Cinnamon

Kiwi + Orange

Kiwi + Cucumber

Strawberry + Watermelon

Cranberry + Orange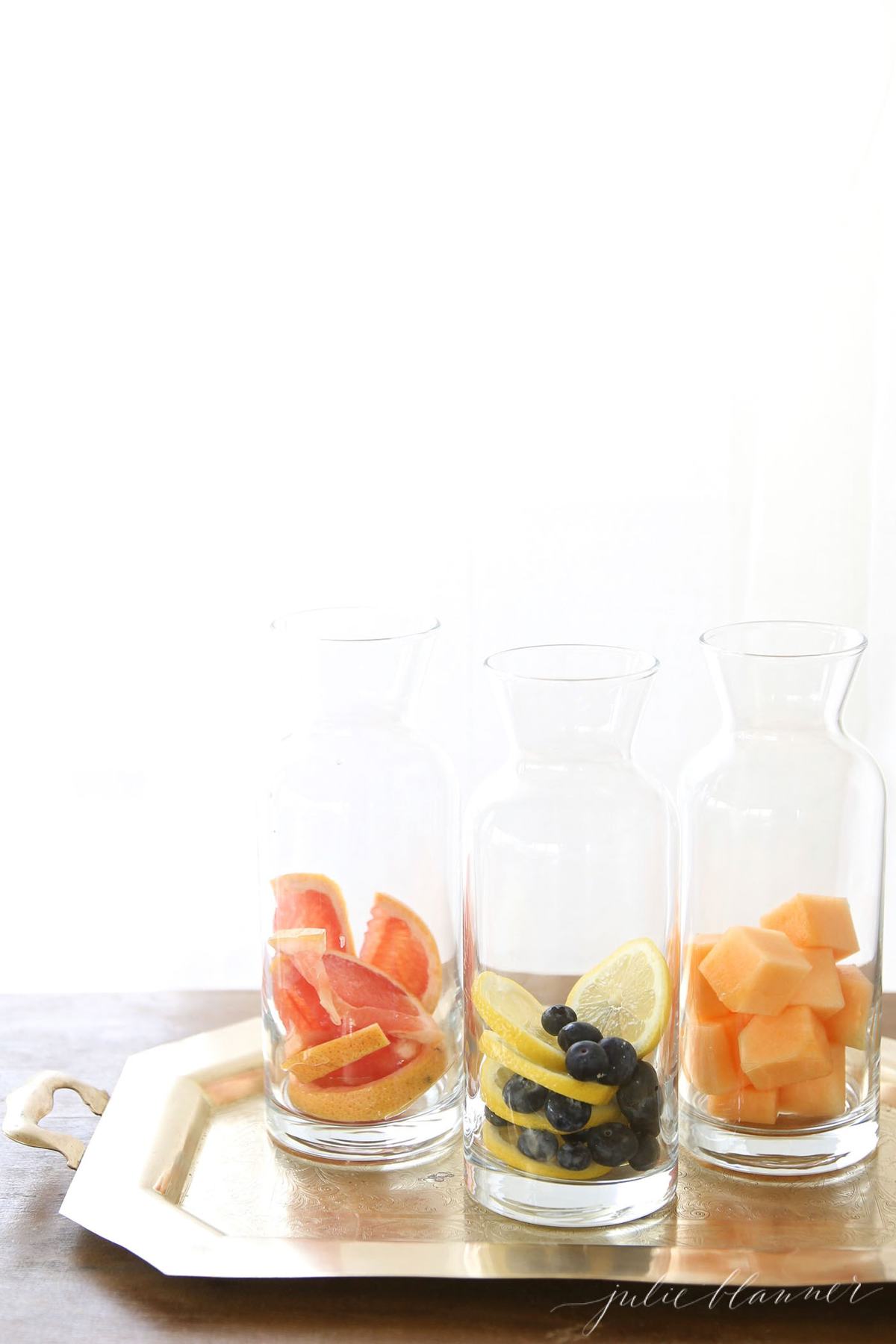 Frequently Asked Questions
Is drinking fruit infused water good for you?
Yes! It gives you added Vitamin B & C, plus flavor without the added sugar and calories of juice and soda. Most of the benefits of drinking fruit infused water, however, are the same as drinking plain water. Staying hydrated in general is great for you! But if fruit water helps you reach for more water, then why not try it?
How long can I keep fruit infused water?
You should let the fruit infuse for at least 4 hours (up to 12) for the best flavor. It can keep for up to 4 days in the refrigerator, but you may want to remove citrus peels a bit sooner to keep the water from getting a bitter flavor.
Can you eat the fruit in infused water?
Yes, you can eat the fruit once you've used it to infuse your water. However, it may have an altered flavor and texture. So you may want to try it in baking, on oatmeal, or in smoothies.
Can I use frozen fruit in infused water?
Yes, frozen fruit makes great infused water. You can purchase already frozen fruit, or freeze your own ahead of time. Prepare your water in the same way you would with fresh fruit and enjoy the same refreshing results!
I love making parties feel special, but I also need to keep them simple – this fruit infused water fits the bill so I use it often. This water "recipe" is perfect for summertime gatherings and one of the best Baby Shower Recipes, too.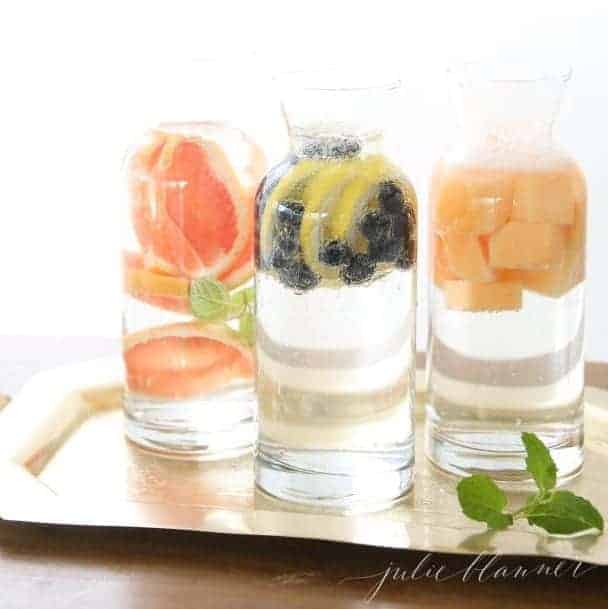 Blueberry Lemon Infused Water
Easy and refreshing blueberry lemon infused water recipe.
Ingredients
3

cup

water

1/4

lemon

sliced

1/4

cup

blueberries
Instructions
Add fresh lemon slices and blueberries to a pitcher or carafe of water.

Allow to infuse for at least 4 hours or overnight.

Remove fruit before drinking or after 12 hours.
Tips
Refrigerate 3 – 4 days.
Can use leftover fruit in baking, on oatmeal, or in smoothies.
Serving:
1
g
|
Calories:
9
kcal
|
Carbohydrates:
2
g
|
Sodium:
12
mg
|
Potassium:
12
mg
|
Sugar:
1
g
|
Vitamin C:
5.9
mg
|
Calcium:
8
mg
Estimated nutrition information is provided as a courtesy and is not guaranteed.
Explore More