Make it festive this holiday season with a delicious Cranberry Cheese Ball shaped like Santa's hat!
This is the cutest way to bring a holiday appetizer to any gathering this season. It's not only charming, it's delicious and so much fun to make!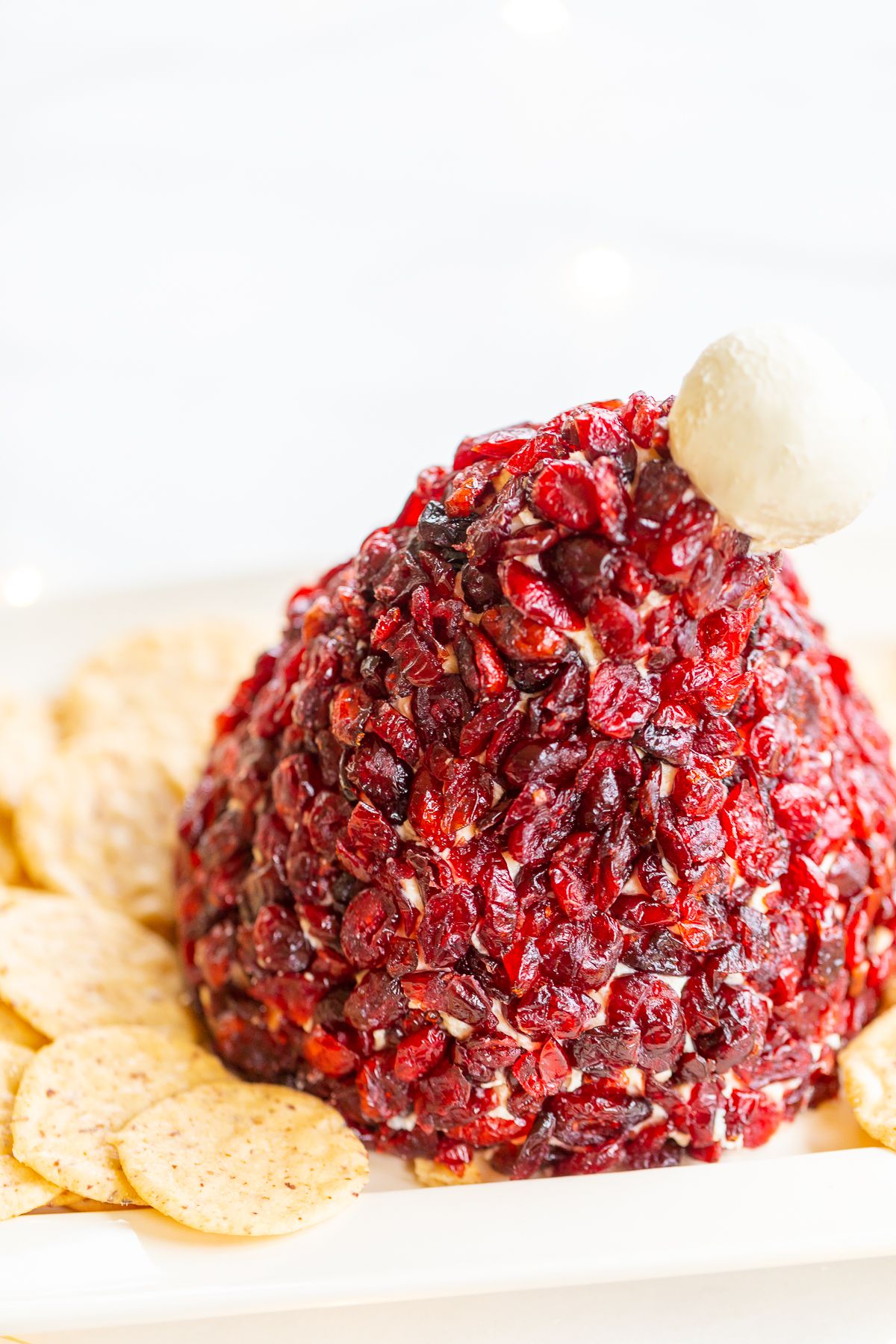 I've always enjoyed creating food that looks as good as it tastes when entertaining. It's the little things that can make occasions memorable! Whether you're bringing a single appetizer or curating the entire menu, make it count!
Santa's hat cranberry cheese ball does just that! It's a creative Christmas idea that will have everyone talking.
It's true, I love cheeseballs in every shape, flavor and style. Who can argue with ALL.THE.CHEESE? I've got your ultimate cheese ball guide right here – it's a round up of everything you need to know to make a killer cheeseball appetizer!
There's a Christmas cheese ball for everyone! Reindeer Bacon Cheddar Cheeseball, Pesto Cheeseball Wreath, Ornament Pomegranate Christmas Cheese Ball and Funfetti Dessert Snowman Cheese Ball.
It's fun to make, easy, delicious and most importantly, festive! 'Tis the season to be jolly and no one is jollier than the man in red! The best bonus of all is that cheese balls can be made ahead of time, too.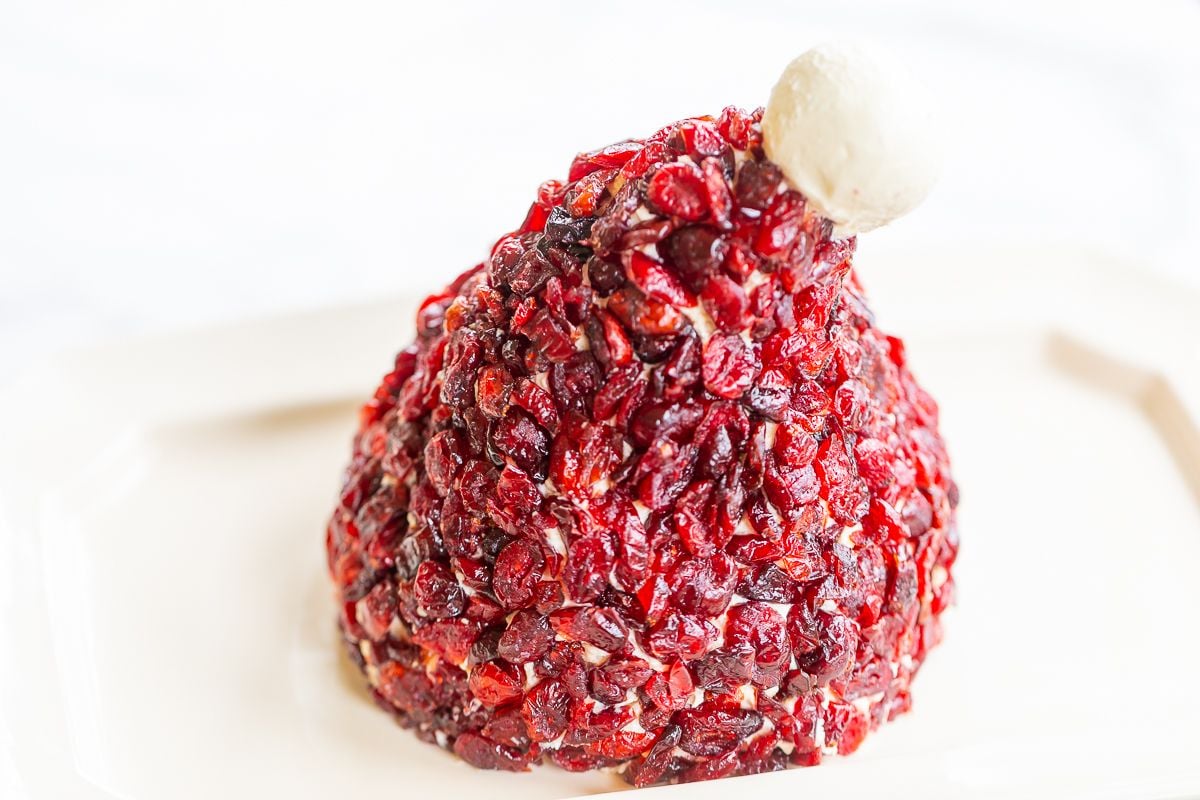 Why You'll Love this Cranberry Cheese Ball
So cute for a party
Easy to make
Great with a variety of crackers and dippers
Make ahead!
It's naturally low carb – serve with veggies for a low carb appetizer!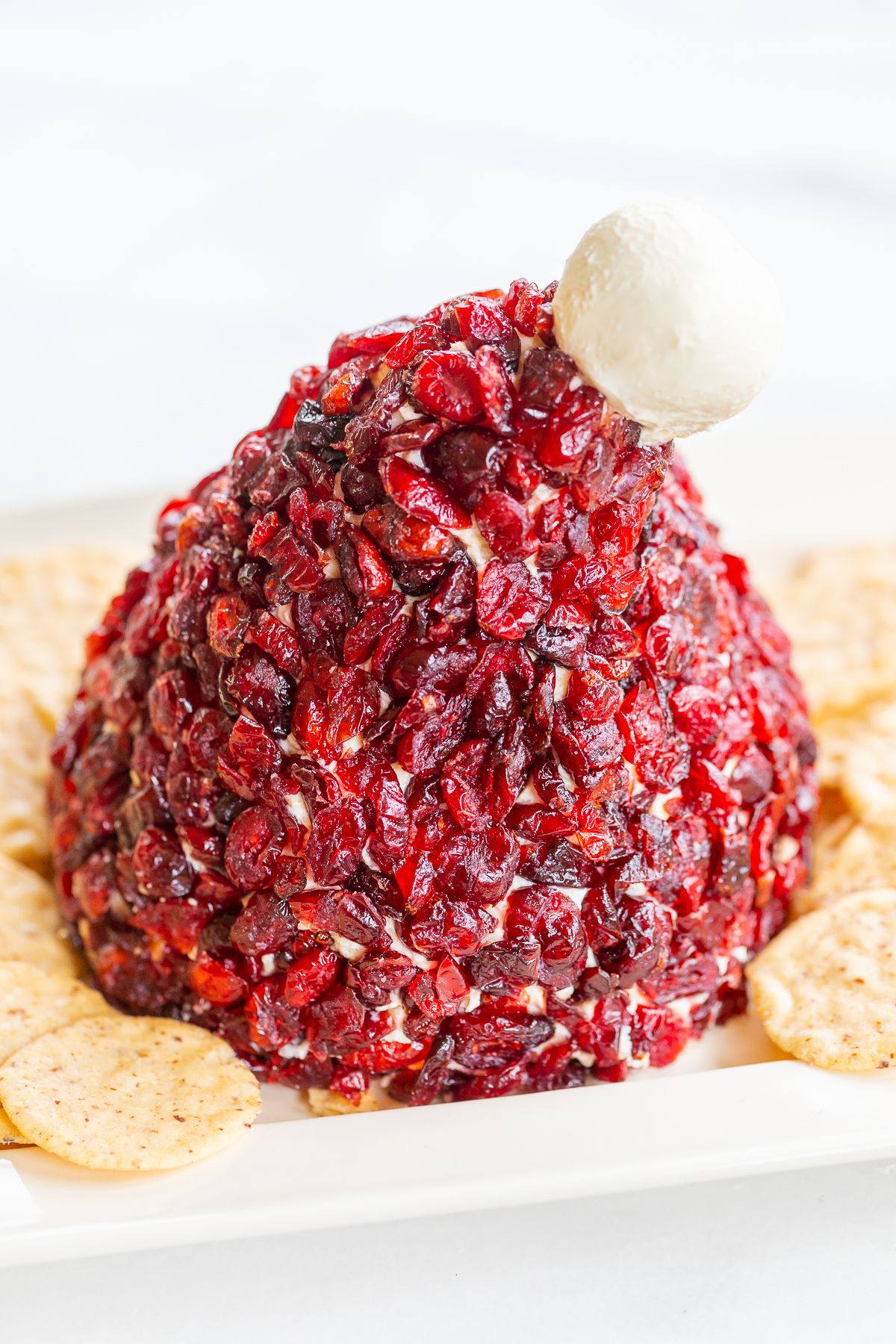 Ingredients and Substitutions
Cream Cheese – The base of all cheese balls, this gives it substance, yet maintains a creamy texture. You can learn How to Soften Cream Cheese here.
White Cheddar – Sharp cheddar adds a lot of flavor to this appetizer. When possible, freshly shred from a block for the creamiest results.
Worcestershire Sauce – a hint of Worcestershire adds so much flavor to this easy appetizer.
Garlic – You can use fresh garlic cloves, but I often opt for bottled minced garlic available at the grocery store It's one of my favorite shortcuts! In a pinch, substitute a teaspoon of garlic powder.
Dried Cranberries – Any kind will work!
Variations
Add half a cup of crumbled bacon
Chopped Pecans – you can add chopped pecans into the mixture or roll it into a ball and coat with cranberry pecans.
Green Onion or Chives – want to add a little spice? Green onion adds a little color and flavor.
Go Gorgonzola – substitute white cheddar with gorgonzola or blue cheese. It pairs well with the sweet tangy cranberries.
Make it miniature – create individual mini cheese ball bites and serve on a pretzel stick or toothpick.
Substitute Cream Cheese with Goat Cheese.
How to Make this Cranberry Cheese Ball
For the full printable recipe, see the recipe card below.
Combine – In a mixing bowl, combine cream cheese, cheddar and Worcestershire sauce.
Roll – mixture into a ball, press more on one side to create a hat. Set upright on a platter and continue to mold it into shape.
Coat with dried cranberry by rolling on top of parchment covered with cranberries or pressing them into the cheese ball one by one.
Top the Hat – roll cream cheese into a ball in the palm of your hand and insert a toothpick into the ball, then insert it into the top of the hat.
Cover with a piece of plastic wrap until ready to serve.
Serve with crackers, nut thins, pita chips, pretzels and or veggies.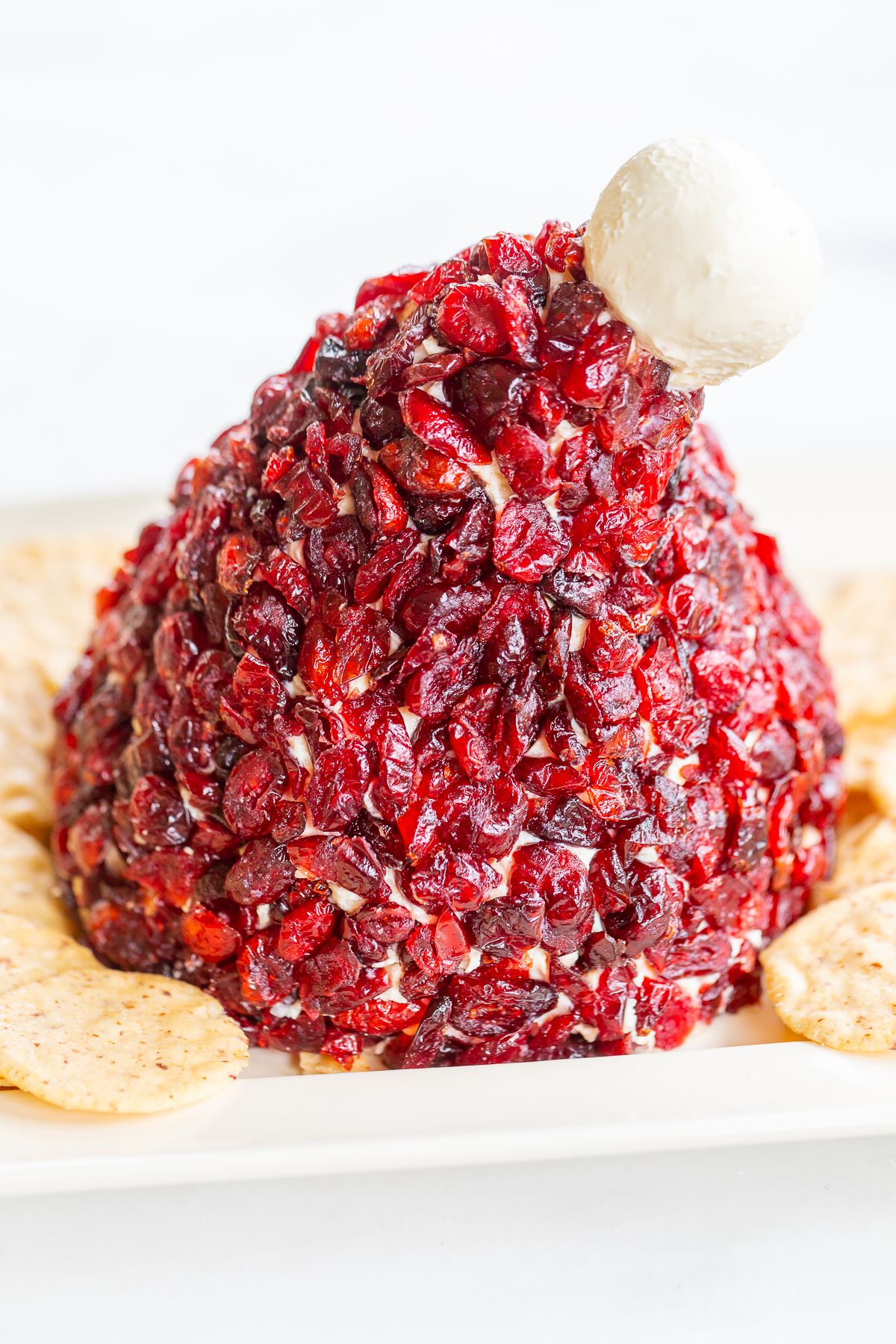 Tips
Cheese balls are a great make ahead appetizer. Store refrigerated up to a week wrapped in plastic wrap to maintain freshness.
Be sure to cover your cranberry cheese ball tightly. This not only helps it keep its shape when you refrigerate, but it prevents air from getting inside and drying it out before serving.
Fresh shredded cheese is always best! Pre-shredded bagged cheese is covered in substance meant to keep it from sticking – which also keeps it from a creamy finish in your recipes.
This is delicious at room temperature but it can certainly be served cold right out of the fridge. It's delicious either way, which is why it's such a perfect make-ahead party food!
Curious about freezing your cream cheese recipes? Read more in Can you Freeze Cream Cheese to learn all about what works and what doesn't!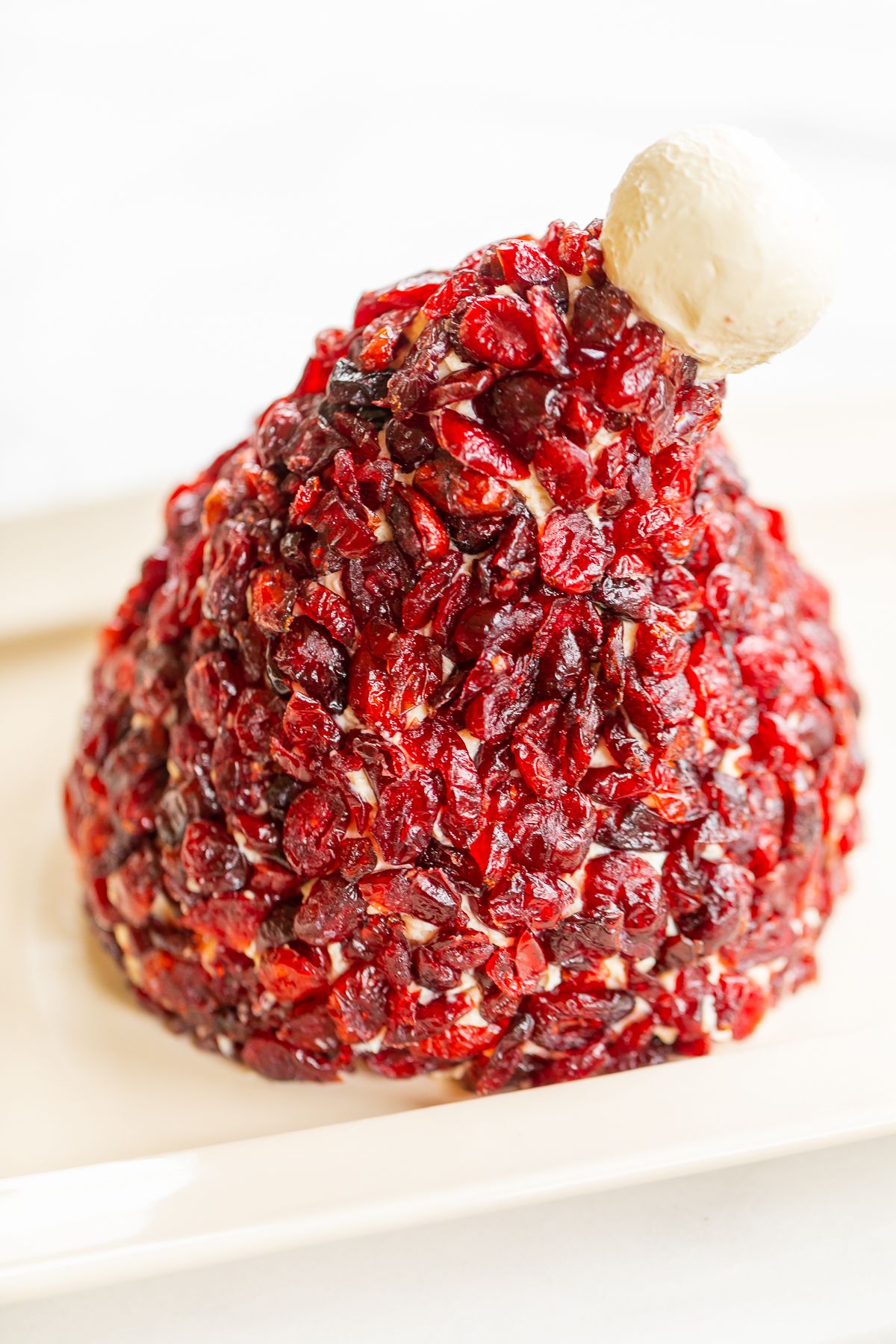 Frequently Asked Questions
What cheese goes well with cranberry?
Cranberries, whether dried or fresh, balance beautifully with tangy cheeses. Try with cream cheese, goat cheese, and all types of cheddars.
What kind of crackers go with a cheese ball?
Classic butter crackers go well with all types of cheese balls. They also serve well with sliced veggies, firm fruits, and pita chips, pretzels, and more!
Serving Suggestions
Pear and apple slices are firm for effortless spreading. Just toss them in lemon juice to prevent browning.
Carrots and celery are the perfect low-carb alternative to serve with a cheese ball.
Crostini – it's my favorite pairing! Crunchy crostini is the ultimate way to enjoy a cheese spread, especially when drizzled in olive oil.
Salty pretzels are great.
Buttery crackers are always a favorite with this cheese ball.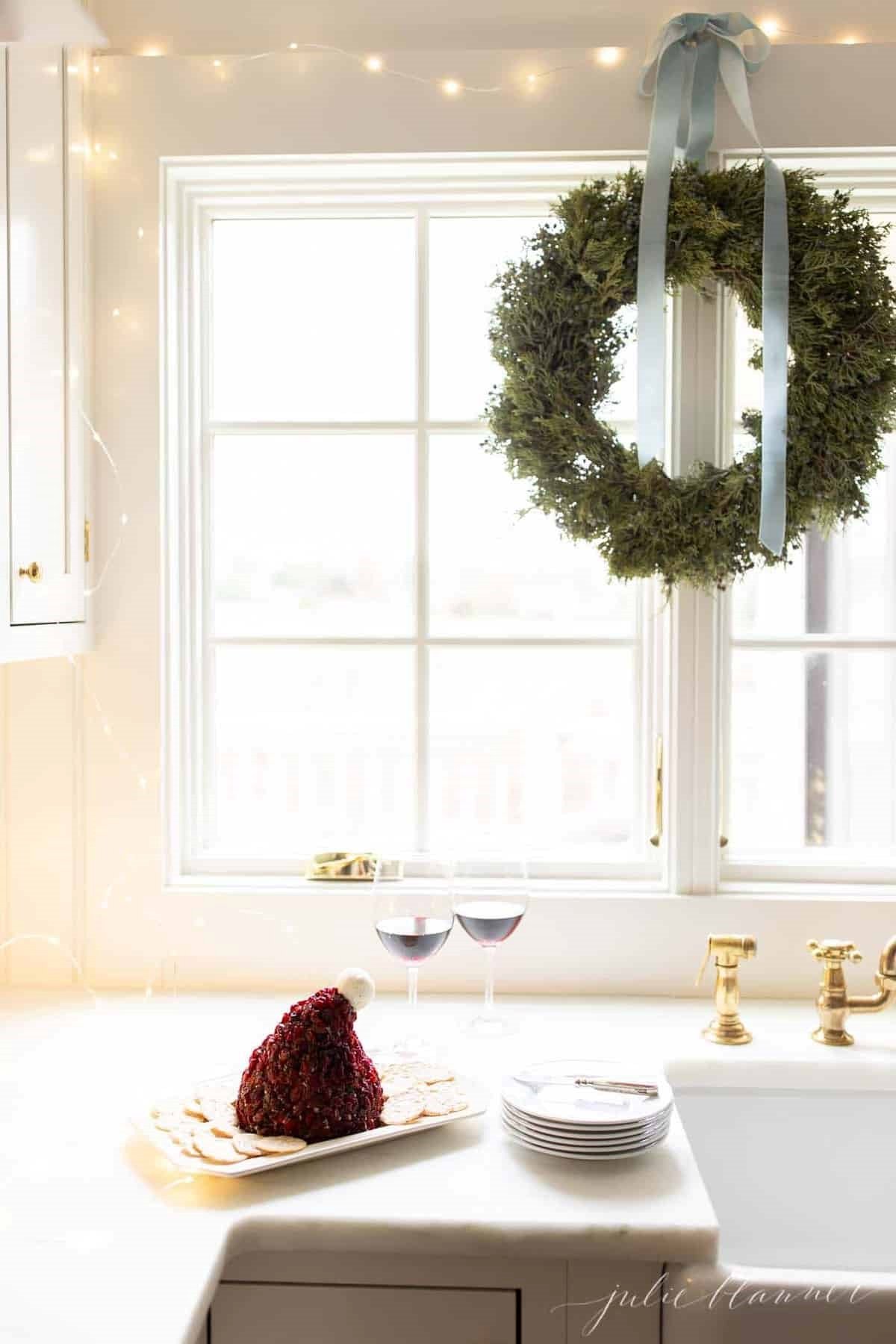 What to do with Leftovers
Use the leftover cheese ball melted into your favorite pasta dishes.
Add to sandwiches or wraps.
Add to egg dishes like quiche.
Top a salad with this leftover cheese ball.
Dietary Considerations
Gluten Free
Nut Free
Vegetarian
How to Store
At Room Temperature – You can leave this hedgehog cheese ball out for up to two hours while serving.
Refrigerate – Make this cheese ball up to one day in advance and store tightly wrapped (prior to adding toppings). Store for up to one week in the refrigerator.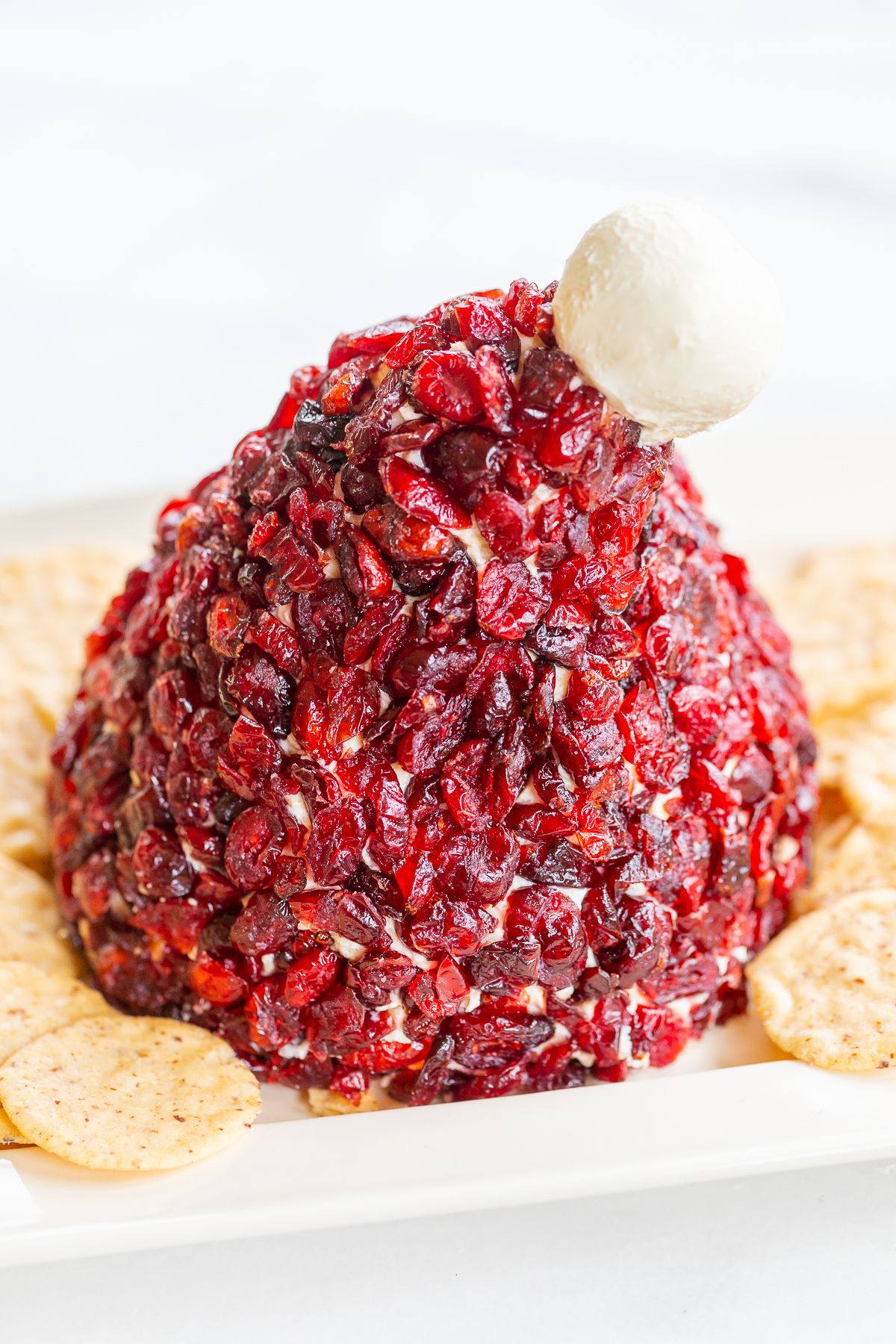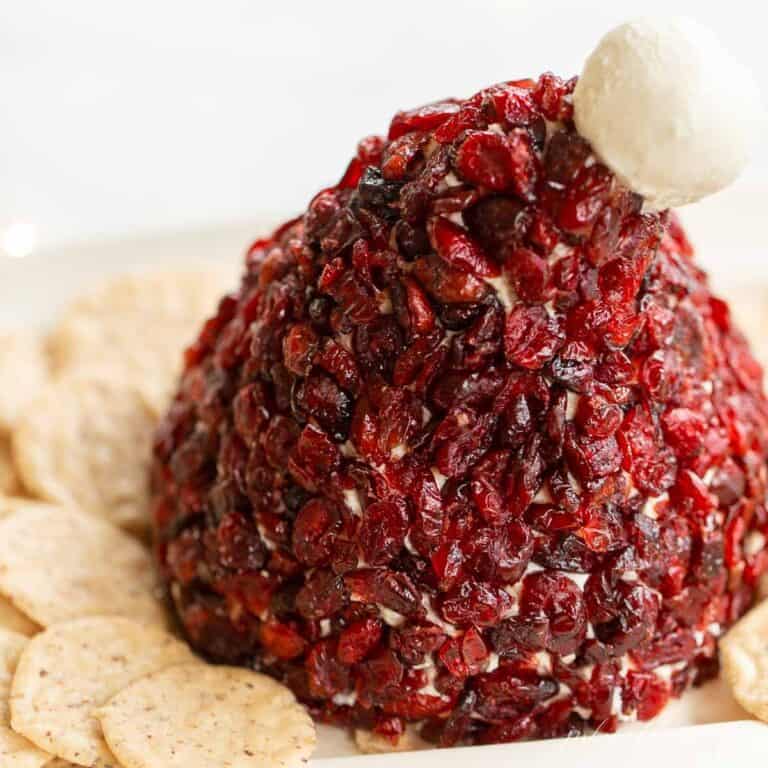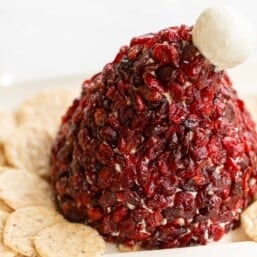 Cranberry Cheese Ball
Make it festive this holiday season with a delicious Cranberry Cheese Ball shaped like Santa's hat!
Ingredients
16

ounces

cream cheese

softened

16

ounces

white cheddar cheese

shredded

1

tablespoon

garlic

minced

2

teaspoons

Worcestershire sauce

6

ounces

dried cranberries
Instructions
Combine cream cheese (less a small handful to create a ball for the hat), cheddar cheese, worcestershire sauce and garlic in a mixing bowl.

Roll onto parchment lined in dried cranberries. Place on platter.

Optional: roll cream cheese into a ball, insert toothpick and insert it into the top of the hat.

Cover with plastic wrap and refrigerate until ready to serve. Allow to set out 20 minutes before serving with crackers, pretzels, pita chips or veggies.
Tips
Add Chopped Pecans

Add Green Onion or Chives
Substitute White Cheddar with Gorgonzola
Substitute Cream Cheese with Goat Cheese
Store refrigerated up to a week wrapped in plastic wrap to maintain freshness.
Calories:
164
kcal
|
Carbohydrates:
7
g
|
Protein:
6
g
|
Fat:
13
g
|
Saturated Fat:
8
g
|
Cholesterol:
41
mg
|
Sodium:
183
mg
|
Potassium:
51
mg
|
Fiber:
1
g
|
Sugar:
5
g
|
Vitamin A:
443
IU
|
Vitamin C:
1
mg
|
Calcium:
157
mg
|
Iron:
1
mg
Estimated nutrition information is provided as a courtesy and is not guaranteed.
Explore More