Making blistered tomatoes adds smoky flavor and intensifies the sweetness of cherry tomatoes, making them extra delicious! Ready in as little as 5 minutes, this is a recipe you'll find yourself making all summer long.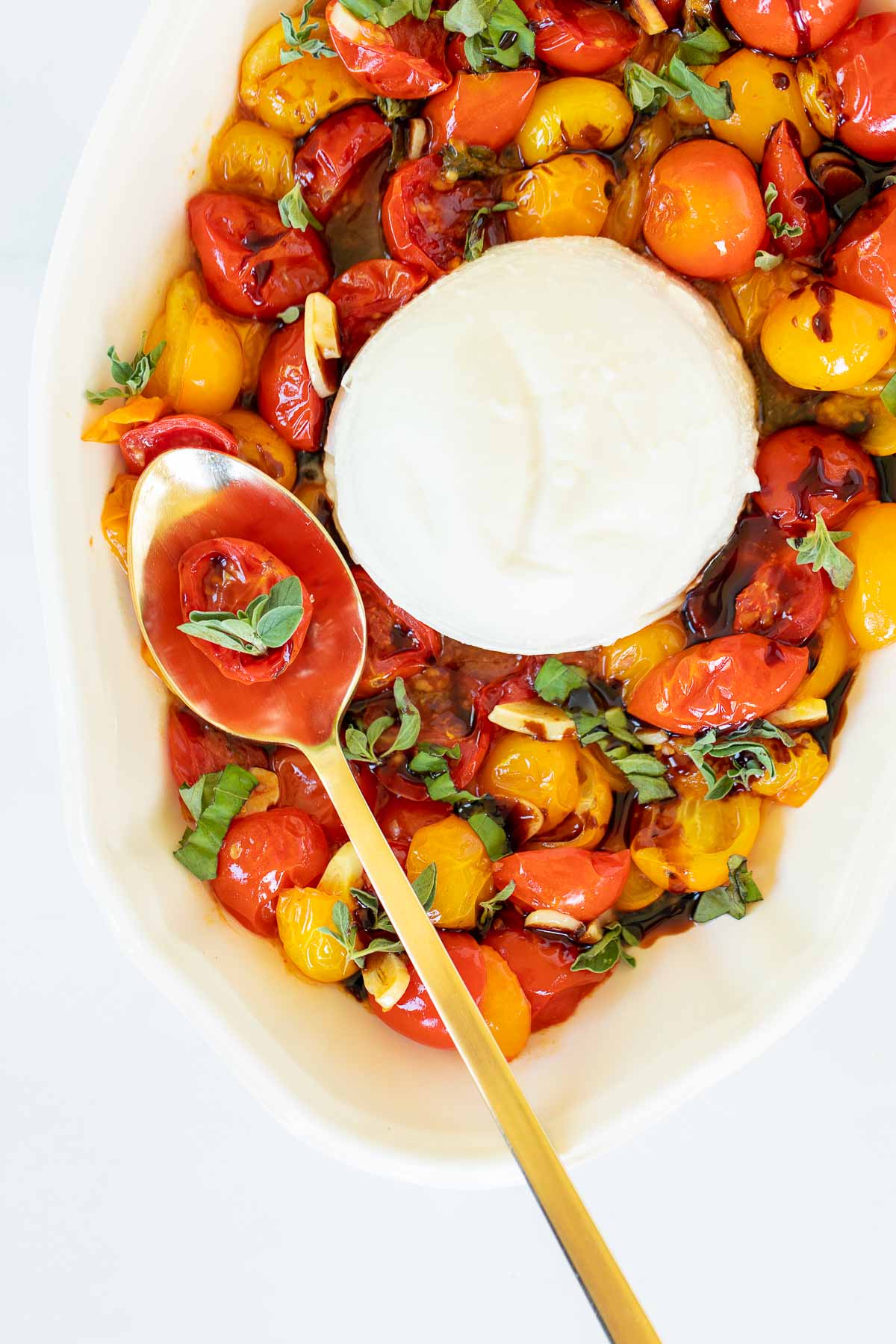 Is there anything better than sun-ripened cherry tomatoes? Whether you grow them on your patio or in a backyard garden; whether you pick them up from the farmers market or get them in your CSA box, cherry tomatoes are one of the highlights of summer produce.
But yes, there is something better than those fresh cherry tomatoes—blistered tomatoes!
Blistered Tomatoes: Two Ways
Blistered tomatoes are cooked on the stovetop or in the oven; this gives the tomatoes a little bit of char and blistering on the outside and makes the insides deliciously jammy and sweet.
You can use blistered tomatoes in so many different dishes, from Cherry Tomato Pasta to Mozzarella Bruschetta and Lemon Pepper Salmon, but you can also enjoy them on their own as a simple summer side.
Add some fresh basil, flaky sea salt, and a drizzle of syrupy balsamic vinegar, or enjoy them as-is—any way you serve them, they're going to be a hit.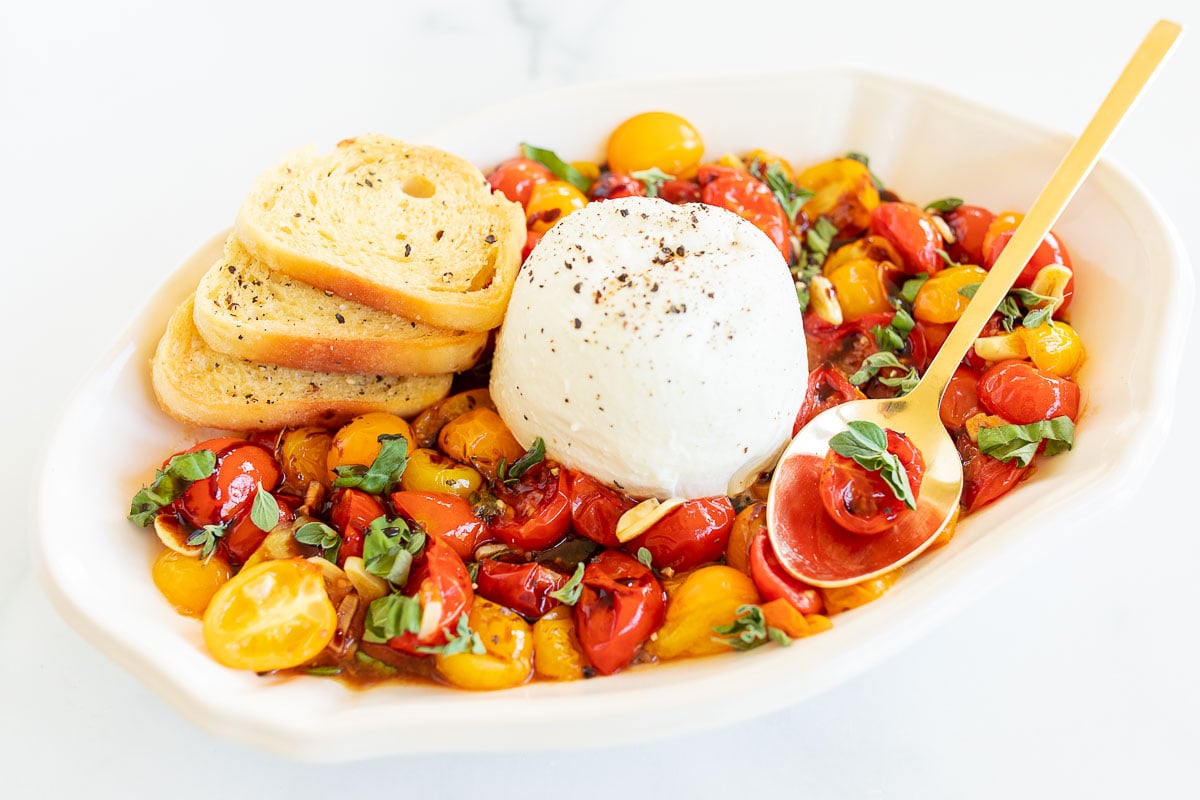 Ingredients and Substitutions
Cherry tomatoes – Both all red tomatoes and an assortment of multicolored tomatoes can be visually impactful on a serving platter.
Olive oil or butter – Butter will add a hint of dairy flavor to the mix, which can be especially good if you're adding your blistered tomatoes to pasta.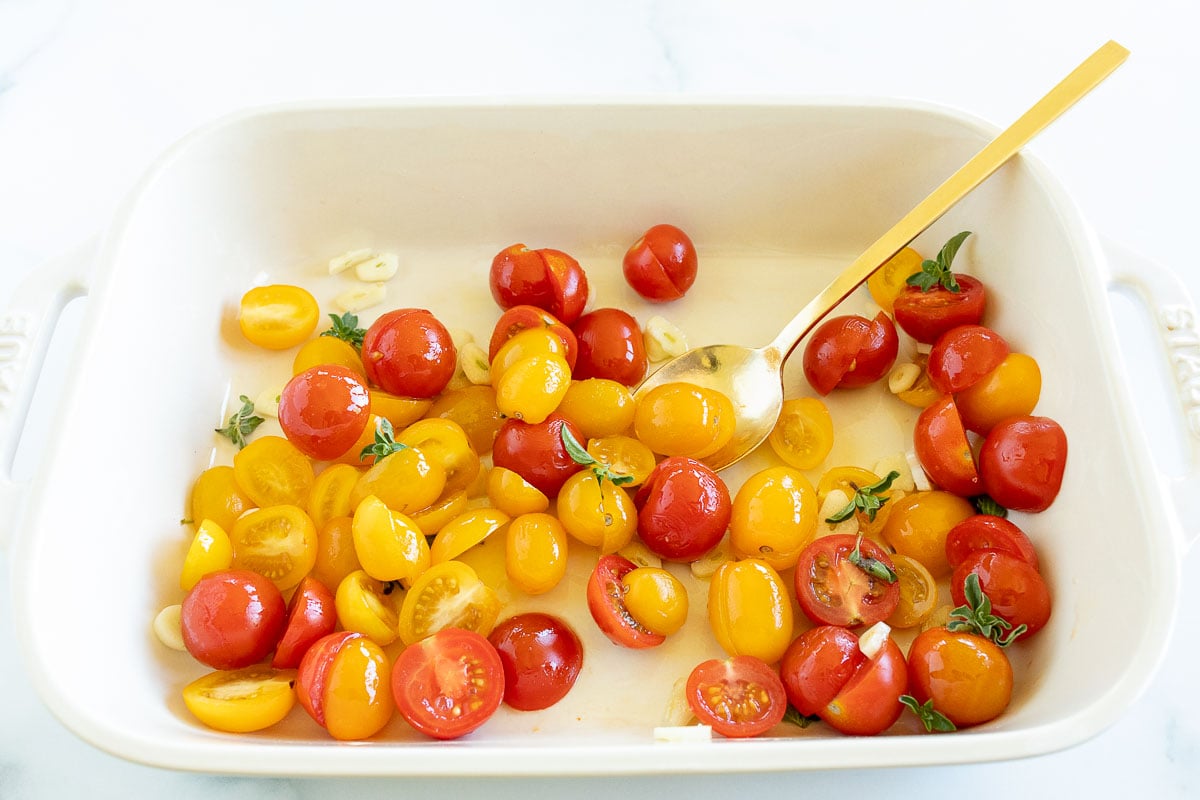 Stovetop Method:
Step 1 – First, add the butter or olive oil to a medium saucepan set over medium heat.
Step 2 – Once the butter is melted or the oil is hot, add the tomatoes.
Step 3 – Finally, cook the tomatoes until they're blistered and tender.
Oven Method:
Step 1 – Preheat your oven.
Step 2 – Toss the tomatoes with olive oil or butter in a small baking dish.
Step 3 – Now, roast until the tomatoes are blistered and tender.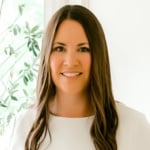 Tips
Use a large skillet or spread them out in a baking dish. Either way, your tomatoes need lots of space to make sure they char and blister instead of steaming.

Don't add them to the skillet until it's smoking hot; this is how you get that nice char on the outside. Be patient and it will pay off!
Buy the best tomatoes you can find—ripe, sweet, and fresh. All those good flavors will only intensify with this cooking process.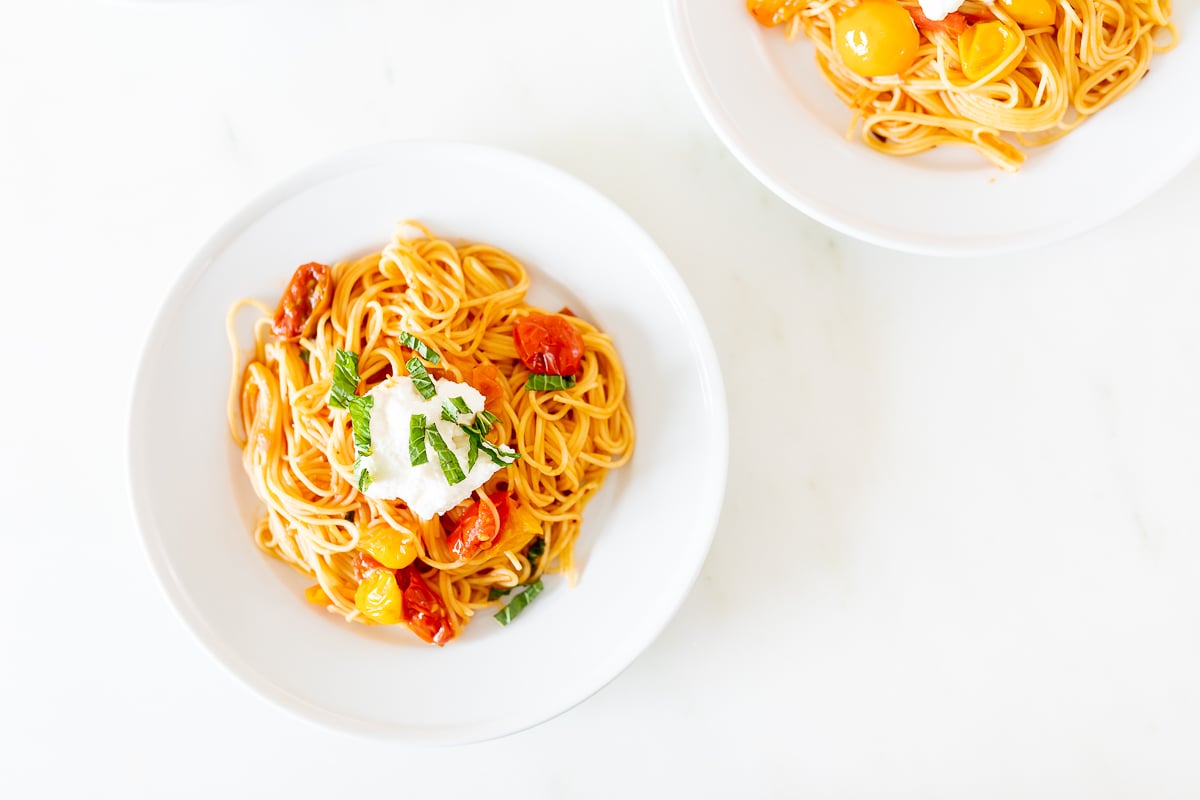 Serving Suggestions
Serve blistered tomatoes as an appetizer with crostini, basil, and mozzarella or burrata.
Toss blistered tomatoes with pasta—I love them with Boursin Pasta and Garlic Parmesan Pasta.
Replace pizza sauce with blistered tomatoes in your next homemade pizza.
Spoon them over Boursin Chicken.
How to Store
Refrigerate – Store blistered tomatoes in an airtight container for up to 3 days.
Freeze – Freeze blistered tomatoes in a freezer bag or airtight container for up to 3 months. Let them thaw in the refrigerator before using.
Reheat
To reheat blistered tomatoes, place them on a baking sheet and heat in the oven at 350°F for 5 minutes, or warm them up on the stovetop over medium heat. Note that they'll be softer and jammier upon reheating, but they'll still be just as delicious!
Frequently Asked Questions
How do you blister tomatoes in the microwave?
Unfortunately, blistered tomatoes can't be made in the microwave. You can warm them up and even get them to burst, but they'll be missing that essential charring that makes them so delectable.
Are burst tomatoes the same as blistered tomatoes?
Burst tomatoes are very similar to blistered tomatoes, but burst tomatoes are cooked whole until they burst open.
Can I use grape tomatoes to make blistered tomatoes?
Yes, you can use grape tomatoes to make blistered tomatoes, although I do prefer cherry tomatoes because they're juicier.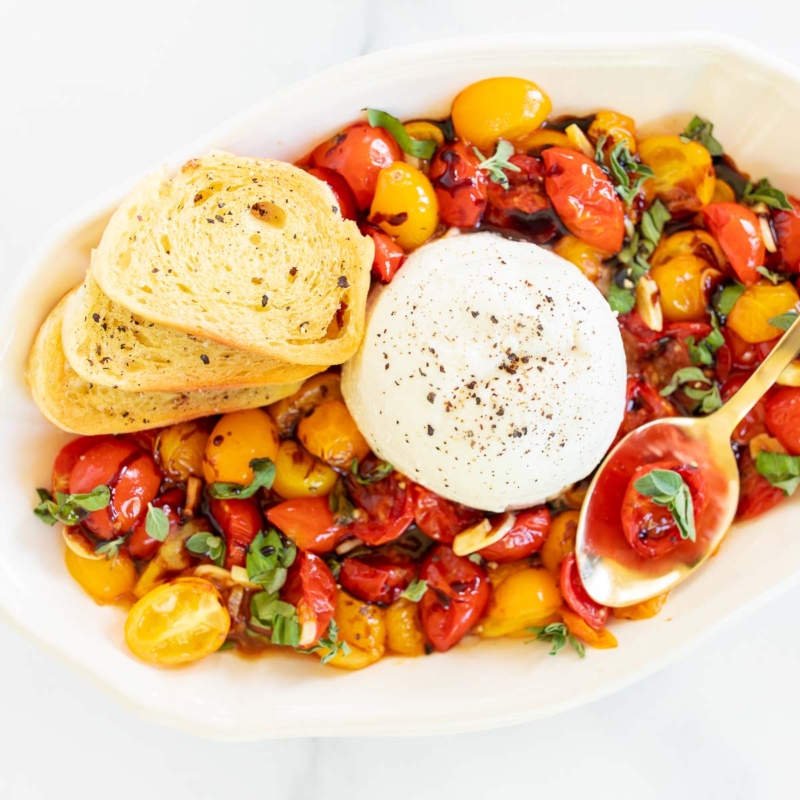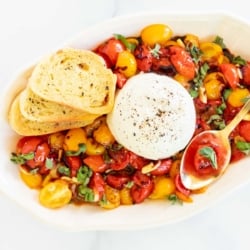 Blistered Tomatoes
Blistered tomatoes are smoky, intensely sweet, and easy to make in the oven or on the stovetop. The best recipe for using cherry tomatoes!
Ingredients
2

cups

cherry tomatoes halved

3

tablespoons

olive oil or butter
Instructions
Stovetop
In a medium saucepan over medium heat, melt butter or warm olive oil.

Add cherry tomatoes. Sauté about 2 minutes, until tender.
Oven
Preheat oven to 350°F.

In a small baking dish combine and olive oil or butter. Roast 25 minutes.
Calories:
106
kcal
|
Carbohydrates:
3
g
|
Protein:
1
g
|
Fat:
11
g
|
Saturated Fat:
1
g
|
Polyunsaturated Fat:
1
g
|
Monounsaturated Fat:
8
g
|
Sodium:
8
mg
|
Potassium:
163
mg
|
Fiber:
1
g
|
Sugar:
2
g
|
Vitamin A:
364
IU
|
Vitamin C:
17
mg
|
Calcium:
8
mg
|
Iron:
1
mg
Estimated nutrition information is provided as a courtesy and is not guaranteed.
Explore More