Find everything you need to know about Baha Mar, including where to eat, what to expect and fun things to do. Learn all about the best Baha Mar restaurants and so much more!
This resort is beautiful, and they make it so easy to just show up, relax and enjoy. Vacation doesn't get much better than that!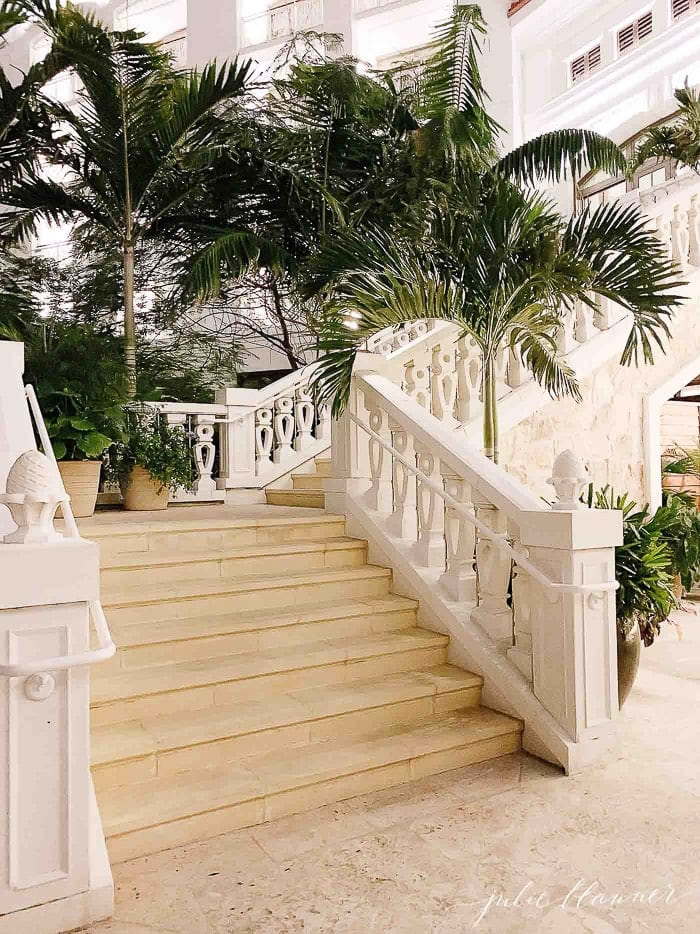 We just returned from a much needed getaway to soak up Vitamin D in the Bahamas at Baha Mar. After receiving a lot of interest from my Instagram stories, I wanted to share all the details of the Baha Mar resort.
Baha Mar is nestled on Cable Beach in the Bahamas and is comprised of three hotels: Rosewood, Grand Hyatt and SLS.
Baha Mar Review
When contemplating traveling to Baha Mar with our family, I read an abundance of reviews. I felt like most reviews were written immediately upon opening and that most (if not all) were invited guests of the resort whether or not it was properly disclosed.
Having paid for this getaway myself, I wanted to share an honest, unbiased review of Baha Mar.
In this post you'll learn about the three hotels, find things to do with kids and essential tips for accommodating them at Baha Mar.

You'll also find Baha Mar restaurant reviews, learn which restaurants offer outdoor seating, and the secrets to getting in!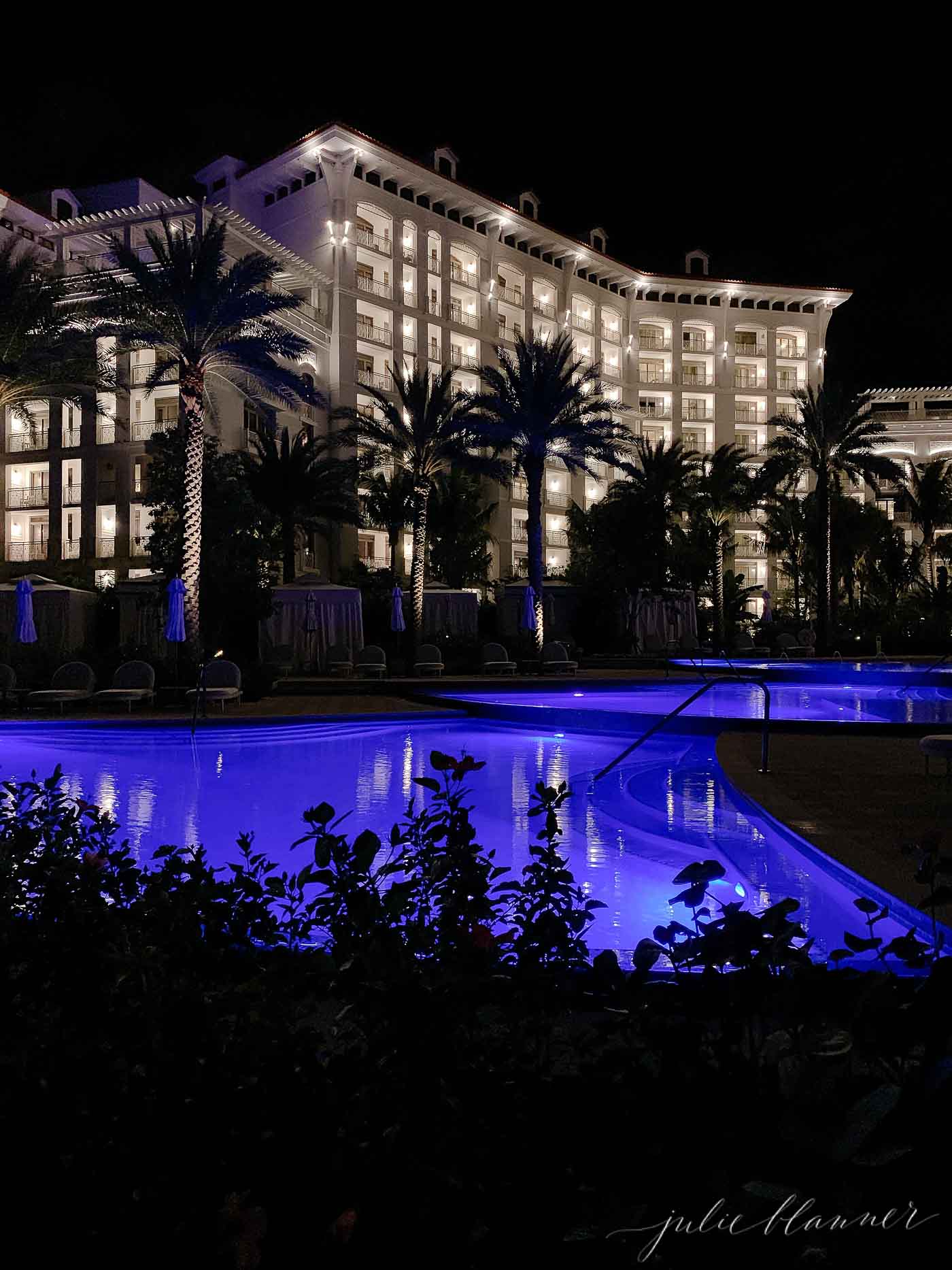 How to Get to Baha Mar
But first, how do you get to Baha Mar? One of the reasons the Bahamas is a popular destination is because it's a short flight from the States to the island of Nassau.
Baha Mar is just 10 minutes from the airport so you can squeeze in some sun and fun after you arrive or before you depart! It's a short, beautiful drive as you travel through a safe area and past a gorgeous lake.
A taxi for a family of 5 was just $36 and if you make arrangements prior to your arrival, you can utilize the Baha Mar shuttle.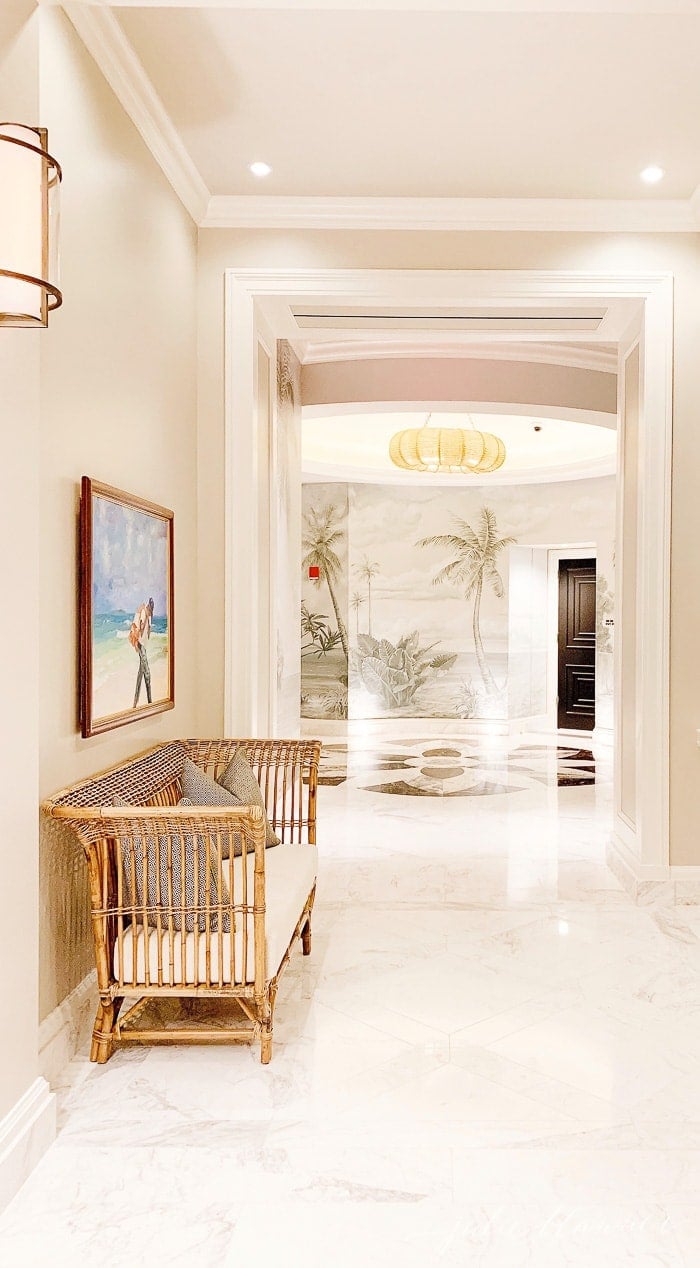 Who Should Visit Baha Mar
Visiting Baha Mar is a great couples' getaway, baby moon or family vacation – Sunday through Thursday. Friday and Saturday it is a fun friends getaway with a very active nightlife.
Friday it turns into one big party filled with bachelorette parties, weddings, corporate events, etc. Early in the day the beaches and pools swell and in the evening the casino, clubs and restaurants are vibrant.
For families and couples seeking a quiet retreat, I recommend visiting Sunday-Thursday (unless you want to relive spring break).
Friday and Saturdays beaches are closed all day in anticipation of evening events forcing an influx of guests to overcrowd beach areas that are open. Pools are also very crowded on Friday and Saturdays with lounge chairs in high demand both in and outside of the pool.
In the evening on the weekends there are so many private events that the DJ's compete, and any outdoor experience is not enjoyable. So if you're traveling as a family, plan to leave the resort or dine indoors.
If you're looking for something quieter, I recommend Rosewood (more to come later in the post) and for a vibrant atmosphere you'll love SLS.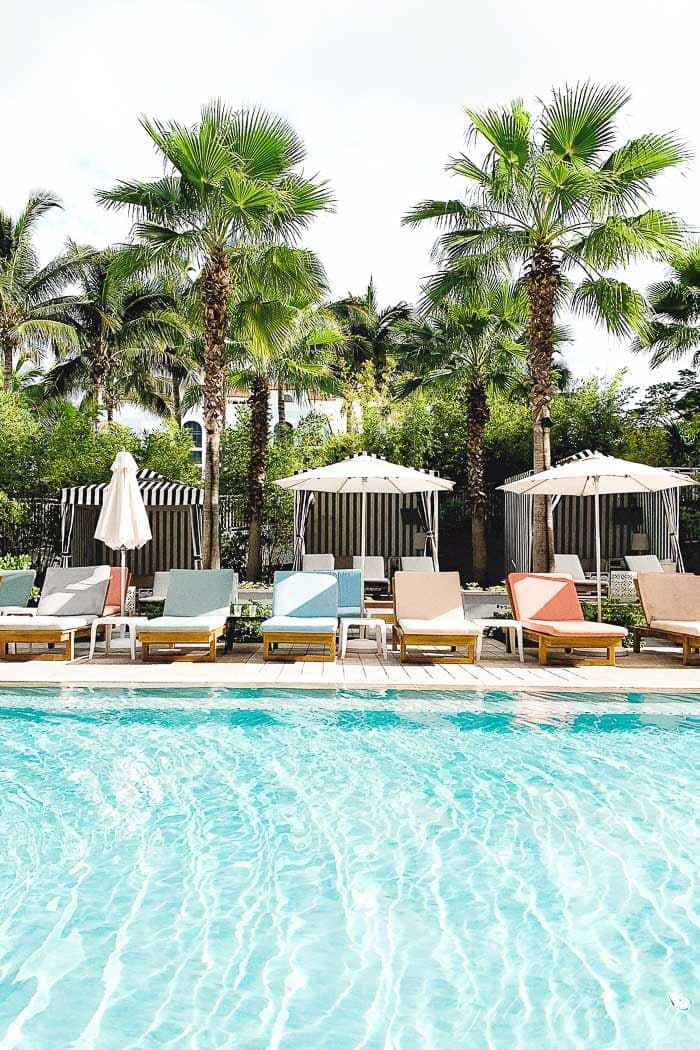 Which hotel is right for you?
SLS Baha Mar
SLS has 2 dedicated pools – one to relax and one to party.
The first of two pools dedicated to SLS guests boasts an infinity edge, beautiful teak furniture with lush pads in an array of colors. It's a quiet place to relax (with the exception of Friday and Saturday).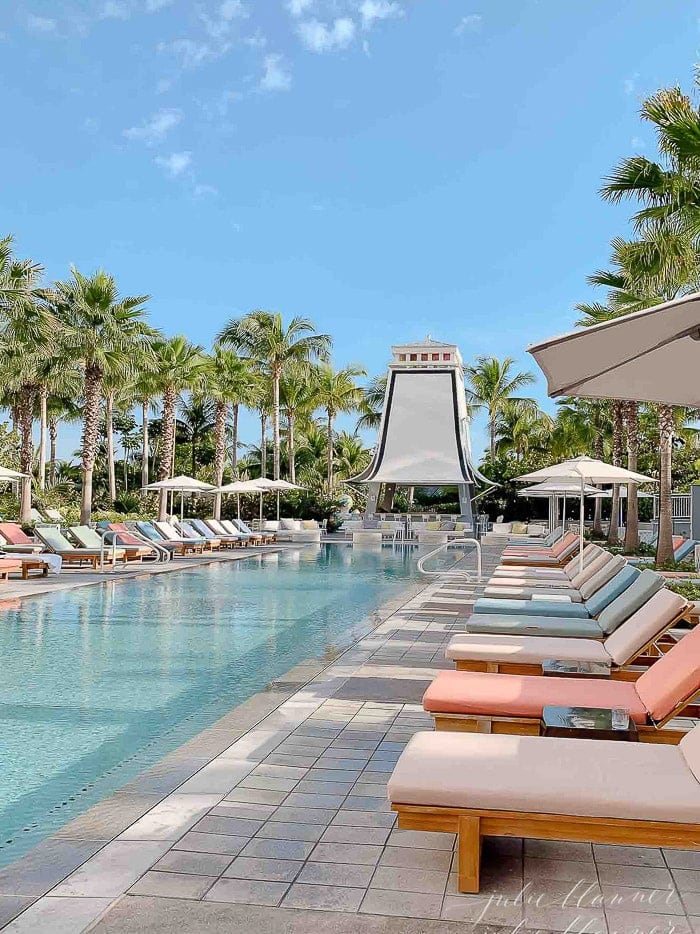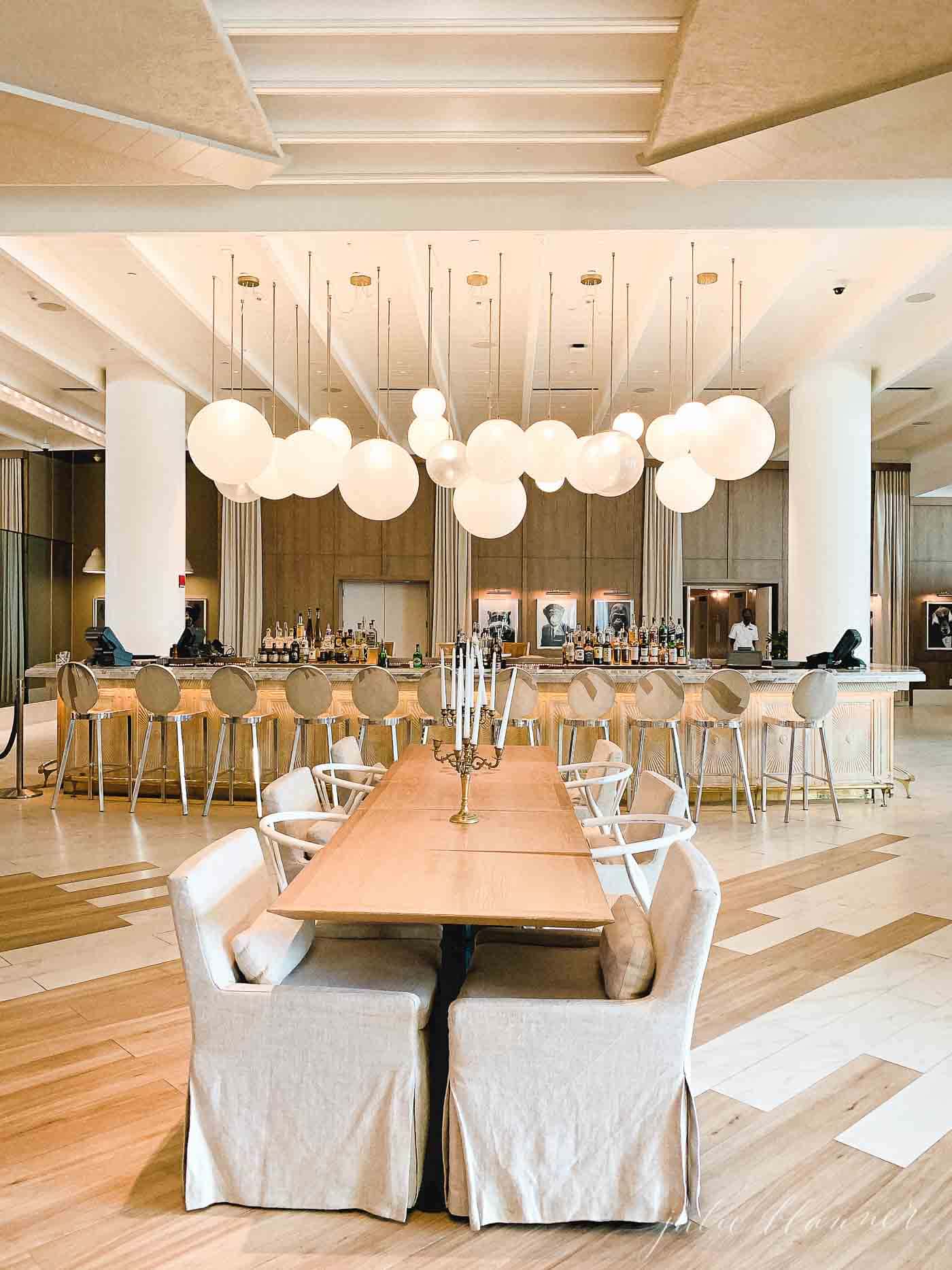 The decor at SLS Baha Mar is absolutely beautiful. Linen chairs, wood, and leather fill the oversized foyers. I also loved this gorgeous faux marble upholstered chair in the entry.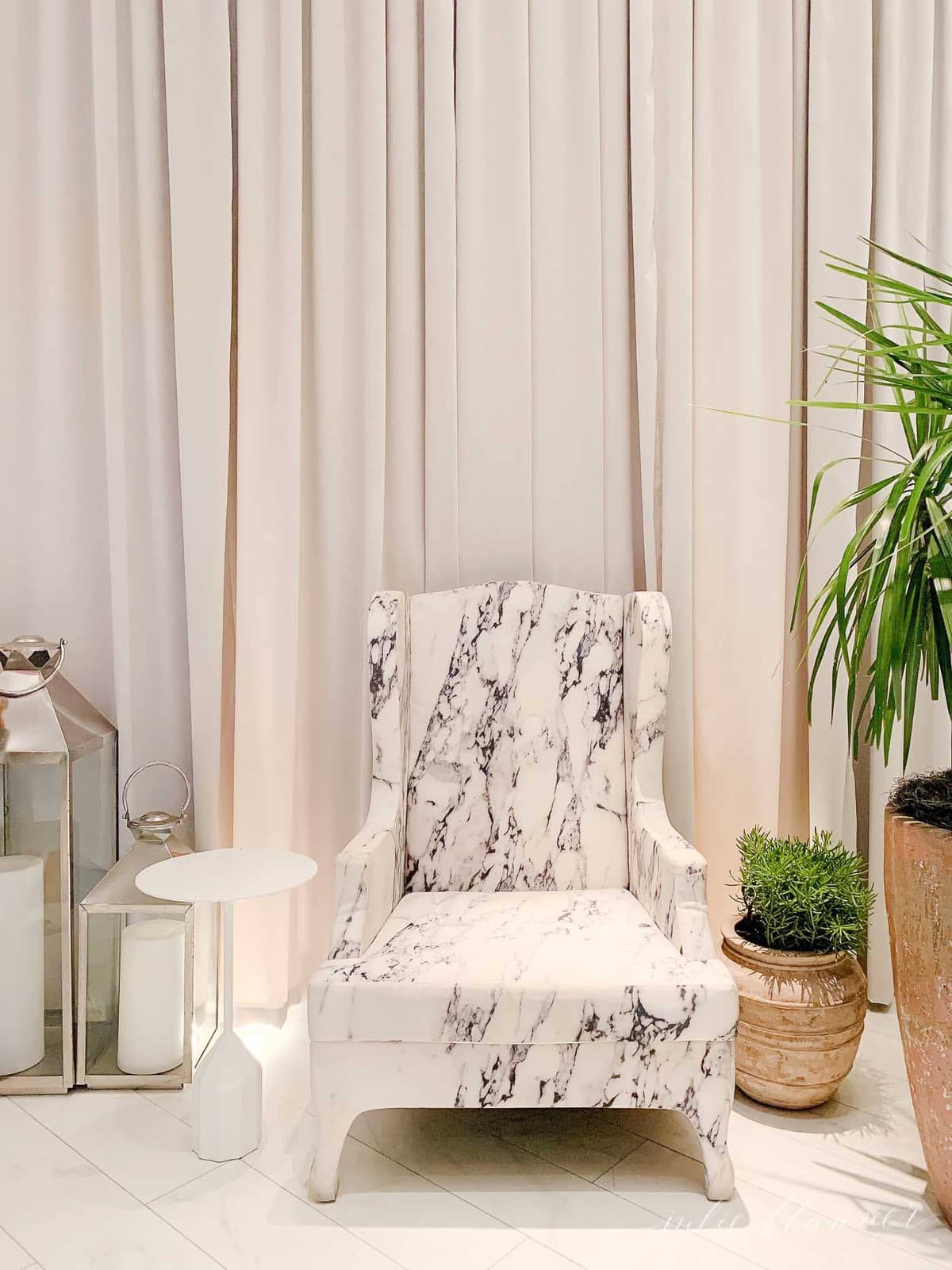 Rosewood Baha Mar
My favorite of the Baha Mar hotels, Rosewood offers lush gardens, dedicated pools and most importantly, dedicated beach seating.
Rosewood is the only one of three hotels on the property to offer cushioned lounge chairs.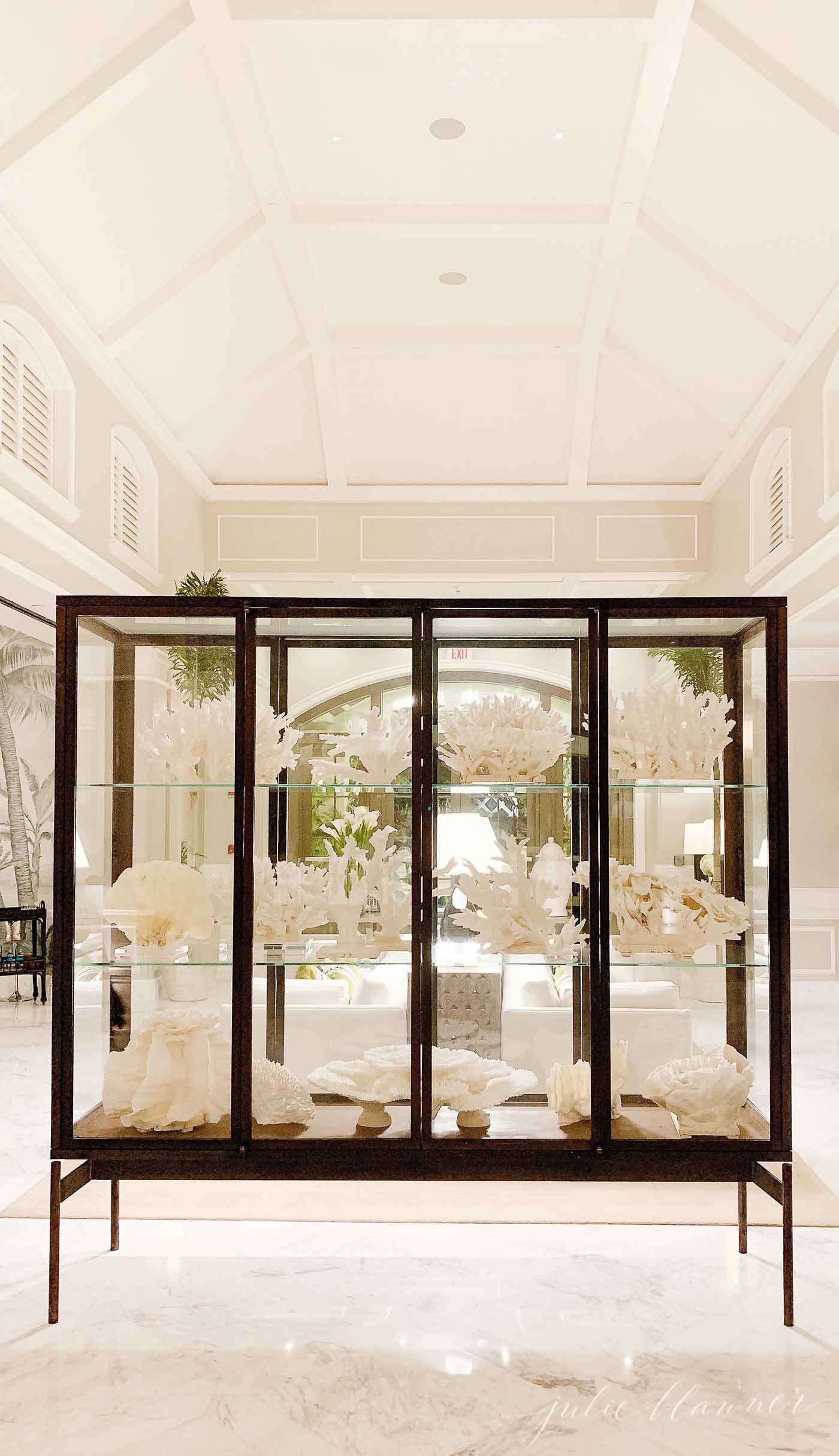 Rosewood Baha Mar is nestled to the side of the property offering the most peace and privacy. The grounds are enchanting, especially in the evening with quiet retreats tucked in along the way.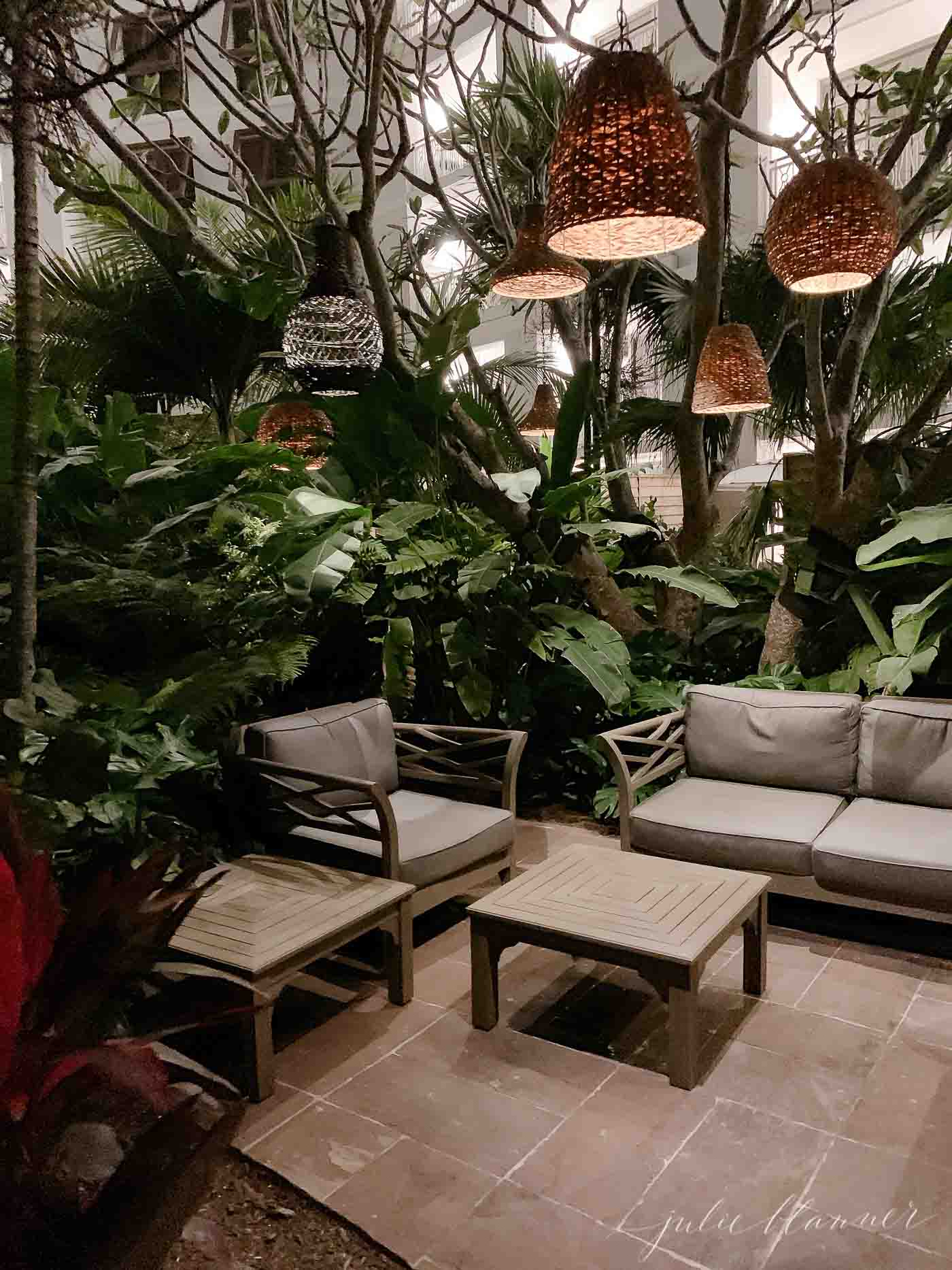 The decor is traditional, yet modern and hosts some of the most beautiful bars and restaurants at BahaMar.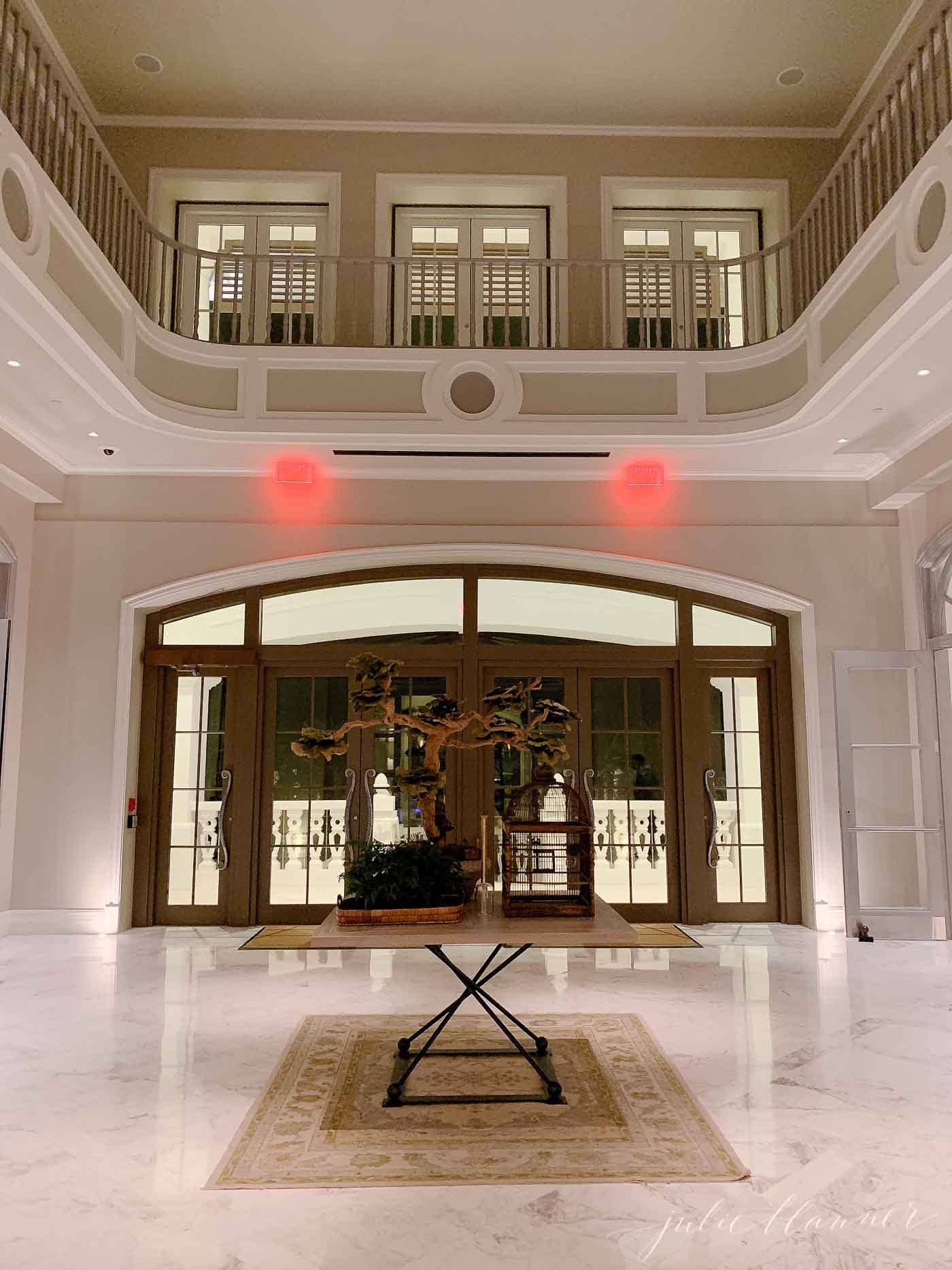 Baha Mar Grand Hyatt
Baha Mar Grand Hyatt boasts a breathtaking entrance surrounded by cascading water.
Whether you're staying at the East or West tower, check-in is at the East with an aquarium.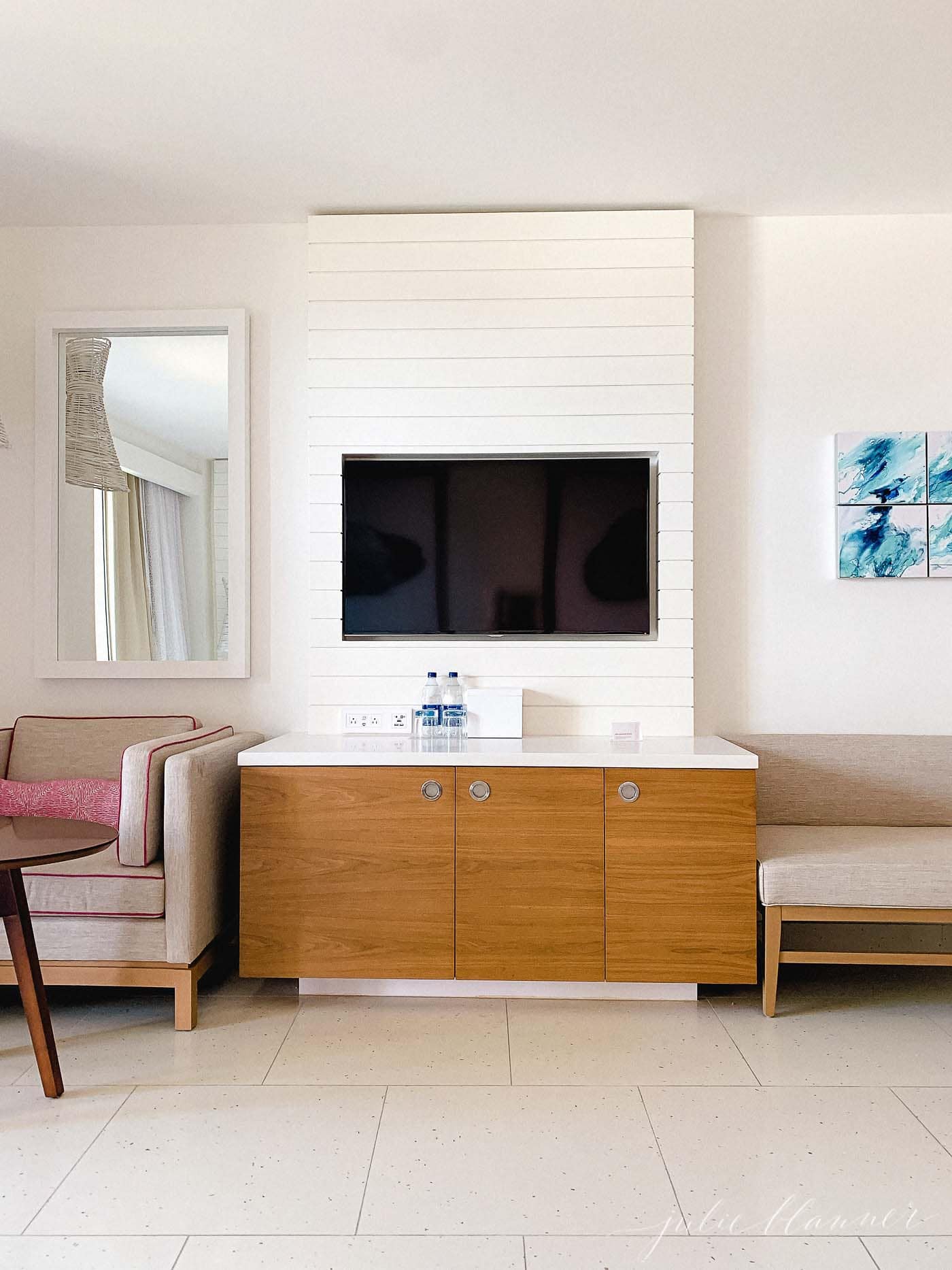 Spacious, well-lit, thoughtfully designed rooms had plenty of storage for an extended stay.
There are two closets with plenty of space to hang your clothes with drawer storage in one and two additional sets of drawers in the room.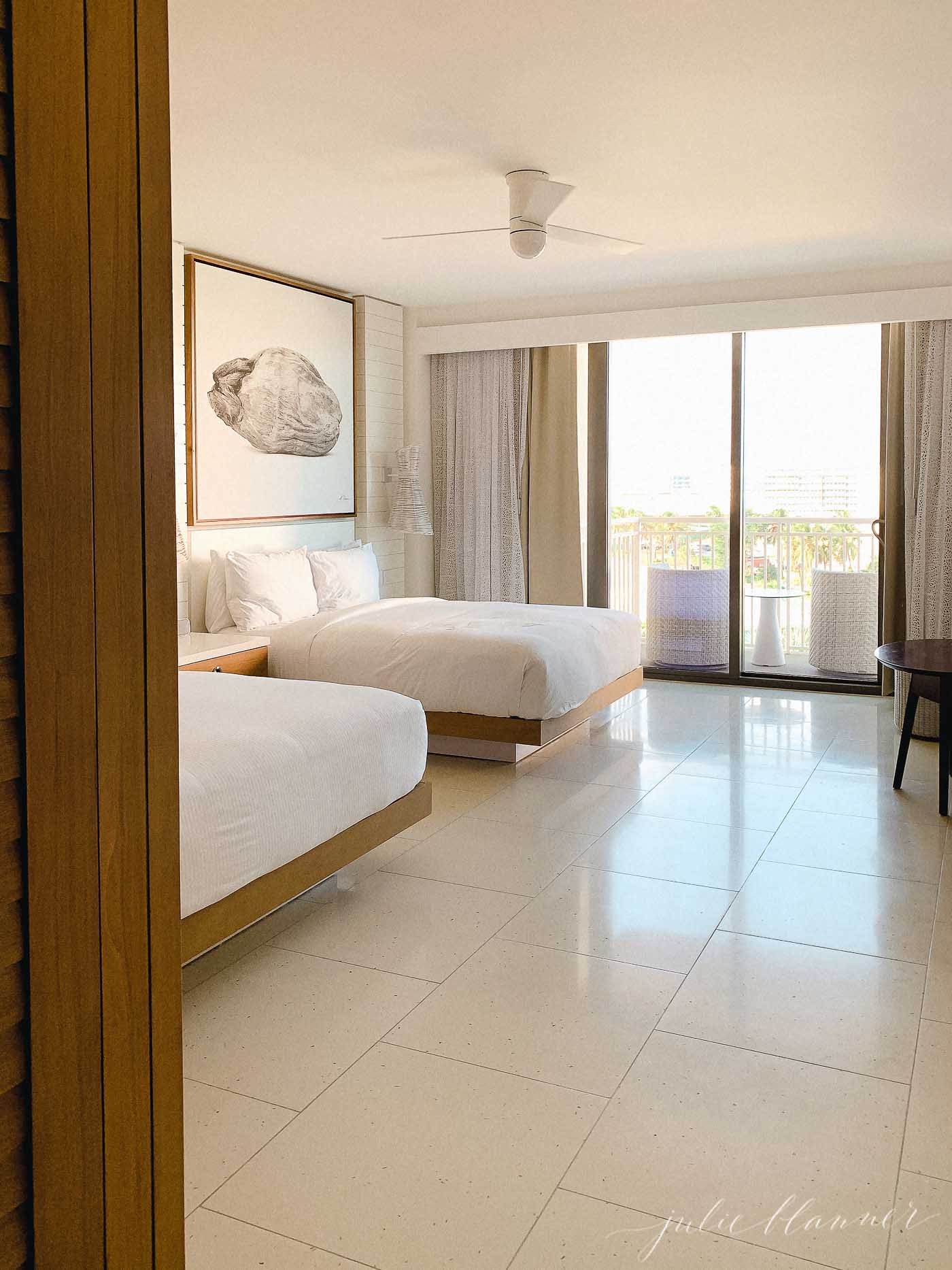 The oversized bathroom was much appreciated as well. Opt for an ocean view room with a balcony, you won't regret it!
You can't tell from this angle, but ours had a beautiful ocean view which was wonderful to wake up to and we spent evenings after the kids went to bed sipping on wine on the balcony.
Many of the friendly staff members throughout Baha Mar Grand Hyatt took the time to learn our girls' names. They were always smiling which made it a pleasant experience.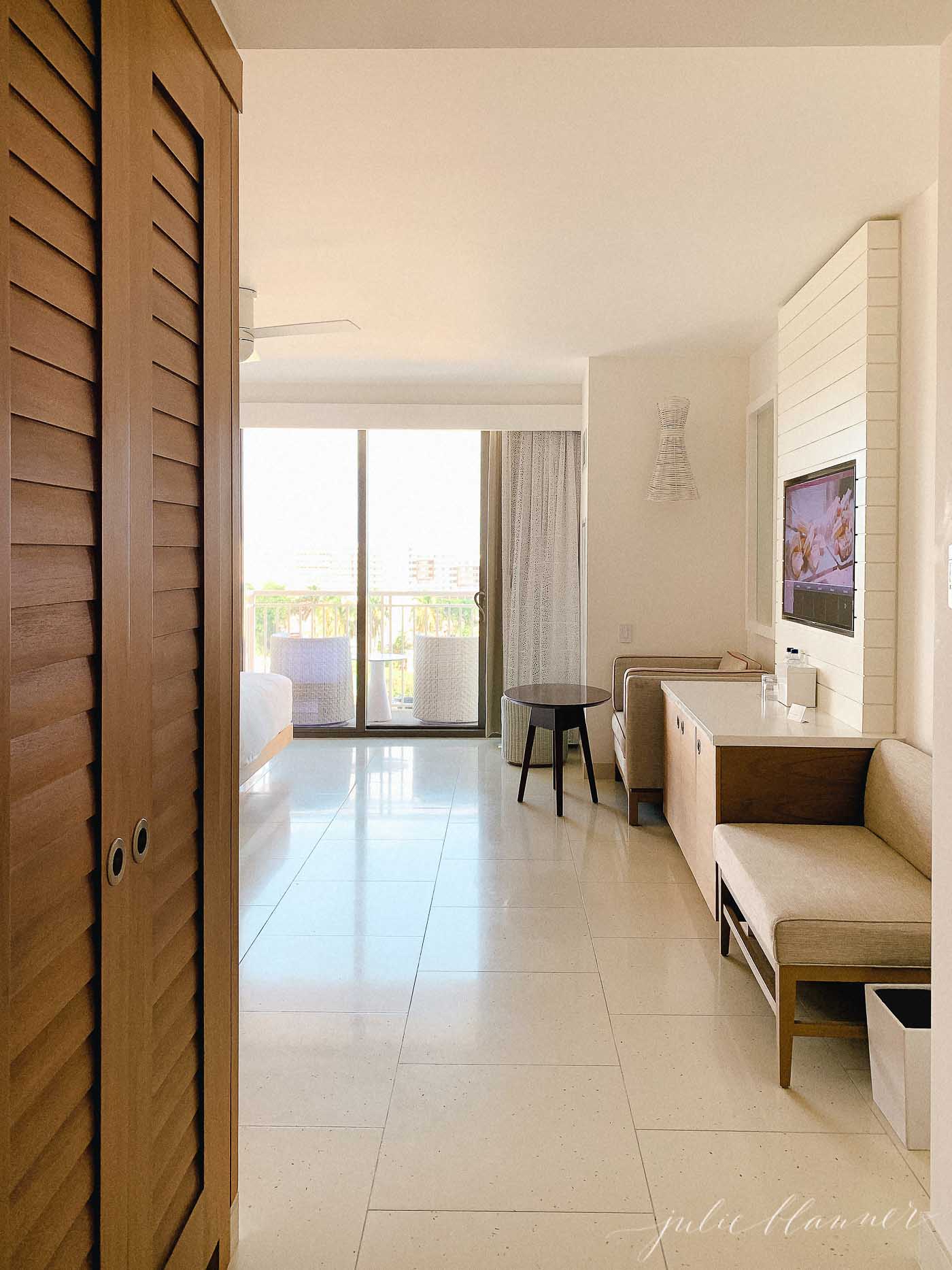 Tips
Baha Mar guests can enjoy a VIP stretch on the beach if you're looking for a change of pace. Don't forget to pack towels from the resort before you go.
If you're traveling with family, know that the resort has a vibrant party atmosphere on the weekends.
Food trucks close early!
Don't count on room tablets, times and activities are out of date.
Baha Mar Amenities
One of the reasons we visited BahaMar was for convenience. Some of my favorite amenities include:
Towels available at pool and beach
Complimentary sunscreen available at pools
Water available at pools (tap water is unsafe to drink)
Workout facilities – large fitness room with views and classes
Sauna
Steam shower
Spa
Fees at Baha Mar Resort
*We traveled in 2019, so it's very likely these fees have increased!
Daily service fee $21
Daily resort fee $32.35 Grand Hyatt, $45 Rosewood, $37
15% service on all food and beverage
12% VAT on every purchase and service (including spa)
Baha Mar Dining
One of the allures of visiting Baha Mar is the resort lifestyle that allows you to easily access everything you need – without leaving the property. That also means that you'll pay a premium, for everything!
Whether you're ordering from a food truck or restaurant, you're subject to 15% service charge + 12% VAT. We anticipated these fees and elevated costs but I spoke to some visiting the resort who were taken aback at the cost of food. Keep reading for tips to save money dining at Baha Mar.
Baha Mar Restaurants
Few restaurants aside from casual poolside eats and food trucks offer outdoor dining at Baha Mar.
If you choose to dine al fresco I highly recommend Costa, Cleo and Filia. All offer outdoor seating and are delicious! You can also enjoy Tides for fountain views.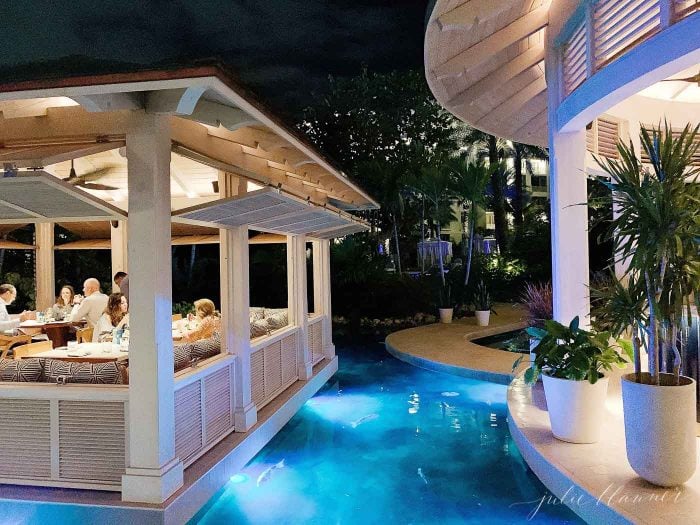 Costa was our favorite restaurant for ambience. As you stroll through the lush gardens at Rosewood you'll approach the stunning bar surrounded by beautiful koi swimming in shallow blue water.
Stone walkways take you to calming huts for a semi-private evening. The food, served family style, is incredible as well!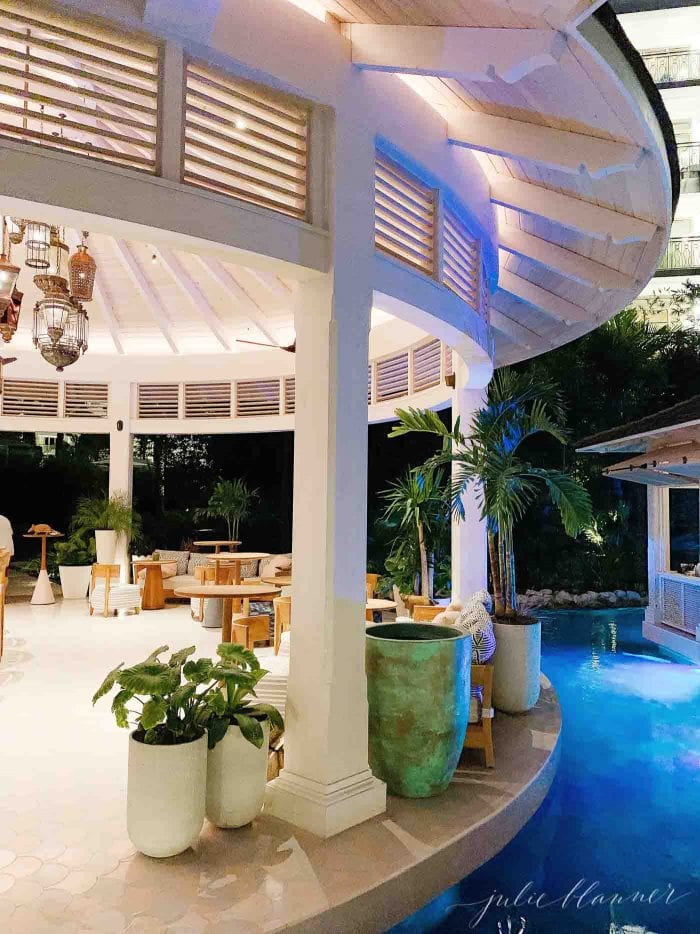 Cleo is a beautiful restaurant nestled in SLS that offers seating indoors and out, beautiful ambience and great presentation.
Food at Cleo is served family style as well. I highly recommend their desserts – they're not to be missed.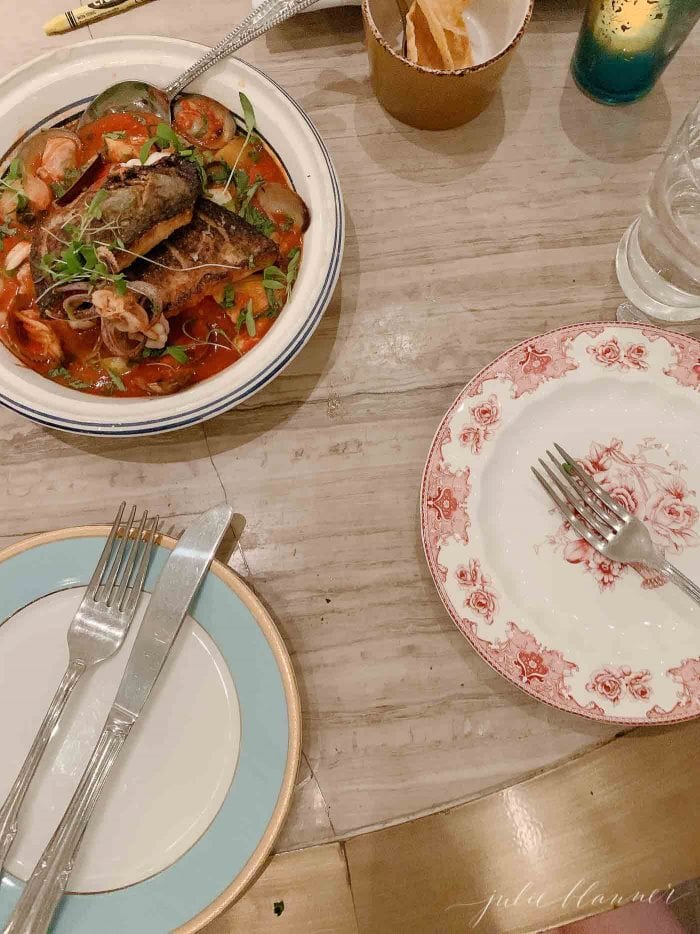 Filia was another favorite. Its neutral decor is as alluring as the incredible Braised Short Rib Crespelle served in Staub. It was so flavorful that we returned for more!
Of note: the food was inconsistent. For example I had pico de gallo on my tacos all week then one day it's "we use salsa now" and pico is not available. Unfortunately it was cheap jar salsa.
Food Costs at Baha Mar Resort
*Prices listed are from 2019.
Sample Food and Beverage Costs at Food Trucks (Grab + Go)
hot dog $11 + 27% fees = $13.97
slider $6 + 27% = $7.62
cheeseburger $17 + 27% = $21.59
truffle fries $9 + 27% = $11.36
margarita $15 + 27% = $19.05
can of soda $6 + 27% = $7.62
Sample Costs at Cafe Madeleine (one of the few grab and go breakfast options)
crepes $19.05 with fees
pastry $7.00 with fees
cereal $6.35 with fees
Sample Snack Shack Costs
Clif Bar $6.35 with fees
Snack Size Chips $6.35 with fees
Pool Beverage Costs
$15-18 + fees for a mojito depending on the bar you visit
$7 + fees for a virgin daquiri
Savings Tips
During the day we frequented the food trucks. One thing to note about hotel owned restaurants is that things change – daily.
Please note that each check offers the opportunity to leave additional gratuity.
Food costs at restaurants is about average with elevated costs for alcohol. Most of them offer still water for about $9 + taxes and fees. For our family of five we typically required 2/dinner.
If you are looking to save money on your dining experience I recommend eating outdoors before they stop serving food (currently at 5pm), sharing meals, ordering pizza to go from Filia and taking advantage of "meals".
For example, if you order a soda, it's $6, but it is only $2 additional when ordering a hot dog. Same applies for a generous fruit plate.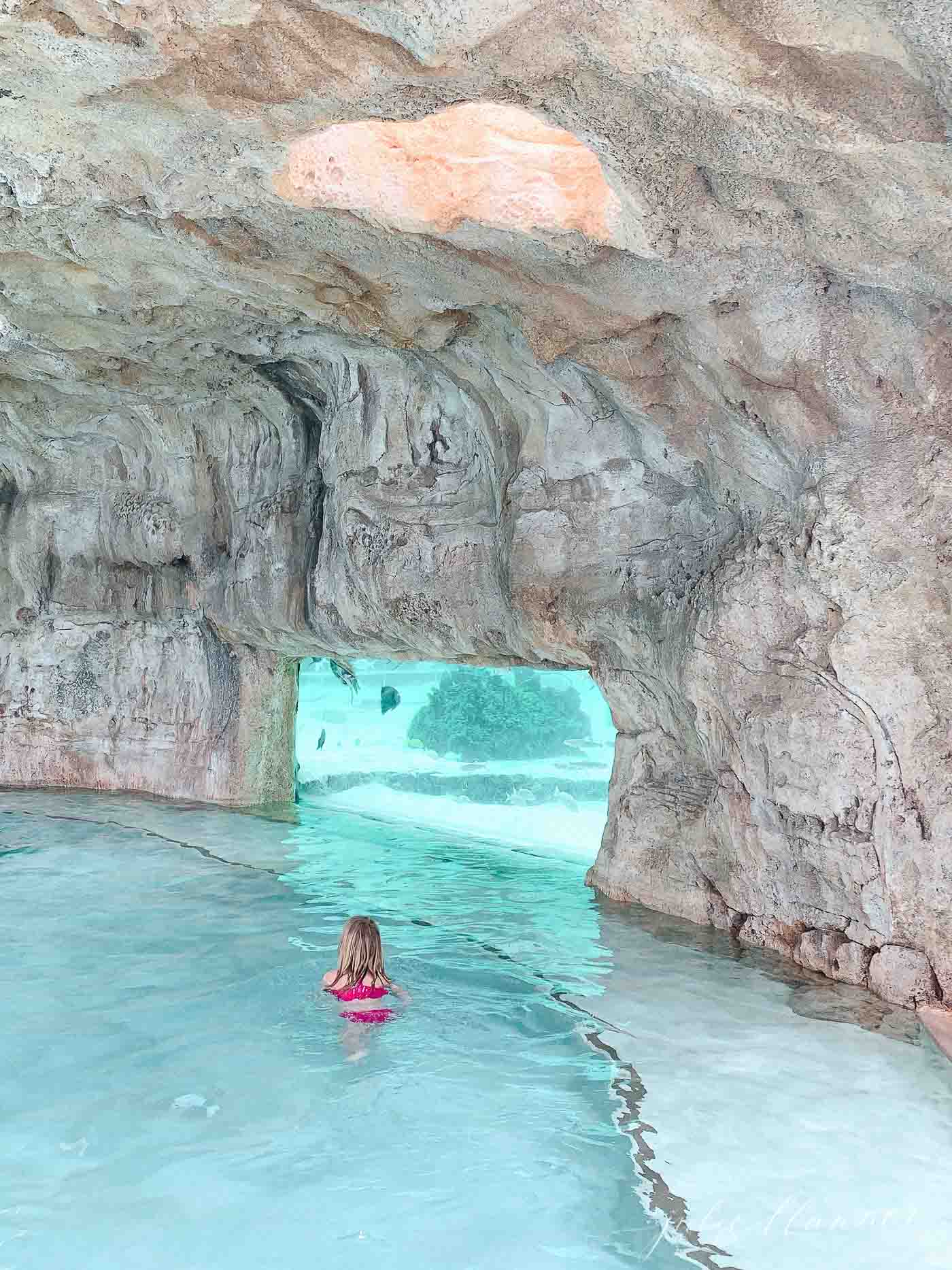 Things to Do at Baha Mar with Kids
We escaped to Baha Mar for a quiet, relaxing family vacation that offered a little luxury for us and fun activities for the kids. Fortunately, it delivered! Below were our favorite activities for families at BahaMar resort.
Stop by concierge for complimentary beach toys to use during your stay
Movies on Friday and Saturday nights at 8pm with complimentary popcorn
Fountains – show every 30 minutes (no music on Friday and Saturday due to private events)
Stop by the touch pool anytime between 8:30-5:00 to touch a baby stingray, starfish and more!
Stop by for one of two feedings a day at the sanctuary to learn about nursing sharks, stingrays and sea turtles as they are fed
Children 8+up (and adults) can opt for a paid interactive experience
Visit the aviary to feed parakeets and see 19 bird species. Stop by for feeding times
See the Flamingos
Parade with the baby flamingos who walk the property twice a day (currently 9:30 and 3:30) and take your photo with them
Feed koi fish at Costa
Jump off the cliff at the pool
Swim through grotto for an up close look at nursing sharks, stingrays, sea turtles and fish
Paddle board
Kayak
See through floats for those not ready to snorkel
Snorkel through the man made reefs
Play on lily pads
Clean up debris in the water – the beach is very clean and well maintained but in the morning you'll find things floating in. The girls enjoyed going out to clear any debris in effort to be good stewards of our environment. We would even paddle board around to collect and discard.
Enjoy the games throughout the property including Connect4, Chess, Bocce Ball, Jenga, and Bean Bag Toss
Take a short (complimentary) boat ride to visit nearby Balmoral Island to swim with dolphins or enjoy the stingray experience (they have a private beach for Baha Mar guests
Kids' Club – escape for a few hours as your kids enjoy three hours of activities in the kids' club ($55/child)
Take a walk on the pier
Tips for Visiting Baha Mar Resort with Kids
All the restaurants we visited offered kids meals despite not being available online.
Costa (the restaurant) offers activities and crayons.
Food trucks are very kid friendly but close early (5pm).
Hit the beach early and enjoy the pool in the afternoon to avoid crowds on busy days. When it cools off in the afternoon (the hotels completely shade the pool around 3) you can enjoy the warmth of the heated pools.
Plan ahead. Don't count on room tablets, times and activities are out of date. One example of lack of organization includes a sign says "go to the beach experience to get your kids feed sticks" but you can (and have to) get them at the aviary.
Both ice cream places close at 6 (Scoops on Beach and Cafe Madeleine) so get your special treats in early.
Avoid walking through the smoke filled casino on Friday and Saturday evenings by utilizing the back entrance to bypass to the 7th floor.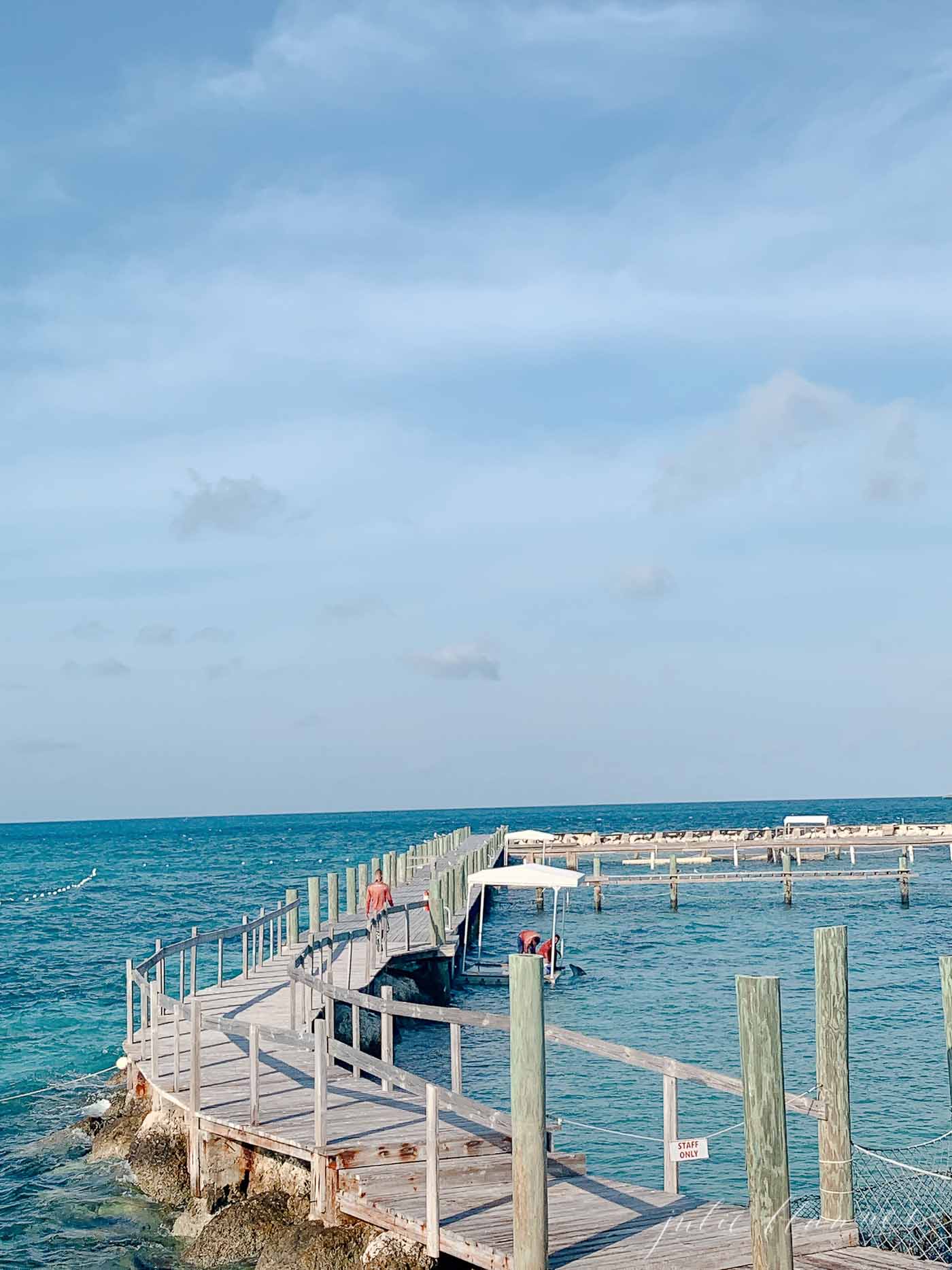 Cable Beach
Baha Mar is nestled on part of two and a half miles on Cable Beach. Cable Beach is known for its crystal clear waters and soft, white sand.
It's very clean and on a beautiful day, the water is calm. At the resort a rock wall (mostly under water) helps keep waves to a minimum.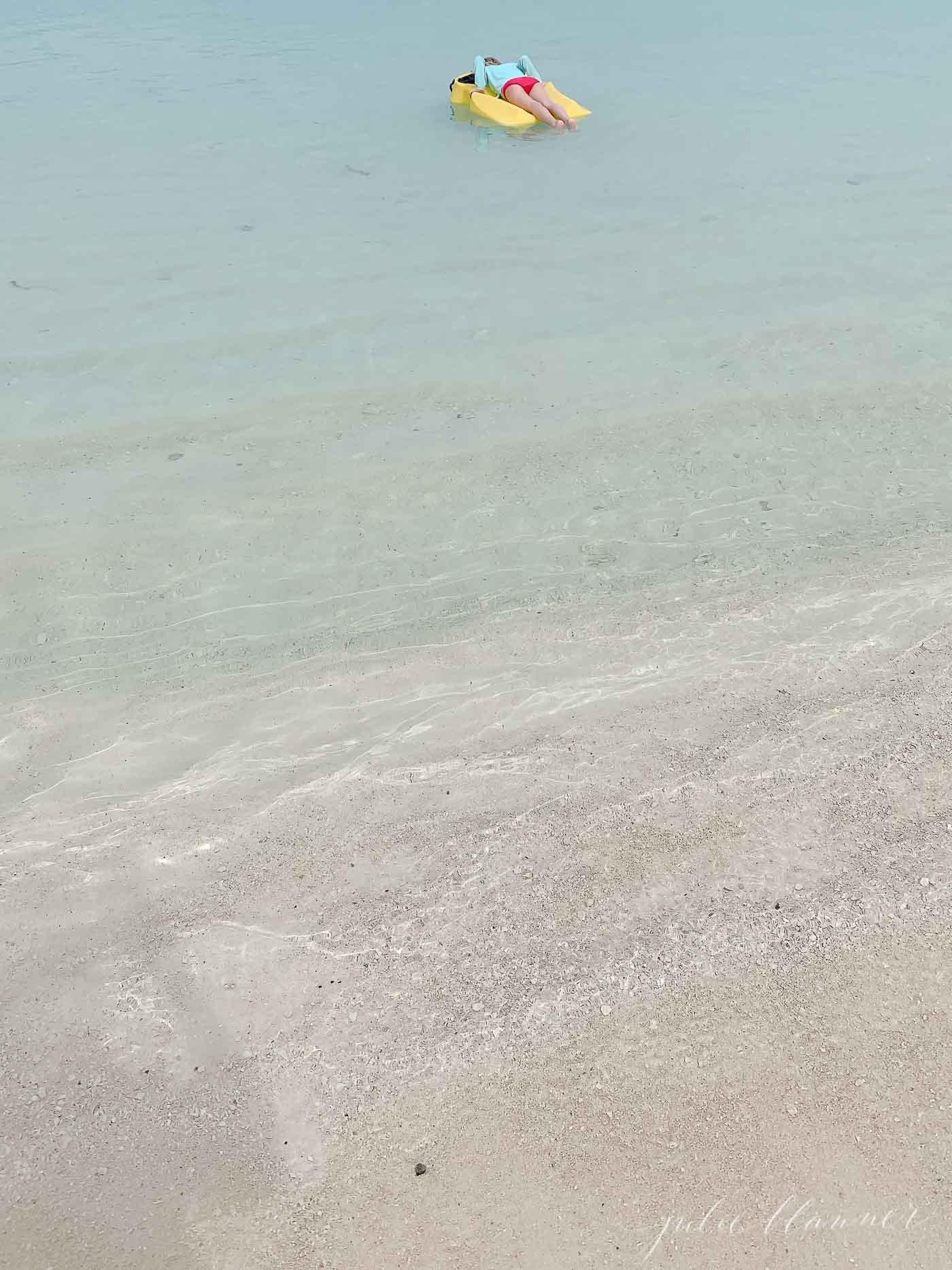 You'll see a few people walking up and down Cable Beach selling coconuts, shells, offering braids and massages, but they're all polite and not at all intimidating.
Visiting Balmoral Island from Baha Mar
You can take a complimentary boat ride that leaves from the pier on the hour from 9-2 daily to nearby Balmoral Island.
They offer dolphin encounters, swimming with dolphins, a stingray experience and other options geared toward cruise visitors seeking a beach, opportunity to kayak, etc.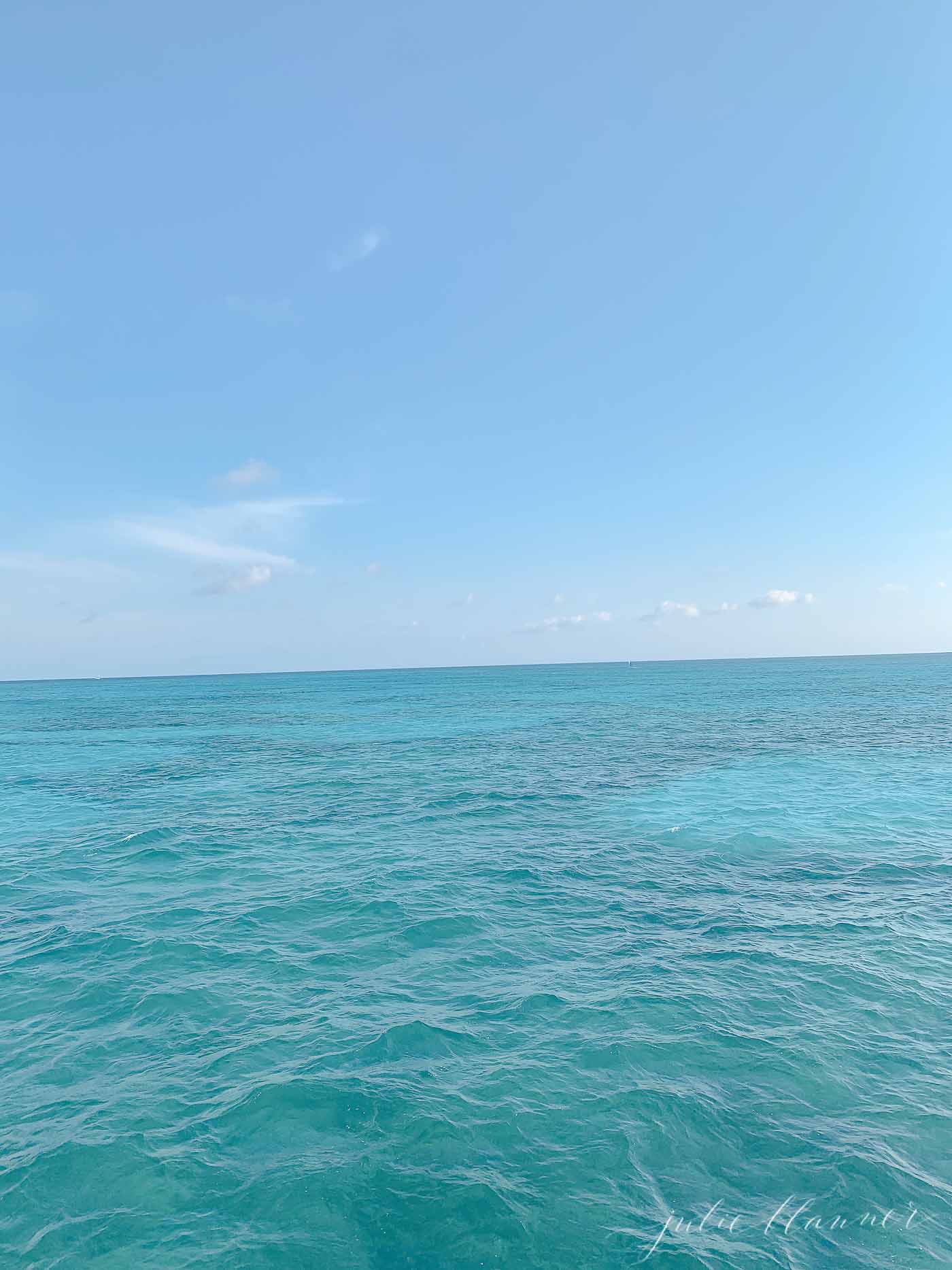 We enjoyed the ocean based swim with the dolphins experience which is about $125/person plus $117 for photos per family. Video is just $30 more. No photography is allowed.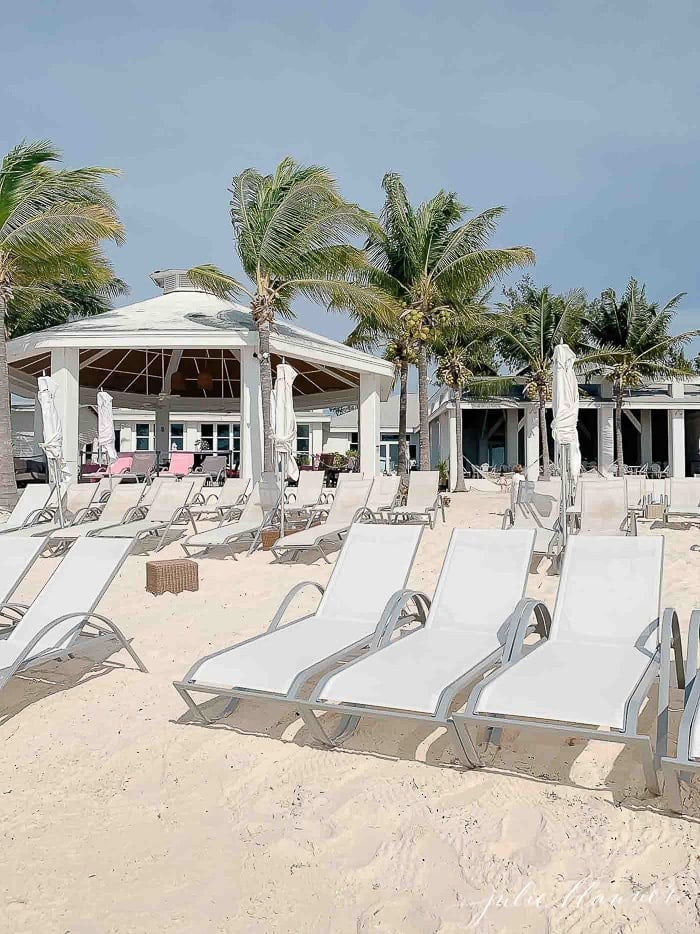 More Details About Grand Hyatt Baha Mar
There were a few improvements that could be made at the Grand Hyatt Baha Mar. I told you this was an honest review!
First, the pillows lacked comfort. They are quite possibly the most uncomfortable I've encountered in a hotel stay.
Pool and beach chairs also lack comfort. Music from SLS is heard everywhere throughout the resort on Friday and Saturday, making it anything but peaceful. The air is also filled with smoke throughout those days.
Large portions of the beach closed all day for evening events that set up just a couple hours prior. This lack of proper execution crams a large number of guests (peak is Friday and Saturday) into a smaller portion of the beach, making it feel overcrowded. I cannot imagine what this would feel like "in season".
Activities were more than two weeks out of date with conflicting information by staff.
Atlantis and Baha Mar don't exactly have a positive relationship. Baha Mar is the only hotel on the island whose guests cannot purchase a day pass to Atlantis.
However, the staff were diligent on cleaning outdoor bathrooms and they are properly spread throughout the resort for convenience. In eight days, I only once stepped into a restroom that needed attention. They were frequently cleaned.
If you have any questions or have visited the resort, I'm happy to help and would love to hear!
I hope those visiting find this comprehensive post helpful. We're always looking for a getaway that blends a little luxury with family fun!