Homemade sweet potato gnocchi is so much easier than you might think. This is a simple vegetarian sweet potato gnocchi recipe, with a fresh and healthy spin on a traditional Italian dish. It makes a quick and easy weeknight dinner!
It takes just 20 minutes to prep this delicious meal and can even be made ahead of time! This sweet potato gnocchi recipe is tossed in a light brown butter sage sauce that will leave your family begging for more.
This post was originally published October 21, 2014 and updated with fresh photos and details October 25, 2021.
You know my love for homemade pasta – there is just not a better, more delicious meal in my humble opinion. However, gnocchi is a variation that we don't make nearly often enough!
The most common way to serve gnocchi in Italy is in a light butter sauce with fresh sage. Gnocchi is delicate and flavorful and can be made with a light butter or extra virgin olive oil sauce with herbs, nuts, veggies or a touch of cream.
While Trader Joe's Sweet Potato Gnocchi is good (and I've recently heard it might be discontinued?), this easy made-from-scratch recipe is amazing! The gnocchi is soft, delicate with a luxuriously smooth texture.
If you love all things sweet potato like Sweet Potato Fries, Grilled Sweet Potatoes, Sweet Potato Casserole, Oven Roasted Sweet Potatoes or Smashed Sweet Potatoes you will love it in Gnocchi form!
Why You'll Love this Sweet Potato Gnocchi Recipe
Full of Fall and Winter Flavor
Heavenly Texture
Easy Weeknight Dinner
Special Enough for Entertaining
Sweet Potato Gnocchi Ingredients and Substitutions
Sweet Potatoes – Sweet potatoes are amazing in this recipe, but you can also use Yukon gold if you prefer.
All Purpose Flour – Flour helps form the gnocchi and makes the dough easy to work with.
Unsalted Butter – Unsalted butter is preferred to make a brown butter sauce, but you can use salted butter in a pinch. Learn how to brown butter here.
Sage – Fresh sage is delicious when sautéed in browned butter, adding incredible fragrance and flavor
Optional: Black Pepper and Fresh Grated Parmesan to serve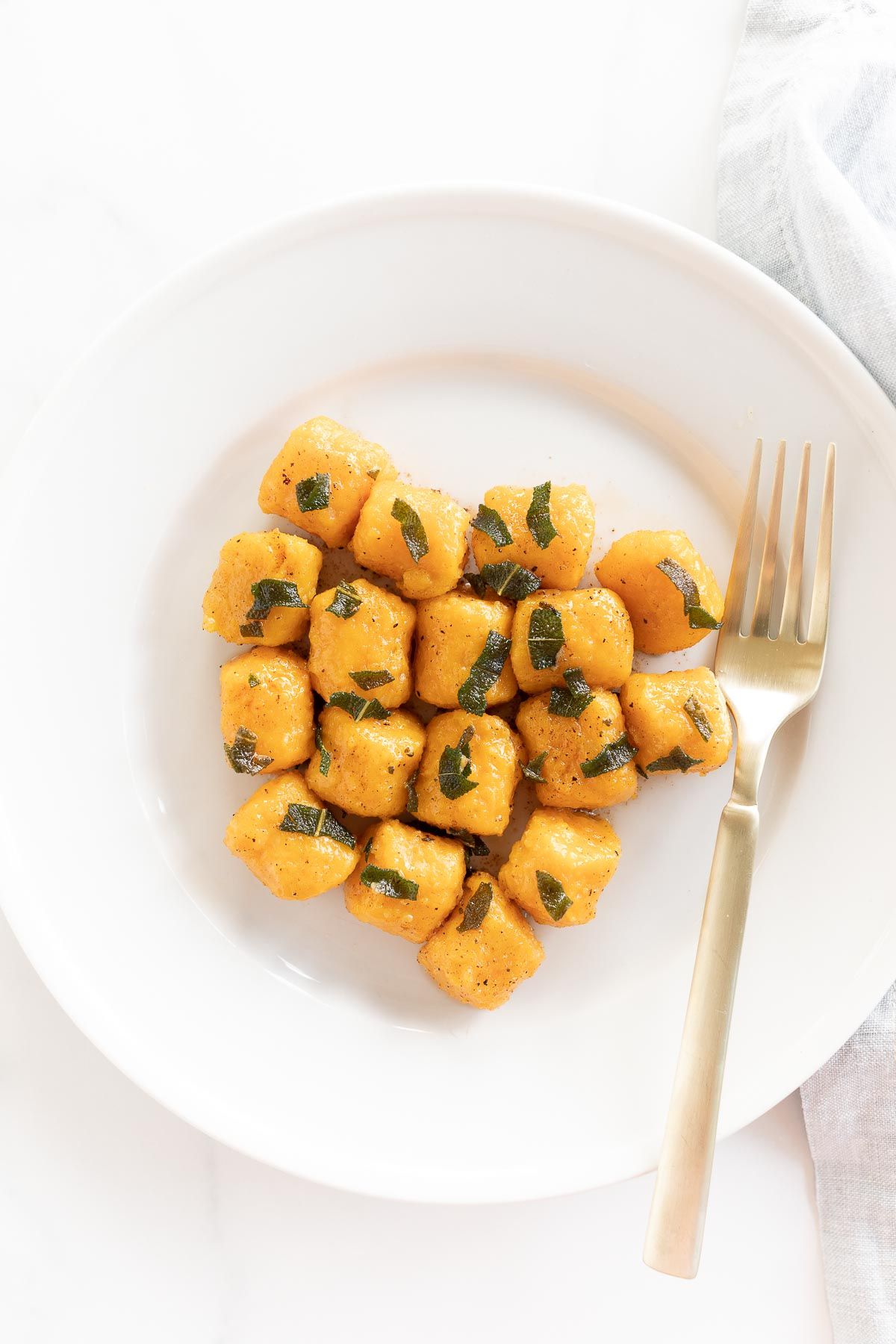 How to Make Sweet Potato Gnocchi in Just Four Easy Steps
It's so much easier than you think!
Bake Potatoes – Preheat oven, poke and bake potatoes.

Make Gnocchi – Purée baked potatoes in a food processor or blender. Combine with flour, knead, roll with flour and cut. Boil until gnocchi rises and strain.
Make Brown Butter Sauce – Melt brown butter and swirl until it reaches a nutty aroma and becomes golden brown in color. Add fresh sage and fry in brown butter for 30 seconds.

Toss – Toss gnocchi and sauce. Garnish with parmesan and thick flakes of black pepper to serve.

Tips

1 large potato = 2 generous servings
For every potato, allow about a 1/2 cup of flour. The goal is to use as little flour as possible, to keep them pillow-like, but the more flour you use, the easier it is to roll them out, either way, you can't go wrong!
Use a fork to roll the gnocchi into traditional shape.

Scaling up, down or substituting? You'll love this printable Measurement Conversion Chart!

Shortcuts

Use Trader Joe's Sweet Potato Gnocchi. Remove excess contents in bag and make as directed. Toss with brown butter sage sauce.
Use leftover mashed potatoes for the quickest, easiest gnocchi!

Frequently Asked Questions

What does sweet potato gnocchi taste like?

Sweet potato gnocchi should be pillowy soft, with the perfect chewy bite that is fluffy and light. It has a light sweetness to it, but nothing too strong, and could hardly be described as a sweet dish.

Is sweet potato gnocchi healthier than pasta?

Because sweet potatoes are so packed with nutrients, they have more nutritional value than most traditional pastas. However, the carb and calorie counts are very similar.

Make Ahead

Make your dough ahead and refrigerate it for up to six hours.
You can also make these sweet potato gnocchi ahead of time and refrigerate in an airtight container for up to 48 hours ahead. I prefer to cook mine when I make them and then store.
Make a larger batch and freeze! Flash freeze on a sheet pan and then store in an airtight Ziploc bag for up to three months.

How to Store

At Room Temperature – You can leave these sweet potato gnocchi out for up to two hours while serving.
Refrigerate – To store your cooked sweet potato gnocchi, simply package in an airtight container and store up to 48 hours in the fridge.
Freeze – You can freeze sweet potato gnocchi and store for up to three months.

Dietary Considerations

Vegetarian
Dairy Free (Eliminate the brown butter sauce and Parmesan)
Nut Free

Sweet Potato Gnocchi

Little pillows of Heaven!

Ingredients

2

large

sweet potatoes

cleaned

1

cup

all purpose flour

½

cup

all purpose flour

for rolling

6

leaves

sage

fresh

½

cup

unsalted butter

black pepper

optional

¼

cup

parmesan

fresh grated to garnish

Instructions

Preheat oven to 350°F. Poke sweet potatoes and bake 45 minutes.

Remove from oven and purée in a food processor or blender.

In a large mixing bowl or stand mixer, combine flour with sweet potato purée. Switch to dough hook and knead for 4 minutes or knead by hand.

Meanwhile, bring a large pot of salted water to a boil.

Roll out dough (will still be slightly sticky) into rolls using flour. Cut into pieces.

Boil gnocchi until it rises to the top. Continue boiling just a few seconds. Strain.

Meanwhile, in a saucepan over medium heat, melt butter. Allow it to brown swirling it until it reaches a nice, nutty aroma. Add fresh sage and continue to cook for 30 seconds.

Remove from heat and toss gnocchi in sauce. Garnish with pepper and parmesan to serve.

Tips

1 large potato = 2 generous servings.
For every potato, allow about a 1/2 cup of flour. The goal is to use as little flour as possible, to keep them pillow-like, but the more flour you use, the easier it is to roll them out, either way, you can't go wrong!
You can prep the gnocchi ahead of time, so it's perfect for easy entertaining!
You can use a fork to roll the gnocchi into shape if you prefer.

*optional: use a fork to make traditional gnocchi indentions

Serving:

1

g

|

Calories:

545

kcal

|

Carbohydrates:

70

g

|

Protein:

10

g

|

Fat:

25

g

|

Saturated Fat:

16

g

|

Polyunsaturated Fat:

1

g

|

Monounsaturated Fat:

6

g

|

Trans Fat:

1

g

|

Cholesterol:

65

mg

|

Sodium:

198

mg

|

Potassium:

636

mg

|

Fiber:

6

g

|

Sugar:

7

g

|

Vitamin A:

24876

IU

|

Vitamin C:

4

mg

|

Calcium:

139

mg

|

Iron:

3

mg

Estimated nutrition information is provided as a courtesy and is not guaranteed.

Explore More