Learn how to make a wine bottle tiki torch in less than 10 minutes. Keep bugs at bay with one of these beautiful wine bottle crafts!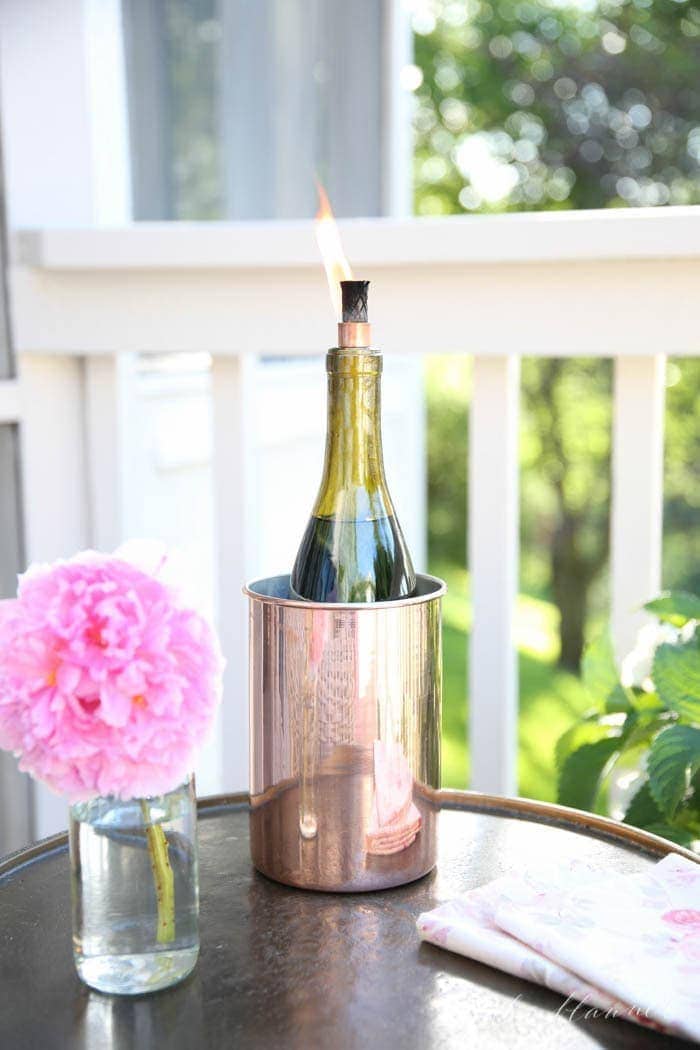 DIY Wine Bottle Tiki Torch
Every now and then, I like to pretend I'm an overachiever. Spoiler alert? I'm not. I'm all about 10-minute ideas.
You can knock a wine bottle tiki torch out in less than 10 minutes!
I love bringing you fun and charming DIY projects! I've shared so many over the years, including this easy DIY coat hook and this charming dried flower wreath. Don't skip those posts if you're looking for more inspiration!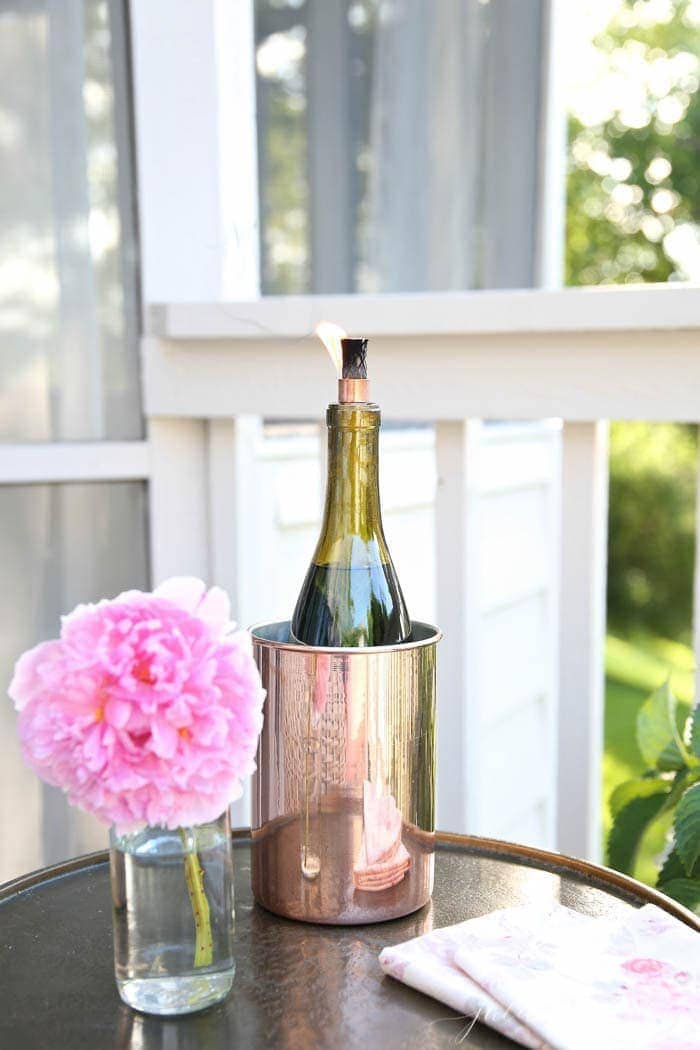 One of the Best Wine Bottle Crafts
We've been spending a lot of time on our patio lately. I've filled it with lavender and catmint, but I've added a wine bottle tiki torch for a little extra protection from mosquitos. It's a quick, easy and beautiful way to keep bugs at bay – day or night!
A wine bottle tiki torch also adds a little ambiance. It's time to look at your empty wine bottles in a new light – or as a new light!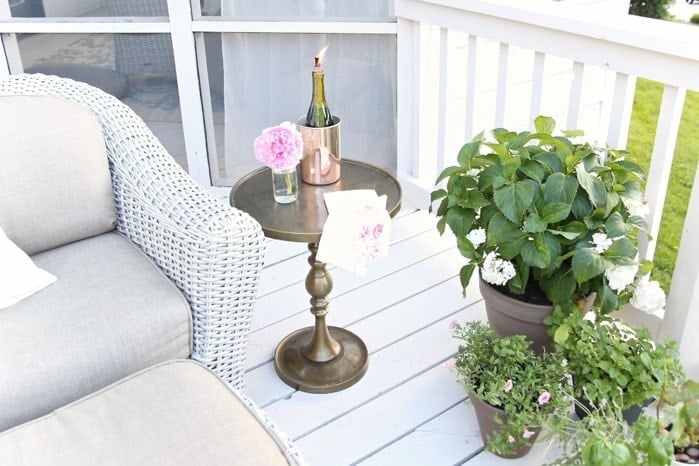 You can make your own by following this easy tutorial. See the end of this post for printable instructions.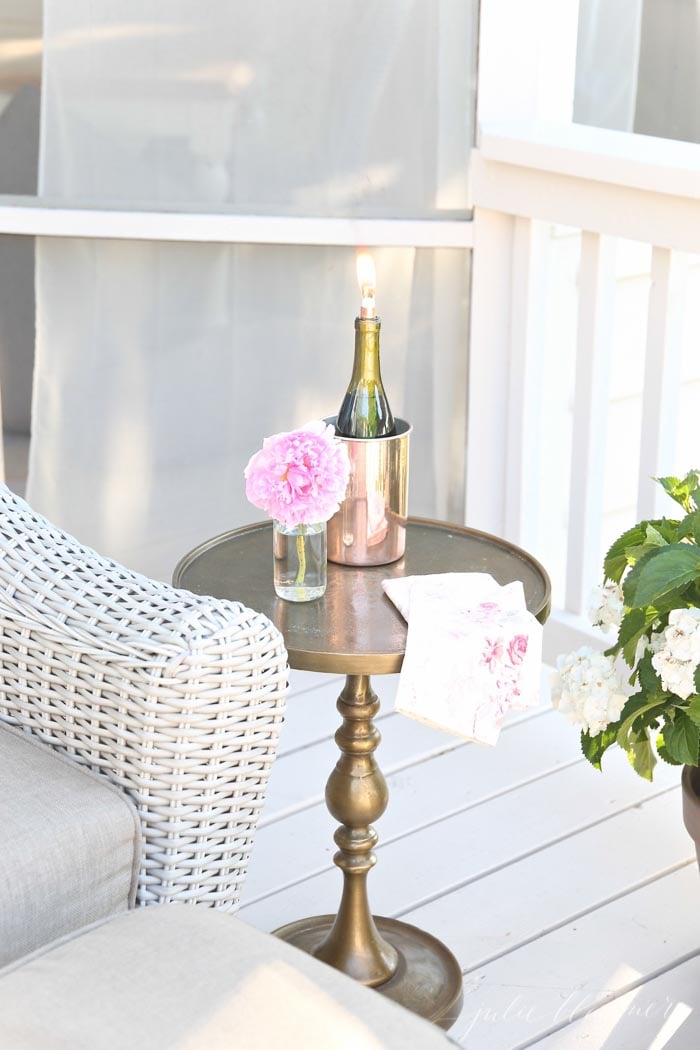 You just need a few things to make a wine bottle tiki torch, including a wine bottle! You can also use your favorite sparkling water or liquor bottle. You'll also need copper coupling and nylon seal tape (both found in the plumbing aisle of your hardware store), tiki replacement wick and of course, tiki torch fuel.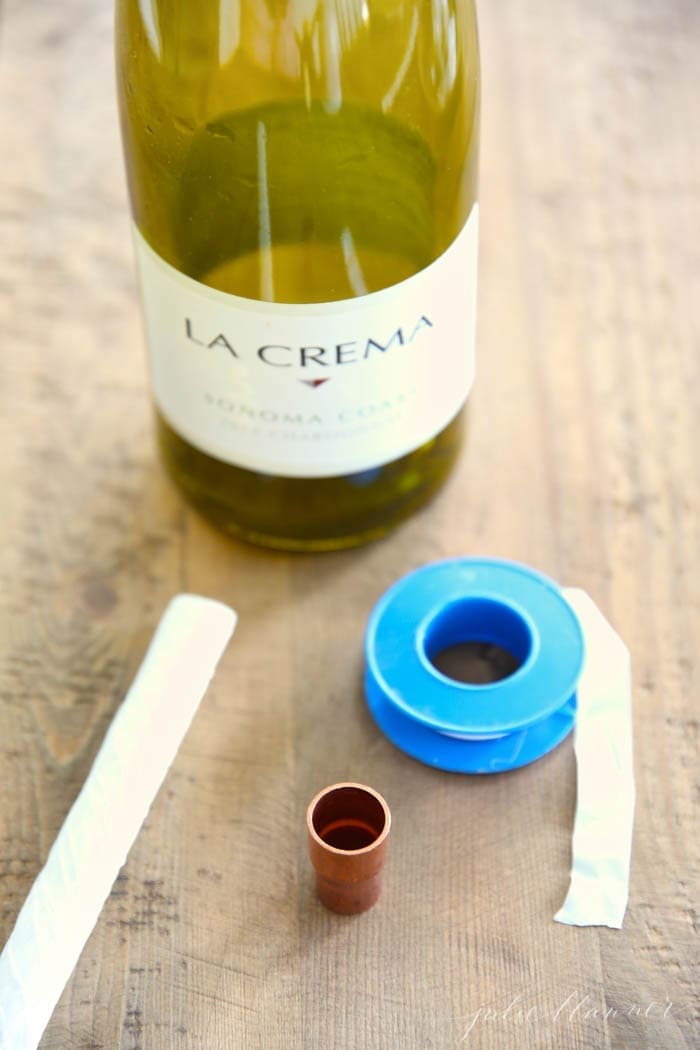 It's quick and easy to make – as you see below just a little plumbers tape and coupling secure the wick in the wine bottle!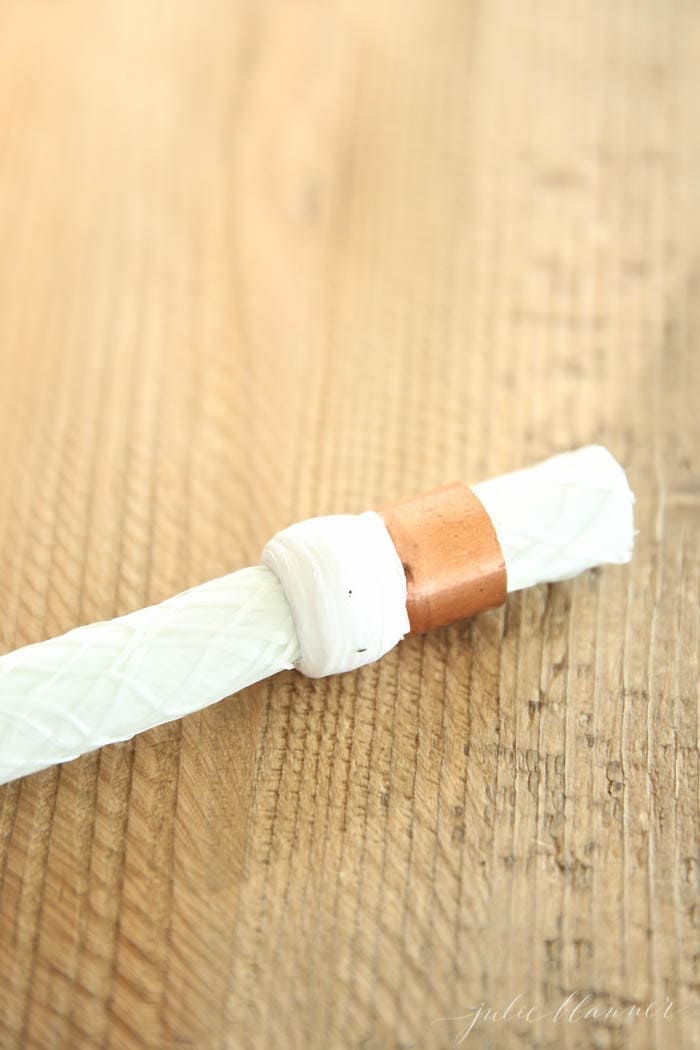 Tiki Torch Fuel
How to Make Tiki Torch Fuel
Did you know you can make your own Tiki Torch Fuel? It's true – and so simple!
A mix of isopropyl alcohol and distilled water will suffice and burn in a tiki torch, however will not repel insects. To make your own tiki torch fuel, simply combine one teaspoon of distilled water in a 16 ounce bottle of isopropyl alcohol. Add desired amount of essential oil to repel insects, naturally. Some suggested essential oils include:
Peppermint
Cedar
Citronella
Geranium
Lavender
Eucalyptus
Tea Tree Oil
One ounce of fuel will last approximately an hour.
Paraffin Oil
Paraffin oil has long been used in oil lamps. It can also be used in a tiki torch in a pinch, but won't offer a large flame or repel bugs. Liquid paraffin is odorless and burns clean.
Odorless Tiki Torch Fuel
Store bought can be great, too! It's odorless with very little soot. A variety are offered including citronella and cedar, citronella and eucalyptus. We use this one.
Eco Friendly Torch Fuel
Danish Clean Green Oil is 100% vegetable-oil based, non-toxic, odorless, clean burning and better for the environment than the above options.
Do not use kerosene or gasoline in your torch.
Tip: Store tiki torch fuel in a dry, dry, and well ventilated location.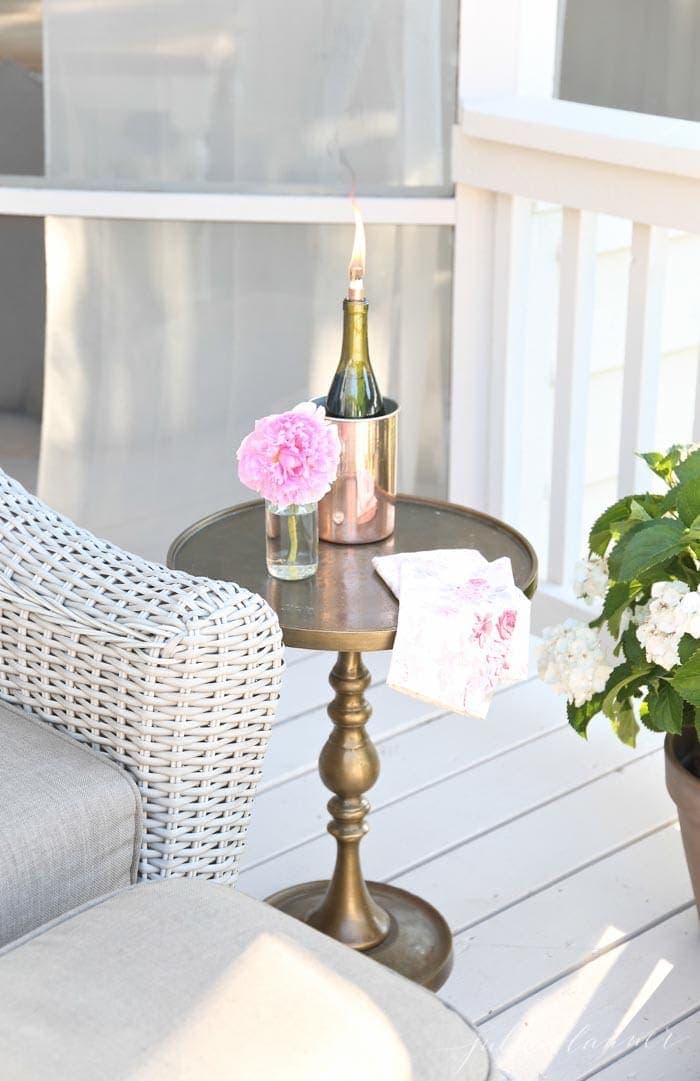 Decorating With A Wine Bottle Tiki Torch
This wine bottle tiki torch looks great styled with a nice arrangement of flowers to add a little pop of color to the table. To learn the best ways to arrange flowers, check out my post on How to Arrange Flowers.
Safety Tips for Wine Bottle Crafts
To keep it from tipping over, create a torch using my wine glass holder tutorial or place it in a wine chiller. You can also make brackets to line a deck or fence with these torches.
Make sure your snuff it completely before leaving it. I turn a juice glass upside down to put ours out.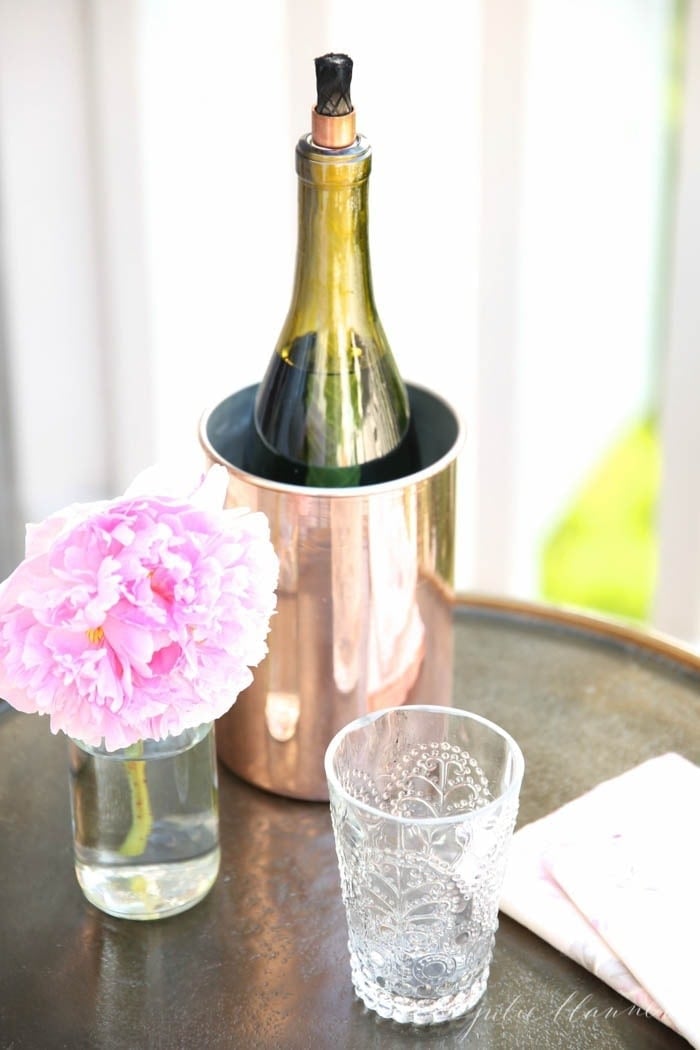 Click here to see more of our deck and here to learn how to make copper wine stakes in less than 10 minutes!
How To Make a Wine Tiki Torch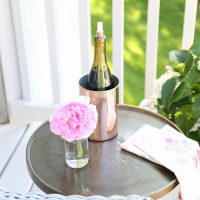 Wine Bottle Tiki Torch
Learn how to make a wine bottle tiki torch to keep bugs at bay.
Ingredients
wine bottle

1/2

x 3/8 copper coupling
Instructions
Wrap the smaller portion of the copper coupling with tape until it fits snug into the wine bottle. The tape gives a little, so don't be afraid to go overboard.

Pull the wick through the coupling, leaving an inch of wick at the top. Set aside.

Using a funnel, fill your wine bottle with citronella fuel.

Inset the copper coupling and wick ensuring a tight fit.
Tips
Use a bracket to hang on a fence or deck post
Line a table with them so they double as decor
Thanks for stopping by, I hope to see you again soon!
Originally published May 27, 2015