Turn your window bench into a soft and cozy seat that will be your kids' favorite reading spot. In just a few minutes and with just a few inexpensive supplies, you can turn your bay window seat into a welcoming retreat.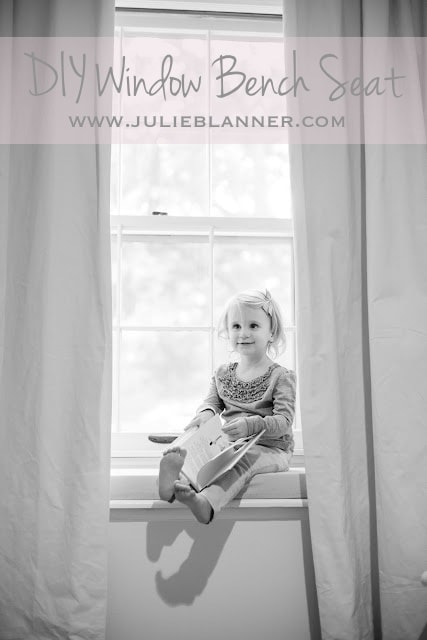 This post was originally published September 17, 2012 and updated with fresh content and tutorial details on September 20, 2021.
Adalyn's room in our Kansas home had a lovely window bench built in. She loved spending time in her window nook, relaxing and reading books. I can't blame her – the sun shone in through the trees there, making it feel magical.
And it was the perfect fit for her. It was her own little child-sized corner of the world. I would have loved to have one as a child!
Considering how much time she spent there, and to encourage her to keep reading, I wanted to make it more comfortable for her. I searched online for a window seat cushion, but was blown away by how expensive they were.
There was no way I was going to spend 100s of dollars on something I can make for way less. Plus, I get to choose the fabric and custom fit the window bench seat to our exact specifications.
There are so many ways to make your children's room feel special and wondrous for them. Check out my 5 of the best kids' room ideas to see how you can easily transform a child's room.
And if you're looking for some window seat ideas on how to update a window bench or bay window seat, see how to how to hang curtains around your bench and how to make it even cozier with throw pillows.


What You Need to Make Window Bench Seats
Board – Choose a board from 1/2″ to 1″ thick. This will give the window bench seat structure, but since it is resting on the window bench, it doesn't need to support weight.
Foam – Choose a high density foam that will keep its shape, approximately 2″ to 4″ thick. This can be purchased at craft stores, home improvement stores, and ordered online.
Spray Adhesive – This is optional, but it does keep the foam in place when you're assembling the cushion and when it is being lounged upon.
Fabric – You get to choose your favorite! I recommend using cotton, or more sturdy fabric. You don't want a stretchy fabric because it could become misshapen.
Staple Gun with Staples – This will attach the fabric to the underside of the board.
Knife – Cuts the foam with a clean, smooth edge.
Marker – I used this to trace the size of the board on the foam, and to give me a line to cut against to keep it straight.
Tape Measure – Measure your window seat dimensions carefully – twice. And then cut your material.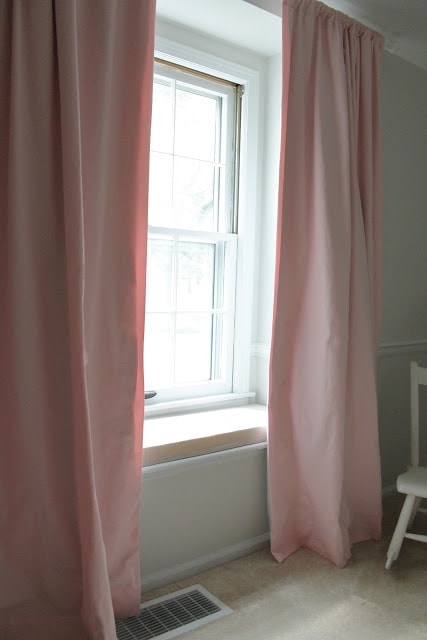 How to Make a Window Seat
Start by measuring the inside of the window, subtracting 1/4″ from that measurement to give an allowance for the fabric that will be added onto the ends. This will ensure a perfect fit when you go to place your bay window bench cushion in. Measure from the back wall to the front of the seat.
Using your 2 measurements, cut the board to the specifications.
Place your board onto the foam and use the marker to trace around the board.
Place the foam on cardboard and using a sharp knife slowly cut along the line, ensuring a smooth, clean edge.
Use spray adhesive on the board and press the foam to it until it adheres. You can easily skip this step if you don't have spray adhesive. However, the adhesive keeps the foam in place while stapling.
Next, spread out your fabric right side down and lay the cushion on it, foam side against the fabric. Leave a few inches of fabric on each side of the board so that you have enough to wrap around the board and staple underneath. You can iron your fabric before you lay the seat on it. However, if you don't mind a worn look (and you avoid ironing at all costs, like me) then just keep going.
Lastly, pull the fabric taut and staple with staple gun. Work your way around the fabric, taking time on the corners to fold the fabric nicely. Fold your corners on the sides that will be covered by the walls so the front of your window bench seat will be perfectly smooth and seamless!
Tips for the Perfect Window Bench Seat
Always measure twice. You want to make sure your measurements are correct before you cut the board.
When you're stapling your fabric, make sure to have the fabric taut or you'll end up with wrinkles.
Before you cut your fabric, make sure that you have enough to cover the foam and board, plus 5″ on each side. You need enough to wrap around the sides and enough to be stapled on the back.
Make your side folds facing the walls. That way the front of your seat won't show seams!
To avoid puckers in the fabric, it can help to alternate sides of the fabric as you staple. For example, staple one corner and then staple the opposite corner. And then staple the fabric in between.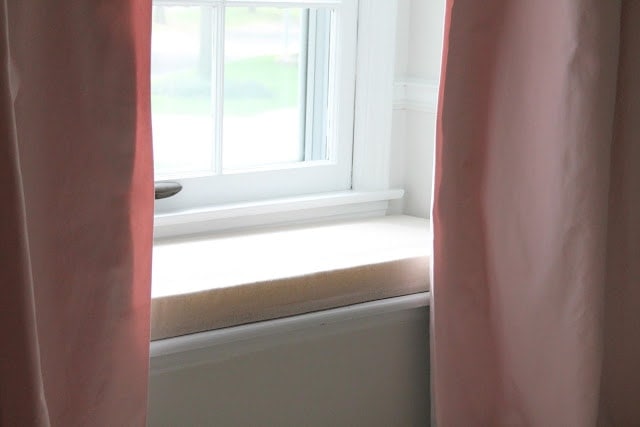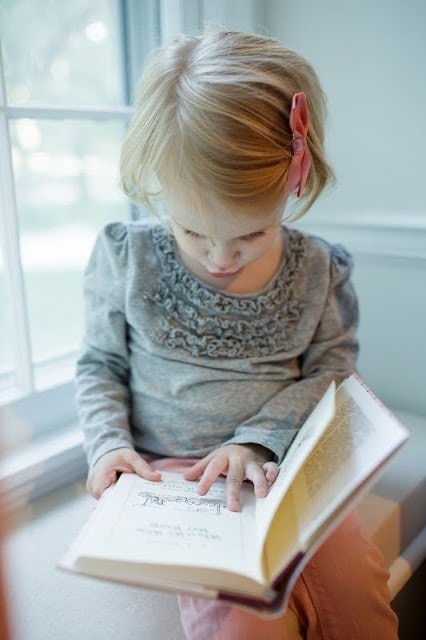 More Bedroom Ideas
DIY Window Bench Seat
Create a cozy window seat cushion in less than an hour with this easy tutorial.
Materials
Board
Foam
Fabric
Spray Adhesive, optional
Tools
Tape Measure
Marker
Staple Gun w/Staples
Instructions
Measure the inside of the window, allowing a 1/4" allowance for the perfect fit. Measure from the back wall to the front of the seat.
Cut the board according to your measurements.
Place your board on the foam. Trace around the board using your marker.
Cut the foam with a sharp knife. Can do this over cardboard for safety.
Optional - Cover board with spray adhesive and adhere board to foam.
Lay your fabric out flat and lay foam on the fabric, allowing a few inches of fabric to extend past foam a board.
Pull the fabric taut around board and foam and staple into the board. Work your way around the fabric, creating folds on the corners.