Learn how to create a beautiful and cozy getaway for your kids, complete with teepee decorations and fairy lights. This whimsical teepee is sure to become a favorite space in your home.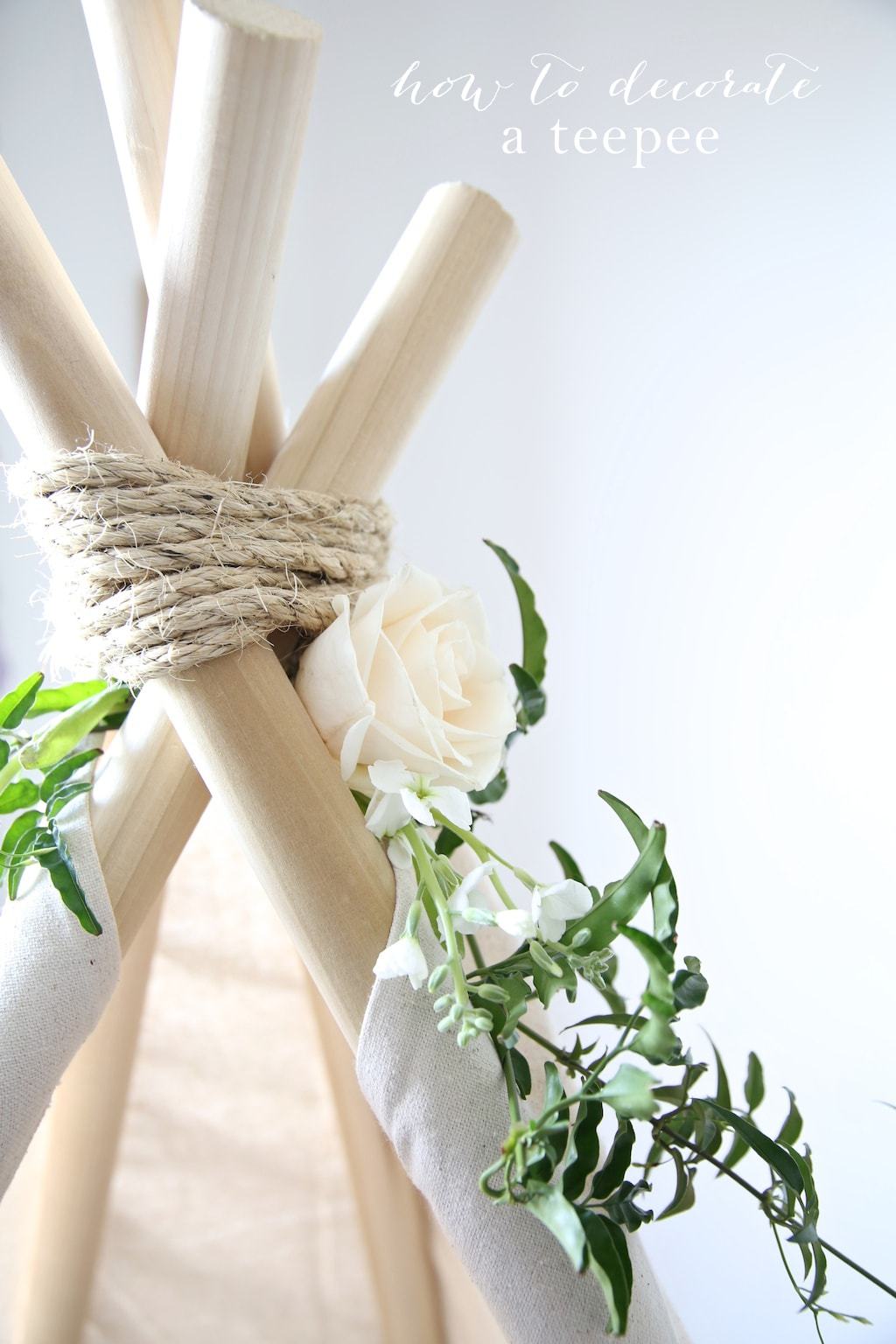 Originally published January 24, 2015 and updated with fresh content and details June 16, 2021.
It's no secret that kids love their own little spaces. I loved a play tent in my room when I was little, so I wanted to create something just as magical for my girls. I came up with this easy no-sew teepee for their room and it couldn't be more perfect!
It's their own little "house" right inside their bedroom! They love this cozy space for reading, playing, napping, or just daydreaming. And I love that its simple style and color fit so well with our home's color palette and minimal design aesthetic.
For Adalyn's birthday party I wanted to make the girls' teepee extra special. I used grocery story flowers to make a beautiful teepee garland to drape from the top. The large white blooms and vibrant greenery were the perfect teepee tent decor. It was like stepping into a fairy land.
I also created several flower crowns, centerpieces, and a floral chair swag – all in just over a half hour using $25 in grocery store flowers! Decor doesn't have to be expensive or time-consuming to be impactful, especially in kids' rooms.
For ideas on how to get started, read about My Five Favorite Kids Bedroom Decorating Ideas here!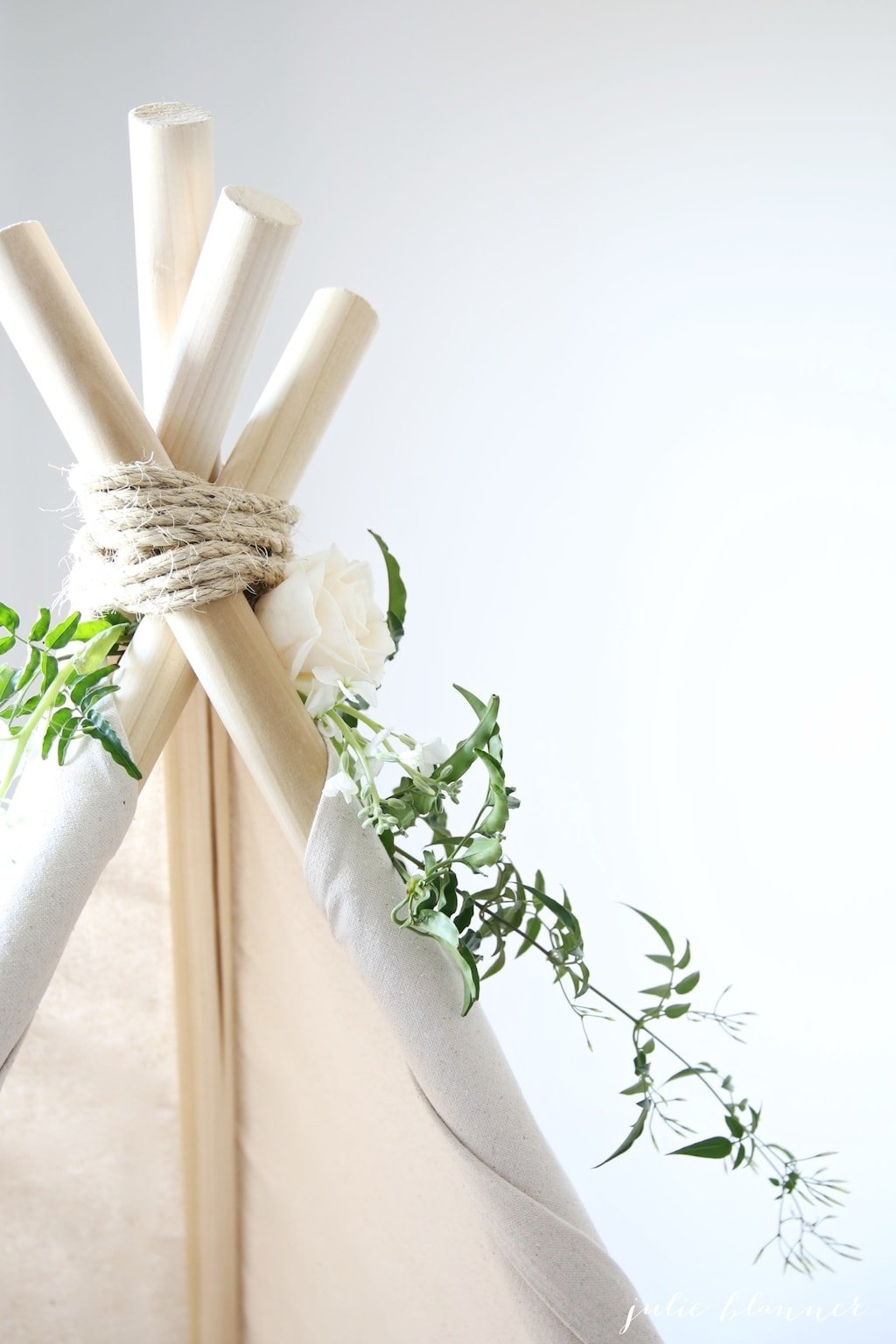 Tools and Supplies
To create your own teepee garland, you'll need these easy-to-find supplies.
Scissors
A climbing flower or plant – Consider jasmine, clematis, or something similar.
Supplemental flowers – stock flowers are perfect to fill in and add variety.
A large bloom – a rose looks stunning as the focal point.
How to Make Floral Teepee Decorations in Just Three Easy Steps
It is so easy and quick to make your own floral garland to use anywhere in your home – on your mantel, staircase, or as teepee tent decor like I did here.
Cut two long lengths of your climbing flower. Insert the stems under your rope (at the top of the teepee) to secure them.
Add your supplemental flowers, leaving a few additional inches to layer on top of the climber. Tuck under the rope/between the poles.
Add your large bloom to one side, leaving 2-3″ of stem so that it can hold its weight.
Another 5 minute flower arrangement – done! For extra support (or if you're making a garland for somewhere other than a teepee) simply secure the ends of the stems together with floral wire. Arrange leaves and blooms to cover the wire so it won't be seen.
If you want an added bonus, you can add fairy lights too. They add such a lovely, soft glow, especially in a darkened room. You can find plug-in or battery-powered lights, whichever works best for your situation.
To add a strand of lights, simply secure in place to the outside or inside of the teepee using small safety pins or clips. You could even just drape them across the top – just be careful small children don't try to pull them down. However you use them, you will love the result!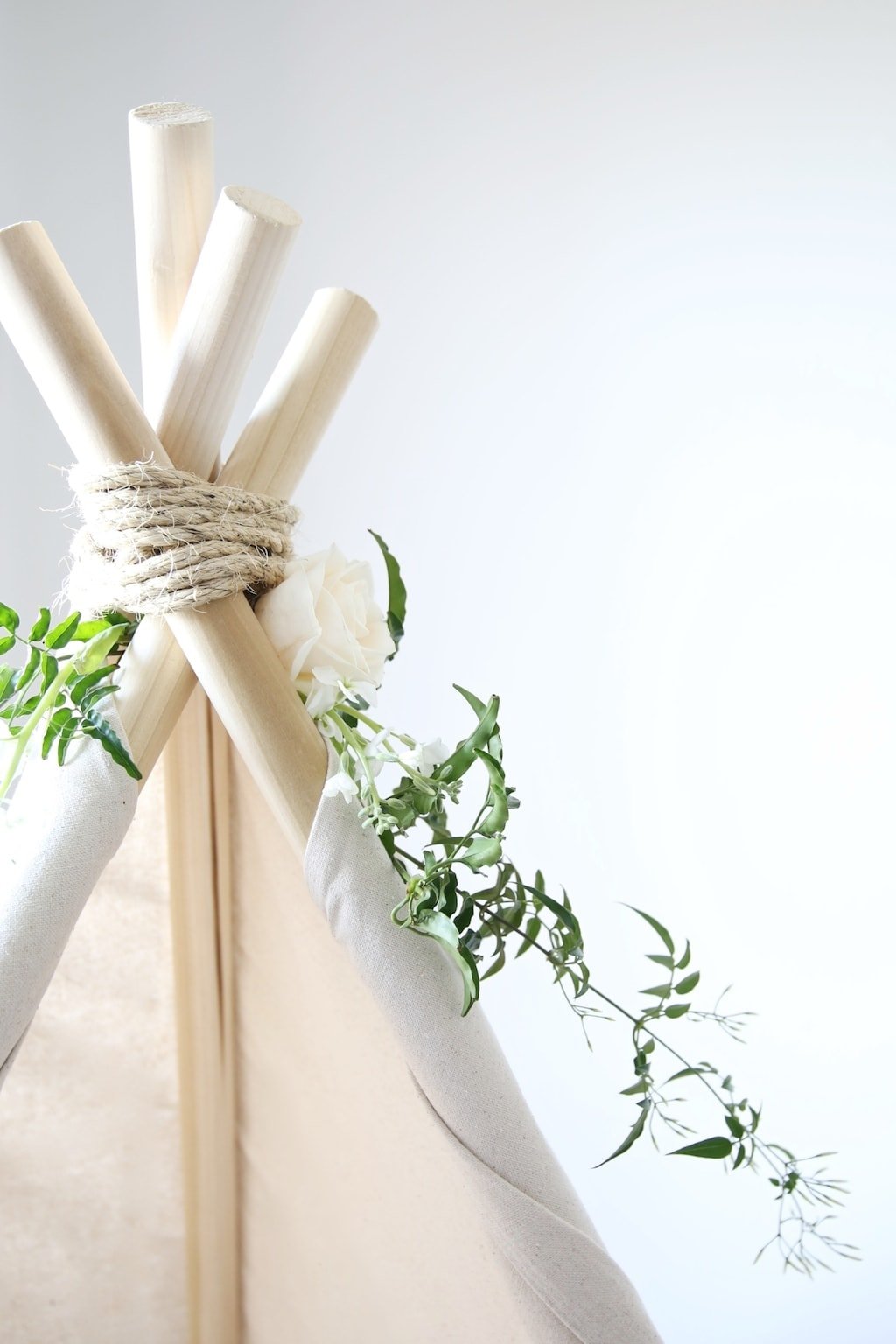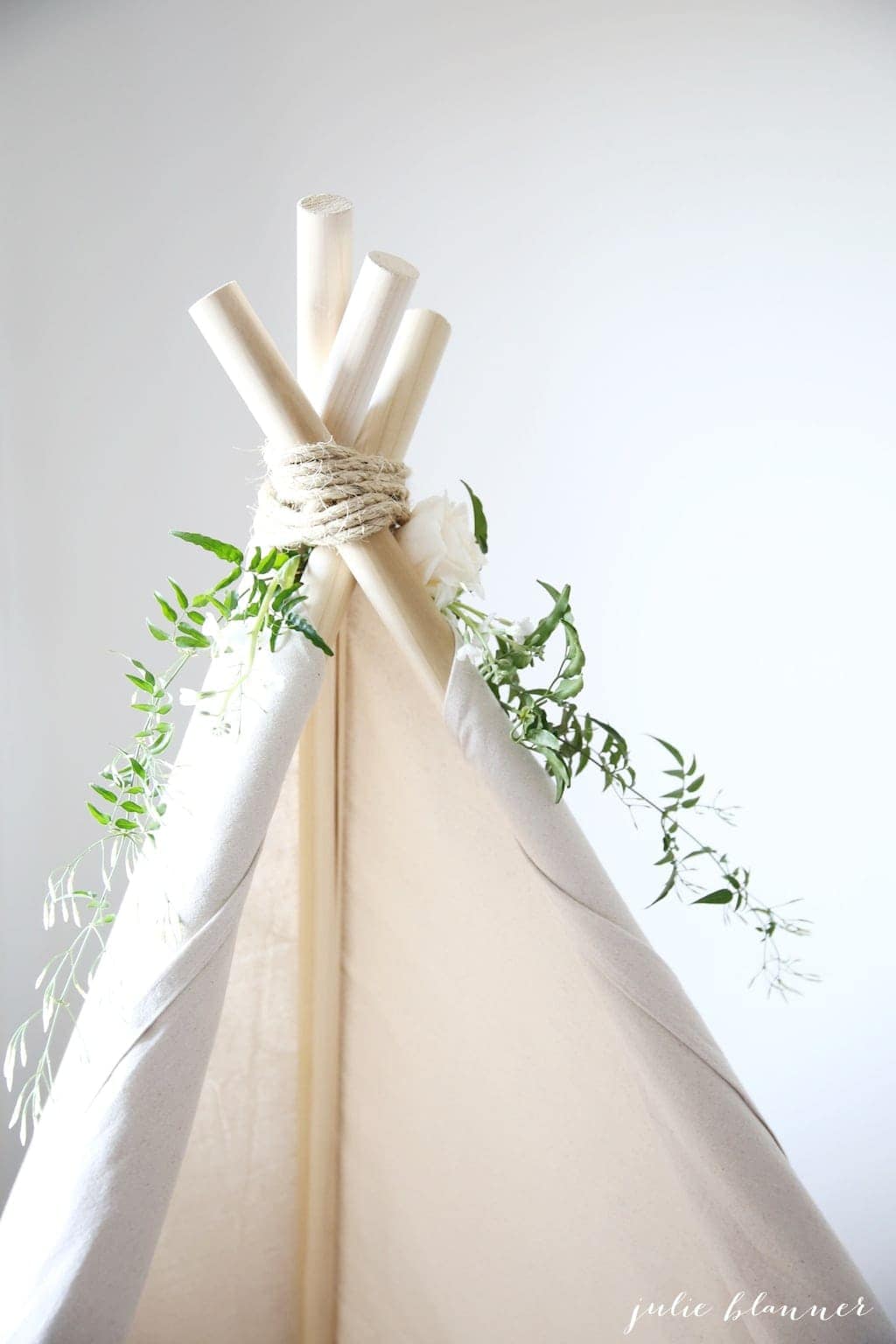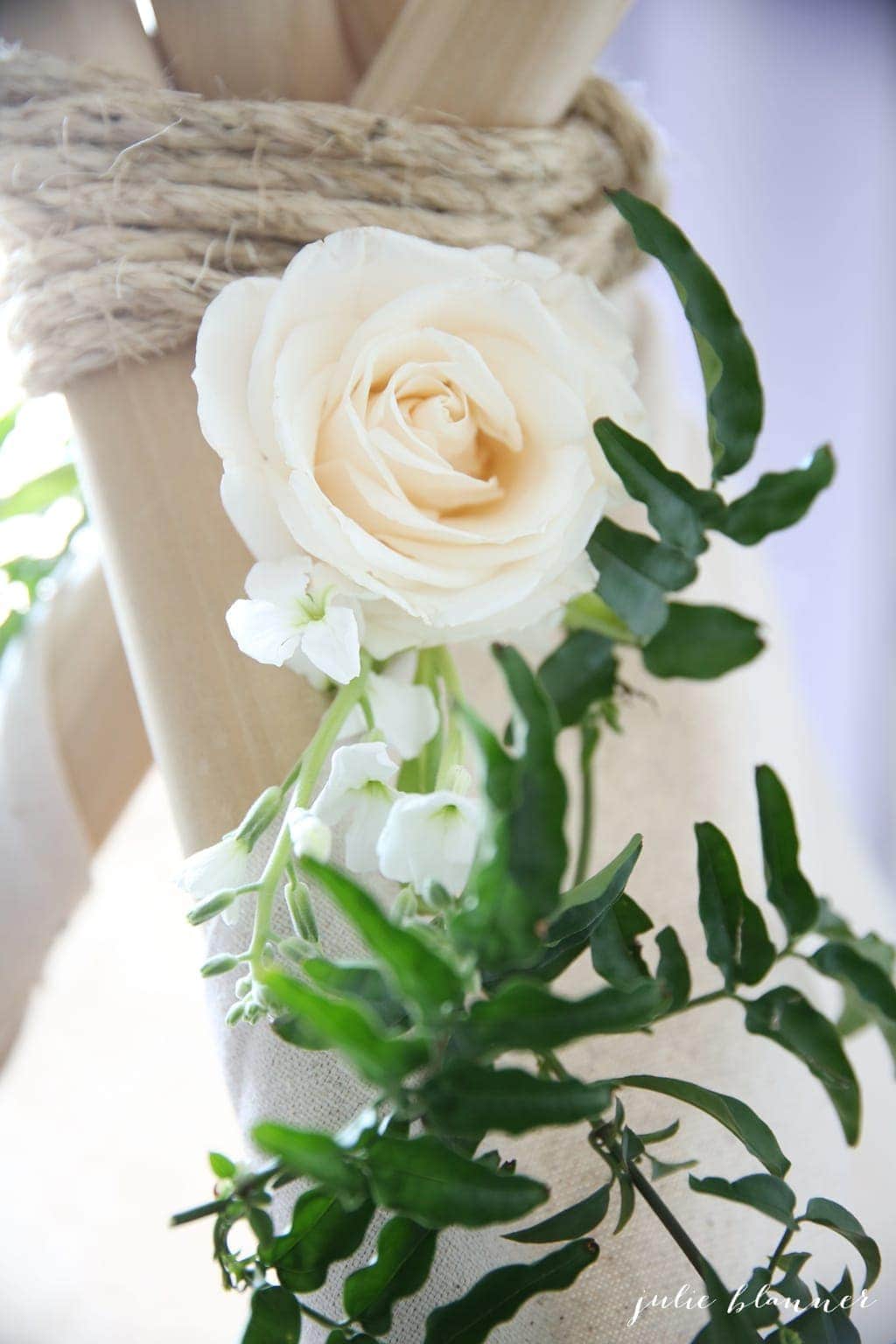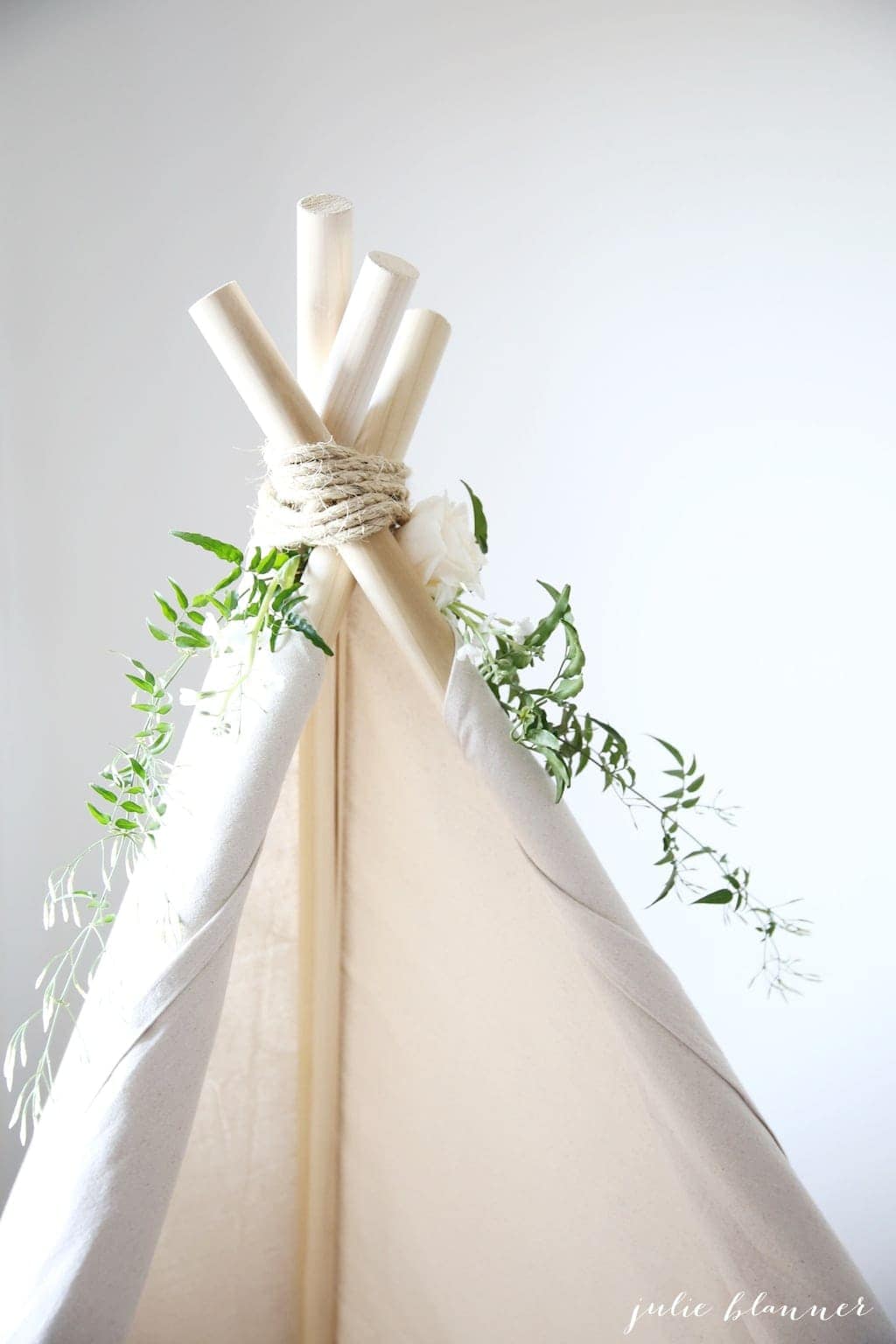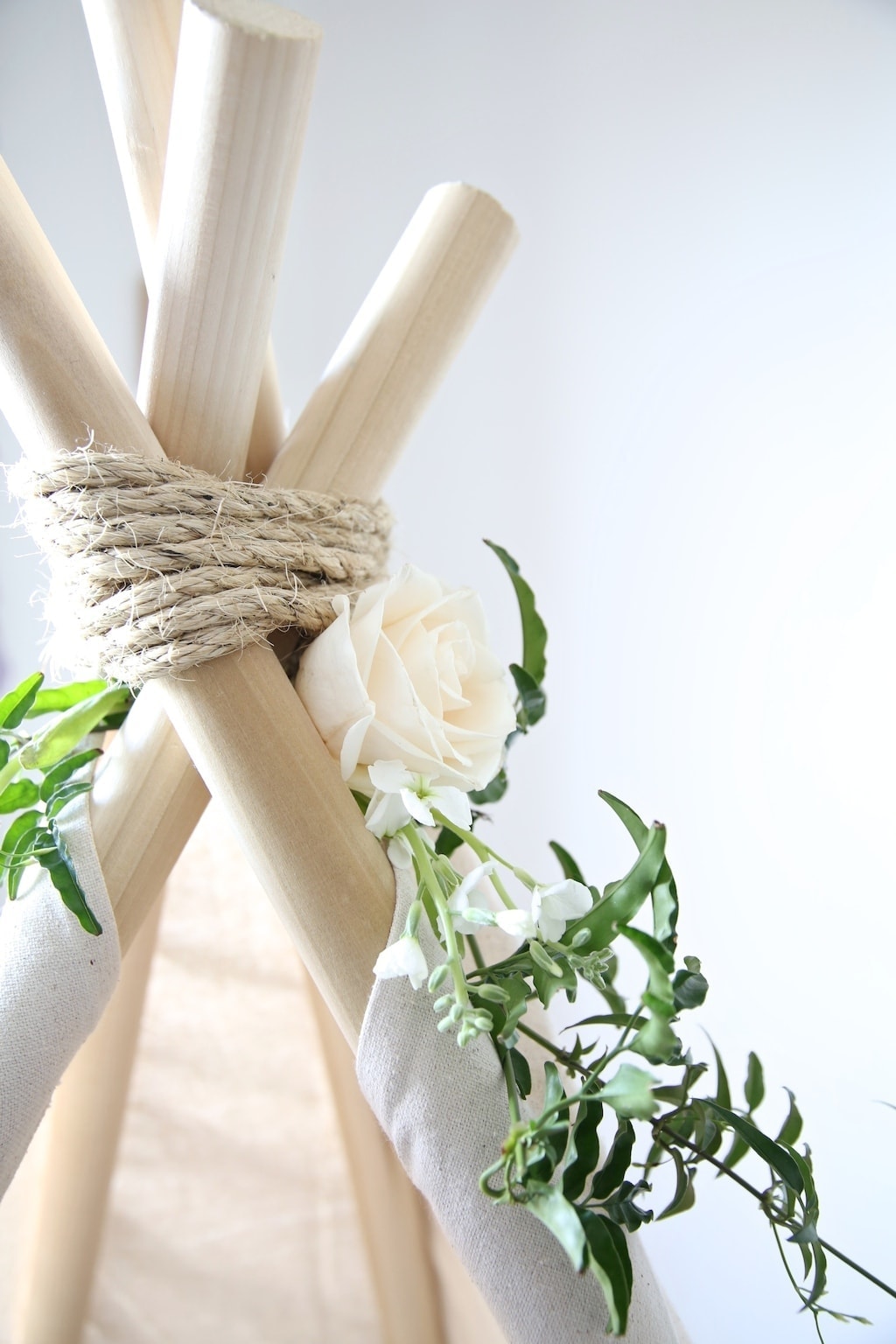 What do you think? What else could you use as teepee decorations to create a simple, elegant style that you and your kids will love? I think a teepee with fairy lights inside would be magical!
Click here to see more of Adalyn's 5th birthday party!