Quiche Lorraine is exquisite – the smooth and slightly sharp flavors of parmesan gruyere cheese, salty bacon, and creamy custard work so well together.
It's so simple to make, tastes delicious, and looks beautiful! Learn all the best tips and tricks for making the best Quiche Lorraine.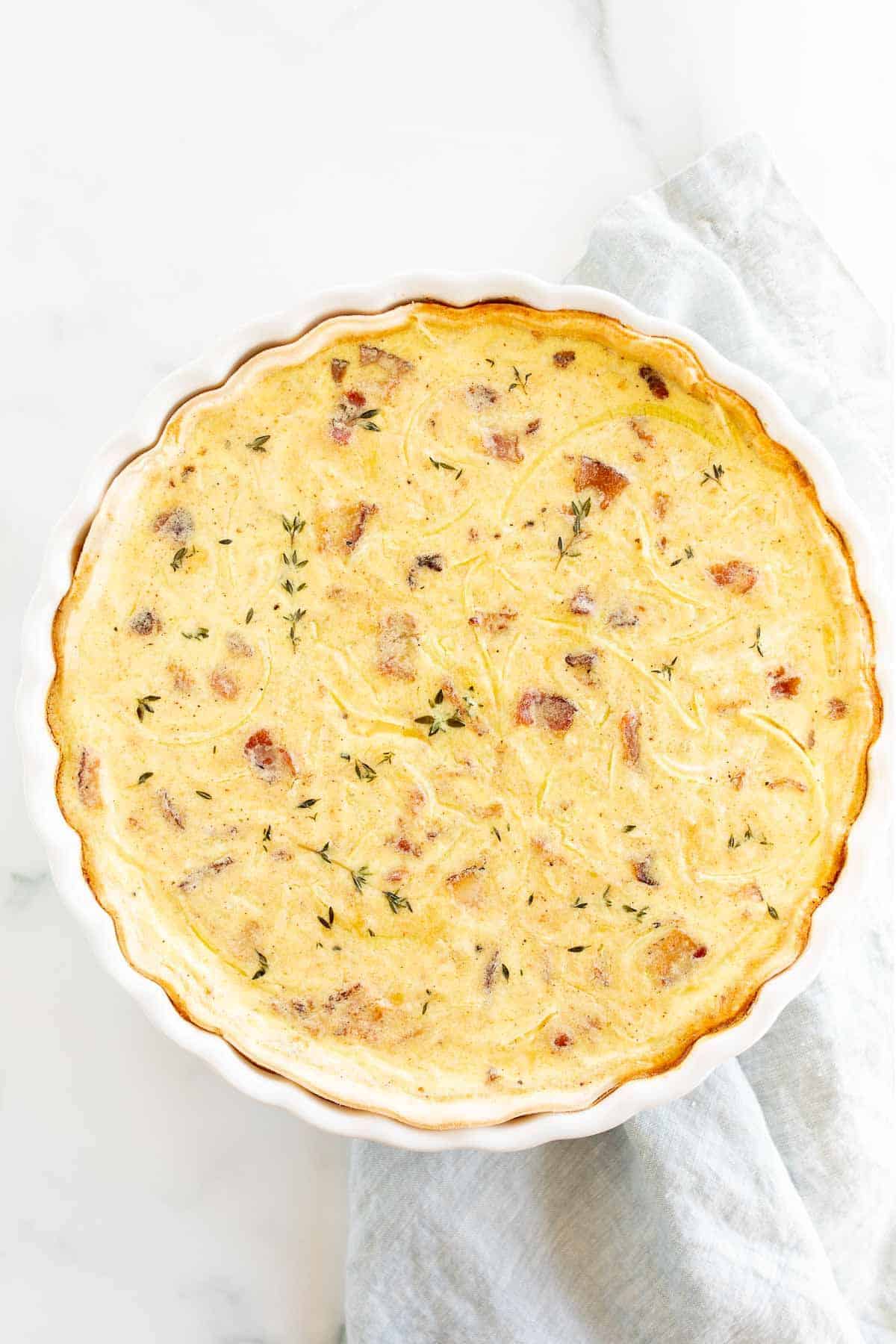 Quiche Lorraine is the quiche that started it all. Quiche was originally a French dish that entered the United States in the 1950s.
The flavors of bacon, gruyere, parmesan, eggs, cream, and herbs were enough to be an instant favorite. Add to this combination the fact that it was super easy to make and looked so elegant, and it was an instant success that is still sought after decades later.
I love the ease and elegance of Quiche Lorraine. The flavors are mild enough that everyone loves it, but the gruyere and parmesan cheese add distinctness to the custard that foodies can appreciate. The silky custard houses all the delicious ingredients inside a flaky quiche crust.
Don't miss these other breakfast favorites: Mexican Breakfast Casserole, Cheddar Cheese Tarts, and this Egg Strata.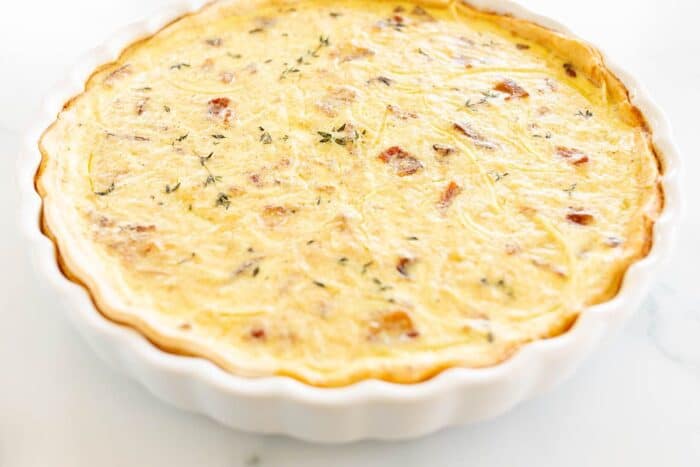 What Is Quiche?
Quiche is a smooth custard made with eggs, cream, and any other ingredients you want to put in it, baked in a tender and flaky crust.
Quiche is perfect for entertaining. It was frequently requested when I was both a caterer and event planner for brunches. It's a breakfast, brunch, holiday, and shower staple because it's easy enough for every day, but elegant for entertaining!
You can make Quiche Lorraine with a homemade quiche crust, store-bought crust, cream cheese pie crust, phyllo dough, hollowed peppers or crustless.
It's so versatile that you can make it in a tart pan, pie dish, cheesecake pan or use phyllo shells to make mini Quiche Lorraines!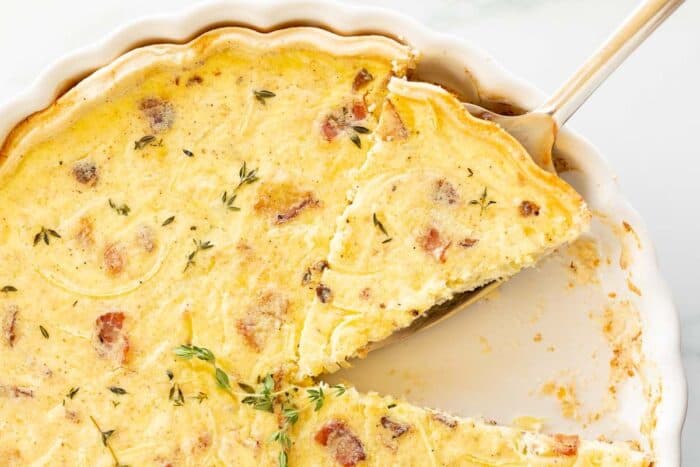 Why You'll Love this Recipe
Versatile – Mix up the ingredients by using different cheese and meat.
Beautiful – Fancy to serve at any special event or occasion.
Freezes Well – Make now and enjoy later! Quiche keeps well for more than 3 months!
Quiche Lorraine Ingredients
Crust – Store-bought or homemade pastry crust. Pie crust, cream cheese crust, quiche crust, phyllo or you can make it crustless!
Eggs – Large
Heavy Cream – Use heavy cream for rich creamy flavor or substitute all or part with half and half or whole milk to lighten it up. You can make it dairy free using soy or almond milk and in a pinch, water.
Bacon – Chop bacon into small pieces and sauté until fully cooked. Drain fat.
Onion – White or yellow onions work well, chopped. If you prefer, sauté or caramelize them.
Gruyere – Fresh shredded gruyere melts incredibly well and gives this quiche incredible flavor. You can substitute with Swiss cheese.
Parmesan – Freshly grated parmesan will melt and taste better.
Salt – Used for its savor.
Pepper – Freshly ground has a distinct and amazing flavor.
Nutmeg – Adds a unique, slightly nutty flavor.
Thyme – Use freshly chopped or dried.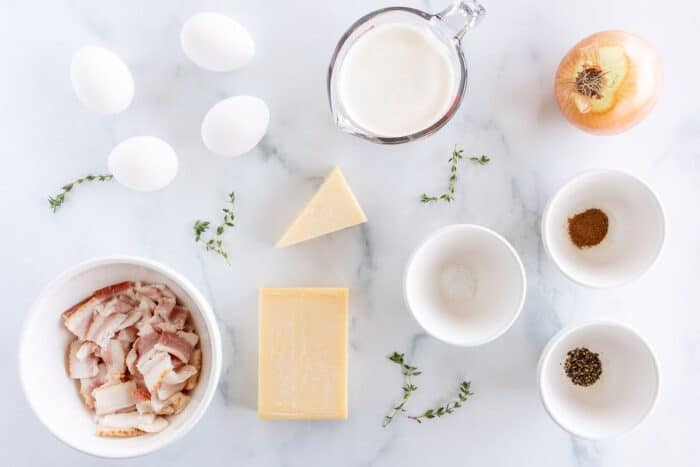 Variations
Use different cheeses – Swiss can take the place of the gruyere, or use whatever cheese you have on hand.
Sauté or caramelize onions – Learn how to caramelize onions here.
Add vegetables – Chopped spinach and blanched broccoli work well.
How to Blind Bake Crust
Whether you are using fresh or frozen dough, blind bake (or partially bake) your crust to keep it crisp and flaky.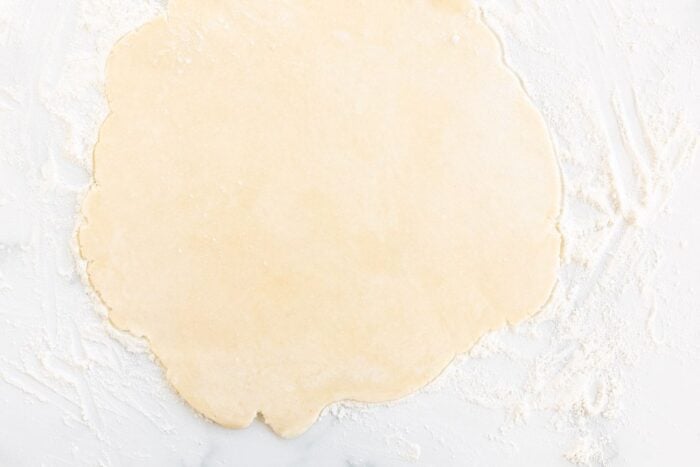 Prep – Preheat oven to 375 degrees F. Roll dough and place your crust in an ungreased tart pan, quiche dish or pie dish and overlap the edge evenly. Trim the edges and crimp as desired.
Line the Crust – Gently press a sheet of parchment paper along the edges of the dish snug to the crust. Fill the bottom with pie weights, beans or dry rice to prevent it from shrinking.
Bake Until Slightly Golden – Bake crust until edges are slightly golden. Remove the crust from oven, remove pie weights and parchment.
Return to Oven – Return crust to oven and bake until bottom appears dry and lightly golden. Remove from oven until ready to fill.
How to Make Quiche Lorraine
Blind Bake Crust – Preheat oven and blind bake crust as noted in the recipe card.
Prep – Grate the cheeses, cook the bacon, and chop onions – sauté or caramelize beforehand, if desired.
Combine and Fill – Mix all ingredients together with a whisk then pour into crust.
Bake – Bake just until edges are set, but center is slightly jiggly when dish is tapped for the best texture.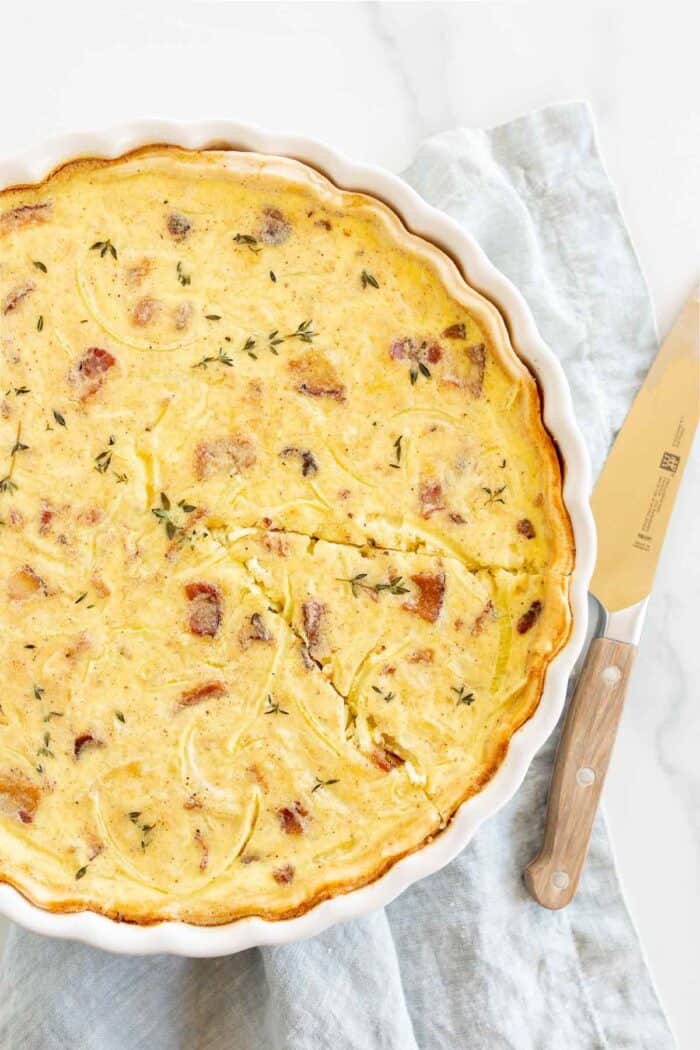 Serving Suggestions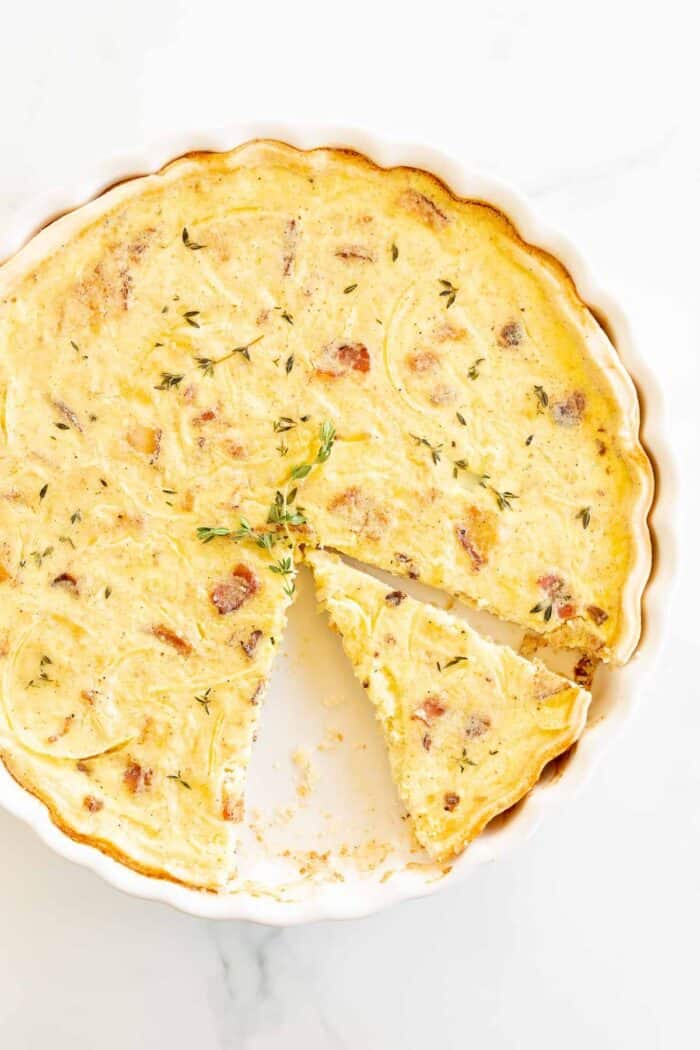 Tips
Blind Bake Crust – Partially baking the crust before filling keeps it crisp and flaky.
Protect Crust – Use a pie crust shield or tent the crust with foil to prevent over browning.
Minimal Water Content – Drain liquids from bacon so the quiche sets properly.
Bake Just Until Edges are Set – Do not over bake quiche. It should be slightly under baked and jiggly in the center when you tap the edges of the dish for the best consistency.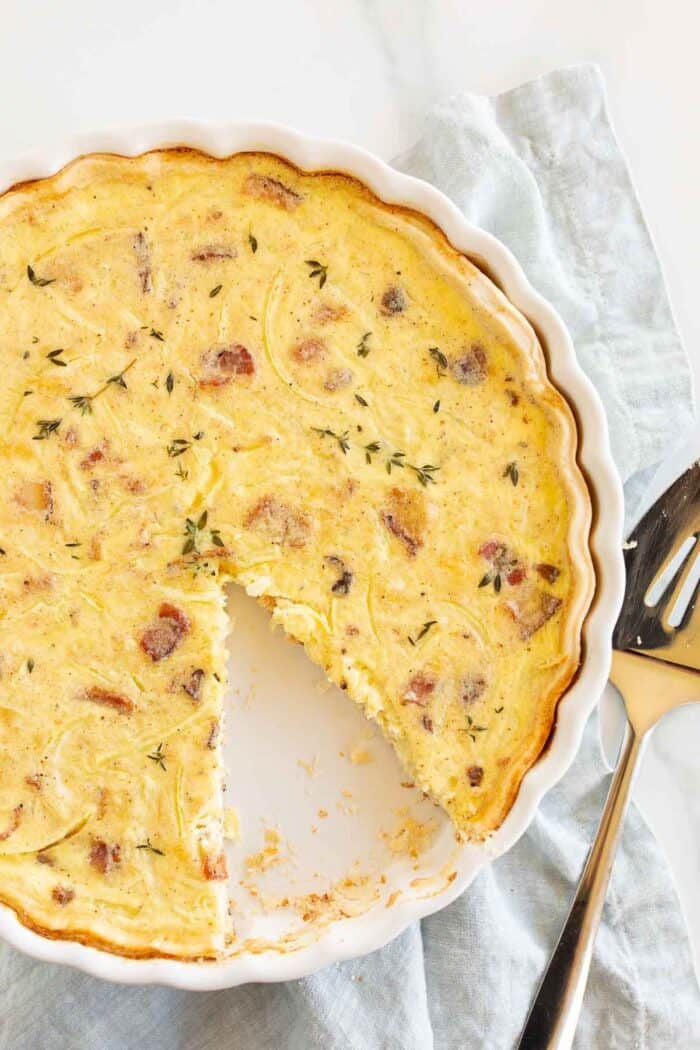 Shortcuts
Use Store Bought Crust – Use a deep dish pie crust.
Use Pre-Shredded or Crumbled Cheese – While it won't result in the creamiest texture, it's quick and easy in a pinch.
Add Cooked Ingredients – Use pre-cooked bacon and leftovers like ham, sausage, or vegetables to save on prep time.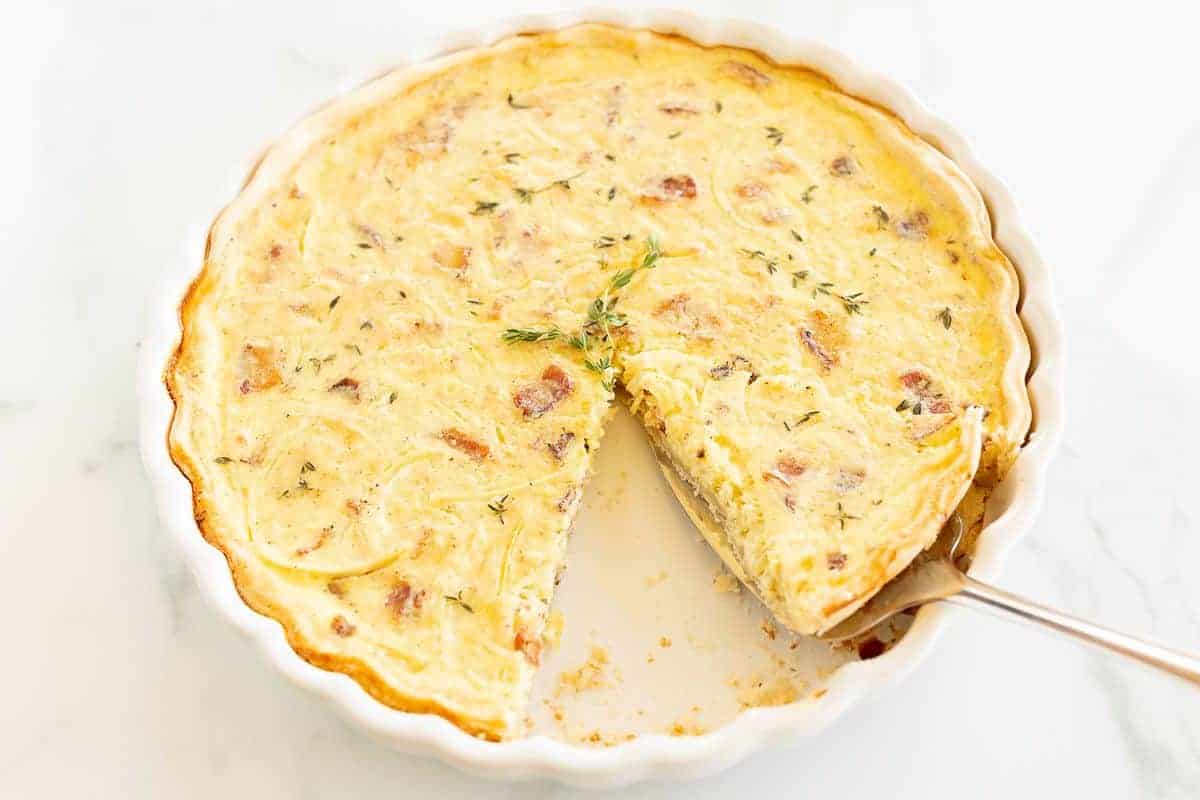 Frequently Asked Questions
Does the bacon need to be pre-cooked?
Yes, sauté the bacon before adding it to the custard mixture. You want to get the extra fat out of the bacon before baking it. Otherwise, the grease would cook out during baking and add too much moisture to the quiche.
Why does quiche need to rest before eating?
The quiche will fully set up during the resting process. This will make it so the center is fully cooked and stable when slicing.
How to Store
At Room Temperature – Leave at room temperature no more than 2 hours.
Refrigerate – Cover in plastic wrap or store in an airtight container up to three days.
Freeze – Store cooled quiche in an airtight container for up to three months for best results. After that it will begin to lose flavor.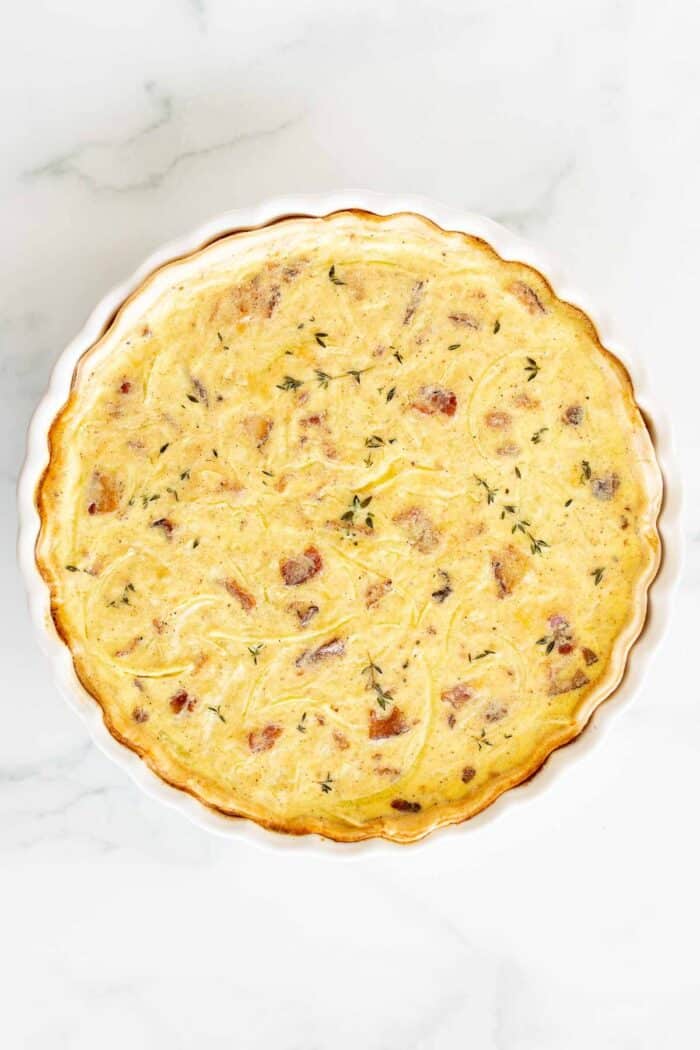 More Quiche Recipes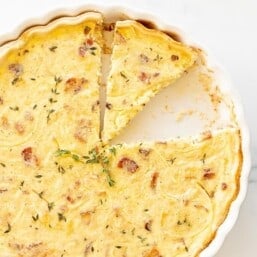 Quiche Lorraine
Quiche Lorraine is exquisite – the smooth and slightly sharp flavors of parmesan gruyere cheese, salty bacon, and creamy custard work so well together.
Ingredients
1

crust

quiche crust, pie crust or cream cheese pie crust

4

strips

bacon

chopped

4

large

eggs

large

1

cup

heavy cream

half and half or whole milk

1

medium

onion

sliced thin

½

cup

gruyere

shredded

¼

cup

parmesan

fresh grated

¼

teaspoon

nutmeg

¼

teaspoon

salt

¼

teaspoon

black pepper

2

teaspoons

thyme leaves

fresh
Instructions
Crust
Prepare a homemade or store-bought crust in advance so it can be chilled and partially baked (up to 3 days in advance).

Place crust in ungreased quiche, pie or tart dish.

Cover with parchment paper to fill mold. Fill dish with pie weights (or beans).

Bake 15 minutes or until edges are slightly golden. Remove parchment and pie weights. Using a fork, prick holes and bake 7 minutes and bottom of crust appears set and no longer wet. Remove from oven and allow to cool (or cover and refrigerate if making ahead) before filling.
Quiche
Place chopped bacon in frying pan and cook over medium heat, stirring occasionally until done. Place bacon on paper towels to absorb excess grease.

In a large mixing bowl or stand mixer fitted with the whisk attachment, beat eggs, cream, salt and pepper 1 minute on high or until well combined.

Whisk in bacon, onion, gruyere, parmesan, nutmeg, salt, pepper and thyme.

Pour filling into crust. Tent or use a pie crust shield to prevent over browning. Bake 35-40 minutes or until edges are set. Center should be slightly jiggly when you tap on the edge of the dish. Do not overbake.

Allow to cool 10-15 minutes before slicing to serve. Optional: Garnish with herbs, cheeses, etc. Serve warm or at room temperature.
Tips
Substitutions
Mini Quiche – Use a large cookie cutter to cut pie dough to fill muffin tin or phyllo shells on a sheet pan. Fill with custard and toppings. Bake 25 minutes or until edges are set and center is slightly jiggly.
Make Ahead – Quiche can be made ahead of time and then reheated. You can simply put your quiche together as directed, and bake from refrigerated when you're ready. You do run the risk of a soggy crust with this method, though.
Another option is to bake your quiche fully, then let it cool before refrigerating or freezing and reheat to serve. You can also blind bake your crust and prep your filling and store them separately in the fridge, combining to bake when you're ready.
To Store
At Room Temperature – quiche can sit on your counter for no longer than two hours during serving.
Refrigerate – Wrap in an airtight container and store for up to three days.
Freeze – In an airtight container, quiche can be frozen for up to three months. While it may last longer, it will begin to lose its fresh flavor after that point.
Calories:
334
kcal
|
Carbohydrates:
13
g
|
Protein:
10
g
|
Fat:
27
g
|
Saturated Fat:
13
g
|
Trans Fat:
1
g
|
Cholesterol:
152
mg
|
Sodium:
358
mg
|
Potassium:
133
mg
|
Fiber:
1
g
|
Sugar:
1
g
|
Vitamin A:
704
IU
|
Vitamin C:
2
mg
|
Calcium:
164
mg
|
Iron:
1
mg
Estimated nutrition information is provided as a courtesy and is not guaranteed.
Explore More