These easy Homemade Onion Rings get dipped in beer batter and fried to golden brown perfection. With a few tips and tricks along the way (hint – it's light as air!), learn how to make incredibly crispy onion rings in minutes. This popular snack food never tasted so good – perfect as a side dish or to top burgers, salads, and much more!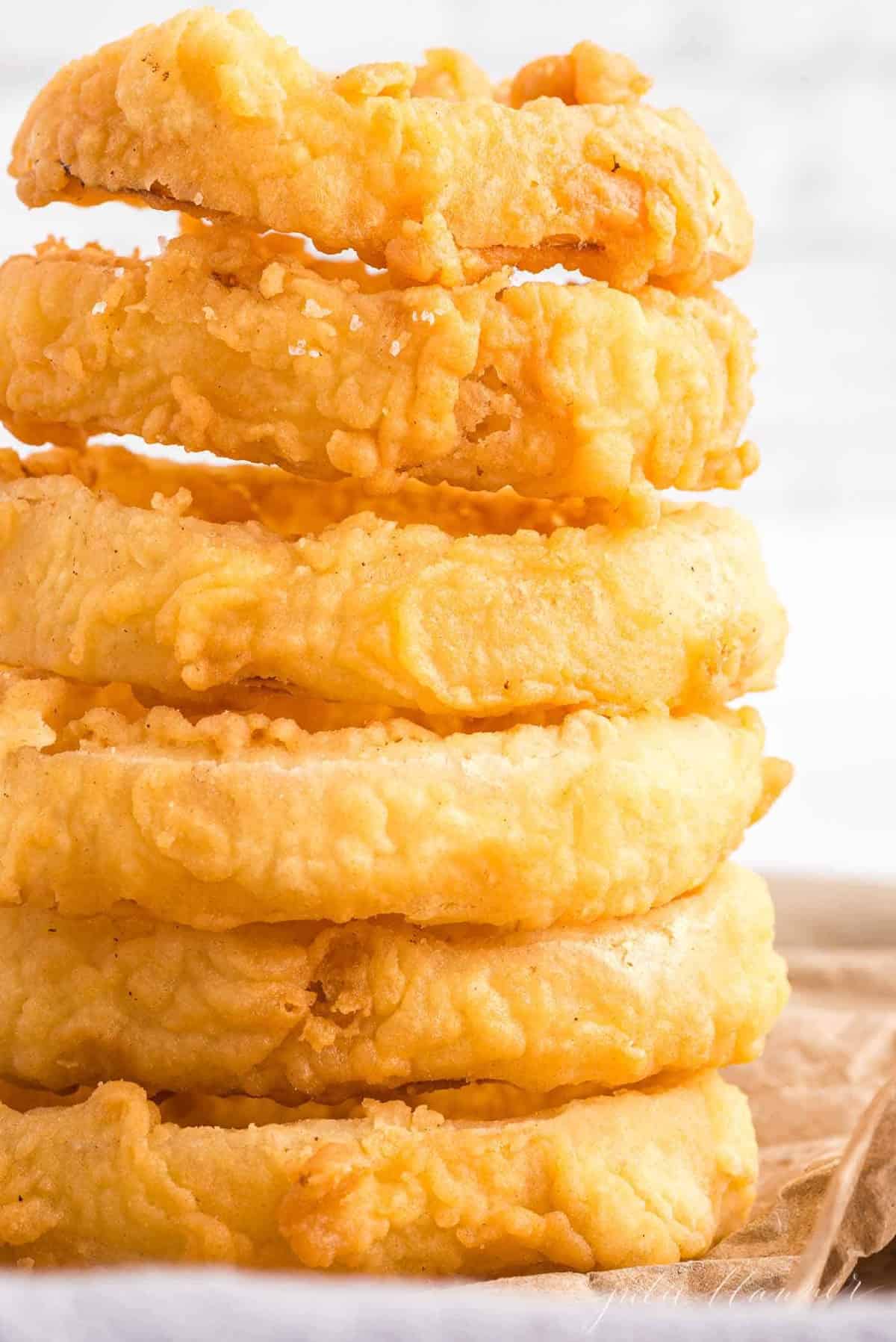 Extra Crispy Homemade Onion Rings
Every now and then, I have an irresistible craving for homemade onion rings that can't be tamed without enjoying a few. There's just nothing like them.
I don't tend to fry a lot, but these onion rings are worth it! They're so flavorful and have the best texture. I often pair them with a juicy burger, Steak Sliders or balance them with a wedge salad.
The recipe for flaky, crispy homemade onion rings is simple. The trick is in the batter – fluffy egg whites and a little beer, of course.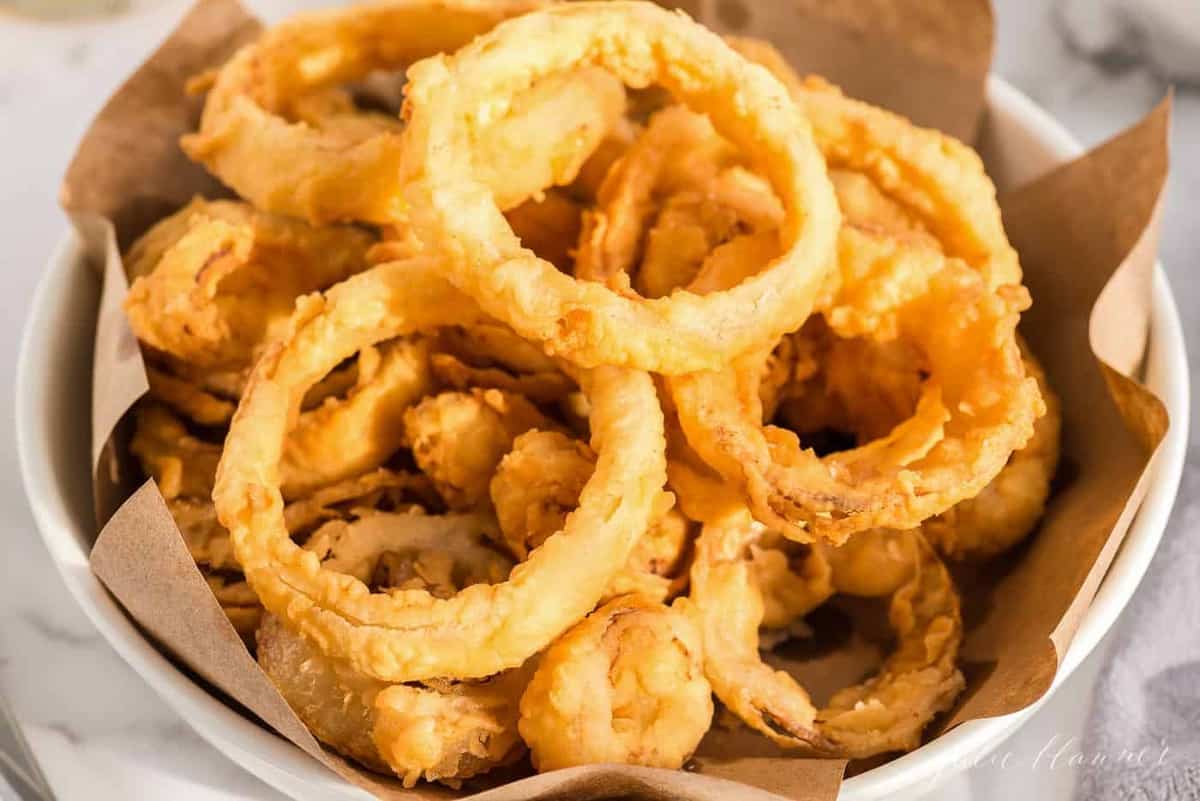 If you're like me and don't want your home to smell like fried food, take it outside. I set my deep fryer up on the grill and whip up a few onion rings while watching the burgers.
I hope you enjoy them as much as we do! They are especially delicious while watching the Big Game or to treat your special someone for Father's Day!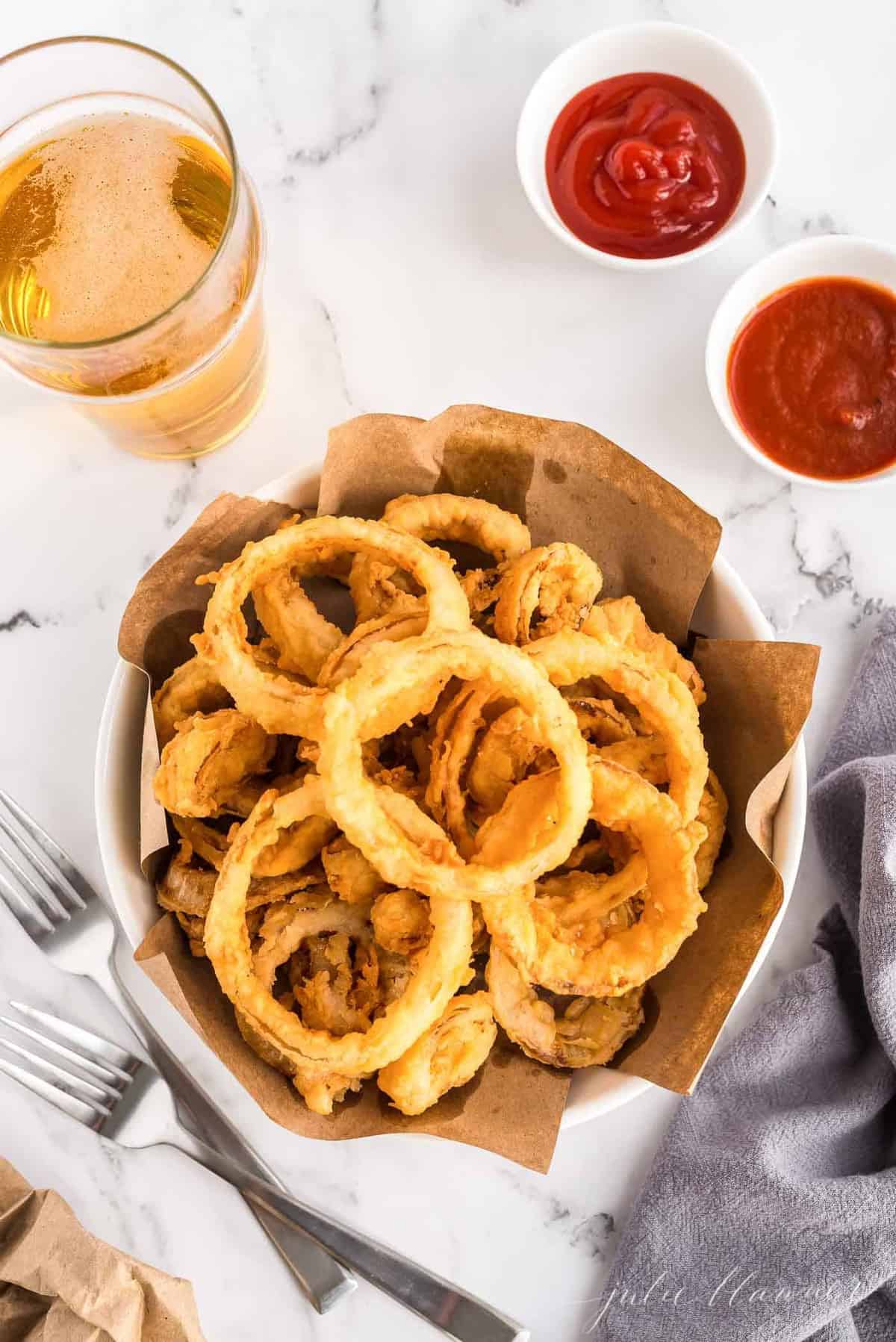 The Secret To Extra Crispy Onion Rings
It's all in the batter!
To ensure the onion rings recipe are extra crispy without bread crumbs, we must incorporate air into the batter. There are two ways – whipped egg whites and beer.
The air in the whipped egg whites and carbonation from the beer create an onion ring batter that is truly as light as air! This results in ultra crispy homemade onion rings!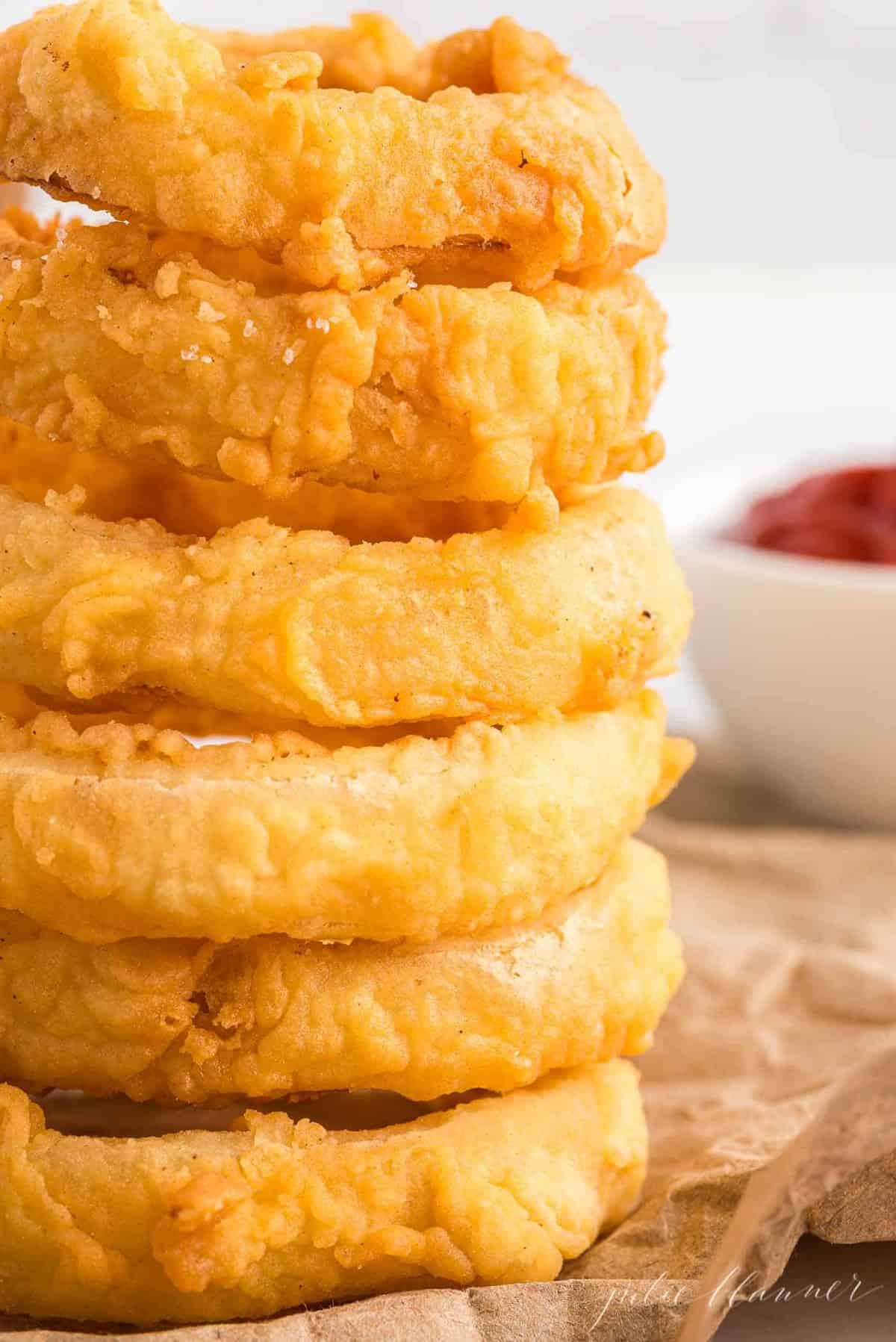 Ingredients in Homemade Onion Rings
Oil/Shortening – The fat you choose to fry the homemade onion rings in is all about preference. I prefer a clear, flavorless oil such as vegetable or canola, but shortening will work just as well. Fill a large pot about 3-4 inches deep with oil and set over medium heat. This should be enough oil to fry your entire batch of onion rings.
Yellow Onions – The quintessential onion for onion rings. And the larger, the better! Look for onions that have a nice, round, circular shape to them. This will give you more uniform rings. We'll talk about how to slice an onion in a bit!
Flour – It is a batter recipe, after all. Unbleached, all-purpose flour is all you need. My favorites are Pillsbury and Gold's Medal.
Eggs – Two eggs creates a good base, but the trick is separating the eggs. We need to fluff up the
egg whites to create a lighter batter.
Beer – This homemade onion ring recipe calls for 1 cup of beer. Since one bottle of beer is 1 1/2 cups, you can drink the rest while preparing the recipe! I prefer a light lager or ale, but use whatever you have on hand.
Butter – One half stick of butter creates a more luxiourious batter. Make sure to melt it and cool slightly before adding to the mixture.
Salt – Put salt in the mix, but also have large flakes of sea salt on hand for garnish. Salt, to taste, as soon the crispy homemade onion rings come out of the fryer. The residual oil will help the salt stick on much easier.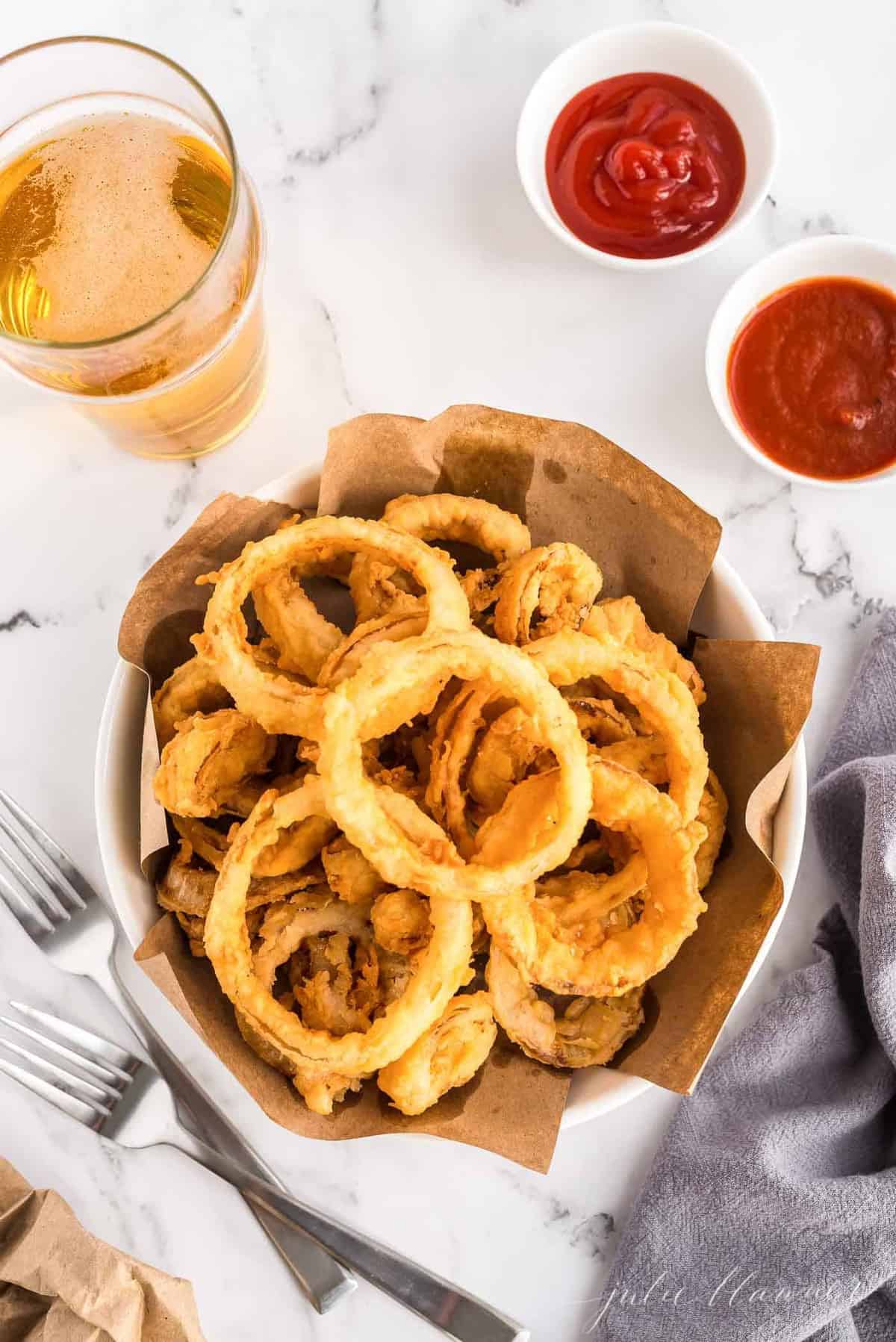 How To Slice An Onion
First, cut off the stem end (not the root end, which helps the onion hold its shape) and remove the outer layer. Cut off a thin sliver on one side of the onion to create "feet" and stabilize the onion.
Place the onion on your cutting board, flat edge down. Slice the onion into rings to your desired thickness (about 1/4 inch thick) and separate the rings with your fingers.
How To Make Homemade Onion Rings
In a large pot over medium high heat, heat the oil/melt the shortening. If you have an instant read thermometer, you want the oil to be 350 degrees F.
Slice the onion (as directed above) into thick rings.
In a bowl, add the flour.
Then, separate the eggs, placing the egg whites in one bowl and the egg yolks in your mixer.
Whisk the egg yolks, then stir in beer, butter

and

salt.
Beat egg white until stiff. Fold into beer batter mixture for homemade onion rings.
Dip onions into flour, then into beer batter and fry until golden brown. About 1-2 minutes per side.
Drain on paper towels, seasoning with more salt, if needed. Enjoy!
To see how easy this Homemade Onion Ring Recipe is, watch the video.
How Many Calories Are In The Beer Battered Onion Rings Recipe?
One serving of the beer battered onion rings recipe has 234 calories. This is a whole side dish portion – not too bad at all!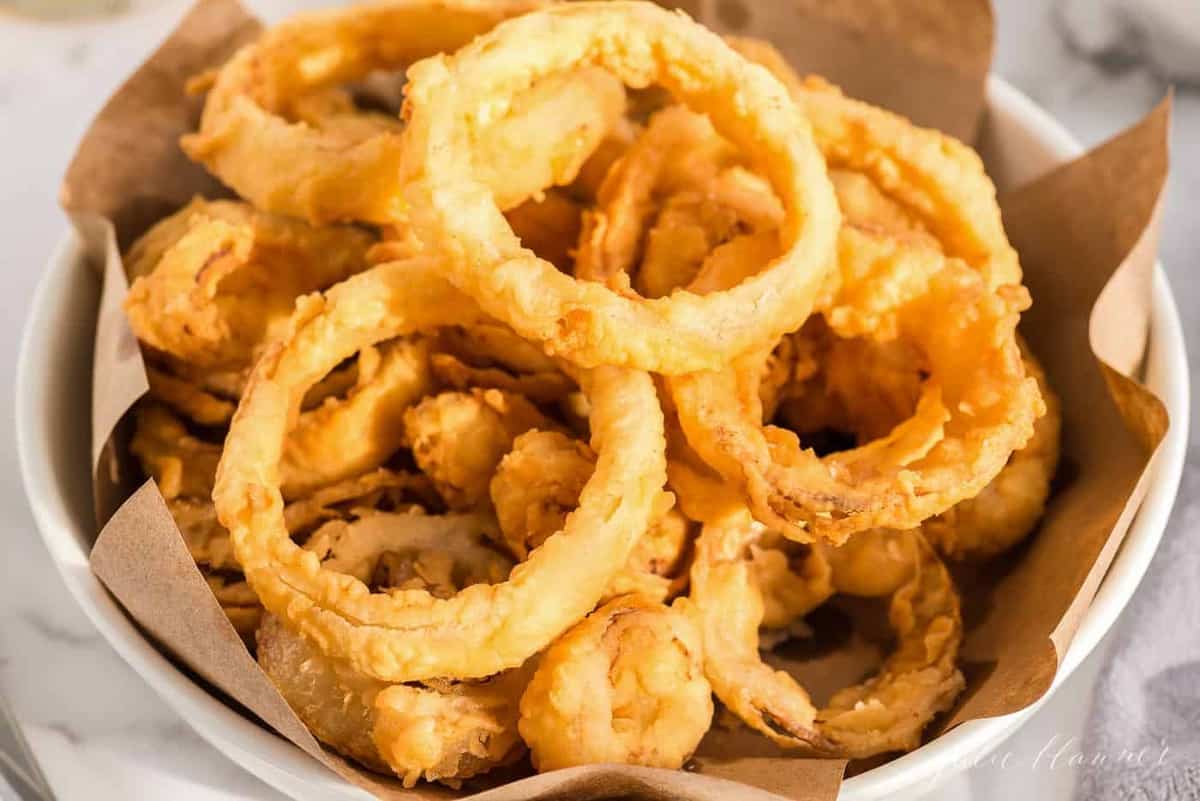 Tips For The Best Homemade Onion Rings

Make sure to set your oil to the right temperature – 350 degrees F. An instant read thermometer comes in handy, but if you don't have one on hand, simply place a small spoonful of the batter into the oil. If it fries to golden brown perfection in 2-3 minutes, the oil is ready!
Beat the egg whites until stiff peaks, or until they can hold their shape. Then gently fold into the beer batter mixture, with as little strokes as possible, to avoid knocking out all the air.
Season the crispy homemade onion rings with additional salt, if needed, as soon as they come out of the hot oil to ensure the salt sticks.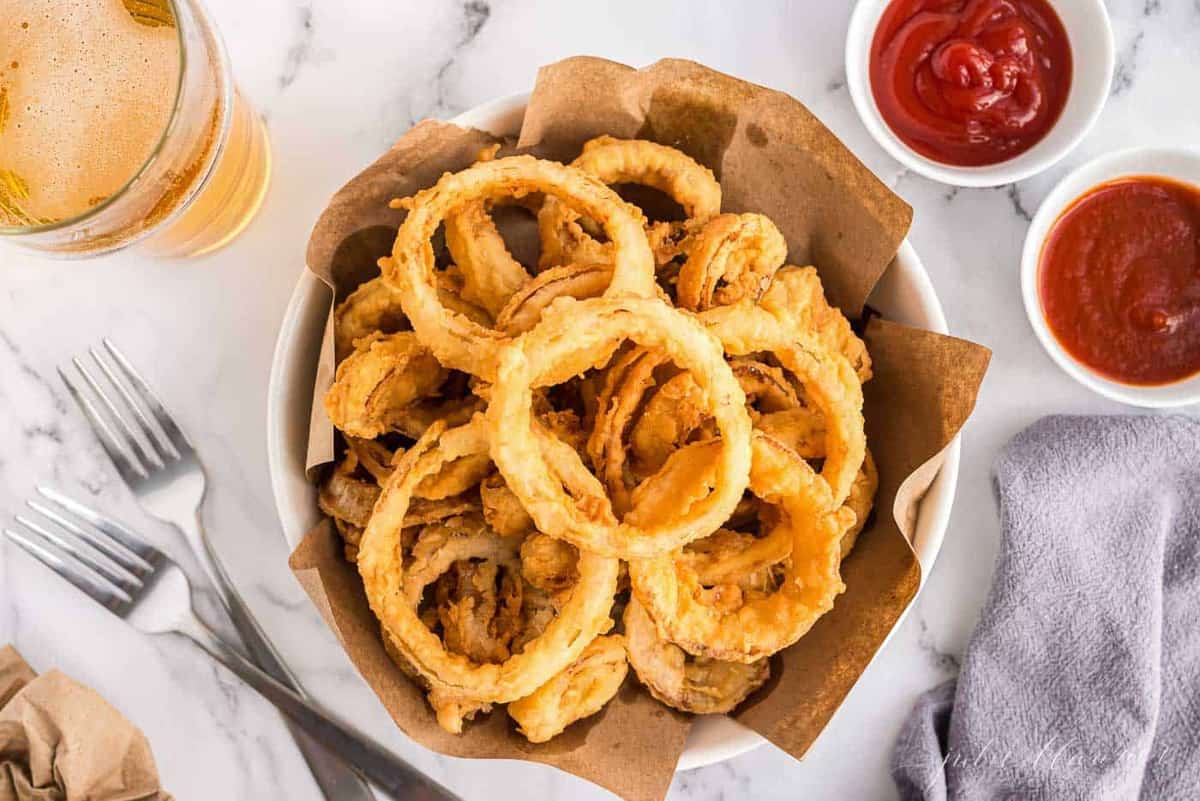 Luckily for you, I saved these two onion ring images from my earliest days of blogging! Isn't it fun to see how far the photography has come? This post was originally published March 22, 2012, and updated with new details and photos on February 4, 2020.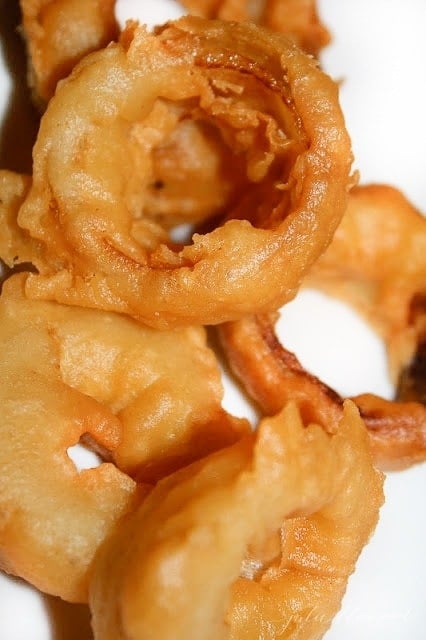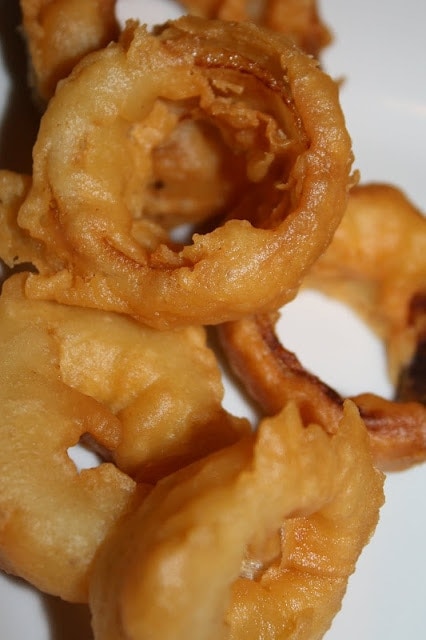 More Side Dish Recipes You'll Love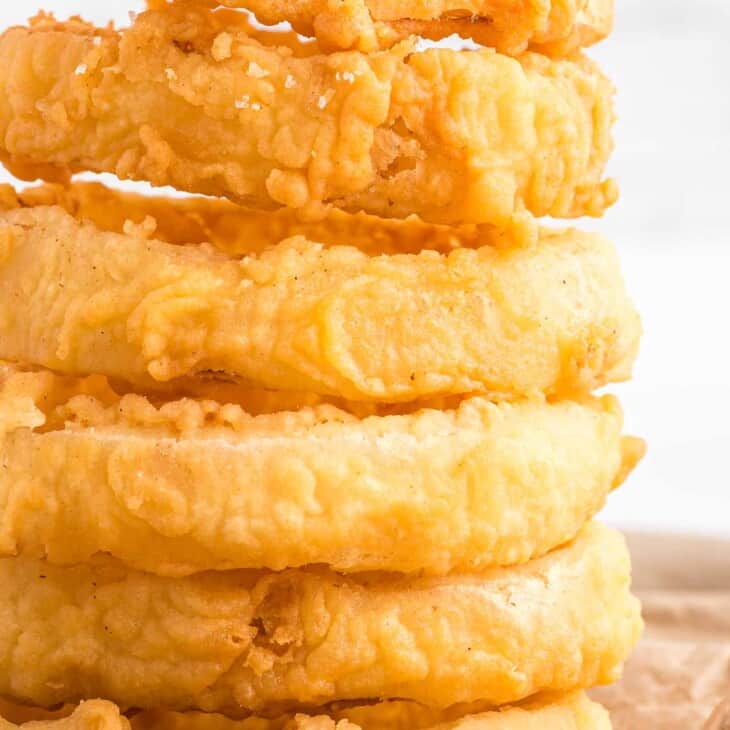 Homemade Onion Rings
An easy Homemade Onion Rings recipe dipped in beer batter and fried to perfection. Learn how to make incredibly crispy onion rings in minutes.
Ingredients
oil/shortening

3

yellow onions

1

cup

all-purpose flour

2

eggs

1

cup

beer

4

tablespoon

butter

melted

1

teaspoon

salt
Instructions
Heat oil in large pot over medium high heat.

Slice onions into thick rings, set aside.

In a bowl, add a cup of flour, set aside.

In your mixer, whisk egg yolks (leaving whites in yet another bowl), add beer, butter and salt.

Remove and beat egg whites until stiff. Fold into beer batter mixture. Dip onions into flour, then mixture and fry evenly on each side until golden brown.

Drain on paper towels and serve.
Tips
Use your favorite beer, such as a light lager or ale.
Nutrition Information
Calories:
234
kcal
(12%)
,
Carbohydrates:
22.54
g
(8%)
,
Protein:
4.86
g
(10%)
,
Fat:
12.86
g
(20%)
,
Saturated Fat:
8.27
g
(41%)
,
Cholesterol:
74.63
mg
(25%)
,
Sodium:
479.24
mg
(20%)
,
Potassium:
133.45
mg
(4%)
,
Fiber:
1.5
g
(6%)
,
Sugar:
2.45
g
(3%)
,
Vitamin A:
312.44
IU
(6%)
,
Vitamin C:
4.07
mg
(5%)
,
Calcium:
26.23
mg
(3%)
,
Iron:
1.34
mg
(7%)
Estimated nutrition information is provided as a courtesy and is not guaranteed.