Homemade Onion Rings are dipped in beer batter and fried to golden brown perfection. Learn how to make incredibly crispy onion rings that are light as air, in just a few minutes. This popular snack makes a perfect side dish and is an amazing way to top burgers, salads, and more!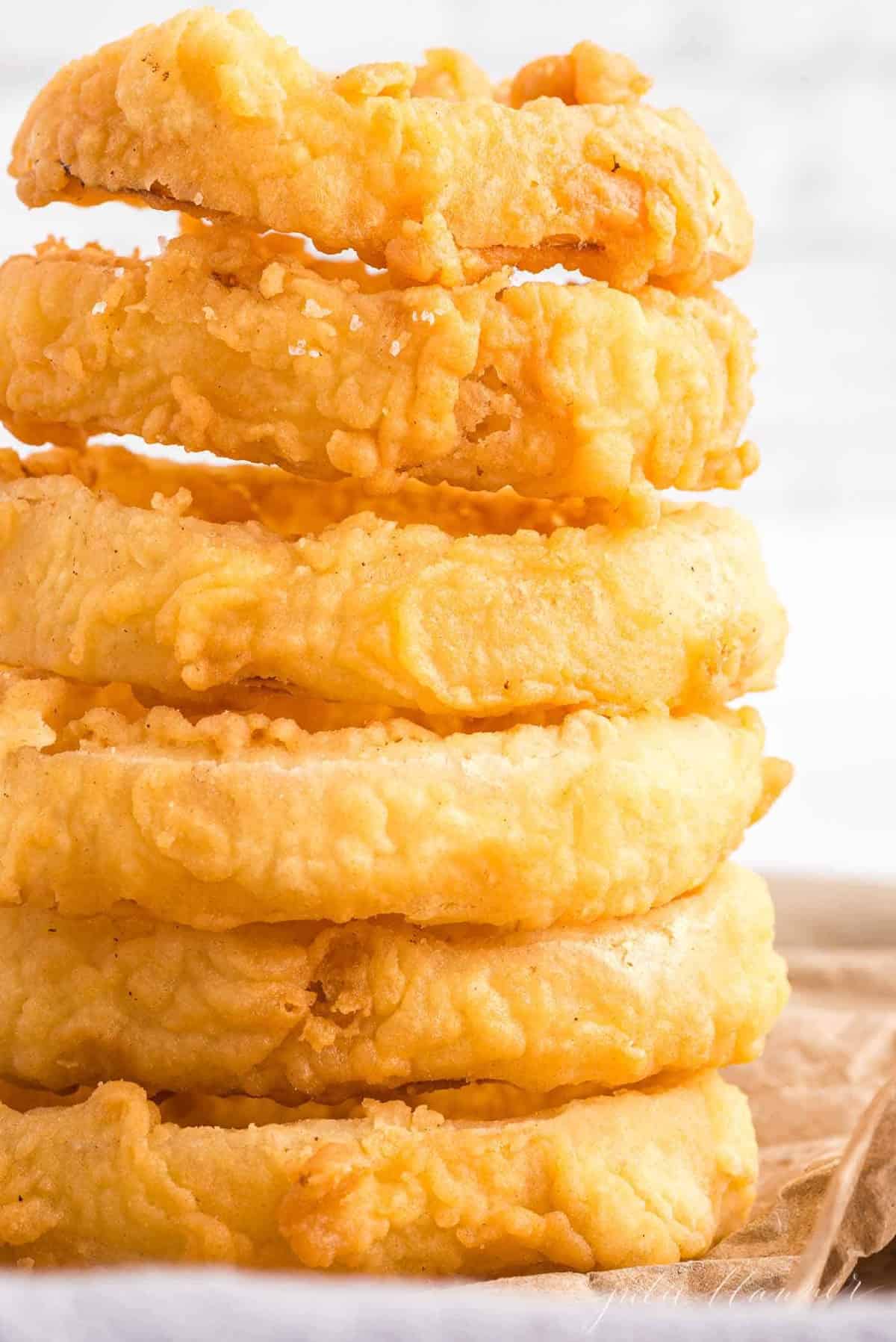 Beer battered onion rings are so flavorful and have the best texture. Pair them with a juicy burger, Steak Sliders or balance them with a wedge salad.
They're a great game day appetizer and Father's Day recipe!
Extra Crispy Homemade Onion Rings
Crispy, crunchy and full of flavor, these classic onion rings are a crowd-pleaser! They're so easy to eat, they can be enjoyed anytime, anywhere.
Making onion rings at home is easy! With just a few simple ingredients and some basic kitchen tools, you can create a plate of delicious homemade onion rings. They're even better than any restaurant version.
The secret for flaky, crispy is in the batter fluffy egg whites gives them their amazing texture and a little beer adds incredible flavor.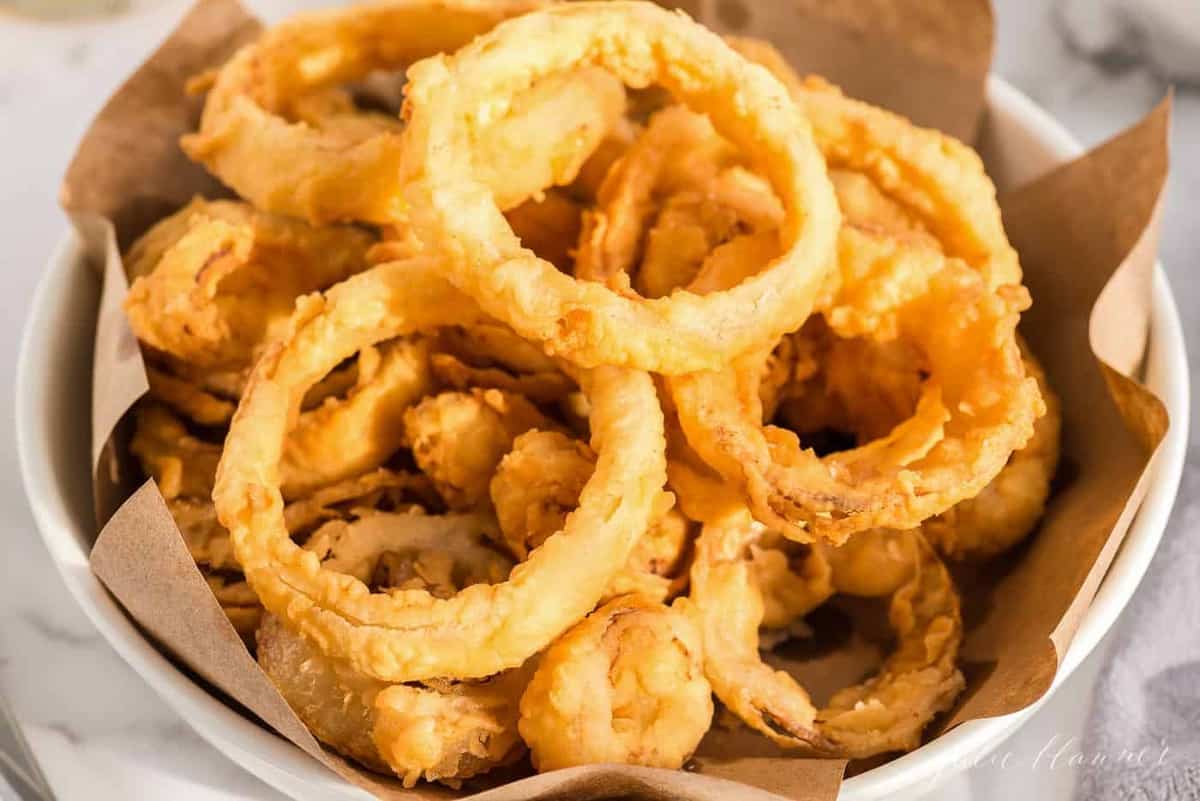 Ingredients and Substitutions
Oil or Shortening – Your preference of fat. Vegetable oil, canola oil or shortening. I prefer a clear, flavorless oil such as vegetable or canola to allow the flavor of beer batter to shine but shortening is also an excellent option.
Yellow Onions – Yellow onions are the quintessential onion for onion rings. The larger, the better! Look for onions that have a nice, round, circular shape to them. This will give you more uniform rings. Learn how to cut an onion here!
Flour – Unbleached, all-purpose flour makes a great batter. Pillsbury and Gold's Medal are excellent options.
Eggs – Two eggs create the base, but the trick is separating the eggs. Fluffing the egg whites creates a light batter.
Beer – This homemade onion ring recipe uses just 1 cup of beer. A bottle of beer is 1 1/2 cups, you can enjoy the remainder while preparing the recipe! I prefer a light lager or ale, but use whatever you have on hand.
Butter – Butter creates a luxurious batter. Melt and allow to slightly cool before adding to the mixture.
Salt – A hint of salt in the batter brings out all the other flavors. As soon they come out of the fryer, toss with thick flakes of sea salt to garnish. The residual oil helps the salt ahdere.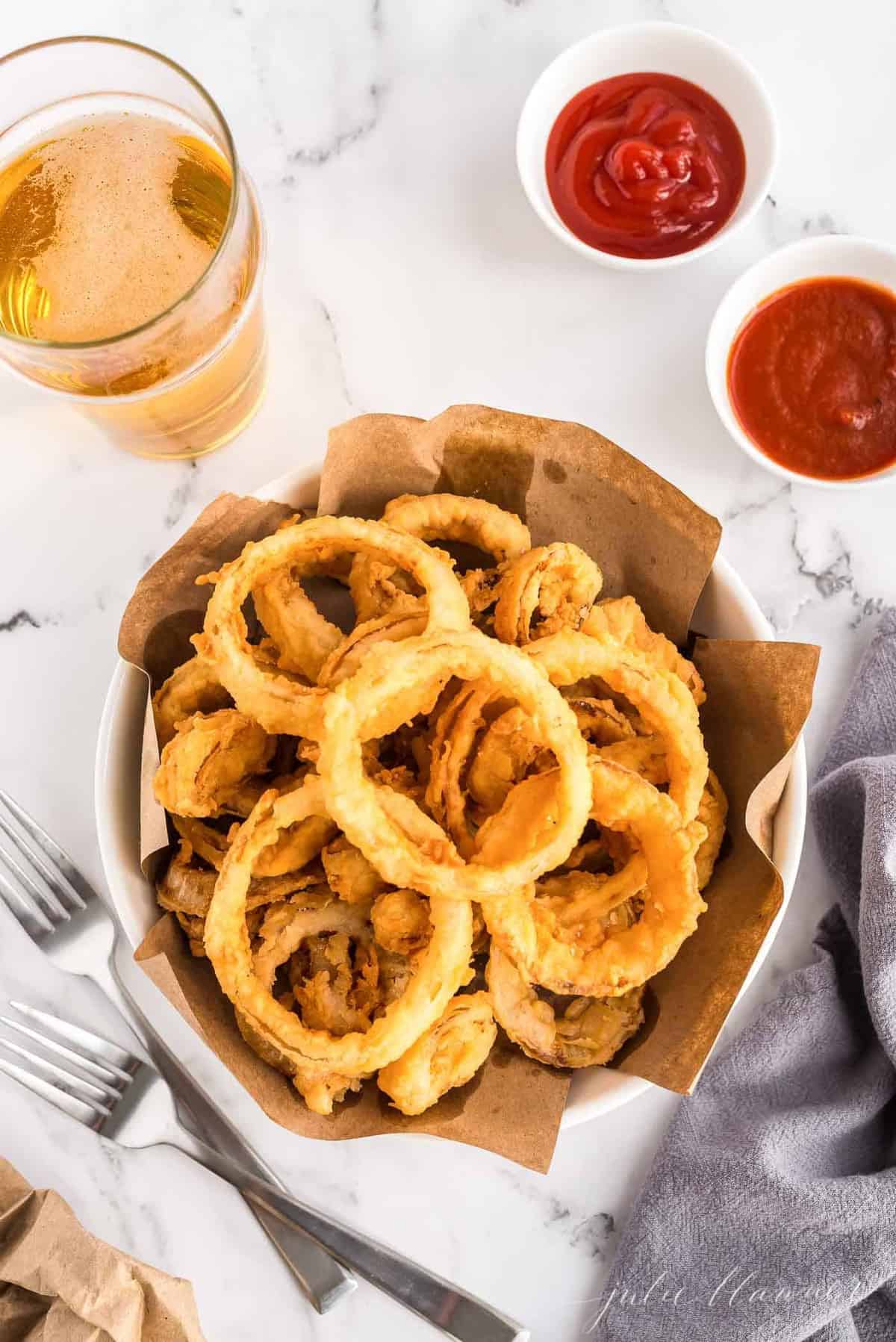 How to Make Homemade Onion Rings
An overview, visit the printable recipe card for complete ingredients and instructions.
Warm Oil – In a large pot heat oil/melt the shortening to 350 degrees F.
Prepare Onion – Slice onion (as directed below) into thick slices.
Make Batter – In a shallow bowl, add flour. Separate eggs, placing egg whites in a mixing bowl and add egg yolks to a separate mixing bowl. Whisk egg yolks, then stir in beer, butter and salt. Set aside. Beat egg white until stiff. Fold whites into beer batter .
Dip – Dip onion slices into flour mixture, then into batter.
Fry – Fry until golden brown (about 1-2 minutes per side). Drain battered rings onto plates lined with paper towels. Season with salt to taste.
How To Slice An Onion
Cut the stem off the end (not the root end, which helps the onion hold its shape) and remove the outer layer. Cut a thin sliver on one side of the onion to create "feet" and stabilize the onion.
Place the onion on your cutting board, flat edge down. Slice onion into rings to desired thickness (about 1/4 inch thick). Separate rings with your fingers.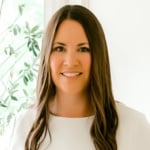 Tip
The secret to extra crispy onion rings is all in the batter! To ensure the onion rings are extra crispy without bread crumbs, incorporate air into the batter. There are two ways to achieve this – whipped egg whites and beer!
The air in the whipped egg whites and carbonation from the beer create an onion ring batter that is truly as light as air! This results in
ultra crispy homemade onion rings
!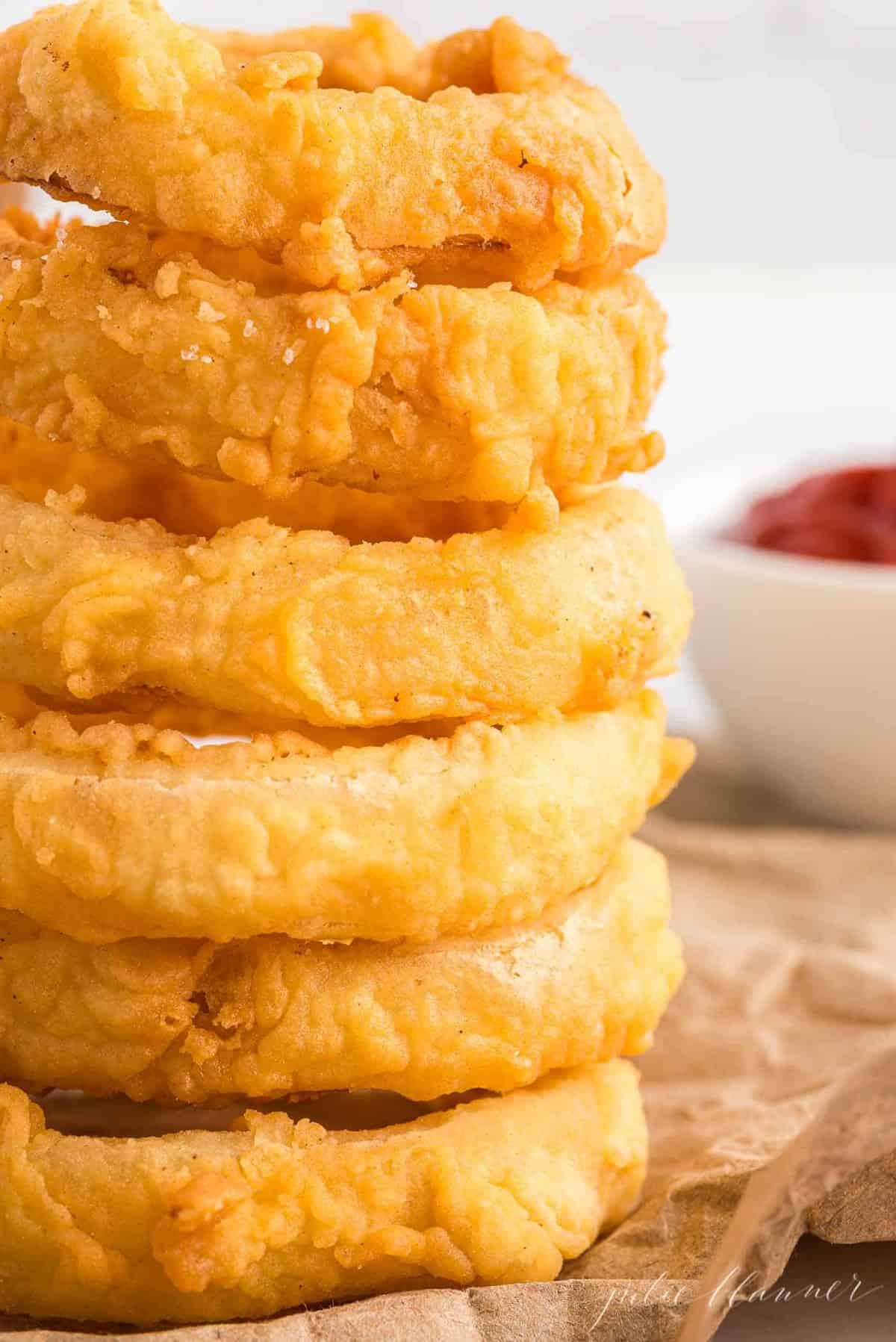 Serving Suggestions
Burgers
Steak Sliders
Wedge Salad
Favorite Sauce
How to Store
Refrigerate – Store in an airtight container up to 3 days refrigerated.
Freeze – Freeze up to 3 months in a plastic bag or sealed container.
Reheat
Reheat in the oven at 350 degrees Fahrenheit for 10-12 minutes until crispy.
Reheat in the air fryer at 350 degrees Fahrenheit for 5 minutes.
Frequently Asked Questions
What onions are best to make onion rings?
Yellow onions are the best onions to make onion rings because they have a slightly sweet flavor and their firm texture holds up well while frying. You can substitute white onions, which are less sweet in flavor.
Can I make onion rings in an Air Fryer?
Yes! Making onion rings in the air fryer is a great way to use less oil, while yielding crispy onion rings!

How many calories are in beer battered onion rings?
A side dish size portion of beer battered onion rings recipe has just 234 calories.
Can I use another flour for the batter?
All-purpose flour is the best option for this recipe. However, you can substitute rice flour, cornmeal, or almond flour to make batter for onion rings. Texture and flavor of the onion rings may vary.
What oil is best for frying onion rings?
Vegetable oil, canola oil, or peanut oil are good choices for frying onion rings because they have a high smoke point and a neutral flavor that won't overpower the onions.
How do I know when the oil is hot enough for frying?
To test if the oil is hot enough, you can drop a small amount of batter into the oil. If it sizzles and starts to turn golden brown within a few seconds, the oil is ready for frying.
How long should I fry the onion rings for?
Fry the onion rings for 2-3 minutes, or until they are golden brown and crispy. Be careful not to overcook them, as they can become too dark and lose their crispness.
Can I make crispy fried onion rings ahead of time?
Yes, you can make onion rings ahead of time and reheat them in the oven or air fryer to crisp them up before serving. However, they are best enjoyed fresh out of the fryer for optimal texture and flavor.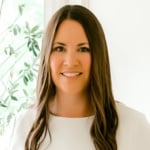 Tips
Fry outside to prevent your home smelling like fried food.

Add any of your favorite seasonings for added flavor, such as cayenne pepper, cajun seasoning, garlic salt, or chili powder!

Heat oil to the proper temperature – 350 degrees F. Use an instant read thermometer or place a small spoonful of the batter into the oil. If it fries to golden brown perfection in 2-3 minutes, the oil is ready!

Beat egg whites until stiff – Beat until still peaks form or until they hold their shape.Then gently fold into the beer batter mixture, with as little strokes as possible, to avoid knocking out the air.

Season – Season to taste with salt as soon as they come out of the hot oil to ensure it sticks.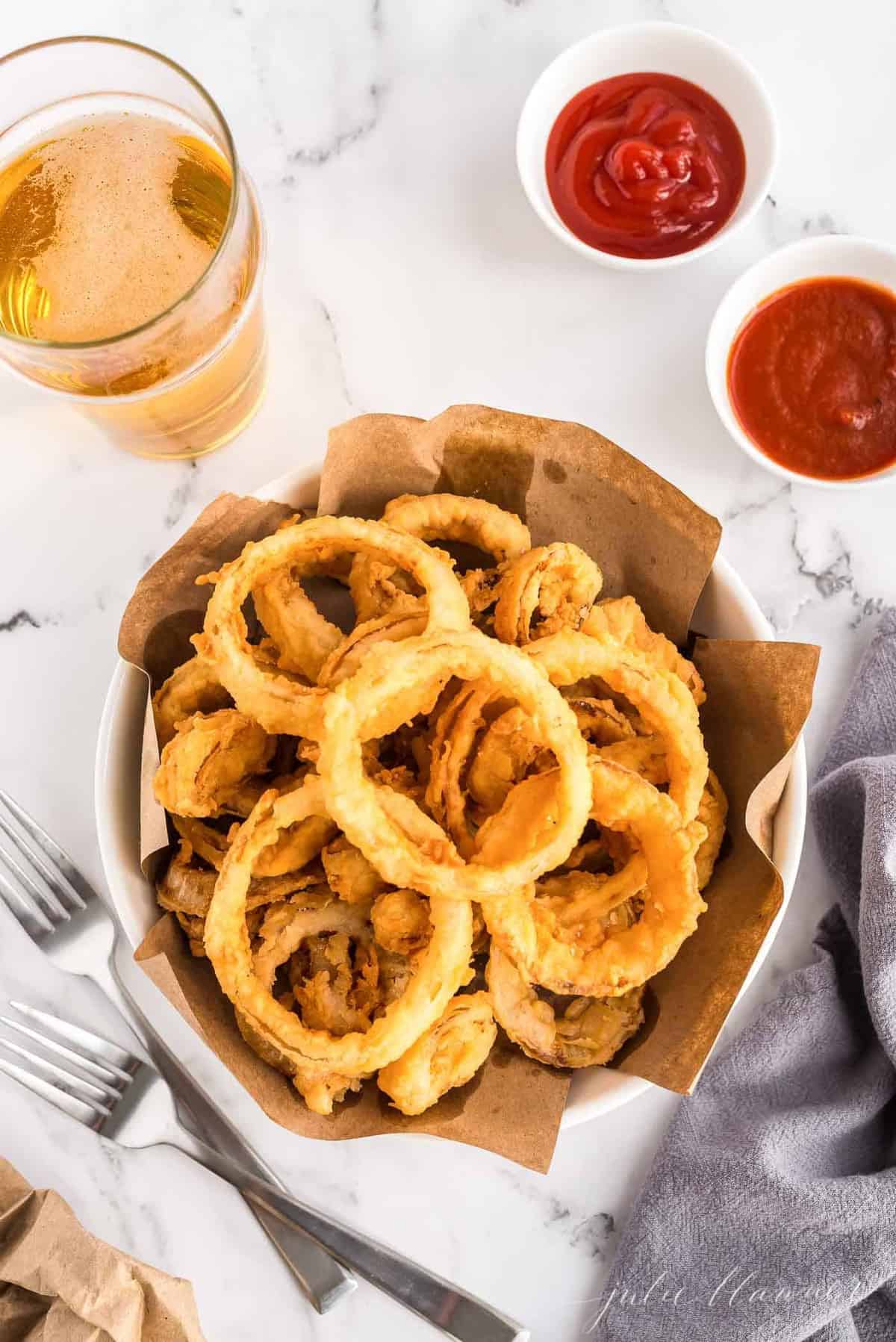 More Side Dishes You'll Love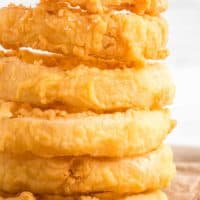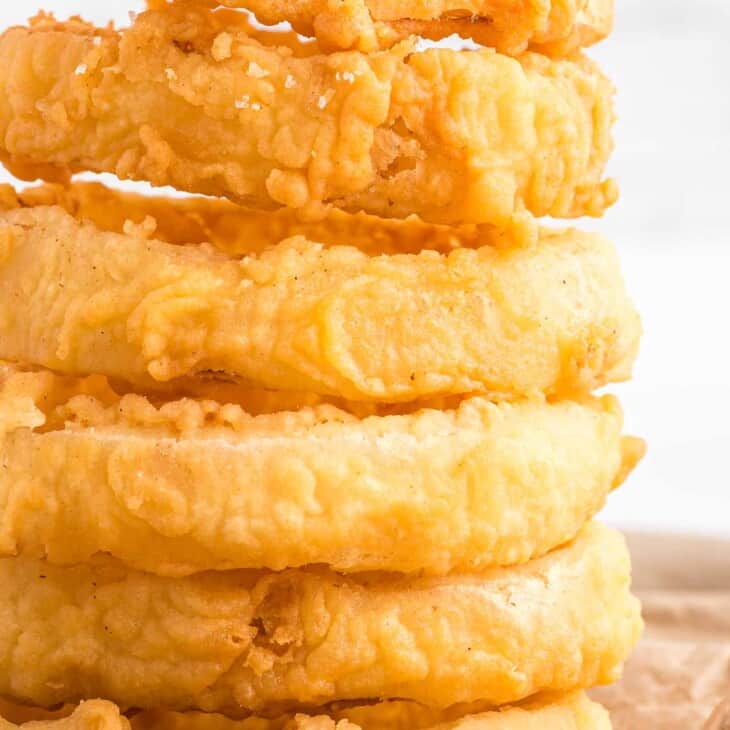 Homemade Onion Rings
An easy Homemade Onion Rings recipe dipped in beer batter and fried to perfection. Learn how to make incredibly crispy onion rings in minutes.
Instructions
Heat oil in large pot over medium high heat.

Slice onions into thick rings, set aside.

In a bowl, add a cup of flour, set aside.

In your mixer, whisk egg yolks (leaving whites in yet another bowl), add beer, butter and salt.

Remove and beat egg whites until stiff. Fold into beer batter mixture. Dip onions into flour, then mixture and fry evenly on each side until golden brown.

Drain on paper towels and serve.
Tips
Use your favorite beer, such as a light lager or ale.
Calories:
234
kcal
|
Carbohydrates:
22.54
g
|
Protein:
4.86
g
|
Fat:
12.86
g
|
Saturated Fat:
8.27
g
|
Cholesterol:
74.63
mg
|
Sodium:
479.24
mg
|
Potassium:
133.45
mg
|
Fiber:
1.5
g
|
Sugar:
2.45
g
|
Vitamin A:
312.44
IU
|
Vitamin C:
4.07
mg
|
Calcium:
26.23
mg
|
Iron:
1.34
mg
Estimated nutrition information is provided as a courtesy and is not guaranteed.
Explore More