Find out how easy it is to make your own, all-natural citrus and coconut scrub in just a few minutes! You can exfoliate and pamper your skin with this natural scrub made with coconut oil and citrus essential oils that will leave your skin feeling fresh!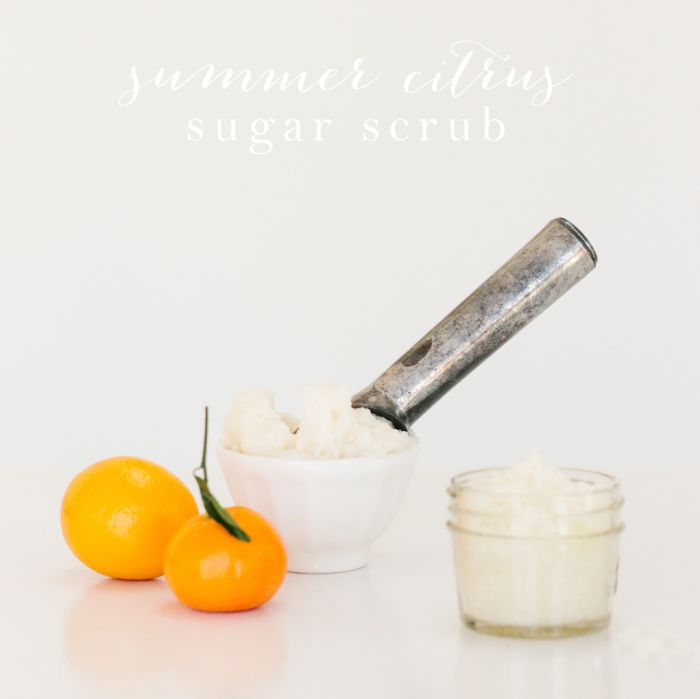 I know it's not summer yet, but this sugar citrus coconut scrub will have your skin and heart ready for it. Rich in oils and citrus scent, it's another happy blend. It's almost like a mini trip to the spa (which I only have time for on vacation) I'll take it how I can get it.
With the holidays behind us, I can freely dream of summer. The warm sunshine, no coats to lug around, and sandals on my feet.
Now is the time to start preparing your skin for those summer shorts and sandals! That's why I have already mixed up a batch of my DIY scrub. Today, I want to share my recipe with you! I hope you will enjoy it as much as I have.
Learn how to set up your own Sugar Scrub Bar for a party! Perfect for showers – it's a fun activity that doubles as a take home party favor!
Ingredients for Citrus Coconut Scrub
This combination of oils and citrus doesn't just smell amazing, but have so many benefits for skin care and health. A DIY scrub has no dyes or added chemicals so you can feel good about using this product in your home.
Sugar – In this recipe, I use regular granulated white sugar, however any type of sugar would work well. Try a more coarsely ground sugar if you are wanting a more sturdy scrub. Or if your skin is sensitive, a more finely ground sugar would be best.
Grape Seed Oil – Grape Seed oil is just an all around perfect oil for skin. It's anti inflammatory properties can soothe the skin and reduce redness. Research suggests that grape seed oil can help to treat skin issues such as sun spots, even out skin tone, decrease wrinkles, and moisturize your skin.
Coconut Oil – Coconut Oil has so many health benefits especially for the skin. It has been shown to be anti-inflammatory, is very moisturizing for the skin, and can even be used as a makeup remover.
There is some controversy over using coconut oil with acne prone skin as it could clog pores. It is always best to test a small area of skin before use in more sensitive areas such as the face.
Orange Essential Oil – Orange essential oil is one of my favorite oils! Full of vitamin C, it has been shown to fight premature aging, boost circulation, treat acne, reduce dark spots, and firm up skin.
Lemon Essential Oil – Lemon Essential Oil is also a wonderful oil to include in facial scrubs. It can help remove dead skin cells, help with detoxifying, and has antiseptic properties to help clear skin.
How to Make a Natural Scrub
Making a DIY scrub is really so easy and only takes a few minutes and hardly makes any mess!
Gently warm Coconut Oil on the stove top or in the microwave.

Combine Coconut Oil with Grapeseed Oil.

Stir in Sugar.

Add Orange Essential Oil and Lemon Essential Oil to your preference. I use about 15 to 20 drops.

Thoroughly mix all ingredients together.

Scoop into sealable jars and enjoy!
How to Use Sugar Scrub
I use my natural scrubs often and like to keep them accessible.
My kitchen sink is the most often used spot. Dish soap and hot water can be so hard on your skin, drying it out and causing irritation. However that can be remedied with regular use of sugar scrub to restore your skin's moisture.
The shower is another great place to use sugar scrub. Pamper your skin with a gentle exfoliation! Rub sugar scrub on your legs, hands, elbows, and feet in a circular motion. Thoroughly rinse and dry skin.
This sugar scrub is so gentle is can be used on all skin types including sensitive skin.
You can use up to three times a week.
Variations
The best part of making your own natural scrub is that they are fully customizable! While I know you'll love this Citrus Coconut Scrub as is, it's nice to have alternatives to use what you have on hand. Here are a few variations you can implement if desired.
Oil – Almond Oil, Olive Oil, Carrot Oil, Vitamin E Oil, Jojoba Oil
Essential Oils – experiment with your favorite citrus oils!
Sugar – Any regular sugar works well in the recipe. However if desired you can also add a tablespoon of baking soda for a more hardy exfoliation. Brown sugar is another great option!
Zest – Add a bit of fresh lemon juice or lemon zest. It adds color and texture!
Storing a DIY Scrub
This citrus coconut scrub recipe stores very well and can be left out for up to three months. If the scent changes before then, it is time to throw it out.
It is important to note that Coconut Oil changes from liquid to solid depending upon the temperature of where it is stored. If in a solid state it can be warmed in your hands and is ready for immediate use.
Gifting
A DIY scrub makes a thoughtful gift. Make a little extra to jar for family, friends, teachers and neighbors!
You can use mason jars with ribbon and a printed or hand drawn tag can make for perfect wrapping. They also store well in a hinged jar. A natural scrub is also a beautiful addition to a gift basket with other bath or homemade products.
More Natural Bath Recipes
Want more? Receive the best ideas directly to your inbox and connect on instagram facebook and pinterest!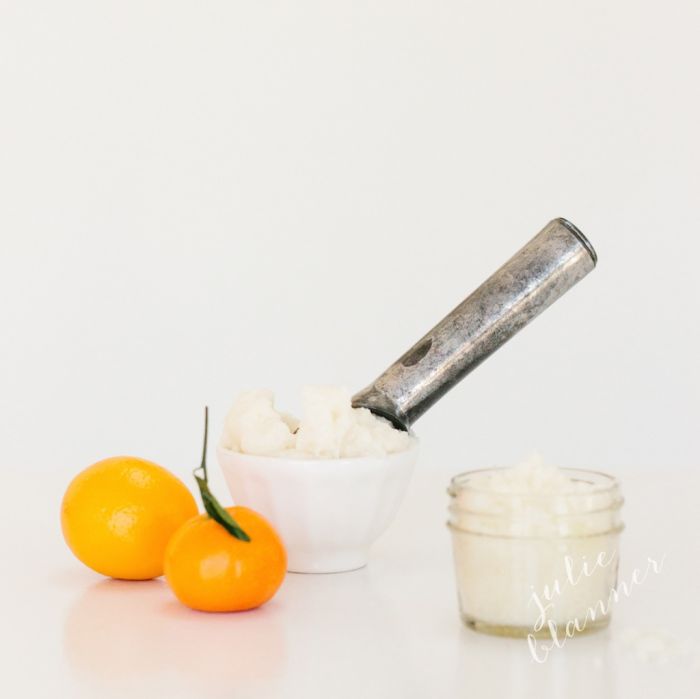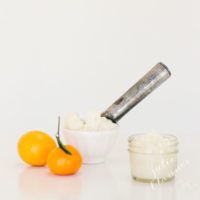 Citrus Coconut Scrub
Wash away dead skin and moisturize iwth this natural scrub recipe you can whip up in your kitchen!
Ingredients
3

Cups

White Sugar

3/4

Cup

Grapeseed Oil

1

Scoop Coconut Oil

Orange Essential Oil

Lemon Essential Oil
Instructions
Gently warm Coconut Oil on stovetop or microwave.

Combine Coconut Oil with Grapeseed Oil in mixing bowl.

Stir in White Sugar.Add Orange Essential Oil and Lemon Essential Oil to your preference. I use about 15 to 20 drops.

Thoroughly mix all ingredients together.

Scoop into sealable jars and enjoy!
Tips
Oil Variations - Almond Oil, Olive Oil, Carrot Oil, Vitamin E Oil, and Jojoba Oil.