The wild horses in Chincoteague are truly magnificent to see. They freely wander their island, living in their natural and wild state. Visiting them is an experience you will remember and cherish.
Along the eastern coast of the United States is Assateague Island, part of the Chincoteague National Wildlife Refuge. It is a beautiful island with coastal shorelines, dunes, marshes, and maritime forests. It hosts a wide variety of birds, plants, and other animals, including wild horses!
Yes – wild horses! They are spectacular! Right in the midst of a serene island live packs of wild horse, commonly referred to as the Chincoteague Horses. They roam the island and look so majestic in their natural grandeur.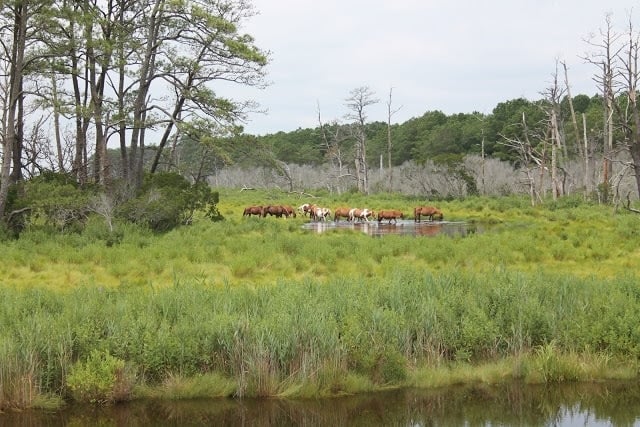 History
Over 300 years ago domesticated horses came to the island, possibly by shipwreck, and became feral – meaning that they were once domesticated and have returned to a wild state. They have adapted to their harsh island environment over the years.
Chincoteague National Wildlife Refuge was established in 1943. It is owned by Maryland and Virginia and divided by a fence in the middle. Each half of the island has a herd of horses. The wild horses in Chincoteague roam free, but are monitored by different organizations to maintain proper herd size in order to keep the island thriving.
Visiting the Chincoteague National Wildlife Refuge
The wildlife refuge has more than 14,000 acres of land and is open to visitors for picnics, hiking, and biking. There is a small fee to enter the refuge. Once there, visitors can enjoy the beauty and serenity of the island, and the amazing experience of seeing wild horses.
Every July the horses have an annual swim across the bay to Chincoteague Island for their Pony Penning. The book "Misty of Chincoteague" is about this event. The horses swim, march in a parade, and new foals are auctioned, which keeps the herds an appropriate size for the refuge.
Where to See Chincoteague Ponies
We frequently visit Chincoteague Island to see the wild ponies. To avoid the crowds, we visit outside of their annual swim and Pony Penning.
There's nothing more serene than watching the ponies in their environment as they graze, run, and play. It was an unforgettable scene that is etched in my mind.
To discover the wild horses in Chincoteague the way we did, drive past the visitor center on Beach Road, then continue just past the 90 degree turn. There are two spots along there you're likely to see them on a nice day! Beach Road is the most common place to see the herd. There are observation decks at Woodland and Pony Trails as well.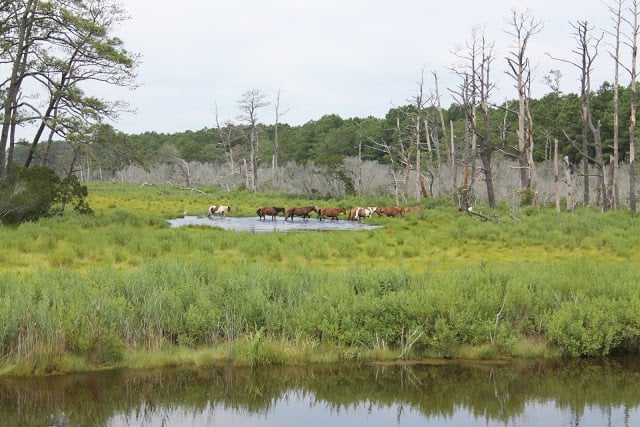 If you don't see them there, continue driving until you reach the corral on the right. The Woodland Trail has a pony viewing location you can often see them at, and it's only a half mile walk.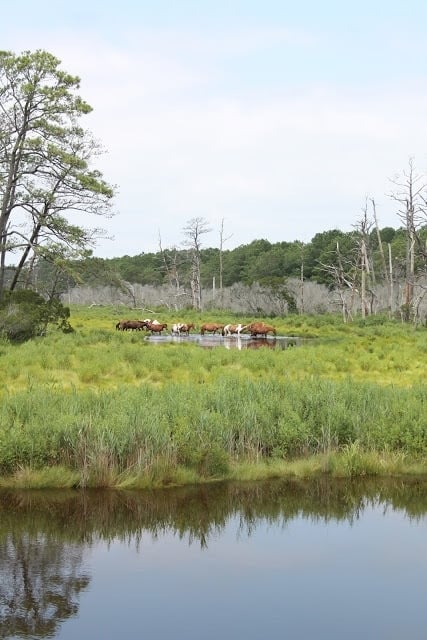 We were lucky to see two groups of ponies. However, if you still don't seen any, there is a place you can feed ponies for just a quarter next to the McDonald's.
More than 100 ponies are North, accessible only by scenic boat tour or a wildlife bus tour.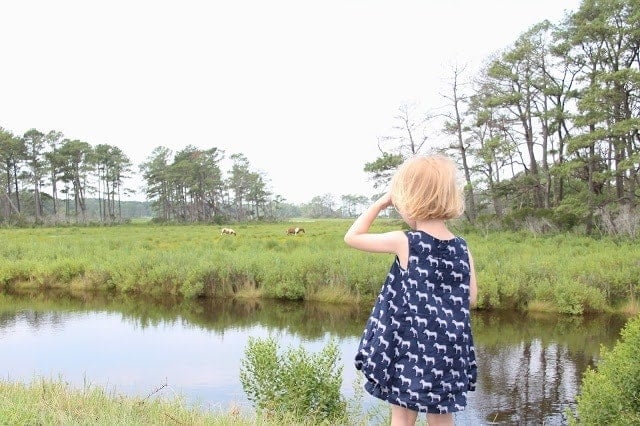 Misty of Chincoteague
In 1947, Marguerite Henry's book "Misty of Chincoteague" captured the hearts of readers. It's the story of a foal named Misty who was part of the Pony Penning and then sold at auction. It's such a sweet book that would be perfect for a family read aloud before or after your visit to Chincoteague.
Things to Do in Chincoteague
There's more to do in Chincoteague than just the horses. They are definitely the main – and mane- attraction, but plan on spending a day there to enjoy all Chincoteague and Assateague have to offer.
Hiking – Get maps from the visitor center.
Biking – Bring your own or rent from a local business.
Swimming – Bring your suits and sunscreen for a day at the beach.
Kayak/Paddleboard – Rent from local business to enjoy this activity.
Bird watching – Bring binoculars and watch the migratory birds.
Beach combing -Look for turtles, crabs, shells, and other beach life.
Picnic – Bring your own picnic lunch to enjoy on the beach.
Restaurants – Enjoy any of the local restaurants; get your food to go, or dine at the restaurant. We ate waterside at the Sea Star Cafe and loved it!
Let's keep in touch! Receive exclusive content, including never-seen-before photos, our favorite home decor DIYs and more!