Get ideas for a sweet pink girls room in the prettiest blush and cream tones. These easy ideas for a blush pink girls bedroom design will create the girly pink bedroom of her dreams!
Learn how to work with what you have and create a space everyone can be proud of. Get tips for shopping for secondhand pieces, hanging curtains to look like custom made drapes, and so much more!
Take a photo tour of this charming pink girls bedroom that we made over on a budget!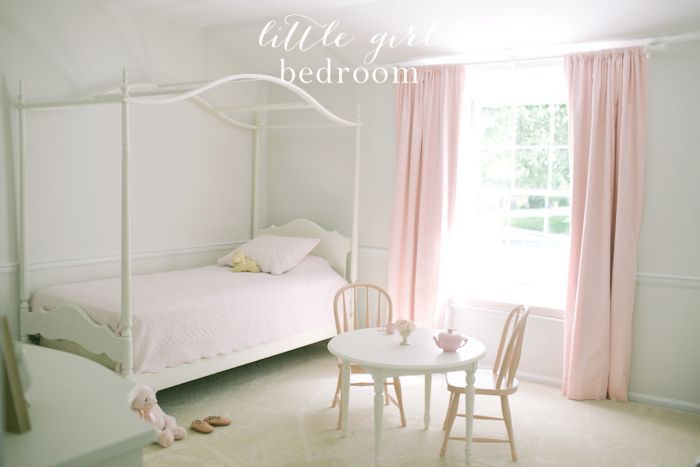 This post was originally published July 1, 2014 and updated April 29, 2021 with fresh content.
I know I've shared this bedroom before, but now that this little girl of ours has moved onto her dream Tween Bedroom, it's fun to look back on the spaces we've created for her over the years.
Adalyn's room was among my favorites in our Leawood Kansas colonial. (See the full before and after here.) We created a peaceful space for a young little babe.
When we told Adalyn of our plans to move, she asked if her bed and curtains could come with us and if she could paint her walls "whitish" again.
I was elated to hear from her tiny voice how much she loved the little girls bedroom I created for her! While much remained the same in our new home, she also requested the addition of flowers. She clearly takes after her mother!
I'm sharing some of my favorite tips for decorating with what you have, along with photographs of Adalyn's sweet pink girls bedroom taken by Rose of Paper Crane Photography.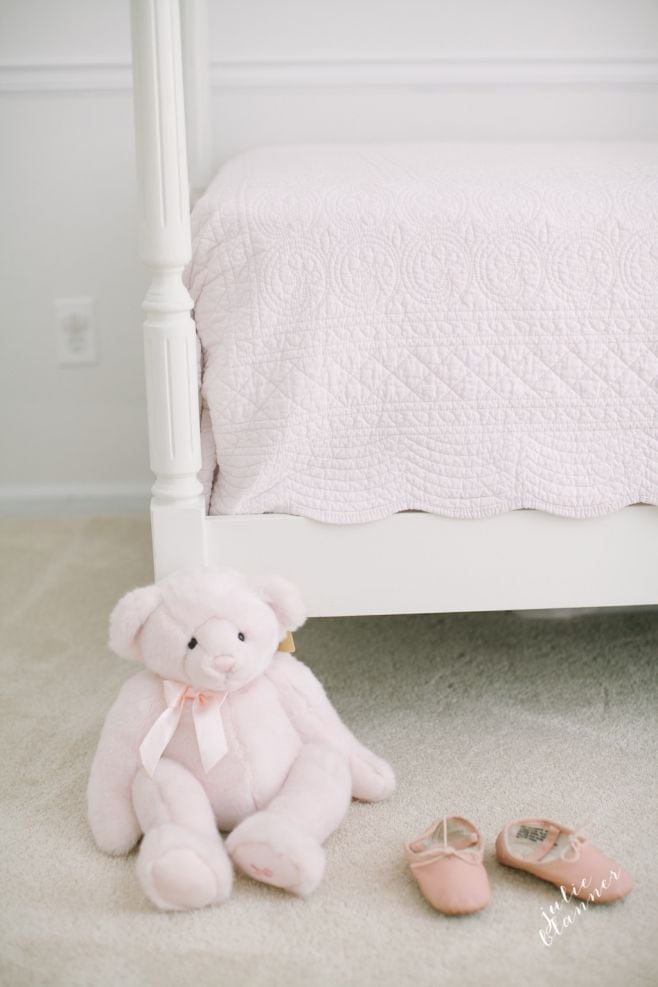 A Girly Pink Bedroom
Start by shopping what you already have. This bear was my mom's after being diagnosed with breast cancer. It was in a box in the basement, but given new life in Adalyn's bedroom.
Ballet slippers are always a beautiful addition whether framed or pinned.
Below, Chris' childhood lamb wind up toy is a sweet heirloom accent.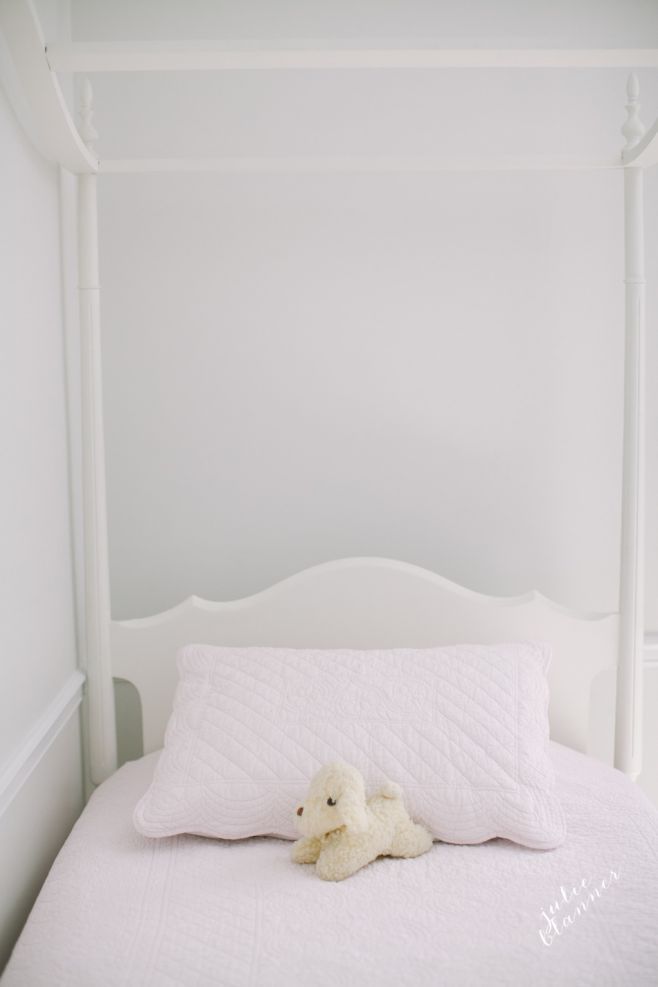 This pretty canopy bed? It was a Craigslist find! Knowing how hard children can be on furniture, I have a hard time paying full price. Get my favorite tips for a Luxury Home for Less!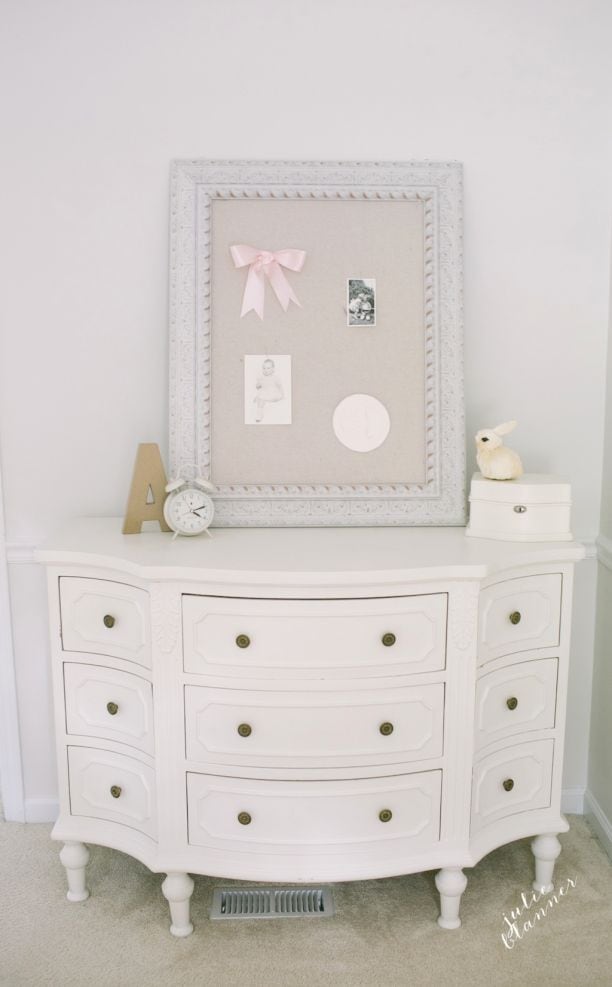 Inexpensive Girls Pink Bedroom Ideas
This dresser was also a Craigslist find I gave new life to with a coat of paint. I took a Pottery Barn Kids wood swatch to the paint store to have them match it. It's the perfect shade of soft white.
Learn my favorite tips for how to shop Craigslist for the best deals, as well as the Best Paint for Furniture and find the The Right White Paint Color for Furniture.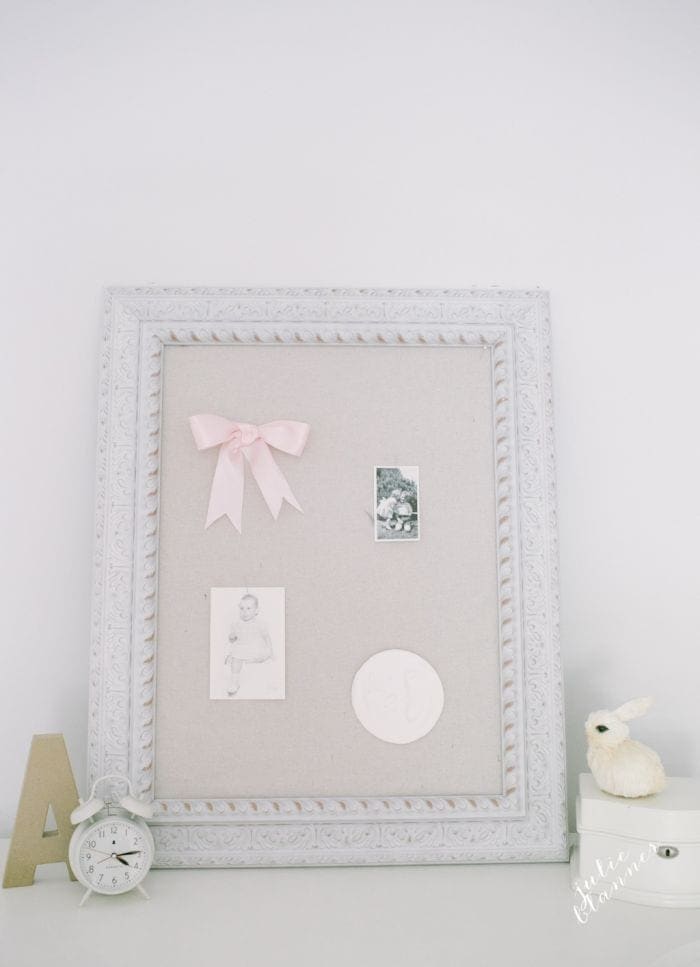 I included a $2 kraft paper letter from Adalyn's first birthday party, an Anthropologie clock she received for her birthday and her jewelry box she received at birth.
I paired them with a DIY Pinboard with old family photos.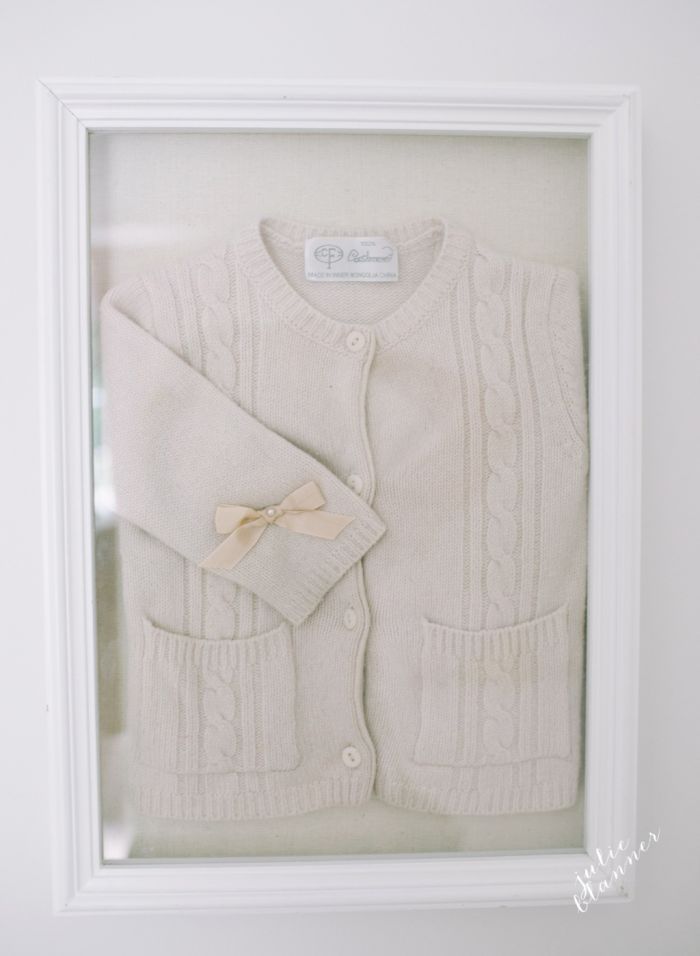 Above, is the cashmere cardigan Adalyn wore frequently as a toddler. It was too sweet not to frame in a shadow box!
We purchased this table and chair set for Adalyn and Ani's 1st and 3rd birthdays. We use it for additional seating when hosting guests with children in the kitchen and in Adalyn's room for play.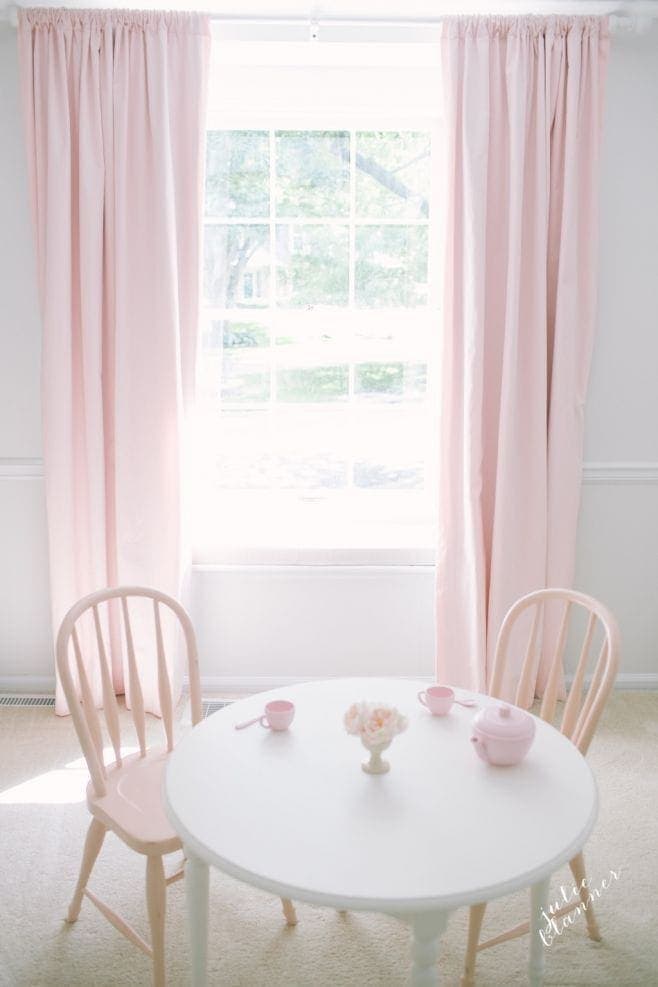 Pink Girls Room Inspiration
Those blush pink velvet curtains only look like a million bucks! Get my best tips from a professional, to learn How to Hang Your Curtains to look like custom made drapes!
When making purchases, I always consider the multiple ways I can use it in the future. Behind is the window seat I built for her as a reading nook.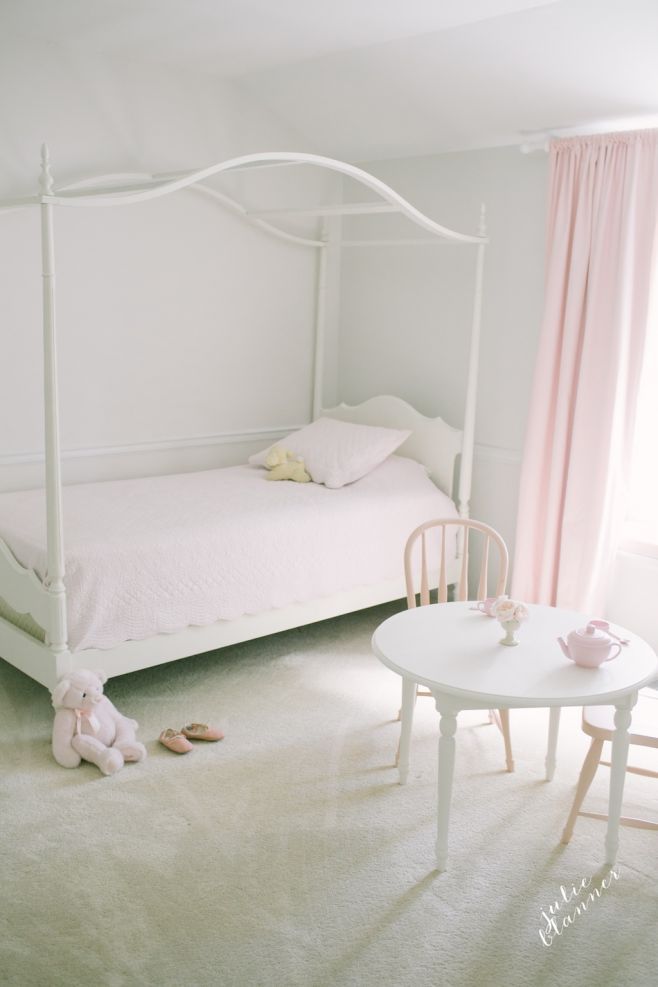 More Inspiration for Children