Print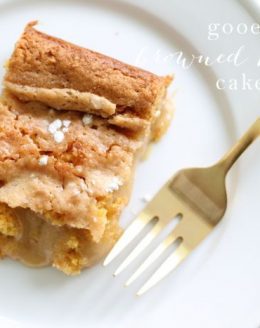 Gooey Butter Cake with Brown Butter
Classic St. Louis Gooey Butter Cake with a twist - this easy Gooey Butter Cake with Brown Butter has a deeper, richer flavor that you'll crave again and again!
Preheat oven to 350 degrees & grease a 9x9 pan.

In a small sauce pan over medium heat, watching carefully, brown the butter until it's a beautiful brown & has a nutty aroma. Allow to cool 5 minutes.

In a large mixing bowl, combine butter & cake mix. Add eggs.

Using a spatula, press dough into pan, creating a slight edge along the sides.

Combine cream cheese, sugars, vanilla & egg until smooth. Pour mixture into dough.

Garnish with powdered sugar & bake 40-45 minutes.
Serve al a mode of you want to go all out!