Print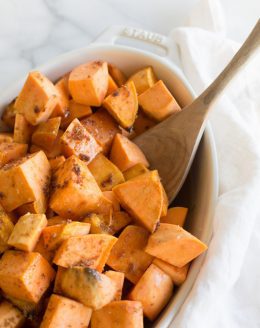 Sweet and Salty Roasted Sweet Potatoes
This Sweet and Salty Roasted Sweet Potatoes recipe makes an easy crowd-pleasing side dish. No one can resist these sweet potatoes with brown sugar.
Preheat oven to 425 degrees.

Peel and cut sweet potatoes into cubes.

In a large bowl toss in melted butter and 3/4 c brown sugar.

Pour into a baking dish or shallow roasting pan.

Bake 45 minutes or until tender, stir and garnish remaining brown sugar and sea salt.
Adjust sugar & salt to your preference.