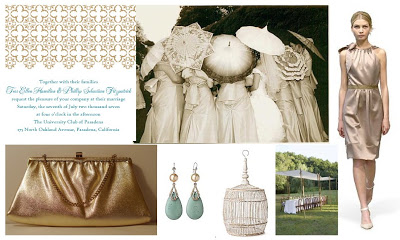 Photos:
Invitations offered from Luxe Letterpress
Umbrellas in an array of style and color available from bellaumbrella.com Imagine them shading your guests or dangling lit from a ceiling.
Gown by Vera Wang at verawangonweddings.com
Vintage clutches are available from sites like etsy.com and ebay.com
Earrings and birdcage offered at anthropologie.com Don't let the name of an item limit your use of it! You can purchase a light bulb kit for $5 and allow a bird cage to serve as a chandelier or fill it with flowers and hang it to conceal a tent post.
Shade your guests, Brides Magazine