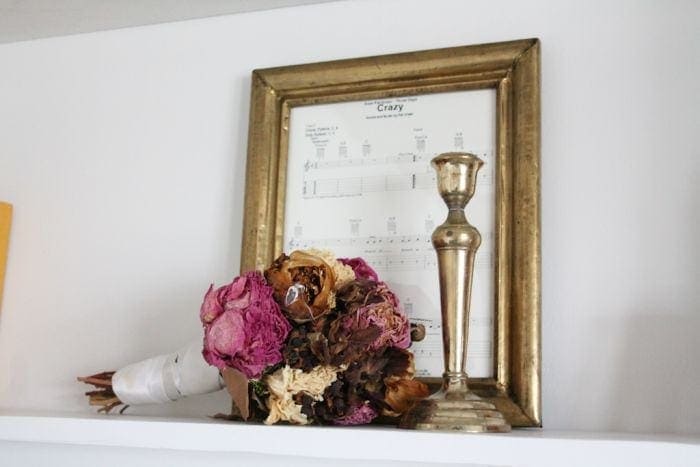 We recently celebrated our 7th wedding anniversary. I can hardly believe how fast time passes, but I've enjoyed every one! Sometimes, we celebrate our anniversary with traditional gifts & others we don't. This year, we both selected traditional gifts for one another. For our 7th anniversary, I had a copper bracelet made for him for our copper anniversary. The modern 7th anniversary gift are desk accessories, so I included a couple of them as well – monogrammed leather coasters for his wood desk along with a leather catchall. Chris' gift to me blew me away, & that's hard to do. He set the bar high when he wrote a song & had a musician Drew Six record it four our 5 year wedding anniversary. I cannot wait to share it with you, but in our new home. 🙂
Gifts don't necessarily have to be elaborate, but thoughtful. You've likely seen this little set up in my home tour or more recent post about how to style a home you love, but I feel compelled to talk about it today!
I dried my wedding bouquet & for years, kept it in a glass cloche. When styling our bookcases, it felt like something was missing. They needed a little more of "me" to balance the books, the brass & the platters. Something sentimental. So, I decided to give new life to my dried bouquet & create a little display of its own. I framed the lyrics to "our song". It's a simple gift, a beautiful gesture & a timeless keepsake.
Do you prefer traditional anniversary gifts or off the cuff ideas?