I'm often asked what constitutes a "green" event. A few
adjustments can make any event a little easier on the environment. Below are just a few ideas:
Invitations, guest book, programs, etc on recycled paper.
Below, Naturally Ever After "Fallen" invitations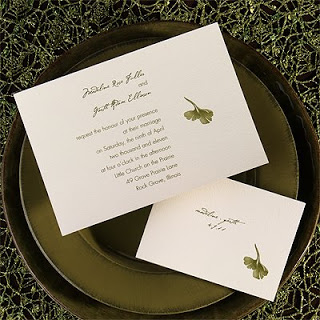 Use of organic flowers (no harsh chemicals are used),
potted flowers, and tree branches can make your event a
little greener. Also, select in season and local flowers so
that minimal energy is used in transportation. Below are
flowers picked from a field encased in twigs found.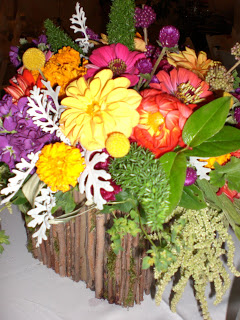 Select organic food and wine or a caterer that uses locally grown food.
Choose a central location so that the majority of your guests don't have to travel.
Favors are often thrown away. In liu of them, give a
donation to your favorite charity. Other options include
seedlings or edible favors.
Select a vintage gown or a gown made of certified organic cotton.
Rather than purchasing a new ring, commit with an heirloom ring.
Are you doing anything to make your wedding/event greener? If so, what?