Last night I had the pleasure of attending DIFFA's Tables by Design event at Halls featuring both local and national designers. If you live in KC, stop by now through April 14th – 10% of purchases benefit DIFFA! Each designer's table was unique and varied from fun to fabulous with ideas for just about any occasion!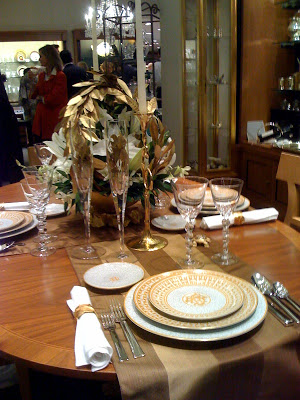 Simply sophisticated! This golden masterpiece was created by Kansas City's own
Dan Meiners
. This table is suitable for any holiday dinner, anniversary celebration or wedding.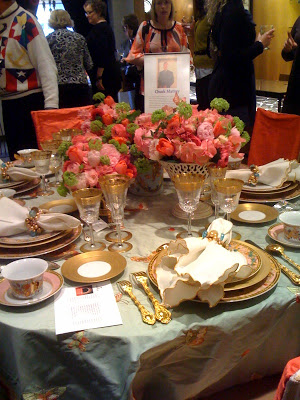 The centerpieces offered so much texture and was the perfect use of color.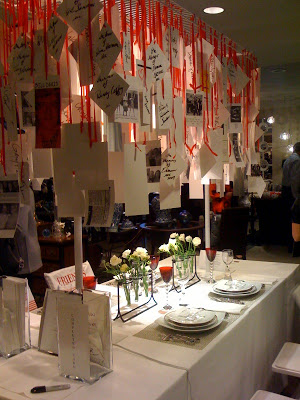 This tablescape invited guests to complete a card in memory of one lost to AIDS or to honor someone who participates in the fight against it. This idea can translate to any fundraiser dinner.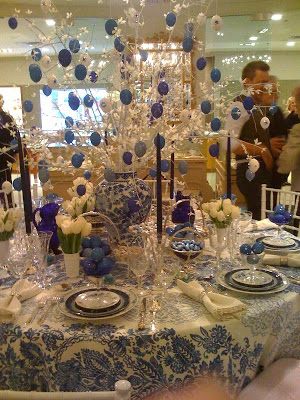 The monochromatic masterpiece above could only have been created by none other than the talented
Eddie Ross
(seen in the background). The use of blues redefined my idea of Easter decor. Glittered eggs in crystal topped off each place setting along with tulip filled julep cups. Who wouldn't want to attend a brunch at this table?