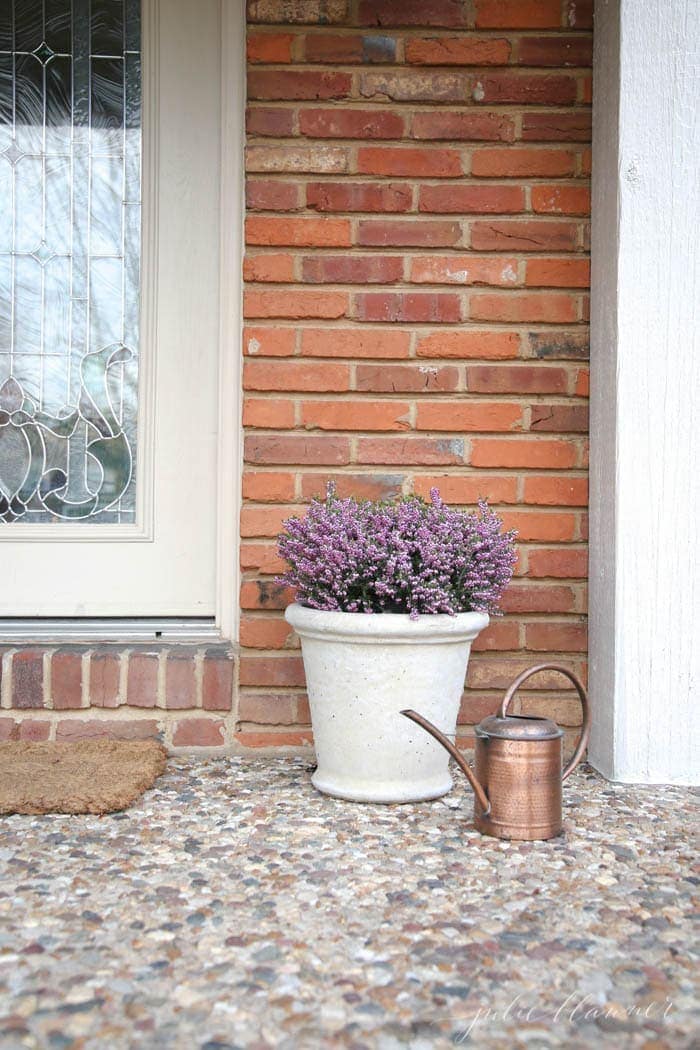 I was excited when Melissa of The Inspired Room invited me to take the Love Your Home Challenge inspired by her new book! I share her philosophy that little adaptations can help you love the home you have. Since our move last July, our goal has been to maximize features we love & minimize those we don't. A few of the things that we've done to date to help us love our home is simply painting our screened in porch, giving it a total transformation, adding a recessed curtain rod to minimize a dated 70's window, & updating hardware to give it a more classic look. A simple fern in the fireplace made me look at it in a different perspective, erasing my plans to whitewash the brick & embrace it as is!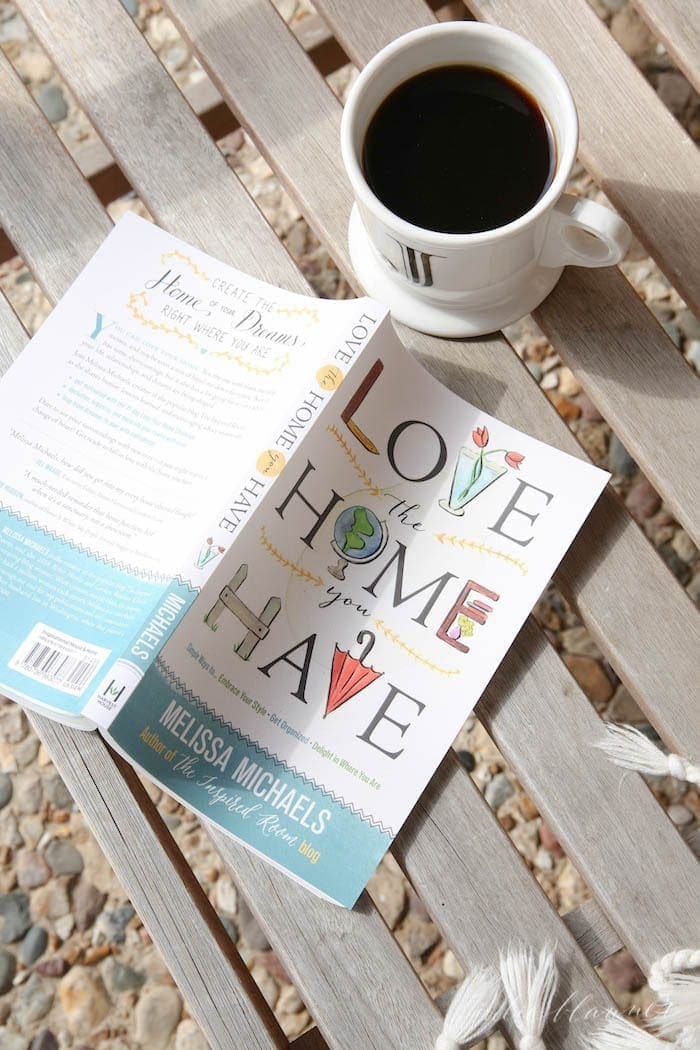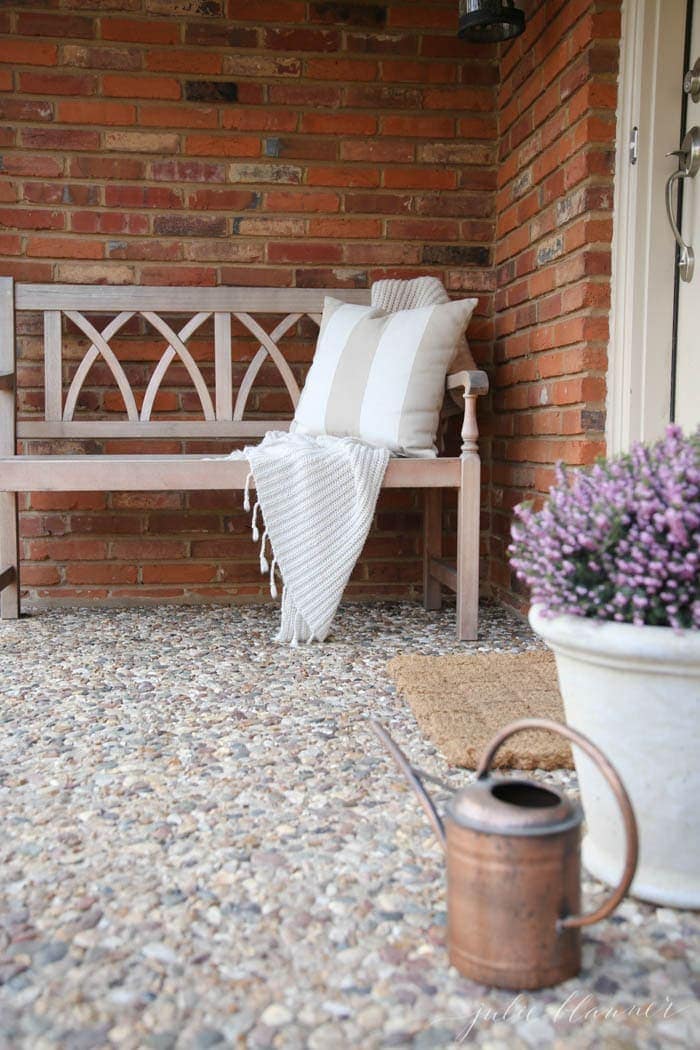 Today I'm sharing our spring front porch – it too, is simple, but it's a 7×6 space that I'm completely content with & spend a lot of time enjoying. One design element I love about our home is the stone walkway & pebble porch. It adds a lot of character & a soft, neutral color palette.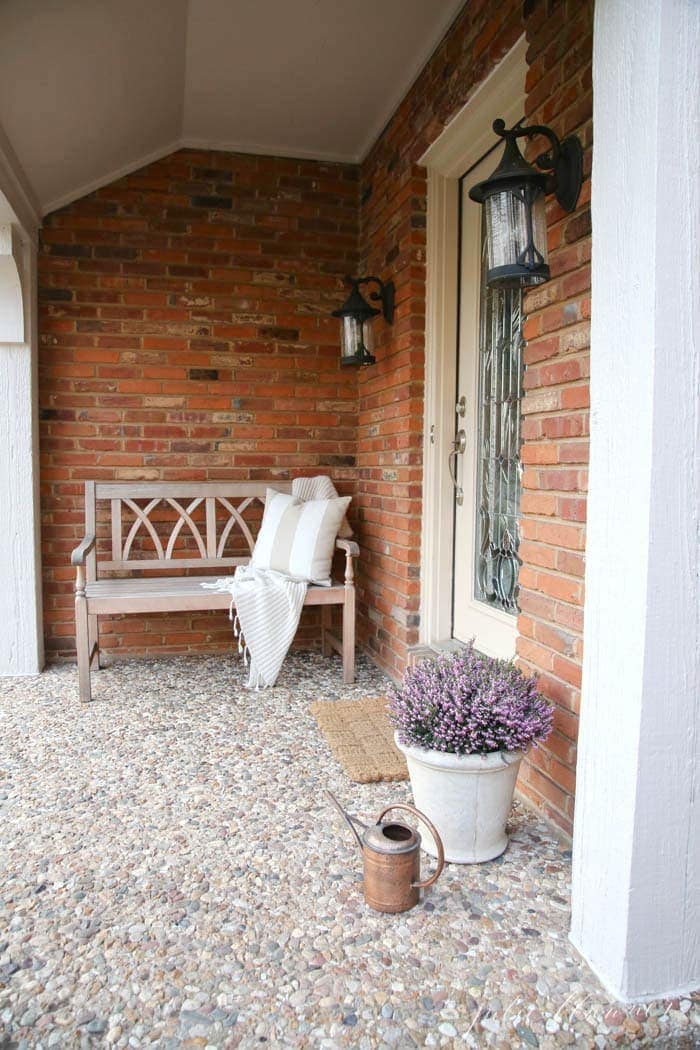 Before I start decorating a space, I think about how we use it. That often determines what decor I need. Since I enjoy living clutter free, most of my decor has a purpose. I spend hours on the perfectly weathered bench watching our 3 girls play in the circle drive, so comfort is key! I have an outdoor pillow & a throw since they're often more willing to endure colder temperatures than I am. A basic braided coir doormat keeps the dirt outdoors & a pretty, low-maintenance potted plant adds a hint of color. Since the porch is covered, I keep a copper watering can nearby – a great estate sale find!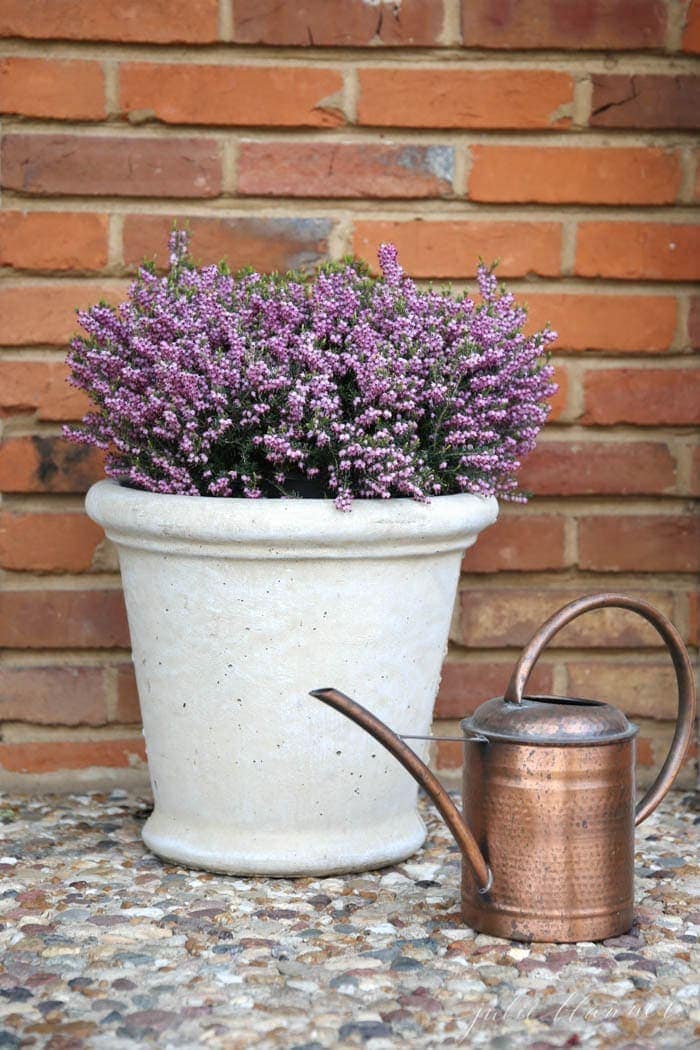 Sometimes I'll add a wreath, but I find beautiful wreaths difficult to come by & with other decor, they're unnecessary. When I do, I prefer fresh or preserved wreaths over silk & larger, 22″ wreaths. See? I'm not picky at all.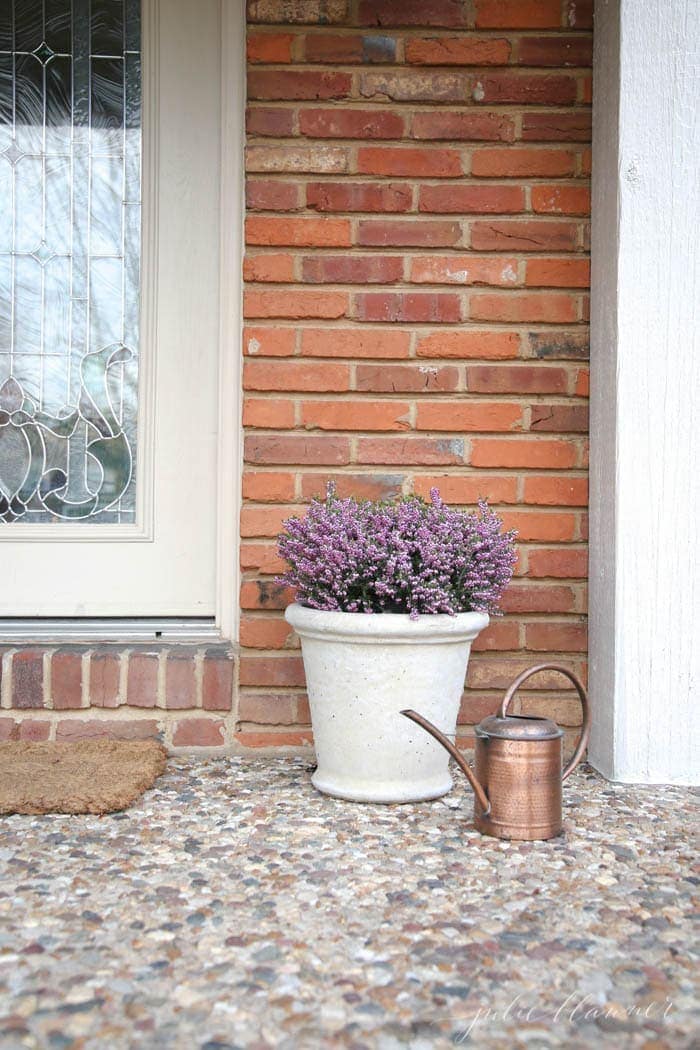 To give our porch a spring refresh, I attached Windex to our hose & sprayed it down – it's my spring cleaning cure all for outdoors! Who has time to actually wipe down their windows & light fixtures? It also saves me from having to blow leaves, pine needles, etc off the porch. I touched our door up with a magic eraser to eliminate scuffs & hard to clean marks.
I just ordered 2 lanterns in antique copper that I'm unreasonably excited about! I feel like Tudors just beg for copper. We also eventually plan to add a dutch door or a 9 lite door to allow more light in our foyer.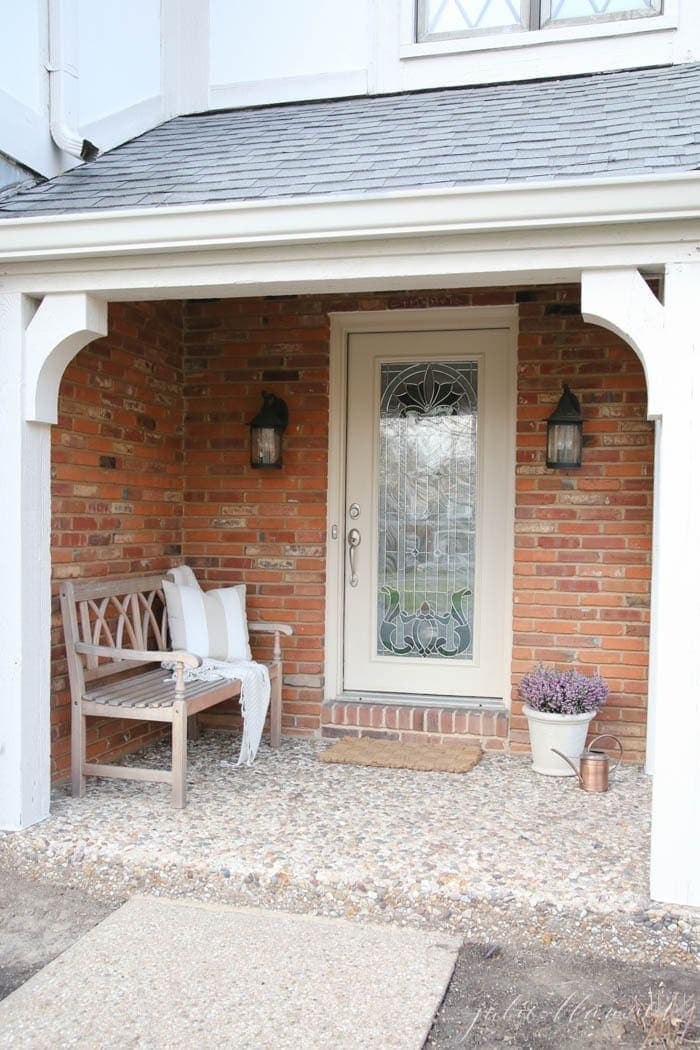 To me, a front porch & foyer are an invitation to a home. They set the tone & can make guests feel welcome. You're always welcome – please, stop by any time! Stay & come on in for a tour, if you'd like!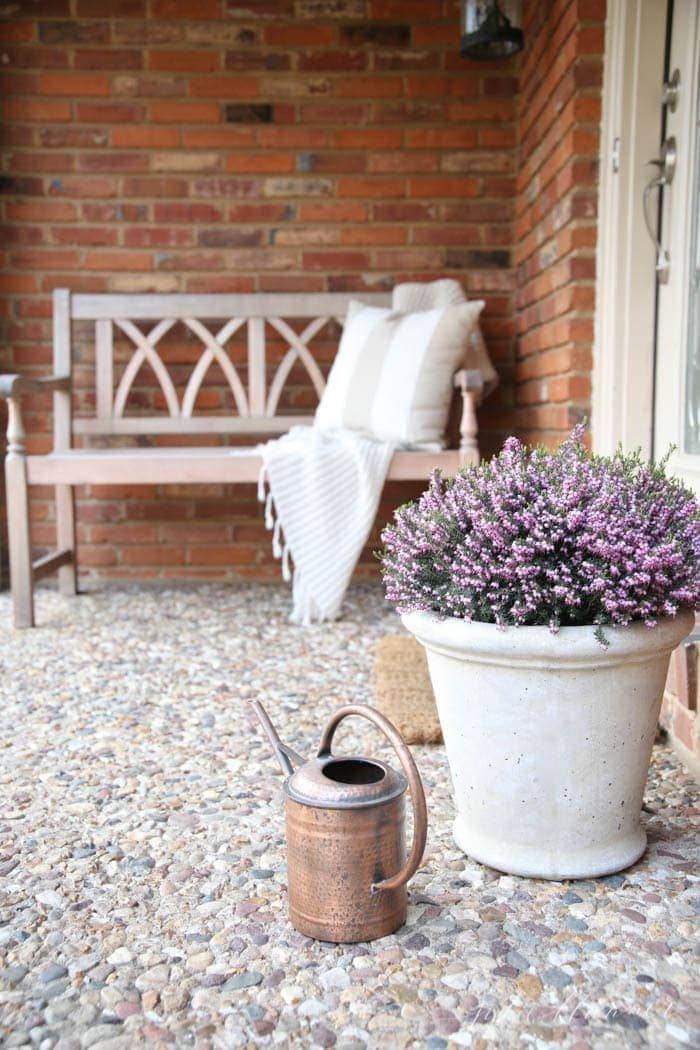 Love the Home You Have, by Melissa Michaels is an inspiring book full of ideas & challenges to see the beauty in it. Download your copy today! See how my friends & fellow bloggers have taken the Love Your Home Challenge…