Fill an apothecary jar with cranberries, nuts, pine cones, remnants of your tree, or ornaments for a quick change. As shown with gold dusted pine cones.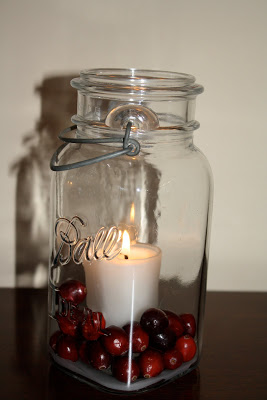 One bag of cranberries goes a long way when decorating your home. I recommend putting them in a strainer for a few hours to dry out before use. I like to fill jars and vases with them. They also look great frozen in your holiday punch!
Taking velvet ribbon, I wrapped an everyday pillow to look like a gift. I love decorations that are quick and easy to dismantle after the holidays!