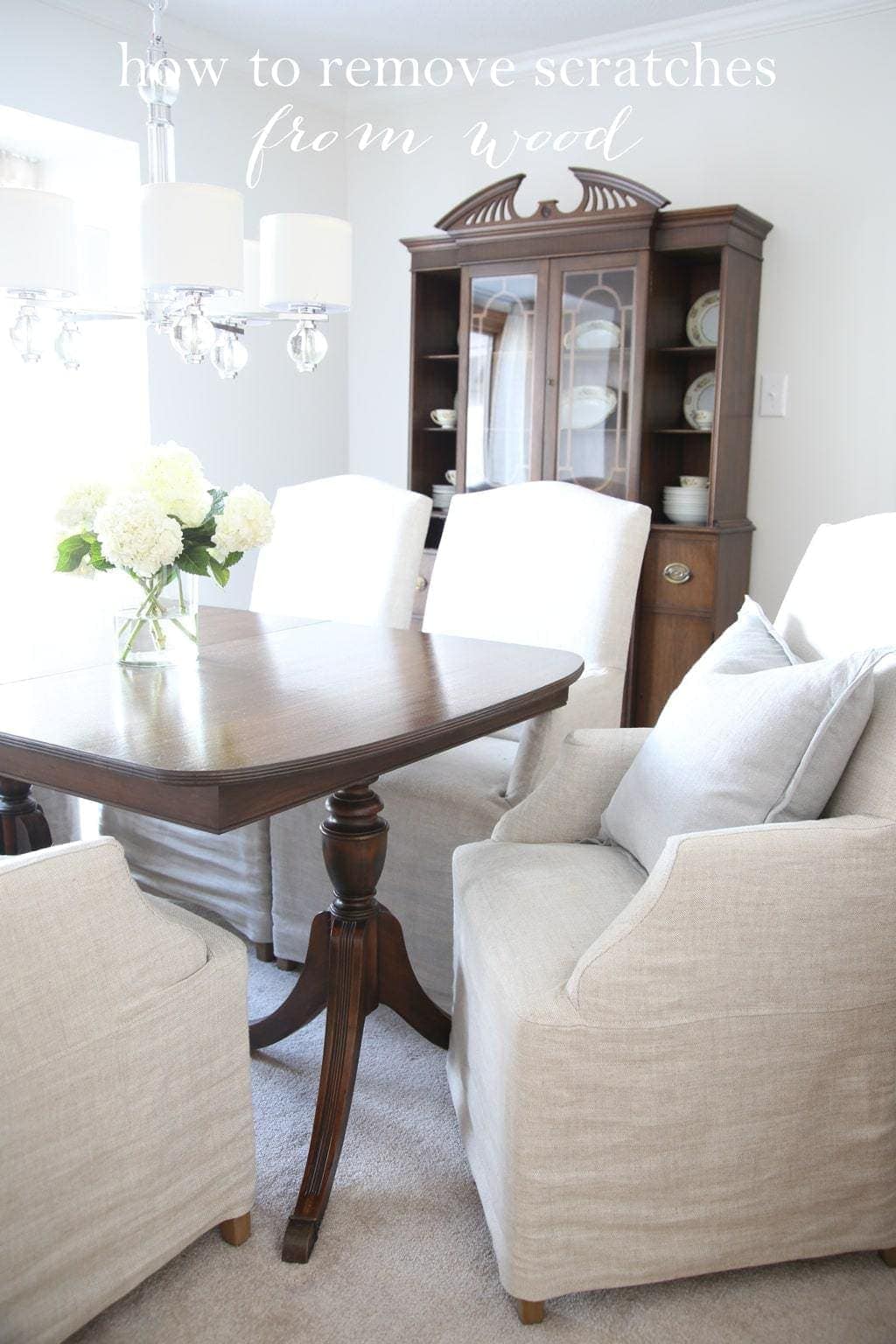 You may already be aware of this, but I wanted to share because I'm beyond excited & if it saves just one table from paint, it's worth it! Last week, I had my grandmother's dining room set moved into our home. When she passed away my mother quickly sold her set & moved it into my childhood home. At the time I was just 8 years old & didn't understand why she sold a newer dining room set & replaced it with an older one. It's something I truly appreciate about my mom. She valued things far beyond their monetary value. I get it now – there's something about the history of a piece, the memories shared at the table, the birthdays celebrated around it, & the treasures it holds.
When my mom passed away we moved the dining room furniture to my sister's. Just last week we had the set moved once again into our home! Through years of use & several moves it was starting to show it's wear. I immediately began researching ways to safely remove or conceal scratches from wood furniture. Too scared to attempt any of them in fear of causing further damage, I referred to my always knowledgeable Facebook friends! Here are a few of their great ideas to remove scratches from wood furniture:
Use a walnut – the oils condition & it leaves color behind. Who knew?
Use Old English scratch cover.
I reluctantly decided to take the easy route & used Old English scratch cover, recommended by the always knowledgable & kind Cheryl of TidyMom. I nervously tested a discreet area & was really pleased! I worried it would leave the color/finish behind, despite wiping it off immediately after, but it didn't. I was able to do the table, buffet & china cabinet in just 20 minutes & it looks like new! I plan to do the piano this week as well.
How do you remove scratches from wood?