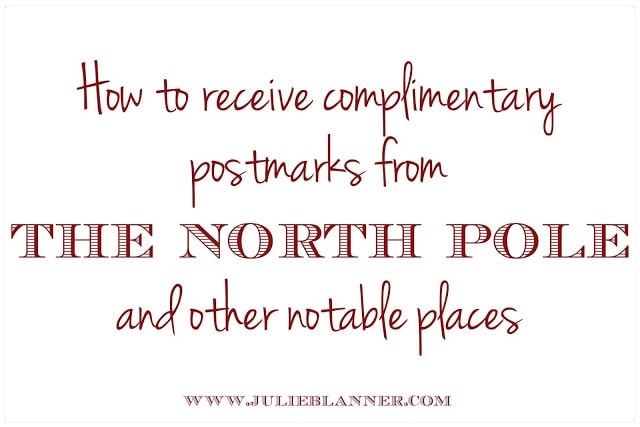 As the holiday nears, so does Adalyn's excitement and anticipation.  Who knew Christmas with a nearly 3 year old would be even more fun that it was when I was a child myself?  This year, we visited Branson for the Christmas shows and lights at Silver Dollar City in early November, while it was still warm outside.  We also plan to do Elf on a Shelf.  In thinking of other ways to make the holiday mesmerizing, I started to research letters from Santa and sending mail from the North Pole.  In doing so, I also found that you can send mail from Hope, Joy, Angels Camp, Bethlehem and more. 
To have your Christmas cards, letters, etc officially postmarked from the North Pole:
on/before December 10th, simply place postage stamps on personalized, sealed, and addressed greeting cards or letters and place them in a larger envelope or box addressed to
NORTH POLE POSTMARK
POSTMASTER
4141 POSTMARK DR
ANCHORAGE AK 99530-9998
To have your cards or letters postmarked from one of the other cities above, write to
these post offices
 for postmarks.  Enclose a stamped and addressed card or letter in another envelope or box labeled "Christmas re-mailing" in plenty of time to allow for processing and remailing.
This complimentary service is provided by the United States Postal Service!