Large Paper Flowers are a fun, easy, and cost-efficient project to produce dramatic flowers for decorating at showers, parties, receptions, and even in bedrooms.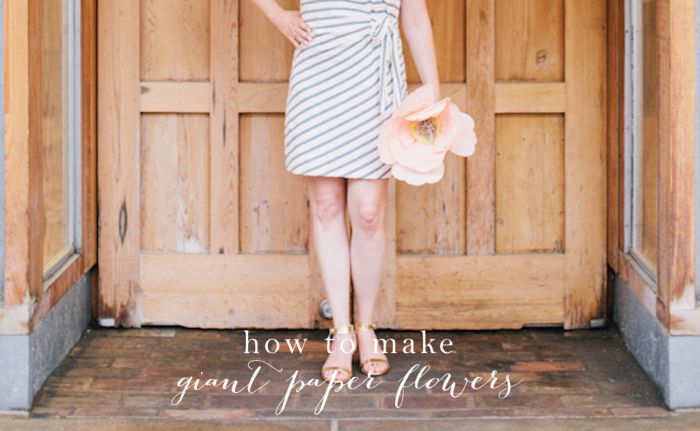 Making large paper flowers always brings nostalgia for my first experiences crafting with my grandma. I would spend hours at her house doing projects with her. She always came up with great ideas, usually using items she already had because the nearest craft store was an hour away.
Paper flowers were a favorite project of mine. I could make them out of so many items: old envelopes, tissue paper, construction paper, and even napkins (clean, of course!).
I developed a love of being resourceful from my grandma, and still consider that an attribute of mine today. And I still love using paper to make flowers to this day.
Large paper flowers are especially fun because they make a bold statement with their large size. They can be customized to whatever color palette you need – pastel, bright, or even sparkly!
Large paper flowers can be made quickly and without much cost. You can make them to be semi-permanent decorations for a room or as temporary decorations for a special occasion.
For some additional party decoration inspiration, check out my Birthday Party Ideas and Shower Ideas.
Ideas to Use Paper Flowers
They are so sweet and simple for decorations in a girl's room. Large paper flowers can be hung in corners to add some color to an otherwise nondescript place. One or two can be placed in a vase on a nightstand, dresser, or desk. They can be attached to string and used as a banner or garland across a wall.
Their ease and speed of assembly make them a great decoration at a party or shower. Again, they can be used as centerpieces or hung from the ceiling or on a wall. Make no mistake, though, if they are used as wall flowers, they won't act in the traditional sense of the word. They will stand out in with dramatic effect rather than blend into the background.
These can be really fun to make in a group with friends, family, and children. Many hands make quick work if you need to make a lot of flowers for decorations at an event. Because they are easy to make, everyone involved can still enjoy friendly conversation without having to concentrate too hard on the flowers.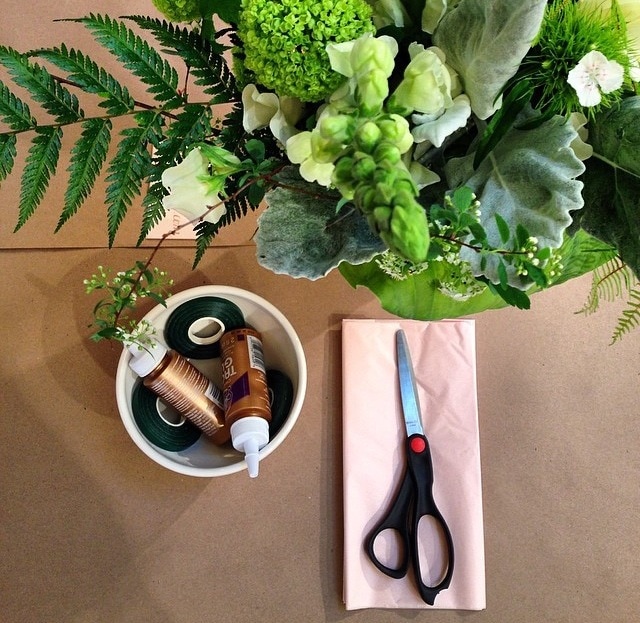 Supplies To Make
Tissue Paper – Choose your main color, plus yellow or gold for the center.
Thick Floral Wire or Rod – This will be the stem.
Floral Tape – To attach the paper to the wire.
Scissors
Tacky Glue
Dried Moss (optional)
Templates – (optional) small petal | medium petal | large petal | center
How to Make Large Paper Flowers
Cut Petals – Cut your petals in 3-4 various sizes, gradually increasing the size with each one. You'll want about 8-10 petals for each size. To keep it simple, I created templates for the petals (see links above), but feel free to improvise. I stack the tissue paper so I can cut several of each size at once.
Start Small – Starting with your smallest petals, wrap the petal around the wire, using your floral tape to connect the tissue petal to the wire. Evenly disperse your smallest petals, taping every 1-3 petals in place as you are comfortable. You'll need to squish the paper around the wire, which will make the paper stand up straighter and be firmer.
Layer – Add your next layer of petals until all of the small petals have been taped in place and no gaps are showing. Follow the same taping process with the next size of petals, followed by the largest petals. (Even with this template you can make your flowers as big or small as you want. By taping more of the paper onto the stem, you can adjust the amount of tissue paper that is sticking up as the petal.)
Cut Center Sheets for Pistil – Cut 3-4 sheets of yellow or gold tissue paper into circles. I do this with the tissue paper still folded to cut them all at one.
Crumple – Crumple your tissue paper circles. Scrunch them into a ball, then pull them apart to separate and gently smooth out. This will give your flower some texture and character.
Glue – Glue each circle to the next, then adhere it with glue to the center of your flower. Gently separate the layers to make the center look more three dimensional.
Optional: Add Dried Moss – Cut a small bunch of dried moss & glue it well. Tacky glue will dry clear.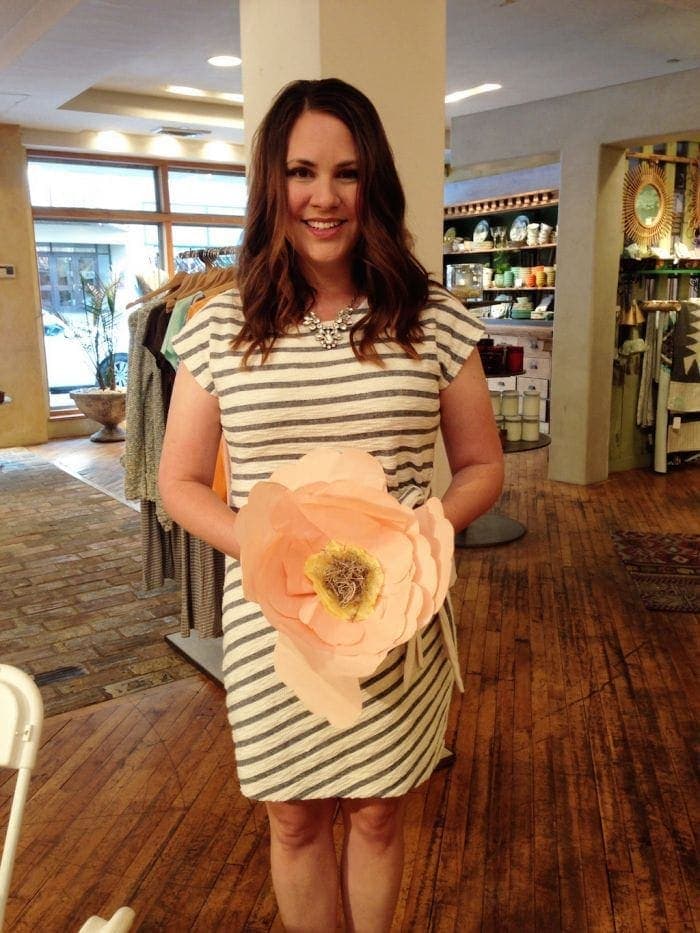 Variations
Crumple all of your tissue paper before assembling your flower. Then smooth the paper out. This gives it a more vintage look.
Glue a different material into the center of the flower: a textured fabric like burlap or a cardstock circle covered in glitter.
Cut the petals so they have a different shape on the outside, like zig-zags or one smooth curve for a totally different looking flower.
Add a layer of tulle for the middle-sized petals.
Tips
Make sure the floral tape is tight and catches enough of the tissue paper to keep the petals supported and secure.
If you have any wire sticking up at the top, fold it over and press it down flat before adding the yellow center.
Use plenty of glue for the dried moss. Tacky glue dries clear, so use as much as you need to get every strand of moss attached.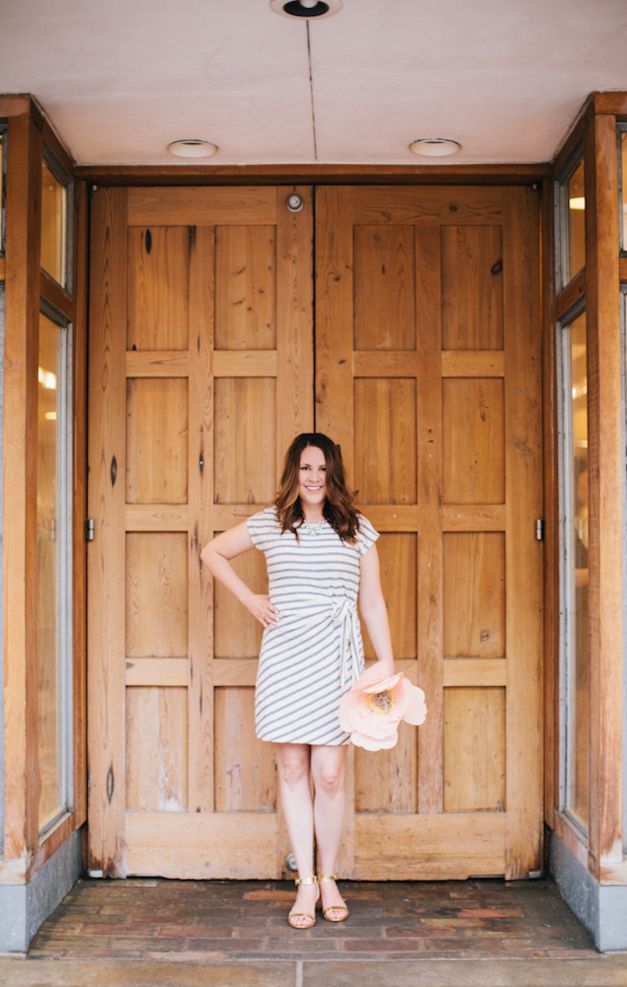 More Easy DIY Ideas
How to Make Envelope Liners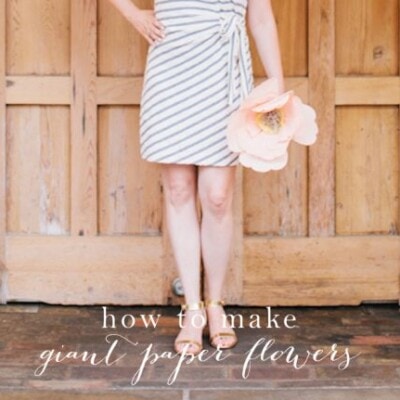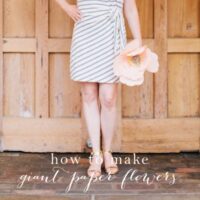 How to Make Paper Flowers
Make the perfect giant paper flowers out of tissue paper. They are a beautiful decoration for parties, showers, and receptions.
Ingredients
Tissue Paper - petal color and yellow or gold

Floral Tape

Floral Wire or Rod

Dried Moss
Instructions
Cut your petals in 3-4 various sizes, gradually increasing the size with each one. You'll want about 8-10 petals for each size.

Starting with your smallest petals, wrap the petal around the wire, using your floral tape to connect the tissue petal to the wire. Evenly disperse your smallest petals, taping every 1-3 petals in place as you are comfortable. Continue until all small petals have been taped.

Follow the same taping process with the next size of petals, followed by the largest petals.

Cut 3-4 sheets of yellow or gold tissue paper into circles.

Crumple your tissue paper circles, then gently smooth out.

Glue each circle to the next, then adhere it with glue to the center of your flower. Gently separate the layers to make the center look more three dimensional.

Cut a bit of dried moss and glue it to the yellow center