How to Make Envelope Liners
Try this easy-to-follow tutorial to make your own personalized envelope liners. It is a simple, quick, and inexpensive project that adds instant style to any envelope you send.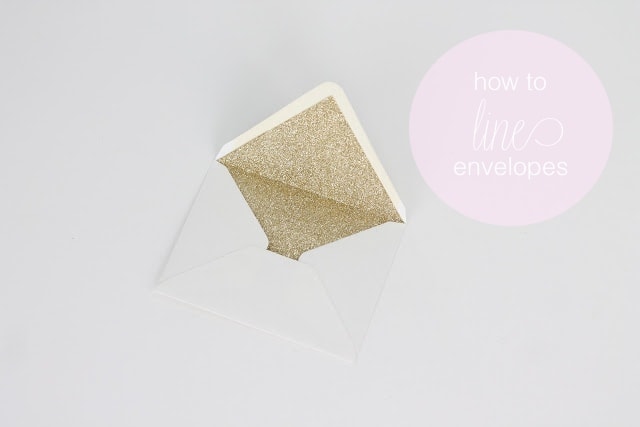 These days there's something extra special about getting a card in the mail, because so many of our interactions are done virtually. Opening a handwritten note or invitation is like unwrapping a little gift. There's a touch of excitement, plus the wonder of what you'll find inside.
Handmade envelope liners are the perfect finishing detail because they add a personal, thoughtful touch to every card you send. Best of all, every recipient will feel special knowing they are worth the extra time and effort!
Also, you can tailor your envelope liners to fit the mood of your event. Choose any craft paper to add some color, pattern, texture, and even a little sparkle! So whether you're going for a fun, festive look or classic elegance, this project is for you!
This simple DIY takes only a few minutes per envelope and will definitely make your cards and invitations stand out. It is the perfect way to finish any party invitation or wedding announcement.
Or try these any time you want to send a sweet "thinking of you" or "thank you" note. With these envelope liners, you can make any note you send feel like a special occasion!
Get ready to send beautiful invitations by learning How to Write Calligraphy. Here are some Modern Calligraphy Letters you're sure to love! These Giant Paper Flowers make gorgeous decorations for any event, and don't forget to throw in some DIY Confetti Poppers for extra fun!
Make Your Own Envelope Liners
If you'll be planning an event in the near future, this easy craft project is for you! Invitations give the first impression of your event, so go ahead and add a little extra something that will match the style and theme of what you have in mind.
They're not absolutely necessary, of course, but these envelope liners help to set the tone of your event from the very beginning. It's clear that these envelopes aren't just an afterthought.
Even if you're not planning a big event, try this simple DIY anyway! Keep a few extra cards and envelopes on hand for when you want to send a quick note or thank you card.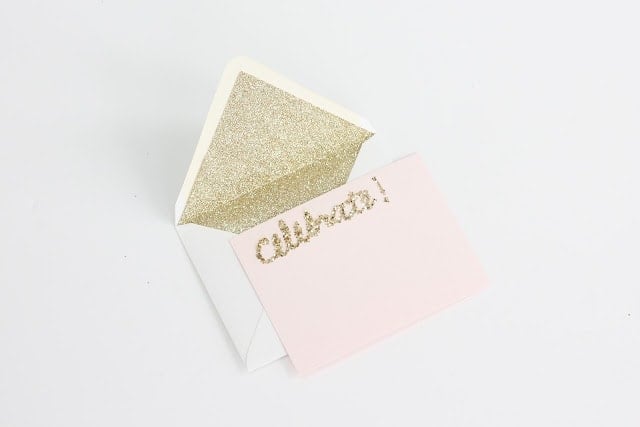 If you enjoy easy craft projects, check out some of my other tutorials. One of my favorite DIY crafts is these salt dough ornaments. They make adorable Christmas tree ornaments or gift tags. Or try these photo coasters – I love homemade gifts, and these are so sweet and easy to make!
Use for Wedding Invitations and Special Events
Envelope liners are most commonly used for wedding invitations. They are something special and unique added to the stationary that just gives it some extra glam.
When you're planning a wedding, you have a long to do list. Sometimes, however, a little craft project is a stress reliever in the midst of planning a large event. It can be a calming way to take your mind off of your other tasks for a while.
You can even organize a small work party with close friends, each of you taking a different step in the assembly process. As the proverb says, "Many hands make light work."
Of course, you can opt to purchase your envelopes already lined, but I don't think it is worth the extra expense. After you see how easy and quick these DIY liners are, I hope you'll agree with me!
Supplies to Make Liners
Since these are basic craft supplies, you probably have almost everything you need already on hand!
Craft paper, any style
Envelopes
Double-sided tape or glue
Paper cutter or scissors
How to Make Envelope Liners
Lining envelopes is a simple way to add a little extra color, texture, and luxury to your invitations and stationery. It's so simple to line your own envelopes with this step by step tutorial.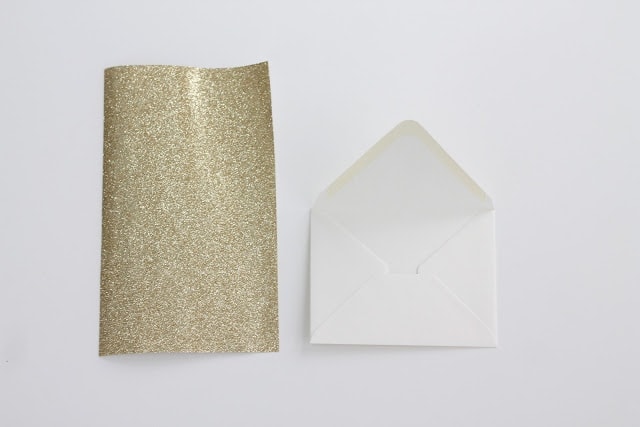 Choose a craft paper in a beautiful color, pattern, or texture. Try to match the tone of your upcoming event.
Cut your paper just shy of the width of the envelope and the same length of the open envelope. Slide paper inside the envelope to test the fit, and trim extra width if necessary.
Insert the cut paper into the envelope, making sure to push it all the way down to the bottom edge of envelope.
Fold the top edges of the paper to match the flap of the envelope, just below the glued portion of the flap. Make sure to leave the glue exposed in order to seal the envelope.
Remove the liner. Using a paper cutter, cut just inside the two outer folds you made in step 4. This should give the top of your liner a triangular tip.
Insert the liner again and position it correctly inside the envelope. Fold the envelope closed, allowing the liner to crease naturally where the flap folds over. Press along edge to crease the liner.
Pull the flap of the liner forward to expose the envelope flap underneath. Using double stick tape (as shown) or glue, outline just above the crease of the flap and below the glue strips on both sides of the flap. Move the liner back into place and press along all three sides of flap to seal the liner against the tape or glue. Note: the liner is attached to the envelope along the flap, not inside the envelope.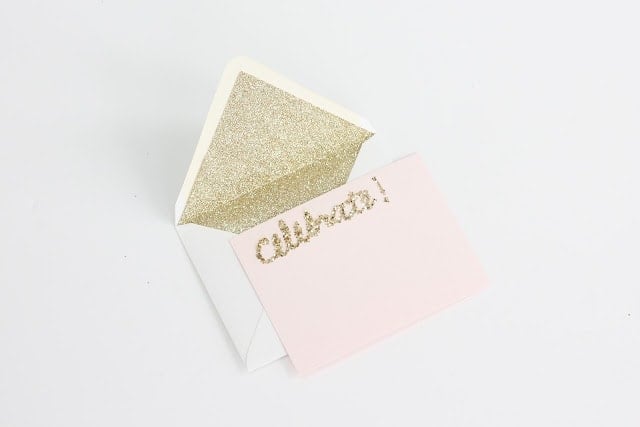 Each liner takes only 3-4 minutes, and it goes even faster if you create several at once. Form an assembly line for measuring, cutting, and gluing. Trust me, it is totally worth the effort to give your stationery a rich feel.
More Party Ideas
Nautical Invitations
Hosting a Housewarming Party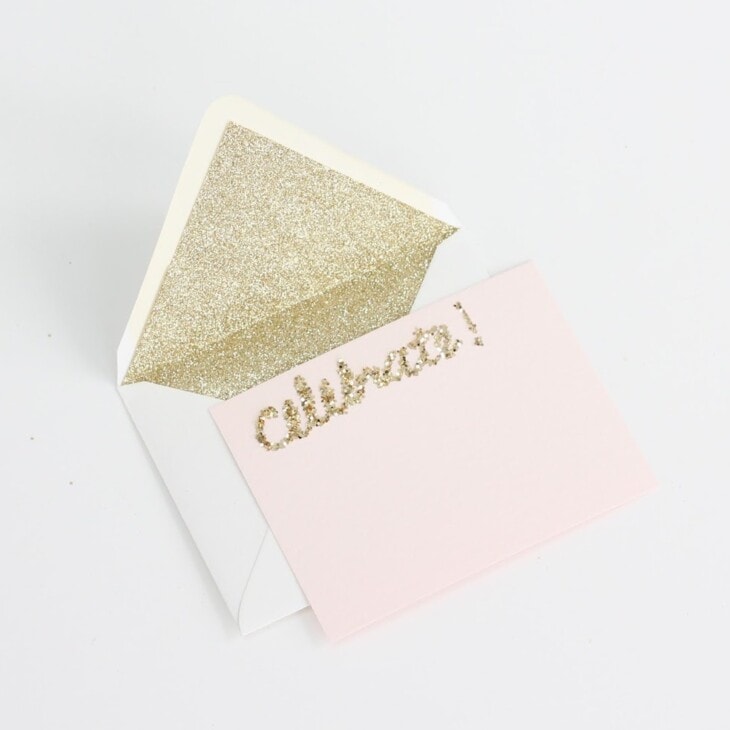 How to Make Envelope Liners
Add some flair to your envelopes with this easy tutorial for lining envelopes with decorated paper.
Supplies
Patterned or Decorated Craft Paper

Envelopes

Double-sided tape or glue
Instructions
Choose craft paper to match tone of your card or upcoming event.

Cut paper just under the width of envelope and same length as opened envelope. Test fit and trim excess if necessary.

Insert paper into envelope, making sure to push it all the way inside to bottom of envelope.

Fold top edges of paper to match angle of envelope flap, just below glued portion of flap.

Remove liner and use paper cutter to cut just inside the two folds you made in step 4. Your liner should now have a triangular tip.

Insert liner and position inside envelope. Fold flap closed, allowing liner to crease naturally at the fold.

Pull liner forward slightly to show envelope flap underneath. Line edges of flap with double-stick tape or glue, just below glue strips and above crease. Press line into place and press along all three sides to secure.