This charming Easter word search printable is the cutest addition to your Easter table decor! Keep your guests – old and young – entertained and engaged with each other to make the celebration even more memorable.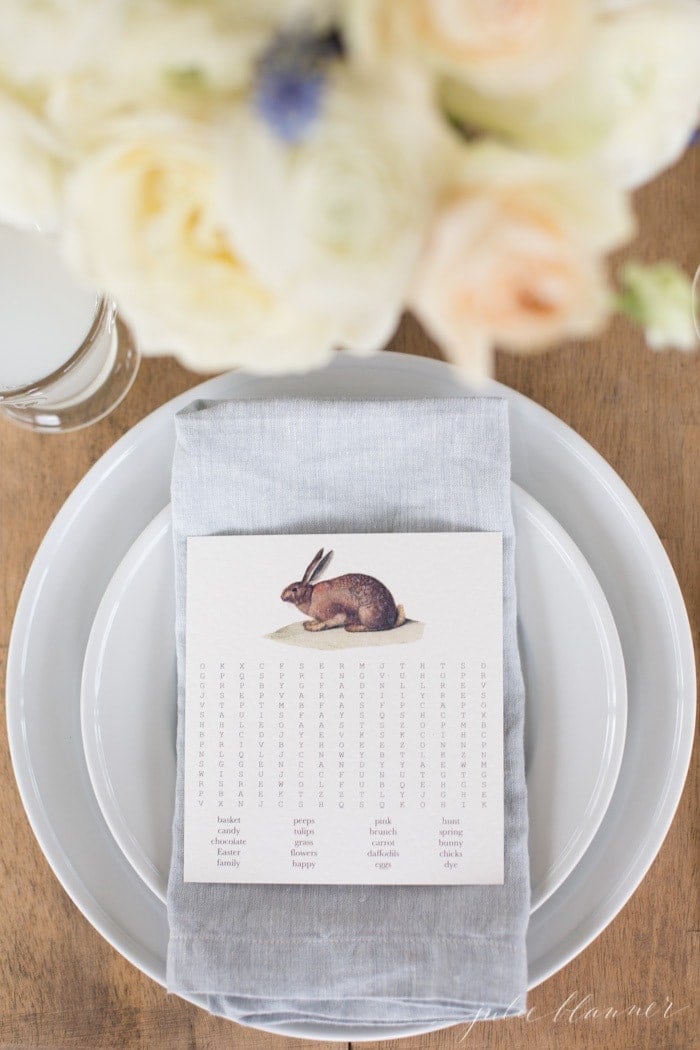 Originally published March 7, 2017 and updated June 16, 2021.
I'm so excited that spring is here! I love the indecisive spring weather. It will be 30 degrees one day and 80 degrees the next. Then it will be sunny one day and the next day it rains.
That's part of the fun of spring. There is a surprise around every corner – weather, flowers, new life. I'm thoroughly enjoying the breathtaking beauty of spring. And I'm elated that you're here to join me.
And since spring is all about surprises, I've got a surprise for you – a free Easter word search printable! Keep reading about simple ways to celebrate Easter, including the charming Easter word search.
Check out my favorite Spring Wreaths in this incredible round-up for even more seasonal inspiration!
Simple Celebrations
Easter is one of the highlights of spring for my family. We love being together to celebrate. I want each year's celebration to be memorable, but I don't want to spend the whole time planning, working, and cooking.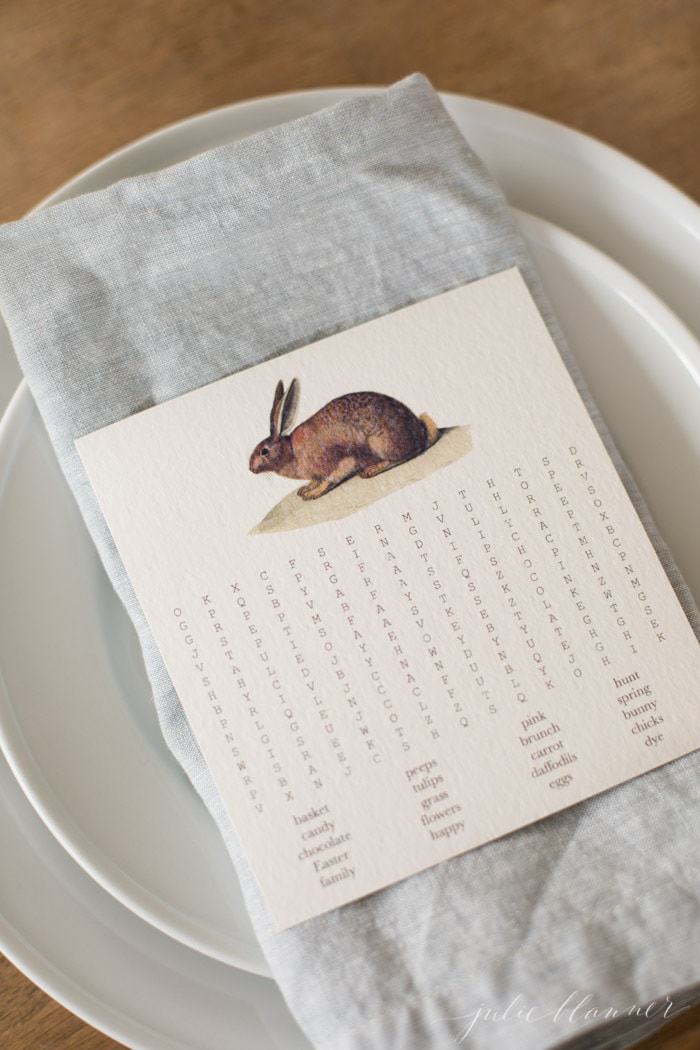 So I use simple Easter decorations that are lovely, but don't take a lot of time to set up. The sweetness of the season really shines through the use of peaceful pastels and classic decorations rather than commercialized and over-the-top decorations. I like to invite serenity through the way I decorate.
My holiday menu consists of elegant yet easy-to-make dishes. The meals I make are delicious, but still allow time to enjoy my family and guests. This honey glazed ham is perfect and so easy! For brunch I love to make sweet breads like this blueberry bread, which pairs so perfectly with spinach and feta quiche.
While I do love to make my table beautiful, I still like it to be simple and charming. I use simple and inexpensive table decorating ideas that make the holiday feel special and beautiful.
By keeping my meals and decorating simple, I can enjoy the season and so can my family and guests. And to make things even more fun I like to throw in activities that get us all visiting and enjoying one another's company, like the Easter word search printable I mentioned above.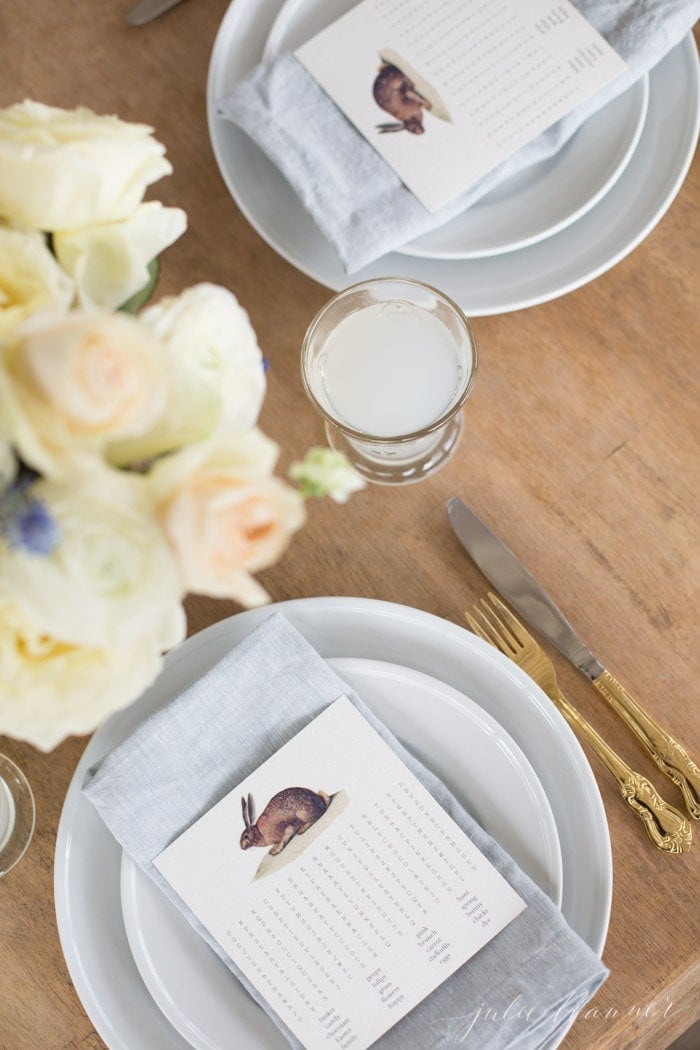 Easter Word Search
In partnership with my friends and colleagues, I'm sharing a free printable Easter word search to keep your family entertained and connected while you put the last minute touches on Easter brunch or dinner.
This free Easter printable features a sweet, vintage-looking bunny that will make your heart melt. The words to find are timeless and reminiscent of all things good about spring and Easter. It's simple enough that kids can enjoy searching for words, yet will still keep adults entertained.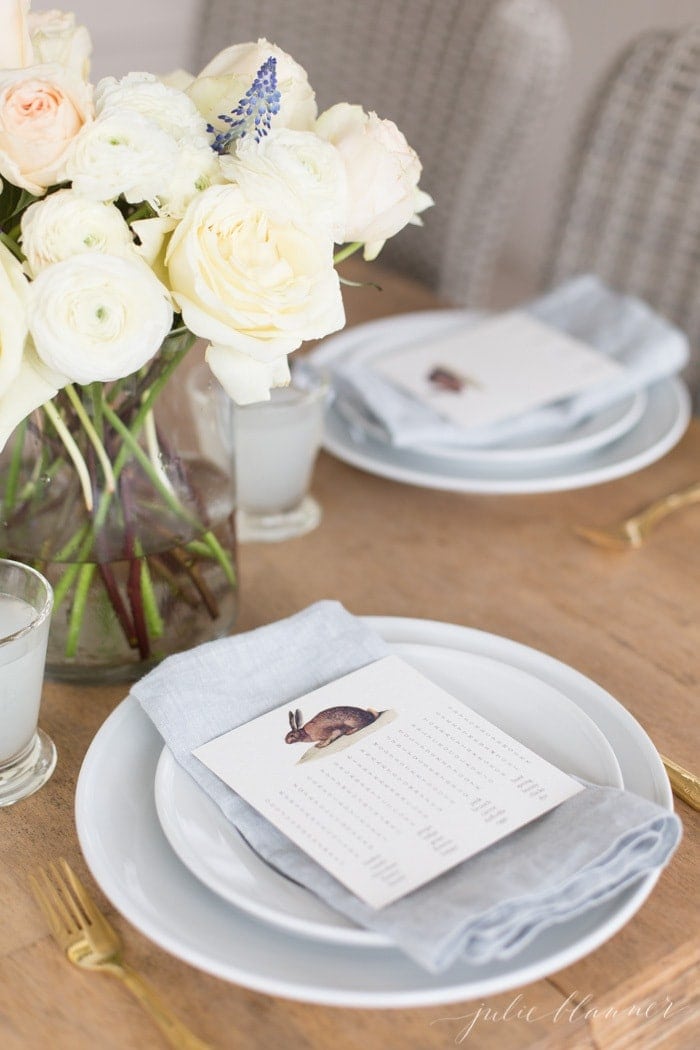 The idea here is to spark conversation and connection. All too often it feels like guests arrive, eat, spend time on their phones, then leave. Taking a break from the digital world is important, and I love bringing people together with face-to-face activities that get them talking and bonding.
I love just relaxing with friends and family and enjoying one another's company. I have always loved activities for the table like "Thankful For" cards at Thanksgiving or playing dominos after a family get-together.
I've discovered that games like this printable Easter word search keep everyone engaged and promote togetherness.

As a bonus, it adds a special touch to a pretty table setting.
Find the word search here. Download and then print! You can use plain paper, or texture paper for a vintage feel. And if you need the answers, just ask a kid. My 7-year-old found them all!
I hope you enjoy the beauty of the season, the delicious food, the family time, and this free lovely Easter word search printable.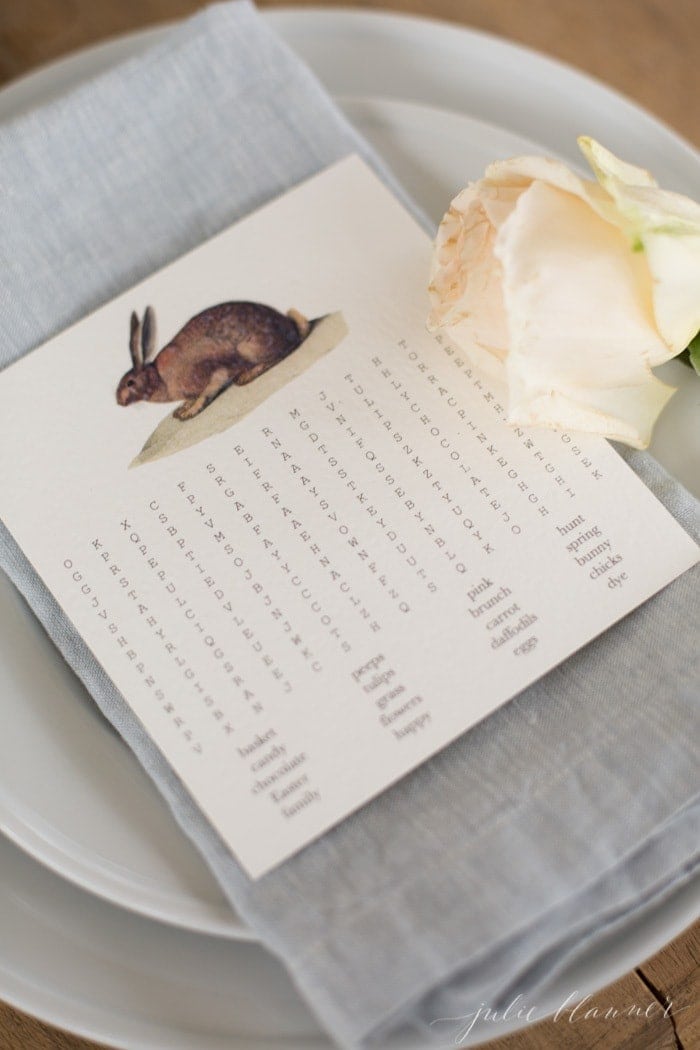 More Easter Inspiration