In KC, there are a lot of options for Pumpkin Patches, but I have found that they are not all created equal. Many of them charge $8-10 per person entry fee, which doesn't include the cost of pumpkins. This year, I sought an alternative and found the perfect pumpkin patch –
Powell's
. This little gem is nestled in Louisburg and provides a complimentary half hour hayride through a rugged patch. The driver is pleased to stop at any time and tell you about the different varieties of pumpkins and gourds and you can get off at any time to pick your perfect pumpkin. Family owned, the staff couldn't be more pleasant. Don't worry, in addition to the hayride, they also offer a hay maze, perfect for the little ones, a tunnel and slide system, a large sandbox full of toys and for just $3, a huge corn maze.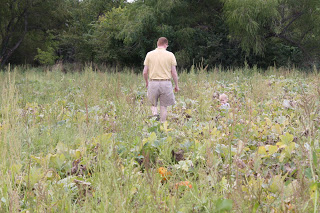 Above: We enjoyed that the pumpkin patch was rustic and full of flawless options. It made seeking the perfect pumpkins and gourds a lot of fun!
Oops! The hay was a bit itchy for a jean skirt. Don't worry, she took a lap.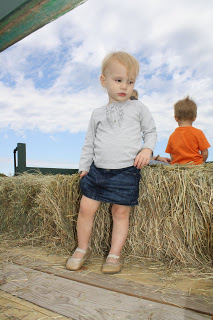 Adalyn joyfully navigating her way through the hay maze.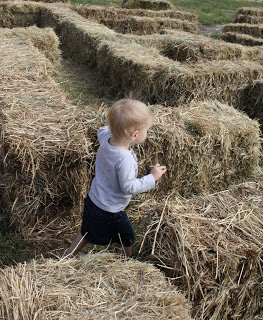 Unfortunately, I don't think this scarecrow is going to scare anyone or anything. I have to say that as a fan of MU.