Some occasions just need to sparkle! Glitter art is the perfect way to add sparkle and shine to your party. I have some incredibly simple projects you can do in minutes that will add dazzle to your next festivity!
Take your party to the next level by adding custom glitter art projects. Glitter adds that element of texture and fun that transforms your get-together into a party!
I created this New Year's décor for a Style Me Pretty New Year's shoot.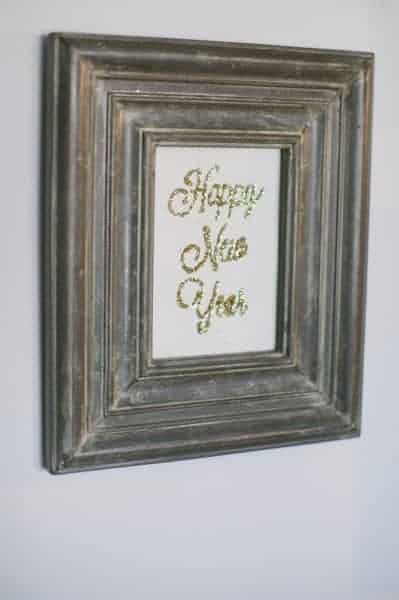 With a bottle or two of glitter and some glue, you can create customized pieces that fit your occasion and add pizazz! I prefer to use a neutral glitter, like gold or silver, rather than colored glitter for a timeless look that blends in with any décor.
So give these easy projects a try to add a custom look and sparkly fun to your next party. For more easy party ideas, check out my Easy New Year's Party Ideas. Learn How to Line Envelopes for fun party invitations and how to make DIY Confetti Poppers to blast in the fun!
Glitter Art Typography
One of the easiest ways to transform your home for a party is to switch out your art. Using themed art in frames looks classic and feels homey while incorporating your theme. The juxtaposition of an old frame and cheery glitter art really looks stunning.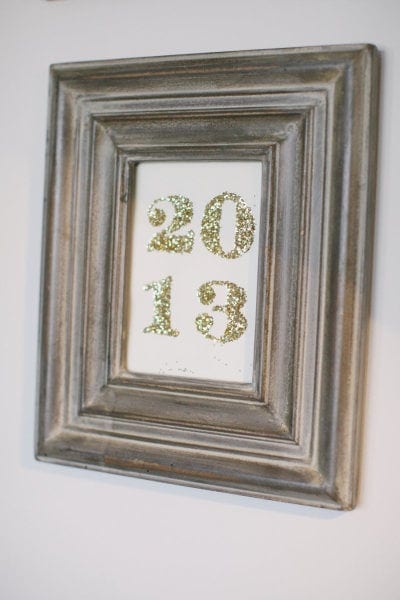 I use my glitter art in a few different locations to bring cohesion and festivity to different party stations around my home.
My sparkly New Year's glitter art brings attention to the dessert table. The large, simple white frame looks so stunning with shiny art inside as the backdrop.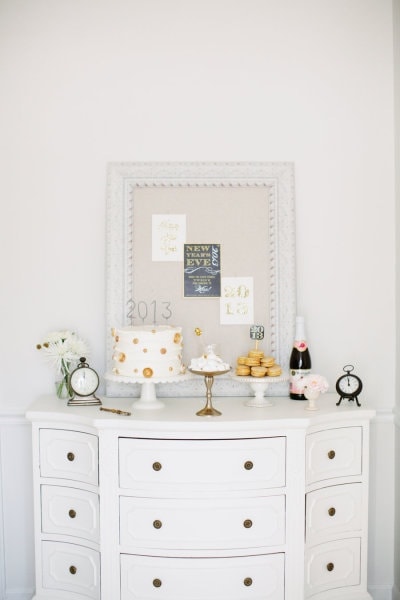 Glitter art typography is so easy to create – you need to make some for your next celebration.
It's so easy to change out your normal living room art for something seasonal to celebrate the occasion.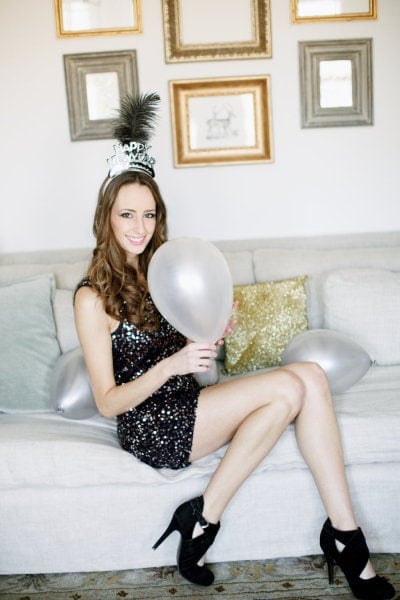 How to Make Glitter Art Typography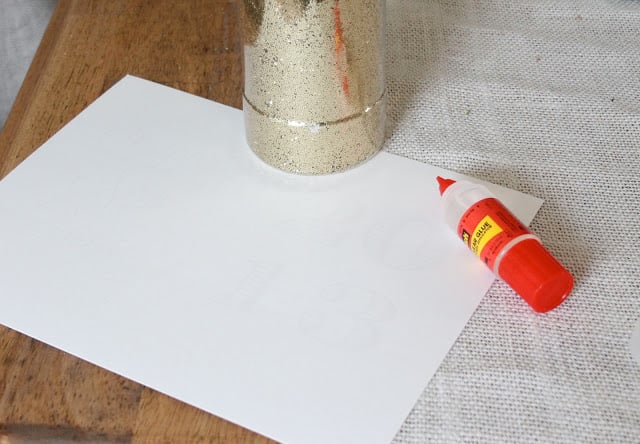 Using a glue pen, trace your design, one word at a time. This will prevent the glue from drying before you add glitter.
Cover the area in glitter.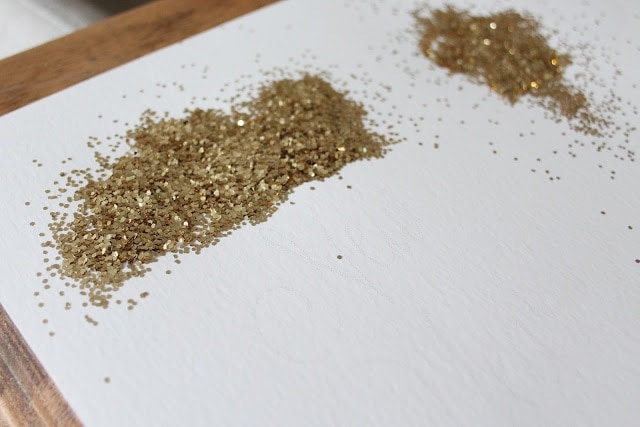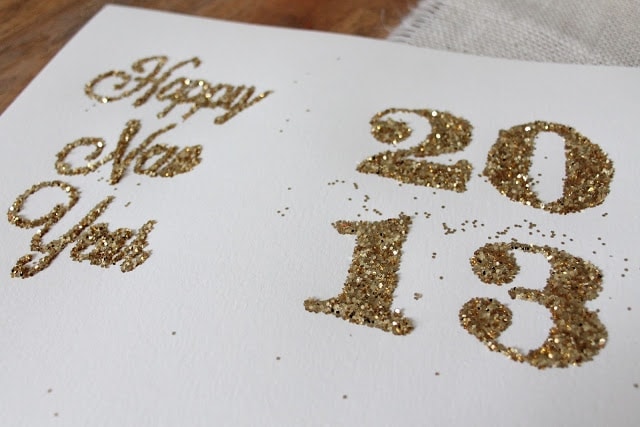 Turn your card stock to remove the glitter and allow to dry. Once dry, dust off the excess.
Repeat glue and glitter process with each word on your design.
This is so easy and fun to do! It adds a personal and festive touch to every party! You may end up making glitter art at every birthday party and holiday you celebrate.
Glitter Art Votives

Another way to add a sparkling touch to your celebration is to turn ordinary votive candles into shimmering candles! They're perfect for a New Year's theme – "All that glitters and shines!"
Using votives that I already had, glitter and spray adhesive, I created illuminating décor that has just the right amount of flair for a party!
How to Make Simple Glitter Votives
Spray the bottom half of the votives with spray adhesive. If you want a clean, polished line, just use painter's tape to mark off the section you don't want glittered.
Cover with glitter in one of two ways: 1) Dip the votives in the bottle or a bowl of glitter. Areas covered in spray adhesive are instantly covered with glitter. 2) Pour glitter on a piece of paper and roll the votive in the glitter.
Tap to remove excess glitter right. Allow glue to dry.
Every little bit of effort goes a long way when decorating for a party. These are so easy and fast to make, but really contribute to the overall effect of fun and festive!
Tips
Glitter comes in all colors and sizes. And all of them work! You can use metallic glitter, colored glitter, holographic glitter, glitter powder, etc.
Work over a surface covered with craft paper. Glitter can make a bit of a mess and it is nice to keep the glitter contained.
Use a smaller piece of paper on top of the craft paper to catch the glitter you shake off. The excess glitter that is shaken off can be used again. Crease the paper you are working over and then pour the glitter back into the container.
Wait for the glue to dry on the glitter art before you hang it up. You don't want your letters to drip.
More Easy Party Ideas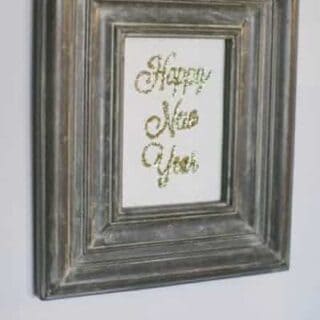 Glitter Art
Materials
Cardstock - or other sturdy paper
Glue pen - clear
Glitter - your choice of color and size
Instructions
Make a design on computer and then print in lightest shade possible.
Trace one section of your design with the glue pen.
Sprinkle glitter over glue and then shake the excess onto a large piece of paper.
Repeat with remaining sectionsn of your design.
Let dry before using.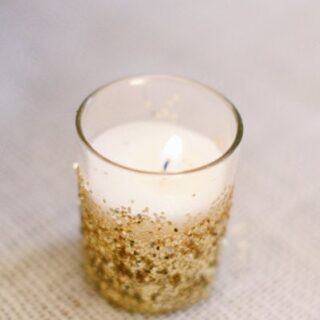 Glittered Votives
Estimated Cost:
$10.00 or less
Make votive candles sparkle and shine by adding glitter to the glass!
Materials
Votive Candles
Spray Adhesive
Glitter
Paper
Painter's Tape - optional
Instructions
Spray bottom half of votive with adhesive. (Tape off the top part of votive if you want a clean line of glitter.)
Dip or roll votive in glitter to fully coat.
Tape candle and shake off the excess glitter onto paper.
Allow to dry before using candle.