Bring natural and functional decor into your home with this simple jewelry hanger. It can be made in mere minutes and will look beautiful while holding your necklaces and bracelets!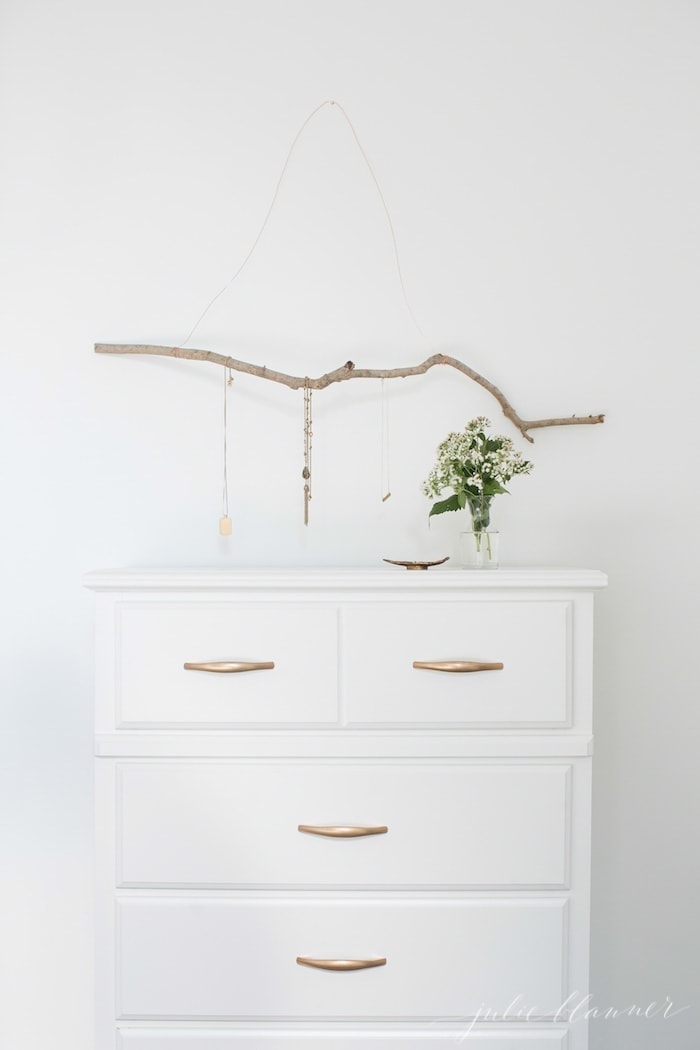 This DIY necklace hanger combines the elements of functional decor and nature. A simple branch that you can find outside provides texture and organic style on your wall while serving as a jewelry hanger. It is as brilliant as it is beautiful!
This DIY jewelry hanger is so sweet and a such a beautiful way to display your necklaces and bracelets. It is the perfect project for so many reasons:
First, it incorporates my favorite minimal and practical approach to decorating. I love creating a calm environment by using decor that is also functional: baskets for end tables, apothecary jars for small items, decorative baskets and bins for storage, and furniture that meets our needs.
Next, it brings an element of the outdoors to the indoors. Natural objects invite a calm atmosphere into a space. Additionally, their quirky and often non-linear shape add another visual layer to the straight lines of rooms and furniture.
Finally, it is really easy to make. You can complete this DIY jewelry hanger in just a few minutes and for less than $5. And it is very customizable to be any size you need and to match your room's metal finishes.
Every woman needs a jewelry hanger to keep necklaces and bracelets from getting kinked and tangled. It's also nice to be able to see and access all of your necklaces.
What You Need
Picture Hanging Wire – Copper blends really well with natural wood, but silver and gold wire will also work.
Tree Branch or Driftwood – Find one that has a shape you like in your yard or on a walk.
Wire Cutters – To cut the wire to size.
Small Nail or Tack – To hang.
Hammer – To hang.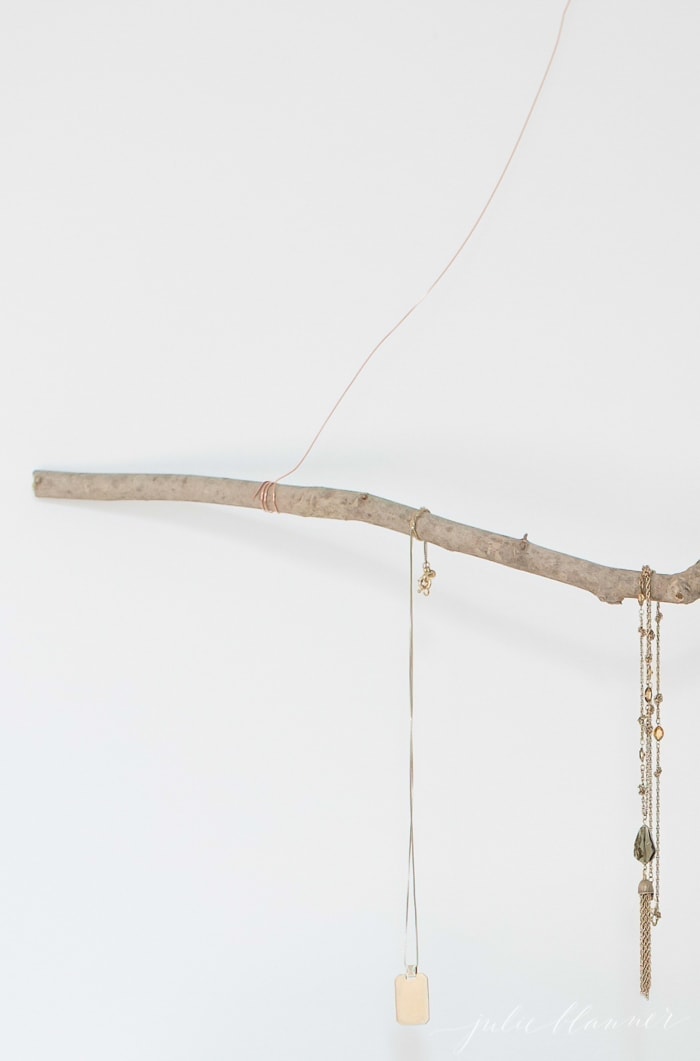 How to Make Jewelry Hanger
Clean your branch or driftwood with a cloth or gentle brush.
Gently straighten your wire as you unwrap it from the spool.
Secure the wire to one end of your branch by wrapping it around completely at least 3 times.
Create a triangle the length you want it to hang. Secure at the other end of the branch by wrapping it around the branch again. Cut excess wire with wire cutters.
Hold the jewelry hanger on your wall to find the height where you want your necklace hanger. Mark where the triangle tip is and then put a tack or nail in the wall.
Hang your lovely creation and then hang your clasped necklaces and bracelets.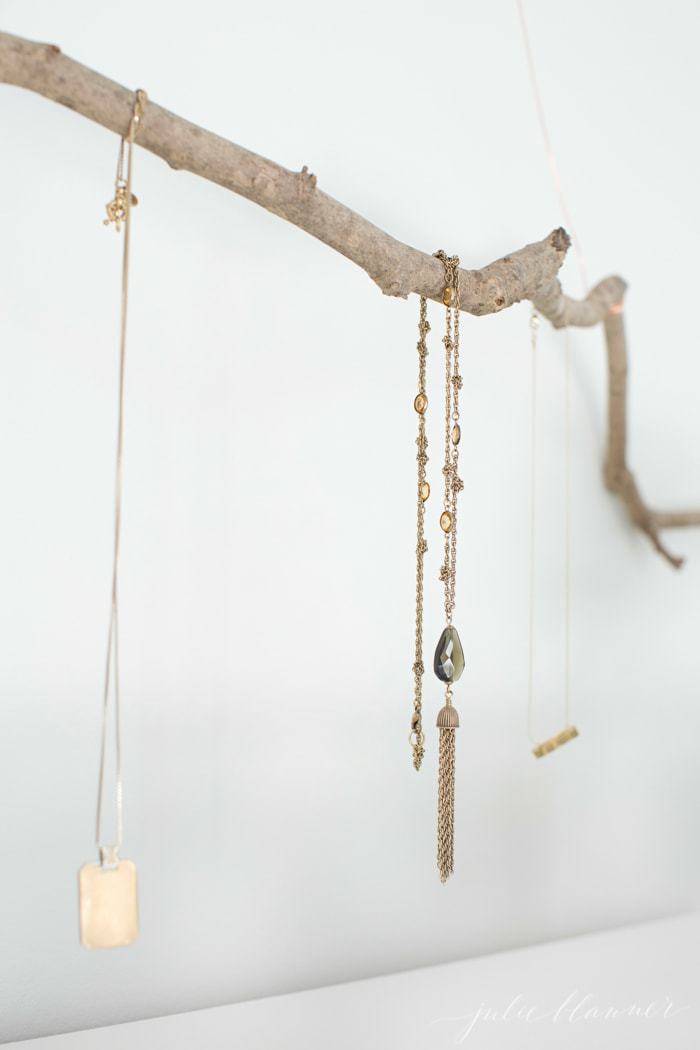 This jewelry hanger makes a beautiful display for necklaces and bracelets by combining natural wall art with functionality. It's so simple but adds so much style to your home.
Variations
For a Coastal look, use driftwood hung with wire or rope.
Paint the branch a color of your choice.
Spray a light coat of glitter on the branch for a little sparkle.
Screw small cup hooks to the bottom of the branch or put small nails in the top of the branch to hang necklaces that don't have clasps.
Let's stay in touch! Join our newsletter for access to exclusive content, never-before-seen photos, your questions answered, and our favorite projects. You'll receive the best design secrets delivered directly to your inbox! Sign up here!
More DIY Ideas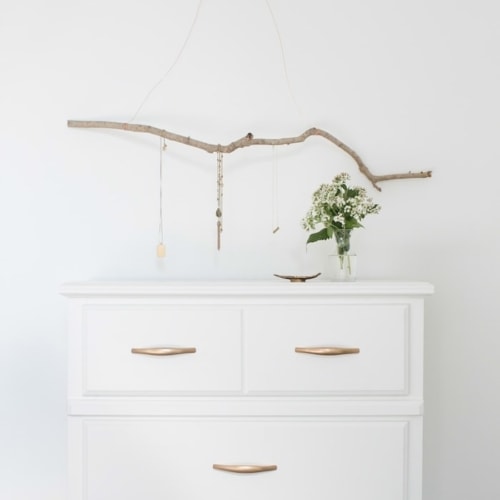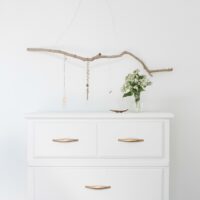 DIY Jewelry Hanger
Every woman needs a beautiful place to store her jewelry. This DIY jewelry hanger doubles as decor - for only $5! This project couldn't be easier.
Ingredients
Branch or Driftwood

Copper Wire

Tack or Nail
Instructions
Clean branch or driftwood

Straighten wire

Wrap wire 3 times around one end of branch

Make a triangle point with the wire at the length you want the hanger to be

Wrap wire 3 times around the other end of the branch

Cut excess wire

Put nail or tack into wall and hang jewelry hanger
Tips
Variations
Use different colored, type of wire
Use rope, but tie a knot on the ends