DIY Christmas Hand Towels
An easy hostess gift or way to add holiday decor to your home is a custom Christmas hand towel. This project cost less than $10 and takes less than 10 minutes!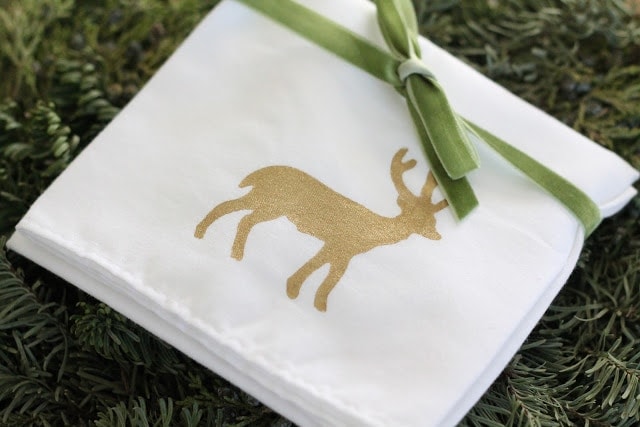 Originally published December 11, 2012 and updated June 22, 2021 with fresh details and content.
I love the simple charm of these hand towels. The metallic paint adds a bit of interest, but still keeps the Christmas hand towel mostly neutral, to fit with anyone's holiday decor.
Silhouettes from stencils are sweet and allude to holidays without being commercialized.
Use these for your own home, or make them to give away as hostess gifts, neighbor gifts, or teacher gifts. Everyone needs hand towels, so these are both functional and beautiful!
Homemade gifts are so thoughtful and everyone loves receiving them. Look here for more homemade gifts. Use this Christmas gift tags printable to finish the gift.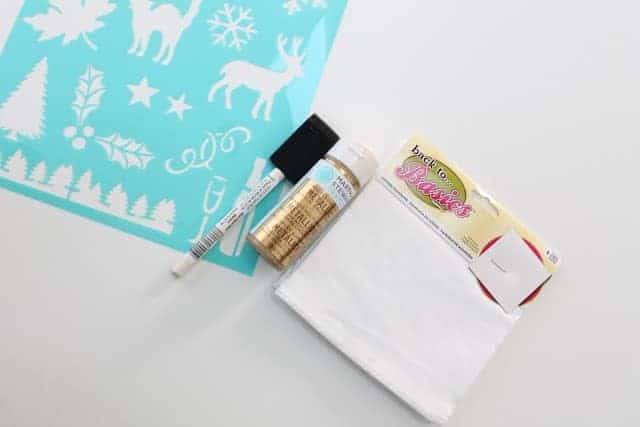 Supplies for Christmas Hand Towels
Paint – I used Martha Stewart multi-surface metallic in gold, but you can use any color you want.
Foam brush – I recommend using a small size, like 1″ for easier control and accuracy.
Stencil – Choose whatever shapes you like. I like designs that are more winter-themed than just Christmas-themed.
Hand Towels – I used bandanas in a pinch and you'd never know the difference. I don't recommend using terry cloth because the paint won't go on smooth due to the rough texture of terry cloth.
Cardboard – You just need a small piece to insert behind your fabric to keep paint from bleeding to the other side.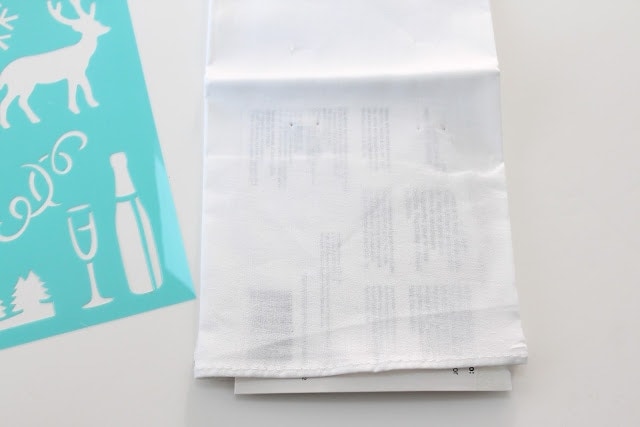 How to Make Holiday Hand Towels
Place your stencil where you want the image to be on the cloth. Hold firmly in place with one hand.
Add a little paint to your brush and gently paint, using a dabbing motion.
Gently remove stencil to avoid smearing paint.
If doing multiple images, make sure the back side of the stencil is free from the previous image's paint so you don't end up with an unwanted blob of paint.
Let dry and remove cardboard.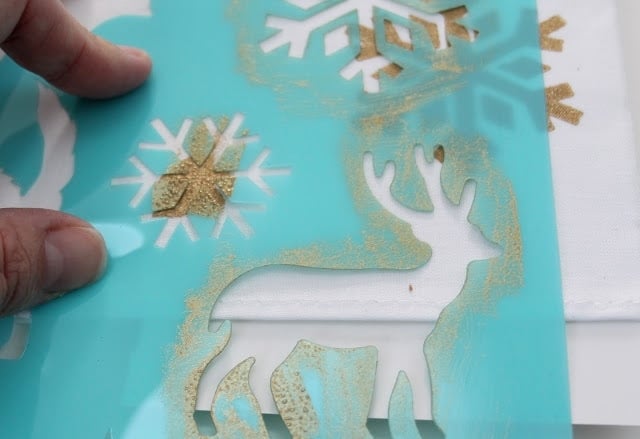 Variations
Use different colors and sheens of paint.
Wrap a small gift with a stenciled hand towel, gathered at the top and tied with a bow.
Use cream, light gray, natural, or other colored towels.
More Easy Holiday Ideas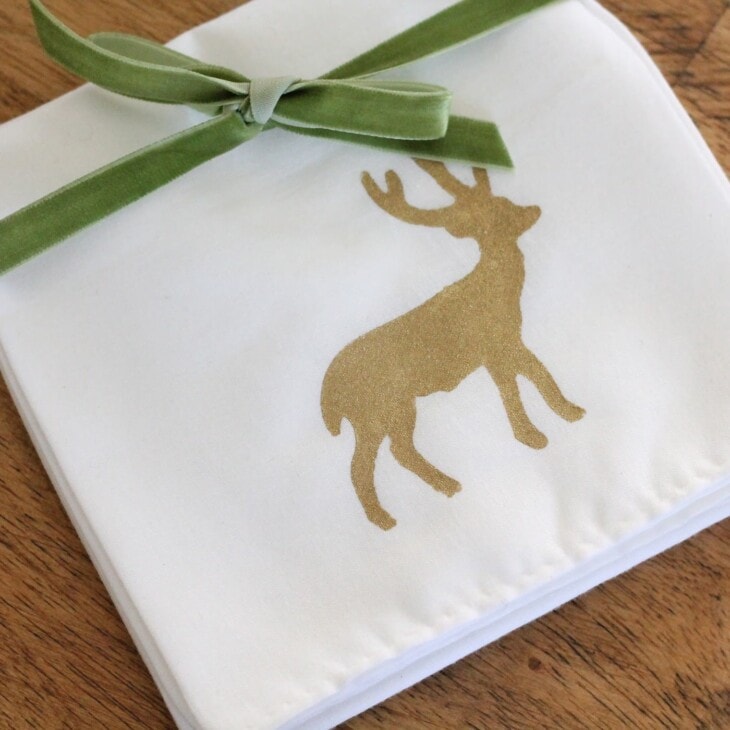 DIY Christmas Hand Towels
An easy homemade gift using hand towels and paint. Create a custom hand towel for a gift that is charming and useful.
Supplies
Paint – Metallic or your choice

Foam Brush – Small Size

Hand Towel – Smooth Surface

Cardboard
Equipment
Stencil – Your choice of images
Instructions
Place your stencil on the cloth. Secure or hold in place with one hand.

Add a little paint to your brush and dab paint onto cloth.

Gently remove stencil.

If you're doing more than one image, clean the back of the stencil between each image.

Let dry and remove cardboard.