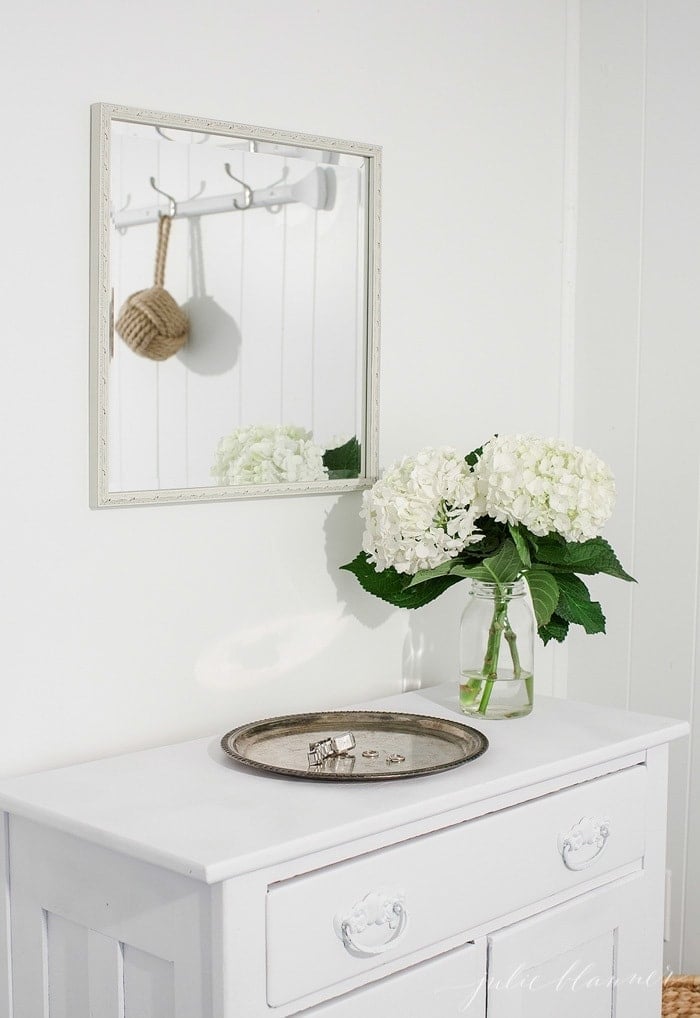 As we're renovating our new home, I've been reflecting back on the changes that made the most significant impact on our previous home. I came across these photos today that I had saved on DropBox and was really proud of the difference we made. Before we purchased our home, dozens of realtors and prospective buyers came through and walked away without blinking an eye, but Chris and I saw potential, so we threw out a number and they accepted! There were times I thought we were crazy, times we had doubts and times I wanted to alter things that really weren't possible with the given structure, but we made it work and it made me proud.
One of our first projects was the guest bedroom. We wanted to make guests' comfort a priority. We didn't have a spare bedroom, so we created one. Sure, it wouldn't count by real estate standards with a closet and a window, but it was fully functional.
The room was DARK and honestly, a little creepy. There was a faux fireplace filled with ashes, a pipe and random 60's cabinet, a door to the storage room and bold blue carpet. And guess what? We were on a tight budget! Eek!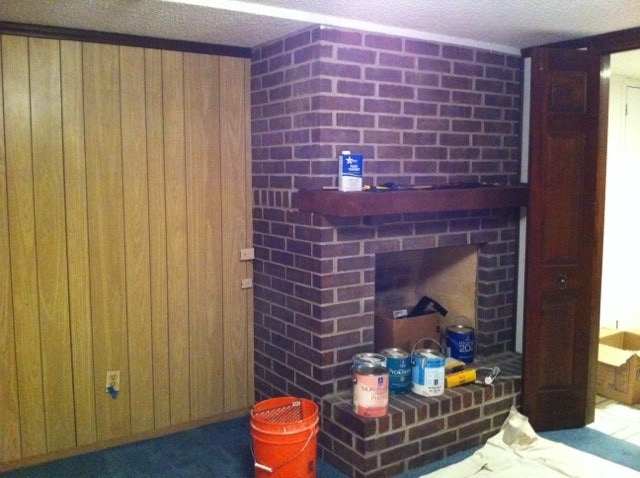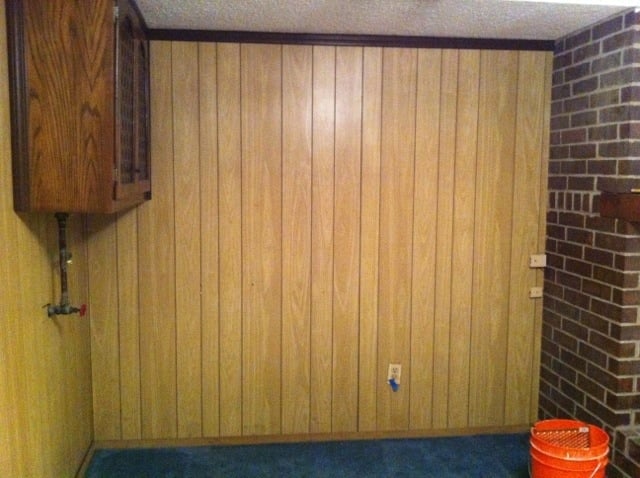 Welcoming, right? Who would want to sleep here? Of course all great transformations start with paint – eh, primer! It needed a lot of it! The ceilings, the walls, doors, fireplace and pipe all had their share. We didn't have a budget for plumbing, nor did we want to replace the paneling, so we did our best to make it blend in.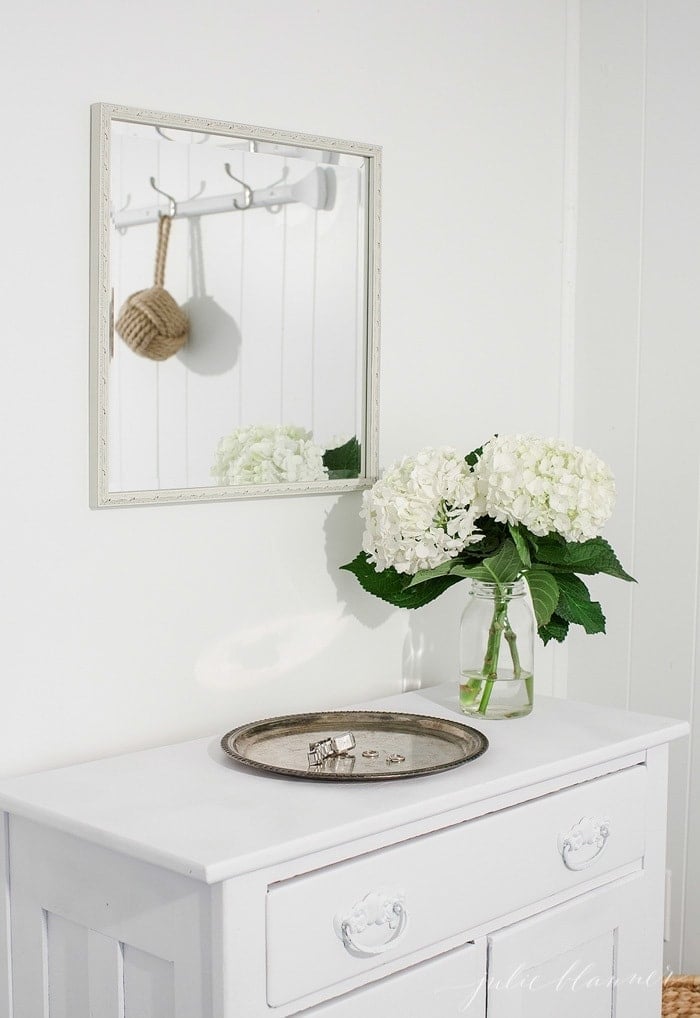 The white walls made the blue carpet feel intentional, especially when paired with nautical decor. To give the carpet new life we cleaned it thoroughly time and time again. It went from dated and dingy to bright and *almost* beautiful. When you're on a budget, the key is to work with what you have and to rethink it.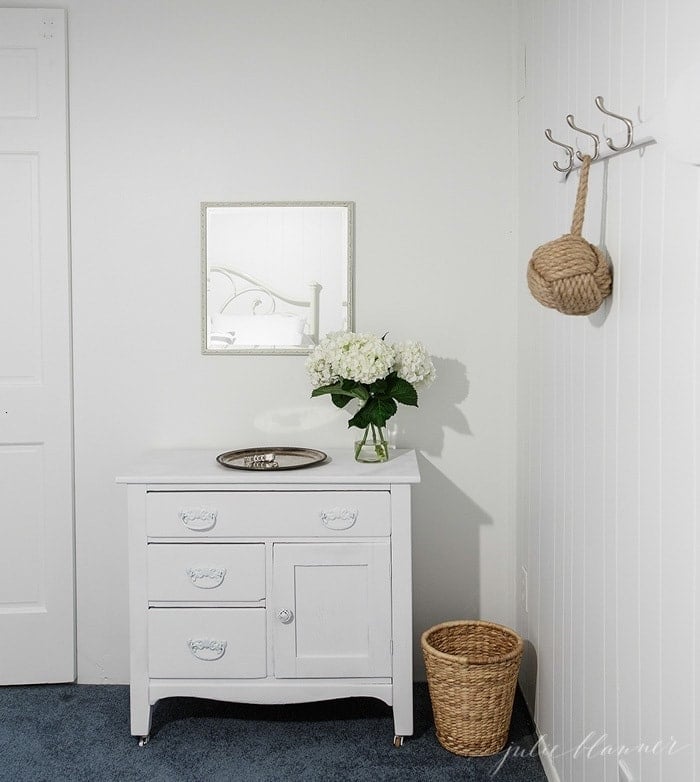 Without a closet to hang clothes or adjoining bathroom to hang towels we needed to offer some accessible place to hang the occasional shirt, so we added a few hooks to an oar and secured it to the wall.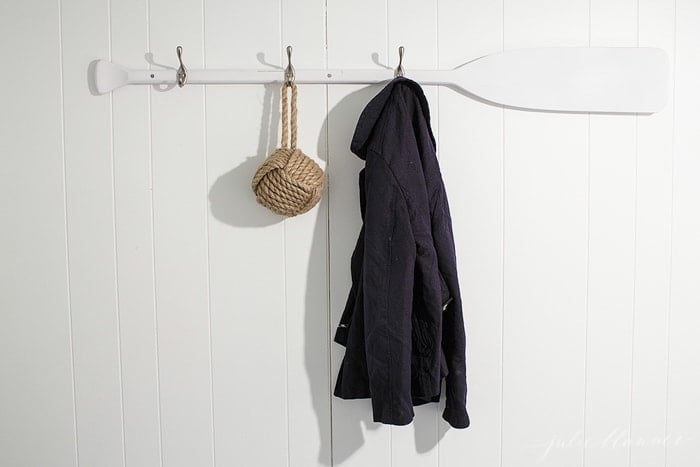 That eyesore of a cabinet and pipes? Well, we couldn't make it go away so we strategically placed a side table nearby to further disguise it.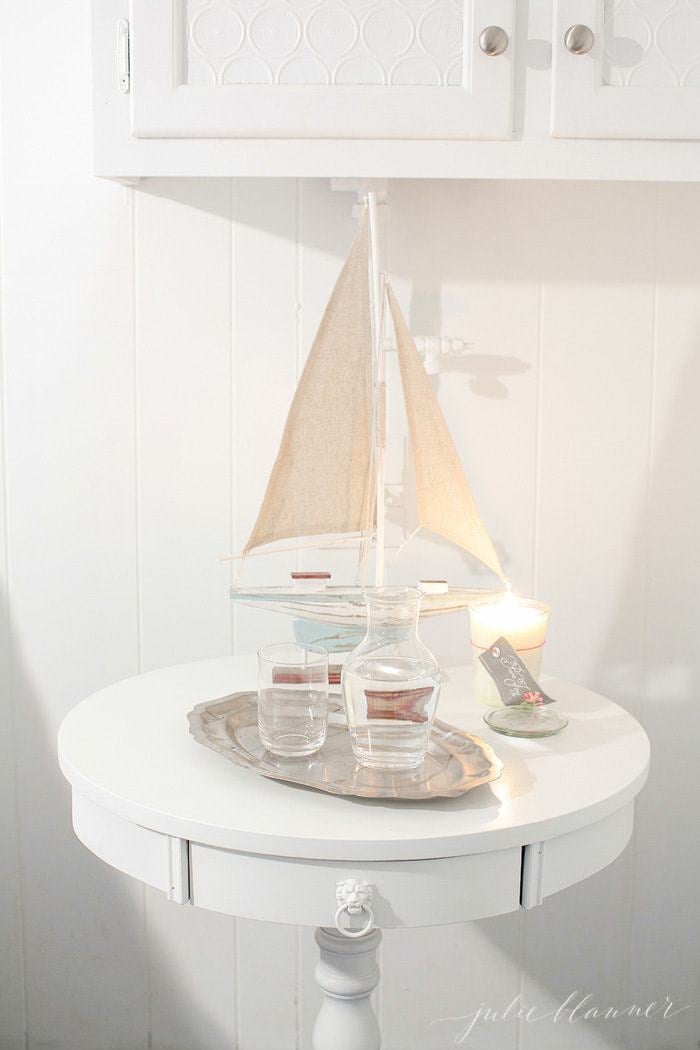 And finally light, my favorite! An inexpensive IKEA pendant with a maximum wattage bulb paired with 2 mirrors made the room feel like a bright, sunny day. We also chose a satin paint sheen to reflect a little additional light. Every little bit counts, right?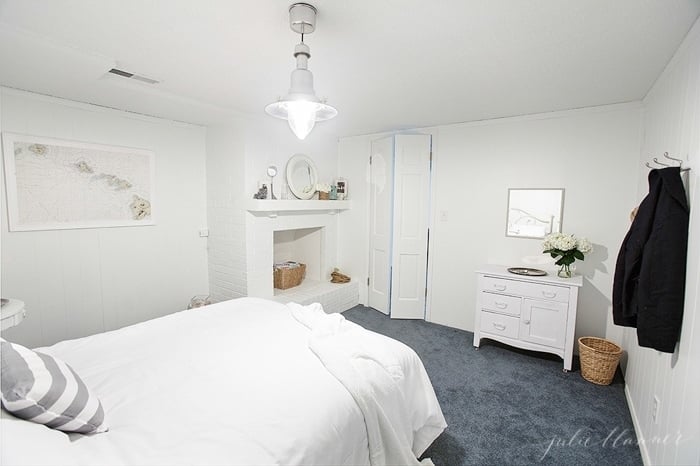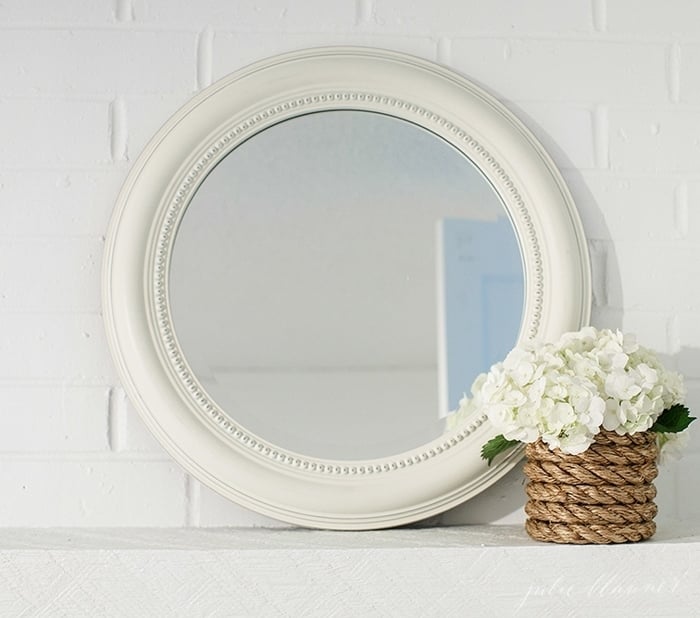 This "renovation" including all paint, decor, bedding, etc was just $300 and a weekend's worth of work with a couple toddlers running around. I believe it provided a great return on investment. All of our guests loved sleeping in, which I take as a good sign of a comfortable space!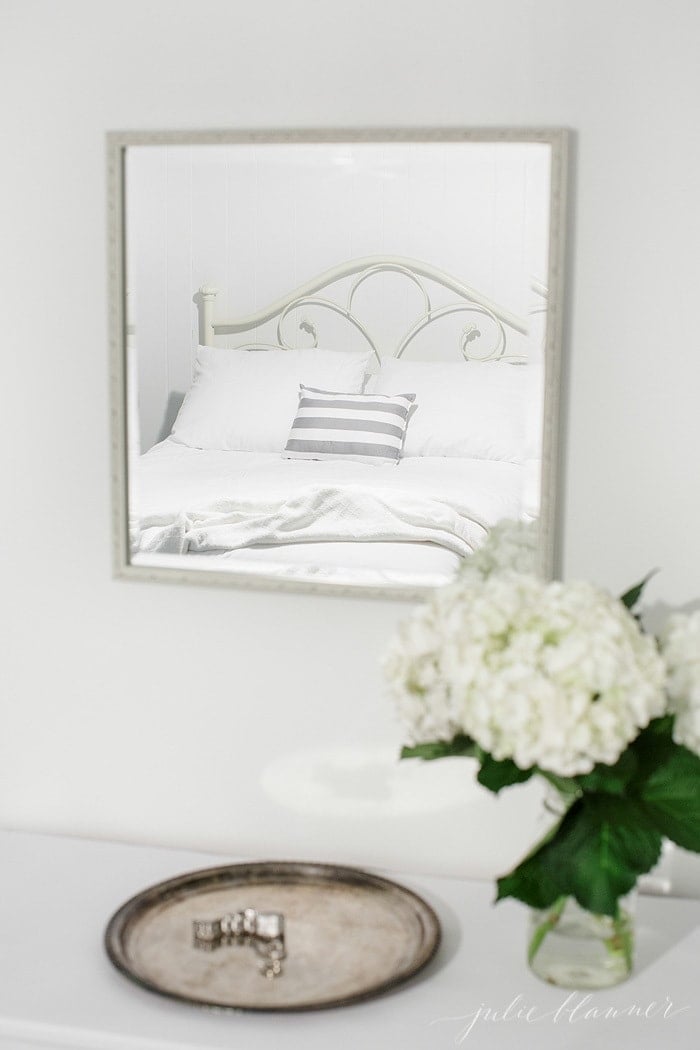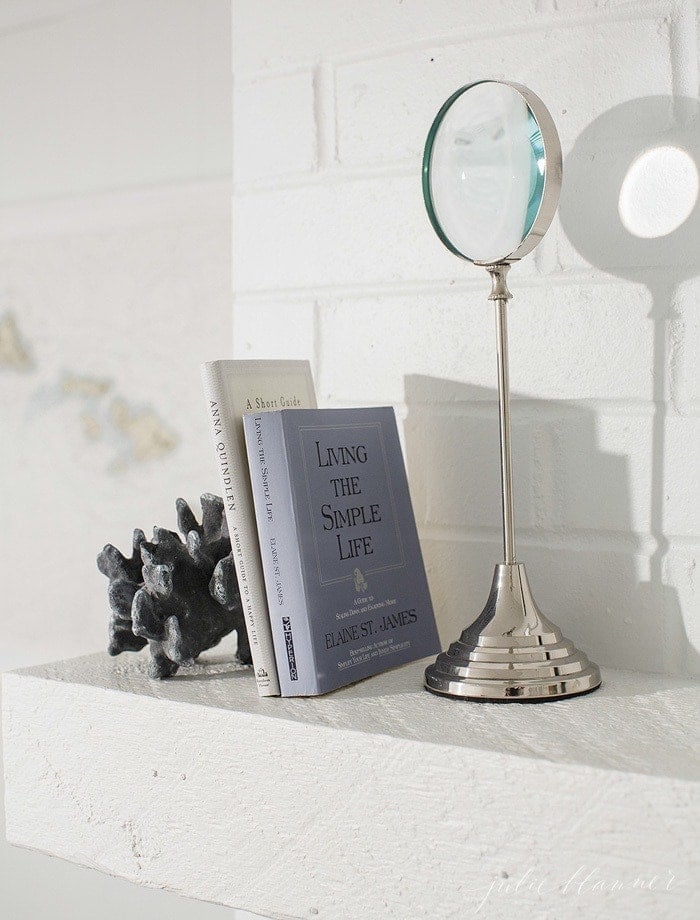 A huge thanks to Christine of Click Photography who took these beautiful photographs of the space a few years ago!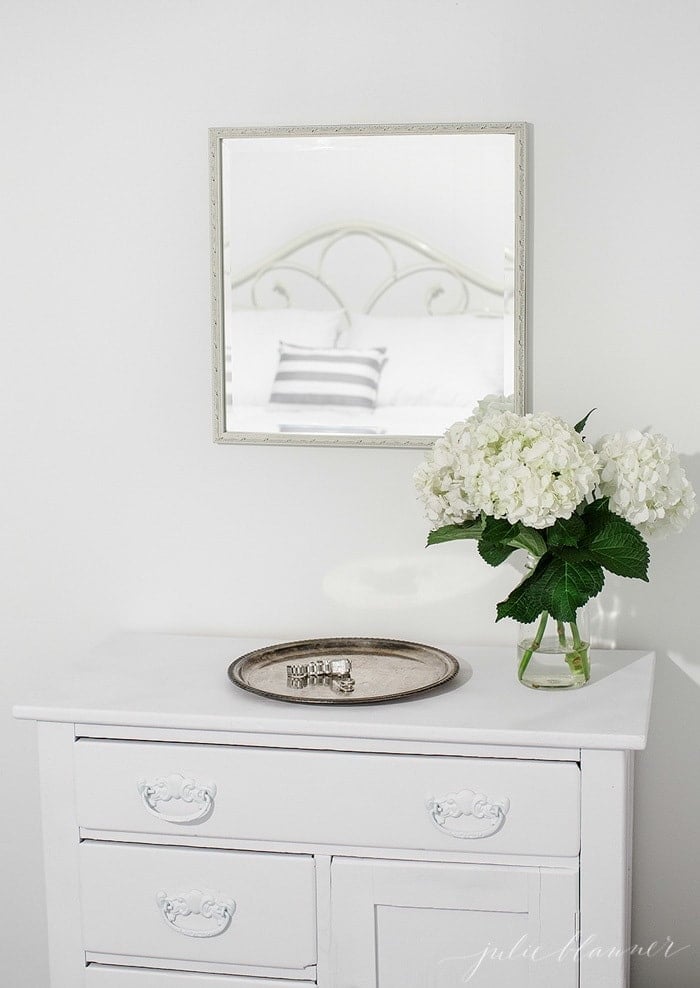 You can read about how we transformed the remainder of our basement here. Do you have any basement tips to add?